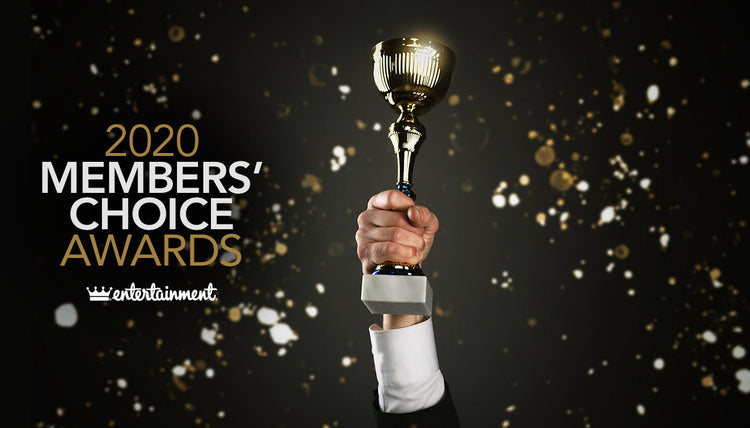 Congratulations to our merchant partners who have been awarded the Entertainment® 2020 Members' Choice Awards—you are well-loved by your community!
A dining establishment serves food, but a beloved community restaurant serves up a bit of heart and soul. Recipes are crafted and honed, quality ingredients are gathered and prepared, and a welcoming atmosphere is lovingly cultivated and shared.
Restaurant owners and staff go all in to give customers memorable food and experiences and Entertainment wants to recognize those that have most captured the attention and support of our Members.
The list of 2020 Entertainment Members' Choice Award Winners is here!
We hope that this list will give you some ideas for new places you'd like to check out or will perhaps remind you of some tried and true places to be visited again.
Entertainment helps Members, businesses and communities.
Our Members know that every transaction with a local business—especially in these times—bolsters the local economy while it boosts the individual small business. We're proud to help people get out and lend their support even more frequently while they save money on great food and create memories with family and friends.
In our 60 years, we have sent countless customers to businesses, helping to expose new people to dining and goods and services our merchants provide. When great experiences happen, loyalty ensues.
And when our memberships are purchased through a community group fundraiser, groups earn money for things like band trips or church initiatives.
We provide a win-win-win experience that pays off for everyone involved!
Let your Entertainment membership guide your dining and purchasing decisions.
An Entertainment® membership can be a valuable tool that can be used when trying to decide where to eat or where to go for goods or services. This Members' Choice list is a great start when seeking new places to try, but all our merchants have wonderful offerings to explore.
Use your Entertainment® Book or the Entertainment® Coupon App today to get out in your community and try something new!
Check Out the 2020 Members' Choice Winners!
| Merchant Name | Merchant Award | Location |
| --- | --- | --- |
| Double Dragon Chinese Restaurant | Favorite Albuquerque Asian Restaurant | Albuquerque, NM |
| Golden Crown Panaderia | Favorite Albuquerque Coffee Shop | Albuquerque, NM |
| The Blue Grasshopper Brew Pub | Favorite Albuquerque Eatery | Albuquerque, NM |
| Bahama Bucks | Favorite Albuquerque Ice Cream Shop | Albuquerque, NM |
| Taj Mahal | Favorite Albuquerque Indian Restaurant | Albuquerque, NM |
| Scarpas Brick Oven Pizza | Favorite Albuquerque Italian Restaurant | Albuquerque, NM |
| Garcia's Kitchen Express | Favorite Albuquerque Mexican Restaurant | Albuquerque, NM |
| Cafe Istanbul | Favorite Albuquerque Middle Eastern Restaurant | Albuquerque, NM |
| Good Fellas Pizzeria | Favorite Albuquerque Pizzeria | Albuquerque, NM |
| California Pastrami | Favorite Albuquerque Sandwich Shop | Albuquerque, NM |
| Taki Japanese Steakhouse | Favorite Atlanta Asian Restaurant | Atlanta, GA |
| Daily Grind | Favorite Atlanta Coffee Shop | Atlanta, GA |
| Chicken Salad Chick | Favorite Atlanta Eatery | Atlanta, GA |
| Kremo Ice Cream | Favorite Atlanta Ice Cream Shop | Atlanta, GA |
| Deccan Spice Authentic Indian Cuisine | Favorite Atlanta Indian Restaurant | Atlanta, GA |
| Romano's Macaroni Grill | Favorite Atlanta Italian Restaurant | Atlanta, GA |
| Raging Burrito | Favorite Atlanta Mexican Restaurant | Atlanta, GA |
| Pita Mediterranean Street Food | Favorite Atlanta Middle Eastern Restaurant | Atlanta, GA |
| Johnny's New York Style Pizza | Favorite Atlanta Pizzeria | Atlanta, GA |
| Capriotti's Sandwich Shop | Favorite Atlanta Sandwich Shop | Atlanta, GA |
| Quik-Wok Restaurant | Favorite Boise Asian Restaurant | Boise, ID |
| Perks of Life | Favorite Boise Coffee Shop | Boise, ID |
| Blue Sky Bagels | Favorite Boise Eatery | Boise, ID |
| La Creme Frozen Yogurt | Favorite Boise Ice Cream Shop | Boise, ID |
| Aladdin Egyptian Cuisine | Favorite Boise Middle Eastern Restaurant | Boise, ID |
| Da Vinci's | Favorite Boise Italian Restaurant | Boise, ID |
| Fiesta Guadalajara | Favorite Boise Mexican Restaurant | Boise, ID |
| Firenza Pizza | Favorite Boise Pizzeria | Boise, ID |
| Grasshopper Vegetarian Restaurant | Favorite Boston Asian Restaurant | Boston, MA |
| Barismo | Favorite Boston Coffee Shop | Boston, MA |
| King Street Cafe & Deli | Favorite Boston Eatery | Boston, MA |
| Sweet Frog | Favorite Boston Ice Cream Shop | Boston, MA |
| Joti Palace | Favorite Boston Indian Restaurant | Boston, MA |
| Themis Pizza | Favorite Boston Italian Restaurant | Boston, MA |
| Casa Blanca Mexican Restaurant | Favorite Boston Mexican Restaurant | Boston, MA |
| Pita South End | Favorite Boston Middle Eastern Restaurant | Boston, MA |
| Blaze Fast-Fire'd Pizza | Favorite Boston Pizzeria | Boston, MA |
| Harrison's Roast Beef | Favorite Boston Sandwich Shop | Boston, MA |
| Mandarin Garden Restaurant | Favorite Buffalo Asian Restaurant | Buffalo, NY |
| Caffe Aroma | Favorite Buffalo Coffee Shop | Buffalo, NY |
| Iron Kettle Restaurant | Favorite Buffalo Eatery | Buffalo, NY |
| Kone King East | Favorite Buffalo Ice Cream Shop | Buffalo, NY |
| Taj Grill | Favorite Buffalo Indian Restaurant | Buffalo, NY |
| Franco's Pizza | Favorite Buffalo Italian Restaurant | Buffalo, NY |
| El Ranchito Mexican Restaurant | Favorite Buffalo Mexican Restaurant | Buffalo, NY |
| Souvlaki Brothers | Favorite Buffalo Middle Eastern Restaurant | Buffalo, NY |
| Olisi's New York Style Pizza | Favorite Buffalo Pizzeria | Buffalo, NY |
| Firehouse Subs | Favorite Buffalo Sandwich Shop | Buffalo, NY |
| Cafe 100% | Favorite Calgary Asian Restaurant | Calgary, AB |
| The Invermere Bakery | Favorite Calgary Coffee Shop | Calgary, AB |
| Freshii | Favorite Calgary Eatery | Calgary, AB |
| Skoki's Waffle & Frozen Yogurt | Favorite Calgary Ice Cream Shop | Calgary, AB |
| JPs Indian Bistro | Favorite Calgary Indian Restaurant | Calgary, AB |
| Loco Grill & Lounge | Favorite Calgary Italian Restaurant | Calgary, AB |
| Quesada Burritos & Tacos | Favorite Calgary Mexican Restaurant | Calgary, AB |
| The Pita Basket Café | Favorite Calgary Middle Eastern Restaurant | Calgary, AB |
| Pizza Bank | Favorite Calgary Pizzeria | Calgary, AB |
| Banh Mi Sub | Favorite Calgary Sandwich Shop | Calgary, AB |
| Fujiyama Japanese Sushi & Steak House | Favorite Charleston Asian Restaurant | Charleston, WV |
| Cafe Crema | Favorite Charleston Coffee Shop | Charleston, WV |
| The Cold Spot | Favorite Charleston Eatery | Charleston, WV |
| Yogurt Mountain | Favorite Charleston Ice Cream Shop | Charleston, WV |
| Husson's Pizza | Favorite Charleston Italian Restaurant | Charleston, WV |
| Plaza Maya Mexican Restaurant | Favorite Charleston Mexican Restaurant | Charleston, WV |
| Grano | Favorite Charleston Middle Eastern Restaurant | Charleston, WV |
| Giovanni's Pizzeria | Favorite Charleston Pizzeria | Charleston, WV |
| Johnnies Fresh Meat Market | Favorite Charleston Sandwich Shop | Charleston, WV |
| Fusion Bowl | Favorite Charlotte Asian Restaurant | Charlotte, NC |
| Cactus Rose Cafe | Favorite Charlotte Coffee Shop | Charlotte, NC |
| Flatiron Kitchen and Taphouse | Favorite Charlotte Eatery | Charlotte, NC |
| SweetFrog Rock Hill | Favorite Charlotte Ice Cream Shop | Charlotte, NC |
| Zaika Bar & Indian Restaurant | Favorite Charlotte Indian Restaurant | Charlotte, NC |
| Prosciutto's Pizza | Favorite Charlotte Italian Restaurant | Charlotte, NC |
| El Vallarta | Favorite Charlotte Mexican Restaurant | Charlotte, NC |
| Peño Mediterranean Grill | Favorite Charlotte Middle Eastern Restaurant | Charlotte, NC |
| Brixx Pizza | Favorite Charlotte Pizzeria | Charlotte, NC |
| The Common Market | Favorite Charlotte Sandwich Shop | Charlotte, NC |
| Golden Wok | Favorite Chicago Asian Restaurant | Chicago, IL |
| Coffee Lab & Roasters | Favorite Chicago Coffee Shop | Chicago, IL |
| Garden Berry Cafe | Favorite Chicago Eatery | Chicago, IL |
| The Plush Horse | Favorite Chicago Ice Cream Shop | Chicago, IL |
| Indian Bistro | Favorite Chicago Indian Restaurant | Chicago, IL |
| Lucano's Fine Italian Cuisine Pizza & Catering | Favorite Chicago Italian Restaurant | Chicago, IL |
| El Salto Mexican Restaurant | Favorite Chicago Mexican Restaurant | Chicago, IL |
| Pita Pita | Favorite Chicago Middle Eastern Restaurant | Chicago, IL |
| Connie's Pizza | Favorite Chicago Pizzeria | Chicago, IL |
| Tony's Italian Beef | Favorite Chicago Sandwich Shop | Chicago, IL |
| Fusabowl | Favorite Cincinnati Asian Restaurant | Cincinnati, OH |
| Fairfield Coffee | Favorite Cincinnati Coffee Shop | Cincinnati, OH |
| Skyline Chili | Favorite Cincinnati Eatery | Cincinnati, OH |
| Rhino's Frozen Yogurt & Soft Serve | Favorite Cincinnati Ice Cream Shop | Cincinnati, OH |
| Maya Indian Restaurant | Favorite Cincinnati Indian Restaurant | Cincinnati, OH |
| Roc-A-Fellas Pizza | Favorite Cincinnati Italian Restaurant | Cincinnati, OH |
| Chicago Gyros | Favorite Cincinnati Middle Eastern Restaurant | Cincinnati, OH |
| Snappy Tomato Pizza | Favorite Cincinnati Pizzeria | Cincinnati, OH |
| Sub Station II | Favorite Cincinnati Sandwich Shop | Cincinnati, OH |
| Yukiho Hibachi Restaurant | Favorite Cleveland Asian Restaurant | Cleveland, OH |
| Perk - cUP! Cafe | Favorite Cleveland Coffee Shop | Cleveland, OH |
| Rivals Sports Grille | Favorite Cleveland Eatery | Cleveland, OH |
| Loder's Shake Shoppe | Favorite Cleveland Ice Cream Shop | Cleveland, OH |
| Saffron Patch | Favorite Cleveland Indian Restaurant | Cleveland, OH |
| T J's on the Avenue | Favorite Cleveland Italian Restaurant | Cleveland, OH |
| Don Tequila Mexican Restaurant | Favorite Cleveland Mexican Restaurant | Cleveland, OH |
| Dubrovnik Garden Restaurant | Favorite Cleveland Middle Eastern Restaurant | Cleveland, OH |
| Angelo's Pizzeria & Restaurant | Favorite Cleveland Pizzeria | Cleveland, OH |
| Salad Kraze | Favorite Cleveland Sandwich Shop | Cleveland, OH |
| J. Liu Restaurant & Bar | Favorite Columbus Asian Restaurant | Columbus, OH |
| Das KaffeeHaus | Favorite Columbus Coffee Shop | Columbus, OH |
| Shade Restaurants | Favorite Columbus Eatery | Columbus, OH |
| Handel's Ice Cream | Favorite Columbus Ice Cream Shop | Columbus, OH |
| Tadka Restaurant | Favorite Columbus Indian Restaurant | Columbus, OH |
| Carfagna's Kitchen | Favorite Columbus Italian Restaurant | Columbus, OH |
| El Vaquero Mexican Restaurant | Favorite Columbus Mexican Restaurant | Columbus, OH |
| Greek Express | Favorite Columbus Middle Eastern Restaurant | Columbus, OH |
| Donatos Pizza | Favorite Columbus Pizzeria | Columbus, OH |
| CORNERSTONE DELI & CAFE | Favorite Columbus Sandwich Shop | Columbus, OH |
| Yummy Thai | Favorite Dallas/Fort Worth Asian Restaurant | Dallas/Fort Worth, TX |
| Boba Latte | Favorite Dallas/Fort Worth Coffee Shop | Dallas/Fort Worth, TX |
| Scotty P's | Favorite Dallas/Fort Worth Eatery | Dallas/Fort Worth, TX |
| Yumilicious Frozen Yogurt | Favorite Dallas/Fort Worth Ice Cream Shop | Dallas/Fort Worth, TX |
| Southern Spice Indian Kitchen | Favorite Dallas/Fort Worth Indian Restaurant | Dallas/Fort Worth, TX |
| Mogio's Gourmet Pizza | Favorite Dallas/Fort Worth Italian Restaurant | Dallas/Fort Worth, TX |
| Miguelito's Mexican Restaurant | Favorite Dallas/Fort Worth Mexican Restaurant | Dallas/Fort Worth, TX |
| Mary's Mediterranean Cafe & Grill | Favorite Dallas/Fort Worth Middle Eastern Restaurant | Dallas/Fort Worth, TX |
| Gino's East Arlington | Favorite Dallas/Fort Worth Pizzeria | Dallas/Fort Worth, TX |
| Ooka Sushi and Asian Cuisine | Favorite Denver Asian Restaurant | Denver, CO |
| Novo Coffee | Favorite Denver Coffee Shop | Denver, CO |
| Sam's No. 3 | Favorite Denver Eatery | Denver, CO |
| Swirls Frozen Yogurt | Favorite Denver Ice Cream Shop | Denver, CO |
| India's Kitchen | Favorite Denver Indian Restaurant | Denver, CO |
| Colonna's Pizza & Pasta | Favorite Denver Italian Restaurant | Denver, CO |
| Las Palmas | Favorite Denver Mexican Restaurant | Denver, CO |
| Ali Baba Grill | Favorite Denver Middle Eastern Restaurant | Denver, CO |
| Coloradough Pizza | Favorite Denver Pizzeria | Denver, CO |
| Mars Cafe | Favorite Des Moines Coffee Shop | Des Moines, IA |
| Spectators Sports Bar and Grill | Favorite Des Moines Eatery | Des Moines, IA |
| Classic Frozen Custard | Favorite Des Moines Ice Cream Shop | Des Moines, IA |
| Sam & Louie's | Favorite Des Moines Italian Restaurant | Des Moines, IA |
| La Feria | Favorite Des Moines Mexican Restaurant | Des Moines, IA |
| Pickerman's Soup & Sandwich Shop | Favorite Des Moines Sandwich Shop | Des Moines, IA |
| Sy Thai | Favorite Detroit Asian Restaurant | Detroit, MI |
| Bean & Leaf Cafe | Favorite Detroit Coffee Shop | Detroit, MI |
| Bailey's Sports Grille | Favorite Detroit Eatery | Detroit, MI |
| Wally's Frozen Custard and Coffee Station | Favorite Detroit Ice Cream Shop | Detroit, MI |
| Saffron Fine Indian Cuisine | Favorite Detroit Indian Restaurant | Detroit, MI |
| Uno Chicago Grill | Favorite Detroit Italian Restaurant | Detroit, MI |
| El Nibble Nook | Favorite Detroit Mexican Restaurant | Detroit, MI |
| Lebanese Grill | Favorite Detroit Middle Eastern Restaurant | Detroit, MI |
| Buddy's Pizza | Favorite Detroit Pizzeria | Detroit, MI |
| Dilly Deli | Favorite Detroit Sandwich Shop | Detroit, MI |
| Great Lakes Chinese Restaurant | Favorite Grand Rapids Asian Restaurant | Grand Rapids, MI |
| The Sparrows Coffee & Tea & Newsstand | Favorite Grand Rapids Coffee Shop | Grand Rapids, MI |
| Kitchen 67 | Favorite Grand Rapids Eatery | Grand Rapids, MI |
| Peachwave Yogurt | Favorite Grand Rapids Ice Cream Shop | Grand Rapids, MI |
| Faro's Pizza | Favorite Grand Rapids Italian Restaurant | Grand Rapids, MI |
| Margarita's Mexican Restaurant | Favorite Grand Rapids Mexican Restaurant | Grand Rapids, MI |
| Eastern Deli | Favorite Grand Rapids Middle Eastern Restaurant | Grand Rapids, MI |
| Mancino's of Holland | Favorite Grand Rapids Pizzeria | Grand Rapids, MI |
| Boardwalk Subs | Favorite Grand Rapids Sandwich Shop | Grand Rapids, MI |
| Dagon Burmese Cuisine | Favorite Hawaii Asian Restaurant | Hawaii |
| Coffee or Tea? | Favorite Hawaii Coffee Shop | Hawaii |
| South Shore Grill | Favorite Hawaii Eatery | Hawaii |
| Magnolia Ice Cream & Treats | Favorite Hawaii Ice Cream Shop | Hawaii |
| Bar Koko & Persian Restaurant | Favorite Hawaii Restaurant | Hawaii |
| Auntie Pastos | Favorite Hawaii Italian Restaurant | Hawaii |
| Serg's Mexican Kitchen | Favorite Hawaii Mexican Restaurant | Hawaii |
| Greek Marina | Favorite Hawaii Middle Eastern Restaurant | Hawaii |
| Baker Dudes | Favorite Hawaii Pizzeria | Hawaii |
| Sushi Coast Sushi Bar & Grill | Favorite Houston Asian Restaurant | Houston, TX |
| Heavenly Beverages | Favorite Houston Coffee Shop | Houston, TX |
| Victor's Restaurant | Favorite Houston Eatery | Houston, TX |
| Creamistry | Favorite Houston Ice Cream Shop | Houston, TX |
| Mirch Masala Indian Vegetarian | Favorite Houston Indian Restaurant | Houston, TX |
| Adriatic Cafe & Italian Grill | Favorite Houston Italian Restaurant | Houston, TX |
| Los Tios Mexican Restaurant | Favorite Houston Mexican Restaurant | Houston, TX |
| Cafe Adel | Favorite Houston Middle Eastern Restaurant | Houston, TX |
| DoubleDave's Pizzaworks | Favorite Houston Pizzeria | Houston, TX |
| Taste of Asia Hibachi Restaurant | Favorite Huntington Asian Restaurant | Huntington, WV |
| Iron Town Coffee Lab | Favorite Huntington Coffee Shop | Huntington, WV |
| Frisch's Big Boy | Favorite Huntington Eatery | Huntington, WV |
| Austin's Homemade Ice Cream | Favorite Huntington Ice Cream Shop | Huntington, WV |
| Gatti-Land | Favorite Huntington Italian Restaurant | Huntington, WV |
| El Ranchito Mexican Restaurant | Favorite Huntington Mexican Restaurant | Huntington, WV |
| Dough Daddy's Pizza | Favorite Huntington Pizzeria | Huntington, WV |
| Asian Grill | Favorite Indianapolis Asian Restaurant | Indianapolis, IN |
| Sweetea's Tea Shop | Favorite Indianapolis Coffee Shop | Indianapolis, IN |
| Skyline Chili | Favorite Indianapolis Eatery | Indianapolis, IN |
| Handel's Homemade Ice Cream & Yogurt | Favorite Indianapolis Ice Cream Shop | Indianapolis, IN |
| Shalimar Restaurant | Favorite Indianapolis Indian Restaurant | Indianapolis, IN |
| Pasquale's Pizza & Pasta | Favorite Indianapolis Italian Restaurant | Indianapolis, IN |
| La Hacienda Mexican Restaurant | Favorite Indianapolis Mexican Restaurant | Indianapolis, IN |
| King Gyros | Favorite Indianapolis Middle Eastern Restaurant | Indianapolis, IN |
| Boombozz Taphouse | Favorite Indianapolis Pizzeria | Indianapolis, IN |
| Pho Good | Favorite Kansas City Asian Restaurant | Kansas City, MO |
| Sweet Tee's Coffee Shop | Favorite Kansas City Coffee Shop | Kansas City, MO |
| Pegah's Family Restaurant | Favorite Kansas City Eatery | Kansas City, MO |
| Moti Mahal I Cuisine of India | Favorite Kansas City Indian Restaurant | Kansas City, MO |
| Old Shawnee Pizza & Italian Grill | Favorite Kansas City Italian Restaurant | Kansas City, MO |
| El Potro Mexican Cafe | Favorite Kansas City Mexican Restaurant | Kansas City, MO |
| Jerusalem Cafe | Favorite Kansas City Middle Eastern Restaurant | Kansas City, MO |
| Pizza Shoppe | Favorite Kansas City Pizzeria | Kansas City, MO |
| Lennys Grill & Subs | Favorite Kansas City Sandwich Shop | Kansas City, MO |
| Teriyaki Boy Healthy Grill | Favorite Las Vegas Asian Restaurant | Las Vegas, NV |
| Desert Wind Coffee Roasters | Favorite Las Vegas Coffee Shop | Las Vegas, NV |
| 50's Diner Omelet House | Favorite Las Vegas Eatery | Las Vegas, NV |
| Sweet Addiction | Favorite Las Vegas Ice Cream Shop | Las Vegas, NV |
| Lazeez Indian Mediterranean Grill | Favorite Las Vegas Indian Restaurant | Las Vegas, NV |
| Mezzo Bistro & Wine | Favorite Las Vegas Italian Restaurant | Las Vegas, NV |
| Hussong's Cantina | Favorite Las Vegas Mexican Restaurant | Las Vegas, NV |
| Fresh Kabob | Favorite Las Vegas Middle Eastern Restaurant | Las Vegas, NV |
| Pieology Pizzeria | Favorite Las Vegas Pizzeria | Las Vegas, NV |
| Jon Smith Subs | Favorite Las Vegas Sandwich Shop | Las Vegas, NV |
| Mi Chong's of Bethlehem | Favorite Lehigh Valley Asian Restaurant | Lehigh Valley, PA |
| Lit Coffee Roastery Bakeshop | Favorite Lehigh Valley Coffee Shop | Lehigh Valley, PA |
| Wayback Burgers | Favorite Lehigh Valley Eatery | Lehigh Valley, PA |
| King Kone Ice Cream Store | Favorite Lehigh Valley Ice Cream Shop | Lehigh Valley, PA |
| Clove Fine Indian Cuisine | Favorite Lehigh Valley Indian Restaurant | Lehigh Valley, PA |
| Martellucci's Pizzeria | Favorite Lehigh Valley Italian Restaurant | Lehigh Valley, PA |
| Santa Fe Taco Co. | Favorite Lehigh Valley Mexican Restaurant | Lehigh Valley, PA |
| Greek Meat Guy | Favorite Lehigh Valley Middle Eastern Restaurant | Lehigh Valley, PA |
| Lehigh Pizza | Favorite Lehigh Valley Pizzeria | Lehigh Valley, PA |
| Muramoto Hilldale | Favorite Madison Asian Restaurant | Madison, WI |
| Cafe Maya | Favorite Madison Coffee Shop | Madison, WI |
| Great Harvest Bread Co. | Favorite Madison Eatery | Madison, WI |
| Rocky Rococo | Favorite Madison Italian Restaurant | Madison, WI |
| Casa De Lara | Favorite Madison Mexican Restaurant | Madison, WI |
| Falbo Bros. Pizzeria | Favorite Madison Pizzeria | Madison, WI |
| MILIO'S SANDWICHES | Favorite Madison Sandwich Shop | Madison, WI |
| Sushi Bombs | Favorite Miami/Fort Lauderdale Asian Restaurant | Miami/Fort Lauderdale, FL |
| Aroma Joe's | Favorite Miami/Fort Lauderdale Coffee Shop | Miami/Fort Lauderdale, FL |
| Pronto Salads | Favorite Miami/Fort Lauderdale Eatery | Miami/Fort Lauderdale, FL |
| Sub Zero Ice Cream & Yogurt | Favorite Miami/Fort Lauderdale Ice Cream Shop | Miami/Fort Lauderdale, FL |
| Royal India Restaurant | Favorite Miami/Fort Lauderdale Indian Restaurant | Miami/Fort Lauderdale, FL |
| Sal's Italian Ristorante | Favorite Miami/Fort Lauderdale Italian Restaurant | Miami/Fort Lauderdale, FL |
| Torero's Mexican Restaurant | Favorite Miami/Fort Lauderdale Mexican Restaurant | Miami/Fort Lauderdale, FL |
| Kababi Cafe | Favorite Miami/Fort Lauderdale Middle Eastern Restaurant | Miami/Fort Lauderdale, FL |
| Rotelli Pizza and Pasta | Favorite Miami/Fort Lauderdale Pizzeria | Miami/Fort Lauderdale, FL |
| Broadway Subs | Favorite Miami/Fort Lauderdale Sandwich Shop | Miami/Fort Lauderdale, FL |
| Wong's Wok | Favorite Milwaukee Asian Restaurant | Milwaukee, WI |
| Coffee Corner Bistro | Favorite Milwaukee Coffee Shop | Milwaukee, WI |
| Breadsmith | Favorite Milwaukee Eatery | Milwaukee, WI |
| Yo Fresh Yogurt Cafe | Favorite Milwaukee Ice Cream Shop | Milwaukee, WI |
| Taj Majal Indian Restaurant | Favorite Milwaukee Indian Restaurant | Milwaukee, WI |
| Trattoria DiCarlo & Pizzeria | Favorite Milwaukee Italian Restaurant | Milwaukee, WI |
| Guanajuato Mexican Restaurant | Favorite Milwaukee Mexican Restaurant | Milwaukee, WI |
| Gyro Palace | Favorite Milwaukee Middle Eastern Restaurant | Milwaukee, WI |
| Pizzeria Scotty | Favorite Milwaukee Pizzeria | Milwaukee, WI |
| Walt's Sandwich Place | Favorite Milwaukee Sandwich Shop | Milwaukee, WI |
| Shogun Sushi & Hibachi | Favorite Minneapolis Asian Restaurant | Minneapolis, MN |
| Daily Dose Cafe & Espresso | Favorite Minneapolis Coffee Shop | Minneapolis, MN |
| Bunny's Bar & Grill | Favorite Minneapolis Eatery | Minneapolis, MN |
| Big Dipper Creamery | Favorite Minneapolis Ice Cream Shop | Minneapolis, MN |
| India Palace Restaurant | Favorite Minneapolis Indian Restaurant | Minneapolis, MN |
| Andiamo | Favorite Minneapolis Italian Restaurant | Minneapolis, MN |
| Acapulco Mexican Restaurante | Favorite Minneapolis Mexican Restaurant | Minneapolis, MN |
| Mediterranean Cruise Café | Favorite Minneapolis Middle Eastern Restaurant | Minneapolis, MN |
| Angeno's Pizza & Pasta | Favorite Minneapolis Pizzeria | Minneapolis, MN |
| Royal Subs | Favorite Minneapolis Sandwich Shop | Minneapolis, MN |
| Fulin's Asian Cuisine | Favorite Nashville Asian Restaurant | Nashville, TN |
| Buckhead Coffee House | Favorite Nashville Coffee Shop | Nashville, TN |
| Slick Pig BBQ | Favorite Nashville Eatery | Nashville, TN |
| Stuffy's Frosty Jug | Favorite Nashville Ice Cream Shop | Nashville, TN |
| Sitar Indian Cuisine | Favorite Nashville Indian Restaurant | Nashville, TN |
| Paul's Pizza | Favorite Nashville Italian Restaurant | Nashville, TN |
| El Agavero Mexican Restaurant | Favorite Nashville Mexican Restaurant | Nashville, TN |
| Zeus Gyros | Favorite Nashville Middle Eastern Restaurant | Nashville, TN |
| Prince Street Pizza and Pub | Favorite Nashville Pizzeria | Nashville, TN |
| Capriotti's Sandwich Shop | Favorite Nashville Sandwich Shop | Nashville, TN |
| Yokohama Sushi & Hibachi | Favorite New Jersey Asian Restaurant | New Jersey |
| Factory Fuel Company Coffeehouse | Favorite New Jersey Coffee Shop | New Jersey |
| Perkins Restaurant & Bakery | Favorite New Jersey Eatery | New Jersey |
| Colonia Dairy Maid | Favorite New Jersey Ice Cream Shop | New Jersey |
| Cinnamon | Favorite New Jersey Indian Restaurant | New Jersey |
| Carpaccio Ristorante | Favorite New Jersey Italian Restaurant | New Jersey |
| Chido Burrito | Favorite New Jersey Mexican Restaurant | New Jersey |
| Norma's Eastern Mediterranean Cuisine | Favorite New Jersey Middle Eastern Restaurant | New Jersey |
| Danny's Pizza Pizzazz | Favorite New Jersey Pizzeria | New Jersey |
| The Bread Board Plus | Favorite New Jersey Sandwich Shop | New Jersey |
| The Dumpling Shop | Favorite New York Asian Restaurant | New York/Long Island, NY |
| Ninja Sushi | Favorite New York Asian Restaurant | New York/Long Island, NY |
| The Bean | Favorite New York Coffee Shop | New York/Long Island, NY |
| DirtyBurger | Favorite New York Eatery | New York/Long Island, NY |
| Yo Go Wild | Favorite New York Ice Cream Shop | New York/Long Island, NY |
| Yo Factor Frozen Yogurt & Ice Cream | Favorite New York Ice Cream Shop | New York/Long Island, NY |
| Zaika New York | Favorite New York Indian Restaurant | New York/Long Island, NY |
| Piccola Bussola | Favorite New York Italian Restaurant | New York/Long Island, NY |
| Havana Central | Favorite New York Mexican Restaurant | New York/Long Island, NY |
| Go Greek | Favorite New York Middle Eastern Restaurant | New York/Long Island, NY |
| Sahara Restaurant | Favorite New York Middle Eastern Restaurant | New York/Long Island, NY |
| Justino's Pizzeria | Favorite New York Pizzeria | New York/Long Island, NY |
| Amia's Delicatessen | Favorite New York Sandwich Shop | New York/Long Island, NY |
| The Side Door | Favorite Ottawa Asian Restaurant | Ottawa, ON |
| The Grounds Café | Favorite Ottawa Coffee Shop | Ottawa, ON |
| New York Fries | Favorite Ottawa Eatery | Ottawa, ON |
| Pinkberry | Favorite Ottawa Ice Cream Shop | Ottawa, ON |
| Taj Indian Cuisine | Favorite Ottawa Indian Restaurant | Ottawa, ON |
| Zolas | Favorite Ottawa Italian Restaurant | Ottawa, ON |
| Mucho Burrito Fresh Mexican Grill | Favorite Ottawa Mexican Restaurant | Ottawa, ON |
| Middle Eastern | Favorite Ottawa Middle Eastern Restaurant | Ottawa, ON |
| Lorenzo's | Favorite Ottawa Pizzeria | Ottawa, ON |
| Passero's Coffee Roasters | Favorite Philadelphia Coffee Shop | Philadelphia, PA |
| Ben & Irv | Favorite Philadelphia Eatery | Philadelphia, PA |
| Richman's Ice Cream and Burger Co | Favorite Philadelphia Ice Cream Shop | Philadelphia, PA |
| Green Chili | Favorite Philadelphia Indian Restaurant | Philadelphia, PA |
| Laura's Pizzeria and Restaurant | Favorite Philadelphia Italian Restaurant | Philadelphia, PA |
| Las Margaritas | Favorite Philadelphia Mexican Restaurant | Philadelphia, PA |
| The Original Nick's Pizza | Favorite Philadelphia Pizzeria | Philadelphia, PA |
| PrimoHoagies | Favorite Philadelphia Sandwich Shop | Philadelphia, PA |
| Ah-Hai Sushi & Grill | Favorite Phoenix Asian Restaurant | Phoenix, AZ |
| The Fix Drive Thru Coffee | Favorite Phoenix Coffee Shop | Phoenix, AZ |
| Dillon's KC Style Bar-B-Que | Favorite Phoenix Eatery | Phoenix, AZ |
| Razzleberriez Yogurt | Favorite Phoenix Ice Cream Shop | Phoenix, AZ |
| Om Indian Bistro | Favorite Phoenix Indian Restaurant | Phoenix, AZ |
| Anzio's Pizza & Italian Restaurant | Favorite Phoenix Italian Restaurant | Phoenix, AZ |
| Las Glorias Grill Mexican | Favorite Phoenix Mexican Restaurant | Phoenix, AZ |
| Phoenicia Mediterranean Grill | Favorite Phoenix Middle Eastern Restaurant | Phoenix, AZ |
| Venezia's NY Style Pizza | Favorite Phoenix Pizzeria | Phoenix, AZ |
| Sandwich Masterz | Favorite Phoenix Sandwich Shop | Phoenix, AZ |
| Golden Wok Inn Chinese Restaurant | Favorite Pittsburgh Asian Restaurant | Pittsburgh, PA |
| Hallowed Grounds | Favorite Pittsburgh Coffee Shop | Pittsburgh, PA |
| Peppi's | Favorite Pittsburgh Eatery | Pittsburgh, PA |
| Hank's Frozen Custard | Favorite Pittsburgh Ice Cream Shop | Pittsburgh, PA |
| Taj Mahal Inc | Favorite Pittsburgh Indian Restaurant | Pittsburgh, PA |
| DiPietro's Ristorante | Favorite Pittsburgh Italian Restaurant | Pittsburgh, PA |
| Fiesta Azteca Mexican Bar & Grill | Favorite Pittsburgh Mexican Restaurant | Pittsburgh, PA |
| The Simple Greek | Favorite Pittsburgh Middle Eastern Restaurant | Pittsburgh, PA |
| P & M Pizza | Favorite Pittsburgh Pizzeria | Pittsburgh, PA |
| Freedom Farms Sandwich Shop | Favorite Pittsburgh Sandwich Shop | Pittsburgh, PA |
| Asian Thai Bistro | Favorite Portland Asian Restaurant | Portland, OR |
| Caffe' Umbria | Favorite Portland Coffee Shop | Portland, OR |
| Sayler's Old Country Kitchen | Favorite Portland Eatery | Portland, OR |
| Frenzi Frozen Yogurt | Favorite Portland Ice Cream Shop | Portland, OR |
| Chaaya | Favorite Portland Indian Restaurant | Portland, OR |
| Bill's Pizza Baron | Favorite Portland Italian Restaurant | Portland, OR |
| La Costita Mexican Restaurant | Favorite Portland Mexican Restaurant | Portland, OR |
| Mad Greek Deli | Favorite Portland Middle Eastern Restaurant | Portland, OR |
| Sunshine Pizza | Favorite Portland Pizzeria | Portland, OR |
| Big Town Hero | Favorite Portland Sandwich Shop | Portland, OR |
| Tokyo Sushi | Favorite Richmond Asian Restaurant | Richmond, VA |
| Cold Harbor Restaurant | Favorite Richmond Eatery | Richmond, VA |
| Farouk's House of India | Favorite Richmond Indian Restaurant | Richmond, VA |
| WV Brick Oven Bistro | Favorite Richmond Italian Restaurant | Richmond, VA |
| Casa Grande | Favorite Richmond Mexican Restaurant | Richmond, VA |
| Mediterranean Bakery & Cafe | Favorite Richmond Middle Eastern Restaurant | Richmond, VA |
| Pino's Pizza | Favorite Richmond Pizzeria | Richmond, VA |
| Hatcher's Catering | Favorite Richmond Sandwich Shop | Richmond, VA |
| Sai Varee Thai Cuisine | Favorite Sacramento Asian Restaurant | Sacramento, CA |
| Bloom Coffee & Tea | Favorite Sacramento Coffee Shop | Sacramento, CA |
| Mr. Perry's | Favorite Sacramento Eatery | Sacramento, CA |
| Yogurt Time Cafe | Favorite Sacramento Ice Cream Shop | Sacramento, CA |
| Pooja Indian Grill | Favorite Sacramento Indian Restaurant | Sacramento, CA |
| Primo Pizza Burger & Brew | Favorite Sacramento Italian Restaurant | Sacramento, CA |
| Costa Vida | Favorite Sacramento Mexican Restaurant | Sacramento, CA |
| Vela Cafe | Favorite Sacramento Middle Eastern Restaurant | Sacramento, CA |
| Cool River Pizza Rocklin | Favorite Sacramento Pizzeria | Sacramento, CA |
| Sourdough & Co. | Favorite Sacramento Sandwich Shop | Sacramento, CA |
| Pan Asia | Favorite San Diego Asian Restaurant | San Diego, CA |
| Kaffee Meister | Favorite San Diego Coffee Shop | San Diego, CA |
| Jolly Roger | Favorite San Diego Eatery | San Diego, CA |
| The Yogurt Barn | Favorite San Diego Ice Cream Shop | San Diego, CA |
| Himalayan Grill | Favorite San Diego Indian Restaurant | San Diego, CA |
| Pernicano's | Favorite San Diego Italian Restaurant | San Diego, CA |
| El Indio Mexican Restaurant | Favorite San Diego Mexican Restaurant | San Diego, CA |
| Guahan Grill | Favorite San Diego Middle Eastern Restaurant | San Diego, CA |
| Station Pizza | Favorite San Diego Pizzeria | San Diego, CA |
| Elijah's Restaurant & Delicatessen | Favorite San Diego Sandwich Shop | San Diego, CA |
| Thai Bistro Mill Creek | Favorite Seattle Asian Restaurant | Seattle, WA |
| Caffe Ladro | Favorite Seattle Coffee Shop | Seattle, WA |
| Buzz Inn Steakhouse | Favorite Seattle Eatery | Seattle, WA |
| Black Bear Frozen Yogurt & Espresso | Favorite Seattle Ice Cream Shop | Seattle, WA |
| Saffron Grill | Favorite Seattle Indian Restaurant | Seattle, WA |
| Vince's Restaurants | Favorite Seattle Italian Restaurant | Seattle, WA |
| El Paraiso Mexican Grill | Favorite Seattle Mexican Restaurant | Seattle, WA |
| Jasmine Kitchen | Favorite Seattle Middle Eastern Restaurant | Seattle, WA |
| Brava's Pizza & Pasta | Favorite Seattle Pizzeria | Seattle, WA |
| Chicago Pastrami | Favorite Seattle Sandwich Shop | Seattle, WA |
| Maui Hawaiian BBQ | Favorite Southern California Asian Restaurant | Southern California |
| Chin's Gourmet | Favorite Southern California Asian Restaurant | Southern California |
| Honu Coffee | Favorite Southern California Coffee Shop | Southern California |
| Formosa Teatime | Favorite Southern California Coffee Shop | Southern California |
| The Marketplace Grill & Cafe | Favorite Southern California Eatery | Southern California |
| Green Tomato Grill | Favorite Southern California Eatery | Southern California |
| Confetti Italian Ice & Custard | Favorite Southern California Ice Cream Shop | Southern California |
| Get Shaved | Favorite Southern California Ice Cream Shop | Southern California |
| Frostbites Crepes & Frozen Delights | Favorite Southern California Ice Cream Shop | Southern California |
| Curry & Kabab Bistro | Favorite Southern California Indian Restaurant | Southern California |
| Bombay Tandoori and Banquet | Favorite Southern California Indian Restaurant | Southern California |
| Shakey's | Favorite Southern California Italian Restaurant | Southern California |
| Frantone's Pizza & Spaghetti Villa | Favorite Southern California Italian Restaurant | Southern California |
| Don Jose Mexican Restaurant | Favorite Southern California Mexican Restaurant | Southern California |
| Cabrera's Mexican Cuisine | Favorite Southern California Mexican Restaurant | Southern California |
| Citrus Cafe | Favorite Southern California Middle Eastern Restaurant | Southern California |
| Zaky Mediterranean Grill | Favorite Southern California Middle Eastern Restaurant | Southern California |
| Ecco's Pizza | Favorite Southern California Pizzeria | Southern California |
| Pieology Pizzeria | Favorite Southern California Pizzeria | Southern California |
| Philly's Best | Favorite Southern California Sandwich Shop | Southern California |
| Philly's Best | Favorite Southern California Sandwich Shop | Southern California |
| Thai Rama | Favorite St. Louis Asian Restaurant | St. Louis, MO |
| Northwest Coffee | Favorite St. Louis Coffee Shop | St. Louis, MO |
| Weber's Front Row | Favorite St. Louis Eatery | St. Louis, MO |
| Doozle's Frozen Custard | Favorite St. Louis Ice Cream Shop | St. Louis, MO |
| India Palace | Favorite St. Louis Indian Restaurant | St. Louis, MO |
| Racanelli's | Favorite St. Louis Italian Restaurant | St. Louis, MO |
| Vallarta Mexican Restaurant | Favorite St. Louis Mexican Restaurant | St. Louis, MO |
| Ari's Restaurant & Bar | Favorite St. Louis Middle Eastern Restaurant | St. Louis, MO |
| Boardwalk Pizza | Favorite St. Louis Pizzeria | St. Louis, MO |
| The Corner Butcher | Favorite St. Louis Sandwich Shop | St. Louis, MO |
| Rice N Roll | Favorite Tampa/St. Petersburg Asian Restaurant | Tampa/St. Petersburg, FL |
| Indian Shores Coffee Company | Favorite Tampa/St. Petersburg Coffee Shop | Tampa/St. Petersburg, FL |
| Newk's Eatery | Favorite Tampa/St. Petersburg Eatery | Tampa/St. Petersburg, FL |
| The Revolution Ice Cream Co. | Favorite Tampa/St. Petersburg Ice Cream Shop | Tampa/St. Petersburg, FL |
| Haveli Indian Kitchen | Favorite Tampa/St. Petersburg Indian Restaurant | Tampa/St. Petersburg, FL |
| CD Roma Restaurant & Brewpub | Favorite Tampa/St. Petersburg Italian Restaurant | Tampa/St. Petersburg, FL |
| Don Julio's Authentic Mexican Cuisine | Favorite Tampa/St. Petersburg Mexican Restaurant | Tampa/St. Petersburg, FL |
| Acropolis Greek Taverna | Favorite Tampa/St. Petersburg Middle Eastern Restaurant | Tampa/St. Petersburg, FL |
| Mellow Mushroom | Favorite Tampa/St. Petersburg Pizzeria | Tampa/St. Petersburg, FL |
| Williams Sub Shop | Favorite Tampa/St. Petersburg Sandwich Shop | Tampa/St. Petersburg, FL |
| Makimono Japanese Restaurant | Favorite Toronto Asian Restaurant | Toronto, ON |
| Presse Cafe Bay St. | Favorite Toronto Coffee Shop | Toronto, ON |
| Booster Juice | Favorite Toronto Eatery | Toronto, ON |
| Eva's Original Chimney's | Favorite Toronto Ice Cream Shop | Toronto, ON |
| The Host Fine Indian Cuisine | Favorite Toronto Indian Restaurant | Toronto, ON |
| Don Franchesko | Favorite Toronto Italian Restaurant | Toronto, ON |
| Mumma's Burritos | Favorite Toronto Mexican Restaurant | Toronto, ON |
| Pak Centre Halal Restaurant | Favorite Toronto Middle Eastern Restaurant | Toronto, ON |
| Jessy's Pizza Toronto | Favorite Toronto Pizzeria | Toronto, ON |
| Philthy Philly's Cheesesteaks & Poutinerie | Favorite Toronto Sandwich Shop | Toronto, ON |
| Sea Restaurant | Favorite Upstate New York Asian Restaurant | Upstate New York |
| Artisan Coffeehouse | Favorite Upstate New York Coffee Shop | Upstate New York |
| Saratoga Coffee Traders | Favorite Upstate New York Coffee Shop | Upstate New York |
| Tom Wahl's | Favorite Upstate New York Eatery | Upstate New York |
| I Scream for Ice Cream | Favorite Upstate New York Ice Cream Shop | Upstate New York |
| Tandoor of India | Favorite Upstate New York Indian Restaurant | Upstate New York |
| Lazeez Restaurant | Favorite Upstate New York Indian Restaurant | Upstate New York |
| Mark's Pizzeria | Favorite Upstate New York Italian Restaurant | Upstate New York |
| Sardo's Pizza & Fish Fry | Favorite Upstate New York Italian Restaurant | Upstate New York |
| Bombers Burrito Bar | Favorite Upstate New York Mexican Restaurant | Upstate New York |
| Dalia's Mediterranean Restaurant | Favorite Upstate New York Middle Eastern Restaurant | Upstate New York |
| Grecian Gardens | Favorite Upstate New York Middle Eastern Restaurant | Upstate New York |
| Perri's Pizzeria | Favorite Upstate New York Pizzeria | Upstate New York |
| Desiato's Deli & Subs | Favorite Upstate New York Sandwich Shop | Upstate New York |
| Sakana Sushi Bar & Japanese Cuisine | Favorite Utah Asian Restaurant | Utah |
| Alchemy Coffee | Favorite Utah Coffee Shop | Utah |
| The Sugarhouse Barbeque Company | Favorite Utah Eatery | Utah |
| Paleteria & Ice Cream Shop | Favorite Utah Ice Cream Shop | Utah |
| Curry Pizza | Favorite Utah Indian Restaurant | Utah |
| Francesco's Restaurant | Favorite Utah Italian Restaurant | Utah |
| Barbacoa Mexican Grill | Favorite Utah Mexican Restaurant | Utah |
| The Local Greek | Favorite Utah Middle Eastern Restaurant | Utah |
| Pizza Pie Cafe at West Jordan | Favorite Utah Pizzeria | Utah |
| Apple Spice Junction | Favorite Utah Sandwich Shop | Utah |
| Osaka Teppanyaki Steak & Seafood House | Favorite Vancouver Asian Restaurant | Vancouver, BC |
| 45 Degree Bubble Tea House | Favorite Vancouver Coffee Shop | Vancouver, BC |
| Sammy J's Grill & Bar | Favorite Vancouver Eatery | Vancouver, BC |
| Innocent Ice Cream | Favorite Vancouver Ice Cream Shop | Vancouver, BC |
| An Indian Affair | Favorite Vancouver Indian Restaurant | Vancouver, BC |
| Italian Tomato Restaurant | Favorite Vancouver Italian Restaurant | Vancouver, BC |
| Taco Del Mar | Favorite Vancouver Mexican Restaurant | Vancouver, BC |
| Kostas Greek Restaurant | Favorite Vancouver Middle Eastern Restaurant | Vancouver, BC |
| Non Stop Pizza | Favorite Vancouver Pizzeria | Vancouver, BC |
| The Deli By Continental Sausage | Favorite Vancouver Sandwich Shop | Vancouver, BC |
| Asian Fusion | Favorite Washington D.C. Asian Restaurant | Washington D.C. |
| Cervantes Coffee | Favorite Washington D.C. Coffee Shop | Washington D.C. |
| Foster's Grille | Favorite Washington D.C. Eatery | Washington D.C. |
| Frostie Moose | Favorite Washington D.C. Ice Cream Shop | Washington D.C. |
| Masala Wok | Favorite Washington D.C. Indian Restaurant | Washington D.C. |
| That's Amore | Favorite Washington D.C. Italian Restaurant | Washington D.C. |
| La Tolteca | Favorite Washington D.C. Mexican Restaurant | Washington D.C. |
| Delia's | Favorite Washington D.C. Middle Eastern Restaurant | Washington D.C. |
| Crust Pizzeria Napoletana | Favorite Washington D.C. Pizzeria | Washington D.C. |
| Royal Bagel Bakery | Favorite Washington D.C. Sandwich Shop | Washington D.C. |
| Main Moon | Favorite Youngstown Asian Restaurant | Youngstown, OH |
| High Octane Coffee Company | Favorite Youngstown Coffee Shop | Youngstown, OH |
| Forty 10 | Favorite Youngstown Eatery | Youngstown, OH |
| Jesy's Dairy Cove | Favorite Youngstown Ice Cream Shop | Youngstown, OH |
| Salvatore's Italian Grill | Favorite Youngstown Italian Restaurant | Youngstown, OH |
| El Jalapeno | Favorite Youngstown Mexican Restaurant | Youngstown, OH |
| Zenobia Middle Eastern Cuisine | Favorite Youngstown Middle Eastern Restaurant | Youngstown, OH |
| Pizza Works | Favorite Youngstown Pizzeria | Youngstown, OH |