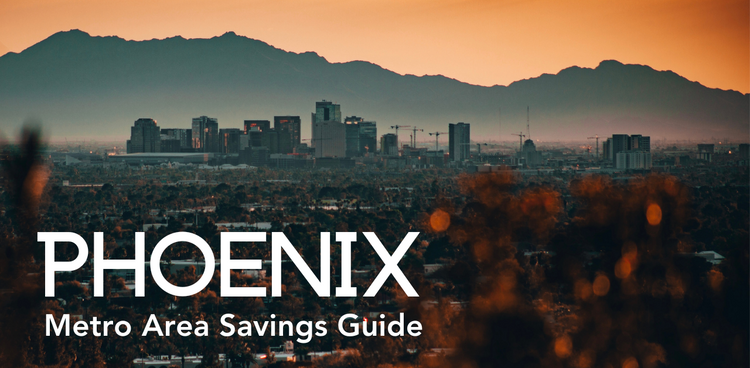 The Phoenix Metropolitan Area is a vibe all within itself! It is host to the most luxurious, world-class resorts and golf courses, an incredible national park system, cityscapes, night life, dining, shopping, and adventures, all soaked in sunshine to guarantee you can do it all! And you can, for less with Entertainment!

Member-exclusive discounts are waiting for your arrival with over $33,400 in savings in its neighboring cities. From airfare to hotels and resorts, your Entertainment membership pays for itself and keeps rewarding your journey! Enjoy this Phoenix Metro Area Savings Guide, with NEW! interactive savings locator map , helpful hints, and links to help plan your get away.



Explore the Valley of the Sun and Save up to $9,500!
The city of Phoenix is the capitol of Arizona, and manages to incapsulate all the magic Arizona has to offer. It has fine dining, shopping and adventure but it is also home to over 35 museums! From music to science, Native American art and artifacts to firefighting history, you'll find the perfect museum to complete your visit.

Get with Nature in Mesa and Save up to $3,500!
Mesa is the top destination for outdoor sports and adventure! Its ideal weather conditions include plenty of sunshine, cool sunsets and very little rain, creating the most memorable hiking, cycling, canoeing, kayaking and horseback riding you'll ever experience. Take a break and visit some of the most famous museums in the nation filled with dinosaur bones, archaeological finds and ancestorial artifacts. Mesa sits on top of a plateau overlooking the Valley of the Sun, just 18 miles east of Phoenix.







Explore Tempe's Art Community and Save up to $2,900. Tempe's location on the massive Salt River and adjoining Tempe Town Lake defines its vibe: outdoor adventure, art and culture. Amidst the year-round watercraft sport activity, the city's art community has defined both its activities and environment; as it is flourishing with outdoor concerts, festivals and museums. Tempe rests gently in the arms of Hayden Butte Mountain, 11 miles east of Phoenix.

Shop Swanky Scottsdale and Save up to $3,700! Scottsdale is considered the Beverly Hills of Arizona and for good reason! Sprawling world-class resorts and golf courses protect the heart of the city, called Old Town, where you will find cacti lined streets backed by 1920s western store fronts. Every detail looks like a movie set, including olive trees that are well over 600 years old! Prepare yourself to be spoiled with cultural cuisine, exquisite handmade jewelry, art, and authentic western cowboy gear. Scottsdale is surrounded by the Sonoran Desert, nine miles northeast of Phoenix.


Chill in Chandler and Save up to $2,500! 
Chandler is a top vacation destination due to its swaying palm trees, warm breezes, gentle hospitality, and iconic eats. Guests enjoy world-famous chimichangas, burritos and Apache trout; and find that its picturesque landscapes soaked in constant sunshine a very agreeable travel companion. Chandler sits in the valley of Ma Ha Tauk, Gila and Guadalupe Mountains, and is 22 miles southeast of Phoenix.
Start your 30-day free trial today.
Then you'll be billed $24.99/year
You'll be billed $2.99/month
#Arizona #Phoenix #Chandler #Scottsdale #Tempe #Mesa #Entertainment #EntertainmentApp #Entertainmentcoupons #vacation #getaway #desert #nightlift #savings #golfing #shopping #dining #adventure #desertadventure