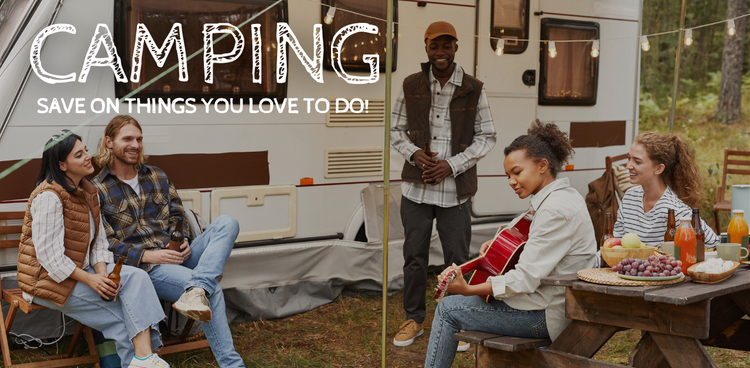 Whether you're tent camping or backpacking in a national or state park, the Entertainment® App gives you access to hundreds of member-exclusive discounts on everything you'll need to be a happy camper. From hiking shoes and sleeping bags to canoe and passenger van rentals, the Entertainment® App is the one thing you'll want on your camp checklist!
The Entertainment

®

Camper To-do List:  


Refresh your Gear: No need to bring the rain bucket for the tent this year. Active members on average save $23.54 on sporting goods like tents, backpacks, coolers, lanterns, grills, airbeds, hiking shoes and more.
Enjoy a Field Trip: Take in the local color, adventures and exploration. Active members on average save $10.26 on admission to aquariums, zoos, botanical gardens, cavern exploration, and museums.
Grab a Bite to Eat: Take a break from campfire food, sand and mosquitos and treat yourself to dinner out. Active members on average save $8.20 on quick bites, drive-thru, carry-out and frozen treats.
Chase Roller Coasters: Rally up the gang for an adrenaline-infused day at an area theme park. Active members on average save $17.78 on admission to amusement parks, waterparks, and area attractions.
Hit the Links: Sneak away for an early tee time and squeeze in a quiet morning on the greens. Active members on average save $20.32 on green fees.
Hit the Slopes: Western region powder chasers can enjoy skiing this summer well into July, due to record-breaking snowfall. Active members on average save $21.45 on daily tickets.
Rent a car: Rent a spacious vehicle that will hold everything from camping gear to the dog and save miles on your vehicle. Active members on average save $42.25.
With the Entertainment® App and hundreds of member-exclusive discounts to choose from, you'll be able to navigate your family and friends to great experiences and make memories to last a lifetime. And, with the money you've saved, you'll be able to pack in even more adventure, more laughs, and more smiles. Experience more with Entertainment®.  

Merchant participation varies by market and not all offers are valid for mobile redemption. Savings is based on the average estimated savings for offers in the indicated category. Savings vary by offer.

Terms and Conditions of Entertainment® Digital Membership Offer
Your annual Digital Membership is $4.99 off for the first year. Valid promo code required. After the first year, your credit card will be billed $24.99 per year. You can cancel anytime online. Offer is valid for a limited time. Offer is available while supplies last and only available for the annual Digital Membership. The annual Digital Membership is valid for 12 months from purchase date. Entertainment® retains the right to modify this program at any time.