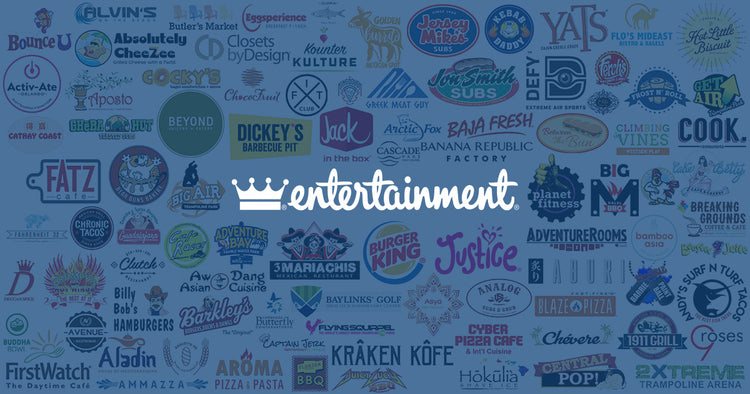 We're always adding new offers! Check out the hundreds of new coupons we've added this December throughout the U.S. and Canada. There's something for everyone.
Featured New Offers
Planet Fitness - Multiple Locations
Enjoy a unique, affordable, judgement free fitness experience at Planet Fitness - with no start-up fee, no commitment, and for PF Black Card members, no annual fee. You choose Classic Membership or PF Black Card Membership – what best fits your lifestyle!
See What's New Around You!
Merchant Name
City
State
Offer
1911 Grill
Spedway
IN
Enjoy 25% off the total bill
241 Pizza®
Maple
ON
Enjoy one free pizza with purchase of same
2Xtreme Trampoline Arena
Fresno
CA
Enjoy one free admission with purchase of same
3 Brothers Pub & Grub
Speedway
IN
Enjoy 25% off the total bill
3 Hermanos
Maiden
NC
Enjoy one free entrée with purchase of same
3 Mariachis Mexican Restaurant
Woodbridge
ON
Enjoy 25% off the total bill
3 Olives Pizza & Deli
Raleigh
NC
Enjoy 25% off the total bill
3 Palms Pizzeria
Orange
OH
Enjoy 20% off the total bill
365 Fundays
Richmond
BC
Enjoy one free admission with purchase of same
46th Street Pizza
Helotes
TX
Enjoy 10% off the total bill
46th Street Pizza
Helotes
TX
Enjoy 25% off the total bill
9 Roses Cafe
New Orleans
LA
Enjoy 10% off the total bill
9 Roses Cafe
New Orleans
LA
Enjoy 25% off the total bill
A Brooklyn Pizzeria
San Diego
CA
Enjoy 25% off the total bill
A Kitten Kadoodle Coffee Café
Selden
NY
Enjoy 10% off the total bill
A Kitten Kadoodle Coffee Cafe
Selden
NY
Enjoy one free coffee with purchase of same
A Natural Design
Bothell
WA
Enjoy 20% off any purchase
A Tutti Ristorante Italiano
Philadelphia
PA
Enjoy 20% off the total bill
AAA Ice Cream
La Puente
CA
Enjoy 10% off the total bill
AAA Ice Cream
La Puente
CA
Enjoy 50% off the total bill
Absolutely Cheezee
Ormond Beach
FL
Enjoy one free menu item with purchase of same
Aburi Sushi
Buena Park
CA
Enjoy one free entrée with purchase of same
Academy Coffee
Atlanta
GA
Enjoy 50% off any purchase
Active-Ate
Orlando
FL
Enjoy 10% off the total bill
Active-Ate
Orlando
FL
Enjoy 50% off the regular price of any food/beverage order
Addy's Barbeque
Astoria
NY
Enjoy 25% off the total bill
Adventure Bay Family Water Park
Windsor
ON
Enjoy one free admission with purchase of same
Adventure Rooms Canada
Niagara Falls
ON
Enjoy one free admission with purchase of same
Adventure Rooms Canada
Kitchener
ON
Enjoy one free admission with purchase of same
Aegea West
Douglaston
NY
Enjoy 25% off the total bill
Aiello's of Brooklyn
Manalapan Township
NJ
Enjoy one free menu item with purchase of same
Aky's Cafe
Richmond
CA
Enjoy 25% off the total bill
Aladin
Redford
MI
Enjoy $5 off the minimum purchase of $10 or more
Al-Bos Bakery & Meat Market
Grand Rapids
MI
Enjoy 10% off the total bill
Al-Bos Bakery & Meat Market
Grand Rapids
MI
Enjoy 25% off the total bill
Alexander's Restaurant
Chicago
IL
Enjoy 25% off the total bill
Aliyana's Pizzeria
Mastic Beach
NY
Enjoy 50% off the regular price of any one pizza
All American Pizza
Long Hill
NJ
Enjoy 10% off the total bill
All American Pizza
Long Hill
NJ
Enjoy 25% off the total bill
Al's Pizza
Newfoundland
NJ
Enjoy 10% off the total bill
Al's Pizza
Newfoundland
NJ
Enjoy 25% off the total bill
Altalena Vinoteca
San Francisco
CA
Enjoy 25% off the total bill
Alumni Grill
Glassboro
NJ
Enjoy one free menu item with purchase of same
Alvin's On The Beach
Hollywood
FL
Enjoy one free entrée with purchase of same
Amber Indian Restaurant
Carmel
IN
Enjoy 20% off the total bill
Amber Indian Restaurant
Indianapolis
IN
Enjoy 20% off the total bill
Amber Indian Restaurant
Carmel
IN
Enjoy 25% off the total bill
Amber Indian Restaurant
Indianapolis
IN
Enjoy 25% off the total bill
American Cheeseburger
Rochester
NY
Enjoy one free entrée with purchase of same
American Family Restaurant
Sauk Village
IL
Enjoy 10% off the total bill
American Family Restaurant
Sauk Village
IL
Enjoy 25% off the total bill
Americano
Seattle
WA
Enjoy one free menu item with purchase of same
Ammazza
Decatur
GA
Enjoy one free pizza with purchase of same
Amore Mio Pizza
Alpha
NJ
Enjoy 10% off the total bill
Amore Mio Pizza
Alpha
NJ
Enjoy 25% off the total bill
Amore's Pizza & Pasta
Wayne
NJ
Enjoy 25% off the total bill
Analog
Oakland
CA
Enjoy 25% off the total bill
Andale Latino Grill
FEASTERVILLE
PA
Enjoy 10% off the total bill
Andale Latino Grill
FEASTERVILLE
PA
Enjoy 25% off the total bill
Andary's Country Oven
CLINTON TWP
MI
Enjoy 10% off the total bill
Andary's Country Oven
CLINTON TWP
MI
Enjoy 25% off the total bill
Andy's Surf N Turf Tacos
Granada Hill
CA
Enjoy 10% off the total bill
Andy's Surf N Turf Tacos
Granada Hill
CA
Enjoy one free menu item with purchase of same
Angela's Family Restaurant
Cleveland
OH
Enjoy 10% off the total bill
Angela's Family Restaurant
Cleveland
OH
Enjoy 25% off the total bill
Angelica's Coffee Shop
Brooklyn
NY
Enjoy 25% off the total bill
Angelo's Greek Taverna
Maywood
NJ
Enjoy 25% off the total bill
Annadale Bakery
Staten Island
NY
Enjoy 50% off the regular price of any purchase
Anna's Pizza
Waltham
MA
Enjoy one free pizza with purchase of same
Antelope Club
Indianapolis
IN
Enjoy one free menu item with purchase of same
Antonio's Pizza
Charlotte
NC
Enjoy 25% off the total bill
Aposto Mediterranean Grill and Pizzeria
Highland Park
NJ
Enjoy 25% off the total bill
Arctic Fox Shaved Snow and Desserts
Rancho Cordova
CA
Enjoy one free menu item with purchase of same
Arlington Cafe
Arlington
MA
Enjoy 10% off the total bill
Arlington Cafe
Arlington
MA
Enjoy 25% off the total bill
Aroma Indian Cuisine
Rego Park
NY
Enjoy 10% off the total bill
Aroma Indian Cuisine
Rego Park
NY
Enjoy 25% off the total bill
Aroma Pizza & Pasta
Lake Forest
CA
Enjoy 10% off the total bill
Aroma Pizza & Pasta
Lake Forest
CA
Enjoy 25% off the total bill
Arslan's Gyros
San Diego
CA
Enjoy 25% off the total bill
Asya Indian Restaurant
Brooklyn
NY
Enjoy 10% off the total bill
Asya Indian Restaurant
Brooklyn
NY
Enjoy 25% off the total bill
Athena Greek Restaurant
Chicago
IL
Enjoy 10% off the total bill
Athena Greek Restaurant
Chicago
IL
Enjoy 25% off the total bill
Atilano's Tacos
Penns Grove
NJ
Enjoy 10% off the total bill
Atilano's Tacos
Penns Grove
NJ
Enjoy 25% off the total bill
Augustine's
Atlanta
GA
Enjoy one free entrée with purchase of same
Avalon Diner
Winter Garden
FL
Enjoy 25% off the total bill
Avanti's Pizzeria
Staten Island
NY
Enjoy 25% off the total bill
Avenue Gastrobar
Orlando
FL
Enjoy 25% off the total bill
Aw Dang Asian Cuisine
Schertz
TX
Enjoy one free entrée with purchase of same
Azteca Grill
Red Bank
NJ
Enjoy 25% off the total bill
B & J's Corned Beef Shoppe & Deli
Cleveland
OH
Enjoy one free entrée with purchase of same
Baba Ghannouj Mediterranean Buffet
Durham
NC
Enjoy 25% off the total bill
Baba'z Grill
San Diego
CA
Enjoy 10% off the total bill
Baba'z Grill
San Diego
CA
Enjoy 25% off the total bill
Bagel Bonanza
Newfoundland
NJ
Enjoy 10% off the total bill
Bagel Bonanza
Newfoundland
NJ
Enjoy 25% off the total bill
Bagel City
Edison
NJ
Enjoy 20% off the total bill
Bagel Club
Bayside
NY
Enjoy 50% off any purchase
Bagels and Cream
Bronx
NY
Enjoy 25% off the total bill
Baguette Me
Costa Mesa
CA
Enjoy one free menu item with purchase of same
Baja Fresh
Ocean Twp
NJ
Enjoy one free menu item with purchase of same
Baja Fresh
Irvine
CA
Enjoy one free menu item with purchase of same
Ball Hoggerz BBQ
Memphis
TN
Enjoy one free menu item with purchase of same
Bamboo Asia
San Francisco
CA
Enjoy one free menu item with purchase of same
Bamboo Thai Cuisine
Seattle
WA
Enjoy 25% off the total bill
Banana Republic Factory
Edmonton
AB
Enjoy 20% off a purchase of $100 or more
Banana Republic Factory
Destin
FL
Enjoy 20% off a purchase of $100 or more
Banana Republic Factory
Myrtle Beach
SC
Enjoy 20% off a purchase of $100 or more
Banana Republic Factory
Gulfport
MS
Enjoy 20% off a purchase of $100 or more
Banana Republic Factory
Sudbury
ON
Enjoy 20% off a purchase of $100 or more
Banana Republic Factory
Little Rock
AR
Enjoy 20% off a purchase of $100 or more
Banana Republic Factory
London
ON
Enjoy 20% off a purchase of $100 or more
Banana Republic Factory
Halton Hills
ON
Enjoy 20% off a purchase of $100 or more
Banana Republic Factory
Bluffton
SC
Enjoy 20% off a purchase of $100 or more
Banana Republic Factory
Tallahassee
FL
Enjoy 20% off a purchase of $100 or more
Banana Republic Factory
Laredo
TX
Enjoy 20% off a purchase of $100 or more
Banana Republic Factory
Windsor
ON
Enjoy 20% off a purchase of $100 or more
Banana Republic Factory
Sevierville
TN
Enjoy 20% off a purchase of $100 or more
Banana Republic Factory
North Conway
NH
Enjoy 20% off a purchase of $100 or more
Banana Republic Factory
Tejon Ranch
CA
Enjoy 20% off a purchase of $100 or more
Banana Republic Factory
Mirabel
QC
Enjoy 20% off a purchase of $100 or more
Banana Republic Factory
Williamsburg
IA
Enjoy 20% off a purchase of $100 or more
Banana Republic Factory
Pearl
MS
Enjoy 20% off a purchase of $100 or more
Banana Republic Factory
Pooler
GA
Enjoy 20% off a purchase of $100 or more
Banana Republic Factory
Gonzales
LA
Enjoy 20% off a purchase of $100 or more
Banana Republic Factory
Vestal
NY
Enjoy 20% off a purchase of $100 or more
Banana Republic Factory
Foley
AL
Enjoy 20% off a purchase of $100 or more
Banana Republic Factory
Midland
TX
Enjoy 20% off a purchase of $100 or more
Banana Republic Factory
Lubbock
TX
Enjoy 20% off a purchase of $100 or more
Banana Republic Factory
Branson
MO
Enjoy 20% off a purchase of $100 or more
Banana Republic Factory
Niagara-On-The-Lake
ON
Enjoy 20% off a purchase of $100 or more
Banana Republic Factory
Blowing Rock
NC
Enjoy 20% off a purchase of $100 or more
Banana Republic Factory
Cookstown
ON
Enjoy 20% off a purchase of $100 or more
Banana Republic Factory
Mebane
NC
Enjoy 20% off a purchase of $100 or more
Banana Republic Factory
Queenstown
MD
Enjoy 20% off a purchase of $100 or more
Banana Republic Factory
Davenport
IA
Enjoy 20% off a purchase of $100 or more
Banana Republic Factory
Osage Beach
MO
Enjoy 20% off a purchase of $100 or more
Banana Republic Factory
Myrtle Beach
SC
Enjoy 20% off a purchase of $100 or more
Banana Republic Factory
Mercedes
TX
Enjoy 20% off a purchase of $100 or more
Banana Republic Factory
Peoria
IL
Enjoy 20% off a purchase of $100 or more
Banana Republic Factory
Winnipeg
MB
Enjoy 20% off a purchase of $100 or more
Banana Republic Factory
Leeds
AL
Enjoy 20% off a purchase of $100 or more
Banana Republic Factory
Evansville
IN
Enjoy 20% off a purchase of $100 or more
Banana Republic Factory
El Paso
TX
Enjoy 20% off a purchase of $100 or more
Banana Republic Factory
Nags Head
NC
Enjoy 20% off a purchase of $100 or more
Banana Republic Factory
Moncton
NB
Enjoy 20% off a purchase of $100 or more
Banana Republic Factory
Richmond
BC
Enjoy 20% off a purchase of $100 or more
Banana Republic Factory
Asheville
NC
Enjoy 20% off a purchase of $100 or more
Banana Republic Factory
Ottawa
ON
Enjoy 20% off a purchase of $100 or more
Banana Republic Factory
Calexico
CA
Enjoy 20% off a purchase of $100 or more
Banana Republic Factory
Bossier City
LA
Enjoy 20% off a purchase of $100 or more
Banana Republic Factory
Lake George
NY
Enjoy 20% off a purchase of $100 or more
Banana Republic Factory
Locust Grove
GA
Enjoy 20% off a purchase of $100 or more
Banana Republic Factory
Athens
GA
Enjoy 20% off a purchase of $100 or more
Banana Republic Factory
Dawsonville
GA
Enjoy 20% off a purchase of $100 or more
Banana Republic Factory
Commerce
GA
Enjoy 20% off a purchase of $100 or more
Banana Republic Factory
Woodstock
GA
Enjoy 20% off a purchase of $100 or more
Banana Republic Factory
San Marcos
TX
Enjoy 20% off a purchase of $100 or more
Banana Republic Factory
San Marcos
TX
Enjoy 20% off a purchase of $100 or more
Banana Republic Factory
Round Rock
TX
Enjoy 20% off a purchase of $100 or more
Banana Republic Factory
Hanover
MD
Enjoy 20% off a purchase of $100 or more
Banana Republic Factory
Niagara Falls
NY
Enjoy 20% off a purchase of $100 or more
Banana Republic Factory
Rocky View
AB
Enjoy 20% off a purchase of $100 or more
Banana Republic Factory
Calgary
AB
Enjoy 20% off a purchase of $100 or more
Banana Republic Factory
Charlotte
NC
Enjoy 20% off a purchase of $100 or more
Banana Republic Factory
Concord
NC
Enjoy 20% off a purchase of $100 or more
Banana Republic Factory
Chicago
IL
Enjoy 20% off a purchase of $100 or more
Banana Republic Factory
Aurora
IL
Enjoy 20% off a purchase of $100 or more
Banana Republic Factory
Chicago
IL
Enjoy 20% off a purchase of $100 or more
Banana Republic Factory
Rosemont
IL
Enjoy 20% off a purchase of $100 or more
Banana Republic Factory
Gurnee
IL
Enjoy 20% off a purchase of $100 or more
Banana Republic Factory
Monroe
OH
Enjoy 20% off a purchase of $100 or more
Banana Republic Factory
Sunbury
OH
Enjoy 20% off a purchase of $100 or more
Banana Republic Factory
Jeffersonville
OH
Enjoy 20% off a purchase of $100 or more
Banana Republic Factory
Grand Prairie
TX
Enjoy 20% off a purchase of $100 or more
Banana Republic Factory
Allen
TX
Enjoy 20% off a purchase of $100 or more
Banana Republic Factory
Rehoboth Beach
DE
Enjoy 20% off a purchase of $100 or more
Banana Republic Factory
Thornton
CO
Enjoy 20% off a purchase of $100 or more
Banana Republic Factory
Lakewood
CO
Enjoy 20% off a purchase of $100 or more
Banana Republic Factory
Silverthorne
CO
Enjoy 20% off a purchase of $100 or more
Banana Republic Factory
Castle Rock
CO
Enjoy 20% off a purchase of $100 or more
Banana Republic Factory
Howell
MI
Enjoy 20% off a purchase of $100 or more
Banana Republic Factory
Auburn Hills
MI
Enjoy 20% off a purchase of $100 or more
Banana Republic Factory
Edmonton
AB
Enjoy 20% off a purchase of $100 or more
Banana Republic Factory
Fort Worth
TX
Enjoy 20% off a purchase of $100 or more
Banana Republic Factory
Grapevine
TX
Enjoy 20% off a purchase of $100 or more
Banana Republic Factory
Tulare
CA
Enjoy 20% off a purchase of $100 or more
Banana Republic Factory
Miami
FL
Enjoy 20% off a purchase of $100 or more
Banana Republic Factory
Sunrise
FL
Enjoy 20% off a purchase of $100 or more
Banana Republic Factory
Vero Beach
FL
Enjoy 20% off a purchase of $100 or more
Banana Republic Factory
West Palm Beach
FL
Enjoy 20% off a purchase of $100 or more
Banana Republic Factory
Key West
FL
Enjoy 20% off a purchase of $100 or more
Banana Republic Factory
Estero
FL
Enjoy 20% off a purchase of $100 or more
Banana Republic Factory
Fort Myers
FL
Enjoy 20% off a purchase of $100 or more
Banana Republic Factory
Byron Center
MI
Enjoy 20% off a purchase of $100 or more
Banana Republic Factory
Wrentham
MA
Enjoy 20% off a purchase of $100 or more
Banana Republic Factory
Somerville
MA
Enjoy 20% off a purchase of $100 or more
Banana Republic Factory
Millbury
MA
Enjoy 20% off a purchase of $100 or more
Banana Republic Factory
Ontario
CA
Enjoy 20% off a purchase of $100 or more
Banana Republic Factory
Commerce
CA
Enjoy 20% off a purchase of $100 or more
Banana Republic Factory
Woodburn
OR
Enjoy 20% off a purchase of $100 or more
Banana Republic Factory
Portland
OR
Enjoy 20% off a purchase of $100 or more
Banana Republic Factory
Vaughan
ON
Enjoy 20% off a purchase of $100 or more
Banana Republic Factory
Ajax
ON
Enjoy 20% off a purchase of $100 or more
Banana Republic Factory
Toronto
ON
Enjoy 20% off a purchase of $100 or more
Banana Republic Factory
Mississauga
ON
Enjoy 20% off a purchase of $100 or more
Banana Republic Factory
Dartmouth
NS
Enjoy 20% off a purchase of $100 or more
Banana Republic Factory
Norfolk
VA
Enjoy 20% off a purchase of $100 or more
Banana Republic Factory
Williamsburg
VA
Enjoy 20% off a purchase of $100 or more
Banana Republic Factory
Hershey
PA
Enjoy 20% off a purchase of $100 or more
Banana Republic Factory
Clinton
CT
Enjoy 20% off a purchase of $100 or more
Banana Republic Factory
Mashantucket
CT
Enjoy 20% off a purchase of $100 or more
Banana Republic Factory
Lahaina
HI
Enjoy 20% off a purchase of $100 or more
Banana Republic Factory
Waipahu
HI
Enjoy 20% off a purchase of $100 or more
Banana Republic Factory
Cypress
TX
Enjoy 20% off a purchase of $100 or more
Banana Republic Factory
Katy
TX
Enjoy 20% off a purchase of $100 or more
Banana Republic Factory
Texas City
TX
Enjoy 20% off a purchase of $100 or more
Banana Republic Factory
Edinburgh
IN
Enjoy 20% off a purchase of $100 or more
Banana Republic Factory
Redlands
CA
Enjoy 20% off a purchase of $100 or more
Banana Republic Factory
Cabazon
CA
Enjoy 20% off a purchase of $100 or more
Banana Republic Factory
St Augustine
FL
Enjoy 20% off a purchase of $100 or more
Banana Republic Factory
Kansas City
KS
Enjoy 20% off a purchase of $100 or more
Banana Republic Factory
Las Vegas
NV
Enjoy 20% off a purchase of $100 or more
Banana Republic Factory
Las Vegas
NV
Enjoy 20% off a purchase of $100 or more
Banana Republic Factory
Simpsonville
KY
Enjoy 20% off a purchase of $100 or more
Banana Republic Factory
Baraboo
WI
Enjoy 20% off a purchase of $100 or more
Banana Republic Factory
Southaven
MS
Enjoy 20% off a purchase of $100 or more
Banana Republic Factory
Central Valley
NY
Enjoy 20% off a purchase of $100 or more
Banana Republic Factory
Pleasant Prairie
WI
Enjoy 20% off a purchase of $100 or more
Banana Republic Factory
Johnson Creek
WI
Enjoy 20% off a purchase of $100 or more
Banana Republic Factory
STE-DOROTHEE
QC
Enjoy 20% off a purchase of $100 or more
Banana Republic Factory
Vaudreuil-Dorion
QC
Enjoy 20% off a purchase of $100 or more
Banana Republic Factory
Nashville
TN
Enjoy 20% off a purchase of $100 or more
Banana Republic Factory
Harahan
LA
Enjoy 20% off a purchase of $100 or more
Banana Republic Factory
Elizabeth
NJ
Enjoy 20% off a purchase of $100 or more
Banana Republic Factory
Paramus
NJ
Enjoy 20% off a purchase of $100 or more
Banana Republic Factory
Blackwood
NJ
Enjoy 20% off a purchase of $100 or more
Banana Republic Factory
Atlantic City
NJ
Enjoy 20% off a purchase of $100 or more
Banana Republic Factory
Jackson
NJ
Enjoy 20% off a purchase of $100 or more
Banana Republic Factory
Tinton Falls
NJ
Enjoy 20% off a purchase of $100 or more
Banana Republic Factory
Grove City
PA
Enjoy 20% off a purchase of $100 or more
Banana Republic Factory
Aurora
OH
Enjoy 20% off a purchase of $100 or more
Banana Republic Factory
Michigan City
IN
Enjoy 20% off a purchase of $100 or more
Banana Republic Factory
Garden City
NY
Enjoy 20% off a purchase of $100 or more
Banana Republic Factory
Staten Island
NY
Enjoy 20% off a purchase of $100 or more
Banana Republic Factory
New York
NY
Enjoy 20% off a purchase of $100 or more
Banana Republic Factory
Riverhead
NY
Enjoy 20% off a purchase of $100 or more
Banana Republic Factory
New York
NY
Enjoy 20% off a purchase of $100 or more
Banana Republic Factory
Astoria
NY
Enjoy 20% off a purchase of $100 or more
Banana Republic Factory
Oceanside
NY
Enjoy 20% off a purchase of $100 or more
Banana Republic Factory
Jackson Heights
NY
Enjoy 20% off a purchase of $100 or more
Banana Republic Factory
Plainview
NY
Enjoy 20% off a purchase of $100 or more
Banana Republic Factory
Brooklyn
NY
Enjoy 20% off a purchase of $100 or more
Banana Republic Factory
Brooklyn
NY
Enjoy 20% off a purchase of $100 or more
Banana Republic Factory
Deer Park
NY
Enjoy 20% off a purchase of $100 or more
Banana Republic Factory
Forest Hills
NY
Enjoy 20% off a purchase of $100 or more
Banana Republic Factory
Oklahoma City
OK
Enjoy 20% off a purchase of $100 or more
Banana Republic Factory
Gretna
NE
Enjoy 20% off a purchase of $100 or more
Banana Republic Factory
Orange
CA
Enjoy 20% off a purchase of $100 or more
Banana Republic Factory
Orlando
FL
Enjoy 20% off a purchase of $100 or more
Banana Republic Factory
Orlando
FL
Enjoy 20% off a purchase of $100 or more
Banana Republic Factory
Orlando
FL
Enjoy 20% off a purchase of $100 or more
Banana Republic Factory
Daytona Beach
FL
Enjoy 20% off a purchase of $100 or more
Banana Republic Factory
Ottawa
ON
Enjoy 20% off a purchase of $100 or more
Banana Republic Factory
Tannersville
PA
Enjoy 20% off a purchase of $100 or more
Banana Republic Factory
Wilkes-Barre
PA
Enjoy 20% off a purchase of $100 or more
Banana Republic Factory
Pottstown
PA
Enjoy 20% off a purchase of $100 or more
Banana Republic Factory
Philadelphia
PA
Enjoy 20% off a purchase of $100 or more
Banana Republic Factory
Philadelphia
PA
Enjoy 20% off a purchase of $100 or more
Banana Republic Factory
Phoenix
AZ
Enjoy 20% off a purchase of $100 or more
Banana Republic Factory
Chandler
AZ
Enjoy 20% off a purchase of $100 or more
Banana Republic Factory
Glendale
AZ
Enjoy 20% off a purchase of $100 or more
Banana Republic Factory
Washington
PA
Enjoy 20% off a purchase of $100 or more
Banana Republic Factory
Smithfield
NC
Enjoy 20% off a purchase of $100 or more
Banana Republic Factory
Sparks
NV
Enjoy 20% off a purchase of $100 or more
Banana Republic Factory
Folsom
CA
Enjoy 20% off a purchase of $100 or more
Banana Republic Factory
Vacaville
CA
Enjoy 20% off a purchase of $100 or more
Banana Republic Factory
Manteca
CA
Enjoy 20% off a purchase of $100 or more
Banana Republic Factory
Birch Run
MI
Enjoy 20% off a purchase of $100 or more
Banana Republic Factory
San Diego
CA
Enjoy 20% off a purchase of $100 or more
Banana Republic Factory
San Ysidro
CA
Enjoy 20% off a purchase of $100 or more
Banana Republic Factory
Carlsbad
CA
Enjoy 20% off a purchase of $100 or more
Banana Republic Factory
San Leandro
CA
Enjoy 20% off a purchase of $100 or more
Banana Republic Factory
Concord
CA
Enjoy 20% off a purchase of $100 or more
Banana Republic Factory
Novato
CA
Enjoy 20% off a purchase of $100 or more
Banana Republic Factory
Petaluma
CA
Enjoy 20% off a purchase of $100 or more
Banana Republic Factory
Livermore
CA
Enjoy 20% off a purchase of $100 or more
Banana Republic Factory
Milpitas
CA
Enjoy 20% off a purchase of $100 or more
Banana Republic Factory
Gilroy
CA
Enjoy 20% off a purchase of $100 or more
Banana Republic Factory
Napa
CA
Enjoy 20% off a purchase of $100 or more
Banana Republic Factory
Camarillo
CA
Enjoy 20% off a purchase of $100 or more
Banana Republic Factory
Saskatoon
SK
Enjoy 20% off a purchase of $100 or more
Banana Republic Factory
Tulalip
WA
Enjoy 20% off a purchase of $100 or more
Banana Republic Factory
Auburn
WA
Enjoy 20% off a purchase of $100 or more
Banana Republic Factory
North Bend
WA
Enjoy 20% off a purchase of $100 or more
Banana Republic Factory
North Charleston
SC
Enjoy 20% off a purchase of $100 or more
Banana Republic Factory
Gaffney
SC
Enjoy 20% off a purchase of $100 or more
Banana Republic Factory
Lancaster
PA
Enjoy 20% off a purchase of $100 or more
Banana Republic Factory
Tilton
NH
Enjoy 20% off a purchase of $100 or more
Banana Republic Factory
Kittery
ME
Enjoy 20% off a purchase of $100 or more
Banana Republic Factory
Freeport
ME
Enjoy 20% off a purchase of $100 or more
Banana Republic Factory
Merrimack
NH
Enjoy 20% off a purchase of $100 or more
Banana Republic Factory
Lee
MA
Enjoy 20% off a purchase of $100 or more
Banana Republic Factory
Chesterfield
MO
Enjoy 20% off a purchase of $100 or more
Banana Republic Factory
Waterloo
NY
Enjoy 20% off a purchase of $100 or more
Banana Republic Factory
Lutz
FL
Enjoy 20% off a purchase of $100 or more
Banana Republic Factory
Ellenton
FL
Enjoy 20% off a purchase of $100 or more
Banana Republic Factory
Tucson
AZ
Enjoy 20% off a purchase of $100 or more
Banana Republic Factory
Albertville
MN
Enjoy 20% off a purchase of $100 or more
Banana Republic Factory
St. Louis Park
MN
Enjoy 20% off a purchase of $100 or more
Banana Republic Factory
Eagan
MN
Enjoy 20% off a purchase of $100 or more
Banana Republic Factory
Lehi
UT
Enjoy 20% off a purchase of $100 or more
Banana Republic Factory
Park City
UT
Enjoy 20% off a purchase of $100 or more
Banana Republic Factory
Surrey
BC
Enjoy 20% off a purchase of $100 or more
Banana Republic Factory
Tsawwassen
BC
Enjoy 20% off a purchase of $100 or more
Banana Republic Factory
New Westminster
BC
Enjoy 20% off a purchase of $100 or more
Banana Republic Factory
Clarksburg
MD
Enjoy 20% off a purchase of $100 or more
Banana Republic Factory
Leesburg
VA
Enjoy 20% off a purchase of $100 or more
Banana Republic Factory
Woodbridge
VA
Enjoy 20% off a purchase of $100 or more
Banana Republic Factory
National Harbor
MD
Enjoy 20% off a purchase of $100 or more
Banana Republic Factory
Hagerstown
MD
Enjoy 20% off a purchase of $100 or more
Bangkok City Thai Cuisine
Sacramento
CA
Enjoy 25% off the total bill
Banhmigos
Staten Island
NY
Enjoy 10% off the total bill
Banhmigos
Staten Island
NY
Enjoy 25% off the total bill
Bar Roma
St Louis
MO
Enjoy 25% off the total bill
Barkley's Burgers, Brews & Dawgs
Janesville
WI
Enjoy 25% off the total bill
Barrie Paintball
Barrie
ON
Enjoy one free admission with purchase of same
Barringer's Tavern
Indianapolis
IN
Enjoy 25% off the total bill
Barrio
Sacramento
CA
Enjoy 50% off any purchase
BaseHit BBQ & Catering
Chicago
IL
Enjoy 25% off the total bill
Batch Microcreamery
Allentown
PA
Enjoy 10% off the total bill
Batch Microcreamery
Allentown
PA
Enjoy 50% off the regular price of any ice cream or yogurt order
Bay Bell Restaurant
Sandusky
OH
Enjoy 25% off the total bill
Baylinks Golf
Newtown
PA
Enjoy one free hourly play session with purchase of same
Bayside Cafe
Roseville
CA
Enjoy one free menu item with purchase of same
BBQ Tonight
Hoffman Estates
IL
Enjoy one free entrée with purchase of same
Be Market
Lake Bluff
IL
Enjoy one free menu item with purchase of same
Beach Hut Deli
Sacramento
CA
Enjoy 25% off the total bill
Beach Hut Deli
Sacramento
CA
Enjoy 25% off the total bill
Beach Hut Deli
West Sacramento
CA
Enjoy 25% off the total bill
Bear Buns Bakery
San Diego
CA
Enjoy 10% off the total bill
Bear Buns Bakery
San Diego
CA
Enjoy 25% off the total bill
Beard Papa's
Boston
MA
Enjoy one free menu item with purchase of same
Bedford Falls Cafe
Bedford
OH
Enjoy one free menu item with purchase of same
Belgium Waffle Haus
Laguna Niguel
CA
Enjoy 10% off the total bill
Belgium Waffle Haus
Laguna Niguel
CA
Enjoy 25% off the total bill
Bella Mia's Taqueria & Pizzeria
Farmington Hills
MI
Enjoy $5 off any purchase of $10 or more
Bella Mia's Taqueria & Pizzeria
Farmington Hills
MI
Enjoy 10% off the total bill
Bella Pizza II
Somerset
NJ
Enjoy one free pizza with purchase of same
Bella Roma Pasta & Pizza
Laguna Niguel
CA
Enjoy 25% off the total bill
Benicia Coffee Company
Benicia
CA
Enjoy one free menu item with purchase of same
Best Donuts & Ice Cream
Sacramento
CA
Enjoy one free menu item with purchase of same
Between The Bun
South Richmond Hill
NY
Enjoy one free menu item with purchase of same
Beyond Juicery + Eatery
Northville
MI
Enjoy 10% off the total bill
Beyond Juicery + Eatery
Northville
MI
Enjoy one free menu item with purchase of same
Big Air Trampoline Park
Corona
CA
Enjoy one free hour jump with purchase of same
Big Air Trampoline Park
Laguna Hills
CA
Enjoy 10% off any purchase
Big Air Trampoline Park
Laguna Hills
CA
Enjoy one free hour jump with purchase of same
Big Air Trampoline Park
Laguna Hills
CA
Enjoy one free two hour jump with purchase of same
Big Apple Bagels
Fishers
IN
Enjoy 50% off the regular price of a specialty beverage order
Big Apple Bagels
Fishers
IN
Enjoy 50% off the regular price of a specialty beverage order
Big Apple Bagels
Fishers
IN
Enjoy 50% off the regular price of any baked goods order
Big Apple Bagels
Fishers
IN
Enjoy 50% off the regular price of any baked goods order
Big Apple Bagels
Fishers
IN
Enjoy one free sandwich with purchase of same
Big Apple Bagels
Fishers
IN
Enjoy one free sandwich with purchase of same
Big Apple Bagels Xpress
Sun Prairie, WI 53590
WI
Enjoy one free menu item with purchase of same
Big Joe's Backyard BBQ
Homer Glen
IL
Enjoy 25% off the total bill
Big Kahuna Dog
Delta
BC
Enjoy $5 off the minimum purchase of $10 or more
Big M BBQ
Old Bridge
NJ
Enjoy 25% off the total bill
Billy Bob's Hamburgers
Uvalde, TX 78801
TX
Enjoy one free menu item with purchase of same
Birchbank Golf Course
Trail
BC
Enjoy one free greens fee with purchase of same
Bistro Express
Irvine
CA
Enjoy one free menu item with purchase of same
Bistro on the Glen
Milwaukee
WI
Enjoy 10% off the total bill
Bistro on the Glen
Milwaukee
WI
Enjoy 25% off the total bill
Blaze Fast-Fire'd Pizza
Dayton Beach
FL
Enjoy one free pizza with purchase of same
Blue Fin Sushi & Seafood Buffet
Seattle
WA
Enjoy one free entrée with purchase of same
Blue House Korean BBQ
Roseville
CA
Enjoy 25% off the total bill
Blue Moon Tavern
Newton
NC
Enjoy one free entrée with purchase of same
Boba Brew
Raleigh
NC
Enjoy 10% off the total bill
Boba Brew
Raleigh
NC
Enjoy 25% off the total bill
Bob's Hamburg
Akron
OH
Enjoy one free entrée with purchase of same
Bogie's Delicatessen
Memphis
TN
Enjoy one free menu item with purchase of same
Bojangles'
Kershaw
SC
Enjoy one free menu item with purchase of same
Bomb Burger
Northridge
CA
Enjoy 10% off the total bill
Bomb Burger
Northridge
CA
Enjoy one free menu item with purchase of same
Bon Mua Vietnamese Restaurant
Sacramento
CA
Enjoy 10% off the total bill
Bon Mua Vietnamese Restaurant
Sacramento
CA
Enjoy 25% off the total bill
Books & Brews
Noblesville
IN
Enjoy 10% off the total bill
Books & Brews
Brownsburg
IN
Enjoy 10% off the total bill
Books & Brews
Muncie
IN
Enjoy 10% off the total bill
Books & Brews
Indianapolis
IN
Enjoy 10% off the total bill
Books & Brews
Carmel
IN
Enjoy 10% off the total bill
Books & Brews
Indianapolis
IN
Enjoy 10% off the total bill
Books & Brews
Zionsville
IN
Enjoy 10% off the total bill
Books & Brews
Indianapolis
IN
Enjoy 10% off the total bill
Books & Brews
Noblesville
IN
Enjoy 25% off the total bill
Books & Brews
Brownsburg
IN
Enjoy 25% off the total bill
Books & Brews
Muncie
IN
Enjoy 25% off the total bill
Books & Brews
Indianapolis
IN
Enjoy 25% off the total bill
Books & Brews
Carmel
IN
Enjoy 25% off the total bill
Books & Brews
Indianapolis
IN
Enjoy 25% off the total bill
Books & Brews
Zionsville
IN
Enjoy 25% off the total bill
Books & Brews
Indianapolis
IN
Enjoy 25% off the total bill
Booster Juice
Keswick
ON
Enjoy 50% off the regular price of any smoothie order
Booster Juice
Woodbridge
ON
Enjoy 50% off the regular price of any smoothie order
Booster Juice
Markham
ON
Enjoy 50% off the regular price of any smoothie order
Booster Juice
Hope
BC
Enjoy 50% off the regular price of any smoothie order
Boran Thai Restaurant
Los Angeles
CA
Enjoy 10% off the total bill
Boran Thai Restaurant
Los Angeles
CA
Enjoy 25% off the total bill
Boston Dreamland Wax Museum
Boston
MA
Enjoy 50% off the regular price of one admission
Bounce U
Collegeville
PA
Enjoy one free admission with purchase of same
Bounce U
Exton
PA
Enjoy one free admission with purchase of same
Bowls N Brews
La Jolla
CA
Enjoy 50% off any purchase
Branded Steer
Oak Creek
WI
Enjoy one free entrée with purchase of same
Bread & Butterfly
Atlanta
GA
Enjoy one free entrée with purchase of same
Bread and Butter Bistro
Batesville
MS
Enjoy one free entrée with purchase of same
Breaking Grounds Coffee & Cafe
Mount Holly
NJ
Enjoy one free menu item with purchase of same
Broadway Pizza
Revere
MA
Enjoy one free pizza with purchase of same
Brody McKay's Tavern
Selden
NY
Enjoy $10 off the purchase of $20 or more
Brody McKay's Tavern
Selden
NY
Enjoy 25% off the total bill
Brugmans Deli
Rocky Point
NY
Enjoy 10% off the total bill
Brugmans Deli
Rocky Point
NY
Enjoy one free sandwich with purchase of same
Bruster's Real Ice Cream
Kennesaw
GA
Enjoy 50% off the regular price of any ice cream order
Bubbakoo's Burritos
Cherry Hill
NJ
Enjoy 25% off the total bill
Bubbakoo's Burritos
West Long Branch
NJ
Enjoy one free menu item with purchase of same
Bubbakoo's Burritos
Wall Township
NJ
Enjoy one free menu item with purchase of same
Bubbakoo's Burritos
Toms River
NJ
Enjoy one free menu item with purchase of same
Bubbakoo's Burritos
Manasquan
NJ
Enjoy one free menu item with purchase of same
Bubbakoo's Burritos
Freehold Township
NJ
Enjoy one free menu item with purchase of same
Bubbakoo's Burritos
Long Branch
NJ
Enjoy one free menu item with purchase of same
Bubbakoo's Burritos
Toms River
NJ
Enjoy one free menu item with purchase of same
Bubble Cream
Shelby Twp
MI
Enjoy 10% off the total bill
Bubble Cream
Shelby Twp
MI
Enjoy one free angus burger with purchase of same
Bubble Cream Icecream
Tucker
GA
Enjoy one free menu item with purchase of same
Buddha Bowl
Pembroke Pines
FL
Enjoy one free menu item with purchase of same
Build A Burger
Auburn Hills
MI
Enjoy 10% off the total bill
Build A Burger
Auburn Hills
MI
Enjoy one free burger with purchase of same
Burger City
Munford
TN
Enjoy one free menu item with purchase of same
Burger Culture
San Antonio
TX
Enjoy one free menu item with purchase of same
Burger King®
Grand Falls
NB
Buy one Free WHOPPER® Sandwich with purchase of same
Burger King®
Fredericton
NB
Buy one Free WHOPPER® Sandwich with purchase of same
Burger King®
Fredericton
NB
Buy one Free WHOPPER® Sandwich with purchase of same
Burger King®
Hanwell
NB
Buy one Free WHOPPER® Sandwich with purchase of same
Burger King®
Sackville
NB
Buy one Free WHOPPER® Sandwich with purchase of same
Burger King®
Waterville
NB
Buy one Free WHOPPER® Sandwich with purchase of same
Burger King®
Saint John
NB
Buy one Free WHOPPER® Sandwich with purchase of same
Burger King®
Charlottetown
PE
Buy one Free WHOPPER® Sandwich with purchase of same
Burger King®
St. Stephen
NB
Buy one Free WHOPPER® Sandwich with purchase of same
Burger King®
Summerside
PE
Buy one Free WHOPPER® Sandwich with purchase of same
Burger King®
Yarmouth
NS
Buy one Free WHOPPER® Sandwich with purchase of same
Burger King®
New Glasgow
NS
Buy one Free WHOPPER® Sandwich with purchase of same
Burger King®
Bathurst
NB
Buy one Free WHOPPER® Sandwich with purchase of same
Burger King®
Saint John
NB
Buy one Free WHOPPER® Sandwich with purchase of same
Burger King®
Halifax
NS
Buy one Free WHOPPER® Sandwich with purchase of same
Burger King®
Halifax
NS
Buy one Free WHOPPER® Sandwich with purchase of same
Burger King®
Lower Sackville
NS
Buy one Free WHOPPER® Sandwich with purchase of same
Burger King®
Enfield
NS
Buy one Free WHOPPER® Sandwich with purchase of same
Burger King®
Dartmouth
NS
Buy one Free WHOPPER® Sandwich with purchase of same
Burger King®
Truro
NS
Buy one Free WHOPPER® Sandwich with purchase of same
Burgerim
Woodland Hills
CA
Enjoy 10% off the total bill
Burgerim
Ontario
CA
Enjoy 10% off the total bill
Burgerim
Woodland Hills
CA
Enjoy 25% off the total bill
Burgerim
Ontario
CA
Enjoy one free menu item with purchase of same
Burgerim
Carmichael
CA
Enjoy 25% off the total bill
Burgers & Beers
Wilton Manors
FL
Enjoy 25% off the total bill
Burrito Boyz
Vaughan
ON
Enjoy one free menu item with purchase of same
Burrito Jalisco
Orland Park
IL
Enjoy one free entrée with purchase of same
Butler's Market
Rumson
NJ
Enjoy 20% off the total bill
Buttermilk Fried Chicken
Orange
CA
Enjoy one free menu item with purchase of same
Bylo Gyro Bob's
Cleveland
OH
Enjoy one free menu item with purchase of same
Caesar's Bagels & Deli
Hamilton Township
NJ
Enjoy 10% off the total bill
Caesar's Bagels & Deli
Hamilton Township
NJ
Enjoy 25% off the total bill
Caesar's Pastry
Granada Hills
CA
Enjoy 10% off the total bill
Caesar's Pastry
Granada Hills
CA
Enjoy 50% off the regular price of any baked goods order
Cafe Caobana
Orlando
FL
Enjoy 10% off the total bill
Cafe Caobana
Orlando
FL
Enjoy 25% off the total bill
Cafe Del Mar
Fort Lauderdale
FL
Enjoy 20% off the total bill
Cafe Gourmand
Staten Island
NY
Enjoy 25% off the total bill
Cafe Imperial
Bound Brook
NJ
Enjoy 25% off the total bill
Café Mansión
Indianapolis
IN
Enjoy one free menu item with purchase of same
Cafe Martinez
San Antonio
TX
Enjoy one free menu item with purchase of same
Cafe Mint
San Clemente
CA
Enjoy 25% off the total bill
Café Olé
Batesville
MS
Enjoy 10% off the total bill
Café Olé
Batesville
MS
Enjoy 25% off the total bill
Cafe Racer
Seattle
WA
Enjoy 25% off the total bill
Cafe Rockaway's
Far Rockaway
NY
Enjoy 25% off the total bill
Caffe Gourmet
Weston
FL
Enjoy 25% off the total bill
Cajun Madness
Sacramento
CA
Enjoy one free entrée with purchase of same
Cake Betty
Nelson
BC
Enjoy 10% off the total bill
Cake Betty
Nelson
BC
Enjoy 50% off the regular price of any baked goods order
Cake Couture Boutique
Raleigh
NC
Enjoy 50% off any purchase
Callie's Hot Little Biscuit
Atlanta
GA
Enjoy one free menu item with purchase of same
Calypso Cafe
Coronado
CA
Enjoy 10% off the total bill
Calypso Cafe
Coronado
CA
Enjoy 25% off the total bill
Calypso Cafe
Coronado
CA
Enjoy one free entrée with purchase of same
Cambo Box
New Brunswick
NJ
Enjoy one free menu item with purchase of same
Cambridge Butterfly Conservatory
Cambridge
ON
Enjoy one free admission with purchase of same
Cameo Pizza
Sandusky
OH
Enjoy 25% off the total bill
Canyon Country Store
Canyon
BC
Enjoy one free pizza with purchase of same
Cape Harbour Oyster Bar & Grill
Cape Coral
FL
Enjoy 50% off the regular price of any food order
Capizzi
Staten Island
NY
Enjoy 25% off the total bill
Captain D's
Tucker
GA
Enjoy 10% off the total bill
Captain D's
Tucker
GA
Enjoy 25% off the total bill
Captain Jerk Restaurant & Lounge
Hollywood
FL
Enjoy one free menu item with purchase of same
Caretta Coffee & Cafe
Raleigh
NC
Enjoy 10% off the total bill
Caretta Coffee & Cafe
Raleigh
NC
Enjoy 25% off the total bill
Carlos Pizza & Catering
FREDON
NJ
Enjoy 10% off the total bill
Carlos Pizza & Catering
FREDON
NJ
Enjoy 25% off the total bill
Carl's Jr.
Buena Park
CA
Enjoy one free menu item with purchase of same
Carnitas y Tortas Ahogadas Guadalajara
Las Vegas
NV
Enjoy 25% off the total bill
Carnivore Sandwich
San Diego
CA
Enjoy 25% off the total bill
Carrot Patch Cafe
Kerrville
TX
Enjoy one free menu item with purchase of same
Casa di Franco
Easton
PA
Enjoy 10% off the total bill
Casa di Franco
Easton
PA
Enjoy 25% off the total bill
Cascade Par 3 Golf Course
Christina Lake
BC
Enjoy one free greens fee with purchase of same
Case & Bucks Grub and Pub
Barnhart
MO
Enjoy 25% off the total bill
Cath Coffee & Tea House
Indianapolis
IN
Enjoy one free menu item with purchase of same
Cathay Coast
Lodi
NJ
Enjoy 25% off the total bill
Cebiche-Bar
Pembroke Pines
FL
Enjoy 25% off the total bill
Cedar Craft & Kitchen
Glenolden
PA
Enjoy 25% off the total bill
Cedar Tree Mediterranean Cuisine
River Vale
NJ
Enjoy 25% off the total bill
Cemitas Puebla
Chicago
IL
Enjoy 25% of the total bill
Central Pop!
Chandler
AZ
Enjoy 20% off the total bill
Central Pop!
Chandler
AZ
Enjoy 50% off the regular price of any food/beverage order
Central Restaurant & Cafe
Newton
MA
Enjoy one free entrée with purchase of same
Chamorro Grill
San Diego
CA
Enjoy 10% off the total bill
Chamorro Grill
San Diego
CA
Enjoy 25% off the total bill
Chappy's Cafe
Franklin
NJ
Enjoy 10% off the total bill
Chappy's Cafe
Franklin
NJ
Enjoy 25% off the total bill
Charanda Mexican Grill & Cantina
Rock Hill
SC
Enjoy 25% off the total bill
Cheba Hut Toasted Subs
San Diego
CA
Enjoy one free menu item with purchase of same
Cheeburger Cheeburger
Sanibel
FL
Enjoy one free entrée with purchase of same
Cheeburger Cheeburger
Holmdel
NJ
Enjoy 10% off the total bill
Cheeburger Cheeburger
Holmdel
NJ
Enjoy 25% off the total bill
Cheese-n-Crackers Deli
North Canton
OH
Enjoy 25% off the total bill
Cherry Wine Modern Asian Cuisine
La Jolla
CA
Enjoy one free entrée with purchase of same
Chestnut Ridge Dry Cleaners
Chestnut Ridge
NY
Enjoy 50% off the total bill
Chevere
Sacramento
CA
Enjoy 10% off the total bill
Chevere
Sacramento
CA
Enjoy 25% off the total bill
Chicago's Fish Chicken Gyro Steak & Lemonade
Indianapolis
IN
Enjoy 25% off the total bill
Chicali Mexican Grill
Somerville
NJ
Enjoy 25% off the total bill
Chili's
Streamwood
IL
Enjoy one free entrée with purchase of same
Chili's Grill & Bar
La Mesa
CA
Enjoy one free entrée with purchase of same
China Station
La Habra
CA
Enjoy 25% off the total bill
Chinatown Express
Culver City
CA
Enjoy one free menu item with purchase of same
Chinese Chinh's Express
Rochester
MN
Enjoy 10% off the total bill
Chinese Chinh's Express
Rochester
MN
Enjoy one free menu item with purchase of same
Chiya Chai Cafe
Chicago
IL
Enjoy one free entrée with purchase of same
Choco Fruit
Brea
CA
Enjoy 10% off the total bill
Choco Fruit
Brea
CA
Enjoy 25% off the total bill
Chocolate Shoppe
Mantorville
MN
Enjoy 10% off ANY ice cream order
Chocolate Shoppe
Mantorville
MN
Enjoy 50% off the regular price of any ice cream order
Chrissoulas
Libertyville
IL
Enjoy 25% off the total bill
Chronic Tacos
San Clemente
CA
Enjoy 10% off the total bill
Chronic Tacos
San Clemente
CA
Enjoy 25% off the total bill
Chubby's Family Restaurant
Orlando
FL
Enjoy one free entrée with purchase of same
Church Street Cafe
San Francisco
CA
Enjoy 10% off the total bill
Church Street Cafe
San Francisco
CA
Enjoy 25% off the total bill
Churrascaria Paladar
Hackettstown
NJ
Enjoy 25% off the total bill
Cinnaholic
Westlake
OH
Enjoy 20% off the total bill
Cinnaholic
Westlake
OH
Enjoy one free menu item with purchase of same
Cinnaholic
Boca Raton
FL
Enjoy onefree custom roll with purchase of same
Cinnaminson Diner
Cinnaminson
NJ
Enjoy 10% off the total bill
Cinnaminson Diner
Cinnaminson
NJ
Enjoy 25% off the total bill
Circa Brewing Co
Brooklyn
NY
Enjoy 25% off the total bill
Citizen Public House & Oyster Bar
Boston
MA
Enjoy one free entrée with purchase of same
City Cafe
Munford
TN
Enjoy 10% off the total bill
City Cafe
Munford
TN
Enjoy 25% off the total bill
Clean Juice
Troy
MI
Enjoy one free menu item with purchase of same
Cliff Hanger Cafe
La Jolla
CA
Enjoy 25% off the total bill
Climbing Vines Westside Play
Rochester
NY
Enjoy 50% off the regular price of a specialty beverage order
Climbing Vines Westside Play
Rochester
NY
Enjoy one free admission with purchase of same
Clinton Burger Co.
Clinton
NJ
Enjoy 25% off the total bill
Closets By Design
Oxford
MI
Enjoy 20% off the regular price of any custom closet
Clover Joe's
Charlotte
NC
Enjoy 25% off the total bill
Cluck'N Crabs
Beach Haven West
NJ
Enjoy one free menu item with purchase of same
Clutch Bar and Restaurant
Chicago
IL
Enjoy 10% off the total bill
Clutch Bar and Restaurant
Chicago
IL
Enjoy 25% off the total bill
Coach's Mediterranean Grill & Bar
Huntington Beach
CA
Enjoy 25% off the total bill
Coaltrane's Char Grill
Charlotte
NC
Enjoy one free entrée with purchase of same
Cocina de Chencha
New Brunswick
NJ
Enjoy 25% off the total bill
Cocky's Bagels
North Olmsted
OH
Enjoy 10% off the total bill
Cocky's Bagels
North Olmsted
OH
Enjoy 25% off the total bill
Coffee Land
North Hollywood
CA
Enjoy 10% off the total bill
Coffee Land
North Hollywood
CA
Enjoy one free coffee with purchase of same
Coffee Time Bake Shop
Salem
MA
Enjoy one free menu item with purchase of same
College Park Cafe
Orlando
FL
Enjoy 25% off the total bill
Concrete Cowboy
Chicago
IL
Enjoy 10% off the total bill
Concrete Cowboy
Chicago
IL
Enjoy 25% off the total bill
Constellation Coffee
La Cañada Flintridge
CA
Enjoy one free specialty beverage with purchase of same
COOK
Newton
MA
Enjoy 25% off the total bill
Corner Bakery Cafe
Atlanta
GA
Enjoy one free menu item with purchase of same
Corner Bakery Cafe
Dunwoody
GA
Enjoy one free sandwich with purchase of same
Corner Cucina
Delray Beach
FL
Enjoy 20% off the total bill
Cornerstone pizza
Orlando
FL
Enjoy 50% off any menu item
Country Pleasures Cafe
Kasson
MN
Enjoy 10% off the total bill
Country Pleasures Cafe
Kasson
MN
Enjoy one free entrée with purchase of same
County Barbeque
Chicago
IL
Enjoy one free menu item with purchase of same
County Seat Coffeehouse
Mantorville
MN
Enjoy 10% off the total bill
County Seat Coffeehouse
Mantorville
MN
Enjoy 50% off the regular price of a specialty beverage order
Cow Palace
Shelbyville
IN
Enjoy one free entrée with purchase of same
Craving Pizza and Deli
Irvine
CA
Enjoy 10% off the total bill
Craving Pizza and Deli
Irvine
CA
Enjoy 25% off the total bill
Creamistry
Cerritos
CA
Enjoy 10% off the total bill
Creamistry
Redondo Beach
CA
Enjoy 10% off the total bill
Creamistry
Cerritos
CA
Enjoy one free ice cream with purchase of same
Creamistry
Redondo Beach
CA
Enjoy one free ice cream with purchase of same
Creamistry
Houston
TX
Enjoy 10% off the total bill
Creamistry
Houston
TX
Enjoy one free ice cream with purchase of same
Creamistry
Brea
CA
Enjoy 10% off the total bill
Creamistry
Aliso Viejo
CA
Enjoy 10% off the total bill
Creamistry
Brea
CA
Enjoy one free ice cream with purchase of same
Creamistry
Aliso Viejo
CA
Enjoy one free ice cream with purchase of same
Crogan's Montclair
Oakland
CA
Enjoy 25% off the total bill
Cross Plains Creamery
Cross Plains
WI
Enjoy one free sandwich with purchase of same
Crumpy's Hot Wings Downtown
Memphis
TN
Enjoy 25% off the total bill
Culinerdy Kitchen
Sacramento
CA
Enjoy one free entrée with purchase of same
Curry n Cake
Charlotte
NC
Enjoy one free menu item with purchase of same
Cyber Pizza Cafe & Int'l Cuisine
Dania Beach
FL
Enjoy 10% off the total bill
Cyber Pizza Cafe & Int'l Cuisine
Dania Beach
FL
Enjoy 25% off the total bill
Daddy's Chicken Shack
Pasadena
CA
Enjoy 25% off the total bill
Damasq Cafe
Corona Del Mar
CA
Enjoy 10% off the total bill
Damasq Cafe
Corona Del Mar
CA
Enjoy 25% off the total bill
Dave's Chillin and Grillin
Highland Park
CA
Enjoy 10% off the total bill
Dave's Chillin and Grillin
Highland Park
CA
Enjoy 25% off the total bill
Dave's Cosmic Subs
Seal Beach
CA
Enjoy one free sandwich with purchase of same
David's Grill & Bar
Cleveland
OH
Enjoy 25% off the total bill
Da-Vinchy Ice Cream
Hollywood
FL
Enjoy 50% off the total bill
Dazie's
Sunnyside
NY
Enjoy 20% off the total bill
De Allende: Mexican Kitchen & Tequila Bar
Woodstock
GA
Enjoy 10% off the total bill
De Allende: Mexican Kitchen & Tequila Bar
Woodstock
GA
Enjoy 25% off the total bill
De LaMassu Family Restaurant
Roseville
MI
Enjoy 10% off the total bill
De LaMassu Family Restaurant
Roseville
MI
Enjoy one free entrée with purchase of same
Deccan Spice
Naperville
IL
Enjoy one free entrée with purchase of same
Defy Extreme Air Sports
Mission Viejo
CA
Enjoy one free hourly flight with purchase of same
Den Da
Westminster
CA
Enjoy 25% off the total bill
DeSano Pizzeria Napoletana
Charlotte
NC
Enjoy 25% off the total bill
Desert Moon Grill
Anaheim
CA
Enjoy 25% off the total bill
Desfina Restaurant
Cambridge
MA
Enjoy one free entrée with purchase of same
Desi Galli
New York
NY
Enjoy 10% off the total bill
Desi Galli
New York
NY
Enjoy 25% off the total bill
Diblasi's Subs
Everett
MA
Enjoy one free menu item with purchase of same
DICKEY'S BARBECUE PIT
Cumming
GA
Enjoy one free menu item with purchase of same
DICKEY'S BARBECUE PIT
Parma
OH
Enjoy one free menu item with purchase of same
DICKEY'S BARBECUE PIT
Azusa
CA
Enjoy 10% off the total bill
DICKEY'S BARBECUE PIT
Montclair
CA
Enjoy 10% off the total bill
DICKEY'S BARBECUE PIT
Azusa
CA
Enjoy one free menu item with purchase of same
DICKEY'S BARBECUE PIT
Montclair
CA
Enjoy one free menu item with purchase of same
DICKEY'S BARBECUE PIT
Middleton
WI
Enjoy one free menu item with purchase of same
Dilly Deli
Opdyke
MI
Enjoy one free sandwich with purchase of same
Doc's
Beloit
WI
Enjoy one BURGER when a second BURGER of equal or greater value is purchased
Dog Haus
Carson
CA
Enjoy 10% off the total bill
Dog Haus
Burbank
CA
Enjoy 10% off the total bill
Dog Haus
Carson
CA
Enjoy one free menu item with purchase of same
Dog Haus
Burbank
CA
Enjoy one free menu item with purchase of same
Dominion Cafe
Nelson
BC
Enjoy 50% off any Coffee order
Dopp's Bar & Grill
West Allis
WI
Enjoy 10% off the total bill
Dopp's Bar & Grill
West Allis
WI
Enjoy 25% off the total bill
Dory's Mediterranean Grill
Medford
NJ
Enjoy one free menu item with purchase of same
Double Dose Deli
Linwood
NJ
Enjoy 25% off the total bill
Dragon Palace
Rochester
NY
Enjoy 25% off the total bill
Dream Kabob
Las Vegas
NV
Enjoy 10% off the total bill
Dream Kabob
Las Vegas
NV
Enjoy 25% off the total bill
Dreamland Virtual Reality
London
ON
Enjoy one free admission with purchase of same
Duck Donuts
Raleigh
NC
Enjoy one free menu item with purchase of same
Ducky's Donuts
Orangevale
CA
Enjoy 50% off any purchase
Dueling Oaks Restaurant
Christina Lake
BC
Enjoy one free entrée with purchase of same
D'yar Mediterranean Cuisine
Berkley
CA
Enjoy 25% off the total bill
Earnest Tea Cafe
Brooklyn
NY
Enjoy one free menu item with purchase of same
East Coast Bagel
Laguna Niguel
CA
Enjoy one free menu item with purchase of same
Easy Street Saloon
Eastpointe
MI
Enjoy 20% off the total bill
Easy Street Saloon
Eastpointe
MI
Enjoy 25% off the total bill
Eggs Up Grill
Charlotte
NC
Enjoy one free entrée with purchase of same
Eggsperience Cafè
Glenview
IL
Enjoy 25% off the total bill
El Catracho Restaruant
Wharton
NJ
Enjoy 25% off the total bill
El Charro Del Rio
Milford
NJ
Enjoy one free entrée with purchase of same
El Coqui Puertoriqueno
Indianapolis
IN
Enjoy 10% off the total bill
El Coqui Puertoriqueno
Indianapolis
IN
Enjoy 25% off the total bill
El Fogon Cantina & Grill
Dacula
GA
Enjoy 25% off the total bill
El Jacalito
Blackwood
NJ
Enjoy one free entrée with purchase of same
El Jacalito Grill
Big Bear Lake
CA
Enjoy 25% off the total bill
El Maguey Express
San Juan Capistrano
CA
Enjoy 10% off the total bill
El Maguey Express
San Juan Capistrano
CA
Enjoy one free menu item with purchase of same
El Pirata Seafood & Grill
Santa Ana
CA
Enjoy 10% off the total bill
El Pirata Seafood & Grill
Santa Ana
CA
Enjoy 25% off the total bill
El Ponce
Atlanta
GA
Enjoy one free menu item with purchase of same
El Porton
Collierville
TN
Enjoy 25% off the total bill
El Torito
Laguna Hills
CA
Enjoy one free entrée with purchase of same
Elite Bakery Cafe
Carmichael
CA
Enjoy 25% off the total bill
Emle's Restaurant
Northridge
CA
Enjoy 10% off the total bill
Emle's Restaurant
Northridge
CA
Enjoy 25% off the total bill
Engage Art Studio
Schwenksville
PA
Enjoy one free artsy afternoon project with purchase of same
Ermanno's Pizza Shop
Louisville
OH
Enjoy 25% off the total bill
Esmeralda's Cafe
Durham
NC
Enjoy one free menu item with purchase of same
Espresso Joe's Sunshine Cafe
Keyport
NJ
Enjoy one free menu item with purchase of same
Estia's Kouzina
Belmont
NC
Enjoy 25% off the total bill
Euro Bread & Cafe
Davie
FL
Enjoy one free menu item with purchase of same
Europa Grill
Shrewsbury
NJ
Enjoy 25% off the total bill
Everest Yogurt
Sacramento
CA
Enjoy one free menu item with purchase of same
Evett's Bar-B-Que
Uvalde
TX
Enjoy one free entrée with purchase of same
Exodus London Escape Rooms
London
ON
Enjoy one free admission with purchase of same
Explore Center Indoor Playground
Richmond Hill
ON
Enjoy one free admission with purchase of same
Exquisite Kreations
Miramar
FL
Enjoy 25% off the total bill
Fahrenheit 32 S.A.
San Antonio
TX
Enjoy 10% off the total bill
Fahrenheit 32 S.A.
San Antonio
TX
Enjoy 10% off the total bill
Fahrenheit 32 S.A.
San Antonio
TX
Enjoy 50% off the regular price of any ice cream order
Fahrenheit 32 S.A.
San Antonio
TX
Enjoy 50% off the regular price of any ice cream order
Fairouz Restaurant
West Roxbury
MA
Enjoy one free entrée with purchase of same
Falafel Dream
Chicago
IL
Enjoy 25% off the total bill
Falbo Bros. Pizzeria
Madison
WI
Enjoy 10% off the total bill
Falbo Bros. Pizzeria
Madison
WI
Enjoy 25% off the total bill
Fam
Memphis
TN
Enjoy 25% off the total bill
Famous Toastery
Mooresville
NC
Enjoy 25% off the total bill
Famous Toastery
Mooresville
NC
Enjoy one free menu item with purchase of same
Farm Fresh to You
West Sacramento
CA
$10 off First 4 Boxes
Farm Fresh to You
West Sacramento
CA
50% off One Box
Farmer Boys
Laguna Hills
CA
Enjoy one free menu item with purchase of same
Farmhouse Coffee & Ice Cream
Farmington Hills
MI
Enjoy 50% off a specialty beverage order
Farmhouse Coffee & Ice Cream
Farmington Hills
MI
Enjoy 50% off any ice cream order
Fatz Southern Kitchen
Lincolnton
NC
Enjoy 10% off the total bill
Fatz Southern Kitchen
Morganton
NC
Enjoy 10% off the total bill
Fatz Southern Kitchen
Lincolnton
NC
Enjoy 25% off the total bill
Fatz Southern Kitchen
Morganton
NC
Enjoy 25% off the total bill
Fatz Southern Kitchen
Cheraw
SC
Enjoy one free entrée with purchase of same
Fausto's Italian Kitchen & Catering
Arlington Heights
IL
Enjoy one free menu item with purchase of same
Fen Yang House
Marblehead
MA
Enjoy one free entrée with purchase of same
Feng's Asian Cuisine
Wakefield
MA
Enjoy one free entrée with purchase of same
Ferch's Crafthouse Grille
Wauwatosa
WI
Enjoy one free entrée with purchase of same
Ferch's Malt Shoppe & Grille
Greendale
WI
Enjoy 50% off the regular price of any custard order
Ferch's Malt Shoppe & Grille
Greendale
WI
Enjoy one free burger with purchase of same
Figueroa's Deli
San Diego
CA
Enjoy one free menu item with purchase of same
Firefly Petite Café Bistro
Sunnyside
NY
Enjoy one free entrée with purchase of same
FIRST WATCH
Cherry Hill
NJ
Enjoy one free entrée with purchase of same
FIRST WATCH
Port Orange
FL
Enjoy 10% off the total bill
FIRST WATCH
Port Orange
FL
Enjoy 25% off the total bill
FIRST WATCH
Daytona
FL
Enjoy one free entrée with purchase of same
Fit Club Winnipeg
Winnipeg
MB
Enjoy 21 free days of rapid loss program
Flame Broiler
Santa Ana
CA
Enjoy one free menu item with purchase of same
Flame Broiler
Santa Ana
CA
Enjoy one free menu item with purchase of same
Flight Deck Bar & Grill
Las Vegas
NV
Enjoy 25% off the total bill
Flights Restaurant
Las Vegas
NV
Enjoy 10% off the total bill
Flights Restaurant
Las Vegas
NV
Enjoy 25% off the total bill
Flippers Pizzeria
Windermere
FL
Enjoy one free pizza with purchase of same
Flippers Pizzeria
Orlando
FL
Enjoy one free pizza with purchase of same
Florida Cracker BBQ
Greenfield
IN
Enjoy one free entrée with purchase of same
Florio's of Little Italy
Hollywood
FL
Enjoy 10% off the total bill
Florio's of Little Italy
Hollywood
FL
Enjoy 25% off the total bill
Flo's Mideast Bistro & Bagels
Monroe Township
NJ
Enjoy one free menu item with purchase of same
Fluffy Donuts
Davis
CA
Enjoy one free menu item with purchase of same
Flying Squirrel Hamilton
Hamilton
ON
Enjoy one free hourly play session with purchase of same
Flying Squirrel London
London
ON
Enjoy one free hourly play session with purchase of same
Flying Squirrel Missoula
Missoula
MT
Enjoy one free hourly play session with purchase of same
Flying Squirrel North Calgary
Calgary
AB
Enjoy one free hourly play session with purchase of same
Flying Squirrel Ottawa
Ottawa
ON
Enjoy one free hourly play session with purchase of same
Flying Squirrel South Calgary
Calgary
AB
Enjoy one free hourly play session with purchase of same
Flying Squirrel Spokane Valley
Spokane
WA
Enjoy one free hourly play session with purchase of same
Flying Squirrel Whitby
Whitby
ON
Enjoy one free hourly play session with purchase of same
Flying Squirrel Winnipeg
Winnipeg
MB
Enjoy one free hourly play session with purchase of same
Forastero
Chicago
IL
Enjoy one free menu item with purchase of same
Formosa Restaurant
Memphis
TN
Enjoy one free entrée with purchase of same
Fountain Valley Skating Center Inc
Fountain Valley
CA
Enjoy one free admission with purchase of same
Frank & Joe's Deli
Bronx
NY
Enjoy one free menu item with purchase of same
Frank's Pizza
Phillipsburg
NJ
Enjoy 10% off the total bill
Frank's Pizza
Phillipsburg
NJ
Enjoy 25% off the total bill
Frank's Pizza
Bound Brook
NJ
Enjoy one free pizza with purchase of same
Frasca Pizzeria and Wine Bar
Chicago
IL
Enjoy one free entrée with purchase of same
Fratelli Express
Rock Hill
SC
Enjoy one free pizza with purchase of same
Fratelli's Pizzeria
Daytona Beach
FL
Enjoy 25% off the total bill
Fratelli's Restaurant Pizzeria
Red Bank
NJ
Enjoy one free entrée with purchase of same
Freddy's Frozen Custard & Steakburgers
Orlando
FL
Enjoy one free menu item with purchase of same
Freelance Bistro
Newton
NJ
Enjoy 25% off the total bill
Freelance Bistro
Newton
NJ
Enjoy10% off the total bill
Fresco Deli Cafe
Long Island
NY
Enjoy 10% off the total bill
Fresco Deli Cafe
Long Island
NY
Enjoy 25% off the total bill
Fresh Twist Juice Bar & Cafe
Staten Island
NY
Enjoy one free menu item with purchase of same
Freshies Cafe
Fernie
BC
Enjoy 50% off the regular price of any food/beverage order
Freshii
Auburn Hills
MI
Enjoy 10% off the total bill
Freshii
Auburn Hills
MI
Enjoy one free menu item with purchase of same
Freshouse Food & Juice Bar
Woodbridge
ON
Enjoy one free juice with purchase of same
Fright Haven
Stratford
CT
Enjoy one free admission with purchase of same
Frost N' Roll
Las Vegas
NV
Enjoy 10% off the total bill
Frost N' Roll
Las Vegas
NV
Enjoy 25% off the total bill
Fuji at Ink Block
Boston
MA
Enjoy one free entrée with purchase of same
Full Circle
Seattle
WA
$10 off Your First 4 Boxes
Funnel Birds
Altadena
CA
Enjoy one free entrée with purchase of same
Galileo Pizza And Italian Restaurant
Howell Township
NJ
Enjoy one free pizza with purchase of same
Game Changerz VR
Prince George
BC
Enjoy one free admission with purchase of same
Game Over Pizza
Fort Lauderdale
FL
Enjoy 10% off the total bill
Game Over Pizza
Fort Lauderdale
FL
Enjoy 25% off the total bill
Game Quest
Prince George
BC
Enjoy one free admission with purchase of same
Gateway Diner
Westville
NJ
Enjoy 25% off the total bill
Gatsby's Pub & Grill
Indianapolis
IN
Enjoy 25% off the total bill
George Street Ale House
New Brunswick
NJ
Enjoy 10% off the total bill
George Street Ale House
New Brunswick
NJ
Enjoy 25% off the total bill
Georgia Pig BBQ & Restaurant
Fort Lauderdale
FL
Enjoy one free entrée with purchase of same
Germantown Espresso Bar
Philadelphia
PA
Enjoy one free menu item with purchase of same
Get Air
Palm Desert
CA
Enjoy one free one hour jump session with purchase of same
Get Juiced
Sussex
NJ
Enjoy 25% off the total bill
Giant Bambino's Pizza II
La Mesa
CA
Enjoy 10% off the total bill
Giant Bambino's Pizza II
La Mesa
CA
Enjoy 25% off the total bill
Ginny's Cafe
Frenchtown
NJ
Enjoy one free entrée with purchase of same
Giovanni's House of Pizza
Lynn
MA
Enjoy 10% off the total bill
Giovanni's House of Pizza
Lynn
MA
Enjoy 25% off the total bill
Giovanni's Pizza
Parma
OH
Enjoy 25% off the total bill
GLORIA
New York
NY
Enjoy 25% off the total bill
Go Detox Juice Bar Grill
Brooklyn
NY
Enjoy 25% off the total bill
Go Heart Tea Bar
San Diego
CA
Enjoy one free menu item with purchase of same
Godavari
Schaumburg
IL
Enjoy one free entrée with purchase of same
Golden Burrito Mexican Spot
Flanders
NJ
Enjoy 25% off the total bill
Golden Rose
Buena Park
CA
Enjoy 10% off the total bill
Golden Rose
Buena Park
CA
Enjoy 25% off the total bill
Goodfella's Pizzeria
Orlando
FL
Enjoy 10% off the total bill
Goodfella's Pizzeria
Orlando
FL
Enjoy 25% off the total bill
Got Da Juice
Stockbridge
GA
Enjoy one free menu item with purchase of same
Gotham City Pizza
Ormond Beach
FL
Enjoy 10% off the total bill
Gotham City Pizza
Ormond Beach
FL
Enjoy 25% off the total bill
Grade A Grill and Cafe
Queens
NY
Enjoy one free menu item with purchase of same
Grady's BBQ
Converse
TX
Enjoy one free menu item with purchase of same
Grande Pizza
Hollywood
FL
Enjoy one free pizza with purchase of same
Greek Meat Guy
Easton
PA
Enjoy 10% off the total bill
Greek Meat Guy
Easton
PA
Enjoy 25% off the total bill
Greek Spot The Restaurant
Red Bank
NJ
Enjoy 25% off the total bill
Greek's Pizzeria
Muncie
IN
Enjoy 10% off the total bill
Greek's Pizzeria
Indianapolis
IN
Enjoy 25% off the total bill
Greek's Pizzeria
Muncie
IN
Enjoy 25% off the total bill
Greek's Pizzeria
Indianapolis
IN
Enjoy 25% off the total bill
Greek's Pizzeria
Muncie
IN
Enjoy one free menu item with purchase of same
Green Ginger
Greenwood
IN
Enjoy 25% off the total bill
Green Leaf Vietnamese Restaurant
Seattle
WA
Enjoy one free entrée with purchase of same
Greene Marketplace & Bistro
Easton
PA
Enjoy 25% off the total bill
Grill Gate
Richmond Hill
ON
Enjoy one free menu item with purchase of same
Grill Gate
North York
ON
Enjoy one free menu item with purchase of same
Grub Burger Bar
Atlanta
GA
Enjoy one free menu item with purchase of same
Guido's Pizza
Shelby Twp
MI
Enjoy 10% off the total bill
Guido's Pizza
Shelby Twp
MI
Enjoy 50% off any one pizza
Guido's Pizza & Pasta
Tujunga
CA
Enjoy 10% off the total bill
Guido's Pizza & Pasta
Tujunga
CA
Enjoy 50% off the regular price of any one pizza
Gus' Tacos Mexican Grill
Los Angeles
CA
Enjoy 10% off the total bill
Gus' Tacos Mexican Grill
Los Angeles
CA
Enjoy one free entrée with purchase of same
Gustoso Pizzeria
Huntington
NY
Enjoy 50% off any large pizza
Gyro Bros
Atlanta
GA
Enjoy 25% off the total bill
Gyro City Grill
Roswell
GA
Enjoy one free entrée with purchase of same
Gyro's Planet
Evanston
IL
Enjoy 10% off the total bill
Gyro's Planet
Evanston
IL
Enjoy 25% off the total bill
Habeesha Ethiopian Restaurant
Memphis
TN
Enjoy one free entrée with purchase of same
Hamburger Mary's
Las Vegas
NV
Enjoy 10% off the total bill
Hamburger Mary's
Las Vegas
NV
Enjoy 25% off the total bill
Ham's of Hickory
Hickory
NC
Enjoy 25% off the total bill
Handel's Homemade Ice Cream
Folsom
CA
Enjoy 50% off any purchase
Hang Loose Hawaiian Shave Ice
Glendale
CA
Enjoy 10% off the total bill
Hang Loose Hawaiian Shave Ice
Glendale
CA
Enjoy one free menu item with purchase of same
Hannah's BBQ South
Granite Falls
NC
Enjoy 10% off the total bill
Hannah's BBQ South
Granite Falls
NC
Enjoy 25% off the total bill
Hanover & Hardy's Public House
Bolingbrook
IL
Enjoy 10% off the total bill
Hanover & Hardy's Public House
Bolingbrook
IL
Enjoy 25% off the total bill
Harbor House Bar & Grill
Huron
OH
Enjoy 25% off the total bill
Harbor Palace Seafood Restaurant
Las Vegas
NV
Enjoy 25% off the total bill
Harbour Rackhouse
Huntington Beach
CA
Enjoy 25% off the total bill
Harmony Cafe
Muncie
IN
Enjoy 25% off the total bill
Havana Bistro and Café
Orlando
FL
Enjoy one free menu item with purchase of same
Hawaii Poke & Grill
Oxford
MS
Enjoy one free entrée with purchase of same
Haylee's Coffee House
Wayne
NJ
Enjoy 10% off the total bill
Haylee's Coffee House
Wayne
NJ
Enjoy 50% off the regular price of a specialty beverage order
Healthy Choice Kitchen
Brooklyn
NY
Enjoy 10% off the total bill
Healthy Choice Kitchen
Brooklyn
NY
Enjoy 25% off the total bill
Healthy Life Shakes & Cafe
Vacaville
CA
Enjoy one free menu item with purchase of same
Healthy Substance
Chicago
IL
Enjoy 10% off the total bill
Healthy Substance
Chicago
IL
Enjoy 25% off the total bill
Hell's Chicken
Los Angeles
CA
Enjoy 25% off the total bill
Hell's Chicken
Sunland-Tujunga
CA
Enjoy 25% off the total bill
Hero's Sports Bar & Grill
Posen
IL
Enjoy one free entrée with purchase of same
Hibachi & Company
Chapel Hill
SC
Enjoy one free menu item with purchase of same
Hibachi Asian Diner
Raleigh
NC
Enjoy one free menu item with purchase of same
Hibachi Xpress
Fairlawn
OH
Enjoy 10% off the total bill
Hibachi Xpress
Fairlawn
OH
Enjoy 25% off the total bill
Hickory Tavern
Rock Hill
SC
Enjoy one free menu item with purchase of same
Higher Grounds Cafe
Fishers
IN
Enjoy one free menu item with purchase of same
Highway Garage & Auto Center
Chargin Falls
OH
Enjoy 10% off any auto service
Hillside Gourmet
Staten Island
NY
Enjoy one free menu item with purchase of same
Himalayan Restaurant
Chicago
IL
Enjoy one free entrée with purchase of same
Hokulia Shave Ice
Parma
OH
Enjoy one free menu item with purchase of same
Holiday Deli & Ham
Memphis
TN
Enjoy 10% off the total bill
Holiday Deli & Ham
Memphis
TN
Enjoy 25% off the total bill
Hollywood Hoagies
Hollywood
FL
Enjoy one free menu item with purchase of same
Home Grown Market & Juice Bar
Nakusp
BC
Enjoy 50% off the regular price of any beverage order
Hometown Burger
San Antonio
TX
Enjoy one free menu item with purchase of same
Honey Baked Ham Company
Middletown
NJ
Enjoy one free sandwich with purchase of same
Hot Shots Cafe
Cranbrook
BC
Enjoy 50% off the regular price of any Coffee order
Hotdogland Las Vegas
Las Vegas
NV
Enjoy 10% off the total bill
Hotdogland Las Vegas
Las Vegas
NV
Enjoy 25% off the total bill
Houlahan's Tavern & Grill
Waterman
IL
Enjoy one free entrée with purchase of same
Houndstooth Saloon
Chicago
IL
Enjoy one free entrée with purchase of same
House of Falafel
South Plainfield
NJ
Enjoy 10% off the total bill
House of Falafel
South Plainfield
NJ
Enjoy 25% off the total bill
House of Grill
Granada Hills
CA
Enjoy one free menu item with purchase of same
Hug A Mug Coffee & Tea
Pompton Lakes
NJ
Enjoy 10% off the total bill
Hug A Mug Coffee & Tea
Pompton Lakes
NJ
Enjoy 50% off the regular price of a specialty beverage order
Hurricane Grill & Wings
Apopka
FL
Enjoy one free entrée with purchase of same
Huskers Cafe
Suwanee
GA
Enjoy 25% off the total bill
HWY 54 Public House
Durham
NC
Enjoy 25% off the total bill
Hwy 55 Burgers Shakes & Fries
Raleigh
NC
Enjoy 10% off the total bill
Hwy 55 Burgers Shakes & Fries
Raleigh
NC
Enjoy 25% off the total bill
Hwy 55 Burgers Shakes & Fries
Durham
NC
Enjoy one free entrée with purchase of same
Hwy 55 Burgers Shakes & Fries
Raleigh
NC
Enjoy one free entrée with purchase of same
I Heart Mac & Cheese
Davie
FL
Enjoy 25% off the total bill
I Love Teriyaki & Sushi
Folsom
CA
Enjoy 10% off the total bill
I Love Teriyaki & Sushi
Folsom
CA
Enjoy 25% off the total bill
IDOF Fresh Mediterranean
Chicago
IL
Enjoy 25% off the total bill
IDOF Fresh Mediterranean
Chicago
IL
Enjoy one free menu item with purchase of same
Il Melograno
Doylestown
PA
Enjoy 10% of the total bill
Il Melograno
Doylestown
PA
Enjoy 25% of the total bill
Inchin's Bamboo Garden
Cleveland
OH
Enjoy one free entrée with purchase of same
India Palace Restaurant
Indianapolis
IN
Enjoy 20% off the total bill
India Palace Restaurant
Indianapolis
IN
Enjoy 25% off the total bill
India's Tandoori
Manhattan Beach
CA
Enjoy 10% off the total bill
India's Tandoori
Manhattan Beach
CA
Enjoy one free entrée with purchase of same
Indulgence Bakery
Kokomo
IN
Enjoy 50% off the regular price of any purchase
Irie Island Restaurant
Canton
OH
Enjoy 25% off the total bill
Island Empanada
Rocky Point
NY
Enjoy $5 off the regular price of any purchase of $25 or more
Island Empanada
Lake Ronkonkoma
NY
Enjoy $5 off the regular price of any purchase of $25 or more
Island Empanada
Rocky Point
NY
Enjoy one free empanada with purchase of same
Island Empanada
Lake Ronkonkoma
NY
Enjoy one free empanada with purchase of same
It's A Cubano B
Pompano Beach
FL
Enjoy 25% off the total bill
J.R. Crickets
Lithonia
GA
Enjoy 10% off the total bill
J.R. Crickets
Lithonia
GA
Enjoy 25% off the total bill
Jack in the Box
Huntington Woods
CA
Enjoy one free menu item with purchase of same
Jack in the Box
Santa Ana
CA
Enjoy one free menu item with purchase of same
Jack in the Box
Lake Forest
CA
Enjoy one free menu item with purchase of same
Jack in the Box
Mission Viejo
CA
Enjoy one free menu item with purchase of same
Jack in the Box
Mission Viejo
CA
Enjoy one free menu item with purchase of same
Jack in the Box
Irvine
CA
Enjoy one free menu item with purchase of same
Jack in the Box®
Laguna Hills
CA
Enjoy one free menu item with purchase of same
Jack in the Box®
Brea
CA
Enjoy one free menu item with purchase of same
Jack in the Box®
Buena Park
CA
Enjoy one free menu item with purchase of same
Jack's Donuts
Brownsburg
IN
Enjoy 50% off any baked goods order
Jack's Donuts
Anderson
IN
Enjoy 50% off any baked goods order
Jack's Donuts
Franklin
IN
Enjoy 50% off any baked goods order
Jack's Donuts
Anderson
IN
Enjoy 50% off any baked goods order
Jack's Donuts
Indianapolis
IN
Enjoy 50% off any baked goods order
Jack's Donuts
Plainfield
IN
Enjoy 50% off the regular price of a specialty beverage order
Jack's Donuts
Fishers
IN
Enjoy 50% off the regular price of any baked goods order
Jack's Donuts
Greenwood
IN
Enjoy 50% off the regular price of any baked goods order
Jack's Donuts
Indianapolis
IN
Enjoy 50% off the regular price of any baked goods order
Jack's Donuts
Westfield
IN
Enjoy 6 free donuts with purchase of same
Jack's Donuts
Kokomo
IN
Enjoy 6 free donuts with purchase of same
Jack's Donuts
Carmel
IN
Enjoy 6 free donuts with purchase of same
Jack's Donuts
Indianapolis
IN
Enjoy one free menu item with purchase of same
Jack's Stir-Brew Coffee
New York
NY
Enjoy one free menu item with purchase of same
Jackson's Bar & Grill
Las Vegas
NV
Enjoy 25% off the total bill
Jacksonville Auto Glass
Jacksonville
TX
Enjoy $10 off any rock chip repair
Jae's Cafe
Somerville
MA
Enjoy one free entrée with purchase of same
Jake O'Malley's Irish Pub
Washington
MI
Enjoy 25% off the total bill
Jamaican Tasty Delights
Brentwood
TN
Enjoy one free menu item with purchase of same
Jamrock BBQ Jerk
Naperville
IL
Enjoy one free menu item with purchase of same
Jasmine Rice Thai Cuisine
Gretna
LA
Enjoy one free entrée with purchase of same
JC's Subs
St. Louis Park
MN
Enjoy one FREE SUB when a second SUB of equal or greater value is purchased
JD's Bistro & Grille
Port Charlotte
FL
Enjoy 10% off the total bill
JD's Bistro & Grille
Port Charlotte
FL
Enjoy 25% off the total bill
Jennings House Cafe
San Diego
CA
Enjoy 25% off the total bill
Jen's Fish Fry
Stockbridge
GA
Enjoy one free menu item with purchase of same
Jerk King
Rochester
MN
Enjoy 10% off the total bill
Jerk King
Rochester
MN
Enjoy 25% off the total bill
Jersey Mike's Subs
Lawrenceville
GA
Enjoy one free menu item with purchase of same
Jersey Mike's Subs
Holly Springs
GA
Enjoy one free sandwich with purchase of same
Jersey Mike's Subs
Coral Springs
FL
Enjoy one free sandwich with purchase of same
Jersey Mike's Subs
Los Angeles
CA
Enjoy one free sandwich with purchase of same
Jersey Mike's Subs
Indianapolis
IN
Enjoy one free regular sandwich with purchase of same
Jersey Mike's Subs
Indianapolis
IN
Enjoy one free regular sandwich with purchase of same
Jersey Mike's Subs
Indianapolis
IN
Enjoy one free regular sandwich with purchase of same
Jersey Mike's Subs
Indianapolis
IN
Enjoy one free regular sandwich with purchase of same
Jersey Mike's Subs
Sun Prairie
WI
Enjoy one free sandwich with purchase of same
Jersey Mike's Subs
Princeton
NJ
Enjoy one free sandwich with purchase of same
Jersey Mike's Subs
Lakewood
NJ
Enjoy one free sandwich with purchase of same
Jersey Mike's Subs
Toms River
NJ
Enjoy one free sandwich with purchase of same
Jersey Mike's Subs
West Long Branch
NJ
Enjoy one free sandwich with purchase of same
Jersey Mike's Subs
Cuyahoga Falls
OH
Enjoy one free menu item with purchase of same
Jersey Mike's Subs
Canton
OH
Enjoy one free sandwich with purchase of same
Jersey Mike's Subs
Rancho Mission Viejo
CA
Enjoy one free sandwich with purchase of same
Jersey Mike's Subs
Altamonte Springs
FL
Enjoy one free menu item with purchase of same
Jersey Mike's Subs
Orlando
FL
Enjoy one free sandwich with purchase of same
Jersey Mike's Subs
Orlando
FL
Enjoy one free sandwich with purchase of same
Jersey Mike's Subs
Raleigh
NC
Enjoy one free sandwich with purchase of same
Jersey Mike's Subs
Chapel Hill
NC
Enjoy one free sandwich with purchase of same
Jersey Mike's Subs
Raleigh
NC
Enjoy one free sandwich with purchase of same
Jersey Mike's Subs
Raleigh
NC
Enjoy one free sandwich with purchase of same
Jersey Mike's Subs
Raleigh
NC
Enjoy one free sandwich with purchase of same
Jersey Mike's Subs
Durham
NC
Enjoy one free sandwich with purchase of same
Jersey Mike's Subs
Raleigh
NC
Enjoy one free sandwich with purchase of same
Jersey Mike's Subs
Raleigh
NC
Enjoy one free sandwich with purchase of same
Jersey Mike's Subs
Raleigh
NC
Enjoy one free sandwich with purchase of same
Jersey Mike's Subs
Durham
NC
Enjoy one sandwich with purchase of same
Jersey Mike's Subs
Chula Vista
CA
Enjoy one free menu item with purchase of same
Jimmy Max
Staten Island
NY
Enjoy one free entrée with purchase of same
Joe Willy's Burger Bar
Columbus
IN
Enjoy 25% off the total bill
Joe's Sports Bar & Grill
Alpharetta
GA
Enjoy 25% off the total bill
Joey's Pizza
Fountain Valley
CA
Enjoy 25% off the total bill
Jogas Espresso Cafe
Grand Forks
BC
Enjoy 50% off the regular price of any food/beverage order
Johnny Pies Pizzeria
Coconut Creek
FL
Enjoy 25% off the total bill
Johnny Roger's BBQ & Burgers
Concord
NC
Enjoy one free menu item with purchase of same
Johnny's Bagels & Deli
Whitehall
PA
Enjoy 25% off the total bill
Johnny's Bagels & Deli
Allentown
PA
Enjoy 25% off the total bill
John's Deli
Staten Island
NY
Enjoy 25% off the total bill
John's Family Restaurant
Charlotte
NC
Enjoy 25% off the total bill
Jon Smith Subs
Johns Creek
GA
Enjoy one free menu item with purchase of same
JP23 Urban Kitchen and Bar
Fullerton
CA
Enjoy 25% off the total bill
Judi's Deli
Beverly Hills
CA
Enjoy 25% off the total bill
Juicy Lucy BBQ
Staten Island
NY
Enjoy 25% off the total bill
Jules Thin Crust
Oakland
CA
Enjoy 10% off the total bill
Jules Thin Crust
Oakland
CA
Enjoy 25% off the total bill
Julia's Pizza & Italian Restaurant
Orlando
FL
Enjoy 25% off the total bill
Julio's On Main
Vineland
NJ
Enjoy 10% off the total bill
Julio's On Main
Vineland
NJ
Enjoy 25% off the total bill
Junior's Diner
Orlando
FL
Enjoy 10% off the total bill
Junior's Diner
Orlando
FL
Enjoy 25% off the total bill
Just Subs
Clinton
NJ
Enjoy 25% off the total bill
Justice
New Hartford
NY
Enjoy $20 off a purchase of $50 or more
Justice
Lawton
OK
Enjoy $20 off a purchase of $50 or more
Justice
Ridgeland
MS
Enjoy $20 off a purchase of $50 or more
Justice
Hattiesburg
MS
Enjoy $20 off a purchase of $50 or more
Justice
Tupelo
MS
Enjoy $20 off a purchase of $50 or more
Justice
Gadsden
AL
Enjoy $20 off a purchase of $50 or more
Justice
Joplin
MO
Enjoy $20 off a purchase of $50 or more
Justice
Myrtle Beach
SC
Enjoy $20 off a purchase of $50 or more
Justice
London
ON
Enjoy $20 off a purchase of $50 or more
Justice
Knoxville
TN
Enjoy $20 off a purchase of $50 or more
Justice
Forsyth
IL
Enjoy $20 off a purchase of $50 or more
Justice
Grande Prairie
AB
Enjoy $20 off a purchase of $50 or more
Justice
El Paso
TX
Enjoy $20 off a purchase of $50 or more
Justice
Pikeville
KY
Enjoy $20 off a purchase of $50 or more
Justice
Rochester
MN
Enjoy $20 off a purchase of $50 or more
Justice
Meridian
MS
Enjoy $20 off a purchase of $50 or more
Justice
Carbondale
IL
Enjoy $20 off a purchase of $50 or more
Justice
Cumberland
MD
Enjoy $20 off a purchase of $50 or more
Justice
Williamsburg
IA
Enjoy $20 off a purchase of $50 or more
Justice
Kennewick
WA
Enjoy $20 off a purchase of $50 or more
Justice
Sudbury
ON
Enjoy $20 off a purchase of $50 or more
Justice
Fredericton
NB
Enjoy $20 off a purchase of $50 or more
Justice
Cheyenne
WY
Enjoy $20 off a purchase of $50 or more
Justice
Bluffton
SC
Enjoy $20 off a purchase of $50 or more
Justice
Greensboro
NC
Enjoy $20 off a purchase of $50 or more
Justice
Flowood
MS
Enjoy $20 off a purchase of $50 or more
Justice
Tallahassee
FL
Enjoy $20 off a purchase of $50 or more
Justice
College Station
TX
Enjoy $20 off a purchase of $50 or more
Justice
Charlottesville
VA
Enjoy $20 off a purchase of $50 or more
Justice
South Burlington
VT
Enjoy $20 off a purchase of $50 or more
Justice
Medford
OR
Enjoy $20 off a purchase of $50 or more
Justice
Bloomington
IL
Enjoy $20 off a purchase of $50 or more
Justice
Greensboro
NC
Enjoy $20 off a purchase of $50 or more
Justice
Rapid City
SD
Enjoy $20 off a purchase of $50 or more
Justice
Sevierville
TN
Enjoy $20 off a purchase of $50 or more
Justice
Valdosta
GA
Enjoy $20 off a purchase of $50 or more
Justice
Newmarket
ON
Enjoy $20 off a purchase of $50 or more
Justice
Little Rock
AR
Enjoy $20 off a purchase of $50 or more
Justice
Tuscaloosa
AL
Enjoy $20 off a purchase of $50 or more
Justice
Topeka
KS
Enjoy $20 off a purchase of $50 or more
Justice
Mankato
MN
Enjoy $20 off a purchase of $50 or more
Justice
Jackson
MI
Enjoy $20 off a purchase of $50 or more
Justice
Harrisonburg
VA
Enjoy $20 off a purchase of $50 or more
Justice
Chico
CA
Enjoy $20 off a purchase of $50 or more
Justice
London
ON
Enjoy $20 off a purchase of $50 or more
Justice
Okemos
MI
Enjoy $20 off a purchase of $50 or more
Justice
North Conway
NH
Enjoy $20 off a purchase of $50 or more
Justice
Mount Hope
WV
Enjoy $20 off a purchase of $50 or more
Justice
Pooler
GA
Enjoy $20 off a purchase of $50 or more
Justice
Myrtle Beach
SC
Enjoy $20 off a purchase of $50 or more
Justice
Champaign
IL
Enjoy $20 off a purchase of $50 or more
Justice
Birmingham
AL
Enjoy $20 off a purchase of $50 or more
Justice
Johnson City
TN
Enjoy $20 off a purchase of $50 or more
Justice
Jackson
TN
Enjoy $20 off a purchase of $50 or more
Justice
Panama City Beach
FL
Enjoy $20 off a purchase of $50 or more
Justice
Waterloo
IA
Enjoy $20 off a purchase of $50 or more
Justice
Chattanooga
TN
Enjoy $20 off a purchase of $50 or more
Justice
Richmond
KY
Enjoy $20 off a purchase of $50 or more
Justice
Watertown
NY
Enjoy $20 off a purchase of $50 or more
Justice
Gonzales
LA
Enjoy $20 off a purchase of $50 or more
Justice
Mcallen
TX
Enjoy $20 off a purchase of $50 or more
Justice
Peoria
IL
Enjoy $20 off a purchase of $50 or more
Justice
Rogers
AR
Enjoy $20 off a purchase of $50 or more
Justice
Salina
KS
Enjoy $20 off a purchase of $50 or more
Justice
Melbourne
FL
Enjoy $20 off a purchase of $50 or more
Justice
Columbia
MO
Enjoy $20 off a purchase of $50 or more
Justice
Idaho Falls
ID
Enjoy $20 off a purchase of $50 or more
Justice
Salisbury
MD
Enjoy $20 off a purchase of $50 or more
Justice
Lexington
KY
Enjoy $20 off a purchase of $50 or more
Justice
Fayetteville
NC
Enjoy $20 off a purchase of $50 or more
Justice
Brownsville
TX
Enjoy $20 off a purchase of $50 or more
Justice
Bridgeport
WV
Enjoy $20 off a purchase of $50 or more
Justice
Beaumont
TX
Enjoy $20 off a purchase of $50 or more
Justice
Minot
ND
Enjoy $20 off a purchase of $50 or more
Justice
Lima
OH
Enjoy $20 off a purchase of $50 or more
Justice
Texarkana
TX
Enjoy $20 off a purchase of $50 or more
Justice
Lafayette
IN
Enjoy $20 off a purchase of $50 or more
Justice
Grand Junction
CO
Enjoy $20 off a purchase of $50 or more
Justice
Waco
TX
Enjoy $20 off a purchase of $50 or more
Justice
Saint George
UT
Enjoy $20 off a purchase of $50 or more
Justice
Springfield
IL
Enjoy $20 off a purchase of $50 or more
Justice
Biloxi
MS
Enjoy $20 off a purchase of $50 or more
Justice
Foley
AL
Enjoy $20 off a purchase of $50 or more
Justice
Bowling Green
KY
Enjoy $20 off a purchase of $50 or more
Justice
Vienna
WV
Enjoy $20 off a purchase of $50 or more
Justice
Bakersfield
CA
Enjoy $20 off a purchase of $50 or more
Justice
Chattanooga
TN
Enjoy $20 off a purchase of $50 or more
Justice
Grand Forks
ND
Enjoy $20 off a purchase of $50 or more
Justice
Huntsville
AL
Enjoy $20 off a purchase of $50 or more
Justice
Springfield
MO
Enjoy $20 off a purchase of $50 or more
Justice
Missoula
MT
Enjoy $20 off a purchase of $50 or more
Justice
Lansing
MI
Enjoy $20 off a purchase of $50 or more
Justice
Bossier City
LA
Enjoy $20 off a purchase of $50 or more
Justice
Pennsdale
PA
Enjoy $20 off a purchase of $50 or more
Justice
Branson
MO
Enjoy $20 off a purchase of $50 or more
Justice
Niagara On The Lake
ON
Enjoy $20 off a purchase of $50 or more
Justice
Jonesboro
AR
Enjoy $20 off a purchase of $50 or more
Justice
Florence
AL
Enjoy $20 off a purchase of $50 or more
Justice
Cape Girardeau
MO
Enjoy $20 off a purchase of $50 or more
Justice
Spanish Fort
AL
Enjoy $20 off a purchase of $50 or more
Justice
Port Arthur
TX
Enjoy $20 off a purchase of $50 or more
Justice
Windsor
ON
Enjoy $20 off a purchase of $50 or more
Justice
Wichita Falls
TX
Enjoy $20 off a purchase of $50 or more
Justice
Burlington
NC
Enjoy $20 off a purchase of $50 or more
Justice
Davenport
IA
Enjoy $20 off a purchase of $50 or more
Justice
Traverse City
MI
Enjoy $20 off a purchase of $50 or more
Justice
Mobile
AL
Enjoy $20 off a purchase of $50 or more
Justice
Danville
VA
Enjoy $20 off a purchase of $50 or more
Justice
Quincy
IL
Enjoy $20 off a purchase of $50 or more
Justice
Horseheads
NY
Enjoy $20 off a purchase of $50 or more
Justice
Cookstown
ON
Enjoy $20 off a purchase of $50 or more
Justice
Winston-Salem
NC
Enjoy $20 off a purchase of $50 or more
Justice
Lexington
KY
Enjoy $20 off a purchase of $50 or more
Justice
Terre Haute
IN
Enjoy $20 off a purchase of $50 or more
Justice
Grand Island
NE
Enjoy $20 off a purchase of $50 or more
Justice
Lynchburg
VA
Enjoy $20 off a purchase of $50 or more
Justice
Alexandria
LA
Enjoy $20 off a purchase of $50 or more
Justice
Bossier City
LA
Enjoy $20 off a purchase of $50 or more
Justice
Augusta
GA
Enjoy $20 off a purchase of $50 or more
Justice
El Centro
CA
Enjoy $20 off a purchase of $50 or more
Justice
Longview
TX
Enjoy $20 off a purchase of $50 or more
Justice
Wilmington
NC
Enjoy $20 off a purchase of $50 or more
Justice
Huntsville
AL
Enjoy $20 off a purchase of $50 or more
Justice
Zanesville
OH
Enjoy $20 off a purchase of $50 or more
Justice
Saint Joseph
MO
Enjoy $20 off a purchase of $50 or more
Justice
Jacksonville
NC
Enjoy $20 off a purchase of $50 or more
Justice
Fargo
ND
Enjoy $20 off a purchase of $50 or more
Justice
Peru
IL
Enjoy $20 off a purchase of $50 or more
Justice
Tuscola
IL
Enjoy $20 off a purchase of $50 or more
Justice
Somerset
KY
Enjoy $20 off a purchase of $50 or more
Justice
Fayetteville
AR
Enjoy $20 off a purchase of $50 or more
Justice
Abilene
TX
Enjoy $20 off a purchase of $50 or more
Justice
Destin
FL
Enjoy $20 off a purchase of $50 or more
Justice
Cedar Rapids
IA
Enjoy $20 off a purchase of $50 or more
Justice
Moline
IL
Enjoy $20 off a purchase of $50 or more
Justice
Midland
TX
Enjoy $20 off a purchase of $50 or more
Justice
Osage Beach
MO
Enjoy $20 off a purchase of $50 or more
Justice
Lufkin
TX
Enjoy $20 off a purchase of $50 or more
Justice
Tyler
TX
Enjoy $20 off a purchase of $50 or more
Justice
Myrtle Beach
SC
Enjoy $20 off a purchase of $50 or more
Justice
Monroe
LA
Enjoy $20 off a purchase of $50 or more
Justice
Eau Claire
WI
Enjoy $20 off a purchase of $50 or more
Justice
Roanoke
VA
Enjoy $20 off a purchase of $50 or more
Justice
Owensboro
KY
Enjoy $20 off a purchase of $50 or more
Justice
Mercedes
TX
Enjoy $20 off a purchase of $50 or more
Justice
Sioux City
IA
Enjoy $20 off a purchase of $50 or more
Justice
Birmingham
AL
Enjoy $20 off a purchase of $50 or more
Justice
Macon
GA
Enjoy $20 off a purchase of $50 or more
Justice
Pensacola
FL
Enjoy $20 off a purchase of $50 or more
Justice
Paducah
KY
Enjoy $20 off a purchase of $50 or more
Justice
Fort Smith
AR
Enjoy $20 off a purchase of $50 or more
Justice
Laredo
TX
Enjoy $20 off a purchase of $50 or more
Justice
Bristol
TN
Enjoy $20 off a purchase of $50 or more
Justice
Corpus Christi
TX
Enjoy $20 off a purchase of $50 or more
Justice
Dubois
PA
Enjoy $20 off a purchase of $50 or more
Justice
Dubuque
IA
Enjoy $20 off a purchase of $50 or more
Justice
Columbus
GA
Enjoy $20 off a purchase of $50 or more
Justice
Altoona
PA
Enjoy $20 off a purchase of $50 or more
Justice
Triadelphia
WV
Enjoy $20 off a purchase of $50 or more
Justice
Lafayette
LA
Enjoy $20 off a purchase of $50 or more
Justice
Erie
PA
Enjoy $20 off a purchase of $50 or more
Justice
Little Rock
AR
Enjoy $20 off a purchase of $50 or more
Justice
Lubbock
TX
Enjoy $20 off a purchase of $50 or more
Justice
Johnson City
NY
Enjoy $20 off a purchase of $50 or more
Justice
Lubbock
TX
Enjoy $20 off a purchase of $50 or more
Justice
Lincoln
NE
Enjoy $20 off a purchase of $50 or more
Justice
Leeds
AL
Enjoy $20 off a purchase of $50 or more
Justice
Gainesville
FL
Enjoy $20 off a purchase of $50 or more
Justice
Baton Rouge
LA
Enjoy $20 off a purchase of $50 or more
Justice
Evansville
IN
Enjoy $20 off a purchase of $50 or more
Justice
Mishawaka
IN
Enjoy $20 off a purchase of $50 or more
Justice
Bismarck
ND
Enjoy $20 off a purchase of $50 or more
Justice
Mansfield
OH
Enjoy $20 off a purchase of $50 or more
Justice
St Clairsville
OH
Enjoy $20 off a purchase of $50 or more
Justice
Wilmington
NC
Enjoy $20 off a purchase of $50 or more
Justice
Canutillo
TX
Enjoy $20 off a purchase of $50 or more
Justice
Greenville
NC
Enjoy $20 off a purchase of $50 or more
Justice
Knoxville
TN
Enjoy $20 off a purchase of $50 or more
Justice
Amarillo
TX
Enjoy $20 off a purchase of $50 or more
Justice
Frankfort
KY
Enjoy $20 off a purchase of $50 or more
Justice
Victoria
TX
Enjoy $20 off a purchase of $50 or more
Justice
Savannah
GA
Enjoy $20 off a purchase of $50 or more
Justice
Asheville
NC
Enjoy $20 off a purchase of $50 or more
Justice
Evansville
IN
Enjoy $20 off a purchase of $50 or more
Justice
El Paso
TX
Enjoy $20 off a purchase of $50 or more
Justice
Moncton
NB
Enjoy $20 off a purchase of $50 or more
Justice
Dothan
AL
Enjoy $20 off a purchase of $50 or more
Justice
Branson
MO
Enjoy $20 off a purchase of $50 or more
Justice
Sioux Falls
SD
Enjoy $20 off a purchase of $50 or more
Justice
Kingston
ON
Enjoy $20 off a purchase of $50 or more
Justice
Morgantown
WV
Enjoy $20 off a purchase of $50 or more
Justice
Oshawa
ON
Enjoy $20 off a purchase of $50 or more
Justice
Bluefield
WV
Enjoy $20 off a purchase of $50 or more
Justice
Albany
NY
Enjoy $20 off a purchase of $50 or more
Justice
Clifton Park
NY
Enjoy $20 off a purchase of $50 or more
Justice
Albany
NY
Enjoy $20 off a purchase of $50 or more
Justice
Saratoga Springs
NY
Enjoy $20 off a purchase of $50 or more
Justice
Albuquerque
NM
Enjoy $20 off a purchase of $50 or more
Justice
Oshkosh
WI
Enjoy $20 off a purchase of $50 or more
Justice
Green Bay
WI
Enjoy $20 off a purchase of $50 or more
Justice
Appleton
WI
Enjoy $20 off a purchase of $50 or more
Justice
Fayetteville
GA
Enjoy $20 off a purchase of $50 or more
Justice
Woodstock
GA
Enjoy $20 off a purchase of $50 or more
Justice
Snellville
GA
Enjoy $20 off a purchase of $50 or more
Justice
Peachtree City
GA
Enjoy $20 off a purchase of $50 or more
Justice
Alpharetta
GA
Enjoy $20 off a purchase of $50 or more
Justice
Lithonia
GA
Enjoy $20 off a purchase of $50 or more
Justice
Buford
GA
Enjoy $20 off a purchase of $50 or more
Justice
Acworth
GA
Enjoy $20 off a purchase of $50 or more
Justice
Atlanta
GA
Enjoy $20 off a purchase of $50 or more
Justice
Marietta
GA
Enjoy $20 off a purchase of $50 or more
Justice
Kennesaw
GA
Enjoy $20 off a purchase of $50 or more
Justice
Cumming
GA
Enjoy $20 off a purchase of $50 or more
Justice
Calhoun
GA
Enjoy $20 off a purchase of $50 or more
Justice
Lawrenceville
GA
Enjoy $20 off a purchase of $50 or more
Justice
Douglasville
GA
Enjoy $20 off a purchase of $50 or more
Justice
Dawsonville
GA
Enjoy $20 off a purchase of $50 or more
Justice
Commerce
GA
Enjoy $20 off a purchase of $50 or more
Justice
Rome
GA
Enjoy $20 off a purchase of $50 or more
Justice
Cedar Park
TX
Enjoy $20 off a purchase of $50 or more
Justice
Bee Cave
TX
Enjoy $20 off a purchase of $50 or more
Justice
Round Rock
TX
Enjoy $20 off a purchase of $50 or more
Justice
San Marcos
TX
Enjoy $20 off a purchase of $50 or more
Justice
San Marcos
TX
Enjoy $20 off a purchase of $50 or more
Justice
Round Rock
TX
Enjoy $20 off a purchase of $50 or more
Justice
Austin
TX
Enjoy $20 off a purchase of $50 or more
Justice
Columbia
MD
Enjoy $20 off a purchase of $50 or more
Justice
Annapolis
MD
Enjoy $20 off a purchase of $50 or more
Justice
Gambrills
MD
Enjoy $20 off a purchase of $50 or more
Justice
Bel Air
MD
Enjoy $20 off a purchase of $50 or more
Justice
Hanover
MD
Enjoy $20 off a purchase of $50 or more
Justice
Glen Burnie
MD
Enjoy $20 off a purchase of $50 or more
Justice
Nottingham
MD
Enjoy $20 off a purchase of $50 or more
Justice
Baltimore
MD
Enjoy $20 off a purchase of $50 or more
Justice
Boise
ID
Enjoy $20 off a purchase of $50 or more
Justice
Niagara Falls
NY
Enjoy $20 off a purchase of $50 or more
Justice
Lakewood
NY
Enjoy $20 off a purchase of $50 or more
Justice
Orchard Park
NY
Enjoy $20 off a purchase of $50 or more
Justice
Amherst
NY
Enjoy $20 off a purchase of $50 or more
Justice
Buffalo
NY
Enjoy $20 off a purchase of $50 or more
Justice
Calgary
AB
Enjoy $20 off a purchase of $50 or more
Justice
Calgary
AB
Enjoy $20 off a purchase of $50 or more
Justice
Rocky View County
AB
Enjoy $20 off a purchase of $50 or more
Justice
Calgary
AB
Enjoy $20 off a purchase of $50 or more
Justice
Charleston
WV
Enjoy $20 off a purchase of $50 or more
Justice
South Charleston
WV
Enjoy $20 off a purchase of $50 or more
Justice
Pineville
NC
Enjoy $20 off a purchase of $50 or more
Justice
Hickory
NC
Enjoy $20 off a purchase of $50 or more
Justice
Gastonia
NC
Enjoy $20 off a purchase of $50 or more
Justice
Charlotte
NC
Enjoy $20 off a purchase of $50 or more
Justice
Charlotte
NC
Enjoy $20 off a purchase of $50 or more
Justice
Concord
NC
Enjoy $20 off a purchase of $50 or more
Justice
Charlotte
NC
Enjoy $20 off a purchase of $50 or more
Justice
South Barrington
IL
Enjoy $20 off a purchase of $50 or more
Justice
Woodridge
IL
Enjoy $20 off a purchase of $50 or more
Justice
Chicago
IL
Enjoy $20 off a purchase of $50 or more
Justice
Orland Park
IL
Enjoy $20 off a purchase of $50 or more
Justice
Chicago Ridge
IL
Enjoy $20 off a purchase of $50 or more
Justice
Bourbonnais
IL
Enjoy $20 off a purchase of $50 or more
Justice
Aurora
IL
Enjoy $20 off a purchase of $50 or more
Justice
Oswego
IL
Enjoy $20 off a purchase of $50 or more
Justice
Algonquin
IL
Enjoy $20 off a purchase of $50 or more
Justice
Chicago
IL
Enjoy $20 off a purchase of $50 or more
Justice
Aurora
IL
Enjoy $20 off a purchase of $50 or more
Justice
Lombard
IL
Enjoy $20 off a purchase of $50 or more
Justice
Orland Park
IL
Enjoy $20 off a purchase of $50 or more
Justice
Johnsburg
IL
Enjoy $20 off a purchase of $50 or more
Justice
Naperville
IL
Enjoy $20 off a purchase of $50 or more
Justice
Joliet
IL
Enjoy $20 off a purchase of $50 or more
Justice
Bloomingdale
IL
Enjoy $20 off a purchase of $50 or more
Justice
Skokie
IL
Enjoy $20 off a purchase of $50 or more
Justice
Schaumburg
IL
Enjoy $20 off a purchase of $50 or more
Justice
Geneva
IL
Enjoy $20 off a purchase of $50 or more
Justice
Gurnee
IL
Enjoy $20 off a purchase of $50 or more
Justice
Bolingbrook
IL
Enjoy $20 off a purchase of $50 or more
Justice
Rockford
IL
Enjoy $20 off a purchase of $50 or more
Justice
Riverside
IL
Enjoy $20 off a purchase of $50 or more
Justice
Vernon Hills
IL
Enjoy $20 off a purchase of $50 or more
Justice
Florence
KY
Enjoy $20 off a purchase of $50 or more
Justice
Crestview Hills
KY
Enjoy $20 off a purchase of $50 or more
Justice
Hamilton
OH
Enjoy $20 off a purchase of $50 or more
Justice
Cincinnati
OH
Enjoy $20 off a purchase of $50 or more
Justice
Cincinnati
OH
Enjoy $20 off a purchase of $50 or more
Justice
Cincinnati
OH
Enjoy $20 off a purchase of $50 or more
Justice
Florence
KY
Enjoy $20 off a purchase of $50 or more
Justice
Cincinnati
OH
Enjoy $20 off a purchase of $50 or more
Justice
Monroe
OH
Enjoy $20 off a purchase of $50 or more
Justice
Cincinnati
OH
Enjoy $20 off a purchase of $50 or more
Justice
Fairview Park
OH
Enjoy $20 off a purchase of $50 or more
Justice
Beachwood
OH
Enjoy $20 off a purchase of $50 or more
Justice
Sandusky
OH
Enjoy $20 off a purchase of $50 or more
Justice
North Olmsted
OH
Enjoy $20 off a purchase of $50 or more
Justice
Strongsville
OH
Enjoy $20 off a purchase of $50 or more
Justice
Mentor
OH
Enjoy $20 off a purchase of $50 or more
Justice
Mentor
OH
Enjoy $20 off a purchase of $50 or more
Justice
Colorado Springs
CO
Enjoy $20 off a purchase of $50 or more
Justice
Chillicothe
OH
Enjoy $20 off a purchase of $50 or more
Justice
Columbus
OH
Enjoy $20 off a purchase of $50 or more
Justice
Columbus
OH
Enjoy $20 off a purchase of $50 or more
Justice
Lancaster
OH
Enjoy $20 off a purchase of $50 or more
Justice
Hilliard
OH
Enjoy $20 off a purchase of $50 or more
Justice
Reynoldsburg
OH
Enjoy $20 off a purchase of $50 or more
Justice
Columbus
OH
Enjoy $20 off a purchase of $50 or more
Justice
Dublin
OH
Enjoy $20 off a purchase of $50 or more
Justice
Heath
OH
Enjoy $20 off a purchase of $50 or more
Justice
Jeffersonville
OH
Enjoy $20 off a purchase of $50 or more
Justice
Rockwall
TX
Enjoy $20 off a purchase of $50 or more
Justice
Dallas
TX
Enjoy $20 off a purchase of $50 or more
Justice
Denton
TX
Enjoy $20 off a purchase of $50 or more
Justice
Mesquite
TX
Enjoy $20 off a purchase of $50 or more
Justice
Frisco
TX
Enjoy $20 off a purchase of $50 or more
Justice
McKinney
TX
Enjoy $20 off a purchase of $50 or more
Justice
Grand Prairie
TX
Enjoy $20 off a purchase of $50 or more
Justice
Terrell
TX
Enjoy $20 off a purchase of $50 or more
Justice
Cedar Hill
TX
Enjoy $20 off a purchase of $50 or more
Justice
Frisco
TX
Enjoy $20 off a purchase of $50 or more
Justice
Garland
TX
Enjoy $20 off a purchase of $50 or more
Justice
Flower Mound
TX
Enjoy $20 off a purchase of $50 or more
Justice
Plano
TX
Enjoy $20 off a purchase of $50 or more
Justice
Dallas
TX
Enjoy $20 off a purchase of $50 or more
Justice
Dayton
OH
Enjoy $20 off a purchase of $50 or more
Justice
Dayton
OH
Enjoy $20 off a purchase of $50 or more
Justice
Dayton
OH
Enjoy $20 off a purchase of $50 or more
Justice
Huber Heights
OH
Enjoy $20 off a purchase of $50 or more
Justice
Dover
DE
Enjoy $20 off a purchase of $50 or more
Justice
Rehoboth Beach
DE
Enjoy $20 off a purchase of $50 or more
Justice
Wilmington
DE
Enjoy $20 off a purchase of $50 or more
Justice
Newark
DE
Enjoy $20 off a purchase of $50 or more
Justice
Broomfield
CO
Enjoy $20 off a purchase of $50 or more
Justice
Lakewood
CO
Enjoy $20 off a purchase of $50 or more
Justice
Westminster
CO
Enjoy $20 off a purchase of $50 or more
Justice
Castle Rock
CO
Enjoy $20 off a purchase of $50 or more
Justice
Loveland
CO
Enjoy $20 off a purchase of $50 or more
Justice
Aurora
CO
Enjoy $20 off a purchase of $50 or more
Justice
Denver
CO
Enjoy $20 off a purchase of $50 or more
Justice
Lone Tree
CO
Enjoy $20 off a purchase of $50 or more
Justice
Littleton
CO
Enjoy $20 off a purchase of $50 or more
Justice
West Des Moines
IA
Enjoy $20 off a purchase of $50 or more
Justice
West Des Moines
IA
Enjoy $20 off a purchase of $50 or more
Justice
Des Moines
IA
Enjoy $20 off a purchase of $50 or more
Justice
Utica
MI
Enjoy $20 off a purchase of $50 or more
Justice
Sterling Heights
MI
Enjoy $20 off a purchase of $50 or more
Justice
Howell
MI
Enjoy $20 off a purchase of $50 or more
Justice
Dearborn
MI
Enjoy $20 off a purchase of $50 or more
Justice
Taylor
MI
Enjoy $20 off a purchase of $50 or more
Justice
Novi
MI
Enjoy $20 off a purchase of $50 or more
Justice
Rochester Hills
MI
Enjoy $20 off a purchase of $50 or more
Justice
Troy
MI
Enjoy $20 off a purchase of $50 or more
Justice
Farmington Hills
MI
Enjoy $20 off a purchase of $50 or more
Justice
Westland
MI
Enjoy $20 off a purchase of $50 or more
Justice
Livonia
MI
Enjoy $20 off a purchase of $50 or more
Justice
Auburn Hills
MI
Enjoy $20 off a purchase of $50 or more
Justice
Troy
MI
Enjoy $20 off a purchase of $50 or more
Justice
Canton
MI
Enjoy $20 off a purchase of $50 or more
Justice
CHESTERFIELD TWNSHP
MI
Enjoy $20 off a purchase of $50 or more
Justice
Ann Arbor
MI
Enjoy $20 off a purchase of $50 or more
Justice
Brighton
MI
Enjoy $20 off a purchase of $50 or more
Justice
Edmonton
AB
Enjoy $20 off a purchase of $50 or more
Justice
Sherwood Park
AB
Enjoy $20 off a purchase of $50 or more
Justice
Edmonton
AB
Enjoy $20 off a purchase of $50 or more
Justice
Stamford
CT
Enjoy $20 off a purchase of $50 or more
Justice
Trumbull
CT
Enjoy $20 off a purchase of $50 or more
Justice
Danbury
CT
Enjoy $20 off a purchase of $50 or more
Justice
Burleson
TX
Enjoy $20 off a purchase of $50 or more
Justice
Fort Worth
TX
Enjoy $20 off a purchase of $50 or more
Justice
Southlake
TX
Enjoy $20 off a purchase of $50 or more
Justice
Grapevine
TX
Enjoy $20 off a purchase of $50 or more
Justice
Weatherford
TX
Enjoy $20 off a purchase of $50 or more
Justice
Arlington
TX
Enjoy $20 off a purchase of $50 or more
Justice
Fort Worth
TX
Enjoy $20 off a purchase of $50 or more
Justice
Hurst
TX
Enjoy $20 off a purchase of $50 or more
Justice
Fort Worth
TX
Enjoy $20 off a purchase of $50 or more
Justice
Tulare
CA
Enjoy $20 off a purchase of $50 or more
Justice
Fresno
CA
Enjoy $20 off a purchase of $50 or more
Justice
Fresno
CA
Enjoy $20 off a purchase of $50 or more
Justice
Wellington
FL
Enjoy $20 off a purchase of $50 or more
Justice
Palm Beach Gardens
FL
Enjoy $20 off a purchase of $50 or more
Justice
Miami
FL
Enjoy $20 off a purchase of $50 or more
Justice
Pembroke Pines
FL
Enjoy $20 off a purchase of $50 or more
Justice
Pembroke Pines
FL
Enjoy $20 off a purchase of $50 or more
Justice
Sunrise
FL
Enjoy $20 off a purchase of $50 or more
Justice
Miami
FL
Enjoy $20 off a purchase of $50 or more
Justice
Vero Beach
FL
Enjoy $20 off a purchase of $50 or more
Justice
West Palm Beach
FL
Enjoy $20 off a purchase of $50 or more
Justice
Hialeah
FL
Enjoy $20 off a purchase of $50 or more
Justice
Aventura
FL
Enjoy $20 off a purchase of $50 or more
Justice
Miami
FL
Enjoy $20 off a purchase of $50 or more
Justice
Davie
FL
Enjoy $20 off a purchase of $50 or more
Justice
Jensen Beach
FL
Enjoy $20 off a purchase of $50 or more
Justice
Coconut Creek
FL
Enjoy $20 off a purchase of $50 or more
Justice
Boca Raton
FL
Enjoy $20 off a purchase of $50 or more
Justice
Miami
FL
Enjoy $20 off a purchase of $50 or more
Justice
Miami
FL
Enjoy $20 off a purchase of $50 or more
Justice
Miami
FL
Enjoy $20 off a purchase of $50 or more
Justice
Coral Springs
FL
Enjoy $20 off a purchase of $50 or more
Justice
Estero
FL
Enjoy $20 off a purchase of $50 or more
Justice
Port Charlotte
FL
Enjoy $20 off a purchase of $50 or more
Justice
Naples
FL
Enjoy $20 off a purchase of $50 or more
Justice
Estero
FL
Enjoy $20 off a purchase of $50 or more
Justice
Fort Myers
FL
Enjoy $20 off a purchase of $50 or more
Justice
Fort Wayne
IN
Enjoy $20 off a purchase of $50 or more
Justice
Fort Wayne
IN
Enjoy $20 off a purchase of $50 or more
Justice
Fremont
IN
Enjoy $20 off a purchase of $50 or more
Justice
Grand Rapids
MI
Enjoy $20 off a purchase of $50 or more
Justice
Walker
MI
Enjoy $20 off a purchase of $50 or more
Justice
Byron Center
MI
Enjoy $20 off a purchase of $50 or more
Justice
Grandville
MI
Enjoy $20 off a purchase of $50 or more
Justice
Portage
MI
Enjoy $20 off a purchase of $50 or more
Justice
Leominster
MA
Enjoy $20 off a purchase of $50 or more
Justice
Danvers
MA
Enjoy $20 off a purchase of $50 or more
Justice
Natick
MA
Enjoy $20 off a purchase of $50 or more
Justice
Saugus
MA
Enjoy $20 off a purchase of $50 or more
Justice
Plymouth
MA
Enjoy $20 off a purchase of $50 or more
Justice
Dedham
MA
Enjoy $20 off a purchase of $50 or more
Justice
Braintree
MA
Enjoy $20 off a purchase of $50 or more
Justice
Lynnfield
MA
Enjoy $20 off a purchase of $50 or more
Justice
Marlborough
MA
Enjoy $20 off a purchase of $50 or more
Justice
Millbury
MA
Enjoy $20 off a purchase of $50 or more
Justice
Burlington
MA
Enjoy $20 off a purchase of $50 or more
Justice
Wrentham
MA
Enjoy $20 off a purchase of $50 or more
Justice
Commerce
CA
Enjoy $20 off a purchase of $50 or more
Justice
Rancho Cucamonga
CA
Enjoy $20 off a purchase of $50 or more
Justice
Chino Hills
CA
Enjoy $20 off a purchase of $50 or more
Justice
Sherman Oaks
CA
Enjoy $20 off a purchase of $50 or more
Justice
Cerritos
CA
Enjoy $20 off a purchase of $50 or more
Justice
Redondo Beach
CA
Enjoy $20 off a purchase of $50 or more
Justice
Glendale
CA
Enjoy $20 off a purchase of $50 or more
Justice
Valencia
CA
Enjoy $20 off a purchase of $50 or more
Justice
Torrance
CA
Enjoy $20 off a purchase of $50 or more
Justice
Arcadia
CA
Enjoy $20 off a purchase of $50 or more
Justice
Montclair
CA
Enjoy $20 off a purchase of $50 or more
Justice
Long Beach
CA
Enjoy $20 off a purchase of $50 or more
Justice
Northridge
CA
Enjoy $20 off a purchase of $50 or more
Justice
Ontario
CA
Enjoy $20 off a purchase of $50 or more
Justice
Woodburn
OR
Enjoy $20 off a purchase of $50 or more
Justice
Happy Valley
OR
Enjoy $20 off a purchase of $50 or more
Justice
Lincoln City
OR
Enjoy $20 off a purchase of $50 or more
Justice
Hillsboro
OR
Enjoy $20 off a purchase of $50 or more
Justice
Eugene
OR
Enjoy $20 off a purchase of $50 or more
Justice
Salem
OR
Enjoy $20 off a purchase of $50 or more
Justice
Tualatin
OR
Enjoy $20 off a purchase of $50 or more
Justice
Vancouver
WA
Enjoy $20 off a purchase of $50 or more
Justice
Concord
ON
Enjoy $20 off a purchase of $50 or more
Justice
Thornhill
ON
Enjoy $20 off a purchase of $50 or more
Justice
Mississauga
ON
Enjoy $20 off a purchase of $50 or more
Justice
Milton
ON
Enjoy $20 off a purchase of $50 or more
Justice
Etobicoke
ON
Enjoy $20 off a purchase of $50 or more
Justice
Oakville
ON
Enjoy $20 off a purchase of $50 or more
Justice
Brampton
ON
Enjoy $20 off a purchase of $50 or more
Justice
Scarborough
ON
Enjoy $20 off a purchase of $50 or more
Justice
Guelph
ON
Enjoy $20 off a purchase of $50 or more
Justice
Waterloo
ON
Enjoy $20 off a purchase of $50 or more
Justice
Mississauga
ON
Enjoy $20 off a purchase of $50 or more
Justice
Brantford
ON
Enjoy $20 off a purchase of $50 or more
Justice
Burlington
ON
Enjoy $20 off a purchase of $50 or more
Justice
Dartmouth
NS
Enjoy $20 off a purchase of $50 or more
Justice
Newport News
VA
Enjoy $20 off a purchase of $50 or more
Justice
Chesapeake
VA
Enjoy $20 off a purchase of $50 or more
Justice
Norfolk
VA
Enjoy $20 off a purchase of $50 or more
Justice
Virginia Beach
VA
Enjoy $20 off a purchase of $50 or more
Justice
Hershey
PA
Enjoy $20 off a purchase of $50 or more
Justice
Camp Hill
PA
Enjoy $20 off a purchase of $50 or more
Justice
Harrisburg
PA
Enjoy $20 off a purchase of $50 or more
Justice
Milford
CT
Enjoy $20 off a purchase of $50 or more
Justice
Farmington
CT
Enjoy $20 off a purchase of $50 or more
Justice
Manchester
CT
Enjoy $20 off a purchase of $50 or more
Justice
Plainville
CT
Enjoy $20 off a purchase of $50 or more
Justice
Westbrook
CT
Enjoy $20 off a purchase of $50 or more
Justice
Meriden
CT
Enjoy $20 off a purchase of $50 or more
Justice
Waterbury
CT
Enjoy $20 off a purchase of $50 or more
Justice
Waterford
CT
Enjoy $20 off a purchase of $50 or more
Justice
Honolulu
HI
Enjoy $20 off a purchase of $50 or more
Justice
Lake Jackson
TX
Enjoy $20 off a purchase of $50 or more
Justice
Spring
TX
Enjoy $20 off a purchase of $50 or more
Justice
Webster
TX
Enjoy $20 off a purchase of $50 or more
Justice
Friendswood
TX
Enjoy $20 off a purchase of $50 or more
Justice
Houston
TX
Enjoy $20 off a purchase of $50 or more
Justice
Sugar Land
TX
Enjoy $20 off a purchase of $50 or more
Justice
Shenandoah
TX
Enjoy $20 off a purchase of $50 or more
Justice
Humble
TX
Enjoy $20 off a purchase of $50 or more
Justice
Houston
TX
Enjoy $20 off a purchase of $50 or more
Justice
Katy
TX
Enjoy $20 off a purchase of $50 or more
Justice
Sugar Land
TX
Enjoy $20 off a purchase of $50 or more
Justice
Pearland
TX
Enjoy $20 off a purchase of $50 or more
Justice
Conroe
TX
Enjoy $20 off a purchase of $50 or more
Justice
Cypress
TX
Enjoy $20 off a purchase of $50 or more
Justice
Houston
TX
Enjoy $20 off a purchase of $50 or more
Justice
Katy
TX
Enjoy $20 off a purchase of $50 or more
Justice
Houston
TX
Enjoy $20 off a purchase of $50 or more
Justice
Texas City
TX
Enjoy $20 off a purchase of $50 or more
Justice
Houston
TX
Enjoy $20 off a purchase of $50 or more
Justice
Barboursville
WV
Enjoy $20 off a purchase of $50 or more
Justice
Ashland
KY
Enjoy $20 off a purchase of $50 or more
Justice
Edinburgh
IN
Enjoy $20 off a purchase of $50 or more
Justice
Greenwood
IN
Enjoy $20 off a purchase of $50 or more
Justice
Carmel
IN
Enjoy $20 off a purchase of $50 or more
Justice
Plainfield
IN
Enjoy $20 off a purchase of $50 or more
Justice
Muncie
IN
Enjoy $20 off a purchase of $50 or more
Justice
Richmond
IN
Enjoy $20 off a purchase of $50 or more
Justice
Indianapolis
IN
Enjoy $20 off a purchase of $50 or more
Justice
Indianapolis
IN
Enjoy $20 off a purchase of $50 or more
Justice
Indianapolis
IN
Enjoy $20 off a purchase of $50 or more
Justice
Riverside
CA
Enjoy $20 off a purchase of $50 or more
Justice
Corona
CA
Enjoy $20 off a purchase of $50 or more
Justice
Riverside
CA
Enjoy $20 off a purchase of $50 or more
Justice
Redlands
CA
Enjoy $20 off a purchase of $50 or more
Justice
Menifee
CA
Enjoy $20 off a purchase of $50 or more
Justice
Temecula
CA
Enjoy $20 off a purchase of $50 or more
Justice
Palm Desert
CA
Enjoy $20 off a purchase of $50 or more
Justice
Jacksonville
FL
Enjoy $20 off a purchase of $50 or more
Justice
Orange Park
FL
Enjoy $20 off a purchase of $50 or more
Justice
Saint Augustine
FL
Enjoy $20 off a purchase of $50 or more
Justice
Jacksonville
FL
Enjoy $20 off a purchase of $50 or more
Justice
Jacksonville
FL
Enjoy $20 off a purchase of $50 or more
Justice
Overland Park
KS
Enjoy $20 off a purchase of $50 or more
Justice
Olathe
KS
Enjoy $20 off a purchase of $50 or more
Justice
Lees Summit
MO
Enjoy $20 off a purchase of $50 or more
Justice
Kansas City
KS
Enjoy $20 off a purchase of $50 or more
Justice
Independence
MO
Enjoy $20 off a purchase of $50 or more
Justice
Leawood
KS
Enjoy $20 off a purchase of $50 or more
Justice
Kansas City
MO
Enjoy $20 off a purchase of $50 or more
Justice
Kansas City
MO
Enjoy $20 off a purchase of $50 or more
Justice
Henderson
NV
Enjoy $20 off a purchase of $50 or more
Justice
Las Vegas
NV
Enjoy $20 off a purchase of $50 or more
Justice
Las Vegas
NV
Enjoy $20 off a purchase of $50 or more
Justice
Las Vegas
NV
Enjoy $20 off a purchase of $50 or more
Justice
Las Vegas
NV
Enjoy $20 off a purchase of $50 or more
Justice
Simpsonville
KY
Enjoy $20 off a purchase of $50 or more
Justice
Elizabethtown
KY
Enjoy $20 off a purchase of $50 or more
Justice
Louisville
KY
Enjoy $20 off a purchase of $50 or more
Justice
Louisville
KY
Enjoy $20 off a purchase of $50 or more
Justice
Louisville
KY
Enjoy $20 off a purchase of $50 or more
Justice
Clarksville
IN
Enjoy $20 off a purchase of $50 or more
Justice
Baraboo
WI
Enjoy $20 off a purchase of $50 or more
Justice
Janesville
WI
Enjoy $20 off a purchase of $50 or more
Justice
Madison
WI
Enjoy $20 off a purchase of $50 or more
Justice
Madison
WI
Enjoy $20 off a purchase of $50 or more
Justice
Cordova
TN
Enjoy $20 off a purchase of $50 or more
Justice
Collierville
TN
Enjoy $20 off a purchase of $50 or more
Justice
Southaven
MS
Enjoy $20 off a purchase of $50 or more
Justice
Middletown
NY
Enjoy $20 off a purchase of $50 or more
Justice
Poughkeepsie
NY
Enjoy $20 off a purchase of $50 or more
Justice
Pleasant Prairie
WI
Enjoy $20 off a purchase of $50 or more
Justice
Wauwatosa
WI
Enjoy $20 off a purchase of $50 or more
Justice
Milwaukee
WI
Enjoy $20 off a purchase of $50 or more
Justice
Greendale
WI
Enjoy $20 off a purchase of $50 or more
Justice
Brookfield
WI
Enjoy $20 off a purchase of $50 or more
Justice
Franklin
TN
Enjoy $20 off a purchase of $50 or more
Justice
Murfreesboro
TN
Enjoy $20 off a purchase of $50 or more
Justice
Clarksville
TN
Enjoy $20 off a purchase of $50 or more
Justice
Hendersonville
TN
Enjoy $20 off a purchase of $50 or more
Justice
Nashville
TN
Enjoy $20 off a purchase of $50 or more
Justice
Mount Juliet
TN
Enjoy $20 off a purchase of $50 or more
Justice
Metairie
LA
Enjoy $20 off a purchase of $50 or more
Justice
Hammond
LA
Enjoy $20 off a purchase of $50 or more
Justice
Covington
LA
Enjoy $20 off a purchase of $50 or more
Justice
Paramus
NJ
Enjoy $20 off a purchase of $50 or more
Justice
Flemington
NJ
Enjoy $20 off a purchase of $50 or more
Justice
Wayne
NJ
Enjoy $20 off a purchase of $50 or more
Justice
Livingston
NJ
Enjoy $20 off a purchase of $50 or more
Justice
Short Hills
NJ
Enjoy $20 off a purchase of $50 or more
Justice
Wayne
NJ
Enjoy $20 off a purchase of $50 or more
Justice
Lawrenceville
NJ
Enjoy $20 off a purchase of $50 or more
Justice
Succasunna
NJ
Enjoy $20 off a purchase of $50 or more
Justice
Chester
NJ
Enjoy $20 off a purchase of $50 or more
Justice
Rockaway
NJ
Enjoy $20 off a purchase of $50 or more
Justice
Woodbridge
NJ
Enjoy $20 off a purchase of $50 or more
Justice
Old Bridge
NJ
Enjoy $20 off a purchase of $50 or more
Justice
Bridgewater
NJ
Enjoy $20 off a purchase of $50 or more
Justice
Hamilton
NJ
Enjoy $20 off a purchase of $50 or more
Justice
Edison
NJ
Enjoy $20 off a purchase of $50 or more
Justice
Elizabeth
NJ
Enjoy $20 off a purchase of $50 or more
Justice
Paramus
NJ
Enjoy $20 off a purchase of $50 or more
Justice
North Brunswick
NJ
Enjoy $20 off a purchase of $50 or more
Justice
Mount Laurel
NJ
Enjoy $20 off a purchase of $50 or more
Justice
Toms River
NJ
Enjoy $20 off a purchase of $50 or more
Justice
Deptford
NJ
Enjoy $20 off a purchase of $50 or more
Justice
Eatontown
NJ
Enjoy $20 off a purchase of $50 or more
Justice
Woodbury
NJ
Enjoy $20 off a purchase of $50 or more
Justice
Cherry Hill
NJ
Enjoy $20 off a purchase of $50 or more
Justice
Mays Landing
NJ
Enjoy $20 off a purchase of $50 or more
Justice
Holmdel
NJ
Enjoy $20 off a purchase of $50 or more
Justice
Marlton
NJ
Enjoy $20 off a purchase of $50 or more
Justice
Freehold
NJ
Enjoy $20 off a purchase of $50 or more
Justice
Vineland
NJ
Enjoy $20 off a purchase of $50 or more
Justice
Howell
NJ
Enjoy $20 off a purchase of $50 or more
Justice
Sicklerville
NJ
Enjoy $20 off a purchase of $50 or more
Justice
Grove City
PA
Enjoy $20 off a purchase of $50 or more
Justice
Akron
OH
Enjoy $20 off a purchase of $50 or more
Justice
Youngstown
OH
Enjoy $20 off a purchase of $50 or more
Justice
New Philadelphia
OH
Enjoy $20 off a purchase of $50 or more
Justice
Canton
OH
Enjoy $20 off a purchase of $50 or more
Justice
Aurora
OH
Enjoy $20 off a purchase of $50 or more
Justice
Niles
OH
Enjoy $20 off a purchase of $50 or more
Justice
North Canton
OH
Enjoy $20 off a purchase of $50 or more
Justice
Youngstown
OH
Enjoy $20 off a purchase of $50 or more
Justice
Burbank
OH
Enjoy $20 off a purchase of $50 or more
Justice
Michigan City
IN
Enjoy $20 off a purchase of $50 or more
Justice
Merrillville
IN
Enjoy $20 off a purchase of $50 or more
Justice
Merrillville
IN
Enjoy $20 off a purchase of $50 or more
Justice
Valparaiso
IN
Enjoy $20 off a purchase of $50 or more
Justice
West Babylon
NY
Enjoy $20 off a purchase of $50 or more
Justice
Flushing
NY
Enjoy $20 off a purchase of $50 or more
Justice
Commack
NY
Enjoy $20 off a purchase of $50 or more
Justice
New Hyde Park
NY
Enjoy $20 off a purchase of $50 or more
Justice
New York
NY
Enjoy $20 off a purchase of $50 or more
Justice
Deer Park
NY
Enjoy $20 off a purchase of $50 or more
Justice
Valley Stream
NY
Enjoy $20 off a purchase of $50 or more
Justice
Bayshore
NY
Enjoy $20 off a purchase of $50 or more
Justice
Bayside
NY
Enjoy $20 off a purchase of $50 or more
Justice
Lake Grove
NY
Enjoy $20 off a purchase of $50 or more
Justice
Staten Island
NY
Enjoy $20 off a purchase of $50 or more
Justice
Staten Island
NY
Enjoy $20 off a purchase of $50 or more
Justice
Staten Island
NY
Enjoy $20 off a purchase of $50 or more
Justice
Riverhead
NY
Enjoy $20 off a purchase of $50 or more
Justice
Garden City
NY
Enjoy $20 off a purchase of $50 or more
Justice
Hicksville
NY
Enjoy $20 off a purchase of $50 or more
Justice
Massapequa
NY
Enjoy $20 off a purchase of $50 or more
Justice
Kelowna
BC
Enjoy $20 off a purchase of $50 or more
Justice
Oklahoma City
OK
Enjoy $20 off a purchase of $50 or more
Justice
Moore
OK
Enjoy $20 off a purchase of $50 or more
Justice
Oklahoma City
OK
Enjoy $20 off a purchase of $50 or more
Justice
Norman
OK
Enjoy $20 off a purchase of $50 or more
Justice
Oklahoma City
OK
Enjoy $20 off a purchase of $50 or more
Justice
Omaha
NE
Enjoy $20 off a purchase of $50 or more
Justice
Omaha
NE
Enjoy $20 off a purchase of $50 or more
Justice
Gretna
NE
Enjoy $20 off a purchase of $50 or more
Justice
Omaha
NE
Enjoy $20 off a purchase of $50 or more
Justice
Papillion
NE
Enjoy $20 off a purchase of $50 or more
Justice
Brea
CA
Enjoy $20 off a purchase of $50 or more
Justice
Santa Ana
CA
Enjoy $20 off a purchase of $50 or more
Justice
Tustin
CA
Enjoy $20 off a purchase of $50 or more
Justice
Mission Viejo
CA
Enjoy $20 off a purchase of $50 or more
Justice
Costa Mesa
CA
Enjoy $20 off a purchase of $50 or more
Justice
Huntington Beach
CA
Enjoy $20 off a purchase of $50 or more
Justice
Anaheim Hills
CA
Enjoy $20 off a purchase of $50 or more
Justice
Costa Mesa
CA
Enjoy $20 off a purchase of $50 or more
Justice
Sanford
FL
Enjoy $20 off a purchase of $50 or more
Justice
Orlando
FL
Enjoy $20 off a purchase of $50 or more
Justice
Ocala
FL
Enjoy $20 off a purchase of $50 or more
Justice
Kissimmee
FL
Enjoy $20 off a purchase of $50 or more
Justice
Orlando
FL
Enjoy $20 off a purchase of $50 or more
Justice
Orlando
FL
Enjoy $20 off a purchase of $50 or more
Justice
Altamonte Springs
FL
Enjoy $20 off a purchase of $50 or more
Justice
Orlando
FL
Enjoy $20 off a purchase of $50 or more
Justice
Orlando
FL
Enjoy $20 off a purchase of $50 or more
Justice
Ottawa
ON
Enjoy $20 off a purchase of $50 or more
Justice
Orleans
ON
Enjoy $20 off a purchase of $50 or more
Justice
Ottawa
ON
Enjoy $20 off a purchase of $50 or more
Justice
Wilkes Barre
PA
Enjoy $20 off a purchase of $50 or more
Justice
Scranton
PA
Enjoy $20 off a purchase of $50 or more
Justice
Springfield
PA
Enjoy $20 off a purchase of $50 or more
Justice
Philadelphia
PA
Enjoy $20 off a purchase of $50 or more
Justice
King Of Prussia
PA
Enjoy $20 off a purchase of $50 or more
Justice
Pottstown
PA
Enjoy $20 off a purchase of $50 or more
Justice
North Wales
PA
Enjoy $20 off a purchase of $50 or more
Justice
Langhorne
PA
Enjoy $20 off a purchase of $50 or more
Justice
Willow Grove
PA
Enjoy $20 off a purchase of $50 or more
Justice
Exton
PA
Enjoy $20 off a purchase of $50 or more
Justice
Springfield
PA
Enjoy $20 off a purchase of $50 or more
Justice
Doylestown
PA
Enjoy $20 off a purchase of $50 or more
Justice
Bensalem
PA
Enjoy $20 off a purchase of $50 or more
Justice
Philadelphia
PA
Enjoy $20 off a purchase of $50 or more
Justice
Warminster
PA
Enjoy $20 off a purchase of $50 or more
Justice
Gilbert
AZ
Enjoy $20 off a purchase of $50 or more
Justice
Scottsdale
AZ
Enjoy $20 off a purchase of $50 or more
Justice
Phoenix
AZ
Enjoy $20 off a purchase of $50 or more
Justice
Queen Creek
AZ
Enjoy $20 off a purchase of $50 or more
Justice
Phoenix
AZ
Enjoy $20 off a purchase of $50 or more
Justice
Peoria
AZ
Enjoy $20 off a purchase of $50 or more
Justice
Chandler
AZ
Enjoy $20 off a purchase of $50 or more
Justice
Tempe
AZ
Enjoy $20 off a purchase of $50 or more
Justice
Glendale
AZ
Enjoy $20 off a purchase of $50 or more
Justice
Mesa
AZ
Enjoy $20 off a purchase of $50 or more
Justice
Glendale
AZ
Enjoy $20 off a purchase of $50 or more
Justice
Avondale
AZ
Enjoy $20 off a purchase of $50 or more
Justice
Pittsburgh
PA
Enjoy $20 off a purchase of $50 or more
Justice
Pittsburgh
PA
Enjoy $20 off a purchase of $50 or more
Justice
Monroeville
PA
Enjoy $20 off a purchase of $50 or more
Justice
Uniontown
PA
Enjoy $20 off a purchase of $50 or more
Justice
Cranberry Twp
PA
Enjoy $20 off a purchase of $50 or more
Justice
West Homestead
PA
Enjoy $20 off a purchase of $50 or more
Justice
Washington
PA
Enjoy $20 off a purchase of $50 or more
Justice
Pittsburgh
PA
Enjoy $20 off a purchase of $50 or more
Justice
Monroeville
PA
Enjoy $20 off a purchase of $50 or more
Justice
Tarentum
PA
Enjoy $20 off a purchase of $50 or more
Justice
Greensburg
PA
Enjoy $20 off a purchase of $50 or more
Justice
Monaca
PA
Enjoy $20 off a purchase of $50 or more
Justice
Dartmouth
MA
Enjoy $20 off a purchase of $50 or more
Justice
Taunton
MA
Enjoy $20 off a purchase of $50 or more
Justice
Smithfield
RI
Enjoy $20 off a purchase of $50 or more
Justice
Warwick
RI
Enjoy $20 off a purchase of $50 or more
Justice
N ATTLEBORO
MA
Enjoy $20 off a purchase of $50 or more
Justice
Puyallup
WA
Enjoy $20 off a purchase of $50 or more
Justice
Olympia
WA
Enjoy $20 off a purchase of $50 or more
Justice
Smithfield
NC
Enjoy $20 off a purchase of $50 or more
Justice
Cary
NC
Enjoy $20 off a purchase of $50 or more
Justice
Raleigh
NC
Enjoy $20 off a purchase of $50 or more
Justice
Raleigh
NC
Enjoy $20 off a purchase of $50 or more
Justice
Durham
NC
Enjoy $20 off a purchase of $50 or more
Justice
Reno
NV
Enjoy $20 off a purchase of $50 or more
Justice
Richmond
VA
Enjoy $20 off a purchase of $50 or more
Justice
Henrico
VA
Enjoy $20 off a purchase of $50 or more
Justice
Rochester
NY
Enjoy $20 off a purchase of $50 or more
Justice
Victor
NY
Enjoy $20 off a purchase of $50 or more
Justice
Stockton
CA
Enjoy $20 off a purchase of $50 or more
Justice
Roseville
CA
Enjoy $20 off a purchase of $50 or more
Justice
Roseville
CA
Enjoy $20 off a purchase of $50 or more
Justice
Folsom
CA
Enjoy $20 off a purchase of $50 or more
Justice
Vacaville
CA
Enjoy $20 off a purchase of $50 or more
Justice
Manteca
CA
Enjoy $20 off a purchase of $50 or more
Justice
Riverbank
CA
Enjoy $20 off a purchase of $50 or more
Justice
Turlock
CA
Enjoy $20 off a purchase of $50 or more
Justice
Elk Grove
CA
Enjoy $20 off a purchase of $50 or more
Justice
Birch Run
MI
Enjoy $20 off a purchase of $50 or more
Justice
Flint
MI
Enjoy $20 off a purchase of $50 or more
Justice
Saginaw
MI
Enjoy $20 off a purchase of $50 or more
Justice
San Antonio
TX
Enjoy $20 off a purchase of $50 or more
Justice
San Antonio
TX
Enjoy $20 off a purchase of $50 or more
Justice
San Antonio
TX
Enjoy $20 off a purchase of $50 or more
Justice
San Antonio
TX
Enjoy $20 off a purchase of $50 or more
Justice
Selma
TX
Enjoy $20 off a purchase of $50 or more
Justice
Escondido
CA
Enjoy $20 off a purchase of $50 or more
Justice
Chula Vista
CA
Enjoy $20 off a purchase of $50 or more
Justice
National City
CA
Enjoy $20 off a purchase of $50 or more
Justice
El Cajon
CA
Enjoy $20 off a purchase of $50 or more
Justice
San Diego
CA
Enjoy $20 off a purchase of $50 or more
Justice
San Diego
CA
Enjoy $20 off a purchase of $50 or more
Justice
Pleasanton
CA
Enjoy $20 off a purchase of $50 or more
Justice
Capitola
CA
Enjoy $20 off a purchase of $50 or more
Justice
Santa Rosa
CA
Enjoy $20 off a purchase of $50 or more
Justice
Brentwood
CA
Enjoy $20 off a purchase of $50 or more
Justice
Concord
CA
Enjoy $20 off a purchase of $50 or more
Justice
Santa Clara
CA
Enjoy $20 off a purchase of $50 or more
Justice
Santa Clara
CA
Enjoy $20 off a purchase of $50 or more
Justice
San Mateo
CA
Enjoy $20 off a purchase of $50 or more
Justice
Milpitas
CA
Enjoy $20 off a purchase of $50 or more
Justice
Gilroy
CA
Enjoy $20 off a purchase of $50 or more
Justice
San Jose
CA
Enjoy $20 off a purchase of $50 or more
Justice
Santa Maria
CA
Enjoy $20 off a purchase of $50 or more
Justice
Ventura
CA
Enjoy $20 off a purchase of $50 or more
Justice
Thousand Oaks
CA
Enjoy $20 off a purchase of $50 or more
Justice
Regina
SK
Enjoy $20 off a purchase of $50 or more
Justice
Tulalip
WA
Enjoy $20 off a purchase of $50 or more
Justice
Auburn
WA
Enjoy $20 off a purchase of $50 or more
Justice
Lynnwood
WA
Enjoy $20 off a purchase of $50 or more
Justice
Issaquah
WA
Enjoy $20 off a purchase of $50 or more
Justice
Tukwila
WA
Enjoy $20 off a purchase of $50 or more
Justice
Columbia
SC
Enjoy $20 off a purchase of $50 or more
Justice
Gaffney
SC
Enjoy $20 off a purchase of $50 or more
Justice
Spartanburg
SC
Enjoy $20 off a purchase of $50 or more
Justice
North Charleston
SC
Enjoy $20 off a purchase of $50 or more
Justice
Columbia
SC
Enjoy $20 off a purchase of $50 or more
Justice
Greenville
SC
Enjoy $20 off a purchase of $50 or more
Justice
Lancaster
PA
Enjoy $20 off a purchase of $50 or more
Justice
Gettysburg
PA
Enjoy $20 off a purchase of $50 or more
Justice
Whitehall
PA
Enjoy $20 off a purchase of $50 or more
Justice
York
PA
Enjoy $20 off a purchase of $50 or more
Justice
Center Valley
PA
Enjoy $20 off a purchase of $50 or more
Justice
Lancaster
PA
Enjoy $20 off a purchase of $50 or more
Justice
Wyomissing
PA
Enjoy $20 off a purchase of $50 or more
Justice
Tilton
NH
Enjoy $20 off a purchase of $50 or more
Justice
Manchester
NH
Enjoy $20 off a purchase of $50 or more
Justice
Nashua
NH
Enjoy $20 off a purchase of $50 or more
Justice
Newington
NH
Enjoy $20 off a purchase of $50 or more
Justice
Salem
NH
Enjoy $20 off a purchase of $50 or more
Justice
Spokane Valley
WA
Enjoy $20 off a purchase of $50 or more
Justice
Spokane
WA
Enjoy $20 off a purchase of $50 or more
Justice
W SPRINGFIELD
MA
Enjoy $20 off a purchase of $50 or more
Justice
Saint Peters
MO
Enjoy $20 off a purchase of $50 or more
Justice
Chesterfield
MO
Enjoy $20 off a purchase of $50 or more
Justice
Fairview Heights
IL
Enjoy $20 off a purchase of $50 or more
Justice
OFallon
MO
Enjoy $20 off a purchase of $50 or more
Justice
Saint Louis
MO
Enjoy $20 off a purchase of $50 or more
Justice
Des Peres
MO
Enjoy $20 off a purchase of $50 or more
Justice
Fairview Heights
IL
Enjoy $20 off a purchase of $50 or more
Justice
Waterloo
NY
Enjoy $20 off a purchase of $50 or more
Justice
Syracuse
NY
Enjoy $20 off a purchase of $50 or more
Justice
Lakeland
FL
Enjoy $20 off a purchase of $50 or more
Justice
Tampa
FL
Enjoy $20 off a purchase of $50 or more
Justice
Clearwater
FL
Enjoy $20 off a purchase of $50 or more
Justice
Wesley Chapel
FL
Enjoy $20 off a purchase of $50 or more
Justice
Brandon
FL
Enjoy $20 off a purchase of $50 or more
Justice
Ellenton
FL
Enjoy $20 off a purchase of $50 or more
Justice
St Petersburg
FL
Enjoy $20 off a purchase of $50 or more
Justice
Tampa
FL
Enjoy $20 off a purchase of $50 or more
Justice
Sarasota
FL
Enjoy $20 off a purchase of $50 or more
Justice
Findlay
OH
Enjoy $20 off a purchase of $50 or more
Justice
Perrysburg
OH
Enjoy $20 off a purchase of $50 or more
Justice
Maumee
OH
Enjoy $20 off a purchase of $50 or more
Justice
Toledo
OH
Enjoy $20 off a purchase of $50 or more
Justice
Tucson
AZ
Enjoy $20 off a purchase of $50 or more
Justice
Tucson
AZ
Enjoy $20 off a purchase of $50 or more
Justice
Muskogee
OK
Enjoy $20 off a purchase of $50 or more
Justice
Tulsa
OK
Enjoy $20 off a purchase of $50 or more
Justice
Tulsa
OK
Enjoy $20 off a purchase of $50 or more
Justice
Owasso
OK
Enjoy $20 off a purchase of $50 or more
Justice
Maple Grove
MN
Enjoy $20 off a purchase of $50 or more
Justice
Coon Rapids
MN
Enjoy $20 off a purchase of $50 or more
Justice
Roseville
MN
Enjoy $20 off a purchase of $50 or more
Justice
Duluth
MN
Enjoy $20 off a purchase of $50 or more
Justice
Burnsville
MN
Enjoy $20 off a purchase of $50 or more
Justice
Bloomington
MN
Enjoy $20 off a purchase of $50 or more
Justice
Maplewood
MN
Enjoy $20 off a purchase of $50 or more
Justice
Eagan
MN
Enjoy $20 off a purchase of $50 or more
Justice
Saint Cloud
MN
Enjoy $20 off a purchase of $50 or more
Justice
Albertville
MN
Enjoy $20 off a purchase of $50 or more
Justice
Medford
MN
Enjoy $20 off a purchase of $50 or more
Justice
Eden Prairie
MN
Enjoy $20 off a purchase of $50 or more
Justice
Woodbury
MN
Enjoy $20 off a purchase of $50 or more
Justice
Draper
UT
Enjoy $20 off a purchase of $50 or more
Justice
Farmington
UT
Enjoy $20 off a purchase of $50 or more
Justice
Ogden
UT
Enjoy $20 off a purchase of $50 or more
Justice
Murray
UT
Enjoy $20 off a purchase of $50 or more
Justice
American Fork
UT
Enjoy $20 off a purchase of $50 or more
Justice
Park City
UT
Enjoy $20 off a purchase of $50 or more
Justice
Surrey
BC
Enjoy $20 off a purchase of $50 or more
Justice
Langley
BC
Enjoy $20 off a purchase of $50 or more
Justice
Burnaby
BC
Enjoy $20 off a purchase of $50 or more
Justice
Waldorf
MD
Enjoy $20 off a purchase of $50 or more
Justice
Fairfax
VA
Enjoy $20 off a purchase of $50 or more
Justice
Gainesville
VA
Enjoy $20 off a purchase of $50 or more
Justice
Fredericksburg
VA
Enjoy $20 off a purchase of $50 or more
Justice
Hagerstown
MD
Enjoy $20 off a purchase of $50 or more
Justice
Winchester
VA
Enjoy $20 off a purchase of $50 or more
Justice
McLean
VA
Enjoy $20 off a purchase of $50 or more
Justice
Sterling
VA
Enjoy $20 off a purchase of $50 or more
Justice
Sterling
VA
Enjoy $20 off a purchase of $50 or more
Justice
Woodbridge
VA
Enjoy $20 off a purchase of $50 or more
Justice
Frederick
MD
Enjoy $20 off a purchase of $50 or more
Justice
Springfield
VA
Enjoy $20 off a purchase of $50 or more
Justice
White Plains
NY
Enjoy $20 off a purchase of $50 or more
Justice
West Nyack
NY
Enjoy $20 off a purchase of $50 or more
Justice
Yorktown Heights
NY
Enjoy $20 off a purchase of $50 or more
Justice
Yonkers
NY
Enjoy $20 off a purchase of $50 or more
Justice
Wichita
KS
Enjoy $20 off a purchase of $50 or more
Justice
Wichita
KS
Enjoy $20 off a purchase of $50 or more
Justice
Winnipeg
MB
Enjoy $20 off a purchase of $50 or more
Kabab & Curry
Canton
OH
Enjoy one free entrée with purchase of same
Kabab and Curry
Raleigh
NC
Enjoy 25% off the total bill
Kababji Grill
Duluth
GA
Enjoy 25% off the total bill
Kaffa
Orange
CA
Enjoy 25% off the total bill
Kaldi's & Pink G Cafe
Las Vegas
NV
Enjoy 10% off the total bill
Kaldi's & Pink G Cafe
Las Vegas
NV
Enjoy 25% off the total bill
Kaleidoscoppe Indoor Playground
Barrie
ON
Enjoy one free admission with purchase of same
Kashira Japanese Restaurant
Los Angeles
CA
Enjoy one free entrée with purchase of same
Kasson Car Care Towing & Exhaust Center
Kasson
MN
Enjoy 20% off the regular price of any automotive services
Kasson Variety Store
Kasson
MN
Enjoy 20% off the regular price of any purchase
Kebab Daddy
Montrose
CA
Enjoy 10% off the total bill
Kebab Daddy
Los Angeles
CA
Enjoy 10% off the total bill
Kebab Daddy
Montrose
CA
Enjoy 25% off the total bill
Kebab Daddy
Los Angeles
CA
Enjoy 25% off the total bill
KetMoRee Thai Restaurant & Bar
Davis
CA
Enjoy 25% off the total bill
Kiddos Creamery
Glendale
CA
Enjoy 10% off the total bill
Kiddos Creamery
Glendale
CA
Enjoy one free ice cream with purchase of same
Kids Zone Family Fun Centre
Whitby
ON
Enjoy one free admission with purchase of same
Kidz Planet
La Cañada Flintridge
CA
Enjoy one free open play admission with purchase of same
Kimberley City Bakery
Kimberley
BC
Enjoy 50% off the regular price of any baked goods order
King Dough
Bloomington
IN
Enjoy 25% off the total bill
King Dough
Indianapolis
IN
Enjoy 25% off the total bill
King Gyros
Indianapolis
IN
Enjoy 10% off the total bill
King Gyros
Indianapolis
IN
Enjoy 25% off the total bill
King Halal Cuisine
Santa Clarita
CA
Enjoy 10% off the total bill
King Halal Cuisine
Santa Clarita
CA
Enjoy 25% off the total bill
King Kabab & Curry
Rahway
NJ
Enjoy one free entrée with purchase of same
King Of Gyro
Parsippany-Troy Hills
NJ
Enjoy one free menu item with purchase of same
King Sweets
Chicago
IL
Enjoy one free menu item with purchase of same
Kings and Castles Indoor Playground
Barrie
ON
Enjoy one free admission with purchase of same
Kobe Sushi
Sacramento
CA
Enjoy one free entrée with purchase of same
Kokomo Fish Chicken & Gyros
Kokomo
IN
Enjoy 25% off the total bill
Kor-Fusion Cafe
Chicago
IL
Enjoy one free entrée with purchase of same
Kounter Kulture
St Louis
MO
Enjoy 10% off the total bill
Kounter Kulture
St Louis
MO
Enjoy 25% off the total bill
Krakatoa
San Diego
CA
Enjoy 25% off the total bill
Kraken Kofe
West Milford
NJ
Enjoy 10% off the total bill
Kraken Kofe
West Milford
NJ
Enjoy 50% off the regular price of any beverage order
Krishna Catering Restaurant
Farmington Hills
MI
Enjoy one free menu item with purchase of same
Krystal
Daytona Beach
FL
Enjoy one free menu item with purchase of same
La Bella Pizza
Staten Island
NY
Enjoy 25% off the total bill
La Biznaga
Chicago
IL
Enjoy one free entrée with purchase of same
La Casa De Tortilla
Somerset
NJ
Enjoy 25% off the total bill
La Catrina
Marrieta
GA
Enjoy one free entrée with purchase of same
La Famiglia Pizzeria & Restaurant
Sound Beach
NY
Enjoy 10% off the total bill
La Famiglia Pizzeria & Restaurant
Sound Beach
NY
Enjoy one free entrée with purchase of same
La Famiglia Pizzeria & Restaurant
Sound Beach
NY
Enjoy one free large pizza with purchase of same
La Fuente Mexican Grill
Mansfield
NJ
Enjoy 25% off the total bill
La Kabob Lebanese Grill
Farmington Hills
MI
Enjoy 25% off the total bill
La Loma Bonita Mexican Food
San Diego
CA
Enjoy 25% off the total bill
La Lotería
Wyoming
MI
Enjoy one free menu item with purchase of same
La Matta Pizza
Runnemede
NJ
Enjoy 25% off the total bill
La Popular Tortilleria
San Diego
CA
Enjoy one free menu item with purchase of same
La Rosa Chicken and Grill
Staten Island
NY
Enjoy 10% off the total bill
La Rosa Chicken and Grill
Staten Island
NY
Enjoy 25% off the total bill
La Taco Cantina
Maryland Heights
MO
Enjoy 10% off the total bill
La Taco Cantina
Maryland Heights
MO
Enjoy 25% off the total bill
la Vie en Rose
Edmonton
AB
Get 20% off on all regular-priced merchandise
la Vie en Rose
Thunder Bay
ON
Get 20% off on all regular-priced merchandise
la Vie en Rose
Richmond
BC
Get 20% off on all regular-priced merchandise
la Vie en Rose
Joliette
QC
Get 20% off on all regular-priced merchandise
la Vie en Rose
Victoriaville
QC
Get 20% off on all regular-priced merchandise
la Vie en Rose
Grande Prairie
AB
Get 20% off on all regular-priced merchandise
la Vie en Rose
Levis
QC
Get 20% off on all regular-priced merchandise
la Vie en Rose
London
ON
Get 20% off on all regular-priced merchandise
la Vie en Rose
Halton Hills
ON
Get 20% off on all regular-priced merchandise
la Vie en Rose
London
ON
Get 20% off on all regular-priced merchandise
la Vie en Rose
Sudbury
ON
Get 20% off on all regular-priced merchandise
la Vie en Rose
Sarnia
ON
Get 20% off on all regular-priced merchandise
la Vie en Rose
Fredericton
NB
Get 20% off on all regular-priced merchandise
la Vie en Rose
Oshawa
ON
Get 20% off on all regular-priced merchandise
la Vie en Rose
Chicoutimi
QC
Get 20% off on all regular-priced merchandise
la Vie en Rose
Sainte-Foy
QC
Get 20% off on all regular-priced merchandise
la Vie en Rose
Aurora
ON
Get 20% off on all regular-priced merchandise
la Vie en Rose
North Bay
ON
Get 20% off on all regular-priced merchandise
la Vie en Rose
Timmins
ON
Get 20% off on all regular-priced merchandise
la Vie en Rose
Brandon
MB
Get 20% off on all regular-priced merchandise
la Vie en Rose
Surrey
BC
Get 20% off on all regular-priced merchandise
la Vie en Rose
London
ON
Get 20% off on all regular-priced merchandise
la Vie en Rose
Newmarket
ON
Get 20% off on all regular-priced merchandise
la Vie en Rose
VAL D''OR
QC
Get 20% off on all regular-priced merchandise
la Vie en Rose
Mirabel
QC
Get 20% off on all regular-priced merchandise
la Vie en Rose
Brockville
ON
Get 20% off on all regular-priced merchandise
la Vie en Rose
Cranbrook
BC
Get 20% off on all regular-priced merchandise
la Vie en Rose
Sainte-Foy
QC
Get 20% off on all regular-priced merchandise
la Vie en Rose
Mont-Tremblant
QC
Get 20% off on all regular-priced merchandise
la Vie en Rose
Sainte-Foy
QC
Get 20% off on all regular-priced merchandise
la Vie en Rose
Riviere Du Loup
QC
Get 20% off on all regular-priced merchandise
la Vie en Rose
Niagara On The Lake
ON
Get 20% off on all regular-priced merchandise
la Vie en Rose
Sherbrooke
QC
Get 20% off on all regular-priced merchandise
la Vie en Rose
Prince George
BC
Get 20% off on all regular-priced merchandise
la Vie en Rose
Windsor
ON
Get 20% off on all regular-priced merchandise
la Vie en Rose
Medicine Hat
AB
Get 20% off on all regular-priced merchandise
la Vie en Rose
Cookstown
ON
Get 20% off on all regular-priced merchandise
la Vie en Rose
Quebec
QC
Get 20% off on all regular-priced merchandise
la Vie en Rose
Belleville
ON
Get 20% off on all regular-priced merchandise
la Vie en Rose
Rouyn-Noranda
QC
Get 20% off on all regular-priced merchandise
la Vie en Rose
Trois-Rivieres
QC
Get 20% off on all regular-priced merchandise
la Vie en Rose
Trois-Rivieres
QC
Get 20% off on all regular-priced merchandise
la Vie en Rose
Rimouski
QC
Get 20% off on all regular-priced merchandise
la Vie en Rose
Corner Brook
NL
Get 20% off on all regular-priced merchandise
la Vie en Rose
Dieppe
NB
Get 20% off on all regular-priced merchandise
la Vie en Rose
St. John''S
NL
Get 20% off on all regular-priced merchandise
la Vie en Rose
Red Deer
AB
Get 20% off on all regular-priced merchandise
la Vie en Rose
Tsawwassen
BC
Get 20% off on all regular-priced merchandise
la Vie en Rose
Lethbridge
AB
Get 20% off on all regular-priced merchandise
la Vie en Rose
Barrie
ON
Get 20% off on all regular-priced merchandise
la Vie en Rose
Saint John
NB
Get 20% off on all regular-priced merchandise
la Vie en Rose
Lloydminster
AB
Get 20% off on all regular-priced merchandise
la Vie en Rose
Quebec
QC
Get 20% off on all regular-priced merchandise
la Vie en Rose
Quebec
QC
Get 20% off on all regular-priced merchandise
la Vie en Rose
Quebec
QC
Get 20% off on all regular-priced merchandise
la Vie en Rose
Prince George
BC
Get 20% off on all regular-priced merchandise
la Vie en Rose
Baie-Comeau
QC
Get 20% off on all regular-priced merchandise
la Vie en Rose
Saint-Romuald
QC
Get 20% off on all regular-priced merchandise
la Vie en Rose
Charlottetown
PE
Get 20% off on all regular-priced merchandise
la Vie en Rose
Niagara Falls
ON
Get 20% off on all regular-priced merchandise
la Vie en Rose
Drummondville
QC
Get 20% off on all regular-priced merchandise
la Vie en Rose
Sept-Iles
QC
Get 20% off on all regular-priced merchandise
la Vie en Rose
St. John''S
NL
Get 20% off on all regular-priced merchandise
la Vie en Rose
Sydney
NS
Get 20% off on all regular-priced merchandise
la Vie en Rose
Ottawa
ON
Get 20% off on all regular-priced merchandise
la Vie en Rose
Saint-Georges
QC
Get 20% off on all regular-priced merchandise
la Vie en Rose
Kingston
ON
Get 20% off on all regular-priced merchandise
la Vie en Rose
Calgary
AB
Get 20% off on all regular-priced merchandise
la Vie en Rose
Calgary
AB
Get 20% off on all regular-priced merchandise
la Vie en Rose
Calgary
AB
Get 20% off on all regular-priced merchandise
la Vie en Rose
Rocky View
AB
Get 20% off on all regular-priced merchandise
la Vie en Rose
Calgary
AB
Get 20% off on all regular-priced merchandise
la Vie en Rose
Calgary
AB
Get 20% off on all regular-priced merchandise
la Vie en Rose
Calgary
AB
Get 20% off on all regular-priced merchandise
la Vie en Rose
Calgary
AB
Get 20% off on all regular-priced merchandise
la Vie en Rose
Calgary
AB
Get 20% off on all regular-priced merchandise
la Vie en Rose
Calgary
AB
Get 20% off on all regular-priced merchandise
la Vie en Rose
Edmonton
AB
Get 20% off on all regular-priced merchandise
la Vie en Rose
Edmonton
AB
Get 20% off on all regular-priced merchandise
la Vie en Rose
ST ALBERT
AB
Get 20% off on all regular-priced merchandise
la Vie en Rose
Sherwood Park
AB
Get 20% off on all regular-priced merchandise
la Vie en Rose
Edmonton
AB
Get 20% off on all regular-priced merchandise
la Vie en Rose
Edmonton
AB
Get 20% off on all regular-priced merchandise
la Vie en Rose
Edmonton
AB
Get 20% off on all regular-priced merchandise
la Vie en Rose
Edmonton
AB
Get 20% off on all regular-priced merchandise
la Vie en Rose
Vaughan
ON
Get 20% off on all regular-priced merchandise
la Vie en Rose
Thornhill
ON
Get 20% off on all regular-priced merchandise
la Vie en Rose
Mississauga
ON
Get 20% off on all regular-priced merchandise
la Vie en Rose
Hamilton
ON
Get 20% off on all regular-priced merchandise
la Vie en Rose
Mississauga
ON
Get 20% off on all regular-priced merchandise
la Vie en Rose
Ajax
ON
Get 20% off on all regular-priced merchandise
la Vie en Rose
Pickering
ON
Get 20% off on all regular-priced merchandise
la Vie en Rose
Kitchener
ON
Get 20% off on all regular-priced merchandise
la Vie en Rose
North York
ON
Get 20% off on all regular-priced merchandise
la Vie en Rose
Toronto
ON
Get 20% off on all regular-priced merchandise
la Vie en Rose
Toronto
ON
Get 20% off on all regular-priced merchandise
la Vie en Rose
Hamilton
ON
Get 20% off on all regular-priced merchandise
la Vie en Rose
St. Catharines
ON
Get 20% off on all regular-priced merchandise
la Vie en Rose
Toronto
ON
Get 20% off on all regular-priced merchandise
la Vie en Rose
Brampton
ON
Get 20% off on all regular-priced merchandise
la Vie en Rose
Etobicoke
ON
Get 20% off on all regular-priced merchandise
la Vie en Rose
Kitchener
ON
Get 20% off on all regular-priced merchandise
la Vie en Rose
Oakville
ON
Get 20% off on all regular-priced merchandise
la Vie en Rose
Brampton
ON
Get 20% off on all regular-priced merchandise
la Vie en Rose
Oshawa
ON
Get 20% off on all regular-priced merchandise
la Vie en Rose
Guelph
ON
Get 20% off on all regular-priced merchandise
la Vie en Rose
Markham
ON
Get 20% off on all regular-priced merchandise
la Vie en Rose
Mississauga
ON
Get 20% off on all regular-priced merchandise
la Vie en Rose
Waterloo
ON
Get 20% off on all regular-priced merchandise
la Vie en Rose
Oshawa
ON
Get 20% off on all regular-priced merchandise
la Vie en Rose
Scarborough
ON
Get 20% off on all regular-priced merchandise
la Vie en Rose
Cambridge
ON
Get 20% off on all regular-priced merchandise
la Vie en Rose
Mississauga
ON
Get 20% off on all regular-priced merchandise
la Vie en Rose
Vaughan
ON
Get 20% off on all regular-priced merchandise
la Vie en Rose
Brantford
ON
Get 20% off on all regular-priced merchandise
la Vie en Rose
Toronto
ON
Get 20% off on all regular-priced merchandise
la Vie en Rose
Burlington
ON
Get 20% off on all regular-priced merchandise
la Vie en Rose
Richmond Hill
ON
Get 20% off on all regular-priced merchandise
la Vie en Rose
Hamilton
ON
Get 20% off on all regular-priced merchandise
la Vie en Rose
Dartmouth
NS
Get 20% off on all regular-priced merchandise
la Vie en Rose
Dartmouth
NS
Get 20% off on all regular-priced merchandise
la Vie en Rose
Halifax
NS
Get 20% off on all regular-priced merchandise
la Vie en Rose
Saint-Bruno-de-Montarville
QC
Get 20% off on all regular-priced merchandise
la Vie en Rose
Repentigny
QC
Get 20% off on all regular-priced merchandise
la Vie en Rose
Montreal
QC
Get 20% off on all regular-priced merchandise
la Vie en Rose
Bromont
QC
Get 20% off on all regular-priced merchandise
la Vie en Rose
Montreal
QC
Get 20% off on all regular-priced merchandise
la Vie en Rose
Mascouche
QC
Get 20% off on all regular-priced merchandise
la Vie en Rose
Montreal
QC
Get 20% off on all regular-priced merchandise
la Vie en Rose
Montreal
QC
Get 20% off on all regular-priced merchandise
la Vie en Rose
Saint-Sauveur
QC
Get 20% off on all regular-priced merchandise
la Vie en Rose
Brossard
QC
Get 20% off on all regular-priced merchandise
la Vie en Rose
Montreal
QC
Get 20% off on all regular-priced merchandise
la Vie en Rose
Laval
QC
Get 20% off on all regular-priced merchandise
la Vie en Rose
Laval
QC
Get 20% off on all regular-priced merchandise
la Vie en Rose
Saint-Laurent
QC
Get 20% off on all regular-priced merchandise
la Vie en Rose
Vaudreuil-Dorion
QC
Get 20% off on all regular-priced merchandise
la Vie en Rose
Saint-Hyacinthe
QC
Get 20% off on all regular-priced merchandise
la Vie en Rose
Greenfield Park
QC
Get 20% off on all regular-priced merchandise
la Vie en Rose
Montreal
QC
Get 20% off on all regular-priced merchandise
la Vie en Rose
Granby
QC
Get 20% off on all regular-priced merchandise
la Vie en Rose
Verdun
QC
Get 20% off on all regular-priced merchandise
la Vie en Rose
Rosemere
QC
Get 20% off on all regular-priced merchandise
la Vie en Rose
Saint-Leonard
QC
Get 20% off on all regular-priced merchandise
la Vie en Rose
Lachenaie
QC
Get 20% off on all regular-priced merchandise
la Vie en Rose
Boucherville
QC
Get 20% off on all regular-priced merchandise
la Vie en Rose
Beloeil
QC
Get 20% off on all regular-priced merchandise
la Vie en Rose
Saint-Jean-Sur-Richelieu
QC
Get 20% off on all regular-priced merchandise
la Vie en Rose
Montreal
QC
Get 20% off on all regular-priced merchandise
la Vie en Rose
Pointe-Claire
QC
Get 20% off on all regular-priced merchandise
la Vie en Rose
Montreal
QC
Get 20% off on all regular-priced merchandise
la Vie en Rose
Lasalle
QC
Get 20% off on all regular-priced merchandise
la Vie en Rose
Anjou
QC
Get 20% off on all regular-priced merchandise
la Vie en Rose
Longueuil
QC
Get 20% off on all regular-priced merchandise
la Vie en Rose
Saint-Jerome
QC
Get 20% off on all regular-priced merchandise
la Vie en Rose
Brossard
QC
Get 20% off on all regular-priced merchandise
la Vie en Rose
Kamloops
BC
Get 20% off on all regular-priced merchandise
la Vie en Rose
Kelowna
BC
Get 20% off on all regular-priced merchandise
la Vie en Rose
Nepean
ON
Get 20% off on all regular-priced merchandise
la Vie en Rose
Orleans
ON
Get 20% off on all regular-priced merchandise
la Vie en Rose
Gatineau
QC
Get 20% off on all regular-priced merchandise
la Vie en Rose
Ottawa
ON
Get 20% off on all regular-priced merchandise
la Vie en Rose
Nepean
ON
Get 20% off on all regular-priced merchandise
la Vie en Rose
Gatineau
QC
Get 20% off on all regular-priced merchandise
la Vie en Rose
Ottawa
ON
Get 20% off on all regular-priced merchandise
la Vie en Rose
Ottawa
ON
Get 20% off on all regular-priced merchandise
la Vie en Rose
Gatineau
QC
Get 20% off on all regular-priced merchandise
la Vie en Rose
Saskatoon
SK
Get 20% off on all regular-priced merchandise
la Vie en Rose
Regina
SK
Get 20% off on all regular-priced merchandise
la Vie en Rose
Saskatoon
SK
Get 20% off on all regular-priced merchandise
la Vie en Rose
Vancouver
BC
Get 20% off on all regular-priced merchandise
la Vie en Rose
Surrey
BC
Get 20% off on all regular-priced merchandise
la Vie en Rose
Pitt Meadows
BC
Get 20% off on all regular-priced merchandise
la Vie en Rose
West Vancouver
BC
Get 20% off on all regular-priced merchandise
la Vie en Rose
Langley
BC
Get 20% off on all regular-priced merchandise
la Vie en Rose
Coquitlam
BC
Get 20% off on all regular-priced merchandise
la Vie en Rose
Victoria
BC
Get 20% off on all regular-priced merchandise
la Vie en Rose
Vancouver
BC
Get 20% off on all regular-priced merchandise
la Vie en Rose
Victoria
BC
Get 20% off on all regular-priced merchandise
la Vie en Rose
Abbotsford
BC
Get 20% off on all regular-priced merchandise
la Vie en Rose
Burnaby
BC
Get 20% off on all regular-priced merchandise
la Vie en Rose
Richmond
BC
Get 20% off on all regular-priced merchandise
la Vie en Rose
Nanaimo
BC
Get 20% off on all regular-priced merchandise
la Vie en Rose
New Westminster
BC
Get 20% off on all regular-priced merchandise
la Vie en Rose
Winnipeg
MB
Get 20% off on all regular-priced merchandise
la Vie en Rose
Winnipeg
MB
Get 20% off on all regular-priced merchandise
la Vie en Rose
Winnipeg
MB
Get 20% off on all regular-priced merchandise
la Vie en Rose
Winnipeg
MB
Get 20% off on all regular-priced merchandise
la Vie en Rose
Winnipeg
MB
Get 20% off on all regular-priced merchandise
La Vigna Restaurant
Forest Hills
NY
Enjoy 25% off the total bill
Laguna Coffee Company
Laguna Beach
CA
Enjoy 25% off the total bill
Lamppost Pizza
Irvine
CA
Enjoy 10% off the total bill
Lamppost Pizza
Irvine
CA
Enjoy 25% off the total bill
Lane's Bakery & Cafe
Madison
WI
Enjoy 25% off the total bill
Lantern House Asian Bistro
Anderson
IN
Enjoy 10% off the total bill
Lantern House Asian Bistro
Anderson
IN
Enjoy 25% off the total bill
Lark
Chicago
IL
Enjoy 25% off the total bill
LaRocco's Pizzeria
Los Angeles
CA
Enjoy 25% off the total bill
Las Delicias Snack Shop
Lynwood
CA
Enjoy 10% off the total bill
Las Delicias Snack Shop
Lynwood
CA
Enjoy one free menu item with purchase of same
LaScala's Fire
Glassboro
NJ
Enjoy one free entrée with purchase of same
Laser Island
Upland
CA
Enjoy one free laser tag session with purchase of same
Laser Island
Upland
CA
Enjoy one free round of mini golf with purchase of same
Laser Island
Placentia
CA
Enjoy one free laser tag session with purchase of same
Laser Island
Placentia
CA
Enjoy one free round of mini golf with purchase of same
Lavatera Grill
Brooklyn
NY
Enjoy 25% off the total bill
Lavish Cupcakes
Woddbridge
ON
Enjoy 50% off any baked goods order
Lemonhead's Brightwood Grille
Bethel Park
PA
Enjoy 25% off the total bill
Lennys Grill & Subs
Oxford
MO
Enjoy 25% off the total bill
Lennys Grill & Subs
Memphis
TN
Enjoy 25% off the total bill
Lennys Grill & Subs
Memphis
TN
Enjoy one free sandwich with purchase of same
Lennys Grill & Subs
Memphis
TN
Enjoy one free sandwich with purchase of same
Lennys Grill & Subs
Cordova
TN
Enjoy one free sandwich with purchase of same
Lennys Grill & Subs
Memphis
TN
Enjoy one free sandwich with purchase of same
Lennys Grill & Subs
Memphis
TN
Enjoy one free sandwich with purchase of same
Lennys Grill & Subs
Arlington
TN
Enjoy one free sandwich with purchase of same
Lennys Grill & Subs
Memphis
TN
Enjoy one free sandwich with purchase of same
Lennys Grill & Subs
Memphis
TN
Enjoy one free sandwich with purchase of same
Lennys Grill & Subs
Millington
TN
Enjoy one free sandwich with purchase of same
LFG Royal Oak
Royal Oak
MI
Enjoy 10% off the total bill
LFG Royal Oak
Royal Oak
MI
Enjoy 25% off the total bill
LFG Royal Oak
Royal Oak
MI
Enjoy one free hour of play with purchase of same
LG's Pizza & Pasta
Brick
NJ
Enjoy 25% off the total bill
Liberty Diner
Roxbury
MA
Enjoy one free entrée with purchase of same
Lickity Split
Kimberley
BC
Enjoy 50% off the regular price of any ice cream order
Lickity Split
Kimberley
BC
Enjoy one free menu item with purchase of same
Limestone Mexican Grill & Seafood
Spring Branch
TX
Enjoy 25% off the total bill
Linda's Family Diner
Corfu
NY
Enjoy one free entrée with purchase of same
Link N Hops
Los Angeles
CA
Enjoy 10% off the total bill
Link N Hops
Sunland-Tujunga
CA
Enjoy 10% off the total bill
Link N Hops
Los Angeles
CA
Enjoy one free entrée with purchase of same
Link N Hops
Sunland-Tujunga
CA
Enjoy one free entrée with purchase of same
Lion's Pride
Orlando
FL
Enjoy 25% off the total bill
Li's Restaurant
San Antonio
TX
Enjoy one free entrée with purchase of same
Little Greek Fresh Grill
Schaumburg
IL
Enjoy 10% off the total bill
Little Greek Fresh Grill
Schaumburg
IL
Enjoy 25% off the total bill
Little Rock Stock Cafe
Wauconda
IL
Enjoy 25% off the total bill
Log Tavern Pizza
Lodi
WI
Enjoy 25% off the total bill
Long Shot Bar and Grill
Coram
NY
Enjoy 10% off the total bill
Long Shot Bar and Grill
Coram
NY
Enjoy 25% off the total bill
Lorenzos Cabana
Westville
NJ
Enjoy 25% off the total bill
LotsOfun
Orangeville
ON
Enjoy one free admission with purchase of same
Lotus Falafel & Shawerma
Oakland
CA
Enjoy 25% off the total bill
Lotus Fusion
Sacramento
CA
Enjoy one free entrée with purchase of same
Louisiana Heaven
Sacramento
CA
Enjoy one free menu item with purchase of same
Louisiana's Haitian Restaurant
Rochester
NY
Enjoy 25% off the total bill
Lou's Eatery & Subs
Bound Brook
NJ
Enjoy 10% off the total bill
Lou's Eatery & Subs
Bound Brook
NJ
Enjoy 25% off the total bill
Loving Heart
Chicago
IL
Enjoy one free menu item with purchase of same
Lowell Street Cafe
Elyria
OH
Enjoy 20% off the total bill
Luca's Italian Bistro
Palmer
PA
Enjoy 10% off the total bill
Luca's Italian Bistro
Palmer
PA
Enjoy 25% off the total bill
Luciano Pizzeria Ristorante
Raleigh
NC
Enjoy 25% off the total bill
Lucy Ethiopian Restaurant and Bar
Cleveland
OH
Enjoy 25% off the total bill
Lulu's Oceanside Grill
Ormond Beach
FL
Enjoy one free entrée with purchase of same
Luly's Kitchen
Hatfield
PA
Enjoy 25% off the total bill
Luna Mexicana Restaurant
Joliet
IL
Enjoy one free entrée with purchase of same
Luna Wood Fire Tavern
Nutley
NJ
Enjoy 10% off the total bill
Luna Wood Fire Tavern
Nutley
NJ
Enjoy 25% off the total bill
Luna Y Sol Mexican Restaurant
Moorestown
NJ
Enjoy 25% off the total bill
Lunas Cookie Studio
Suwanee
GA
Enjoy one free menu item with purchase of same
M & J Teriyaki
Boston
MA
Enjoy one free menu item with purchase of same
Macaron Queen
Atlant
GA
Enjoy 50% off any purchase
Mac's Pizzeria & Catering
Rochester
NY
Enjoy 50% off the regular price of any one pizza
MADD Greeks Mediterranean Grille
Indianapolis
IN
Enjoy 10% off the total bill
MADD Greeks Mediterranean Grille
Indianapolis
IN
Enjoy 25% off the total bill
Magical Playground
Pasadena
CA
Enjoy 10% off the total bill
Magical Playground
Pasadena
CA
Enjoy one free admission with purchase of same or those who prefer 50% off any one admission
Main Street Coffee
Staten Island
NY
Enjoy one free menu item with purchase of same
Maluken & Sushi Express
Brookline
MA
Enjoy one free entrée with purchase of same
Mama Ines Mexican Bakery
Indianapolis
IN
Enjoy 50% off the regular price of any purchase
Mama Thai
Metairie
LA
Enjoy 10% off the total bill
Mama Thai
Metairie
LA
Enjoy 25% off the total bill
Mamoun's Falafel Restaurant
New Brunswick
NJ
Enjoy 10% off the total bill
Mamoun's Falafel Restaurant
New Brunswick
NJ
Enjoy 25% off the total bill
Mandarin Court
Rochester
NY
Enjoy 25% off the total bill
Mandarin Sushi & Noodle Bar
Rochester
NY
Enjoy 25% off the total bill
Mandy's Subs
Cape May Court House
NJ
Enjoy one free menu item with purchase of same
Mangia Brick Oven Pizza
Jackson
NJ
Enjoy 25% off the total bill
Mangos Cafe
Milwaukee
WI
Enjoy one free menu item with purchase of same
Manna Bakery & Ice Cream
Hollywood
FL
Enjoy one free menu item with purchase of same
Maraya At Sabrina's Restaurant
Orlando
FL
Enjoy 10% off the total bill
Maraya At Sabrina's Restaurant
Orlando
FL
Enjoy 25% off the total bill
Margaritas
Denver
NC
Enjoy one free entrée with purchase of same
Margaritas
Oakland
TN
Enjoy 10% off the total bill
Margaritas
Oakland
TN
Enjoy 25% off the total bill
Margaritas Mexican Restaurant
Revere
MA
Enjoy one free entrée with purchase of same
Mario's Pizzeria
Perth Amboy
NJ
Enjoy 10% off the total bill
Mario's Pizzeria
Perth Amboy
NJ
Enjoy 25% off the total bill
Mark & Toni's Coal Fired Pizza
Belmont
MA
Enjoy 10% off the total bill
Mark & Toni's Coal Fired Pizza
Belmont
MA
Enjoy 25% off the total bill
Market Barbeque
San Antonio
TX
Enjoy one free entrée with purchase of same
Marvelous Munchies Bake Shop
Grand Forks
BC
Enjoy 50% off the regular price of any baked goods order
Masala
Warrenville
IL
Enjoy 25% off the total bill
Masala Indian Kitchen
Novi
MI
Enjoy 25% off the total bill
Masaya Yakiniku Don
Sacramento
CA
Enjoy 20% off the total bill
Masaya Yakiniku Don
Sacramento
CA
Enjoy 25% off the total bill
Mashawi Grill
Staten Island
NY
Enjoy 10% off the total bill
Mashawi Grill
Staten Island
NY
Enjoy 25% off the total bill
Mata Mediterranean Grill
Canton
OH
Enjoy one free menu item with purchase of same
Max & Mo's
Davie
FL
Enjoy 25% off the total bill
Max's Bar And Grill
Long Branch
NJ
Enjoy one free entrée with purchase of same
Max's Coal Oven Pizzeria
Atlanta
GA
Enjoy 25% off the total bill
MayaBazaar
Farmington Hills
MI
Enjoy 20% off the total bill
MayaBazaar
Farmington Hills
MI
Enjoy 25% off the total bill
Mayfair Taproom
Indianapolis
IN
Enjoy 25% off the total bill
Maza Mediterranean & Turkish Grill
Las Vegas
NV
Enjoy 25% off the total bill
Meat & Bread
Seattle
WA
Enjoy 25% off the total bill
Meat Wagon BBQ
Hatfield
PA
Enjoy 10% off the total bill
Meat Wagon BBQ
Hatfield
PA
Enjoy 25% off the total bill
Mediterranean Village Grill
Auburn Hills
MI
Enjoy $10 off the minimum purchase of $20 or more
Mediterranean Village Grill
Auburn Hills
MI
Enjoy 10% off the total bill
Mellow Mushroom
Marietta
GA
Enjoy 10% off the total bill
Mellow Mushroom
Marietta
GA
Enjoy 25% off the total bill
Mellow Mushroom
Woodstock
GA
Enjoy one free pizza with purchase of same
Melrose Bite
Los Angeles
CA
Enjoy 25% off the total bill
Menchie's Frozen Yogurt
Clarkston
MI
Enjoy 20% off the total bill
Menchie's Frozen Yogurt
Clarkston
MI
Enjoy 50% off the regular price of any yogurt order
Menna's Joint
Grand Rapids
MI
Enjoy 10% off the total bill
Menna's Joint
Grand Rapids
MI
Enjoy 25% off the total bill
Merci Restaurant
Hollywood
FL
Enjoy 10% off the total bill
Merci Restaurant
Hollywood
FL
Enjoy 25% off the total bill
Mexipino Craft
Chula Vista
CA
Enjoy one free entrée with purchase of same
Mezetto
New York
NY
Enjoy 25% off the total bill
Mi Vallarta
South Elgin
IL
Enjoy one free entrée with purchase of same
Mia Pasta
Edmonton
AB
Enjoy $3 off any regularly portioned main course of Asian pasta or sautéed pasta or $1.50 off a moderate portion at regular price
Mia Pasta
Jonquiere
QC
Enjoy $3 off any regularly portioned main course of Asian pasta or sautéed pasta or $1.50 off a moderate portion at regular price
Mia Pasta
VAL D''OR
QC
Enjoy $3 off any regularly portioned main course of Asian pasta or sautéed pasta or $1.50 off a moderate portion at regular price
Mia Pasta
Amos
QC
Enjoy $3 off any regularly portioned main course of Asian pasta or sautéed pasta or $1.50 off a moderate portion at regular price
Mia Pasta
Alma
QC
Enjoy $3 off any regularly portioned main course of Asian pasta or sautéed pasta or $1.50 off a moderate portion at regular price
Mia Pasta
Edmonton
AB
Enjoy 2 main courses of any size for $18
Mia Pasta
Jonquiere
QC
Enjoy 2 main courses of any size for $18
Mia Pasta
VAL D''OR
QC
Enjoy 2 main courses of any size for $18
Mia Pasta
Amos
QC
Enjoy 2 main courses of any size for $18
Mia Pasta
Alma
QC
Enjoy 2 main courses of any size for $18
Mia Pasta
Edmonton
AB
Enjoy one free main course with purchase of same and when a second and a 20 oz fountain drink is purchased
Mia Pasta
Jonquiere
QC
Enjoy one free main course with purchase of same and when a second and a 20 oz fountain drink is purchased
Mia Pasta
VAL D''OR
QC
Enjoy one free main course with purchase of same and when a second and a 20 oz fountain drink is purchased
Mia Pasta
Amos
QC
Enjoy one free main course with purchase of same and when a second and a 20 oz fountain drink is purchased
Mia Pasta
Alma
QC
Enjoy one free main course with purchase of same and when a second and a 20 oz fountain drink is purchased
Mia Pasta
Calgary
AB
Enjoy $3 off any regularly portioned main course of Asian pasta or sautéed pasta or $1.50 off a moderate portion at regular price
Mia Pasta
Calgary
AB
Enjoy $3 off any regularly portioned main course of Asian pasta or sautéed pasta or $1.50 off a moderate portion at regular price
Mia Pasta
Calgary
AB
Enjoy 2 main courses of any size for $18
Mia Pasta
Calgary
AB
Enjoy 2 main courses of any size for $18
Mia Pasta
Calgary
AB
Enjoy one free main course with purchase of same and when a second and a 20 oz fountain drink is purchased
Mia Pasta
Calgary
AB
Enjoy one free main course with purchase of same and when a second and a 20 oz fountain drink is purchased
Mia Pasta
Salaberry-De-Valleyfield
QC
Enjoy $3 off any regularly portioned main course of Asian pasta or sautéed pasta or $1.50 off a moderate portion at regular price
Mia Pasta
St-Hyacinthe
QC
Enjoy $3 off any regularly portioned main course of Asian pasta or sautéed pasta or $1.50 off a moderate portion at regular price
Mia Pasta
Repentigny
QC
Enjoy $3 off any regularly portioned main course of Asian pasta or sautéed pasta or $1.50 off a moderate portion at regular price
Mia Pasta
Terrebonne
QC
Enjoy $3 off any regularly portioned main course of Asian pasta or sautéed pasta or $1.50 off a moderate portion at regular price
Mia Pasta
Terrebonne
QC
Enjoy $3 off any regularly portioned main course of Asian pasta or sautéed pasta or $1.50 off a moderate portion at regular price
Mia Pasta
Salaberry-De-Valleyfield
QC
Enjoy 2 main courses of any size for $18
Mia Pasta
St-Hyacinthe
QC
Enjoy 2 main courses of any size for $18
Mia Pasta
Repentigny
QC
Enjoy 2 main courses of any size for $18
Mia Pasta
Terrebonne
QC
Enjoy 2 main courses of any size for $18
Mia Pasta
Terrebonne
QC
Enjoy 2 main courses of any size for $18
Mia Pasta
Salaberry-De-Valleyfield
QC
Enjoy one free main course with purchase of same and when a second and a 20 oz fountain drink is purchased
Mia Pasta
St-Hyacinthe
QC
Enjoy one free main course with purchase of same and when a second and a 20 oz fountain drink is purchased
Mia Pasta
Repentigny
QC
Enjoy one free main course with purchase of same and when a second and a 20 oz fountain drink is purchased
Mia Pasta
Terrebonne
QC
Enjoy one free main course with purchase of same and when a second and a 20 oz fountain drink is purchased
Mia Pasta
Terrebonne
QC
Enjoy one free main course with purchase of same and when a second and a 20 oz fountain drink is purchased
Mia Pasta
Gatineau
QC
Enjoy $3 off any regularly portioned main course of Asian pasta or sautéed pasta or $1.50 off a moderate portion at regular price
Mia Pasta
Hull
QC
Enjoy $3 off any regularly portioned main course of Asian pasta or sautéed pasta or $1.50 off a moderate portion at regular price
Mia Pasta
Gatineau
QC
Enjoy 2 main courses of any size for $18
Mia Pasta
Hull
QC
Enjoy 2 main courses of any size for $18
Mia Pasta
Gatineau
QC
Enjoy one free main course with purchase of same and when a second and a 20 oz fountain drink is purchased
Mia Pasta
Hull
QC
Enjoy one free main course with purchase of same and when a second and a 20 oz fountain drink is purchased
Mia Pasta
Scottsdale
AZ
Enjoy $3 off any regularly portioned main course of Asian pasta or sautéed pasta or $1.50 off a moderate portion at regular price
Mia Pasta
Scottsdale
AZ
Enjoy 2 main courses of any size for $18
Mia Pasta
Scottsdale
AZ
Enjoy one free main course with purchase of same and when a second and a 20 oz fountain drink is purchased
Mia Pasta
Saskatoon
SK
Enjoy $3 off any regularly portioned main course of Asian pasta or sautéed pasta or $1.50 off a moderate portion at regular price
Mia Pasta
Saskatoon
SK
Enjoy 2 main courses of any size for $18
Mia Pasta
Saskatoon
SK
Enjoy one free main course with purchase of same and when a second and a 20 oz fountain drink is purchased
Mia Pasta
Victoria
BC
Enjoy $3 off any regularly portioned main course of Asian pasta or sautéed pasta or $1.50 off a moderate portion at regular price
Mia Pasta
Victoria
BC
Enjoy 2 main courses of any size for $18
Mia Pasta
Victoria
BC
Enjoy one free main course with purchase of same and when a second and a 20 oz fountain drink is purchased
Michael Anthony's Pizzeria & Bar
Berwyn
IL
Enjoy 25% off the total bill
Michelangelo's Pizza
Staten Island
NY
Enjoy 25% off the total bill
Mike's Place
Kenilworth
NJ
Enjoy 10% off the total bill
Mike's Place
Kenilworth
NJ
Enjoy 25% off the total bill
Milano's Pizza
Millington
TN
Enjoy one free menu item with purchase of same
MILIO'S SANDWICHES
Janesville
WI
Enjoy one free menu item with purchase of same
MILIO'S SANDWICHES
Sun Prairie
WI
Enjoy one free menu item with purchase of same
MILIO'S SANDWICHES
Sauk City
WI
Enjoy one free menu item with purchase of same
Milk Street Cafe
Boston
MA
Enjoy one free menu item with purchase of same
Minato Sushi
Lake Forest
CA
Enjoy one free entrée with purchase of same
Mind Warp Escape Rooms
Limerick
PA
Enjoy 50% off any one player with purchase of same
Ming's Noodle Bar
San Antonio
TX
Enjoy one free menu item with purchase of same
Mirabella Italian Restaurant
Voorhees Twp
NJ
Enjoy 10% off the total bill
Mirabella Italian Restaurant
Voorhees Twp
NJ
Enjoy 25% off the total bill
Mirage Cafe & Grill
Houston
TX
Enjoy 25% off the total bill
Misplaced Magnolia
Kasson
MN
Enjoy 10% off the total bill
Misplaced Magnolia
Kasson
MN
Enjoy 25% off the total bill
Miss Donuts & Bagel
Fullerton
CA
Enjoy 25% off the total bill
Miss Molly's Cafe & Pastry Shop
Milwaukee
WI
Enjoy one free menu item with purchase of same
Moe's Gyro
Hurst
TX
Enjoy 20% off the total bill
Moe's Original Bar B Que
Waxhaw
NC
Enjoy one free menu item with purchase of same
Moe's Southwest Grill
Cumming
GA
Enjoy one free menu item with purchase of same
Moe's Southwest Grill
Lilburn
GA
Enjoy one free menu item with purchase of same
Moe's Southwest Grill
Douglasville
GA
Enjoy one free menu item with purchase of same
Moe's Southwest Grill
Woodstock
GA
Enjoy one free menu item with purchase of same
Moe's Southwest Grill
Roswell
GA
Enjoy one free menu item when second menu item of equal or greater value is purchased
Moe's Southwest Grill
Monroe
NC
Enjoy 10% off the total bill
Moe's Southwest Grill
INDIAN LAND
SC
Enjoy 10% off the total bill
Moe's Southwest Grill
Monroe
NC
Enjoy 25% off the total bill
Moe's Southwest Grill
Waxhaw
NC
Enjoy 25% off the total bill
Moe's Southwest Grill
INDIAN LAND
SC
Enjoy 25% off the total bill
Moe's Southwest Grill
Huntersville
NC
Enjoy one free menu item with purchase of same
Moe's Southwest Grill
Charlotte
NC
Enjoy one free menu item with purchase of same
Moe's Southwest Grill
Mooresville
NC
Enjoy one free menu item with purchase of same
Moe's Southwest Grill
Charlotte
NC
Enjoy one free menu item with purchase of same
Moe's Southwest Grill
Indian Trail
NC
Enjoy one free menu item with purchase of same
Moe's Southwest Grill
Charlotte
NC
Enjoy one free menu item with purchase of same
Moe's Southwest Grill
Collierville
TN
Enjoy one free menu item with purchase of same
Moe's Southwest Grill
Cordova
TN
Enjoy one free menu item with purchase of same
Moe's Southwest Grill
North Brunswick
NJ
Enjoy one free menu item with purchase of same
Moe's Southwest Grill
East Brunswick
NJ
Enjoy one free menu item with purchase of same
Moe's Southwest Grill
Edgewater
NJ
Enjoy one free menu item with purchase of same
Moe's Southwest Grill
Englishtown
NJ
Enjoy one free menu item with purchase of same
Moe's Southwest Grill
Orlando
FL
Enjoy 25% off the total bill
Moe's Southwest Grill
Orlando
FL
Enjoy one free menu item with purchase of same
Moe's Southwest Grill
Lake Buena Vista
FL
Enjoy one free menu item with purchase of same
Moe's Southwest Grill
Altamonte Springs
FL
Enjoy one free menu item with purchase of same
Moe's Southwest Grill
Winter Park
FL
Enjoy one free menu item with purchase of same
Moe's Southwest Grill
Raleigh
NC
Enjoy one free menu item with purchase of same
Moe's Southwest Grill
Durham
NC
Enjoy one free menu item with purchase of same
Moe's Southwest Grill
Raleigh
NC
Enjoy one free menu item with purchase of same
Momo's Grill & Hookah
Irvine
CA
Enjoy 10% off the total bill
Momo's Grill & Hookah
Irvine
CA
Enjoy 25% off the total bill
Monks Addiction
Huntington Beach
CA
Enjoy 25% off the total bill
Monsoon Siam
Madison
WI
Enjoy one free entrée with purchase of same
Moochies Tavern
Matthews
NC
Enjoy one free entrée with purchase of same
Mootown Creamery
Berea
OH
Enjoy one free menu item with purchase of same
MOOYAH Burgers, Fries & Shakes
Rocklin
CA
Enjoy 25% off the total bill
Mountain Meadows Golf Club
Elkford
BC
Enjoy one free greens fee with purchase of same
Mountain Meals
Revelstoke
BC
Enjoy one free menu item with purchase of same
Mountain Valley Station
Slocan
BC
Enjoy 50% off the regular price of any ice cream order
Mr Subs
Cranbury
NJ
Enjoy 10% off the total bill
Mr Subs
Cranbury
NJ
Enjoy 25% off the total bill
Mr. Masala
Los Angeles
CA
Enjoy 10% off the total bill
Mr. Masala
Los Angeles
CA
Enjoy 25% off the total bill
Mr. Pickle's Sandwich Shop
Loomis
CA
Enjoy one free menu item with purchase of same
Mr. Pickle's Sandwich Shop
Folsom
CA
Enjoy one free sandwich with purchase of same
Mr. Pickle's Sandwich Shop
Auburn
CA
Enjoy one free sandwich with purchase of same
Mr. Pickle's Sandwich Shop
Carmichael
CA
Enjoy one free sandwich with purchase of same
MrsBean Jianbing
Santa Ana
CA
Enjoy 25% off the total bill
Ms. Mong
Chapel Hill
NC
Enjoy 10% off the total bill
Ms. Mong
Chapel Hill
NC
Enjoy 25% off the total bill
Muddy Paw Coffee & Park Eagle Rock
Los Angeles
CA
Enjoy 10% off the total bill
Muddy Paw Coffee & Park Eagle Rock
Los Angeles
CA
Enjoy one free menu item with purchase of same
Muddy Paw Coffee Silverlake
Los Angeles
CA
Enjoy 10% off the total bill
Muddy Paw Coffee Silverlake
Los Angeles
CA
Enjoy one free menu item with purchase of same
Muramoto Hilldale
Madison
WI
Enjoy one free entrée with purchase of same
My Indie Coffee Roasters
Newmarket
ON
Enjoy 50% off the regular price of a specialty beverage order
My Pizzetta
North Royalton
OH
Enjoy 25% off the total bill
My Way Tavern
Raleigh
NC
Enjoy 25% off the total bill
Mystery Cafe of Indianapolis
Indianapolis
IN
Enjoy one free dinner admission with purchase of same
Naansense
Chicago
IL
Enjoy one free menu item with purchase of same
Nadler's Bakery & Deli
San Antonio
TX
Enjoy one free menu item with purchase of same
Naf Naf Grill
Mount Prospect
IL
Enjoy 10% off the total bill
Naf Naf Grill
Mount Prospect
IL
Enjoy 25% off the total bill
Nakusp Centennial Golf Club
Nakusp
BC
Enjoy one free greens fee with purchase of same
Nancy's Pizzeria
Conyers
GA
Enjoy 10% off the total bill
Nancy's Pizzeria
Conyers
GA
Enjoy 25% off the total bill
Nanno's Pizza & Grill
NEPTUNE CITY
NJ
Enjoy 10% off the total bill
Nanno's Pizza & Grill
NEPTUNE CITY
NJ
Enjoy 25% off the total bill
Naples Pizza
Toms River
NJ
Enjoy 10% off the total bill
Naples Pizza
Toms River
NJ
Enjoy 25% off the total bill
Natural Bridge
Long Island City
NY
Enjoy 25% off the total bill
Nekter Juice Bar
Sacramento
CA
Enjoy 50% off any purchase
Nene Italian Market
Marlton
NJ
Enjoy 50% off the regular price of any food order
Neon Flamingo Emporium & Cafe
Newmarket
ON
Enjoy 50% off the regular price of any food/beverage order
New Corner Restaurant
Red Bank
NJ
Enjoy one free entrée with purchase of same
New Great Wall
Woodland Park
NJ
Enjoy 25% off the total bill
New York Bagel Cafe & Deli
Raleigh
NC
Enjoy 25% off the total bill
New York Gyro
Allentown
PA
Enjoy 10% off the total bill
New York Gyro
Bethlehem
PA
Enjoy 25% off the total bill
New York Gyro
Allentown
PA
Enjoy 25% off the total bill
New York Pasta & Pizza
Las Vegas
NV
Enjoy 25% off the total bill
New York Style Pizzeria
Collierville
TN
Enjoy 25% off the total bill
Newfoundland Deli & Catering
Newfoundland
NJ
Enjoy 10% off the total bill
Newfoundland Deli & Catering
Newfoundland
NJ
Enjoy 25% off the total bill
Newk's Eatery
Atlanta
GA
Enjoy 20% off the total bill
Newk's Eatery
Dunwoody
GA
Enjoy one free menu item with purchase of same
Newk's Eatery
Atlanta
GA
Enjoy one free menu item with purchase of same
Nick's Cafe
Los Angeles
CA
Enjoy 10% off the total bill
Nick's Cafe
Los Angeles
CA
Enjoy 25% off the total bill
Nick's Pizza
Voorhees Twp
NJ
Enjoy one free pizza with purchase of same
Nirvana Indian Cuisine
Scottsdale
AZ
Enjoy 20% off the total bill
Noble Roman's Pizza
Indianapolis
IN
Enjoy one free large pizza with purchase of same
Noble Roman's Pizza
Carmel
IN
Enjoy one free large pizza with purchase of same
Nonna's Citi Cucina
Englishtown
NJ
Enjoy 25% off the total bill
North Star Diner & Shanghai Room
Seattle
WA
Enjoy 25% off the total bill
NoW Cafe
San Diego
CA
Enjoy one free menu item with purchase of same
Nuestra Passion Coffee Shop
Butler
NJ
Enjoy 10% off the total bill
Nuestra Passion Coffee Shop
Butler
NJ
Enjoy 25% off the total bill
Nuestra Passion Coffee Shop
Butler
NJ
Enjoy 50% off the regular price of a specialty beverage order
NY Pie
Waltham
MA
Enjoy 25% off the total bill
NYC Birthday Clowns
Woodside
NY
Enjoy 20% off the total bill
O2 BBQ
Guttenberg
NJ
Enjoy 25% off the total bill
Oath Pizza
Cambridge
MA
Enjoy one free menu item with purchase of same
Oath Pizza - Fenway
Boston
MA
Enjoy one free pizza with purchase of same
OC Pizza SJC
San Juan Capistrano
CA
Enjoy one free pizza with purchase of same
OC Tavern Grill & Sport's Bar
San Clemente
CA
Enjoy 10% off the total bill
OC Tavern Grill & Sport's Bar
San Clemente
CA
Enjoy 25% off the total bill
Ocha Classic Restaurant
Los Angeles
CA
Enjoy 10% off the total bill
Ocha Classic Restaurant
Los Angeles
CA
Enjoy 25% off the total bill
oIIo Cafe
Orange
CA
Enjoy one free menu item with purchase of same
Okaysions Catering & Fresh Market
Alpha
NJ
Enjoy 10% off the total bill
Okaysions Catering & Fresh Market
Alpha
NJ
Enjoy 25% off the total bill
Old Crow's Coffeehouse
Andover
NJ
Enjoy 50% off any baked goods order
Old Crow's Coffeehouse
Andover
NJ
Enjoy 50% off any specialty beverage order
Old School Pizza
Canton
OH
Enjoy 10% off the total bill
Old School Pizza
Canton
OH
Enjoy 25% off the total bill
Olde Village Free House
Newmarket
ON
Enjoy 10% off the total bill
Olde Village Free House
Newmarket
ON
Enjoy one free entrée with purchase of same
Olive Mediterranean Grill
Chicago
IL
Enjoy 10% off the total bill
Olive Mediterranean Grill
Chicago
IL
Enjoy 25% off the total bill
Olive Oil Cafe
San Diego
CA
Enjoy one free menu item with purchase of same
Omer Supermarket Deli & Cafe
Newark
NJ
Enjoy 10% off the total bill
Omer Supermarket Deli & Cafe
Newark
NJ
Enjoy 25% off the total bill
On The Border Mexican Grill & Cantina
Mira Mesa
CA
Enjoy $10 off a purchase of $40 or more
On The Border Mexican Grill & Cantina
Mission Valley
CA
Enjoy $10 off a purchase of $40 or more
On The Border Mexican Grill & Cantina
Escondido
CA
Enjoy $10 off a purchase of $40 or more
On The Border Mexican Grill & Cantina
Mira Mesa
CA
Enjoy $5 off a purchase of $20 or more
On The Border Mexican Grill & Cantina
Mission Valley
CA
Enjoy $5 off a purchase of $20 or more
On The Border Mexican Grill & Cantina
Escondido
CA
Enjoy $5 off a purchase of $20 or more
Opie Taylor's
Bloomington
IN
Enjoy one free entrée with purchase of same
Orange Grill
Huntington Beach
CA
Enjoy 10% off the total bill
Orange Grill
Huntington Beach
CA
Enjoy 25% off the total bill
Oto Sushi
Kirkland
WA
Enjoy one free entrée with purchase of same
OTR Woodfire Tavern
Rochester
NY
Enjoy 25% off the total bill
Ovi's Place
Brooklyn
NY
Enjoy one free menu item with purchase of same
Paesano
Brooklyn
NY
Enjoy 10% off the total bill
Paesano
Brooklyn
NY
Enjoy 25% off the total bill
Pain Du Monde
Corona Del Mar
CA
Enjoy 25% off the total bill
Paisano's Pizzeria & Restaurant
Watchung
NJ
Enjoy one free pizza with purchase of same
Palamuru Grill
Wheeling
IL
Enjoy 10% off the total bill
Palamuru Grill
Wheeling
IL
Enjoy 25% off the total bill
Pamendis Italian Grill
Loganville
GA
Enjoy one free entrée with purchase of same
Pancake Cafe
Madison
WI
Enjoy 25% off the total bill
Pantry Pizza Kitchen
Dorchester
MA
Enjoy 10% off the total bill
Pantry Pizza Kitchen
Dorchester
MA
Enjoy 25% off the total bill
Papa Cino's Bagels, Deli, Catering
Deer Park
NY
Enjoy 50% off the regular price of up to 2 dozen bagels
Papa John's
Puyallup
WA
30% off Regular Menu Price Online Orders
Papa John's
Tacoma
WA
30% off Regular Menu Price Online Orders
Papa John's
Puyallup
WA
30% off Regular Menu Price Online Orders
Papa John's
Tacoma
WA
30% off Regular Menu Price Online Orders
Papa John's
Tumwater
WA
30% off Regular Menu Price Online Orders
Papa John's
Lacey
WA
30% off Regular Menu Price Online Orders
Papa John's
Gig Harbor
WA
30% off Regular Menu Price Online Orders
Papa John's
Tacoma
WA
30% off Regular Menu Price Online Orders
Papa John's
Lakewood
WA
30% off Regular Menu Price Online Orders
Papa John's
Puyallup
WA
Buy any Large Pizza at regular menu price and get Free 10" Cheesesticks
Papa John's
Tacoma
WA
Buy any Large Pizza at regular menu price and get Free 10" Cheesesticks
Papa John's
Puyallup
WA
Buy any Large Pizza at regular menu price and get Free 10" Cheesesticks
Papa John's
Tacoma
WA
Buy any Large Pizza at regular menu price and get Free 10" Cheesesticks
Papa John's
Tumwater
WA
Buy any Large Pizza at regular menu price and get Free 10" Cheesesticks
Papa John's
Lacey
WA
Buy any Large Pizza at regular menu price and get Free 10" Cheesesticks
Papa John's
Gig Harbor
WA
Buy any Large Pizza at regular menu price and get Free 10" Cheesesticks
Papa John's
Tacoma
WA
Buy any Large Pizza at regular menu price and get Free 10" Cheesesticks
Papa John's
Lakewood
WA
Buy any Large Pizza at regular menu price and get Free 10" Cheesesticks
Papa John's
Bellevue
WA
30% off Regular Menu Price Online Orders
Papa John's
Federal Way
WA
30% off Regular Menu Price Online Orders
Papa John's
Marysville
WA
30% off Regular Menu Price Online Orders
Papa John's
Bellingham
WA
30% off Regular Menu Price Online Orders
Papa John's
Kent
WA
30% off Regular Menu Price Online Orders
Papa John's
Kirkland
WA
30% off Regular Menu Price Online Orders
Papa John's
Auburn
WA
30% off Regular Menu Price Online Orders
Papa John's
Kent
WA
30% off Regular Menu Price Online Orders
Papa John's
Mill Creek
WA
30% off Regular Menu Price Online Orders
Papa John's
Redmond
WA
30% off Regular Menu Price Online Orders
Papa John's
Port Orchard
WA
30% off Regular Menu Price Online Orders
Papa John's
Normandy Park
WA
30% off Regular Menu Price Online Orders
Papa John's
Bothell
WA
30% off Regular Menu Price Online Orders
Papa John's
Mountlake Terrace
WA
30% off Regular Menu Price Online Orders
Papa John's
Lake Stevens
WA
30% off Regular Menu Price Online Orders
Papa John's
Maple Valley
WA
30% off Regular Menu Price Online Orders
Papa John's
Oak Harbor
WA
30% off Regular Menu Price Online Orders
Papa John's
Lynnwood
WA
30% off Regular Menu Price Online Orders
Papa John's
Renton
WA
30% off Regular Menu Price Online Orders
Papa John's
Everett
WA
30% off Regular Menu Price Online Orders
Papa John's
Seattle
WA
30% off Regular Menu Price Online Orders
Papa John's
Everett
WA
30% off Regular Menu Price Online Orders
Papa John's
Sammamish
WA
30% off Regular Menu Price Online Orders
Papa John's
Silverdale
WA
30% off Regular Menu Price Online Orders
Papa John's
Bellevue
WA
Buy any Large Pizza at regular menu price and get Free 10" Cheesesticks
Papa John's
Federal Way
WA
Buy any Large Pizza at regular menu price and get Free 10" Cheesesticks
Papa John's
Marysville
WA
Buy any Large Pizza at regular menu price and get Free 10" Cheesesticks
Papa John's
Bellingham
WA
Buy any Large Pizza at regular menu price and get Free 10" Cheesesticks
Papa John's
Kent
WA
Buy any Large Pizza at regular menu price and get Free 10" Cheesesticks
Papa John's
Kirkland
WA
Buy any Large Pizza at regular menu price and get Free 10" Cheesesticks
Papa John's
Auburn
WA
Buy any Large Pizza at regular menu price and get Free 10" Cheesesticks
Papa John's
Kent
WA
Buy any Large Pizza at regular menu price and get Free 10" Cheesesticks
Papa John's
Mill Creek
WA
Buy any Large Pizza at regular menu price and get Free 10" Cheesesticks
Papa John's
Redmond
WA
Buy any Large Pizza at regular menu price and get Free 10" Cheesesticks
Papa John's
Port Orchard
WA
Buy any Large Pizza at regular menu price and get Free 10" Cheesesticks
Papa John's
Normandy Park
WA
Buy any Large Pizza at regular menu price and get Free 10" Cheesesticks
Papa John's
Bothell
WA
Buy any Large Pizza at regular menu price and get Free 10" Cheesesticks
Papa John's
Mountlake Terrace
WA
Buy any Large Pizza at regular menu price and get Free 10" Cheesesticks
Papa John's
Lake Stevens
WA
Buy any Large Pizza at regular menu price and get Free 10" Cheesesticks
Papa John's
Maple Valley
WA
Buy any Large Pizza at regular menu price and get Free 10" Cheesesticks
Papa John's
Oak Harbor
WA
Buy any Large Pizza at regular menu price and get Free 10" Cheesesticks
Papa John's
Lynnwood
WA
Buy any Large Pizza at regular menu price and get Free 10" Cheesesticks
Papa John's
Renton
WA
Buy any Large Pizza at regular menu price and get Free 10" Cheesesticks
Papa John's
Everett
WA
Buy any Large Pizza at regular menu price and get Free 10" Cheesesticks
Papa John's
Seattle
WA
Buy any Large Pizza at regular menu price and get Free 10" Cheesesticks
Papa John's
Everett
WA
Buy any Large Pizza at regular menu price and get Free 10" Cheesesticks
Papa John's
Sammamish
WA
Buy any Large Pizza at regular menu price and get Free 10" Cheesesticks
Papa John's
Silverdale
WA
Buy any Large Pizza at regular menu price and get Free 10" Cheesesticks
Paparazzi Cafe
New Brunswick
NJ
Enjoy one free menu item with purchase of same
Paradis Ice Cream
Valencia
CA
Enjoy 10% off the total bill
Paradis Ice Cream
Valencia
CA
Enjoy 50% off the regular price of any ice cream order
Park Tavern
Chicago
IL
Enjoy 25% off the total bill
Parkway Diner
Douglaston
NY
Enjoy 25% off the total bill
Parsley Modern Mediterranean
Las Vegas
NV
Enjoy one free menu item with purchase of same
Pasha Mediterranean Grill
San Antonio
TX
Enjoy 10% off the total bill
Pasha Mediterranean Grill
San Antonio
TX
Enjoy 25% off the total bill
Pasquale's Pizzeria III
Middletown
NJ
Enjoy 25% off the total bill
Patty Macs Hollywood
Hollywood
FL
Enjoy 10% off the total bill
Patty Macs Hollywood
Hollywood
FL
Enjoy 25% off the total bill
PAX Coffee & Goods
Kerrville
TX
Enjoy one free menu item with purchase of same
PDQ
Hickory
NC
$2 off any Milk Shake with purchase of Crispy Chicken Sandwich (includes combo meals)
PDQ
Concord
NC
$2 off any Milk Shake with purchase of Crispy Chicken Sandwich (includes combo meals)
PDQ
Pembroke Pines
FL
$2 off any Milk Shake with purchase of Crispy Chicken Sandwich (includes combo meals)
PDQ
Fort Lauderdale
FL
$2 off any Milk Shake with purchase of Crispy Chicken Sandwich (includes combo meals)
PDQ
Dania Beach
FL
$2 off any Milk Shake with purchase of Crispy Chicken Sandwich (includes combo meals)
PDQ
Pompano Beach
FL
$2 off any Milk Shake with purchase of Crispy Chicken Sandwich (includes combo meals)
PDQ
Fort Myers
FL
$2 off any Milk Shake with purchase of Crispy Chicken Sandwich (includes combo meals)
PDQ
Fort Myers
FL
$2 off any Milk Shake with purchase of Crispy Chicken Sandwich (includes combo meals)
PDQ
Orlando
FL
$2 off any Milk Shake with purchase of Crispy Chicken Sandwich (includes combo meals)
PDQ
Orlando
FL
$2 off any Milk Shake with purchase of Crispy Chicken Sandwich (includes combo meals)
PDQ
Altamonte Springs
FL
$2 off any Milk Shake with purchase of Crispy Chicken Sandwich (includes combo meals)
PDQ
Durham
NC
$2 off any Milk Shake with purchase of Crispy Chicken Sandwich (includes combo meals)
PDQ
Riverview
FL
$2 off any Milk Shake with purchase of Crispy Chicken Sandwich (includes combo meals)
PDQ
Tampa
FL
$2 off any Milk Shake with purchase of Crispy Chicken Sandwich (includes combo meals)
PDQ
Brandon
FL
$2 off any Milk Shake with purchase of Crispy Chicken Sandwich (includes combo meals)
PDQ
Clearwater
FL
$2 off any Milk Shake with purchase of Crispy Chicken Sandwich (includes combo meals)
PDQ
Tampa
FL
$2 off any Milk Shake with purchase of Crispy Chicken Sandwich (includes combo meals)
PDQ
Wesley Chapel
FL
$2 off any Milk Shake with purchase of Crispy Chicken Sandwich (includes combo meals)
PDQ
New Port Richey
FL
$2 off any Milk Shake with purchase of Crispy Chicken Sandwich (includes combo meals)
PDQ
St. Petersburg
FL
$2 off any Milk Shake with purchase of Crispy Chicken Sandwich (includes combo meals)
PDQ
Pinellas Park
FL
$2 off any Milk Shake with purchase of Crispy Chicken Sandwich (includes combo meals)
PDQ
Sarasota
FL
$2 off any Milk Shake with purchase of Crispy Chicken Sandwich (includes combo meals)
PDQ
Bradenton
FL
$2 off any Milk Shake with purchase of Crispy Chicken Sandwich (includes combo meals)
PDQ
Tampa
FL
$2 off any Milk Shake with purchase of Crispy Chicken Sandwich (includes combo meals)
PDQ
Seminole
FL
$2 off any Milk Shake with purchase of Crispy Chicken Sandwich (includes combo meals)
PDQ
Tampa
FL
$2 off any Milk Shake with purchase of Crispy Chicken Sandwich (includes combo meals)
PDQ
Lehi
UT
$2 off any Milk Shake with purchase of Crispy Chicken Sandwich (includes combo meals)
Peabody Pizza
Durham
NC
Enjoy one free pizza with purchase of same
Peace Love and Pizza
Alpharetta
GA
Enjoy one free pizza with purchase of same
Peach Valley Cafe
Ormond Beach
FL
Enjoy 10% off the total bill
Peach Valley Cafe
Ormond Beach
FL
Enjoy 25% off the total bill
Peet's Coffee & Tea
Sacramento
CA
Enjoy one free menu item with purchase of same
Pender Island Golf & Country Club
Pender Island
BC
Enjoy one free greens fee with purchase of same
Petra Cafe
Indianapolis
IN
Enjoy 25% off the total bill
Philly Freeze-Me
Las Vegas
NV
Enjoy one free menu item with purchase of same
Pho 75
Sunrise
FL
Enjoy one free entrée with purchase of same
Pho Akaushi
Garden Grove
CA
Enjoy 10% off the total bill
Pho Akaushi
Garden Grove
CA
Enjoy 25% off the total bill
Pho B
Huntington Beach
CA
Enjoy one free entrée with purchase of same
Pho Hung Cuong
San Antonio
TX
Enjoy one free entrée with purchase of same
Pho Hung Cuong
San Antonio
TX
Enjoy one free entrée with purchase of same
Piara Pizza
Inglewood
CA
Enjoy 25% off the total bill
Pick N Eat
Shelby Twp
MI
Enjoy $5 off any purchase of $10 or more
Pick N Eat
Shelby Twp
MI
Enjoy 10% off the total bill
Pickles & Rye Deli
West Bloomfield
MI
Enjoy 25% off the total bill
Pickles & Rye Deli
West Bloomfield
MI
Enjoy one free "featured sandwich" with purchase of same
Pierre's Deli II
North Brunswick
NJ
Enjoy 20% off the total bill
Piggy's BBQ, Spirits & Gaming
Oswego
IL
Enjoy one free entrée with purchase of same
Pinches Tacos
Las Vegas
NV
Enjoy 25% off the total bill
Pines Cafe
Aldan
PA
Enjoy 10% off the total bill
Pines Cafe
Aldan
PA
Enjoy 25% off the total bill
Pink's Grill
Fairfield
CA
Enjoy one free menu item with purchase of same
Pinky's Famous Pizza
Medford
MA
Enjoy 10% off the total bill
Pinky's Famous Pizza
Medford
MA
Enjoy 25% off the total bill
Pinnacle Nutrition
Raleigh
NC
Enjoy 50% off any purchase
Pino's Cucina
Lader Ranch
CA
Enjoy 10% off the total bill
Pino's Cucina
Lader Ranch
CA
Enjoy 25% off the total bill
Piola
Raleigh
NC
Enjoy one free entrée with purchase of same
Pita BBQ
South Elgin
IL
Enjoy 10% off the total bill
Pita BBQ
South Elgin
IL
Enjoy 25% off the total bill
Pita Palace Mediterranean Cuisine
Milwaukee
WI
Enjoy one free menu item with purchase of same
Pizza Bogo
Barberton
OH
Enjoy one free pizza with purchase of same
Pizza Grill
Hamilton
NJ
Enjoy one free pizza with purchase of same
Pizza Pie Cafe
Clinton
UT
Enjoy 10% off the total bill
Pizza Pie Cafe
Clinton
UT
Enjoy 25% off the total bill
Pizza Pit
Oregon
WI
Enjoy 10% off the total bill
Pizza Pit
Cambridge
WI
Enjoy 10% off the total bill
Pizza Pit
Oregon
WI
Enjoy 25% off the total bill
Pizza Pit
Cambridge
WI
Enjoy 25% off the total bill
Pizza Rustica
Hollywood
FL
Enjoy 25% off the total bill
Pizzantica
Albemarle
NC
Enjoy one free pizza with purchase of same
Pizzeria Di Mola
Bensonhurst
NY
Enjoy 25% off the total bill
Planet Fitness
East Granby
CT
Join Planet Fitness with a Classic Membership for No Enrollment Fee and No Commitment
Planet Fitness
Middleborough
MA
Join Planet Fitness with a Classic Membership for No Enrollment Fee and No Commitment
Planet Fitness
Woburn
MA
Join Planet Fitness with a Classic Membership for No Enrollment Fee and No Commitment
Planet Fitness
Shrewsbury
MA
Join Planet Fitness with a Classic Membership for No Enrollment Fee and No Commitment
Planet Fitness
Rogers
AR
Join Planet Fitness with a Classic Membership for No Enrollment Fee and No Commitment
Planet Fitness
Midland
TX
Join Planet Fitness with a Classic Membership for No Enrollment Fee and No Commitment
Planet Fitness
Killeen
TX
Join Planet Fitness with a Classic Membership for No Enrollment Fee and No Commitment
Planet Fitness
Huntsville
AL
Join Planet Fitness with a Classic Membership for No Enrollment Fee and No Commitment
Planet Fitness
Gadsden
AL
Join Planet Fitness with a Classic Membership for No Enrollment Fee and No Commitment
Planet Fitness
Bentonville
AR
Join Planet Fitness with a Classic Membership for No Enrollment Fee and No Commitment
Planet Fitness
Effingham
IL
Join Planet Fitness with a Classic Membership for No Enrollment Fee and No Commitment
Planet Fitness
Frankfort
KY
Join Planet Fitness with a Classic Membership for No Enrollment Fee and No Commitment
Planet Fitness
Rothschild
WI
Join Planet Fitness with a Classic Membership for No Enrollment Fee and No Commitment
Planet Fitness
Albany
GA
Join Planet Fitness with a Classic Membership for No Enrollment Fee and No Commitment
Planet Fitness
Williamsport
PA
Join Planet Fitness with a Classic Membership for No Enrollment Fee and No Commitment
Planet Fitness
Chelsea
MA
Join Planet Fitness with a Classic Membership for No Enrollment Fee and No Commitment
Planet Fitness
Rochester
MN
Join Planet Fitness with a Classic Membership for No Enrollment Fee and No Commitment
Planet Fitness
Satellite Beach
FL
Join Planet Fitness with a Classic Membership for No Enrollment Fee and No Commitment
Planet Fitness
Ruston
LA
Join Planet Fitness with a Classic Membership for No Enrollment Fee and No Commitment
Planet Fitness
Parkersburg
WV
Join Planet Fitness with a Classic Membership for No Enrollment Fee and No Commitment
Planet Fitness
East Peoria
IL
Join Planet Fitness with a Classic Membership for No Enrollment Fee and No Commitment
Planet Fitness
Cumberland
MD
Join Planet Fitness with a Classic Membership for No Enrollment Fee and No Commitment
Planet Fitness
Rolla
MO
Join Planet Fitness with a Classic Membership for No Enrollment Fee and No Commitment
Planet Fitness
Mashpee
MA
Join Planet Fitness with a Classic Membership for No Enrollment Fee and No Commitment
Planet Fitness
El Paso
TX
Join Planet Fitness with a Classic Membership for No Enrollment Fee and No Commitment
Planet Fitness
Waltham
MA
Join Planet Fitness with a Classic Membership for No Enrollment Fee and No Commitment
Planet Fitness
Kingsport
TN
Join Planet Fitness with a Classic Membership for No Enrollment Fee and No Commitment
Planet Fitness
El Paso
TX
Join Planet Fitness with a Classic Membership for No Enrollment Fee and No Commitment
Planet Fitness
Danbury
CT
Join Planet Fitness with a Classic Membership for No Enrollment Fee and No Commitment
Planet Fitness
South Tallahassee
FL
Join Planet Fitness with a Classic Membership for No Enrollment Fee and No Commitment
Planet Fitness
Savannah
GA
Join Planet Fitness with a Classic Membership for No Enrollment Fee and No Commitment
Planet Fitness
Las Cruces
NM
Join Planet Fitness with a Classic Membership for No Enrollment Fee and No Commitment
Planet Fitness
Pembroke
ON
Join Planet Fitness with a Classic Membership for No Enrollment Fee and No Commitment
Planet Fitness
Nacogdoches
TX
Join Planet Fitness with a Classic Membership for No Enrollment Fee and No Commitment
Planet Fitness
Fairfield
CT
Join Planet Fitness with a Classic Membership for No Enrollment Fee and No Commitment
Planet Fitness
Grande Prairie
AB
Join Planet Fitness with a Classic Membership for No Enrollment Fee and No Commitment
Planet Fitness
High Point
NC
Join Planet Fitness with a Classic Membership for No Enrollment Fee and No Commitment
Planet Fitness
North Augusta
SC
Join Planet Fitness with a Classic Membership for No Enrollment Fee and No Commitment
Planet Fitness
Annaville
TX
Join Planet Fitness with a Classic Membership for No Enrollment Fee and No Commitment
Planet Fitness
Little Rock
AR
Join Planet Fitness with a Classic Membership for No Enrollment Fee and No Commitment
Planet Fitness
Farragut
TN
Join Planet Fitness with a Classic Membership for No Enrollment Fee and No Commitment
Planet Fitness
Myrtle Beach
SC
Join Planet Fitness with a Classic Membership for No Enrollment Fee and No Commitment
Planet Fitness
West Monroe
LA
Join Planet Fitness with a Classic Membership for No Enrollment Fee and No Commitment
Planet Fitness
South Jordan
UT
Join Planet Fitness with a Classic Membership for No Enrollment Fee and No Commitment
Planet Fitness
Chicopee
MA
Join Planet Fitness with a Classic Membership for No Enrollment Fee and No Commitment
Planet Fitness
Naugatuck
CT
Join Planet Fitness with a Classic Membership for No Enrollment Fee and No Commitment
Planet Fitness
Webster
MA
Join Planet Fitness with a Classic Membership for No Enrollment Fee and No Commitment
Planet Fitness
Yakima
WA
Join Planet Fitness with a Classic Membership for No Enrollment Fee and No Commitment
Planet Fitness
Plover
WI
Join Planet Fitness with a Classic Membership for No Enrollment Fee and No Commitment
Planet Fitness
Monroe
LA
Join Planet Fitness with a Classic Membership for No Enrollment Fee and No Commitment
Planet Fitness
Ardmore
OK
Join Planet Fitness with a Classic Membership for No Enrollment Fee and No Commitment
Planet Fitness
Tallahassee
FL
Join Planet Fitness with a Classic Membership for No Enrollment Fee and No Commitment
Planet Fitness
Murrells Inlet
SC
Join Planet Fitness with a Classic Membership for No Enrollment Fee and No Commitment
Planet Fitness
Northampton
MA
Join Planet Fitness with a Classic Membership for No Enrollment Fee and No Commitment
Planet Fitness
Martinsburg
WV
Join Planet Fitness with a Classic Membership for No Enrollment Fee and No Commitment
Planet Fitness
Watertown
NY
Join Planet Fitness with a Classic Membership for No Enrollment Fee and No Commitment
Planet Fitness
Jacksonville
NC
Join Planet Fitness with a Classic Membership for No Enrollment Fee and No Commitment
Planet Fitness
Yuma
AZ
Join Planet Fitness with a Classic Membership for No Enrollment Fee and No Commitment
Planet Fitness
Gulfport
MS
Join Planet Fitness with a Classic Membership for No Enrollment Fee and No Commitment
Planet Fitness
Lexington
KY
Join Planet Fitness with a Classic Membership for No Enrollment Fee and No Commitment
Planet Fitness
Salisbury
MD
Join Planet Fitness with a Classic Membership for No Enrollment Fee and No Commitment
Planet Fitness
Big Rapids
MI
Join Planet Fitness with a Classic Membership for No Enrollment Fee and No Commitment
Planet Fitness
Fairbanks
AK
Join Planet Fitness with a Classic Membership for No Enrollment Fee and No Commitment
Planet Fitness
Wethersfield
CT
Join Planet Fitness with a Classic Membership for No Enrollment Fee and No Commitment
Planet Fitness
London
ON
Join Planet Fitness with a Classic Membership for No Enrollment Fee and No Commitment
Planet Fitness
Falmouth
MA
Join Planet Fitness with a Classic Membership for No Enrollment Fee and No Commitment
Planet Fitness
Watertown
SD
Join Planet Fitness with a Classic Membership for No Enrollment Fee and No Commitment
Planet Fitness
Pharr
TX
Join Planet Fitness with a Classic Membership for No Enrollment Fee and No Commitment
Planet Fitness
Las Cruces
NM
Join Planet Fitness with a Classic Membership for No Enrollment Fee and No Commitment
Planet Fitness
Willimantic
CT
Join Planet Fitness with a Classic Membership for No Enrollment Fee and No Commitment
Planet Fitness
El Paso
TX
Join Planet Fitness with a Classic Membership for No Enrollment Fee and No Commitment
Planet Fitness
Duncan
OK
Join Planet Fitness with a Classic Membership for No Enrollment Fee and No Commitment
Planet Fitness
St. Joseph
MO
Join Planet Fitness with a Classic Membership for No Enrollment Fee and No Commitment
Planet Fitness
St. Albans
VT
Join Planet Fitness with a Classic Membership for No Enrollment Fee and No Commitment
Planet Fitness
Sarnia
ON
Join Planet Fitness with a Classic Membership for No Enrollment Fee and No Commitment
Planet Fitness
Medford
OR
Join Planet Fitness with a Classic Membership for No Enrollment Fee and No Commitment
Planet Fitness
Benton Harbor
MI
Join Planet Fitness with a Classic Membership for No Enrollment Fee and No Commitment
Planet Fitness
Odessa
TX
Join Planet Fitness with a Classic Membership for No Enrollment Fee and No Commitment
Planet Fitness
Terre Haute
IN
Join Planet Fitness with a Classic Membership for No Enrollment Fee and No Commitment
Planet Fitness
Springfield
MA
Join Planet Fitness with a Classic Membership for No Enrollment Fee and No Commitment
Planet Fitness
Enfield
CT
Join Planet Fitness with a Classic Membership for No Enrollment Fee and No Commitment
Planet Fitness
Seekonk
MA
Join Planet Fitness with a Classic Membership for No Enrollment Fee and No Commitment
Planet Fitness
Birmingham
AL
Join Planet Fitness with a Classic Membership for No Enrollment Fee and No Commitment
Planet Fitness
Cheyenne
WY
Join Planet Fitness with a Classic Membership for No Enrollment Fee and No Commitment
Planet Fitness
Columbus
MS
Join Planet Fitness with a Classic Membership for No Enrollment Fee and No Commitment
Planet Fitness
Phenix City
AL
Join Planet Fitness with a Classic Membership for No Enrollment Fee and No Commitment
Planet Fitness
Brainerd
MN
Join Planet Fitness with a Classic Membership for No Enrollment Fee and No Commitment
Planet Fitness
Shreveport
LA
Join Planet Fitness with a Classic Membership for No Enrollment Fee and No Commitment
Planet Fitness
Milford
MA
Join Planet Fitness with a Classic Membership for No Enrollment Fee and No Commitment
Planet Fitness
West Springfield
MA
Join Planet Fitness with a Classic Membership for No Enrollment Fee and No Commitment
Planet Fitness
Thomasville
GA
Join Planet Fitness with a Classic Membership for No Enrollment Fee and No Commitment
Planet Fitness
Gonzales
LA
Join Planet Fitness with a Classic Membership for No Enrollment Fee and No Commitment
Planet Fitness
Hinesville
GA
Join Planet Fitness with a Classic Membership for No Enrollment Fee and No Commitment
Planet Fitness
Conway
AR
Join Planet Fitness with a Classic Membership for No Enrollment Fee and No Commitment
Planet Fitness
Southbury
CT
Join Planet Fitness with a Classic Membership for No Enrollment Fee and No Commitment
Planet Fitness
Charlottesville
VA
Join Planet Fitness with a Classic Membership for No Enrollment Fee and No Commitment
Planet Fitness
El Paso
TX
Join Planet Fitness with a Classic Membership for No Enrollment Fee and No Commitment
Planet Fitness
Sioux Falls
SD
Join Planet Fitness with a Classic Membership for No Enrollment Fee and No Commitment
Planet Fitness
Prattville
AL
Join Planet Fitness with a Classic Membership for No Enrollment Fee and No Commitment
Planet Fitness
Revere
MA
Join Planet Fitness with a Classic Membership for No Enrollment Fee and No Commitment
Planet Fitness
Benton
AR
Join Planet Fitness with a Classic Membership for No Enrollment Fee and No Commitment
Planet Fitness
Dalton
GA
Join Planet Fitness with a Classic Membership for No Enrollment Fee and No Commitment
Planet Fitness
Florence
AL
Join Planet Fitness with a Classic Membership for No Enrollment Fee and No Commitment
Planet Fitness
Jonesboro
AR
Join Planet Fitness with a Classic Membership for No Enrollment Fee and No Commitment
Planet Fitness
Portland
TX
Join Planet Fitness with a Classic Membership for No Enrollment Fee and No Commitment
Planet Fitness
Grants Pass
OR
Join Planet Fitness with a Classic Membership for No Enrollment Fee and No Commitment
Planet Fitness
Asheboro
NC
Join Planet Fitness with a Classic Membership for No Enrollment Fee and No Commitment
Planet Fitness
Danville
KY
Join Planet Fitness with a Classic Membership for No Enrollment Fee and No Commitment
Planet Fitness
Bullhead City
AZ
Join Planet Fitness with a Classic Membership for No Enrollment Fee and No Commitment
Planet Fitness
New Haven
CT
Join Planet Fitness with a Classic Membership for No Enrollment Fee and No Commitment
Planet Fitness
Palm Bay
FL
Join Planet Fitness with a Classic Membership for No Enrollment Fee and No Commitment
Planet Fitness
Brownsville
TX
Join Planet Fitness with a Classic Membership for No Enrollment Fee and No Commitment
Planet Fitness
Peru
IL
Join Planet Fitness with a Classic Membership for No Enrollment Fee and No Commitment
Planet Fitness
Bloomington
IL
Join Planet Fitness with a Classic Membership for No Enrollment Fee and No Commitment
Planet Fitness
Foley
AL
Join Planet Fitness with a Classic Membership for No Enrollment Fee and No Commitment
Planet Fitness
Lexington
KY
Join Planet Fitness with a Classic Membership for No Enrollment Fee and No Commitment
Planet Fitness
Franklin
MA
Join Planet Fitness with a Classic Membership for No Enrollment Fee and No Commitment
Planet Fitness
Iowa City
IA
Join Planet Fitness with a Classic Membership for No Enrollment Fee and No Commitment
Planet Fitness
Brunswick
GA
Join Planet Fitness with a Classic Membership for No Enrollment Fee and No Commitment
Planet Fitness
Bryan
TX
Join Planet Fitness with a Classic Membership for No Enrollment Fee and No Commitment
Planet Fitness
Birmingham
AL
Join Planet Fitness with a Classic Membership for No Enrollment Fee and No Commitment
Planet Fitness
Chambersburg
PA
Join Planet Fitness with a Classic Membership for No Enrollment Fee and No Commitment
Planet Fitness
South Yarmouth
MA
Join Planet Fitness with a Classic Membership for No Enrollment Fee and No Commitment
Planet Fitness
Boston
MA
Join Planet Fitness with a Classic Membership for No Enrollment Fee and No Commitment
Planet Fitness
Roswell
NM
Join Planet Fitness with a Classic Membership for No Enrollment Fee and No Commitment
Planet Fitness
Crossville
TN
Join Planet Fitness with a Classic Membership for No Enrollment Fee and No Commitment
Planet Fitness
Redding
CA
Join Planet Fitness with a Classic Membership for No Enrollment Fee and No Commitment
Planet Fitness
Cullman
AL
Join Planet Fitness with a Classic Membership for No Enrollment Fee and No Commitment
Planet Fitness
Springfield
MO
Join Planet Fitness with a Classic Membership for No Enrollment Fee and No Commitment
Planet Fitness
Norton
MA
Join Planet Fitness with a Classic Membership for No Enrollment Fee and No Commitment
Planet Fitness
EAST BOSTON
MA
Join Planet Fitness with a Classic Membership for No Enrollment Fee and No Commitment
Planet Fitness
Bowling Green
KY
Join Planet Fitness with a Classic Membership for No Enrollment Fee and No Commitment
Planet Fitness
Lake Havasu City
AZ
Join Planet Fitness with a Classic Membership for No Enrollment Fee and No Commitment
Planet Fitness
Springfield
IL
Join Planet Fitness with a Classic Membership for No Enrollment Fee and No Commitment
Planet Fitness
Fayetteville
AR
Join Planet Fitness with a Classic Membership for No Enrollment Fee and No Commitment
Planet Fitness
Fairhope
AL
Join Planet Fitness with a Classic Membership for No Enrollment Fee and No Commitment
Planet Fitness
Milford
CT
Join Planet Fitness with a Classic Membership for No Enrollment Fee and No Commitment
Planet Fitness
Harrisonburg
VA
Join Planet Fitness with a Classic Membership for No Enrollment Fee and No Commitment
Planet Fitness
Townsend
MA
Join Planet Fitness with a Classic Membership for No Enrollment Fee and No Commitment
Planet Fitness
Tuscaloosa
AL
Join Planet Fitness with a Classic Membership for No Enrollment Fee and No Commitment
Planet Fitness
Tupelo
MS
Join Planet Fitness with a Classic Membership for No Enrollment Fee and No Commitment
Planet Fitness
Lafayette
LA
Join Planet Fitness with a Classic Membership for No Enrollment Fee and No Commitment
Planet Fitness
Rockledge
FL
Join Planet Fitness with a Classic Membership for No Enrollment Fee and No Commitment
Planet Fitness
Alamogordo
NM
Join Planet Fitness with a Classic Membership for No Enrollment Fee and No Commitment
Planet Fitness
Urbana
IL
Join Planet Fitness with a Classic Membership for No Enrollment Fee and No Commitment
Planet Fitness
Clinton
IA
Join Planet Fitness with a Classic Membership for No Enrollment Fee and No Commitment
Planet Fitness
Cambridge
MA
Join Planet Fitness with a Classic Membership for No Enrollment Fee and No Commitment
Planet Fitness
Newington
CT
Join Planet Fitness with a Classic Membership for No Enrollment Fee and No Commitment
Planet Fitness
Elizabeth City
NC
Join Planet Fitness with a Classic Membership for No Enrollment Fee and No Commitment
Planet Fitness
Hoover
AL
Join Planet Fitness with a Classic Membership for No Enrollment Fee and No Commitment
Planet Fitness
West Boylston, Ma
MA
Join Planet Fitness with a Classic Membership for No Enrollment Fee and No Commitment
Planet Fitness
Mankato
MN
Join Planet Fitness with a Classic Membership for No Enrollment Fee and No Commitment
Planet Fitness
Fort Oglethorpe
GA
Join Planet Fitness with a Classic Membership for No Enrollment Fee and No Commitment
Planet Fitness
Beckley
WV
Join Planet Fitness with a Classic Membership for No Enrollment Fee and No Commitment
Planet Fitness
Sulphur
LA
Join Planet Fitness with a Classic Membership for No Enrollment Fee and No Commitment
Planet Fitness
Weslaco
TX
Join Planet Fitness with a Classic Membership for No Enrollment Fee and No Commitment
Planet Fitness
Watertown
MA
Join Planet Fitness with a Classic Membership for No Enrollment Fee and No Commitment
Planet Fitness
El Centro
CA
Join Planet Fitness with a Classic Membership for No Enrollment Fee and No Commitment
Planet Fitness
Tifton
GA
Join Planet Fitness with a Classic Membership for No Enrollment Fee and No Commitment
Planet Fitness
Anchorage
AK
Join Planet Fitness with a Classic Membership for No Enrollment Fee and No Commitment
Planet Fitness
Tallahassee
FL
Join Planet Fitness with a Classic Membership for No Enrollment Fee and No Commitment
Planet Fitness
Erie
PA
Join Planet Fitness with a Classic Membership for No Enrollment Fee and No Commitment
Planet Fitness
Okemos
MI
Join Planet Fitness with a Classic Membership for No Enrollment Fee and No Commitment
Planet Fitness
Belleville
ON
Join Planet Fitness with a Classic Membership for No Enrollment Fee and No Commitment
Planet Fitness
Baton Rouge
LA
Join Planet Fitness with a Classic Membership for No Enrollment Fee and No Commitment
Planet Fitness
Danvers
MA
Join Planet Fitness with a Classic Membership for No Enrollment Fee and No Commitment
Planet Fitness
Idaho Falls
ID
Join Planet Fitness with a Classic Membership for No Enrollment Fee and No Commitment
Planet Fitness
Brockton
MA
Join Planet Fitness with a Classic Membership for No Enrollment Fee and No Commitment
Planet Fitness
Champaign
IL
Join Planet Fitness with a Classic Membership for No Enrollment Fee and No Commitment
Planet Fitness
Salina
KS
Join Planet Fitness with a Classic Membership for No Enrollment Fee and No Commitment
Planet Fitness
Meridian
MS
Join Planet Fitness with a Classic Membership for No Enrollment Fee and No Commitment
Planet Fitness
Jackson
MI
Join Planet Fitness with a Classic Membership for No Enrollment Fee and No Commitment
Planet Fitness
El Dorado
AR
Join Planet Fitness with a Classic Membership for No Enrollment Fee and No Commitment
Planet Fitness
Waterloo
IA
Join Planet Fitness with a Classic Membership for No Enrollment Fee and No Commitment
Planet Fitness
Henderson
KY
Join Planet Fitness with a Classic Membership for No Enrollment Fee and No Commitment
Planet Fitness
Callaway
FL
Join Planet Fitness with a Classic Membership for No Enrollment Fee and No Commitment
Planet Fitness
Marlborough
MA
Join Planet Fitness with a Classic Membership for No Enrollment Fee and No Commitment
Planet Fitness
Hamden
CT
Join Planet Fitness with a Classic Membership for No Enrollment Fee and No Commitment
Planet Fitness
Columbia
MO
Join Planet Fitness with a Classic Membership for No Enrollment Fee and No Commitment
Planet Fitness
Hobbs
NM
Join Planet Fitness with a Classic Membership for No Enrollment Fee and No Commitment
Planet Fitness
Hingham
MA
Join Planet Fitness with a Classic Membership for No Enrollment Fee and No Commitment
Planet Fitness
Joplin
MO
Join Planet Fitness with a Classic Membership for No Enrollment Fee and No Commitment
Planet Fitness
Augusta
GA
Join Planet Fitness with a Classic Membership for No Enrollment Fee and No Commitment
Planet Fitness
Lafayette
IN
Join Planet Fitness with a Classic Membership for No Enrollment Fee and No Commitment
Planet Fitness
Cape Girardeau
MO
Join Planet Fitness with a Classic Membership for No Enrollment Fee and No Commitment
Planet Fitness
Siloam Springs
AR
Join Planet Fitness with a Classic Membership for No Enrollment Fee and No Commitment
Planet Fitness
Natick
MA
Join Planet Fitness with a Classic Membership for No Enrollment Fee and No Commitment
Planet Fitness
Mansfield
OH
Join Planet Fitness with a Classic Membership for No Enrollment Fee and No Commitment
Planet Fitness
Rapid City
SD
Join Planet Fitness with a Classic Membership for No Enrollment Fee and No Commitment
Planet Fitness
Ocean Springs
MS
Join Planet Fitness with a Classic Membership for No Enrollment Fee and No Commitment
Planet Fitness
Gainesville
FL
Join Planet Fitness with a Classic Membership for No Enrollment Fee and No Commitment
Planet Fitness
Waycross
GA
Join Planet Fitness with a Classic Membership for No Enrollment Fee and No Commitment
Planet Fitness
Martinez
GA
Join Planet Fitness with a Classic Membership for No Enrollment Fee and No Commitment
Planet Fitness
Greensboro
NC
Join Planet Fitness with a Classic Membership for No Enrollment Fee and No Commitment
Planet Fitness
Bloomsburg
PA
Join Planet Fitness with a Classic Membership for No Enrollment Fee and No Commitment
Planet Fitness
Alexandria
LA
Join Planet Fitness with a Classic Membership for No Enrollment Fee and No Commitment
Planet Fitness
Orange
TX
Join Planet Fitness with a Classic Membership for No Enrollment Fee and No Commitment
Planet Fitness
Panama City
FL
Join Planet Fitness with a Classic Membership for No Enrollment Fee and No Commitment
Planet Fitness
Conway
SC
Join Planet Fitness with a Classic Membership for No Enrollment Fee and No Commitment
Planet Fitness
Bakersfield
CA
Join Planet Fitness with a Classic Membership for No Enrollment Fee and No Commitment
Planet Fitness
Denham Springs
LA
Join Planet Fitness with a Classic Membership for No Enrollment Fee and No Commitment
Planet Fitness
Pensacola North
FL
Join Planet Fitness with a Classic Membership for No Enrollment Fee and No Commitment
Planet Fitness
Dunn
NC
Join Planet Fitness with a Classic Membership for No Enrollment Fee and No Commitment
Planet Fitness
Galesburg
IL
Join Planet Fitness with a Classic Membership for No Enrollment Fee and No Commitment
Planet Fitness
Bowmanville
ON
Join Planet Fitness with a Classic Membership for No Enrollment Fee and No Commitment
Planet Fitness
Holt,
MI
Join Planet Fitness with a Classic Membership for No Enrollment Fee and No Commitment
Planet Fitness
Biloxi
MS
Join Planet Fitness with a Classic Membership for No Enrollment Fee and No Commitment
Planet Fitness
Bridgeport
WV
Join Planet Fitness with a Classic Membership for No Enrollment Fee and No Commitment
Planet Fitness
Brockville
ON
Join Planet Fitness with a Classic Membership for No Enrollment Fee and No Commitment
Planet Fitness
Fairhaven
MA
Join Planet Fitness with a Classic Membership for No Enrollment Fee and No Commitment
Planet Fitness
Grand Junction
CO
Join Planet Fitness with a Classic Membership for No Enrollment Fee and No Commitment
Planet Fitness
Vincennes
IN
Join Planet Fitness with a Classic Membership for No Enrollment Fee and No Commitment
Planet Fitness
Trumbull
CT
Join Planet Fitness with a Classic Membership for No Enrollment Fee and No Commitment
Planet Fitness
Opelika
AL
Join Planet Fitness with a Classic Membership for No Enrollment Fee and No Commitment
Planet Fitness
Del Rio
TX
Join Planet Fitness with a Classic Membership for No Enrollment Fee and No Commitment
Planet Fitness
College Station
TX
Join Planet Fitness with a Classic Membership for No Enrollment Fee and No Commitment
Planet Fitness
Waterville
ME
Join Planet Fitness with a Classic Membership for No Enrollment Fee and No Commitment
Planet Fitness
Aiken
SC
Join Planet Fitness with a Classic Membership for No Enrollment Fee and No Commitment
Planet Fitness
Abilene
TX
Join Planet Fitness with a Classic Membership for No Enrollment Fee and No Commitment
Planet Fitness
Jackson
MS
Join Planet Fitness with a Classic Membership for No Enrollment Fee and No Commitment
Planet Fitness
Morristown
TN
Join Planet Fitness with a Classic Membership for No Enrollment Fee and No Commitment
Planet Fitness
Greenfield
MA
Join Planet Fitness with a Classic Membership for No Enrollment Fee and No Commitment
Planet Fitness
Norwalk
CT
Join Planet Fitness with a Classic Membership for No Enrollment Fee and No Commitment
Planet Fitness
Florence
SC
Join Planet Fitness with a Classic Membership for No Enrollment Fee and No Commitment
Planet Fitness
Sunnyside
WA
Join Planet Fitness with a Classic Membership for No Enrollment Fee and No Commitment
Planet Fitness
Lincoln
NE
Join Planet Fitness with a Classic Membership for No Enrollment Fee and No Commitment
Planet Fitness
Waynesboro
VA
Join Planet Fitness with a Classic Membership for No Enrollment Fee and No Commitment
Planet Fitness
Bluefield
WV
Join Planet Fitness with a Classic Membership for No Enrollment Fee and No Commitment
Planet Fitness
Hopkinsville
KY
Join Planet Fitness with a Classic Membership for No Enrollment Fee and No Commitment
Planet Fitness
Goshen
IN
Join Planet Fitness with a Classic Membership for No Enrollment Fee and No Commitment
Planet Fitness
Ponca City
OK
Join Planet Fitness with a Classic Membership for No Enrollment Fee and No Commitment
Planet Fitness
Springfield
MO
Join Planet Fitness with a Classic Membership for No Enrollment Fee and No Commitment
Planet Fitness
Augusta
ME
Join Planet Fitness with a Classic Membership for No Enrollment Fee and No Commitment
Planet Fitness
Missoula
MT
Join Planet Fitness with a Classic Membership for No Enrollment Fee and No Commitment
Planet Fitness
Cleveland
TN
Join Planet Fitness with a Classic Membership for No Enrollment Fee and No Commitment
Planet Fitness
Hartford
CT
Join Planet Fitness with a Classic Membership for No Enrollment Fee and No Commitment
Planet Fitness
New Bern
NC
Join Planet Fitness with a Classic Membership for No Enrollment Fee and No Commitment
Planet Fitness
Winston
NC
Join Planet Fitness with a Classic Membership for No Enrollment Fee and No Commitment
Planet Fitness
Revere
MA
Join Planet Fitness with a Classic Membership for No Enrollment Fee and No Commitment
Planet Fitness
Bismarck
ND
Join Planet Fitness with a Classic Membership for No Enrollment Fee and No Commitment
Planet Fitness
Bloomfield
CT
Join Planet Fitness with a Classic Membership for No Enrollment Fee and No Commitment
Planet Fitness
Martinsville
VA
Join Planet Fitness with a Classic Membership for No Enrollment Fee and No Commitment
Planet Fitness
Danville
IL
Join Planet Fitness with a Classic Membership for No Enrollment Fee and No Commitment
Planet Fitness
Shreveport
LA
Join Planet Fitness with a Classic Membership for No Enrollment Fee and No Commitment
Planet Fitness
Tyler
TX
Join Planet Fitness with a Classic Membership for No Enrollment Fee and No Commitment
Planet Fitness
Reading
MA
Join Planet Fitness with a Classic Membership for No Enrollment Fee and No Commitment
Planet Fitness
Lumberton
NC
Join Planet Fitness with a Classic Membership for No Enrollment Fee and No Commitment
Planet Fitness
Van Buren
AR
Join Planet Fitness with a Classic Membership for No Enrollment Fee and No Commitment
Planet Fitness
Marinette
WI
Join Planet Fitness with a Classic Membership for No Enrollment Fee and No Commitment
Planet Fitness
Marianna
FL
Join Planet Fitness with a Classic Membership for No Enrollment Fee and No Commitment
Planet Fitness
Berlin
VT
Join Planet Fitness with a Classic Membership for No Enrollment Fee and No Commitment
Planet Fitness
Winston-Salem
NC
Join Planet Fitness with a Classic Membership for No Enrollment Fee and No Commitment
Planet Fitness
Somerset
KY
Join Planet Fitness with a Classic Membership for No Enrollment Fee and No Commitment
Planet Fitness
High Point
NC
Join Planet Fitness with a Classic Membership for No Enrollment Fee and No Commitment
Planet Fitness
Springfield
MO
Join Planet Fitness with a Classic Membership for No Enrollment Fee and No Commitment
Planet Fitness
Salem
MA
Join Planet Fitness with a Classic Membership for No Enrollment Fee and No Commitment
Planet Fitness
Sterling
IL
Join Planet Fitness with a Classic Membership for No Enrollment Fee and No Commitment
Planet Fitness
State College
PA
Join Planet Fitness with a Classic Membership for No Enrollment Fee and No Commitment
Planet Fitness
Mcallen
TX
Join Planet Fitness with a Classic Membership for No Enrollment Fee and No Commitment
Planet Fitness
Pine Bluff
AR
Join Planet Fitness with a Classic Membership for No Enrollment Fee and No Commitment
Planet Fitness
Battle Creek
MI
Join Planet Fitness with a Classic Membership for No Enrollment Fee and No Commitment
Planet Fitness
Daphne
AL
Join Planet Fitness with a Classic Membership for No Enrollment Fee and No Commitment
Planet Fitness
Wareham
MA
Join Planet Fitness with a Classic Membership for No Enrollment Fee and No Commitment
Planet Fitness
Shamokin Dam
PA
Join Planet Fitness with a Classic Membership for No Enrollment Fee and No Commitment
Planet Fitness
South Burlington
VT
Join Planet Fitness with a Classic Membership for No Enrollment Fee and No Commitment
Planet Fitness
Mary Esther
FL
Join Planet Fitness with a Classic Membership for No Enrollment Fee and No Commitment
Planet Fitness
Waco
TX
Join Planet Fitness with a Classic Membership for No Enrollment Fee and No Commitment
Planet Fitness
El Paso
TX
Join Planet Fitness with a Classic Membership for No Enrollment Fee and No Commitment
Planet Fitness
Mattoon
IL
Join Planet Fitness with a Classic Membership for No Enrollment Fee and No Commitment
Planet Fitness
Eau Claire
WI
Join Planet Fitness with a Classic Membership for No Enrollment Fee and No Commitment
Planet Fitness
Lincoln
NE
Join Planet Fitness with a Classic Membership for No Enrollment Fee and No Commitment
Planet Fitness
Pearl
MS
Join Planet Fitness with a Classic Membership for No Enrollment Fee and No Commitment
Planet Fitness
Helena
MT
Join Planet Fitness with a Classic Membership for No Enrollment Fee and No Commitment
Planet Fitness
Mobile
AL
Join Planet Fitness with a Classic Membership for No Enrollment Fee and No Commitment
Planet Fitness
Mobile
AL
Join Planet Fitness with a Classic Membership for No Enrollment Fee and No Commitment
Planet Fitness
Anchorage
AK
Join Planet Fitness with a Classic Membership for No Enrollment Fee and No Commitment
Planet Fitness
Temple
TX
Join Planet Fitness with a Classic Membership for No Enrollment Fee and No Commitment
Planet Fitness
Traverse City
MI
Join Planet Fitness with a Classic Membership for No Enrollment Fee and No Commitment
Planet Fitness
Dothan
AL
Join Planet Fitness with a Classic Membership for No Enrollment Fee and No Commitment
Planet Fitness
Decatur
IL
Join Planet Fitness with a Classic Membership for No Enrollment Fee and No Commitment
Planet Fitness
Barrie
ON
Join Planet Fitness with a Classic Membership for No Enrollment Fee and No Commitment
Planet Fitness
Valdosta
GA
Join Planet Fitness with a Classic Membership for No Enrollment Fee and No Commitment
Planet Fitness
Plainview
TX
Join Planet Fitness with a Classic Membership for No Enrollment Fee and No Commitment
Planet Fitness
Jefferson City
MO
Join Planet Fitness with a Classic Membership for No Enrollment Fee and No Commitment
Planet Fitness
Altoona
PA
Join Planet Fitness with a Classic Membership for No Enrollment Fee and No Commitment
Planet Fitness
Pekin
IL
Join Planet Fitness with a Classic Membership for No Enrollment Fee and No Commitment
Planet Fitness
Lubbock
TX
Join Planet Fitness with a Classic Membership for No Enrollment Fee and No Commitment
Planet Fitness
Pascagoula
MS
Join Planet Fitness with a Classic Membership for No Enrollment Fee and No Commitment
Planet Fitness
Elkhart
IN
Join Planet Fitness with a Classic Membership for No Enrollment Fee and No Commitment
Planet Fitness
Eureka
CA
Join Planet Fitness with a Classic Membership for No Enrollment Fee and No Commitment
Planet Fitness
Fayetteville
AR
Join Planet Fitness with a Classic Membership for No Enrollment Fee and No Commitment
Planet Fitness
Hot Springs
AR
Join Planet Fitness with a Classic Membership for No Enrollment Fee and No Commitment
Planet Fitness
Greensboro
NC
Join Planet Fitness with a Classic Membership for No Enrollment Fee and No Commitment
Planet Fitness
Beaufort
SC
Join Planet Fitness with a Classic Membership for No Enrollment Fee and No Commitment
Planet Fitness
Horseheads
NY
Join Planet Fitness with a Classic Membership for No Enrollment Fee and No Commitment
Planet Fitness
Danville
VA
Join Planet Fitness with a Classic Membership for No Enrollment Fee and No Commitment
Planet Fitness
Lynchburg
VA
Join Planet Fitness with a Classic Membership for No Enrollment Fee and No Commitment
Planet Fitness
Southington
CT
Join Planet Fitness with a Classic Membership for No Enrollment Fee and No Commitment
Planet Fitness
Paducah
KY
Join Planet Fitness with a Classic Membership for No Enrollment Fee and No Commitment
Planet Fitness
Roanoke
VA
Join Planet Fitness with a Classic Membership for No Enrollment Fee and No Commitment
Planet Fitness
Manchester
CT
Join Planet Fitness with a Classic Membership for No Enrollment Fee and No Commitment
Planet Fitness
Searcy
AR
Join Planet Fitness with a Classic Membership for No Enrollment Fee and No Commitment
Planet Fitness
Corsicana
TX
Join Planet Fitness with a Classic Membership for No Enrollment Fee and No Commitment
Planet Fitness
Montgomery
AL
Join Planet Fitness with a Classic Membership for No Enrollment Fee and No Commitment
Planet Fitness
Grand Island
NE
Join Planet Fitness with a Classic Membership for No Enrollment Fee and No Commitment
Planet Fitness
Casper
WY
Join Planet Fitness with a Classic Membership for No Enrollment Fee and No Commitment
Planet Fitness
Wilmington
MA
Join Planet Fitness with a Classic Membership for No Enrollment Fee and No Commitment
Planet Fitness
San Angelo
TX
Join Planet Fitness with a Classic Membership for No Enrollment Fee and No Commitment
Planet Fitness
Lafayette
LA
Join Planet Fitness with a Classic Membership for No Enrollment Fee and No Commitment
Planet Fitness
Hanover
MA
Join Planet Fitness with a Classic Membership for No Enrollment Fee and No Commitment
Planet Fitness
Zanesville
OH
Join Planet Fitness with a Classic Membership for No Enrollment Fee and No Commitment
Planet Fitness
Fall River
MA
Join Planet Fitness with a Classic Membership for No Enrollment Fee and No Commitment
Planet Fitness
Oak Ridge
TN
Join Planet Fitness with a Classic Membership for No Enrollment Fee and No Commitment
Planet Fitness
Savannah
GA
Join Planet Fitness with a Classic Membership for No Enrollment Fee and No Commitment
Planet Fitness
Owensboro
KY
Join Planet Fitness with a Classic Membership for No Enrollment Fee and No Commitment
Planet Fitness
Moline
IL
Join Planet Fitness with a Classic Membership for No Enrollment Fee and No Commitment
Planet Fitness
Hadley
MA
Join Planet Fitness with a Classic Membership for No Enrollment Fee and No Commitment
Planet Fitness
Lawton
OK
Join Planet Fitness with a Classic Membership for No Enrollment Fee and No Commitment
Planet Fitness
Amarillo
TX
Join Planet Fitness with a Classic Membership for No Enrollment Fee and No Commitment
Planet Fitness
Cedar Rapids
IA
Join Planet Fitness with a Classic Membership for No Enrollment Fee and No Commitment
Planet Fitness
Lexington
NC
Join Planet Fitness with a Classic Membership for No Enrollment Fee and No Commitment
Planet Fitness
Wichita Falls
TX
Join Planet Fitness with a Classic Membership for No Enrollment Fee and No Commitment
Planet Fitness
Kingman
AZ
Join Planet Fitness with a Classic Membership for No Enrollment Fee and No Commitment
Planet Fitness
Waterford
CT
Join Planet Fitness with a Classic Membership for No Enrollment Fee and No Commitment
Planet Fitness
Ithaca
NY
Join Planet Fitness with a Classic Membership for No Enrollment Fee and No Commitment
Planet Fitness
North Attleboro
MA
Join Planet Fitness with a Classic Membership for No Enrollment Fee and No Commitment
Planet Fitness
Methuen
MA
Join Planet Fitness with a Classic Membership for No Enrollment Fee and No Commitment
Planet Fitness
Burlington
MA
Join Planet Fitness with a Classic Membership for No Enrollment Fee and No Commitment
Planet Fitness
Belchertown
MA
Join Planet Fitness with a Classic Membership for No Enrollment Fee and No Commitment
Planet Fitness
Cookeville
TN
Join Planet Fitness with a Classic Membership for No Enrollment Fee and No Commitment
Planet Fitness
Lufkin
TX
Join Planet Fitness with a Classic Membership for No Enrollment Fee and No Commitment
Planet Fitness
Laredo
TX
Join Planet Fitness with a Classic Membership for No Enrollment Fee and No Commitment
Planet Fitness
Bakersfield
CA
Join Planet Fitness with a Classic Membership for No Enrollment Fee and No Commitment
Planet Fitness
Lindsay
ON
Join Planet Fitness with a Classic Membership for No Enrollment Fee and No Commitment
Planet Fitness
Russellville
AR
Join Planet Fitness with a Classic Membership for No Enrollment Fee and No Commitment
Planet Fitness
Clinton
MS
Join Planet Fitness with a Classic Membership for No Enrollment Fee and No Commitment
Planet Fitness
Lake Charles
LA
Join Planet Fitness with a Classic Membership for No Enrollment Fee and No Commitment
Planet Fitness
Springdale
AR
Join Planet Fitness with a Classic Membership for No Enrollment Fee and No Commitment
Planet Fitness
Graham
NC
Join Planet Fitness with a Classic Membership for No Enrollment Fee and No Commitment
Planet Fitness
Peoria
IL
Join Planet Fitness with a Classic Membership for No Enrollment Fee and No Commitment
Planet Fitness
Norwood
MA
Join Planet Fitness with a Classic Membership for No Enrollment Fee and No Commitment
Planet Fitness
St. George
UT
Join Planet Fitness with a Classic Membership for No Enrollment Fee and No Commitment
Planet Fitness
Norwich
CT
Join Planet Fitness with a Classic Membership for No Enrollment Fee and No Commitment
Planet Fitness
Steubenville, Oh
OH
Join Planet Fitness with a Classic Membership for No Enrollment Fee and No Commitment
Planet Fitness
Chubbuck
ID
Join Planet Fitness with a Classic Membership for No Enrollment Fee and No Commitment
Planet Fitness
Mishawaka
IN
Join Planet Fitness with a Classic Membership for No Enrollment Fee and No Commitment
Planet Fitness
Vernon
CT
Join Planet Fitness with a Classic Membership for No Enrollment Fee and No Commitment
Planet Fitness
Fargo
ND
Join Planet Fitness with a Classic Membership for No Enrollment Fee and No Commitment
Planet Fitness
Windsor
ON
Join Planet Fitness with a Classic Membership for No Enrollment Fee and No Commitment
Planet Fitness
Junction City
KS
Join Planet Fitness with a Classic Membership for No Enrollment Fee and No Commitment
Planet Fitness
Orange
CT
Join Planet Fitness with a Classic Membership for No Enrollment Fee and No Commitment
Planet Fitness
Newburyport
MA
Join Planet Fitness with a Classic Membership for No Enrollment Fee and No Commitment
Planet Fitness
Napanee
ON
Join Planet Fitness with a Classic Membership for No Enrollment Fee and No Commitment
Planet Fitness
Marietta
OH
Join Planet Fitness with a Classic Membership for No Enrollment Fee and No Commitment
Planet Fitness
Birmingham
AL
Join Planet Fitness with a Classic Membership for No Enrollment Fee and No Commitment
Planet Fitness
New Hartford
NY
Join Planet Fitness with a Classic Membership for No Enrollment Fee and No Commitment
Planet Fitness
Erie
PA
Join Planet Fitness with a Classic Membership for No Enrollment Fee and No Commitment
Planet Fitness
Chilliwack
BC
Join Planet Fitness with a Classic Membership for No Enrollment Fee and No Commitment
Planet Fitness
Columbus
GA
Join Planet Fitness with a Classic Membership for No Enrollment Fee and No Commitment
Planet Fitness
Evansville
IN
Join Planet Fitness with a Classic Membership for No Enrollment Fee and No Commitment
Planet Fitness
Meriden
CT
Join Planet Fitness with a Classic Membership for No Enrollment Fee and No Commitment
Planet Fitness
Knoxville
TN
Join Planet Fitness with a Classic Membership for No Enrollment Fee and No Commitment
Planet Fitness
Little Rock
AR
Join Planet Fitness with a Classic Membership for No Enrollment Fee and No Commitment
Planet Fitness
Greensboro
NC
Join Planet Fitness with a Classic Membership for No Enrollment Fee and No Commitment
Planet Fitness
Branford
CT
Join Planet Fitness with a Classic Membership for No Enrollment Fee and No Commitment
Planet Fitness
Vestal
NY
Join Planet Fitness with a Classic Membership for No Enrollment Fee and No Commitment
Planet Fitness
Billerica, Ma
MA
Join Planet Fitness with a Classic Membership for No Enrollment Fee and No Commitment
Planet Fitness
Fayetteville
NC
Join Planet Fitness with a Classic Membership for No Enrollment Fee and No Commitment
Planet Fitness
Knoxville
TN
Join Planet Fitness with a Classic Membership for No Enrollment Fee and No Commitment
Planet Fitness
South Bend
IN
Join Planet Fitness with a Classic Membership for No Enrollment Fee and No Commitment
Planet Fitness
Groves
TX
Join Planet Fitness with a Classic Membership for No Enrollment Fee and No Commitment
Planet Fitness
Crestwood
IL
Join Planet Fitness with a Classic Membership for No Enrollment Fee and No Commitment
Planet Fitness
Quincy
MA
Join Planet Fitness with a Classic Membership for No Enrollment Fee and No Commitment
Planet Fitness
Lynn, Ma
MA
Join Planet Fitness with a Classic Membership for No Enrollment Fee and No Commitment
Planet Fitness
Bluffton
SC
Join Planet Fitness with a Classic Membership for No Enrollment Fee and No Commitment
Planet Fitness
Dracut
MA
Join Planet Fitness with a Classic Membership for No Enrollment Fee and No Commitment
Planet Fitness
Dorchester
MA
Join Planet Fitness with a Classic Membership for No Enrollment Fee and No Commitment
Planet Fitness
El Paso
TX
Join Planet Fitness with a Classic Membership for No Enrollment Fee and No Commitment
Planet Fitness
Springfield
MA
Join Planet Fitness with a Classic Membership for No Enrollment Fee and No Commitment
Planet Fitness
Havelock
NC
Join Planet Fitness with a Classic Membership for No Enrollment Fee and No Commitment
Planet Fitness
Baton Rouge
LA
Join Planet Fitness with a Classic Membership for No Enrollment Fee and No Commitment
Planet Fitness
Victoria
TX
Join Planet Fitness with a Classic Membership for No Enrollment Fee and No Commitment
Planet Fitness
Belton
TX
Join Planet Fitness with a Classic Membership for No Enrollment Fee and No Commitment
Planet Fitness
Jackson
MS
Join Planet Fitness with a Classic Membership for No Enrollment Fee and No Commitment
Planet Fitness
Bessemer
AL
Join Planet Fitness with a Classic Membership for No Enrollment Fee and No Commitment
Planet Fitness
Mobile
AL
Join Planet Fitness with a Classic Membership for No Enrollment Fee and No Commitment
Planet Fitness
Maryville
TN
Join Planet Fitness with a Classic Membership for No Enrollment Fee and No Commitment
Planet Fitness
Hixson
TN
Join Planet Fitness with a Classic Membership for No Enrollment Fee and No Commitment
Planet Fitness
Dubuque
IA
Join Planet Fitness with a Classic Membership for No Enrollment Fee and No Commitment
Planet Fitness
Columbus
GA
Join Planet Fitness with a Classic Membership for No Enrollment Fee and No Commitment
Planet Fitness
Derby
CT
Join Planet Fitness with a Classic Membership for No Enrollment Fee and No Commitment
Planet Fitness
Rincon
GA
Join Planet Fitness with a Classic Membership for No Enrollment Fee and No Commitment
Planet Fitness
Jackson
TN
Join Planet Fitness with a Classic Membership for No Enrollment Fee and No Commitment
Planet Fitness
Essex Junction
VT
Join Planet Fitness with a Classic Membership for No Enrollment Fee and No Commitment
Planet Fitness
El Paso
TX
Join Planet Fitness with a Classic Membership for No Enrollment Fee and No Commitment
Planet Fitness
Pasco
WA
Join Planet Fitness with a Classic Membership for No Enrollment Fee and No Commitment
Planet Fitness
Shreveport
LA
Join Planet Fitness with a Classic Membership for No Enrollment Fee and No Commitment
Planet Fitness
Knoxville
TN
Join Planet Fitness with a Classic Membership for No Enrollment Fee and No Commitment
Planet Fitness
Fort Smith
AR
Join Planet Fitness with a Classic Membership for No Enrollment Fee and No Commitment
Planet Fitness
Lansing
MI
Join Planet Fitness with a Classic Membership for No Enrollment Fee and No Commitment
Planet Fitness
Corpus Christi
TX
Join Planet Fitness with a Classic Membership for No Enrollment Fee and No Commitment
Planet Fitness
Pensacola
FL
Join Planet Fitness with a Classic Membership for No Enrollment Fee and No Commitment
Planet Fitness
Johnstown
PA
Join Planet Fitness with a Classic Membership for No Enrollment Fee and No Commitment
Planet Fitness
Sioux City
IA
Join Planet Fitness with a Classic Membership for No Enrollment Fee and No Commitment
Planet Fitness
Clovis
NM
Join Planet Fitness with a Classic Membership for No Enrollment Fee and No Commitment
Planet Fitness
Hattiesburg
MS
Join Planet Fitness with a Classic Membership for No Enrollment Fee and No Commitment
Planet Fitness
Bakersfield
CA
Join Planet Fitness with a Classic Membership for No Enrollment Fee and No Commitment
Planet Fitness
Marshall
TX
Join Planet Fitness with a Classic Membership for No Enrollment Fee and No Commitment
Planet Fitness
Cocoa
FL
Join Planet Fitness with a Classic Membership for No Enrollment Fee and No Commitment
Planet Fitness
Chattanooga
TN
Join Planet Fitness with a Classic Membership for No Enrollment Fee and No Commitment
Planet Fitness
Pensacola
FL
Join Planet Fitness with a Classic Membership for No Enrollment Fee and No Commitment
Planet Fitness
Delano
CA
Join Planet Fitness with a Classic Membership for No Enrollment Fee and No Commitment
Planet Fitness
Cedar Falls
IA
Join Planet Fitness with a Classic Membership for No Enrollment Fee and No Commitment
Planet Fitness
Bangor
ME
Join Planet Fitness with a Classic Membership for No Enrollment Fee and No Commitment
Planet Fitness
Tuscaloosa
AL
Join Planet Fitness with a Classic Membership for No Enrollment Fee and No Commitment
Planet Fitness
Clemmons
NC
Join Planet Fitness with a Classic Membership for No Enrollment Fee and No Commitment
Planet Fitness
Hendersonville
NC
Join Planet Fitness with a Classic Membership for No Enrollment Fee and No Commitment
Planet Fitness
Wilmington
NC
Join Planet Fitness with a Classic Membership for No Enrollment Fee and No Commitment
Planet Fitness
Beaumont
TX
Join Planet Fitness with a Classic Membership for No Enrollment Fee and No Commitment
Planet Fitness
Laramie
WY
Join Planet Fitness with a Classic Membership for No Enrollment Fee and No Commitment
Planet Fitness
Groton
CT
Join Planet Fitness with a Classic Membership for No Enrollment Fee and No Commitment
Planet Fitness
Fall Rive
MA
Join Planet Fitness with a Classic Membership for No Enrollment Fee and No Commitment
Planet Fitness
Anchorage
AK
Join Planet Fitness with a Classic Membership for No Enrollment Fee and No Commitment
Planet Fitness
Roanoke
VA
Join Planet Fitness with a Classic Membership for No Enrollment Fee and No Commitment
Planet Fitness
Torrington
CT
Join Planet Fitness with a Classic Membership for No Enrollment Fee and No Commitment
Planet Fitness
St. Clairsville
OH
Join Planet Fitness with a Classic Membership for No Enrollment Fee and No Commitment
Planet Fitness
Westfield
MA
Join Planet Fitness with a Classic Membership for No Enrollment Fee and No Commitment
Planet Fitness
Worcester
MA
Join Planet Fitness with a Classic Membership for No Enrollment Fee and No Commitment
Planet Fitness
Wilmington
NC
Join Planet Fitness with a Classic Membership for No Enrollment Fee and No Commitment
Planet Fitness
Amesbury
MA
Join Planet Fitness with a Classic Membership for No Enrollment Fee and No Commitment
Planet Fitness
Taunton
MA
Join Planet Fitness with a Classic Membership for No Enrollment Fee and No Commitment
Planet Fitness
Pittsfield
MA
Join Planet Fitness with a Classic Membership for No Enrollment Fee and No Commitment
Planet Fitness
Baton Rouge
LA
Join Planet Fitness with a Classic Membership for No Enrollment Fee and No Commitment
Planet Fitness
Dedham
MA
Join Planet Fitness with a Classic Membership for No Enrollment Fee and No Commitment
Planet Fitness
Medford
MA
Join Planet Fitness with a Classic Membership for No Enrollment Fee and No Commitment
Planet Fitness
Vestavia Hills
AL
Join Planet Fitness with a Classic Membership for No Enrollment Fee and No Commitment
Planet Fitness
Utica
NY
Join Planet Fitness with a Classic Membership for No Enrollment Fee and No Commitment
Planet Fitness
Guilford
CT
Join Planet Fitness with a Classic Membership for No Enrollment Fee and No Commitment
Planet Fitness
Dartmouth
MA
Join Planet Fitness with a Classic Membership for No Enrollment Fee and No Commitment
Planet Fitness
Dayville
CT
Join Planet Fitness with a Classic Membership for No Enrollment Fee and No Commitment
Planet Fitness
Jasper
AL
Join Planet Fitness with a Classic Membership for No Enrollment Fee and No Commitment
Planet Fitness
Brockton
MA
Join Planet Fitness with a Classic Membership for No Enrollment Fee and No Commitment
Planet Fitness
Grand Forks
ND
Join Planet Fitness with a Classic Membership for No Enrollment Fee and No Commitment
Planet Fitness
Sherman
TX
Join Planet Fitness with a Classic Membership for No Enrollment Fee and No Commitment
Planet Fitness
El Paso
TX
Join Planet Fitness with a Classic Membership for No Enrollment Fee and No Commitment
Planet Fitness
Great Falls
MT
Join Planet Fitness with a Classic Membership for No Enrollment Fee and No Commitment
Planet Fitness
Plattsburgh
NY
Join Planet Fitness with a Classic Membership for No Enrollment Fee and No Commitment
Planet Fitness
Kennewick
WA
Join Planet Fitness with a Classic Membership for No Enrollment Fee and No Commitment
Planet Fitness
Gardner
MA
Join Planet Fitness with a Classic Membership for No Enrollment Fee and No Commitment
Planet Fitness
Braintree
MA
Join Planet Fitness with a Classic Membership for No Enrollment Fee and No Commitment
Planet Fitness
Ridgeland
MS
Join Planet Fitness with a Classic Membership for No Enrollment Fee and No Commitment
Planet Fitness
Christiansburg
VA
Join Planet Fitness with a Classic Membership for No Enrollment Fee and No Commitment
Planet Fitness
Malden
MA
Join Planet Fitness with a Classic Membership for No Enrollment Fee and No Commitment
Planet Fitness
Moorhead
MN
Join Planet Fitness with a Classic Membership for No Enrollment Fee and No Commitment
Planet Fitness
Bossier City
LA
Join Planet Fitness with a Classic Membership for No Enrollment Fee and No Commitment
Planet Fitness
Greenville
NC
Join Planet Fitness with a Classic Membership for No Enrollment Fee and No Commitment
Planet Fitness
Madison
AL
Join Planet Fitness with a Classic Membership for No Enrollment Fee and No Commitment
Planet Fitness
Decatur
AL
Join Planet Fitness with a Classic Membership for No Enrollment Fee and No Commitment
Planet Fitness
Warner Robins
GA
Join Planet Fitness with a Classic Membership for No Enrollment Fee and No Commitment
Planet Fitness
North Adams
MA
Join Planet Fitness with a Classic Membership for No Enrollment Fee and No Commitment
Planet Fitness
New Iberia
LA
Join Planet Fitness with a Classic Membership for No Enrollment Fee and No Commitment
Planet Fitness
Thomasville
NC
Join Planet Fitness with a Classic Membership for No Enrollment Fee and No Commitment
Planet Fitness
East Haven
CT
Join Planet Fitness with a Classic Membership for No Enrollment Fee and No Commitment
Planet Fitness
Kernersville
NC
Join Planet Fitness with a Classic Membership for No Enrollment Fee and No Commitment
Planet Fitness
Plymouth
MA
Join Planet Fitness with a Classic Membership for No Enrollment Fee and No Commitment
Planet Fitness
Melbourne
FL
Join Planet Fitness with a Classic Membership for No Enrollment Fee and No Commitment
Planet Fitness
Stamford
CT
Join Planet Fitness with a Classic Membership for No Enrollment Fee and No Commitment
Planet Fitness
Waterbury
CT
Join Planet Fitness with a Classic Membership for No Enrollment Fee and No Commitment
Planet Fitness
Evansville
IN
Join Planet Fitness with a Classic Membership for No Enrollment Fee and No Commitment
Planet Fitness
Little Rock
AR
Join Planet Fitness with a Classic Membership for No Enrollment Fee and No Commitment
Planet Fitness
Somerset
MA
Join Planet Fitness with a Classic Membership for No Enrollment Fee and No Commitment
Planet Fitness
Lower Mills
MA
Join Planet Fitness with a Classic Membership for No Enrollment Fee and No Commitment
Planet Fitness
Morgantown
WV
Join Planet Fitness with a Classic Membership for No Enrollment Fee and No Commitment
Planet Fitness
Mobile West
AL
Join Planet Fitness with a Classic Membership for No Enrollment Fee and No Commitment
Planet Fitness
Davenport
IA
Join Planet Fitness with a Classic Membership for No Enrollment Fee and No Commitment
Planet Fitness
Birmingham
AL
Join Planet Fitness with a Classic Membership for No Enrollment Fee and No Commitment
Planet Fitness
Harlingen
TX
Join Planet Fitness with a Classic Membership for No Enrollment Fee and No Commitment
Planet Fitness
Enterprise
AL
Join Planet Fitness with a Classic Membership for No Enrollment Fee and No Commitment
Planet Fitness
Lima
OH
Join Planet Fitness with a Classic Membership for No Enrollment Fee and No Commitment
Planet Fitness
Knoxville
TN
Join Planet Fitness with a Classic Membership for No Enrollment Fee and No Commitment
Planet Fitness
Winchester
KY
Join Planet Fitness with a Classic Membership for No Enrollment Fee and No Commitment
Planet Fitness
Weymouth
MA
Join Planet Fitness with a Classic Membership for No Enrollment Fee and No Commitment
Planet Fitness
Johnson City
TN
Join Planet Fitness with a Classic Membership for No Enrollment Fee and No Commitment
Planet Fitness
Poplar Bluff
MO
Join Planet Fitness with a Classic Membership for No Enrollment Fee and No Commitment
Planet Fitness
Kingston
ON
Join Planet Fitness with a Classic Membership for No Enrollment Fee and No Commitment
Planet Fitness
Cornwall
ON
Join Planet Fitness with a Classic Membership for No Enrollment Fee and No Commitment
Planet Fitness
Baton Rouge
LA
Join Planet Fitness with a Classic Membership for No Enrollment Fee and No Commitment
Planet Fitness
Henderson
NC
Join Planet Fitness with a Classic Membership for No Enrollment Fee and No Commitment
Planet Fitness
Erie
PA
Join Planet Fitness with a Classic Membership for No Enrollment Fee and No Commitment
Planet Fitness
Leominster
MA
Join Planet Fitness with a Classic Membership for No Enrollment Fee and No Commitment
Planet Fitness
Bristol
CT
Join Planet Fitness with a Classic Membership for No Enrollment Fee and No Commitment
Planet Fitness
Fayetteville
NC
Join Planet Fitness with a Classic Membership for No Enrollment Fee and No Commitment
Planet Fitness
Macon
GA
Join Planet Fitness with a Classic Membership for No Enrollment Fee and No Commitment
Planet Fitness
Rock Springs
WY
Join Planet Fitness with a Classic Membership for No Enrollment Fee and No Commitment
Planet Fitness
Andover
MA
Join Planet Fitness with a Classic Membership for No Enrollment Fee and No Commitment
Planet Fitness
East Granby
CT
Join Planet Fitness with a PF BLACK CARD® MEMBERSHIP for No Enrollment Fee, No Commitment, and No Annual Fee
Planet Fitness
Middleborough
MA
Join Planet Fitness with a PF BLACK CARD® MEMBERSHIP for No Enrollment Fee, No Commitment, and No Annual Fee
Planet Fitness
Woburn
MA
Join Planet Fitness with a PF BLACK CARD® MEMBERSHIP for No Enrollment Fee, No Commitment, and No Annual Fee
Planet Fitness
Shrewsbury
MA
Join Planet Fitness with a PF BLACK CARD® MEMBERSHIP for No Enrollment Fee, No Commitment, and No Annual Fee
Planet Fitness
Rogers
AR
Join Planet Fitness with a PF BLACK CARD® MEMBERSHIP for No Enrollment Fee, No Commitment, and No Annual Fee
Planet Fitness
Midland
TX
Join Planet Fitness with a PF BLACK CARD® MEMBERSHIP for No Enrollment Fee, No Commitment, and No Annual Fee
Planet Fitness
Killeen
TX
Join Planet Fitness with a PF BLACK CARD® MEMBERSHIP for No Enrollment Fee, No Commitment, and No Annual Fee
Planet Fitness
Huntsville
AL
Join Planet Fitness with a PF BLACK CARD® MEMBERSHIP for No Enrollment Fee, No Commitment, and No Annual Fee
Planet Fitness
Gadsden
AL
Join Planet Fitness with a PF BLACK CARD® MEMBERSHIP for No Enrollment Fee, No Commitment, and No Annual Fee
Planet Fitness
Bentonville
AR
Join Planet Fitness with a PF BLACK CARD® MEMBERSHIP for No Enrollment Fee, No Commitment, and No Annual Fee
Planet Fitness
Effingham
IL
Join Planet Fitness with a PF BLACK CARD® MEMBERSHIP for No Enrollment Fee, No Commitment, and No Annual Fee
Planet Fitness
Frankfort
KY
Join Planet Fitness with a PF BLACK CARD® MEMBERSHIP for No Enrollment Fee, No Commitment, and No Annual Fee
Planet Fitness
Rothschild
WI
Join Planet Fitness with a PF BLACK CARD® MEMBERSHIP for No Enrollment Fee, No Commitment, and No Annual Fee
Planet Fitness
Albany
GA
Join Planet Fitness with a PF BLACK CARD® MEMBERSHIP for No Enrollment Fee, No Commitment, and No Annual Fee
Planet Fitness
Williamsport
PA
Join Planet Fitness with a PF BLACK CARD® MEMBERSHIP for No Enrollment Fee, No Commitment, and No Annual Fee
Planet Fitness
Chelsea
MA
Join Planet Fitness with a PF BLACK CARD® MEMBERSHIP for No Enrollment Fee, No Commitment, and No Annual Fee
Planet Fitness
Rochester
MN
Join Planet Fitness with a PF BLACK CARD® MEMBERSHIP for No Enrollment Fee, No Commitment, and No Annual Fee
Planet Fitness
Satellite Beach
FL
Join Planet Fitness with a PF BLACK CARD® MEMBERSHIP for No Enrollment Fee, No Commitment, and No Annual Fee
Planet Fitness
Ruston
LA
Join Planet Fitness with a PF BLACK CARD® MEMBERSHIP for No Enrollment Fee, No Commitment, and No Annual Fee
Planet Fitness
Parkersburg
WV
Join Planet Fitness with a PF BLACK CARD® MEMBERSHIP for No Enrollment Fee, No Commitment, and No Annual Fee
Planet Fitness
East Peoria
IL
Join Planet Fitness with a PF BLACK CARD® MEMBERSHIP for No Enrollment Fee, No Commitment, and No Annual Fee
Planet Fitness
Cumberland
MD
Join Planet Fitness with a PF BLACK CARD® MEMBERSHIP for No Enrollment Fee, No Commitment, and No Annual Fee
Planet Fitness
Rolla
MO
Join Planet Fitness with a PF BLACK CARD® MEMBERSHIP for No Enrollment Fee, No Commitment, and No Annual Fee
Planet Fitness
Mashpee
MA
Join Planet Fitness with a PF BLACK CARD® MEMBERSHIP for No Enrollment Fee, No Commitment, and No Annual Fee
Planet Fitness
El Paso
TX
Join Planet Fitness with a PF BLACK CARD® MEMBERSHIP for No Enrollment Fee, No Commitment, and No Annual Fee
Planet Fitness
Waltham
MA
Join Planet Fitness with a PF BLACK CARD® MEMBERSHIP for No Enrollment Fee, No Commitment, and No Annual Fee
Planet Fitness
Kingsport
TN
Join Planet Fitness with a PF BLACK CARD® MEMBERSHIP for No Enrollment Fee, No Commitment, and No Annual Fee
Planet Fitness
El Paso
TX
Join Planet Fitness with a PF BLACK CARD® MEMBERSHIP for No Enrollment Fee, No Commitment, and No Annual Fee
Planet Fitness
Danbury
CT
Join Planet Fitness with a PF BLACK CARD® MEMBERSHIP for No Enrollment Fee, No Commitment, and No Annual Fee
Planet Fitness
South Tallahassee
FL
Join Planet Fitness with a PF BLACK CARD® MEMBERSHIP for No Enrollment Fee, No Commitment, and No Annual Fee
Planet Fitness
Savannah
GA
Join Planet Fitness with a PF BLACK CARD® MEMBERSHIP for No Enrollment Fee, No Commitment, and No Annual Fee
Planet Fitness
Las Cruces
NM
Join Planet Fitness with a PF BLACK CARD® MEMBERSHIP for No Enrollment Fee, No Commitment, and No Annual Fee
Planet Fitness
Pembroke
ON
Join Planet Fitness with a PF BLACK CARD® MEMBERSHIP for No Enrollment Fee, No Commitment, and No Annual Fee
Planet Fitness
Nacogdoches
TX
Join Planet Fitness with a PF BLACK CARD® MEMBERSHIP for No Enrollment Fee, No Commitment, and No Annual Fee
Planet Fitness
Fairfield
CT
Join Planet Fitness with a PF BLACK CARD® MEMBERSHIP for No Enrollment Fee, No Commitment, and No Annual Fee
Planet Fitness
Grande Prairie
AB
Join Planet Fitness with a PF BLACK CARD® MEMBERSHIP for No Enrollment Fee, No Commitment, and No Annual Fee
Planet Fitness
High Point
NC
Join Planet Fitness with a PF BLACK CARD® MEMBERSHIP for No Enrollment Fee, No Commitment, and No Annual Fee
Planet Fitness
North Augusta
SC
Join Planet Fitness with a PF BLACK CARD® MEMBERSHIP for No Enrollment Fee, No Commitment, and No Annual Fee
Planet Fitness
Annaville
TX
Join Planet Fitness with a PF BLACK CARD® MEMBERSHIP for No Enrollment Fee, No Commitment, and No Annual Fee
Planet Fitness
Little Rock
AR
Join Planet Fitness with a PF BLACK CARD® MEMBERSHIP for No Enrollment Fee, No Commitment, and No Annual Fee
Planet Fitness
Farragut
TN
Join Planet Fitness with a PF BLACK CARD® MEMBERSHIP for No Enrollment Fee, No Commitment, and No Annual Fee
Planet Fitness
Myrtle Beach
SC
Join Planet Fitness with a PF BLACK CARD® MEMBERSHIP for No Enrollment Fee, No Commitment, and No Annual Fee
Planet Fitness
West Monroe
LA
Join Planet Fitness with a PF BLACK CARD® MEMBERSHIP for No Enrollment Fee, No Commitment, and No Annual Fee
Planet Fitness
South Jordan
UT
Join Planet Fitness with a PF BLACK CARD® MEMBERSHIP for No Enrollment Fee, No Commitment, and No Annual Fee
Planet Fitness
Chicopee
MA
Join Planet Fitness with a PF BLACK CARD® MEMBERSHIP for No Enrollment Fee, No Commitment, and No Annual Fee
Planet Fitness
Naugatuck
CT
Join Planet Fitness with a PF BLACK CARD® MEMBERSHIP for No Enrollment Fee, No Commitment, and No Annual Fee
Planet Fitness
Webster
MA
Join Planet Fitness with a PF BLACK CARD® MEMBERSHIP for No Enrollment Fee, No Commitment, and No Annual Fee
Planet Fitness
Yakima
WA
Join Planet Fitness with a PF BLACK CARD® MEMBERSHIP for No Enrollment Fee, No Commitment, and No Annual Fee
Planet Fitness
Plover
WI
Join Planet Fitness with a PF BLACK CARD® MEMBERSHIP for No Enrollment Fee, No Commitment, and No Annual Fee
Planet Fitness
Monroe
LA
Join Planet Fitness with a PF BLACK CARD® MEMBERSHIP for No Enrollment Fee, No Commitment, and No Annual Fee
Planet Fitness
Ardmore
OK
Join Planet Fitness with a PF BLACK CARD® MEMBERSHIP for No Enrollment Fee, No Commitment, and No Annual Fee
Planet Fitness
Tallahassee
FL
Join Planet Fitness with a PF BLACK CARD® MEMBERSHIP for No Enrollment Fee, No Commitment, and No Annual Fee
Planet Fitness
Murrells Inlet
SC
Join Planet Fitness with a PF BLACK CARD® MEMBERSHIP for No Enrollment Fee, No Commitment, and No Annual Fee
Planet Fitness
Northampton
MA
Join Planet Fitness with a PF BLACK CARD® MEMBERSHIP for No Enrollment Fee, No Commitment, and No Annual Fee
Planet Fitness
Martinsburg
WV
Join Planet Fitness with a PF BLACK CARD® MEMBERSHIP for No Enrollment Fee, No Commitment, and No Annual Fee
Planet Fitness
Watertown
NY
Join Planet Fitness with a PF BLACK CARD® MEMBERSHIP for No Enrollment Fee, No Commitment, and No Annual Fee
Planet Fitness
Jacksonville
NC
Join Planet Fitness with a PF BLACK CARD® MEMBERSHIP for No Enrollment Fee, No Commitment, and No Annual Fee
Planet Fitness
Yuma
AZ
Join Planet Fitness with a PF BLACK CARD® MEMBERSHIP for No Enrollment Fee, No Commitment, and No Annual Fee
Planet Fitness
Gulfport
MS
Join Planet Fitness with a PF BLACK CARD® MEMBERSHIP for No Enrollment Fee, No Commitment, and No Annual Fee
Planet Fitness
Lexington
KY
Join Planet Fitness with a PF BLACK CARD® MEMBERSHIP for No Enrollment Fee, No Commitment, and No Annual Fee
Planet Fitness
Salisbury
MD
Join Planet Fitness with a PF BLACK CARD® MEMBERSHIP for No Enrollment Fee, No Commitment, and No Annual Fee
Planet Fitness
Big Rapids
MI
Join Planet Fitness with a PF BLACK CARD® MEMBERSHIP for No Enrollment Fee, No Commitment, and No Annual Fee
Planet Fitness
Fairbanks
AK
Join Planet Fitness with a PF BLACK CARD® MEMBERSHIP for No Enrollment Fee, No Commitment, and No Annual Fee
Planet Fitness
Wethersfield
CT
Join Planet Fitness with a PF BLACK CARD® MEMBERSHIP for No Enrollment Fee, No Commitment, and No Annual Fee
Planet Fitness
London
ON
Join Planet Fitness with a PF BLACK CARD® MEMBERSHIP for No Enrollment Fee, No Commitment, and No Annual Fee
Planet Fitness
Falmouth
MA
Join Planet Fitness with a PF BLACK CARD® MEMBERSHIP for No Enrollment Fee, No Commitment, and No Annual Fee
Planet Fitness
Watertown
SD
Join Planet Fitness with a PF BLACK CARD® MEMBERSHIP for No Enrollment Fee, No Commitment, and No Annual Fee
Planet Fitness
Pharr
TX
Join Planet Fitness with a PF BLACK CARD® MEMBERSHIP for No Enrollment Fee, No Commitment, and No Annual Fee
Planet Fitness
Las Cruces
NM
Join Planet Fitness with a PF BLACK CARD® MEMBERSHIP for No Enrollment Fee, No Commitment, and No Annual Fee
Planet Fitness
Willimantic
CT
Join Planet Fitness with a PF BLACK CARD® MEMBERSHIP for No Enrollment Fee, No Commitment, and No Annual Fee
Planet Fitness
El Paso
TX
Join Planet Fitness with a PF BLACK CARD® MEMBERSHIP for No Enrollment Fee, No Commitment, and No Annual Fee
Planet Fitness
Duncan
OK
Join Planet Fitness with a PF BLACK CARD® MEMBERSHIP for No Enrollment Fee, No Commitment, and No Annual Fee
Planet Fitness
St. Joseph
MO
Join Planet Fitness with a PF BLACK CARD® MEMBERSHIP for No Enrollment Fee, No Commitment, and No Annual Fee
Planet Fitness
St. Albans
VT
Join Planet Fitness with a PF BLACK CARD® MEMBERSHIP for No Enrollment Fee, No Commitment, and No Annual Fee
Planet Fitness
Sarnia
ON
Join Planet Fitness with a PF BLACK CARD® MEMBERSHIP for No Enrollment Fee, No Commitment, and No Annual Fee
Planet Fitness
Medford
OR
Join Planet Fitness with a PF BLACK CARD® MEMBERSHIP for No Enrollment Fee, No Commitment, and No Annual Fee
Planet Fitness
Benton Harbor
MI
Join Planet Fitness with a PF BLACK CARD® MEMBERSHIP for No Enrollment Fee, No Commitment, and No Annual Fee
Planet Fitness
Odessa
TX
Join Planet Fitness with a PF BLACK CARD® MEMBERSHIP for No Enrollment Fee, No Commitment, and No Annual Fee
Planet Fitness
Terre Haute
IN
Join Planet Fitness with a PF BLACK CARD® MEMBERSHIP for No Enrollment Fee, No Commitment, and No Annual Fee
Planet Fitness
Springfield
MA
Join Planet Fitness with a PF BLACK CARD® MEMBERSHIP for No Enrollment Fee, No Commitment, and No Annual Fee
Planet Fitness
Enfield
CT
Join Planet Fitness with a PF BLACK CARD® MEMBERSHIP for No Enrollment Fee, No Commitment, and No Annual Fee
Planet Fitness
Seekonk
MA
Join Planet Fitness with a PF BLACK CARD® MEMBERSHIP for No Enrollment Fee, No Commitment, and No Annual Fee
Planet Fitness
Birmingham
AL
Join Planet Fitness with a PF BLACK CARD® MEMBERSHIP for No Enrollment Fee, No Commitment, and No Annual Fee
Planet Fitness
Cheyenne
WY
Join Planet Fitness with a PF BLACK CARD® MEMBERSHIP for No Enrollment Fee, No Commitment, and No Annual Fee
Planet Fitness
Columbus
MS
Join Planet Fitness with a PF BLACK CARD® MEMBERSHIP for No Enrollment Fee, No Commitment, and No Annual Fee
Planet Fitness
Phenix City
AL
Join Planet Fitness with a PF BLACK CARD® MEMBERSHIP for No Enrollment Fee, No Commitment, and No Annual Fee
Planet Fitness
Brainerd
MN
Join Planet Fitness with a PF BLACK CARD® MEMBERSHIP for No Enrollment Fee, No Commitment, and No Annual Fee
Planet Fitness
Shreveport
LA
Join Planet Fitness with a PF BLACK CARD® MEMBERSHIP for No Enrollment Fee, No Commitment, and No Annual Fee
Planet Fitness
Milford
MA
Join Planet Fitness with a PF BLACK CARD® MEMBERSHIP for No Enrollment Fee, No Commitment, and No Annual Fee
Planet Fitness
West Springfield
MA
Join Planet Fitness with a PF BLACK CARD® MEMBERSHIP for No Enrollment Fee, No Commitment, and No Annual Fee
Planet Fitness
Thomasville
GA
Join Planet Fitness with a PF BLACK CARD® MEMBERSHIP for No Enrollment Fee, No Commitment, and No Annual Fee
Planet Fitness
Gonzales
LA
Join Planet Fitness with a PF BLACK CARD® MEMBERSHIP for No Enrollment Fee, No Commitment, and No Annual Fee
Planet Fitness
Hinesville
GA
Join Planet Fitness with a PF BLACK CARD® MEMBERSHIP for No Enrollment Fee, No Commitment, and No Annual Fee
Planet Fitness
Conway
AR
Join Planet Fitness with a PF BLACK CARD® MEMBERSHIP for No Enrollment Fee, No Commitment, and No Annual Fee
Planet Fitness
Southbury
CT
Join Planet Fitness with a PF BLACK CARD® MEMBERSHIP for No Enrollment Fee, No Commitment, and No Annual Fee
Planet Fitness
Charlottesville
VA
Join Planet Fitness with a PF BLACK CARD® MEMBERSHIP for No Enrollment Fee, No Commitment, and No Annual Fee
Planet Fitness
El Paso
TX
Join Planet Fitness with a PF BLACK CARD® MEMBERSHIP for No Enrollment Fee, No Commitment, and No Annual Fee
Planet Fitness
Sioux Falls
SD
Join Planet Fitness with a PF BLACK CARD® MEMBERSHIP for No Enrollment Fee, No Commitment, and No Annual Fee
Planet Fitness
Prattville
AL
Join Planet Fitness with a PF BLACK CARD® MEMBERSHIP for No Enrollment Fee, No Commitment, and No Annual Fee
Planet Fitness
Revere
MA
Join Planet Fitness with a PF BLACK CARD® MEMBERSHIP for No Enrollment Fee, No Commitment, and No Annual Fee
Planet Fitness
Benton
AR
Join Planet Fitness with a PF BLACK CARD® MEMBERSHIP for No Enrollment Fee, No Commitment, and No Annual Fee
Planet Fitness
Dalton
GA
Join Planet Fitness with a PF BLACK CARD® MEMBERSHIP for No Enrollment Fee, No Commitment, and No Annual Fee
Planet Fitness
Florence
AL
Join Planet Fitness with a PF BLACK CARD® MEMBERSHIP for No Enrollment Fee, No Commitment, and No Annual Fee
Planet Fitness
Jonesboro
AR
Join Planet Fitness with a PF BLACK CARD® MEMBERSHIP for No Enrollment Fee, No Commitment, and No Annual Fee
Planet Fitness
Portland
TX
Join Planet Fitness with a PF BLACK CARD® MEMBERSHIP for No Enrollment Fee, No Commitment, and No Annual Fee
Planet Fitness
Grants Pass
OR
Join Planet Fitness with a PF BLACK CARD® MEMBERSHIP for No Enrollment Fee, No Commitment, and No Annual Fee
Planet Fitness
Asheboro
NC
Join Planet Fitness with a PF BLACK CARD® MEMBERSHIP for No Enrollment Fee, No Commitment, and No Annual Fee
Planet Fitness
Danville
KY
Join Planet Fitness with a PF BLACK CARD® MEMBERSHIP for No Enrollment Fee, No Commitment, and No Annual Fee
Planet Fitness
Bullhead City
AZ
Join Planet Fitness with a PF BLACK CARD® MEMBERSHIP for No Enrollment Fee, No Commitment, and No Annual Fee
Planet Fitness
New Haven
CT
Join Planet Fitness with a PF BLACK CARD® MEMBERSHIP for No Enrollment Fee, No Commitment, and No Annual Fee
Planet Fitness
Palm Bay
FL
Join Planet Fitness with a PF BLACK CARD® MEMBERSHIP for No Enrollment Fee, No Commitment, and No Annual Fee
Planet Fitness
Brownsville
TX
Join Planet Fitness with a PF BLACK CARD® MEMBERSHIP for No Enrollment Fee, No Commitment, and No Annual Fee
Planet Fitness
Peru
IL
Join Planet Fitness with a PF BLACK CARD® MEMBERSHIP for No Enrollment Fee, No Commitment, and No Annual Fee
Planet Fitness
Bloomington
IL
Join Planet Fitness with a PF BLACK CARD® MEMBERSHIP for No Enrollment Fee, No Commitment, and No Annual Fee
Planet Fitness
Foley
AL
Join Planet Fitness with a PF BLACK CARD® MEMBERSHIP for No Enrollment Fee, No Commitment, and No Annual Fee
Planet Fitness
Lexington
KY
Join Planet Fitness with a PF BLACK CARD® MEMBERSHIP for No Enrollment Fee, No Commitment, and No Annual Fee
Planet Fitness
Franklin
MA
Join Planet Fitness with a PF BLACK CARD® MEMBERSHIP for No Enrollment Fee, No Commitment, and No Annual Fee
Planet Fitness
Iowa City
IA
Join Planet Fitness with a PF BLACK CARD® MEMBERSHIP for No Enrollment Fee, No Commitment, and No Annual Fee
Planet Fitness
Brunswick
GA
Join Planet Fitness with a PF BLACK CARD® MEMBERSHIP for No Enrollment Fee, No Commitment, and No Annual Fee
Planet Fitness
Bryan
TX
Join Planet Fitness with a PF BLACK CARD® MEMBERSHIP for No Enrollment Fee, No Commitment, and No Annual Fee
Planet Fitness
Birmingham
AL
Join Planet Fitness with a PF BLACK CARD® MEMBERSHIP for No Enrollment Fee, No Commitment, and No Annual Fee
Planet Fitness
Chambersburg
PA
Join Planet Fitness with a PF BLACK CARD® MEMBERSHIP for No Enrollment Fee, No Commitment, and No Annual Fee
Planet Fitness
South Yarmouth
MA
Join Planet Fitness with a PF BLACK CARD® MEMBERSHIP for No Enrollment Fee, No Commitment, and No Annual Fee
Planet Fitness
Boston
MA
Join Planet Fitness with a PF BLACK CARD® MEMBERSHIP for No Enrollment Fee, No Commitment, and No Annual Fee
Planet Fitness
Roswell
NM
Join Planet Fitness with a PF BLACK CARD® MEMBERSHIP for No Enrollment Fee, No Commitment, and No Annual Fee
Planet Fitness
Crossville
TN
Join Planet Fitness with a PF BLACK CARD® MEMBERSHIP for No Enrollment Fee, No Commitment, and No Annual Fee
Planet Fitness
Redding
CA
Join Planet Fitness with a PF BLACK CARD® MEMBERSHIP for No Enrollment Fee, No Commitment, and No Annual Fee
Planet Fitness
Cullman
AL
Join Planet Fitness with a PF BLACK CARD® MEMBERSHIP for No Enrollment Fee, No Commitment, and No Annual Fee
Planet Fitness
Springfield
MO
Join Planet Fitness with a PF BLACK CARD® MEMBERSHIP for No Enrollment Fee, No Commitment, and No Annual Fee
Planet Fitness
Norton
MA
Join Planet Fitness with a PF BLACK CARD® MEMBERSHIP for No Enrollment Fee, No Commitment, and No Annual Fee
Planet Fitness
EAST BOSTON
MA
Join Planet Fitness with a PF BLACK CARD® MEMBERSHIP for No Enrollment Fee, No Commitment, and No Annual Fee
Planet Fitness
Bowling Green
KY
Join Planet Fitness with a PF BLACK CARD® MEMBERSHIP for No Enrollment Fee, No Commitment, and No Annual Fee
Planet Fitness
Lake Havasu City
AZ
Join Planet Fitness with a PF BLACK CARD® MEMBERSHIP for No Enrollment Fee, No Commitment, and No Annual Fee
Planet Fitness
Springfield
IL
Join Planet Fitness with a PF BLACK CARD® MEMBERSHIP for No Enrollment Fee, No Commitment, and No Annual Fee
Planet Fitness
Fayetteville
AR
Join Planet Fitness with a PF BLACK CARD® MEMBERSHIP for No Enrollment Fee, No Commitment, and No Annual Fee
Planet Fitness
Fairhope
AL
Join Planet Fitness with a PF BLACK CARD® MEMBERSHIP for No Enrollment Fee, No Commitment, and No Annual Fee
Planet Fitness
Milford
CT
Join Planet Fitness with a PF BLACK CARD® MEMBERSHIP for No Enrollment Fee, No Commitment, and No Annual Fee
Planet Fitness
Harrisonburg
VA
Join Planet Fitness with a PF BLACK CARD® MEMBERSHIP for No Enrollment Fee, No Commitment, and No Annual Fee
Planet Fitness
Townsend
MA
Join Planet Fitness with a PF BLACK CARD® MEMBERSHIP for No Enrollment Fee, No Commitment, and No Annual Fee
Planet Fitness
Tuscaloosa
AL
Join Planet Fitness with a PF BLACK CARD® MEMBERSHIP for No Enrollment Fee, No Commitment, and No Annual Fee
Planet Fitness
Tupelo
MS
Join Planet Fitness with a PF BLACK CARD® MEMBERSHIP for No Enrollment Fee, No Commitment, and No Annual Fee
Planet Fitness
Lafayette
LA
Join Planet Fitness with a PF BLACK CARD® MEMBERSHIP for No Enrollment Fee, No Commitment, and No Annual Fee
Planet Fitness
Rockledge
FL
Join Planet Fitness with a PF BLACK CARD® MEMBERSHIP for No Enrollment Fee, No Commitment, and No Annual Fee
Planet Fitness
Alamogordo
NM
Join Planet Fitness with a PF BLACK CARD® MEMBERSHIP for No Enrollment Fee, No Commitment, and No Annual Fee
Planet Fitness
Urbana
IL
Join Planet Fitness with a PF BLACK CARD® MEMBERSHIP for No Enrollment Fee, No Commitment, and No Annual Fee
Planet Fitness
Clinton
IA
Join Planet Fitness with a PF BLACK CARD® MEMBERSHIP for No Enrollment Fee, No Commitment, and No Annual Fee
Planet Fitness
Cambridge
MA
Join Planet Fitness with a PF BLACK CARD® MEMBERSHIP for No Enrollment Fee, No Commitment, and No Annual Fee
Planet Fitness
Newington
CT
Join Planet Fitness with a PF BLACK CARD® MEMBERSHIP for No Enrollment Fee, No Commitment, and No Annual Fee
Planet Fitness
Elizabeth City
NC
Join Planet Fitness with a PF BLACK CARD® MEMBERSHIP for No Enrollment Fee, No Commitment, and No Annual Fee
Planet Fitness
Hoover
AL
Join Planet Fitness with a PF BLACK CARD® MEMBERSHIP for No Enrollment Fee, No Commitment, and No Annual Fee
Planet Fitness
West Boylston, Ma
MA
Join Planet Fitness with a PF BLACK CARD® MEMBERSHIP for No Enrollment Fee, No Commitment, and No Annual Fee
Planet Fitness
Mankato
MN
Join Planet Fitness with a PF BLACK CARD® MEMBERSHIP for No Enrollment Fee, No Commitment, and No Annual Fee
Planet Fitness
Fort Oglethorpe
GA
Join Planet Fitness with a PF BLACK CARD® MEMBERSHIP for No Enrollment Fee, No Commitment, and No Annual Fee
Planet Fitness
Beckley
WV
Join Planet Fitness with a PF BLACK CARD® MEMBERSHIP for No Enrollment Fee, No Commitment, and No Annual Fee
Planet Fitness
Sulphur
LA
Join Planet Fitness with a PF BLACK CARD® MEMBERSHIP for No Enrollment Fee, No Commitment, and No Annual Fee
Planet Fitness
Weslaco
TX
Join Planet Fitness with a PF BLACK CARD® MEMBERSHIP for No Enrollment Fee, No Commitment, and No Annual Fee
Planet Fitness
Watertown
MA
Join Planet Fitness with a PF BLACK CARD® MEMBERSHIP for No Enrollment Fee, No Commitment, and No Annual Fee
Planet Fitness
El Centro
CA
Join Planet Fitness with a PF BLACK CARD® MEMBERSHIP for No Enrollment Fee, No Commitment, and No Annual Fee
Planet Fitness
Tifton
GA
Join Planet Fitness with a PF BLACK CARD® MEMBERSHIP for No Enrollment Fee, No Commitment, and No Annual Fee
Planet Fitness
Anchorage
AK
Join Planet Fitness with a PF BLACK CARD® MEMBERSHIP for No Enrollment Fee, No Commitment, and No Annual Fee
Planet Fitness
Tallahassee
FL
Join Planet Fitness with a PF BLACK CARD® MEMBERSHIP for No Enrollment Fee, No Commitment, and No Annual Fee
Planet Fitness
Erie
PA
Join Planet Fitness with a PF BLACK CARD® MEMBERSHIP for No Enrollment Fee, No Commitment, and No Annual Fee
Planet Fitness
Okemos
MI
Join Planet Fitness with a PF BLACK CARD® MEMBERSHIP for No Enrollment Fee, No Commitment, and No Annual Fee
Planet Fitness
Belleville
ON
Join Planet Fitness with a PF BLACK CARD® MEMBERSHIP for No Enrollment Fee, No Commitment, and No Annual Fee
Planet Fitness
Baton Rouge
LA
Join Planet Fitness with a PF BLACK CARD® MEMBERSHIP for No Enrollment Fee, No Commitment, and No Annual Fee
Planet Fitness
Danvers
MA
Join Planet Fitness with a PF BLACK CARD® MEMBERSHIP for No Enrollment Fee, No Commitment, and No Annual Fee
Planet Fitness
Idaho Falls
ID
Join Planet Fitness with a PF BLACK CARD® MEMBERSHIP for No Enrollment Fee, No Commitment, and No Annual Fee
Planet Fitness
Brockton
MA
Join Planet Fitness with a PF BLACK CARD® MEMBERSHIP for No Enrollment Fee, No Commitment, and No Annual Fee
Planet Fitness
Champaign
IL
Join Planet Fitness with a PF BLACK CARD® MEMBERSHIP for No Enrollment Fee, No Commitment, and No Annual Fee
Planet Fitness
Salina
KS
Join Planet Fitness with a PF BLACK CARD® MEMBERSHIP for No Enrollment Fee, No Commitment, and No Annual Fee
Planet Fitness
Meridian
MS
Join Planet Fitness with a PF BLACK CARD® MEMBERSHIP for No Enrollment Fee, No Commitment, and No Annual Fee
Planet Fitness
Jackson
MI
Join Planet Fitness with a PF BLACK CARD® MEMBERSHIP for No Enrollment Fee, No Commitment, and No Annual Fee
Planet Fitness
El Dorado
AR
Join Planet Fitness with a PF BLACK CARD® MEMBERSHIP for No Enrollment Fee, No Commitment, and No Annual Fee
Planet Fitness
Waterloo
IA
Join Planet Fitness with a PF BLACK CARD® MEMBERSHIP for No Enrollment Fee, No Commitment, and No Annual Fee
Planet Fitness
Henderson
KY
Join Planet Fitness with a PF BLACK CARD® MEMBERSHIP for No Enrollment Fee, No Commitment, and No Annual Fee
Planet Fitness
Callaway
FL
Join Planet Fitness with a PF BLACK CARD® MEMBERSHIP for No Enrollment Fee, No Commitment, and No Annual Fee
Planet Fitness
Marlborough
MA
Join Planet Fitness with a PF BLACK CARD® MEMBERSHIP for No Enrollment Fee, No Commitment, and No Annual Fee
Planet Fitness
Hamden
CT
Join Planet Fitness with a PF BLACK CARD® MEMBERSHIP for No Enrollment Fee, No Commitment, and No Annual Fee
Planet Fitness
Columbia
MO
Join Planet Fitness with a PF BLACK CARD® MEMBERSHIP for No Enrollment Fee, No Commitment, and No Annual Fee
Planet Fitness
Hobbs
NM
Join Planet Fitness with a PF BLACK CARD® MEMBERSHIP for No Enrollment Fee, No Commitment, and No Annual Fee
Planet Fitness
Hingham
MA
Join Planet Fitness with a PF BLACK CARD® MEMBERSHIP for No Enrollment Fee, No Commitment, and No Annual Fee
Planet Fitness
Joplin
MO
Join Planet Fitness with a PF BLACK CARD® MEMBERSHIP for No Enrollment Fee, No Commitment, and No Annual Fee
Planet Fitness
Augusta
GA
Join Planet Fitness with a PF BLACK CARD® MEMBERSHIP for No Enrollment Fee, No Commitment, and No Annual Fee
Planet Fitness
Lafayette
IN
Join Planet Fitness with a PF BLACK CARD® MEMBERSHIP for No Enrollment Fee, No Commitment, and No Annual Fee
Planet Fitness
Cape Girardeau
MO
Join Planet Fitness with a PF BLACK CARD® MEMBERSHIP for No Enrollment Fee, No Commitment, and No Annual Fee
Planet Fitness
Siloam Springs
AR
Join Planet Fitness with a PF BLACK CARD® MEMBERSHIP for No Enrollment Fee, No Commitment, and No Annual Fee
Planet Fitness
Natick
MA
Join Planet Fitness with a PF BLACK CARD® MEMBERSHIP for No Enrollment Fee, No Commitment, and No Annual Fee
Planet Fitness
Mansfield
OH
Join Planet Fitness with a PF BLACK CARD® MEMBERSHIP for No Enrollment Fee, No Commitment, and No Annual Fee
Planet Fitness
Rapid City
SD
Join Planet Fitness with a PF BLACK CARD® MEMBERSHIP for No Enrollment Fee, No Commitment, and No Annual Fee
Planet Fitness
Ocean Springs
MS
Join Planet Fitness with a PF BLACK CARD® MEMBERSHIP for No Enrollment Fee, No Commitment, and No Annual Fee
Planet Fitness
Gainesville
FL
Join Planet Fitness with a PF BLACK CARD® MEMBERSHIP for No Enrollment Fee, No Commitment, and No Annual Fee
Planet Fitness
Waycross
GA
Join Planet Fitness with a PF BLACK CARD® MEMBERSHIP for No Enrollment Fee, No Commitment, and No Annual Fee
Planet Fitness
Martinez
GA
Join Planet Fitness with a PF BLACK CARD® MEMBERSHIP for No Enrollment Fee, No Commitment, and No Annual Fee
Planet Fitness
Greensboro
NC
Join Planet Fitness with a PF BLACK CARD® MEMBERSHIP for No Enrollment Fee, No Commitment, and No Annual Fee
Planet Fitness
Bloomsburg
PA
Join Planet Fitness with a PF BLACK CARD® MEMBERSHIP for No Enrollment Fee, No Commitment, and No Annual Fee
Planet Fitness
Alexandria
LA
Join Planet Fitness with a PF BLACK CARD® MEMBERSHIP for No Enrollment Fee, No Commitment, and No Annual Fee
Planet Fitness
Orange
TX
Join Planet Fitness with a PF BLACK CARD® MEMBERSHIP for No Enrollment Fee, No Commitment, and No Annual Fee
Planet Fitness
Panama City
FL
Join Planet Fitness with a PF BLACK CARD® MEMBERSHIP for No Enrollment Fee, No Commitment, and No Annual Fee
Planet Fitness
Conway
SC
Join Planet Fitness with a PF BLACK CARD® MEMBERSHIP for No Enrollment Fee, No Commitment, and No Annual Fee
Planet Fitness
Bakersfield
CA
Join Planet Fitness with a PF BLACK CARD® MEMBERSHIP for No Enrollment Fee, No Commitment, and No Annual Fee
Planet Fitness
Denham Springs
LA
Join Planet Fitness with a PF BLACK CARD® MEMBERSHIP for No Enrollment Fee, No Commitment, and No Annual Fee
Planet Fitness
Pensacola North
FL
Join Planet Fitness with a PF BLACK CARD® MEMBERSHIP for No Enrollment Fee, No Commitment, and No Annual Fee
Planet Fitness
Dunn
NC
Join Planet Fitness with a PF BLACK CARD® MEMBERSHIP for No Enrollment Fee, No Commitment, and No Annual Fee
Planet Fitness
Galesburg
IL
Join Planet Fitness with a PF BLACK CARD® MEMBERSHIP for No Enrollment Fee, No Commitment, and No Annual Fee
Planet Fitness
Bowmanville
ON
Join Planet Fitness with a PF BLACK CARD® MEMBERSHIP for No Enrollment Fee, No Commitment, and No Annual Fee
Planet Fitness
Holt,
MI
Join Planet Fitness with a PF BLACK CARD® MEMBERSHIP for No Enrollment Fee, No Commitment, and No Annual Fee
Planet Fitness
Biloxi
MS
Join Planet Fitness with a PF BLACK CARD® MEMBERSHIP for No Enrollment Fee, No Commitment, and No Annual Fee
Planet Fitness
Bridgeport
WV
Join Planet Fitness with a PF BLACK CARD® MEMBERSHIP for No Enrollment Fee, No Commitment, and No Annual Fee
Planet Fitness
Brockville
ON
Join Planet Fitness with a PF BLACK CARD® MEMBERSHIP for No Enrollment Fee, No Commitment, and No Annual Fee
Planet Fitness
Fairhaven
MA
Join Planet Fitness with a PF BLACK CARD® MEMBERSHIP for No Enrollment Fee, No Commitment, and No Annual Fee
Planet Fitness
Grand Junction
CO
Join Planet Fitness with a PF BLACK CARD® MEMBERSHIP for No Enrollment Fee, No Commitment, and No Annual Fee
Planet Fitness
Vincennes
IN
Join Planet Fitness with a PF BLACK CARD® MEMBERSHIP for No Enrollment Fee, No Commitment, and No Annual Fee
Planet Fitness
Trumbull
CT
Join Planet Fitness with a PF BLACK CARD® MEMBERSHIP for No Enrollment Fee, No Commitment, and No Annual Fee
Planet Fitness
Opelika
AL
Join Planet Fitness with a PF BLACK CARD® MEMBERSHIP for No Enrollment Fee, No Commitment, and No Annual Fee
Planet Fitness
Del Rio
TX
Join Planet Fitness with a PF BLACK CARD® MEMBERSHIP for No Enrollment Fee, No Commitment, and No Annual Fee
Planet Fitness
College Station
TX
Join Planet Fitness with a PF BLACK CARD® MEMBERSHIP for No Enrollment Fee, No Commitment, and No Annual Fee
Planet Fitness
Waterville
ME
Join Planet Fitness with a PF BLACK CARD® MEMBERSHIP for No Enrollment Fee, No Commitment, and No Annual Fee
Planet Fitness
Aiken
SC
Join Planet Fitness with a PF BLACK CARD® MEMBERSHIP for No Enrollment Fee, No Commitment, and No Annual Fee
Planet Fitness
Abilene
TX
Join Planet Fitness with a PF BLACK CARD® MEMBERSHIP for No Enrollment Fee, No Commitment, and No Annual Fee
Planet Fitness
Jackson
MS
Join Planet Fitness with a PF BLACK CARD® MEMBERSHIP for No Enrollment Fee, No Commitment, and No Annual Fee
Planet Fitness
Morristown
TN
Join Planet Fitness with a PF BLACK CARD® MEMBERSHIP for No Enrollment Fee, No Commitment, and No Annual Fee
Planet Fitness
Greenfield
MA
Join Planet Fitness with a PF BLACK CARD® MEMBERSHIP for No Enrollment Fee, No Commitment, and No Annual Fee
Planet Fitness
Norwalk
CT
Join Planet Fitness with a PF BLACK CARD® MEMBERSHIP for No Enrollment Fee, No Commitment, and No Annual Fee
Planet Fitness
Florence
SC
Join Planet Fitness with a PF BLACK CARD® MEMBERSHIP for No Enrollment Fee, No Commitment, and No Annual Fee
Planet Fitness
Sunnyside
WA
Join Planet Fitness with a PF BLACK CARD® MEMBERSHIP for No Enrollment Fee, No Commitment, and No Annual Fee
Planet Fitness
Lincoln
NE
Join Planet Fitness with a PF BLACK CARD® MEMBERSHIP for No Enrollment Fee, No Commitment, and No Annual Fee
Planet Fitness
Waynesboro
VA
Join Planet Fitness with a PF BLACK CARD® MEMBERSHIP for No Enrollment Fee, No Commitment, and No Annual Fee
Planet Fitness
Bluefield
WV
Join Planet Fitness with a PF BLACK CARD® MEMBERSHIP for No Enrollment Fee, No Commitment, and No Annual Fee
Planet Fitness
Hopkinsville
KY
Join Planet Fitness with a PF BLACK CARD® MEMBERSHIP for No Enrollment Fee, No Commitment, and No Annual Fee
Planet Fitness
Goshen
IN
Join Planet Fitness with a PF BLACK CARD® MEMBERSHIP for No Enrollment Fee, No Commitment, and No Annual Fee
Planet Fitness
Ponca City
OK
Join Planet Fitness with a PF BLACK CARD® MEMBERSHIP for No Enrollment Fee, No Commitment, and No Annual Fee
Planet Fitness
Springfield
MO
Join Planet Fitness with a PF BLACK CARD® MEMBERSHIP for No Enrollment Fee, No Commitment, and No Annual Fee
Planet Fitness
Augusta
ME
Join Planet Fitness with a PF BLACK CARD® MEMBERSHIP for No Enrollment Fee, No Commitment, and No Annual Fee
Planet Fitness
Missoula
MT
Join Planet Fitness with a PF BLACK CARD® MEMBERSHIP for No Enrollment Fee, No Commitment, and No Annual Fee
Planet Fitness
Cleveland
TN
Join Planet Fitness with a PF BLACK CARD® MEMBERSHIP for No Enrollment Fee, No Commitment, and No Annual Fee
Planet Fitness
Hartford
CT
Join Planet Fitness with a PF BLACK CARD® MEMBERSHIP for No Enrollment Fee, No Commitment, and No Annual Fee
Planet Fitness
New Bern
NC
Join Planet Fitness with a PF BLACK CARD® MEMBERSHIP for No Enrollment Fee, No Commitment, and No Annual Fee
Planet Fitness
Winston
NC
Join Planet Fitness with a PF BLACK CARD® MEMBERSHIP for No Enrollment Fee, No Commitment, and No Annual Fee
Planet Fitness
Revere
MA
Join Planet Fitness with a PF BLACK CARD® MEMBERSHIP for No Enrollment Fee, No Commitment, and No Annual Fee
Planet Fitness
Bismarck
ND
Join Planet Fitness with a PF BLACK CARD® MEMBERSHIP for No Enrollment Fee, No Commitment, and No Annual Fee
Planet Fitness
Bloomfield
CT
Join Planet Fitness with a PF BLACK CARD® MEMBERSHIP for No Enrollment Fee, No Commitment, and No Annual Fee
Planet Fitness
Martinsville
VA
Join Planet Fitness with a PF BLACK CARD® MEMBERSHIP for No Enrollment Fee, No Commitment, and No Annual Fee
Planet Fitness
Danville
IL
Join Planet Fitness with a PF BLACK CARD® MEMBERSHIP for No Enrollment Fee, No Commitment, and No Annual Fee
Planet Fitness
Shreveport
LA
Join Planet Fitness with a PF BLACK CARD® MEMBERSHIP for No Enrollment Fee, No Commitment, and No Annual Fee
Planet Fitness
Tyler
TX
Join Planet Fitness with a PF BLACK CARD® MEMBERSHIP for No Enrollment Fee, No Commitment, and No Annual Fee
Planet Fitness
Reading
MA
Join Planet Fitness with a PF BLACK CARD® MEMBERSHIP for No Enrollment Fee, No Commitment, and No Annual Fee
Planet Fitness
Lumberton
NC
Join Planet Fitness with a PF BLACK CARD® MEMBERSHIP for No Enrollment Fee, No Commitment, and No Annual Fee
Planet Fitness
Van Buren
AR
Join Planet Fitness with a PF BLACK CARD® MEMBERSHIP for No Enrollment Fee, No Commitment, and No Annual Fee
Planet Fitness
Marinette
WI
Join Planet Fitness with a PF BLACK CARD® MEMBERSHIP for No Enrollment Fee, No Commitment, and No Annual Fee
Planet Fitness
Marianna
FL
Join Planet Fitness with a PF BLACK CARD® MEMBERSHIP for No Enrollment Fee, No Commitment, and No Annual Fee
Planet Fitness
Berlin
VT
Join Planet Fitness with a PF BLACK CARD® MEMBERSHIP for No Enrollment Fee, No Commitment, and No Annual Fee
Planet Fitness
Winston-Salem
NC
Join Planet Fitness with a PF BLACK CARD® MEMBERSHIP for No Enrollment Fee, No Commitment, and No Annual Fee
Planet Fitness
Somerset
KY
Join Planet Fitness with a PF BLACK CARD® MEMBERSHIP for No Enrollment Fee, No Commitment, and No Annual Fee
Planet Fitness
High Point
NC
Join Planet Fitness with a PF BLACK CARD® MEMBERSHIP for No Enrollment Fee, No Commitment, and No Annual Fee
Planet Fitness
Springfield
MO
Join Planet Fitness with a PF BLACK CARD® MEMBERSHIP for No Enrollment Fee, No Commitment, and No Annual Fee
Planet Fitness
Salem
MA
Join Planet Fitness with a PF BLACK CARD® MEMBERSHIP for No Enrollment Fee, No Commitment, and No Annual Fee
Planet Fitness
Sterling
IL
Join Planet Fitness with a PF BLACK CARD® MEMBERSHIP for No Enrollment Fee, No Commitment, and No Annual Fee
Planet Fitness
State College
PA
Join Planet Fitness with a PF BLACK CARD® MEMBERSHIP for No Enrollment Fee, No Commitment, and No Annual Fee
Planet Fitness
Mcallen
TX
Join Planet Fitness with a PF BLACK CARD® MEMBERSHIP for No Enrollment Fee, No Commitment, and No Annual Fee
Planet Fitness
Pine Bluff
AR
Join Planet Fitness with a PF BLACK CARD® MEMBERSHIP for No Enrollment Fee, No Commitment, and No Annual Fee
Planet Fitness
Battle Creek
MI
Join Planet Fitness with a PF BLACK CARD® MEMBERSHIP for No Enrollment Fee, No Commitment, and No Annual Fee
Planet Fitness
Daphne
AL
Join Planet Fitness with a PF BLACK CARD® MEMBERSHIP for No Enrollment Fee, No Commitment, and No Annual Fee
Planet Fitness
Wareham
MA
Join Planet Fitness with a PF BLACK CARD® MEMBERSHIP for No Enrollment Fee, No Commitment, and No Annual Fee
Planet Fitness
Shamokin Dam
PA
Join Planet Fitness with a PF BLACK CARD® MEMBERSHIP for No Enrollment Fee, No Commitment, and No Annual Fee
Planet Fitness
South Burlington
VT
Join Planet Fitness with a PF BLACK CARD® MEMBERSHIP for No Enrollment Fee, No Commitment, and No Annual Fee
Planet Fitness
Mary Esther
FL
Join Planet Fitness with a PF BLACK CARD® MEMBERSHIP for No Enrollment Fee, No Commitment, and No Annual Fee
Planet Fitness
Waco
TX
Join Planet Fitness with a PF BLACK CARD® MEMBERSHIP for No Enrollment Fee, No Commitment, and No Annual Fee
Planet Fitness
El Paso
TX
Join Planet Fitness with a PF BLACK CARD® MEMBERSHIP for No Enrollment Fee, No Commitment, and No Annual Fee
Planet Fitness
Mattoon
IL
Join Planet Fitness with a PF BLACK CARD® MEMBERSHIP for No Enrollment Fee, No Commitment, and No Annual Fee
Planet Fitness
Eau Claire
WI
Join Planet Fitness with a PF BLACK CARD® MEMBERSHIP for No Enrollment Fee, No Commitment, and No Annual Fee
Planet Fitness
Lincoln
NE
Join Planet Fitness with a PF BLACK CARD® MEMBERSHIP for No Enrollment Fee, No Commitment, and No Annual Fee
Planet Fitness
Pearl
MS
Join Planet Fitness with a PF BLACK CARD® MEMBERSHIP for No Enrollment Fee, No Commitment, and No Annual Fee
Planet Fitness
Helena
MT
Join Planet Fitness with a PF BLACK CARD® MEMBERSHIP for No Enrollment Fee, No Commitment, and No Annual Fee
Planet Fitness
Mobile
AL
Join Planet Fitness with a PF BLACK CARD® MEMBERSHIP for No Enrollment Fee, No Commitment, and No Annual Fee
Planet Fitness
Mobile
AL
Join Planet Fitness with a PF BLACK CARD® MEMBERSHIP for No Enrollment Fee, No Commitment, and No Annual Fee
Planet Fitness
Anchorage
AK
Join Planet Fitness with a PF BLACK CARD® MEMBERSHIP for No Enrollment Fee, No Commitment, and No Annual Fee
Planet Fitness
Temple
TX
Join Planet Fitness with a PF BLACK CARD® MEMBERSHIP for No Enrollment Fee, No Commitment, and No Annual Fee
Planet Fitness
Traverse City
MI
Join Planet Fitness with a PF BLACK CARD® MEMBERSHIP for No Enrollment Fee, No Commitment, and No Annual Fee
Planet Fitness
Dothan
AL
Join Planet Fitness with a PF BLACK CARD® MEMBERSHIP for No Enrollment Fee, No Commitment, and No Annual Fee
Planet Fitness
Decatur
IL
Join Planet Fitness with a PF BLACK CARD® MEMBERSHIP for No Enrollment Fee, No Commitment, and No Annual Fee
Planet Fitness
Barrie
ON
Join Planet Fitness with a PF BLACK CARD® MEMBERSHIP for No Enrollment Fee, No Commitment, and No Annual Fee
Planet Fitness
Valdosta
GA
Join Planet Fitness with a PF BLACK CARD® MEMBERSHIP for No Enrollment Fee, No Commitment, and No Annual Fee
Planet Fitness
Plainview
TX
Join Planet Fitness with a PF BLACK CARD® MEMBERSHIP for No Enrollment Fee, No Commitment, and No Annual Fee
Planet Fitness
Jefferson City
MO
Join Planet Fitness with a PF BLACK CARD® MEMBERSHIP for No Enrollment Fee, No Commitment, and No Annual Fee
Planet Fitness
Altoona
PA
Join Planet Fitness with a PF BLACK CARD® MEMBERSHIP for No Enrollment Fee, No Commitment, and No Annual Fee
Planet Fitness
Pekin
IL
Join Planet Fitness with a PF BLACK CARD® MEMBERSHIP for No Enrollment Fee, No Commitment, and No Annual Fee
Planet Fitness
Lubbock
TX
Join Planet Fitness with a PF BLACK CARD® MEMBERSHIP for No Enrollment Fee, No Commitment, and No Annual Fee
Planet Fitness
Pascagoula
MS
Join Planet Fitness with a PF BLACK CARD® MEMBERSHIP for No Enrollment Fee, No Commitment, and No Annual Fee
Planet Fitness
Elkhart
IN
Join Planet Fitness with a PF BLACK CARD® MEMBERSHIP for No Enrollment Fee, No Commitment, and No Annual Fee
Planet Fitness
Eureka
CA
Join Planet Fitness with a PF BLACK CARD® MEMBERSHIP for No Enrollment Fee, No Commitment, and No Annual Fee
Planet Fitness
Fayetteville
AR
Join Planet Fitness with a PF BLACK CARD® MEMBERSHIP for No Enrollment Fee, No Commitment, and No Annual Fee
Planet Fitness
Hot Springs
AR
Join Planet Fitness with a PF BLACK CARD® MEMBERSHIP for No Enrollment Fee, No Commitment, and No Annual Fee
Planet Fitness
Greensboro
NC
Join Planet Fitness with a PF BLACK CARD® MEMBERSHIP for No Enrollment Fee, No Commitment, and No Annual Fee
Planet Fitness
Beaufort
SC
Join Planet Fitness with a PF BLACK CARD® MEMBERSHIP for No Enrollment Fee, No Commitment, and No Annual Fee
Planet Fitness
Horseheads
NY
Join Planet Fitness with a PF BLACK CARD® MEMBERSHIP for No Enrollment Fee, No Commitment, and No Annual Fee
Planet Fitness
Danville
VA
Join Planet Fitness with a PF BLACK CARD® MEMBERSHIP for No Enrollment Fee, No Commitment, and No Annual Fee
Planet Fitness
Lynchburg
VA
Join Planet Fitness with a PF BLACK CARD® MEMBERSHIP for No Enrollment Fee, No Commitment, and No Annual Fee
Planet Fitness
Southington
CT
Join Planet Fitness with a PF BLACK CARD® MEMBERSHIP for No Enrollment Fee, No Commitment, and No Annual Fee
Planet Fitness
Paducah
KY
Join Planet Fitness with a PF BLACK CARD® MEMBERSHIP for No Enrollment Fee, No Commitment, and No Annual Fee
Planet Fitness
Roanoke
VA
Join Planet Fitness with a PF BLACK CARD® MEMBERSHIP for No Enrollment Fee, No Commitment, and No Annual Fee
Planet Fitness
Manchester
CT
Join Planet Fitness with a PF BLACK CARD® MEMBERSHIP for No Enrollment Fee, No Commitment, and No Annual Fee
Planet Fitness
Searcy
AR
Join Planet Fitness with a PF BLACK CARD® MEMBERSHIP for No Enrollment Fee, No Commitment, and No Annual Fee
Planet Fitness
Corsicana
TX
Join Planet Fitness with a PF BLACK CARD® MEMBERSHIP for No Enrollment Fee, No Commitment, and No Annual Fee
Planet Fitness
Montgomery
AL
Join Planet Fitness with a PF BLACK CARD® MEMBERSHIP for No Enrollment Fee, No Commitment, and No Annual Fee
Planet Fitness
Grand Island
NE
Join Planet Fitness with a PF BLACK CARD® MEMBERSHIP for No Enrollment Fee, No Commitment, and No Annual Fee
Planet Fitness
Casper
WY
Join Planet Fitness with a PF BLACK CARD® MEMBERSHIP for No Enrollment Fee, No Commitment, and No Annual Fee
Planet Fitness
Wilmington
MA
Join Planet Fitness with a PF BLACK CARD® MEMBERSHIP for No Enrollment Fee, No Commitment, and No Annual Fee
Planet Fitness
San Angelo
TX
Join Planet Fitness with a PF BLACK CARD® MEMBERSHIP for No Enrollment Fee, No Commitment, and No Annual Fee
Planet Fitness
Lafayette
LA
Join Planet Fitness with a PF BLACK CARD® MEMBERSHIP for No Enrollment Fee, No Commitment, and No Annual Fee
Planet Fitness
Hanover
MA
Join Planet Fitness with a PF BLACK CARD® MEMBERSHIP for No Enrollment Fee, No Commitment, and No Annual Fee
Planet Fitness
Zanesville
OH
Join Planet Fitness with a PF BLACK CARD® MEMBERSHIP for No Enrollment Fee, No Commitment, and No Annual Fee
Planet Fitness
Fall River
MA
Join Planet Fitness with a PF BLACK CARD® MEMBERSHIP for No Enrollment Fee, No Commitment, and No Annual Fee
Planet Fitness
Oak Ridge
TN
Join Planet Fitness with a PF BLACK CARD® MEMBERSHIP for No Enrollment Fee, No Commitment, and No Annual Fee
Planet Fitness
Savannah
GA
Join Planet Fitness with a PF BLACK CARD® MEMBERSHIP for No Enrollment Fee, No Commitment, and No Annual Fee
Planet Fitness
Owensboro
KY
Join Planet Fitness with a PF BLACK CARD® MEMBERSHIP for No Enrollment Fee, No Commitment, and No Annual Fee
Planet Fitness
Moline
IL
Join Planet Fitness with a PF BLACK CARD® MEMBERSHIP for No Enrollment Fee, No Commitment, and No Annual Fee
Planet Fitness
Hadley
MA
Join Planet Fitness with a PF BLACK CARD® MEMBERSHIP for No Enrollment Fee, No Commitment, and No Annual Fee
Planet Fitness
Lawton
OK
Join Planet Fitness with a PF BLACK CARD® MEMBERSHIP for No Enrollment Fee, No Commitment, and No Annual Fee
Planet Fitness
Amarillo
TX
Join Planet Fitness with a PF BLACK CARD® MEMBERSHIP for No Enrollment Fee, No Commitment, and No Annual Fee
Planet Fitness
Cedar Rapids
IA
Join Planet Fitness with a PF BLACK CARD® MEMBERSHIP for No Enrollment Fee, No Commitment, and No Annual Fee
Planet Fitness
Lexington
NC
Join Planet Fitness with a PF BLACK CARD® MEMBERSHIP for No Enrollment Fee, No Commitment, and No Annual Fee
Planet Fitness
Wichita Falls
TX
Join Planet Fitness with a PF BLACK CARD® MEMBERSHIP for No Enrollment Fee, No Commitment, and No Annual Fee
Planet Fitness
Kingman
AZ
Join Planet Fitness with a PF BLACK CARD® MEMBERSHIP for No Enrollment Fee, No Commitment, and No Annual Fee
Planet Fitness
Waterford
CT
Join Planet Fitness with a PF BLACK CARD® MEMBERSHIP for No Enrollment Fee, No Commitment, and No Annual Fee
Planet Fitness
Ithaca
NY
Join Planet Fitness with a PF BLACK CARD® MEMBERSHIP for No Enrollment Fee, No Commitment, and No Annual Fee
Planet Fitness
North Attleboro
MA
Join Planet Fitness with a PF BLACK CARD® MEMBERSHIP for No Enrollment Fee, No Commitment, and No Annual Fee
Planet Fitness
Methuen
MA
Join Planet Fitness with a PF BLACK CARD® MEMBERSHIP for No Enrollment Fee, No Commitment, and No Annual Fee
Planet Fitness
Burlington
MA
Join Planet Fitness with a PF BLACK CARD® MEMBERSHIP for No Enrollment Fee, No Commitment, and No Annual Fee
Planet Fitness
Belchertown
MA
Join Planet Fitness with a PF BLACK CARD® MEMBERSHIP for No Enrollment Fee, No Commitment, and No Annual Fee
Planet Fitness
Cookeville
TN
Join Planet Fitness with a PF BLACK CARD® MEMBERSHIP for No Enrollment Fee, No Commitment, and No Annual Fee
Planet Fitness
Lufkin
TX
Join Planet Fitness with a PF BLACK CARD® MEMBERSHIP for No Enrollment Fee, No Commitment, and No Annual Fee
Planet Fitness
Laredo
TX
Join Planet Fitness with a PF BLACK CARD® MEMBERSHIP for No Enrollment Fee, No Commitment, and No Annual Fee
Planet Fitness
Bakersfield
CA
Join Planet Fitness with a PF BLACK CARD® MEMBERSHIP for No Enrollment Fee, No Commitment, and No Annual Fee
Planet Fitness
Lindsay
ON
Join Planet Fitness with a PF BLACK CARD® MEMBERSHIP for No Enrollment Fee, No Commitment, and No Annual Fee
Planet Fitness
Russellville
AR
Join Planet Fitness with a PF BLACK CARD® MEMBERSHIP for No Enrollment Fee, No Commitment, and No Annual Fee
Planet Fitness
Clinton
MS
Join Planet Fitness with a PF BLACK CARD® MEMBERSHIP for No Enrollment Fee, No Commitment, and No Annual Fee
Planet Fitness
Lake Charles
LA
Join Planet Fitness with a PF BLACK CARD® MEMBERSHIP for No Enrollment Fee, No Commitment, and No Annual Fee
Planet Fitness
Springdale
AR
Join Planet Fitness with a PF BLACK CARD® MEMBERSHIP for No Enrollment Fee, No Commitment, and No Annual Fee
Planet Fitness
Graham
NC
Join Planet Fitness with a PF BLACK CARD® MEMBERSHIP for No Enrollment Fee, No Commitment, and No Annual Fee
Planet Fitness
Peoria
IL
Join Planet Fitness with a PF BLACK CARD® MEMBERSHIP for No Enrollment Fee, No Commitment, and No Annual Fee
Planet Fitness
Norwood
MA
Join Planet Fitness with a PF BLACK CARD® MEMBERSHIP for No Enrollment Fee, No Commitment, and No Annual Fee
Planet Fitness
St. George
UT
Join Planet Fitness with a PF BLACK CARD® MEMBERSHIP for No Enrollment Fee, No Commitment, and No Annual Fee
Planet Fitness
Norwich
CT
Join Planet Fitness with a PF BLACK CARD® MEMBERSHIP for No Enrollment Fee, No Commitment, and No Annual Fee
Planet Fitness
Steubenville, Oh
OH
Join Planet Fitness with a PF BLACK CARD® MEMBERSHIP for No Enrollment Fee, No Commitment, and No Annual Fee
Planet Fitness
Chubbuck
ID
Join Planet Fitness with a PF BLACK CARD® MEMBERSHIP for No Enrollment Fee, No Commitment, and No Annual Fee
Planet Fitness
Mishawaka
IN
Join Planet Fitness with a PF BLACK CARD® MEMBERSHIP for No Enrollment Fee, No Commitment, and No Annual Fee
Planet Fitness
Vernon
CT
Join Planet Fitness with a PF BLACK CARD® MEMBERSHIP for No Enrollment Fee, No Commitment, and No Annual Fee
Planet Fitness
Fargo
ND
Join Planet Fitness with a PF BLACK CARD® MEMBERSHIP for No Enrollment Fee, No Commitment, and No Annual Fee
Planet Fitness
Windsor
ON
Join Planet Fitness with a PF BLACK CARD® MEMBERSHIP for No Enrollment Fee, No Commitment, and No Annual Fee
Planet Fitness
Junction City
KS
Join Planet Fitness with a PF BLACK CARD® MEMBERSHIP for No Enrollment Fee, No Commitment, and No Annual Fee
Planet Fitness
Orange
CT
Join Planet Fitness with a PF BLACK CARD® MEMBERSHIP for No Enrollment Fee, No Commitment, and No Annual Fee
Planet Fitness
Newburyport
MA
Join Planet Fitness with a PF BLACK CARD® MEMBERSHIP for No Enrollment Fee, No Commitment, and No Annual Fee
Planet Fitness
Napanee
ON
Join Planet Fitness with a PF BLACK CARD® MEMBERSHIP for No Enrollment Fee, No Commitment, and No Annual Fee
Planet Fitness
Marietta
OH
Join Planet Fitness with a PF BLACK CARD® MEMBERSHIP for No Enrollment Fee, No Commitment, and No Annual Fee
Planet Fitness
Birmingham
AL
Join Planet Fitness with a PF BLACK CARD® MEMBERSHIP for No Enrollment Fee, No Commitment, and No Annual Fee
Planet Fitness
New Hartford
NY
Join Planet Fitness with a PF BLACK CARD® MEMBERSHIP for No Enrollment Fee, No Commitment, and No Annual Fee
Planet Fitness
Erie
PA
Join Planet Fitness with a PF BLACK CARD® MEMBERSHIP for No Enrollment Fee, No Commitment, and No Annual Fee
Planet Fitness
Chilliwack
BC
Join Planet Fitness with a PF BLACK CARD® MEMBERSHIP for No Enrollment Fee, No Commitment, and No Annual Fee
Planet Fitness
Columbus
GA
Join Planet Fitness with a PF BLACK CARD® MEMBERSHIP for No Enrollment Fee, No Commitment, and No Annual Fee
Planet Fitness
Evansville
IN
Join Planet Fitness with a PF BLACK CARD® MEMBERSHIP for No Enrollment Fee, No Commitment, and No Annual Fee
Planet Fitness
Meriden
CT
Join Planet Fitness with a PF BLACK CARD® MEMBERSHIP for No Enrollment Fee, No Commitment, and No Annual Fee
Planet Fitness
Knoxville
TN
Join Planet Fitness with a PF BLACK CARD® MEMBERSHIP for No Enrollment Fee, No Commitment, and No Annual Fee
Planet Fitness
Little Rock
AR
Join Planet Fitness with a PF BLACK CARD® MEMBERSHIP for No Enrollment Fee, No Commitment, and No Annual Fee
Planet Fitness
Greensboro
NC
Join Planet Fitness with a PF BLACK CARD® MEMBERSHIP for No Enrollment Fee, No Commitment, and No Annual Fee
Planet Fitness
Branford
CT
Join Planet Fitness with a PF BLACK CARD® MEMBERSHIP for No Enrollment Fee, No Commitment, and No Annual Fee
Planet Fitness
Vestal
NY
Join Planet Fitness with a PF BLACK CARD® MEMBERSHIP for No Enrollment Fee, No Commitment, and No Annual Fee
Planet Fitness
Billerica, Ma
MA
Join Planet Fitness with a PF BLACK CARD® MEMBERSHIP for No Enrollment Fee, No Commitment, and No Annual Fee
Planet Fitness
Fayetteville
NC
Join Planet Fitness with a PF BLACK CARD® MEMBERSHIP for No Enrollment Fee, No Commitment, and No Annual Fee
Planet Fitness
Knoxville
TN
Join Planet Fitness with a PF BLACK CARD® MEMBERSHIP for No Enrollment Fee, No Commitment, and No Annual Fee
Planet Fitness
South Bend
IN
Join Planet Fitness with a PF BLACK CARD® MEMBERSHIP for No Enrollment Fee, No Commitment, and No Annual Fee
Planet Fitness
Groves
TX
Join Planet Fitness with a PF BLACK CARD® MEMBERSHIP for No Enrollment Fee, No Commitment, and No Annual Fee
Planet Fitness
Crestwood
IL
Join Planet Fitness with a PF BLACK CARD® MEMBERSHIP for No Enrollment Fee, No Commitment, and No Annual Fee
Planet Fitness
Quincy
MA
Join Planet Fitness with a PF BLACK CARD® MEMBERSHIP for No Enrollment Fee, No Commitment, and No Annual Fee
Planet Fitness
Lynn, Ma
MA
Join Planet Fitness with a PF BLACK CARD® MEMBERSHIP for No Enrollment Fee, No Commitment, and No Annual Fee
Planet Fitness
Bluffton
SC
Join Planet Fitness with a PF BLACK CARD® MEMBERSHIP for No Enrollment Fee, No Commitment, and No Annual Fee
Planet Fitness
Dracut
MA
Join Planet Fitness with a PF BLACK CARD® MEMBERSHIP for No Enrollment Fee, No Commitment, and No Annual Fee
Planet Fitness
Dorchester
MA
Join Planet Fitness with a PF BLACK CARD® MEMBERSHIP for No Enrollment Fee, No Commitment, and No Annual Fee
Planet Fitness
El Paso
TX
Join Planet Fitness with a PF BLACK CARD® MEMBERSHIP for No Enrollment Fee, No Commitment, and No Annual Fee
Planet Fitness
Springfield
MA
Join Planet Fitness with a PF BLACK CARD® MEMBERSHIP for No Enrollment Fee, No Commitment, and No Annual Fee
Planet Fitness
Havelock
NC
Join Planet Fitness with a PF BLACK CARD® MEMBERSHIP for No Enrollment Fee, No Commitment, and No Annual Fee
Planet Fitness
Baton Rouge
LA
Join Planet Fitness with a PF BLACK CARD® MEMBERSHIP for No Enrollment Fee, No Commitment, and No Annual Fee
Planet Fitness
Victoria
TX
Join Planet Fitness with a PF BLACK CARD® MEMBERSHIP for No Enrollment Fee, No Commitment, and No Annual Fee
Planet Fitness
Belton
TX
Join Planet Fitness with a PF BLACK CARD® MEMBERSHIP for No Enrollment Fee, No Commitment, and No Annual Fee
Planet Fitness
Jackson
MS
Join Planet Fitness with a PF BLACK CARD® MEMBERSHIP for No Enrollment Fee, No Commitment, and No Annual Fee
Planet Fitness
Bessemer
AL
Join Planet Fitness with a PF BLACK CARD® MEMBERSHIP for No Enrollment Fee, No Commitment, and No Annual Fee
Planet Fitness
Mobile
AL
Join Planet Fitness with a PF BLACK CARD® MEMBERSHIP for No Enrollment Fee, No Commitment, and No Annual Fee
Planet Fitness
Maryville
TN
Join Planet Fitness with a PF BLACK CARD® MEMBERSHIP for No Enrollment Fee, No Commitment, and No Annual Fee
Planet Fitness
Hixson
TN
Join Planet Fitness with a PF BLACK CARD® MEMBERSHIP for No Enrollment Fee, No Commitment, and No Annual Fee
Planet Fitness
Dubuque
IA
Join Planet Fitness with a PF BLACK CARD® MEMBERSHIP for No Enrollment Fee, No Commitment, and No Annual Fee
Planet Fitness
Columbus
GA
Join Planet Fitness with a PF BLACK CARD® MEMBERSHIP for No Enrollment Fee, No Commitment, and No Annual Fee
Planet Fitness
Derby
CT
Join Planet Fitness with a PF BLACK CARD® MEMBERSHIP for No Enrollment Fee, No Commitment, and No Annual Fee
Planet Fitness
Rincon
GA
Join Planet Fitness with a PF BLACK CARD® MEMBERSHIP for No Enrollment Fee, No Commitment, and No Annual Fee
Planet Fitness
Jackson
TN
Join Planet Fitness with a PF BLACK CARD® MEMBERSHIP for No Enrollment Fee, No Commitment, and No Annual Fee
Planet Fitness
Essex Junction
VT
Join Planet Fitness with a PF BLACK CARD® MEMBERSHIP for No Enrollment Fee, No Commitment, and No Annual Fee
Planet Fitness
El Paso
TX
Join Planet Fitness with a PF BLACK CARD® MEMBERSHIP for No Enrollment Fee, No Commitment, and No Annual Fee
Planet Fitness
Pasco
WA
Join Planet Fitness with a PF BLACK CARD® MEMBERSHIP for No Enrollment Fee, No Commitment, and No Annual Fee
Planet Fitness
Shreveport
LA
Join Planet Fitness with a PF BLACK CARD® MEMBERSHIP for No Enrollment Fee, No Commitment, and No Annual Fee
Planet Fitness
Knoxville
TN
Join Planet Fitness with a PF BLACK CARD® MEMBERSHIP for No Enrollment Fee, No Commitment, and No Annual Fee
Planet Fitness
Fort Smith
AR
Join Planet Fitness with a PF BLACK CARD® MEMBERSHIP for No Enrollment Fee, No Commitment, and No Annual Fee
Planet Fitness
Lansing
MI
Join Planet Fitness with a PF BLACK CARD® MEMBERSHIP for No Enrollment Fee, No Commitment, and No Annual Fee
Planet Fitness
Corpus Christi
TX
Join Planet Fitness with a PF BLACK CARD® MEMBERSHIP for No Enrollment Fee, No Commitment, and No Annual Fee
Planet Fitness
Pensacola
FL
Join Planet Fitness with a PF BLACK CARD® MEMBERSHIP for No Enrollment Fee, No Commitment, and No Annual Fee
Planet Fitness
Johnstown
PA
Join Planet Fitness with a PF BLACK CARD® MEMBERSHIP for No Enrollment Fee, No Commitment, and No Annual Fee
Planet Fitness
Sioux City
IA
Join Planet Fitness with a PF BLACK CARD® MEMBERSHIP for No Enrollment Fee, No Commitment, and No Annual Fee
Planet Fitness
Clovis
NM
Join Planet Fitness with a PF BLACK CARD® MEMBERSHIP for No Enrollment Fee, No Commitment, and No Annual Fee
Planet Fitness
Hattiesburg
MS
Join Planet Fitness with a PF BLACK CARD® MEMBERSHIP for No Enrollment Fee, No Commitment, and No Annual Fee
Planet Fitness
Bakersfield
CA
Join Planet Fitness with a PF BLACK CARD® MEMBERSHIP for No Enrollment Fee, No Commitment, and No Annual Fee
Planet Fitness
Marshall
TX
Join Planet Fitness with a PF BLACK CARD® MEMBERSHIP for No Enrollment Fee, No Commitment, and No Annual Fee
Planet Fitness
Cocoa
FL
Join Planet Fitness with a PF BLACK CARD® MEMBERSHIP for No Enrollment Fee, No Commitment, and No Annual Fee
Planet Fitness
Chattanooga
TN
Join Planet Fitness with a PF BLACK CARD® MEMBERSHIP for No Enrollment Fee, No Commitment, and No Annual Fee
Planet Fitness
Pensacola
FL
Join Planet Fitness with a PF BLACK CARD® MEMBERSHIP for No Enrollment Fee, No Commitment, and No Annual Fee
Planet Fitness
Delano
CA
Join Planet Fitness with a PF BLACK CARD® MEMBERSHIP for No Enrollment Fee, No Commitment, and No Annual Fee
Planet Fitness
Cedar Falls
IA
Join Planet Fitness with a PF BLACK CARD® MEMBERSHIP for No Enrollment Fee, No Commitment, and No Annual Fee
Planet Fitness
Bangor
ME
Join Planet Fitness with a PF BLACK CARD® MEMBERSHIP for No Enrollment Fee, No Commitment, and No Annual Fee
Planet Fitness
Tuscaloosa
AL
Join Planet Fitness with a PF BLACK CARD® MEMBERSHIP for No Enrollment Fee, No Commitment, and No Annual Fee
Planet Fitness
Clemmons
NC
Join Planet Fitness with a PF BLACK CARD® MEMBERSHIP for No Enrollment Fee, No Commitment, and No Annual Fee
Planet Fitness
Hendersonville
NC
Join Planet Fitness with a PF BLACK CARD® MEMBERSHIP for No Enrollment Fee, No Commitment, and No Annual Fee
Planet Fitness
Wilmington
NC
Join Planet Fitness with a PF BLACK CARD® MEMBERSHIP for No Enrollment Fee, No Commitment, and No Annual Fee
Planet Fitness
Beaumont
TX
Join Planet Fitness with a PF BLACK CARD® MEMBERSHIP for No Enrollment Fee, No Commitment, and No Annual Fee
Planet Fitness
Laramie
WY
Join Planet Fitness with a PF BLACK CARD® MEMBERSHIP for No Enrollment Fee, No Commitment, and No Annual Fee
Planet Fitness
Groton
CT
Join Planet Fitness with a PF BLACK CARD® MEMBERSHIP for No Enrollment Fee, No Commitment, and No Annual Fee
Planet Fitness
Fall Rive
MA
Join Planet Fitness with a PF BLACK CARD® MEMBERSHIP for No Enrollment Fee, No Commitment, and No Annual Fee
Planet Fitness
Anchorage
AK
Join Planet Fitness with a PF BLACK CARD® MEMBERSHIP for No Enrollment Fee, No Commitment, and No Annual Fee
Planet Fitness
Roanoke
VA
Join Planet Fitness with a PF BLACK CARD® MEMBERSHIP for No Enrollment Fee, No Commitment, and No Annual Fee
Planet Fitness
Torrington
CT
Join Planet Fitness with a PF BLACK CARD® MEMBERSHIP for No Enrollment Fee, No Commitment, and No Annual Fee
Planet Fitness
St. Clairsville
OH
Join Planet Fitness with a PF BLACK CARD® MEMBERSHIP for No Enrollment Fee, No Commitment, and No Annual Fee
Planet Fitness
Westfield
MA
Join Planet Fitness with a PF BLACK CARD® MEMBERSHIP for No Enrollment Fee, No Commitment, and No Annual Fee
Planet Fitness
Worcester
MA
Join Planet Fitness with a PF BLACK CARD® MEMBERSHIP for No Enrollment Fee, No Commitment, and No Annual Fee
Planet Fitness
Wilmington
NC
Join Planet Fitness with a PF BLACK CARD® MEMBERSHIP for No Enrollment Fee, No Commitment, and No Annual Fee
Planet Fitness
Amesbury
MA
Join Planet Fitness with a PF BLACK CARD® MEMBERSHIP for No Enrollment Fee, No Commitment, and No Annual Fee
Planet Fitness
Taunton
MA
Join Planet Fitness with a PF BLACK CARD® MEMBERSHIP for No Enrollment Fee, No Commitment, and No Annual Fee
Planet Fitness
Pittsfield
MA
Join Planet Fitness with a PF BLACK CARD® MEMBERSHIP for No Enrollment Fee, No Commitment, and No Annual Fee
Planet Fitness
Baton Rouge
LA
Join Planet Fitness with a PF BLACK CARD® MEMBERSHIP for No Enrollment Fee, No Commitment, and No Annual Fee
Planet Fitness
Dedham
MA
Join Planet Fitness with a PF BLACK CARD® MEMBERSHIP for No Enrollment Fee, No Commitment, and No Annual Fee
Planet Fitness
Medford
MA
Join Planet Fitness with a PF BLACK CARD® MEMBERSHIP for No Enrollment Fee, No Commitment, and No Annual Fee
Planet Fitness
Vestavia Hills
AL
Join Planet Fitness with a PF BLACK CARD® MEMBERSHIP for No Enrollment Fee, No Commitment, and No Annual Fee
Planet Fitness
Utica
NY
Join Planet Fitness with a PF BLACK CARD® MEMBERSHIP for No Enrollment Fee, No Commitment, and No Annual Fee
Planet Fitness
Guilford
CT
Join Planet Fitness with a PF BLACK CARD® MEMBERSHIP for No Enrollment Fee, No Commitment, and No Annual Fee
Planet Fitness
Dartmouth
MA
Join Planet Fitness with a PF BLACK CARD® MEMBERSHIP for No Enrollment Fee, No Commitment, and No Annual Fee
Planet Fitness
Dayville
CT
Join Planet Fitness with a PF BLACK CARD® MEMBERSHIP for No Enrollment Fee, No Commitment, and No Annual Fee
Planet Fitness
Jasper
AL
Join Planet Fitness with a PF BLACK CARD® MEMBERSHIP for No Enrollment Fee, No Commitment, and No Annual Fee
Planet Fitness
Brockton
MA
Join Planet Fitness with a PF BLACK CARD® MEMBERSHIP for No Enrollment Fee, No Commitment, and No Annual Fee
Planet Fitness
Grand Forks
ND
Join Planet Fitness with a PF BLACK CARD® MEMBERSHIP for No Enrollment Fee, No Commitment, and No Annual Fee
Planet Fitness
Sherman
TX
Join Planet Fitness with a PF BLACK CARD® MEMBERSHIP for No Enrollment Fee, No Commitment, and No Annual Fee
Planet Fitness
El Paso
TX
Join Planet Fitness with a PF BLACK CARD® MEMBERSHIP for No Enrollment Fee, No Commitment, and No Annual Fee
Planet Fitness
Great Falls
MT
Join Planet Fitness with a PF BLACK CARD® MEMBERSHIP for No Enrollment Fee, No Commitment, and No Annual Fee
Planet Fitness
Plattsburgh
NY
Join Planet Fitness with a PF BLACK CARD® MEMBERSHIP for No Enrollment Fee, No Commitment, and No Annual Fee
Planet Fitness
Kennewick
WA
Join Planet Fitness with a PF BLACK CARD® MEMBERSHIP for No Enrollment Fee, No Commitment, and No Annual Fee
Planet Fitness
Gardner
MA
Join Planet Fitness with a PF BLACK CARD® MEMBERSHIP for No Enrollment Fee, No Commitment, and No Annual Fee
Planet Fitness
Braintree
MA
Join Planet Fitness with a PF BLACK CARD® MEMBERSHIP for No Enrollment Fee, No Commitment, and No Annual Fee
Planet Fitness
Ridgeland
MS
Join Planet Fitness with a PF BLACK CARD® MEMBERSHIP for No Enrollment Fee, No Commitment, and No Annual Fee
Planet Fitness
Christiansburg
VA
Join Planet Fitness with a PF BLACK CARD® MEMBERSHIP for No Enrollment Fee, No Commitment, and No Annual Fee
Planet Fitness
Malden
MA
Join Planet Fitness with a PF BLACK CARD® MEMBERSHIP for No Enrollment Fee, No Commitment, and No Annual Fee
Planet Fitness
Moorhead
MN
Join Planet Fitness with a PF BLACK CARD® MEMBERSHIP for No Enrollment Fee, No Commitment, and No Annual Fee
Planet Fitness
Bossier City
LA
Join Planet Fitness with a PF BLACK CARD® MEMBERSHIP for No Enrollment Fee, No Commitment, and No Annual Fee
Planet Fitness
Greenville
NC
Join Planet Fitness with a PF BLACK CARD® MEMBERSHIP for No Enrollment Fee, No Commitment, and No Annual Fee
Planet Fitness
Madison
AL
Join Planet Fitness with a PF BLACK CARD® MEMBERSHIP for No Enrollment Fee, No Commitment, and No Annual Fee
Planet Fitness
Decatur
AL
Join Planet Fitness with a PF BLACK CARD® MEMBERSHIP for No Enrollment Fee, No Commitment, and No Annual Fee
Planet Fitness
Warner Robins
GA
Join Planet Fitness with a PF BLACK CARD® MEMBERSHIP for No Enrollment Fee, No Commitment, and No Annual Fee
Planet Fitness
North Adams
MA
Join Planet Fitness with a PF BLACK CARD® MEMBERSHIP for No Enrollment Fee, No Commitment, and No Annual Fee
Planet Fitness
New Iberia
LA
Join Planet Fitness with a PF BLACK CARD® MEMBERSHIP for No Enrollment Fee, No Commitment, and No Annual Fee
Planet Fitness
Thomasville
NC
Join Planet Fitness with a PF BLACK CARD® MEMBERSHIP for No Enrollment Fee, No Commitment, and No Annual Fee
Planet Fitness
East Haven
CT
Join Planet Fitness with a PF BLACK CARD® MEMBERSHIP for No Enrollment Fee, No Commitment, and No Annual Fee
Planet Fitness
Kernersville
NC
Join Planet Fitness with a PF BLACK CARD® MEMBERSHIP for No Enrollment Fee, No Commitment, and No Annual Fee
Planet Fitness
Plymouth
MA
Join Planet Fitness with a PF BLACK CARD® MEMBERSHIP for No Enrollment Fee, No Commitment, and No Annual Fee
Planet Fitness
Melbourne
FL
Join Planet Fitness with a PF BLACK CARD® MEMBERSHIP for No Enrollment Fee, No Commitment, and No Annual Fee
Planet Fitness
Stamford
CT
Join Planet Fitness with a PF BLACK CARD® MEMBERSHIP for No Enrollment Fee, No Commitment, and No Annual Fee
Planet Fitness
Waterbury
CT
Join Planet Fitness with a PF BLACK CARD® MEMBERSHIP for No Enrollment Fee, No Commitment, and No Annual Fee
Planet Fitness
Evansville
IN
Join Planet Fitness with a PF BLACK CARD® MEMBERSHIP for No Enrollment Fee, No Commitment, and No Annual Fee
Planet Fitness
Little Rock
AR
Join Planet Fitness with a PF BLACK CARD® MEMBERSHIP for No Enrollment Fee, No Commitment, and No Annual Fee
Planet Fitness
Somerset
MA
Join Planet Fitness with a PF BLACK CARD® MEMBERSHIP for No Enrollment Fee, No Commitment, and No Annual Fee
Planet Fitness
Lower Mills
MA
Join Planet Fitness with a PF BLACK CARD® MEMBERSHIP for No Enrollment Fee, No Commitment, and No Annual Fee
Planet Fitness
Morgantown
WV
Join Planet Fitness with a PF BLACK CARD® MEMBERSHIP for No Enrollment Fee, No Commitment, and No Annual Fee
Planet Fitness
Mobile West
AL
Join Planet Fitness with a PF BLACK CARD® MEMBERSHIP for No Enrollment Fee, No Commitment, and No Annual Fee
Planet Fitness
Davenport
IA
Join Planet Fitness with a PF BLACK CARD® MEMBERSHIP for No Enrollment Fee, No Commitment, and No Annual Fee
Planet Fitness
Birmingham
AL
Join Planet Fitness with a PF BLACK CARD® MEMBERSHIP for No Enrollment Fee, No Commitment, and No Annual Fee
Planet Fitness
Harlingen
TX
Join Planet Fitness with a PF BLACK CARD® MEMBERSHIP for No Enrollment Fee, No Commitment, and No Annual Fee
Planet Fitness
Enterprise
AL
Join Planet Fitness with a PF BLACK CARD® MEMBERSHIP for No Enrollment Fee, No Commitment, and No Annual Fee
Planet Fitness
Lima
OH
Join Planet Fitness with a PF BLACK CARD® MEMBERSHIP for No Enrollment Fee, No Commitment, and No Annual Fee
Planet Fitness
Knoxville
TN
Join Planet Fitness with a PF BLACK CARD® MEMBERSHIP for No Enrollment Fee, No Commitment, and No Annual Fee
Planet Fitness
Winchester
KY
Join Planet Fitness with a PF BLACK CARD® MEMBERSHIP for No Enrollment Fee, No Commitment, and No Annual Fee
Planet Fitness
Weymouth
MA
Join Planet Fitness with a PF BLACK CARD® MEMBERSHIP for No Enrollment Fee, No Commitment, and No Annual Fee
Planet Fitness
Johnson City
TN
Join Planet Fitness with a PF BLACK CARD® MEMBERSHIP for No Enrollment Fee, No Commitment, and No Annual Fee
Planet Fitness
Poplar Bluff
MO
Join Planet Fitness with a PF BLACK CARD® MEMBERSHIP for No Enrollment Fee, No Commitment, and No Annual Fee
Planet Fitness
Kingston
ON
Join Planet Fitness with a PF BLACK CARD® MEMBERSHIP for No Enrollment Fee, No Commitment, and No Annual Fee
Planet Fitness
Cornwall
ON
Join Planet Fitness with a PF BLACK CARD® MEMBERSHIP for No Enrollment Fee, No Commitment, and No Annual Fee
Planet Fitness
Baton Rouge
LA
Join Planet Fitness with a PF BLACK CARD® MEMBERSHIP for No Enrollment Fee, No Commitment, and No Annual Fee
Planet Fitness
Henderson
NC
Join Planet Fitness with a PF BLACK CARD® MEMBERSHIP for No Enrollment Fee, No Commitment, and No Annual Fee
Planet Fitness
Erie
PA
Join Planet Fitness with a PF BLACK CARD® MEMBERSHIP for No Enrollment Fee, No Commitment, and No Annual Fee
Planet Fitness
Leominster
MA
Join Planet Fitness with a PF BLACK CARD® MEMBERSHIP for No Enrollment Fee, No Commitment, and No Annual Fee
Planet Fitness
Bristol
CT
Join Planet Fitness with a PF BLACK CARD® MEMBERSHIP for No Enrollment Fee, No Commitment, and No Annual Fee
Planet Fitness
Fayetteville
NC
Join Planet Fitness with a PF BLACK CARD® MEMBERSHIP for No Enrollment Fee, No Commitment, and No Annual Fee
Planet Fitness
Macon
GA
Join Planet Fitness with a PF BLACK CARD® MEMBERSHIP for No Enrollment Fee, No Commitment, and No Annual Fee
Planet Fitness
Rock Springs
WY
Join Planet Fitness with a PF BLACK CARD® MEMBERSHIP for No Enrollment Fee, No Commitment, and No Annual Fee
Planet Fitness
Andover
MA
Join Planet Fitness with a PF BLACK CARD® MEMBERSHIP for No Enrollment Fee, No Commitment, and No Annual Fee
Planet Fitness
Amsterdam
NY
Join Planet Fitness with a Classic Membership for No Enrollment Fee and No Commitment
Planet Fitness
Rotterdam
NY
Join Planet Fitness with a Classic Membership for No Enrollment Fee and No Commitment
Planet Fitness
Hudson
NY
Join Planet Fitness with a Classic Membership for No Enrollment Fee and No Commitment
Planet Fitness
Albany
NY
Join Planet Fitness with a Classic Membership for No Enrollment Fee and No Commitment
Planet Fitness
Clifton Park
NY
Join Planet Fitness with a Classic Membership for No Enrollment Fee and No Commitment
Planet Fitness
Glenville
NY
Join Planet Fitness with a Classic Membership for No Enrollment Fee and No Commitment
Planet Fitness
Saratoga Springs
NY
Join Planet Fitness with a Classic Membership for No Enrollment Fee and No Commitment
Planet Fitness
Glenmont
NY
Join Planet Fitness with a Classic Membership for No Enrollment Fee and No Commitment
Planet Fitness
Loudonville
NY
Join Planet Fitness with a Classic Membership for No Enrollment Fee and No Commitment
Planet Fitness
Queensbury
NY
Join Planet Fitness with a Classic Membership for No Enrollment Fee and No Commitment
Planet Fitness
East Greenbush
NY
Join Planet Fitness with a Classic Membership for No Enrollment Fee and No Commitment
Planet Fitness
Troy
NY
Join Planet Fitness with a Classic Membership for No Enrollment Fee and No Commitment
Planet Fitness
Amsterdam
NY
Join Planet Fitness with a PF BLACK CARD® MEMBERSHIP for No Enrollment Fee, No Commitment, and No Annual Fee
Planet Fitness
Rotterdam
NY
Join Planet Fitness with a PF BLACK CARD® MEMBERSHIP for No Enrollment Fee, No Commitment, and No Annual Fee
Planet Fitness
Hudson
NY
Join Planet Fitness with a PF BLACK CARD® MEMBERSHIP for No Enrollment Fee, No Commitment, and No Annual Fee
Planet Fitness
Albany
NY
Join Planet Fitness with a PF BLACK CARD® MEMBERSHIP for No Enrollment Fee, No Commitment, and No Annual Fee
Planet Fitness
Clifton Park
NY
Join Planet Fitness with a PF BLACK CARD® MEMBERSHIP for No Enrollment Fee, No Commitment, and No Annual Fee
Planet Fitness
Glenville
NY
Join Planet Fitness with a PF BLACK CARD® MEMBERSHIP for No Enrollment Fee, No Commitment, and No Annual Fee
Planet Fitness
Saratoga Springs
NY
Join Planet Fitness with a PF BLACK CARD® MEMBERSHIP for No Enrollment Fee, No Commitment, and No Annual Fee
Planet Fitness
Glenmont
NY
Join Planet Fitness with a PF BLACK CARD® MEMBERSHIP for No Enrollment Fee, No Commitment, and No Annual Fee
Planet Fitness
Loudonville
NY
Join Planet Fitness with a PF BLACK CARD® MEMBERSHIP for No Enrollment Fee, No Commitment, and No Annual Fee
Planet Fitness
Queensbury
NY
Join Planet Fitness with a PF BLACK CARD® MEMBERSHIP for No Enrollment Fee, No Commitment, and No Annual Fee
Planet Fitness
East Greenbush
NY
Join Planet Fitness with a PF BLACK CARD® MEMBERSHIP for No Enrollment Fee, No Commitment, and No Annual Fee
Planet Fitness
Troy
NY
Join Planet Fitness with a PF BLACK CARD® MEMBERSHIP for No Enrollment Fee, No Commitment, and No Annual Fee
Planet Fitness
Albuquerque
NM
Join Planet Fitness with a Classic Membership for No Enrollment Fee and No Commitment
Planet Fitness
Albuquerque
NM
Join Planet Fitness with a Classic Membership for No Enrollment Fee and No Commitment
Planet Fitness
Los Lunas
NM
Join Planet Fitness with a Classic Membership for No Enrollment Fee and No Commitment
Planet Fitness
Santa Fe
NM
Join Planet Fitness with a Classic Membership for No Enrollment Fee and No Commitment
Planet Fitness
Albuquerque
NM
Join Planet Fitness with a Classic Membership for No Enrollment Fee and No Commitment
Planet Fitness
Rio Rancho
NM
Join Planet Fitness with a Classic Membership for No Enrollment Fee and No Commitment
Planet Fitness
Albuquerque
NM
Join Planet Fitness with a Classic Membership for No Enrollment Fee and No Commitment
Planet Fitness
Albuquerque
NM
Join Planet Fitness with a Classic Membership for No Enrollment Fee and No Commitment
Planet Fitness
Albuquerque
NM
Join Planet Fitness with a Classic Membership for No Enrollment Fee and No Commitment
Planet Fitness
Albuquerque
NM
Join Planet Fitness with a Classic Membership for No Enrollment Fee and No Commitment
Planet Fitness
Albuquerque
NM
Join Planet Fitness with a Classic Membership for No Enrollment Fee and No Commitment
Planet Fitness
Albuquerque
NM
Join Planet Fitness with a Classic Membership for No Enrollment Fee and No Commitment
Planet Fitness
Albuquerque
NM
Join Planet Fitness with a PF BLACK CARD® MEMBERSHIP for No Enrollment Fee, No Commitment, and No Annual Fee
Planet Fitness
Albuquerque
NM
Join Planet Fitness with a PF BLACK CARD® MEMBERSHIP for No Enrollment Fee, No Commitment, and No Annual Fee
Planet Fitness
Los Lunas
NM
Join Planet Fitness with a PF BLACK CARD® MEMBERSHIP for No Enrollment Fee, No Commitment, and No Annual Fee
Planet Fitness
Santa Fe
NM
Join Planet Fitness with a PF BLACK CARD® MEMBERSHIP for No Enrollment Fee, No Commitment, and No Annual Fee
Planet Fitness
Albuquerque
NM
Join Planet Fitness with a PF BLACK CARD® MEMBERSHIP for No Enrollment Fee, No Commitment, and No Annual Fee
Planet Fitness
Rio Rancho
NM
Join Planet Fitness with a PF BLACK CARD® MEMBERSHIP for No Enrollment Fee, No Commitment, and No Annual Fee
Planet Fitness
Albuquerque
NM
Join Planet Fitness with a PF BLACK CARD® MEMBERSHIP for No Enrollment Fee, No Commitment, and No Annual Fee
Planet Fitness
Albuquerque
NM
Join Planet Fitness with a PF BLACK CARD® MEMBERSHIP for No Enrollment Fee, No Commitment, and No Annual Fee
Planet Fitness
Albuquerque
NM
Join Planet Fitness with a PF BLACK CARD® MEMBERSHIP for No Enrollment Fee, No Commitment, and No Annual Fee
Planet Fitness
Albuquerque
NM
Join Planet Fitness with a PF BLACK CARD® MEMBERSHIP for No Enrollment Fee, No Commitment, and No Annual Fee
Planet Fitness
Albuquerque
NM
Join Planet Fitness with a PF BLACK CARD® MEMBERSHIP for No Enrollment Fee, No Commitment, and No Annual Fee
Planet Fitness
Albuquerque
NM
Join Planet Fitness with a PF BLACK CARD® MEMBERSHIP for No Enrollment Fee, No Commitment, and No Annual Fee
Planet Fitness
Fond Du Lac
WI
Join Planet Fitness with a Classic Membership for No Enrollment Fee and No Commitment
Planet Fitness
Green Bay
WI
Join Planet Fitness with a Classic Membership for No Enrollment Fee and No Commitment
Planet Fitness
Oshkosh
WI
Join Planet Fitness with a Classic Membership for No Enrollment Fee and No Commitment
Planet Fitness
Green Bay
WI
Join Planet Fitness with a Classic Membership for No Enrollment Fee and No Commitment
Planet Fitness
Appleton
WI
Join Planet Fitness with a Classic Membership for No Enrollment Fee and No Commitment
Planet Fitness
Manitowoc
WI
Join Planet Fitness with a Classic Membership for No Enrollment Fee and No Commitment
Planet Fitness
Appleton
WI
Join Planet Fitness with a Classic Membership for No Enrollment Fee and No Commitment
Planet Fitness
Fond Du Lac
WI
Join Planet Fitness with a PF BLACK CARD® MEMBERSHIP for No Enrollment Fee, No Commitment, and No Annual Fee
Planet Fitness
Green Bay
WI
Join Planet Fitness with a PF BLACK CARD® MEMBERSHIP for No Enrollment Fee, No Commitment, and No Annual Fee
Planet Fitness
Oshkosh
WI
Join Planet Fitness with a PF BLACK CARD® MEMBERSHIP for No Enrollment Fee, No Commitment, and No Annual Fee
Planet Fitness
Green Bay
WI
Join Planet Fitness with a PF BLACK CARD® MEMBERSHIP for No Enrollment Fee, No Commitment, and No Annual Fee
Planet Fitness
Appleton
WI
Join Planet Fitness with a PF BLACK CARD® MEMBERSHIP for No Enrollment Fee, No Commitment, and No Annual Fee
Planet Fitness
Manitowoc
WI
Join Planet Fitness with a PF BLACK CARD® MEMBERSHIP for No Enrollment Fee, No Commitment, and No Annual Fee
Planet Fitness
Appleton
WI
Join Planet Fitness with a PF BLACK CARD® MEMBERSHIP for No Enrollment Fee, No Commitment, and No Annual Fee
Planet Fitness
Roswell
GA
Join Planet Fitness with a Classic Membership for No Enrollment Fee and No Commitment
Planet Fitness
LaGrange
GA
Join Planet Fitness with a Classic Membership for No Enrollment Fee and No Commitment
Planet Fitness
Griffin
GA
Join Planet Fitness with a Classic Membership for No Enrollment Fee and No Commitment
Planet Fitness
Calhoun
GA
Join Planet Fitness with a Classic Membership for No Enrollment Fee and No Commitment
Planet Fitness
Gainesville
GA
Join Planet Fitness with a Classic Membership for No Enrollment Fee and No Commitment
Planet Fitness
Milton
GA
Join Planet Fitness with a Classic Membership for No Enrollment Fee and No Commitment
Planet Fitness
Cumming
GA
Join Planet Fitness with a Classic Membership for No Enrollment Fee and No Commitment
Planet Fitness
Marietta
GA
Join Planet Fitness with a Classic Membership for No Enrollment Fee and No Commitment
Planet Fitness
Lawrenceville-Suwanee
GA
Join Planet Fitness with a Classic Membership for No Enrollment Fee and No Commitment
Planet Fitness
Lawrenceville
GA
Join Planet Fitness with a Classic Membership for No Enrollment Fee and No Commitment
Planet Fitness
Roswell
GA
Join Planet Fitness with a Classic Membership for No Enrollment Fee and No Commitment
Planet Fitness
Conyers
GA
Join Planet Fitness with a Classic Membership for No Enrollment Fee and No Commitment
Planet Fitness
Fayetteville
GA
Join Planet Fitness with a Classic Membership for No Enrollment Fee and No Commitment
Planet Fitness
Stone Mountain
GA
Join Planet Fitness with a Classic Membership for No Enrollment Fee and No Commitment
Planet Fitness
Morrow
GA
Join Planet Fitness with a Classic Membership for No Enrollment Fee and No Commitment
Planet Fitness
Canton
GA
Join Planet Fitness with a Classic Membership for No Enrollment Fee and No Commitment
Planet Fitness
Snellville
GA
Join Planet Fitness with a Classic Membership for No Enrollment Fee and No Commitment
Planet Fitness
Decatur
GA
Join Planet Fitness with a Classic Membership for No Enrollment Fee and No Commitment
Planet Fitness
Rome
GA
Join Planet Fitness with a Classic Membership for No Enrollment Fee and No Commitment
Planet Fitness
Mcdonough
GA
Join Planet Fitness with a Classic Membership for No Enrollment Fee and No Commitment
Planet Fitness
Atlanta
GA
Join Planet Fitness with a Classic Membership for No Enrollment Fee and No Commitment
Planet Fitness
Marietta
GA
Join Planet Fitness with a Classic Membership for No Enrollment Fee and No Commitment
Planet Fitness
Woodstock
GA
Join Planet Fitness with a Classic Membership for No Enrollment Fee and No Commitment
Planet Fitness
Kennesaw
GA
Join Planet Fitness with a Classic Membership for No Enrollment Fee and No Commitment
Planet Fitness
Covington
GA
Join Planet Fitness with a Classic Membership for No Enrollment Fee and No Commitment
Planet Fitness
Smyrna
GA
Join Planet Fitness with a Classic Membership for No Enrollment Fee and No Commitment
Planet Fitness
Atlanta
GA
Join Planet Fitness with a Classic Membership for No Enrollment Fee and No Commitment
Planet Fitness
Duluth
GA
Join Planet Fitness with a Classic Membership for No Enrollment Fee and No Commitment
Planet Fitness
Atlanta
GA
Join Planet Fitness with a Classic Membership for No Enrollment Fee and No Commitment
Planet Fitness
Athens
GA
Join Planet Fitness with a Classic Membership for No Enrollment Fee and No Commitment
Planet Fitness
Stockbridge
GA
Join Planet Fitness with a Classic Membership for No Enrollment Fee and No Commitment
Planet Fitness
Buford
GA
Join Planet Fitness with a Classic Membership for No Enrollment Fee and No Commitment
Planet Fitness
Atlanta
GA
Join Planet Fitness with a Classic Membership for No Enrollment Fee and No Commitment
Planet Fitness
Hiram
GA
Join Planet Fitness with a Classic Membership for No Enrollment Fee and No Commitment
Planet Fitness
Union City
GA
Join Planet Fitness with a Classic Membership for No Enrollment Fee and No Commitment
Planet Fitness
Stone Mountain
GA
Join Planet Fitness with a Classic Membership for No Enrollment Fee and No Commitment
Planet Fitness
Mableton
GA
Join Planet Fitness with a Classic Membership for No Enrollment Fee and No Commitment
Planet Fitness
Riverdale
GA
Join Planet Fitness with a Classic Membership for No Enrollment Fee and No Commitment
Planet Fitness
Cedartown
GA
Join Planet Fitness with a Classic Membership for No Enrollment Fee and No Commitment
Planet Fitness
Dawsonvill
GA
Join Planet Fitness with a Classic Membership for No Enrollment Fee and No Commitment
Planet Fitness
Jonesboro
GA
Join Planet Fitness with a Classic Membership for No Enrollment Fee and No Commitment
Planet Fitness
Atlanta
GA
Join Planet Fitness with a Classic Membership for No Enrollment Fee and No Commitment
Planet Fitness
Cartersville
GA
Join Planet Fitness with a Classic Membership for No Enrollment Fee and No Commitment
Planet Fitness
Roswell
GA
Join Planet Fitness with a PF BLACK CARD® MEMBERSHIP for No Enrollment Fee, No Commitment, and No Annual Fee
Planet Fitness
LaGrange
GA
Join Planet Fitness with a PF BLACK CARD® MEMBERSHIP for No Enrollment Fee, No Commitment, and No Annual Fee
Planet Fitness
Griffin
GA
Join Planet Fitness with a PF BLACK CARD® MEMBERSHIP for No Enrollment Fee, No Commitment, and No Annual Fee
Planet Fitness
Calhoun
GA
Join Planet Fitness with a PF BLACK CARD® MEMBERSHIP for No Enrollment Fee, No Commitment, and No Annual Fee
Planet Fitness
Gainesville
GA
Join Planet Fitness with a PF BLACK CARD® MEMBERSHIP for No Enrollment Fee, No Commitment, and No Annual Fee
Planet Fitness
Milton
GA
Join Planet Fitness with a PF BLACK CARD® MEMBERSHIP for No Enrollment Fee, No Commitment, and No Annual Fee
Planet Fitness
Cumming
GA
Join Planet Fitness with a PF BLACK CARD® MEMBERSHIP for No Enrollment Fee, No Commitment, and No Annual Fee
Planet Fitness
Marietta
GA
Join Planet Fitness with a PF BLACK CARD® MEMBERSHIP for No Enrollment Fee, No Commitment, and No Annual Fee
Planet Fitness
Lawrenceville-Suwanee
GA
Join Planet Fitness with a PF BLACK CARD® MEMBERSHIP for No Enrollment Fee, No Commitment, and No Annual Fee
Planet Fitness
Lawrenceville
GA
Join Planet Fitness with a PF BLACK CARD® MEMBERSHIP for No Enrollment Fee, No Commitment, and No Annual Fee
Planet Fitness
Roswell
GA
Join Planet Fitness with a PF BLACK CARD® MEMBERSHIP for No Enrollment Fee, No Commitment, and No Annual Fee
Planet Fitness
Conyers
GA
Join Planet Fitness with a PF BLACK CARD® MEMBERSHIP for No Enrollment Fee, No Commitment, and No Annual Fee
Planet Fitness
Fayetteville
GA
Join Planet Fitness with a PF BLACK CARD® MEMBERSHIP for No Enrollment Fee, No Commitment, and No Annual Fee
Planet Fitness
Stone Mountain
GA
Join Planet Fitness with a PF BLACK CARD® MEMBERSHIP for No Enrollment Fee, No Commitment, and No Annual Fee
Planet Fitness
Morrow
GA
Join Planet Fitness with a PF BLACK CARD® MEMBERSHIP for No Enrollment Fee, No Commitment, and No Annual Fee
Planet Fitness
Canton
GA
Join Planet Fitness with a PF BLACK CARD® MEMBERSHIP for No Enrollment Fee, No Commitment, and No Annual Fee
Planet Fitness
Snellville
GA
Join Planet Fitness with a PF BLACK CARD® MEMBERSHIP for No Enrollment Fee, No Commitment, and No Annual Fee
Planet Fitness
Decatur
GA
Join Planet Fitness with a PF BLACK CARD® MEMBERSHIP for No Enrollment Fee, No Commitment, and No Annual Fee
Planet Fitness
Rome
GA
Join Planet Fitness with a PF BLACK CARD® MEMBERSHIP for No Enrollment Fee, No Commitment, and No Annual Fee
Planet Fitness
Mcdonough
GA
Join Planet Fitness with a PF BLACK CARD® MEMBERSHIP for No Enrollment Fee, No Commitment, and No Annual Fee
Planet Fitness
Atlanta
GA
Join Planet Fitness with a PF BLACK CARD® MEMBERSHIP for No Enrollment Fee, No Commitment, and No Annual Fee
Planet Fitness
Marietta
GA
Join Planet Fitness with a PF BLACK CARD® MEMBERSHIP for No Enrollment Fee, No Commitment, and No Annual Fee
Planet Fitness
Woodstock
GA
Join Planet Fitness with a PF BLACK CARD® MEMBERSHIP for No Enrollment Fee, No Commitment, and No Annual Fee
Planet Fitness
Kennesaw
GA
Join Planet Fitness with a PF BLACK CARD® MEMBERSHIP for No Enrollment Fee, No Commitment, and No Annual Fee
Planet Fitness
Covington
GA
Join Planet Fitness with a PF BLACK CARD® MEMBERSHIP for No Enrollment Fee, No Commitment, and No Annual Fee
Planet Fitness
Smyrna
GA
Join Planet Fitness with a PF BLACK CARD® MEMBERSHIP for No Enrollment Fee, No Commitment, and No Annual Fee
Planet Fitness
Atlanta
GA
Join Planet Fitness with a PF BLACK CARD® MEMBERSHIP for No Enrollment Fee, No Commitment, and No Annual Fee
Planet Fitness
Duluth
GA
Join Planet Fitness with a PF BLACK CARD® MEMBERSHIP for No Enrollment Fee, No Commitment, and No Annual Fee
Planet Fitness
Atlanta
GA
Join Planet Fitness with a PF BLACK CARD® MEMBERSHIP for No Enrollment Fee, No Commitment, and No Annual Fee
Planet Fitness
Athens
GA
Join Planet Fitness with a PF BLACK CARD® MEMBERSHIP for No Enrollment Fee, No Commitment, and No Annual Fee
Planet Fitness
Stockbridge
GA
Join Planet Fitness with a PF BLACK CARD® MEMBERSHIP for No Enrollment Fee, No Commitment, and No Annual Fee
Planet Fitness
Buford
GA
Join Planet Fitness with a PF BLACK CARD® MEMBERSHIP for No Enrollment Fee, No Commitment, and No Annual Fee
Planet Fitness
Atlanta
GA
Join Planet Fitness with a PF BLACK CARD® MEMBERSHIP for No Enrollment Fee, No Commitment, and No Annual Fee
Planet Fitness
Hiram
GA
Join Planet Fitness with a PF BLACK CARD® MEMBERSHIP for No Enrollment Fee, No Commitment, and No Annual Fee
Planet Fitness
Union City
GA
Join Planet Fitness with a PF BLACK CARD® MEMBERSHIP for No Enrollment Fee, No Commitment, and No Annual Fee
Planet Fitness
Stone Mountain
GA
Join Planet Fitness with a PF BLACK CARD® MEMBERSHIP for No Enrollment Fee, No Commitment, and No Annual Fee
Planet Fitness
Mableton
GA
Join Planet Fitness with a PF BLACK CARD® MEMBERSHIP for No Enrollment Fee, No Commitment, and No Annual Fee
Planet Fitness
Riverdale
GA
Join Planet Fitness with a PF BLACK CARD® MEMBERSHIP for No Enrollment Fee, No Commitment, and No Annual Fee
Planet Fitness
Cedartown
GA
Join Planet Fitness with a PF BLACK CARD® MEMBERSHIP for No Enrollment Fee, No Commitment, and No Annual Fee
Planet Fitness
Dawsonvill
GA
Join Planet Fitness with a PF BLACK CARD® MEMBERSHIP for No Enrollment Fee, No Commitment, and No Annual Fee
Planet Fitness
Jonesboro
GA
Join Planet Fitness with a PF BLACK CARD® MEMBERSHIP for No Enrollment Fee, No Commitment, and No Annual Fee
Planet Fitness
Atlanta
GA
Join Planet Fitness with a PF BLACK CARD® MEMBERSHIP for No Enrollment Fee, No Commitment, and No Annual Fee
Planet Fitness
Cartersville
GA
Join Planet Fitness with a PF BLACK CARD® MEMBERSHIP for No Enrollment Fee, No Commitment, and No Annual Fee
Planet Fitness
Austin
TX
Join Planet Fitness with a Classic Membership for No Enrollment Fee and No Commitment
Planet Fitness
Austin
TX
Join Planet Fitness with a Classic Membership for No Enrollment Fee and No Commitment
Planet Fitness
Austin
TX
Join Planet Fitness with a Classic Membership for No Enrollment Fee and No Commitment
Planet Fitness
Austin
TX
Join Planet Fitness with a Classic Membership for No Enrollment Fee and No Commitment
Planet Fitness
Austin
TX
Join Planet Fitness with a Classic Membership for No Enrollment Fee and No Commitment
Planet Fitness
Pflugerville
TX
Join Planet Fitness with a Classic Membership for No Enrollment Fee and No Commitment
Planet Fitness
Austin
TX
Join Planet Fitness with a Classic Membership for No Enrollment Fee and No Commitment
Planet Fitness
Austin
TX
Join Planet Fitness with a Classic Membership for No Enrollment Fee and No Commitment
Planet Fitness
Austin
TX
Join Planet Fitness with a PF BLACK CARD® MEMBERSHIP for No Enrollment Fee, No Commitment, and No Annual Fee
Planet Fitness
Austin
TX
Join Planet Fitness with a PF BLACK CARD® MEMBERSHIP for No Enrollment Fee, No Commitment, and No Annual Fee
Planet Fitness
Austin
TX
Join Planet Fitness with a PF BLACK CARD® MEMBERSHIP for No Enrollment Fee, No Commitment, and No Annual Fee
Planet Fitness
Austin
TX
Join Planet Fitness with a PF BLACK CARD® MEMBERSHIP for No Enrollment Fee, No Commitment, and No Annual Fee
Planet Fitness
Austin
TX
Join Planet Fitness with a PF BLACK CARD® MEMBERSHIP for No Enrollment Fee, No Commitment, and No Annual Fee
Planet Fitness
Pflugerville
TX
Join Planet Fitness with a PF BLACK CARD® MEMBERSHIP for No Enrollment Fee, No Commitment, and No Annual Fee
Planet Fitness
Austin
TX
Join Planet Fitness with a PF BLACK CARD® MEMBERSHIP for No Enrollment Fee, No Commitment, and No Annual Fee
Planet Fitness
Austin
TX
Join Planet Fitness with a PF BLACK CARD® MEMBERSHIP for No Enrollment Fee, No Commitment, and No Annual Fee
Planet Fitness
Baltimore City
MD
Join Planet Fitness with a Classic Membership for No Enrollment Fee and No Commitment
Planet Fitness
Aberdeen
MD
Join Planet Fitness with a Classic Membership for No Enrollment Fee and No Commitment
Planet Fitness
Reisterstown
MD
Join Planet Fitness with a Classic Membership for No Enrollment Fee and No Commitment
Planet Fitness
Dundalk
MD
Join Planet Fitness with a Classic Membership for No Enrollment Fee and No Commitment
Planet Fitness
Forest Hill
MD
Join Planet Fitness with a Classic Membership for No Enrollment Fee and No Commitment
Planet Fitness
Elkton
MD
Join Planet Fitness with a Classic Membership for No Enrollment Fee and No Commitment
Planet Fitness
Baltimore City
MD
Join Planet Fitness with a Classic Membership for No Enrollment Fee and No Commitment
Planet Fitness
Ft. Meade
MD
Join Planet Fitness with a Classic Membership for No Enrollment Fee and No Commitment
Planet Fitness
Abingdon
MD
Join Planet Fitness with a Classic Membership for No Enrollment Fee and No Commitment
Planet Fitness
Baltimore City
MD
Join Planet Fitness with a Classic Membership for No Enrollment Fee and No Commitment
Planet Fitness
Catonsville
MD
Join Planet Fitness with a Classic Membership for No Enrollment Fee and No Commitment
Planet Fitness
Baltimore City
MD
Join Planet Fitness with a Classic Membership for No Enrollment Fee and No Commitment
Planet Fitness
Glen Burnie
MD
Join Planet Fitness with a Classic Membership for No Enrollment Fee and No Commitment
Planet Fitness
Baltimore City
MD
Join Planet Fitness with a Classic Membership for No Enrollment Fee and No Commitment
Planet Fitness
Towson
MD
Join Planet Fitness with a Classic Membership for No Enrollment Fee and No Commitment
Planet Fitness
Pasadena
MD
Join Planet Fitness with a Classic Membership for No Enrollment Fee and No Commitment
Planet Fitness
Baltimore
MD
Join Planet Fitness with a Classic Membership for No Enrollment Fee and No Commitment
Planet Fitness
Perry Hall
MD
Join Planet Fitness with a Classic Membership for No Enrollment Fee and No Commitment
Planet Fitness
Westminster
MD
Join Planet Fitness with a Classic Membership for No Enrollment Fee and No Commitment
Planet Fitness
Baltimore City
MD
Join Planet Fitness with a PF BLACK CARD® MEMBERSHIP for No Enrollment Fee, No Commitment, and No Annual Fee
Planet Fitness
Aberdeen
MD
Join Planet Fitness with a PF BLACK CARD® MEMBERSHIP for No Enrollment Fee, No Commitment, and No Annual Fee
Planet Fitness
Reisterstown
MD
Join Planet Fitness with a PF BLACK CARD® MEMBERSHIP for No Enrollment Fee, No Commitment, and No Annual Fee
Planet Fitness
Dundalk
MD
Join Planet Fitness with a PF BLACK CARD® MEMBERSHIP for No Enrollment Fee, No Commitment, and No Annual Fee
Planet Fitness
Forest Hill
MD
Join Planet Fitness with a PF BLACK CARD® MEMBERSHIP for No Enrollment Fee, No Commitment, and No Annual Fee
Planet Fitness
Elkton
MD
Join Planet Fitness with a PF BLACK CARD® MEMBERSHIP for No Enrollment Fee, No Commitment, and No Annual Fee
Planet Fitness
Baltimore City
MD
Join Planet Fitness with a PF BLACK CARD® MEMBERSHIP for No Enrollment Fee, No Commitment, and No Annual Fee
Planet Fitness
Ft. Meade
MD
Join Planet Fitness with a PF BLACK CARD® MEMBERSHIP for No Enrollment Fee, No Commitment, and No Annual Fee
Planet Fitness
Abingdon
MD
Join Planet Fitness with a PF BLACK CARD® MEMBERSHIP for No Enrollment Fee, No Commitment, and No Annual Fee
Planet Fitness
Baltimore City
MD
Join Planet Fitness with a PF BLACK CARD® MEMBERSHIP for No Enrollment Fee, No Commitment, and No Annual Fee
Planet Fitness
Catonsville
MD
Join Planet Fitness with a PF BLACK CARD® MEMBERSHIP for No Enrollment Fee, No Commitment, and No Annual Fee
Planet Fitness
Baltimore City
MD
Join Planet Fitness with a PF BLACK CARD® MEMBERSHIP for No Enrollment Fee, No Commitment, and No Annual Fee
Planet Fitness
Glen Burnie
MD
Join Planet Fitness with a PF BLACK CARD® MEMBERSHIP for No Enrollment Fee, No Commitment, and No Annual Fee
Planet Fitness
Baltimore City
MD
Join Planet Fitness with a PF BLACK CARD® MEMBERSHIP for No Enrollment Fee, No Commitment, and No Annual Fee
Planet Fitness
Towson
MD
Join Planet Fitness with a PF BLACK CARD® MEMBERSHIP for No Enrollment Fee, No Commitment, and No Annual Fee
Planet Fitness
Pasadena
MD
Join Planet Fitness with a PF BLACK CARD® MEMBERSHIP for No Enrollment Fee, No Commitment, and No Annual Fee
Planet Fitness
Baltimore
MD
Join Planet Fitness with a PF BLACK CARD® MEMBERSHIP for No Enrollment Fee, No Commitment, and No Annual Fee
Planet Fitness
Perry Hall
MD
Join Planet Fitness with a PF BLACK CARD® MEMBERSHIP for No Enrollment Fee, No Commitment, and No Annual Fee
Planet Fitness
Westminster
MD
Join Planet Fitness with a PF BLACK CARD® MEMBERSHIP for No Enrollment Fee, No Commitment, and No Annual Fee
Planet Fitness
Boise
ID
Join Planet Fitness with a Classic Membership for No Enrollment Fee and No Commitment
Planet Fitness
Boise
ID
Join Planet Fitness with a Classic Membership for No Enrollment Fee and No Commitment
Planet Fitness
Boise
ID
Join Planet Fitness with a PF BLACK CARD® MEMBERSHIP for No Enrollment Fee, No Commitment, and No Annual Fee
Planet Fitness
Boise
ID
Join Planet Fitness with a PF BLACK CARD® MEMBERSHIP for No Enrollment Fee, No Commitment, and No Annual Fee
Planet Fitness
Cheektowaga
NY
Join Planet Fitness with a Classic Membership for No Enrollment Fee and No Commitment
Planet Fitness
Tonawanda
NY
Join Planet Fitness with a Classic Membership for No Enrollment Fee and No Commitment
Planet Fitness
Lakewood
NY
Join Planet Fitness with a Classic Membership for No Enrollment Fee and No Commitment
Planet Fitness
West Seneca
NY
Join Planet Fitness with a Classic Membership for No Enrollment Fee and No Commitment
Planet Fitness
Amherst
NY
Join Planet Fitness with a Classic Membership for No Enrollment Fee and No Commitment
Planet Fitness
Batavia
NY
Join Planet Fitness with a Classic Membership for No Enrollment Fee and No Commitment
Planet Fitness
Williamsville
NY
Join Planet Fitness with a Classic Membership for No Enrollment Fee and No Commitment
Planet Fitness
Lockport
NY
Join Planet Fitness with a Classic Membership for No Enrollment Fee and No Commitment
Planet Fitness
Hamburg
NY
Join Planet Fitness with a Classic Membership for No Enrollment Fee and No Commitment
Planet Fitness
Niagara Falls
NY
Join Planet Fitness with a Classic Membership for No Enrollment Fee and No Commitment
Planet Fitness
Cheektowaga
NY
Join Planet Fitness with a PF BLACK CARD® MEMBERSHIP for No Enrollment Fee, No Commitment, and No Annual Fee
Planet Fitness
Tonawanda
NY
Join Planet Fitness with a PF BLACK CARD® MEMBERSHIP for No Enrollment Fee, No Commitment, and No Annual Fee
Planet Fitness
Lakewood
NY
Join Planet Fitness with a PF BLACK CARD® MEMBERSHIP for No Enrollment Fee, No Commitment, and No Annual Fee
Planet Fitness
West Seneca
NY
Join Planet Fitness with a PF BLACK CARD® MEMBERSHIP for No Enrollment Fee, No Commitment, and No Annual Fee
Planet Fitness
Amherst
NY
Join Planet Fitness with a PF BLACK CARD® MEMBERSHIP for No Enrollment Fee, No Commitment, and No Annual Fee
Planet Fitness
Batavia
NY
Join Planet Fitness with a PF BLACK CARD® MEMBERSHIP for No Enrollment Fee, No Commitment, and No Annual Fee
Planet Fitness
Williamsville
NY
Join Planet Fitness with a PF BLACK CARD® MEMBERSHIP for No Enrollment Fee, No Commitment, and No Annual Fee
Planet Fitness
Lockport
NY
Join Planet Fitness with a PF BLACK CARD® MEMBERSHIP for No Enrollment Fee, No Commitment, and No Annual Fee
Planet Fitness
Hamburg
NY
Join Planet Fitness with a PF BLACK CARD® MEMBERSHIP for No Enrollment Fee, No Commitment, and No Annual Fee
Planet Fitness
Niagara Falls
NY
Join Planet Fitness with a PF BLACK CARD® MEMBERSHIP for No Enrollment Fee, No Commitment, and No Annual Fee
Planet Fitness
Cross Lanes
WV
Join Planet Fitness with a Classic Membership for No Enrollment Fee and No Commitment
Planet Fitness
Cross Lanes
WV
Join Planet Fitness with a PF BLACK CARD® MEMBERSHIP for No Enrollment Fee, No Commitment, and No Annual Fee
Planet Fitness
Charlotte
NC
Join Planet Fitness with a Classic Membership for No Enrollment Fee and No Commitment
Planet Fitness
Kannapolis
NC
Join Planet Fitness with a Classic Membership for No Enrollment Fee and No Commitment
Planet Fitness
Shelby
NC
Join Planet Fitness with a Classic Membership for No Enrollment Fee and No Commitment
Planet Fitness
Concord
NC
Join Planet Fitness with a Classic Membership for No Enrollment Fee and No Commitment
Planet Fitness
Rock Hill
SC
Join Planet Fitness with a Classic Membership for No Enrollment Fee and No Commitment
Planet Fitness
Statesville
NC
Join Planet Fitness with a Classic Membership for No Enrollment Fee and No Commitment
Planet Fitness
Cornelius
NC
Join Planet Fitness with a Classic Membership for No Enrollment Fee and No Commitment
Planet Fitness
Gastonia
NC
Join Planet Fitness with a Classic Membership for No Enrollment Fee and No Commitment
Planet Fitness
Monroe
NC
Join Planet Fitness with a Classic Membership for No Enrollment Fee and No Commitment
Planet Fitness
Charlotte
NC
Join Planet Fitness with a Classic Membership for No Enrollment Fee and No Commitment
Planet Fitness
Charlotte
NC
Join Planet Fitness with a Classic Membership for No Enrollment Fee and No Commitment
Planet Fitness
Hickory
NC
Join Planet Fitness with a Classic Membership for No Enrollment Fee and No Commitment
Planet Fitness
Charlotte
NC
Join Planet Fitness with a Classic Membership for No Enrollment Fee and No Commitment
Planet Fitness
Mooresville
NC
Join Planet Fitness with a Classic Membership for No Enrollment Fee and No Commitment
Planet Fitness
Charlotte
NC
Join Planet Fitness with a Classic Membership for No Enrollment Fee and No Commitment
Planet Fitness
Belmont
NC
Join Planet Fitness with a Classic Membership for No Enrollment Fee and No Commitment
Planet Fitness
Charlotte
NC
Join Planet Fitness with a Classic Membership for No Enrollment Fee and No Commitment
Planet Fitness
Salisbury
NC
Join Planet Fitness with a Classic Membership for No Enrollment Fee and No Commitment
Planet Fitness
East Albemarle
NC
Join Planet Fitness with a Classic Membership for No Enrollment Fee and No Commitment
Planet Fitness
Fort Mill
SC
Join Planet Fitness with a Classic Membership for No Enrollment Fee and No Commitment
Planet Fitness
Pineville, Nc
NC
Join Planet Fitness with a Classic Membership for No Enrollment Fee and No Commitment
Planet Fitness
Charlotte
NC
Join Planet Fitness with a PF BLACK CARD® MEMBERSHIP for No Enrollment Fee, No Commitment, and No Annual Fee
Planet Fitness
Kannapolis
NC
Join Planet Fitness with a PF BLACK CARD® MEMBERSHIP for No Enrollment Fee, No Commitment, and No Annual Fee
Planet Fitness
Shelby
NC
Join Planet Fitness with a PF BLACK CARD® MEMBERSHIP for No Enrollment Fee, No Commitment, and No Annual Fee
Planet Fitness
Concord
NC
Join Planet Fitness with a PF BLACK CARD® MEMBERSHIP for No Enrollment Fee, No Commitment, and No Annual Fee
Planet Fitness
Rock Hill
SC
Join Planet Fitness with a PF BLACK CARD® MEMBERSHIP for No Enrollment Fee, No Commitment, and No Annual Fee
Planet Fitness
Statesville
NC
Join Planet Fitness with a PF BLACK CARD® MEMBERSHIP for No Enrollment Fee, No Commitment, and No Annual Fee
Planet Fitness
Cornelius
NC
Join Planet Fitness with a PF BLACK CARD® MEMBERSHIP for No Enrollment Fee, No Commitment, and No Annual Fee
Planet Fitness
Gastonia
NC
Join Planet Fitness with a PF BLACK CARD® MEMBERSHIP for No Enrollment Fee, No Commitment, and No Annual Fee
Planet Fitness
Monroe
NC
Join Planet Fitness with a PF BLACK CARD® MEMBERSHIP for No Enrollment Fee, No Commitment, and No Annual Fee
Planet Fitness
Charlotte
NC
Join Planet Fitness with a PF BLACK CARD® MEMBERSHIP for No Enrollment Fee, No Commitment, and No Annual Fee
Planet Fitness
Charlotte
NC
Join Planet Fitness with a PF BLACK CARD® MEMBERSHIP for No Enrollment Fee, No Commitment, and No Annual Fee
Planet Fitness
Hickory
NC
Join Planet Fitness with a PF BLACK CARD® MEMBERSHIP for No Enrollment Fee, No Commitment, and No Annual Fee
Planet Fitness
Charlotte
NC
Join Planet Fitness with a PF BLACK CARD® MEMBERSHIP for No Enrollment Fee, No Commitment, and No Annual Fee
Planet Fitness
Mooresville
NC
Join Planet Fitness with a PF BLACK CARD® MEMBERSHIP for No Enrollment Fee, No Commitment, and No Annual Fee
Planet Fitness
Charlotte
NC
Join Planet Fitness with a PF BLACK CARD® MEMBERSHIP for No Enrollment Fee, No Commitment, and No Annual Fee
Planet Fitness
Belmont
NC
Join Planet Fitness with a PF BLACK CARD® MEMBERSHIP for No Enrollment Fee, No Commitment, and No Annual Fee
Planet Fitness
Charlotte
NC
Join Planet Fitness with a PF BLACK CARD® MEMBERSHIP for No Enrollment Fee, No Commitment, and No Annual Fee
Planet Fitness
Salisbury
NC
Join Planet Fitness with a PF BLACK CARD® MEMBERSHIP for No Enrollment Fee, No Commitment, and No Annual Fee
Planet Fitness
East Albemarle
NC
Join Planet Fitness with a PF BLACK CARD® MEMBERSHIP for No Enrollment Fee, No Commitment, and No Annual Fee
Planet Fitness
Fort Mill
SC
Join Planet Fitness with a PF BLACK CARD® MEMBERSHIP for No Enrollment Fee, No Commitment, and No Annual Fee
Planet Fitness
Pineville, Nc
NC
Join Planet Fitness with a PF BLACK CARD® MEMBERSHIP for No Enrollment Fee, No Commitment, and No Annual Fee
Planet Fitness
Lockpor
IL
Join Planet Fitness with a Classic Membership for No Enrollment Fee and No Commitment
Planet Fitness
Chicago
IL
Join Planet Fitness with a Classic Membership for No Enrollment Fee and No Commitment
Planet Fitness
Mundelein
IL
Join Planet Fitness with a Classic Membership for No Enrollment Fee and No Commitment
Planet Fitness
Naperville
IL
Join Planet Fitness with a Classic Membership for No Enrollment Fee and No Commitment
Planet Fitness
Kankakee
IL
Join Planet Fitness with a Classic Membership for No Enrollment Fee and No Commitment
Planet Fitness
Chicago
IL
Join Planet Fitness with a Classic Membership for No Enrollment Fee and No Commitment
Planet Fitness
Calumet Park
IL
Join Planet Fitness with a Classic Membership for No Enrollment Fee and No Commitment
Planet Fitness
Plainfield
IL
Join Planet Fitness with a Classic Membership for No Enrollment Fee and No Commitment
Planet Fitness
Bloomingdale
IL
Join Planet Fitness with a Classic Membership for No Enrollment Fee and No Commitment
Planet Fitness
Bolingbrook
IL
Join Planet Fitness with a Classic Membership for No Enrollment Fee and No Commitment
Planet Fitness
Tinley Park
IL
Join Planet Fitness with a Classic Membership for No Enrollment Fee and No Commitment
Planet Fitness
Lansing
IL
Join Planet Fitness with a Classic Membership for No Enrollment Fee and No Commitment
Planet Fitness
Wheaton
IL
Join Planet Fitness with a Classic Membership for No Enrollment Fee and No Commitment
Planet Fitness
Montgomery
IL
Join Planet Fitness with a Classic Membership for No Enrollment Fee and No Commitment
Planet Fitness
Melrose Park
IL
Join Planet Fitness with a Classic Membership for No Enrollment Fee and No Commitment
Planet Fitness
Villa Park
IL
Join Planet Fitness with a Classic Membership for No Enrollment Fee and No Commitment
Planet Fitness
St. Charles
IL
Join Planet Fitness with a Classic Membership for No Enrollment Fee and No Commitment
Planet Fitness
Waukegan
IL
Join Planet Fitness with a Classic Membership for No Enrollment Fee and No Commitment
Planet Fitness
Cicero
IL
Join Planet Fitness with a Classic Membership for No Enrollment Fee and No Commitment
Planet Fitness
Chicago
IL
Join Planet Fitness with a Classic Membership for No Enrollment Fee and No Commitment
Planet Fitness
Evanston
IL
Join Planet Fitness with a Classic Membership for No Enrollment Fee and No Commitment
Planet Fitness
Rockford
IL
Join Planet Fitness with a Classic Membership for No Enrollment Fee and No Commitment
Planet Fitness
Chicago
IL
Join Planet Fitness with a Classic Membership for No Enrollment Fee and No Commitment
Planet Fitness
Elmwood Park
IL
Join Planet Fitness with a Classic Membership for No Enrollment Fee and No Commitment
Planet Fitness
Dekalb
IL
Join Planet Fitness with a Classic Membership for No Enrollment Fee and No Commitment
Planet Fitness
Chicago
IL
Join Planet Fitness with a Classic Membership for No Enrollment Fee and No Commitment
Planet Fitness
Joliet
IL
Join Planet Fitness with a Classic Membership for No Enrollment Fee and No Commitment
Planet Fitness
Chicago
IL
Join Planet Fitness with a Classic Membership for No Enrollment Fee and No Commitment
Planet Fitness
Mchenry
IL
Join Planet Fitness with a Classic Membership for No Enrollment Fee and No Commitment
Planet Fitness
Chicago
IL
Join Planet Fitness with a Classic Membership for No Enrollment Fee and No Commitment
Planet Fitness
Chicago
IL
Join Planet Fitness with a Classic Membership for No Enrollment Fee and No Commitment
Planet Fitness
Yorkville
IL
Join Planet Fitness with a Classic Membership for No Enrollment Fee and No Commitment
Planet Fitness
West Dundee
IL
Join Planet Fitness with a Classic Membership for No Enrollment Fee and No Commitment
Planet Fitness
Aurora
IL
Join Planet Fitness with a Classic Membership for No Enrollment Fee and No Commitment
Planet Fitness
Chicago
IL
Join Planet Fitness with a Classic Membership for No Enrollment Fee and No Commitment
Planet Fitness
Chicago
IL
Join Planet Fitness with a Classic Membership for No Enrollment Fee and No Commitment
Planet Fitness
Chicago
IL
Join Planet Fitness with a Classic Membership for No Enrollment Fee and No Commitment
Planet Fitness
Arlington Heights
IL
Join Planet Fitness with a Classic Membership for No Enrollment Fee and No Commitment
Planet Fitness
Addison
IL
Join Planet Fitness with a Classic Membership for No Enrollment Fee and No Commitment
Planet Fitness
Crystal Lake
IL
Join Planet Fitness with a Classic Membership for No Enrollment Fee and No Commitment
Planet Fitness
Elgin
IL
Join Planet Fitness with a Classic Membership for No Enrollment Fee and No Commitment
Planet Fitness
Loves Park
IL
Join Planet Fitness with a Classic Membership for No Enrollment Fee and No Commitment
Planet Fitness
Lincolnwood
IL
Join Planet Fitness with a Classic Membership for No Enrollment Fee and No Commitment
Planet Fitness
Morton Grove
IL
Join Planet Fitness with a Classic Membership for No Enrollment Fee and No Commitment
Planet Fitness
Chicago
IL
Join Planet Fitness with a Classic Membership for No Enrollment Fee and No Commitment
Planet Fitness
Des Plaines
IL
Join Planet Fitness with a Classic Membership for No Enrollment Fee and No Commitment
Planet Fitness
Forest Park
IL
Join Planet Fitness with a Classic Membership for No Enrollment Fee and No Commitment
Planet Fitness
Chicago
IL
Join Planet Fitness with a Classic Membership for No Enrollment Fee and No Commitment
Planet Fitness
Woodridge
IL
Join Planet Fitness with a Classic Membership for No Enrollment Fee and No Commitment
Planet Fitness
Carol Stream
IL
Join Planet Fitness with a Classic Membership for No Enrollment Fee and No Commitment
Planet Fitness
Evergreen Park
IL
Join Planet Fitness with a Classic Membership for No Enrollment Fee and No Commitment
Planet Fitness
Oak Lawn
IL
Join Planet Fitness with a Classic Membership for No Enrollment Fee and No Commitment
Planet Fitness
Aurora
IL
Join Planet Fitness with a Classic Membership for No Enrollment Fee and No Commitment
Planet Fitness
Hickory Hills
IL
Join Planet Fitness with a Classic Membership for No Enrollment Fee and No Commitment
Planet Fitness
Elk Grove Village
IL
Join Planet Fitness with a Classic Membership for No Enrollment Fee and No Commitment
Planet Fitness
Lockpor
IL
Join Planet Fitness with a PF BLACK CARD® MEMBERSHIP for No Enrollment Fee, No Commitment, and No Annual Fee
Planet Fitness
Chicago
IL
Join Planet Fitness with a PF BLACK CARD® MEMBERSHIP for No Enrollment Fee, No Commitment, and No Annual Fee
Planet Fitness
Mundelein
IL
Join Planet Fitness with a PF BLACK CARD® MEMBERSHIP for No Enrollment Fee, No Commitment, and No Annual Fee
Planet Fitness
Naperville
IL
Join Planet Fitness with a PF BLACK CARD® MEMBERSHIP for No Enrollment Fee, No Commitment, and No Annual Fee
Planet Fitness
Kankakee
IL
Join Planet Fitness with a PF BLACK CARD® MEMBERSHIP for No Enrollment Fee, No Commitment, and No Annual Fee
Planet Fitness
Chicago
IL
Join Planet Fitness with a PF BLACK CARD® MEMBERSHIP for No Enrollment Fee, No Commitment, and No Annual Fee
Planet Fitness
Calumet Park
IL
Join Planet Fitness with a PF BLACK CARD® MEMBERSHIP for No Enrollment Fee, No Commitment, and No Annual Fee
Planet Fitness
Plainfield
IL
Join Planet Fitness with a PF BLACK CARD® MEMBERSHIP for No Enrollment Fee, No Commitment, and No Annual Fee
Planet Fitness
Bloomingdale
IL
Join Planet Fitness with a PF BLACK CARD® MEMBERSHIP for No Enrollment Fee, No Commitment, and No Annual Fee
Planet Fitness
Bolingbrook
IL
Join Planet Fitness with a PF BLACK CARD® MEMBERSHIP for No Enrollment Fee, No Commitment, and No Annual Fee
Planet Fitness
Tinley Park
IL
Join Planet Fitness with a PF BLACK CARD® MEMBERSHIP for No Enrollment Fee, No Commitment, and No Annual Fee
Planet Fitness
Lansing
IL
Join Planet Fitness with a PF BLACK CARD® MEMBERSHIP for No Enrollment Fee, No Commitment, and No Annual Fee
Planet Fitness
Wheaton
IL
Join Planet Fitness with a PF BLACK CARD® MEMBERSHIP for No Enrollment Fee, No Commitment, and No Annual Fee
Planet Fitness
Montgomery
IL
Join Planet Fitness with a PF BLACK CARD® MEMBERSHIP for No Enrollment Fee, No Commitment, and No Annual Fee
Planet Fitness
Melrose Park
IL
Join Planet Fitness with a PF BLACK CARD® MEMBERSHIP for No Enrollment Fee, No Commitment, and No Annual Fee
Planet Fitness
Villa Park
IL
Join Planet Fitness with a PF BLACK CARD® MEMBERSHIP for No Enrollment Fee, No Commitment, and No Annual Fee
Planet Fitness
St. Charles
IL
Join Planet Fitness with a PF BLACK CARD® MEMBERSHIP for No Enrollment Fee, No Commitment, and No Annual Fee
Planet Fitness
Waukegan
IL
Join Planet Fitness with a PF BLACK CARD® MEMBERSHIP for No Enrollment Fee, No Commitment, and No Annual Fee
Planet Fitness
Cicero
IL
Join Planet Fitness with a PF BLACK CARD® MEMBERSHIP for No Enrollment Fee, No Commitment, and No Annual Fee
Planet Fitness
Chicago
IL
Join Planet Fitness with a PF BLACK CARD® MEMBERSHIP for No Enrollment Fee, No Commitment, and No Annual Fee
Planet Fitness
Evanston
IL
Join Planet Fitness with a PF BLACK CARD® MEMBERSHIP for No Enrollment Fee, No Commitment, and No Annual Fee
Planet Fitness
Rockford
IL
Join Planet Fitness with a PF BLACK CARD® MEMBERSHIP for No Enrollment Fee, No Commitment, and No Annual Fee
Planet Fitness
Chicago
IL
Join Planet Fitness with a PF BLACK CARD® MEMBERSHIP for No Enrollment Fee, No Commitment, and No Annual Fee
Planet Fitness
Elmwood Park
IL
Join Planet Fitness with a PF BLACK CARD® MEMBERSHIP for No Enrollment Fee, No Commitment, and No Annual Fee
Planet Fitness
Dekalb
IL
Join Planet Fitness with a PF BLACK CARD® MEMBERSHIP for No Enrollment Fee, No Commitment, and No Annual Fee
Planet Fitness
Chicago
IL
Join Planet Fitness with a PF BLACK CARD® MEMBERSHIP for No Enrollment Fee, No Commitment, and No Annual Fee
Planet Fitness
Joliet
IL
Join Planet Fitness with a PF BLACK CARD® MEMBERSHIP for No Enrollment Fee, No Commitment, and No Annual Fee
Planet Fitness
Chicago
IL
Join Planet Fitness with a PF BLACK CARD® MEMBERSHIP for No Enrollment Fee, No Commitment, and No Annual Fee
Planet Fitness
Mchenry
IL
Join Planet Fitness with a PF BLACK CARD® MEMBERSHIP for No Enrollment Fee, No Commitment, and No Annual Fee
Planet Fitness
Chicago
IL
Join Planet Fitness with a PF BLACK CARD® MEMBERSHIP for No Enrollment Fee, No Commitment, and No Annual Fee
Planet Fitness
Chicago
IL
Join Planet Fitness with a PF BLACK CARD® MEMBERSHIP for No Enrollment Fee, No Commitment, and No Annual Fee
Planet Fitness
Yorkville
IL
Join Planet Fitness with a PF BLACK CARD® MEMBERSHIP for No Enrollment Fee, No Commitment, and No Annual Fee
Planet Fitness
West Dundee
IL
Join Planet Fitness with a PF BLACK CARD® MEMBERSHIP for No Enrollment Fee, No Commitment, and No Annual Fee
Planet Fitness
Aurora
IL
Join Planet Fitness with a PF BLACK CARD® MEMBERSHIP for No Enrollment Fee, No Commitment, and No Annual Fee
Planet Fitness
Chicago
IL
Join Planet Fitness with a PF BLACK CARD® MEMBERSHIP for No Enrollment Fee, No Commitment, and No Annual Fee
Planet Fitness
Chicago
IL
Join Planet Fitness with a PF BLACK CARD® MEMBERSHIP for No Enrollment Fee, No Commitment, and No Annual Fee
Planet Fitness
Chicago
IL
Join Planet Fitness with a PF BLACK CARD® MEMBERSHIP for No Enrollment Fee, No Commitment, and No Annual Fee
Planet Fitness
Arlington Heights
IL
Join Planet Fitness with a PF BLACK CARD® MEMBERSHIP for No Enrollment Fee, No Commitment, and No Annual Fee
Planet Fitness
Addison
IL
Join Planet Fitness with a PF BLACK CARD® MEMBERSHIP for No Enrollment Fee, No Commitment, and No Annual Fee
Planet Fitness
Crystal Lake
IL
Join Planet Fitness with a PF BLACK CARD® MEMBERSHIP for No Enrollment Fee, No Commitment, and No Annual Fee
Planet Fitness
Elgin
IL
Join Planet Fitness with a PF BLACK CARD® MEMBERSHIP for No Enrollment Fee, No Commitment, and No Annual Fee
Planet Fitness
Loves Park
IL
Join Planet Fitness with a PF BLACK CARD® MEMBERSHIP for No Enrollment Fee, No Commitment, and No Annual Fee
Planet Fitness
Lincolnwood
IL
Join Planet Fitness with a PF BLACK CARD® MEMBERSHIP for No Enrollment Fee, No Commitment, and No Annual Fee
Planet Fitness
Morton Grove
IL
Join Planet Fitness with a PF BLACK CARD® MEMBERSHIP for No Enrollment Fee, No Commitment, and No Annual Fee
Planet Fitness
Chicago
IL
Join Planet Fitness with a PF BLACK CARD® MEMBERSHIP for No Enrollment Fee, No Commitment, and No Annual Fee
Planet Fitness
Des Plaines
IL
Join Planet Fitness with a PF BLACK CARD® MEMBERSHIP for No Enrollment Fee, No Commitment, and No Annual Fee
Planet Fitness
Forest Park
IL
Join Planet Fitness with a PF BLACK CARD® MEMBERSHIP for No Enrollment Fee, No Commitment, and No Annual Fee
Planet Fitness
Chicago
IL
Join Planet Fitness with a PF BLACK CARD® MEMBERSHIP for No Enrollment Fee, No Commitment, and No Annual Fee
Planet Fitness
Woodridge
IL
Join Planet Fitness with a PF BLACK CARD® MEMBERSHIP for No Enrollment Fee, No Commitment, and No Annual Fee
Planet Fitness
Carol Stream
IL
Join Planet Fitness with a PF BLACK CARD® MEMBERSHIP for No Enrollment Fee, No Commitment, and No Annual Fee
Planet Fitness
Evergreen Park
IL
Join Planet Fitness with a PF BLACK CARD® MEMBERSHIP for No Enrollment Fee, No Commitment, and No Annual Fee
Planet Fitness
Oak Lawn
IL
Join Planet Fitness with a PF BLACK CARD® MEMBERSHIP for No Enrollment Fee, No Commitment, and No Annual Fee
Planet Fitness
Aurora
IL
Join Planet Fitness with a PF BLACK CARD® MEMBERSHIP for No Enrollment Fee, No Commitment, and No Annual Fee
Planet Fitness
Hickory Hills
IL
Join Planet Fitness with a PF BLACK CARD® MEMBERSHIP for No Enrollment Fee, No Commitment, and No Annual Fee
Planet Fitness
Elk Grove Village
IL
Join Planet Fitness with a PF BLACK CARD® MEMBERSHIP for No Enrollment Fee, No Commitment, and No Annual Fee
Planet Fitness
Milford
OH
Join Planet Fitness with a Classic Membership for No Enrollment Fee and No Commitment
Planet Fitness
Cincinnati
OH
Join Planet Fitness with a Classic Membership for No Enrollment Fee and No Commitment
Planet Fitness
Cincinnati Banks Downtown
OH
Join Planet Fitness with a Classic Membership for No Enrollment Fee and No Commitment
Planet Fitness
Middletown
OH
Join Planet Fitness with a Classic Membership for No Enrollment Fee and No Commitment
Planet Fitness
Lawrenceburg
IN
Join Planet Fitness with a Classic Membership for No Enrollment Fee and No Commitment
Planet Fitness
Cincinnati
OH
Join Planet Fitness with a Classic Membership for No Enrollment Fee and No Commitment
Planet Fitness
Cincinnati
OH
Join Planet Fitness with a Classic Membership for No Enrollment Fee and No Commitment
Planet Fitness
Fort Wright
KY
Join Planet Fitness with a Classic Membership for No Enrollment Fee and No Commitment
Planet Fitness
Cincinnati
OH
Join Planet Fitness with a Classic Membership for No Enrollment Fee and No Commitment
Planet Fitness
Alexandria
KY
Join Planet Fitness with a Classic Membership for No Enrollment Fee and No Commitment
Planet Fitness
Hamilton
OH
Join Planet Fitness with a Classic Membership for No Enrollment Fee and No Commitment
Planet Fitness
Florence
KY
Join Planet Fitness with a Classic Membership for No Enrollment Fee and No Commitment
Planet Fitness
Newport
KY
Join Planet Fitness with a Classic Membership for No Enrollment Fee and No Commitment
Planet Fitness
Cincinnati
OH
Join Planet Fitness with a Classic Membership for No Enrollment Fee and No Commitment
Planet Fitness
Fairfield
OH
Join Planet Fitness with a Classic Membership for No Enrollment Fee and No Commitment
Planet Fitness
Cincinnati
OH
Join Planet Fitness with a Classic Membership for No Enrollment Fee and No Commitment
Planet Fitness
Mason
OH
Join Planet Fitness with a Classic Membership for No Enrollment Fee and No Commitment
Planet Fitness
Milford
OH
Join Planet Fitness with a PF BLACK CARD® MEMBERSHIP for No Enrollment Fee, No Commitment, and No Annual Fee
Planet Fitness
Cincinnati
OH
Join Planet Fitness with a PF BLACK CARD® MEMBERSHIP for No Enrollment Fee, No Commitment, and No Annual Fee
Planet Fitness
Cincinnati Banks Downtown
OH
Join Planet Fitness with a PF BLACK CARD® MEMBERSHIP for No Enrollment Fee, No Commitment, and No Annual Fee
Planet Fitness
Middletown
OH
Join Planet Fitness with a PF BLACK CARD® MEMBERSHIP for No Enrollment Fee, No Commitment, and No Annual Fee
Planet Fitness
Lawrenceburg
IN
Join Planet Fitness with a PF BLACK CARD® MEMBERSHIP for No Enrollment Fee, No Commitment, and No Annual Fee
Planet Fitness
Cincinnati
OH
Join Planet Fitness with a PF BLACK CARD® MEMBERSHIP for No Enrollment Fee, No Commitment, and No Annual Fee
Planet Fitness
Cincinnati
OH
Join Planet Fitness with a PF BLACK CARD® MEMBERSHIP for No Enrollment Fee, No Commitment, and No Annual Fee
Planet Fitness
Fort Wright
KY
Join Planet Fitness with a PF BLACK CARD® MEMBERSHIP for No Enrollment Fee, No Commitment, and No Annual Fee
Planet Fitness
Cincinnati
OH
Join Planet Fitness with a PF BLACK CARD® MEMBERSHIP for No Enrollment Fee, No Commitment, and No Annual Fee
Planet Fitness
Alexandria
KY
Join Planet Fitness with a PF BLACK CARD® MEMBERSHIP for No Enrollment Fee, No Commitment, and No Annual Fee
Planet Fitness
Hamilton
OH
Join Planet Fitness with a PF BLACK CARD® MEMBERSHIP for No Enrollment Fee, No Commitment, and No Annual Fee
Planet Fitness
Florence
KY
Join Planet Fitness with a PF BLACK CARD® MEMBERSHIP for No Enrollment Fee, No Commitment, and No Annual Fee
Planet Fitness
Newport
KY
Join Planet Fitness with a PF BLACK CARD® MEMBERSHIP for No Enrollment Fee, No Commitment, and No Annual Fee
Planet Fitness
Cincinnati
OH
Join Planet Fitness with a PF BLACK CARD® MEMBERSHIP for No Enrollment Fee, No Commitment, and No Annual Fee
Planet Fitness
Fairfield
OH
Join Planet Fitness with a PF BLACK CARD® MEMBERSHIP for No Enrollment Fee, No Commitment, and No Annual Fee
Planet Fitness
Cincinnati
OH
Join Planet Fitness with a PF BLACK CARD® MEMBERSHIP for No Enrollment Fee, No Commitment, and No Annual Fee
Planet Fitness
Mason
OH
Join Planet Fitness with a PF BLACK CARD® MEMBERSHIP for No Enrollment Fee, No Commitment, and No Annual Fee
Planet Fitness
Garfield Heights
OH
Join Planet Fitness with a Classic Membership for No Enrollment Fee and No Commitment
Planet Fitness
South Euclid
OH
Join Planet Fitness with a Classic Membership for No Enrollment Fee and No Commitment
Planet Fitness
Painesville Township
OH
Join Planet Fitness with a Classic Membership for No Enrollment Fee and No Commitment
Planet Fitness
Elyria
OH
Join Planet Fitness with a Classic Membership for No Enrollment Fee and No Commitment
Planet Fitness
Strongsville
OH
Join Planet Fitness with a Classic Membership for No Enrollment Fee and No Commitment
Planet Fitness
Parma
OH
Join Planet Fitness with a Classic Membership for No Enrollment Fee and No Commitment
Planet Fitness
Rocky River
OH
Join Planet Fitness with a Classic Membership for No Enrollment Fee and No Commitment
Planet Fitness
Lorain
OH
Join Planet Fitness with a Classic Membership for No Enrollment Fee and No Commitment
Planet Fitness
North Olmsted
OH
Join Planet Fitness with a Classic Membership for No Enrollment Fee and No Commitment
Planet Fitness
Willowick
OH
Join Planet Fitness with a Classic Membership for No Enrollment Fee and No Commitment
Planet Fitness
Ashtabula
OH
Join Planet Fitness with a Classic Membership for No Enrollment Fee and No Commitment
Planet Fitness
Cleveland
OH
Join Planet Fitness with a Classic Membership for No Enrollment Fee and No Commitment
Planet Fitness
Solon
OH
Join Planet Fitness with a Classic Membership for No Enrollment Fee and No Commitment
Planet Fitness
Avon
OH
Join Planet Fitness with a Classic Membership for No Enrollment Fee and No Commitment
Planet Fitness
Sandusky
OH
Join Planet Fitness with a Classic Membership for No Enrollment Fee and No Commitment
Planet Fitness
North Randall
OH
Join Planet Fitness with a Classic Membership for No Enrollment Fee and No Commitment
Planet Fitness
Brook Park
OH
Join Planet Fitness with a Classic Membership for No Enrollment Fee and No Commitment
Planet Fitness
Richmond Heights
OH
Join Planet Fitness with a Classic Membership for No Enrollment Fee and No Commitment
Planet Fitness
Mentor
OH
Join Planet Fitness with a Classic Membership for No Enrollment Fee and No Commitment
Planet Fitness
Parma
OH
Join Planet Fitness with a Classic Membership for No Enrollment Fee and No Commitment
Planet Fitness
Garfield Heights
OH
Join Planet Fitness with a PF BLACK CARD® MEMBERSHIP for No Enrollment Fee, No Commitment, and No Annual Fee
Planet Fitness
South Euclid
OH
Join Planet Fitness with a PF BLACK CARD® MEMBERSHIP for No Enrollment Fee, No Commitment, and No Annual Fee
Planet Fitness
Painesville Township
OH
Join Planet Fitness with a PF BLACK CARD® MEMBERSHIP for No Enrollment Fee, No Commitment, and No Annual Fee
Planet Fitness
Elyria
OH
Join Planet Fitness with a PF BLACK CARD® MEMBERSHIP for No Enrollment Fee, No Commitment, and No Annual Fee
Planet Fitness
Strongsville
OH
Join Planet Fitness with a PF BLACK CARD® MEMBERSHIP for No Enrollment Fee, No Commitment, and No Annual Fee
Planet Fitness
Parma
OH
Join Planet Fitness with a PF BLACK CARD® MEMBERSHIP for No Enrollment Fee, No Commitment, and No Annual Fee
Planet Fitness
Rocky River
OH
Join Planet Fitness with a PF BLACK CARD® MEMBERSHIP for No Enrollment Fee, No Commitment, and No Annual Fee
Planet Fitness
Lorain
OH
Join Planet Fitness with a PF BLACK CARD® MEMBERSHIP for No Enrollment Fee, No Commitment, and No Annual Fee
Planet Fitness
North Olmsted
OH
Join Planet Fitness with a PF BLACK CARD® MEMBERSHIP for No Enrollment Fee, No Commitment, and No Annual Fee
Planet Fitness
Willowick
OH
Join Planet Fitness with a PF BLACK CARD® MEMBERSHIP for No Enrollment Fee, No Commitment, and No Annual Fee
Planet Fitness
Ashtabula
OH
Join Planet Fitness with a PF BLACK CARD® MEMBERSHIP for No Enrollment Fee, No Commitment, and No Annual Fee
Planet Fitness
Cleveland
OH
Join Planet Fitness with a PF BLACK CARD® MEMBERSHIP for No Enrollment Fee, No Commitment, and No Annual Fee
Planet Fitness
Solon
OH
Join Planet Fitness with a PF BLACK CARD® MEMBERSHIP for No Enrollment Fee, No Commitment, and No Annual Fee
Planet Fitness
Avon
OH
Join Planet Fitness with a PF BLACK CARD® MEMBERSHIP for No Enrollment Fee, No Commitment, and No Annual Fee
Planet Fitness
Sandusky
OH
Join Planet Fitness with a PF BLACK CARD® MEMBERSHIP for No Enrollment Fee, No Commitment, and No Annual Fee
Planet Fitness
North Randall
OH
Join Planet Fitness with a PF BLACK CARD® MEMBERSHIP for No Enrollment Fee, No Commitment, and No Annual Fee
Planet Fitness
Brook Park
OH
Join Planet Fitness with a PF BLACK CARD® MEMBERSHIP for No Enrollment Fee, No Commitment, and No Annual Fee
Planet Fitness
Richmond Heights
OH
Join Planet Fitness with a PF BLACK CARD® MEMBERSHIP for No Enrollment Fee, No Commitment, and No Annual Fee
Planet Fitness
Mentor
OH
Join Planet Fitness with a PF BLACK CARD® MEMBERSHIP for No Enrollment Fee, No Commitment, and No Annual Fee
Planet Fitness
Parma
OH
Join Planet Fitness with a PF BLACK CARD® MEMBERSHIP for No Enrollment Fee, No Commitment, and No Annual Fee
Planet Fitness
Colorado Springs
CO
Join Planet Fitness with a Classic Membership for No Enrollment Fee and No Commitment
Planet Fitness
Pueblo
CO
Join Planet Fitness with a Classic Membership for No Enrollment Fee and No Commitment
Planet Fitness
Colorado Springs
CO
Join Planet Fitness with a Classic Membership for No Enrollment Fee and No Commitment
Planet Fitness
Colorado Springs
CO
Join Planet Fitness with a Classic Membership for No Enrollment Fee and No Commitment
Planet Fitness
Colorado Springs
CO
Join Planet Fitness with a PF BLACK CARD® MEMBERSHIP for No Enrollment Fee, No Commitment, and No Annual Fee
Planet Fitness
Pueblo
CO
Join Planet Fitness with a PF BLACK CARD® MEMBERSHIP for No Enrollment Fee, No Commitment, and No Annual Fee
Planet Fitness
Colorado Springs
CO
Join Planet Fitness with a PF BLACK CARD® MEMBERSHIP for No Enrollment Fee, No Commitment, and No Annual Fee
Planet Fitness
Colorado Springs
CO
Join Planet Fitness with a PF BLACK CARD® MEMBERSHIP for No Enrollment Fee, No Commitment, and No Annual Fee
Planet Fitness
Worthington
OH
Join Planet Fitness with a Classic Membership for No Enrollment Fee and No Commitment
Planet Fitness
Chillicothe
OH
Join Planet Fitness with a Classic Membership for No Enrollment Fee and No Commitment
Planet Fitness
Pickerington,
OH
Join Planet Fitness with a Classic Membership for No Enrollment Fee and No Commitment
Planet Fitness
Lancaster
OH
Join Planet Fitness with a Classic Membership for No Enrollment Fee and No Commitment
Planet Fitness
Marion
OH
Join Planet Fitness with a Classic Membership for No Enrollment Fee and No Commitment
Planet Fitness
Newark
OH
Join Planet Fitness with a Classic Membership for No Enrollment Fee and No Commitment
Planet Fitness
Columbus
OH
Join Planet Fitness with a Classic Membership for No Enrollment Fee and No Commitment
Planet Fitness
Columbus
OH
Join Planet Fitness with a Classic Membership for No Enrollment Fee and No Commitment
Planet Fitness
Gahanna
OH
Join Planet Fitness with a Classic Membership for No Enrollment Fee and No Commitment
Planet Fitness
Columbus
OH
Join Planet Fitness with a Classic Membership for No Enrollment Fee and No Commitment
Planet Fitness
Columbus
OH
Join Planet Fitness with a Classic Membership for No Enrollment Fee and No Commitment
Planet Fitness
Columbus
OH
Join Planet Fitness with a Classic Membership for No Enrollment Fee and No Commitment
Planet Fitness
Hilliard
OH
Join Planet Fitness with a Classic Membership for No Enrollment Fee and No Commitment
Planet Fitness
Canal Winchester
OH
Join Planet Fitness with a Classic Membership for No Enrollment Fee and No Commitment
Planet Fitness
Delaware
OH
Join Planet Fitness with a Classic Membership for No Enrollment Fee and No Commitment
Planet Fitness
Westerville
OH
Join Planet Fitness with a Classic Membership for No Enrollment Fee and No Commitment
Planet Fitness
Whitehall
OH
Join Planet Fitness with a Classic Membership for No Enrollment Fee and No Commitment
Planet Fitness
Athens
OH
Join Planet Fitness with a Classic Membership for No Enrollment Fee and No Commitment
Planet Fitness
Worthington
OH
Join Planet Fitness with a PF BLACK CARD® MEMBERSHIP for No Enrollment Fee, No Commitment, and No Annual Fee
Planet Fitness
Chillicothe
OH
Join Planet Fitness with a PF BLACK CARD® MEMBERSHIP for No Enrollment Fee, No Commitment, and No Annual Fee
Planet Fitness
Pickerington,
OH
Join Planet Fitness with a PF BLACK CARD® MEMBERSHIP for No Enrollment Fee, No Commitment, and No Annual Fee
Planet Fitness
Lancaster
OH
Join Planet Fitness with a PF BLACK CARD® MEMBERSHIP for No Enrollment Fee, No Commitment, and No Annual Fee
Planet Fitness
Marion
OH
Join Planet Fitness with a PF BLACK CARD® MEMBERSHIP for No Enrollment Fee, No Commitment, and No Annual Fee
Planet Fitness
Newark
OH
Join Planet Fitness with a PF BLACK CARD® MEMBERSHIP for No Enrollment Fee, No Commitment, and No Annual Fee
Planet Fitness
Columbus
OH
Join Planet Fitness with a PF BLACK CARD® MEMBERSHIP for No Enrollment Fee, No Commitment, and No Annual Fee
Planet Fitness
Columbus
OH
Join Planet Fitness with a PF BLACK CARD® MEMBERSHIP for No Enrollment Fee, No Commitment, and No Annual Fee
Planet Fitness
Gahanna
OH
Join Planet Fitness with a PF BLACK CARD® MEMBERSHIP for No Enrollment Fee, No Commitment, and No Annual Fee
Planet Fitness
Columbus
OH
Join Planet Fitness with a PF BLACK CARD® MEMBERSHIP for No Enrollment Fee, No Commitment, and No Annual Fee
Planet Fitness
Columbus
OH
Join Planet Fitness with a PF BLACK CARD® MEMBERSHIP for No Enrollment Fee, No Commitment, and No Annual Fee
Planet Fitness
Columbus
OH
Join Planet Fitness with a PF BLACK CARD® MEMBERSHIP for No Enrollment Fee, No Commitment, and No Annual Fee
Planet Fitness
Hilliard
OH
Join Planet Fitness with a PF BLACK CARD® MEMBERSHIP for No Enrollment Fee, No Commitment, and No Annual Fee
Planet Fitness
Canal Winchester
OH
Join Planet Fitness with a PF BLACK CARD® MEMBERSHIP for No Enrollment Fee, No Commitment, and No Annual Fee
Planet Fitness
Delaware
OH
Join Planet Fitness with a PF BLACK CARD® MEMBERSHIP for No Enrollment Fee, No Commitment, and No Annual Fee
Planet Fitness
Westerville
OH
Join Planet Fitness with a PF BLACK CARD® MEMBERSHIP for No Enrollment Fee, No Commitment, and No Annual Fee
Planet Fitness
Whitehall
OH
Join Planet Fitness with a PF BLACK CARD® MEMBERSHIP for No Enrollment Fee, No Commitment, and No Annual Fee
Planet Fitness
Athens
OH
Join Planet Fitness with a PF BLACK CARD® MEMBERSHIP for No Enrollment Fee, No Commitment, and No Annual Fee
Planet Fitness
Dallas
TX
Join Planet Fitness with a Classic Membership for No Enrollment Fee and No Commitment
Planet Fitness
Mesquite
TX
Join Planet Fitness with a Classic Membership for No Enrollment Fee and No Commitment
Planet Fitness
Plano
TX
Join Planet Fitness with a Classic Membership for No Enrollment Fee and No Commitment
Planet Fitness
Lewisville
TX
Join Planet Fitness with a Classic Membership for No Enrollment Fee and No Commitment
Planet Fitness
Rockwall
TX
Join Planet Fitness with a Classic Membership for No Enrollment Fee and No Commitment
Planet Fitness
Dallas
TX
Join Planet Fitness with a Classic Membership for No Enrollment Fee and No Commitment
Planet Fitness
Dallas
TX
Join Planet Fitness with a Classic Membership for No Enrollment Fee and No Commitment
Planet Fitness
Irving
TX
Join Planet Fitness with a Classic Membership for No Enrollment Fee and No Commitment
Planet Fitness
Denton
TX
Join Planet Fitness with a Classic Membership for No Enrollment Fee and No Commitment
Planet Fitness
Farmers Branch
TX
Join Planet Fitness with a Classic Membership for No Enrollment Fee and No Commitment
Planet Fitness
Dallas
TX
Join Planet Fitness with a Classic Membership for No Enrollment Fee and No Commitment
Planet Fitness
Dallas
TX
Join Planet Fitness with a Classic Membership for No Enrollment Fee and No Commitment
Planet Fitness
Cedar Hill
TX
Join Planet Fitness with a Classic Membership for No Enrollment Fee and No Commitment
Planet Fitness
Dallas
TX
Join Planet Fitness with a Classic Membership for No Enrollment Fee and No Commitment
Planet Fitness
Greenville
TX
Join Planet Fitness with a Classic Membership for No Enrollment Fee and No Commitment
Planet Fitness
Dallas
TX
Join Planet Fitness with a Classic Membership for No Enrollment Fee and No Commitment
Planet Fitness
Grand Prairie
TX
Join Planet Fitness with a Classic Membership for No Enrollment Fee and No Commitment
Planet Fitness
Dallas
TX
Join Planet Fitness with a Classic Membership for No Enrollment Fee and No Commitment
Planet Fitness
Dallas
TX
Join Planet Fitness with a Classic Membership for No Enrollment Fee and No Commitment
Planet Fitness
Frisco
TX
Join Planet Fitness with a Classic Membership for No Enrollment Fee and No Commitment
Planet Fitness
Ennis
TX
Join Planet Fitness with a Classic Membership for No Enrollment Fee and No Commitment
Planet Fitness
Denton
TX
Join Planet Fitness with a Classic Membership for No Enrollment Fee and No Commitment
Planet Fitness
Dallas
TX
Join Planet Fitness with a Classic Membership for No Enrollment Fee and No Commitment
Planet Fitness
Dallas
TX
Join Planet Fitness with a PF BLACK CARD® MEMBERSHIP for No Enrollment Fee, No Commitment, and No Annual Fee
Planet Fitness
Mesquite
TX
Join Planet Fitness with a PF BLACK CARD® MEMBERSHIP for No Enrollment Fee, No Commitment, and No Annual Fee
Planet Fitness
Plano
TX
Join Planet Fitness with a PF BLACK CARD® MEMBERSHIP for No Enrollment Fee, No Commitment, and No Annual Fee
Planet Fitness
Lewisville
TX
Join Planet Fitness with a PF BLACK CARD® MEMBERSHIP for No Enrollment Fee, No Commitment, and No Annual Fee
Planet Fitness
Rockwall
TX
Join Planet Fitness with a PF BLACK CARD® MEMBERSHIP for No Enrollment Fee, No Commitment, and No Annual Fee
Planet Fitness
Dallas
TX
Join Planet Fitness with a PF BLACK CARD® MEMBERSHIP for No Enrollment Fee, No Commitment, and No Annual Fee
Planet Fitness
Dallas
TX
Join Planet Fitness with a PF BLACK CARD® MEMBERSHIP for No Enrollment Fee, No Commitment, and No Annual Fee
Planet Fitness
Irving
TX
Join Planet Fitness with a PF BLACK CARD® MEMBERSHIP for No Enrollment Fee, No Commitment, and No Annual Fee
Planet Fitness
Denton
TX
Join Planet Fitness with a PF BLACK CARD® MEMBERSHIP for No Enrollment Fee, No Commitment, and No Annual Fee
Planet Fitness
Farmers Branch
TX
Join Planet Fitness with a PF BLACK CARD® MEMBERSHIP for No Enrollment Fee, No Commitment, and No Annual Fee
Planet Fitness
Dallas
TX
Join Planet Fitness with a PF BLACK CARD® MEMBERSHIP for No Enrollment Fee, No Commitment, and No Annual Fee
Planet Fitness
Dallas
TX
Join Planet Fitness with a PF BLACK CARD® MEMBERSHIP for No Enrollment Fee, No Commitment, and No Annual Fee
Planet Fitness
Cedar Hill
TX
Join Planet Fitness with a PF BLACK CARD® MEMBERSHIP for No Enrollment Fee, No Commitment, and No Annual Fee
Planet Fitness
Dallas
TX
Join Planet Fitness with a PF BLACK CARD® MEMBERSHIP for No Enrollment Fee, No Commitment, and No Annual Fee
Planet Fitness
Greenville
TX
Join Planet Fitness with a PF BLACK CARD® MEMBERSHIP for No Enrollment Fee, No Commitment, and No Annual Fee
Planet Fitness
Dallas
TX
Join Planet Fitness with a PF BLACK CARD® MEMBERSHIP for No Enrollment Fee, No Commitment, and No Annual Fee
Planet Fitness
Grand Prairie
TX
Join Planet Fitness with a PF BLACK CARD® MEMBERSHIP for No Enrollment Fee, No Commitment, and No Annual Fee
Planet Fitness
Dallas
TX
Join Planet Fitness with a PF BLACK CARD® MEMBERSHIP for No Enrollment Fee, No Commitment, and No Annual Fee
Planet Fitness
Dallas
TX
Join Planet Fitness with a PF BLACK CARD® MEMBERSHIP for No Enrollment Fee, No Commitment, and No Annual Fee
Planet Fitness
Frisco
TX
Join Planet Fitness with a PF BLACK CARD® MEMBERSHIP for No Enrollment Fee, No Commitment, and No Annual Fee
Planet Fitness
Ennis
TX
Join Planet Fitness with a PF BLACK CARD® MEMBERSHIP for No Enrollment Fee, No Commitment, and No Annual Fee
Planet Fitness
Denton
TX
Join Planet Fitness with a PF BLACK CARD® MEMBERSHIP for No Enrollment Fee, No Commitment, and No Annual Fee
Planet Fitness
Dallas
TX
Join Planet Fitness with a PF BLACK CARD® MEMBERSHIP for No Enrollment Fee, No Commitment, and No Annual Fee
Planet Fitness
Piqua
OH
Join Planet Fitness with a Classic Membership for No Enrollment Fee and No Commitment
Planet Fitness
Springfield
OH
Join Planet Fitness with a Classic Membership for No Enrollment Fee and No Commitment
Planet Fitness
Dayton
OH
Join Planet Fitness with a Classic Membership for No Enrollment Fee and No Commitment
Planet Fitness
Englewood
OH
Join Planet Fitness with a Classic Membership for No Enrollment Fee and No Commitment
Planet Fitness
Sugarcreek Township
OH
Join Planet Fitness with a Classic Membership for No Enrollment Fee and No Commitment
Planet Fitness
Dayton
OH
Join Planet Fitness with a Classic Membership for No Enrollment Fee and No Commitment
Planet Fitness
Huber Heights
OH
Join Planet Fitness with a Classic Membership for No Enrollment Fee and No Commitment
Planet Fitness
Piqua
OH
Join Planet Fitness with a PF BLACK CARD® MEMBERSHIP for No Enrollment Fee, No Commitment, and No Annual Fee
Planet Fitness
Springfield
OH
Join Planet Fitness with a PF BLACK CARD® MEMBERSHIP for No Enrollment Fee, No Commitment, and No Annual Fee
Planet Fitness
Dayton
OH
Join Planet Fitness with a PF BLACK CARD® MEMBERSHIP for No Enrollment Fee, No Commitment, and No Annual Fee
Planet Fitness
Englewood
OH
Join Planet Fitness with a PF BLACK CARD® MEMBERSHIP for No Enrollment Fee, No Commitment, and No Annual Fee
Planet Fitness
Sugarcreek Township
OH
Join Planet Fitness with a PF BLACK CARD® MEMBERSHIP for No Enrollment Fee, No Commitment, and No Annual Fee
Planet Fitness
Dayton
OH
Join Planet Fitness with a PF BLACK CARD® MEMBERSHIP for No Enrollment Fee, No Commitment, and No Annual Fee
Planet Fitness
Huber Heights
OH
Join Planet Fitness with a PF BLACK CARD® MEMBERSHIP for No Enrollment Fee, No Commitment, and No Annual Fee
Planet Fitness
Dover
DE
Join Planet Fitness with a Classic Membership for No Enrollment Fee and No Commitment
Planet Fitness
New Castle
DE
Join Planet Fitness with a Classic Membership for No Enrollment Fee and No Commitment
Planet Fitness
Wilmington
DE
Join Planet Fitness with a Classic Membership for No Enrollment Fee and No Commitment
Planet Fitness
Newark
DE
Join Planet Fitness with a Classic Membership for No Enrollment Fee and No Commitment
Planet Fitness
Milford
DE
Join Planet Fitness with a Classic Membership for No Enrollment Fee and No Commitment
Planet Fitness
Middletown
DE
Join Planet Fitness with a Classic Membership for No Enrollment Fee and No Commitment
Planet Fitness
Seaford
DE
Join Planet Fitness with a Classic Membership for No Enrollment Fee and No Commitment
Planet Fitness
Wilmington
DE
Join Planet Fitness with a Classic Membership for No Enrollment Fee and No Commitment
Planet Fitness
Dover
DE
Join Planet Fitness with a PF BLACK CARD® MEMBERSHIP for No Enrollment Fee, No Commitment, and No Annual Fee
Planet Fitness
New Castle
DE
Join Planet Fitness with a PF BLACK CARD® MEMBERSHIP for No Enrollment Fee, No Commitment, and No Annual Fee
Planet Fitness
Wilmington
DE
Join Planet Fitness with a PF BLACK CARD® MEMBERSHIP for No Enrollment Fee, No Commitment, and No Annual Fee
Planet Fitness
Newark
DE
Join Planet Fitness with a PF BLACK CARD® MEMBERSHIP for No Enrollment Fee, No Commitment, and No Annual Fee
Planet Fitness
Milford
DE
Join Planet Fitness with a PF BLACK CARD® MEMBERSHIP for No Enrollment Fee, No Commitment, and No Annual Fee
Planet Fitness
Middletown
DE
Join Planet Fitness with a PF BLACK CARD® MEMBERSHIP for No Enrollment Fee, No Commitment, and No Annual Fee
Planet Fitness
Seaford
DE
Join Planet Fitness with a PF BLACK CARD® MEMBERSHIP for No Enrollment Fee, No Commitment, and No Annual Fee
Planet Fitness
Wilmington
DE
Join Planet Fitness with a PF BLACK CARD® MEMBERSHIP for No Enrollment Fee, No Commitment, and No Annual Fee
Planet Fitness
Castle Rock
CO
Join Planet Fitness with a Classic Membership for No Enrollment Fee and No Commitment
Planet Fitness
Parker
CO
Join Planet Fitness with a Classic Membership for No Enrollment Fee and No Commitment
Planet Fitness
Aurora
CO
Join Planet Fitness with a Classic Membership for No Enrollment Fee and No Commitment
Planet Fitness
Loveland
CO
Join Planet Fitness with a Classic Membership for No Enrollment Fee and No Commitment
Planet Fitness
Aurora
CO
Join Planet Fitness with a Classic Membership for No Enrollment Fee and No Commitment
Planet Fitness
Longmont
CO
Join Planet Fitness with a Classic Membership for No Enrollment Fee and No Commitment
Planet Fitness
Greeley
CO
Join Planet Fitness with a Classic Membership for No Enrollment Fee and No Commitment
Planet Fitness
Lakewood
CO
Join Planet Fitness with a Classic Membership for No Enrollment Fee and No Commitment
Planet Fitness
Denver
CO
Join Planet Fitness with a Classic Membership for No Enrollment Fee and No Commitment
Planet Fitness
Westminster
CO
Join Planet Fitness with a Classic Membership for No Enrollment Fee and No Commitment
Planet Fitness
Lakeside
CO
Join Planet Fitness with a Classic Membership for No Enrollment Fee and No Commitment
Planet Fitness
Aurora
CO
Join Planet Fitness with a Classic Membership for No Enrollment Fee and No Commitment
Planet Fitness
Lakewood
CO
Join Planet Fitness with a Classic Membership for No Enrollment Fee and No Commitment
Planet Fitness
Denver
CO
Join Planet Fitness with a Classic Membership for No Enrollment Fee and No Commitment
Planet Fitness
Westminster
CO
Join Planet Fitness with a Classic Membership for No Enrollment Fee and No Commitment
Planet Fitness
Denver
CO
Join Planet Fitness with a Classic Membership for No Enrollment Fee and No Commitment
Planet Fitness
Brighton
CO
Join Planet Fitness with a Classic Membership for No Enrollment Fee and No Commitment
Planet Fitness
Thornton
CO
Join Planet Fitness with a Classic Membership for No Enrollment Fee and No Commitment
Planet Fitness
Lakewood
CO
Join Planet Fitness with a Classic Membership for No Enrollment Fee and No Commitment
Planet Fitness
Castle Rock
CO
Join Planet Fitness with a PF BLACK CARD® MEMBERSHIP for No Enrollment Fee, No Commitment, and No Annual Fee
Planet Fitness
Parker
CO
Join Planet Fitness with a PF BLACK CARD® MEMBERSHIP for No Enrollment Fee, No Commitment, and No Annual Fee
Planet Fitness
Aurora
CO
Join Planet Fitness with a PF BLACK CARD® MEMBERSHIP for No Enrollment Fee, No Commitment, and No Annual Fee
Planet Fitness
Loveland
CO
Join Planet Fitness with a PF BLACK CARD® MEMBERSHIP for No Enrollment Fee, No Commitment, and No Annual Fee
Planet Fitness
Aurora
CO
Join Planet Fitness with a PF BLACK CARD® MEMBERSHIP for No Enrollment Fee, No Commitment, and No Annual Fee
Planet Fitness
Longmont
CO
Join Planet Fitness with a PF BLACK CARD® MEMBERSHIP for No Enrollment Fee, No Commitment, and No Annual Fee
Planet Fitness
Greeley
CO
Join Planet Fitness with a PF BLACK CARD® MEMBERSHIP for No Enrollment Fee, No Commitment, and No Annual Fee
Planet Fitness
Lakewood
CO
Join Planet Fitness with a PF BLACK CARD® MEMBERSHIP for No Enrollment Fee, No Commitment, and No Annual Fee
Planet Fitness
Denver
CO
Join Planet Fitness with a PF BLACK CARD® MEMBERSHIP for No Enrollment Fee, No Commitment, and No Annual Fee
Planet Fitness
Westminster
CO
Join Planet Fitness with a PF BLACK CARD® MEMBERSHIP for No Enrollment Fee, No Commitment, and No Annual Fee
Planet Fitness
Lakeside
CO
Join Planet Fitness with a PF BLACK CARD® MEMBERSHIP for No Enrollment Fee, No Commitment, and No Annual Fee
Planet Fitness
Aurora
CO
Join Planet Fitness with a PF BLACK CARD® MEMBERSHIP for No Enrollment Fee, No Commitment, and No Annual Fee
Planet Fitness
Lakewood
CO
Join Planet Fitness with a PF BLACK CARD® MEMBERSHIP for No Enrollment Fee, No Commitment, and No Annual Fee
Planet Fitness
Denver
CO
Join Planet Fitness with a PF BLACK CARD® MEMBERSHIP for No Enrollment Fee, No Commitment, and No Annual Fee
Planet Fitness
Westminster
CO
Join Planet Fitness with a PF BLACK CARD® MEMBERSHIP for No Enrollment Fee, No Commitment, and No Annual Fee
Planet Fitness
Denver
CO
Join Planet Fitness with a PF BLACK CARD® MEMBERSHIP for No Enrollment Fee, No Commitment, and No Annual Fee
Planet Fitness
Brighton
CO
Join Planet Fitness with a PF BLACK CARD® MEMBERSHIP for No Enrollment Fee, No Commitment, and No Annual Fee
Planet Fitness
Thornton
CO
Join Planet Fitness with a PF BLACK CARD® MEMBERSHIP for No Enrollment Fee, No Commitment, and No Annual Fee
Planet Fitness
Lakewood
CO
Join Planet Fitness with a PF BLACK CARD® MEMBERSHIP for No Enrollment Fee, No Commitment, and No Annual Fee
Planet Fitness
Ankeny
IA
Join Planet Fitness with a Classic Membership for No Enrollment Fee and No Commitment
Planet Fitness
West Des Moines
IA
Join Planet Fitness with a Classic Membership for No Enrollment Fee and No Commitment
Planet Fitness
Marshalltown
IA
Join Planet Fitness with a Classic Membership for No Enrollment Fee and No Commitment
Planet Fitness
Des Moines
IA
Join Planet Fitness with a Classic Membership for No Enrollment Fee and No Commitment
Planet Fitness
Urbandale
IA
Join Planet Fitness with a Classic Membership for No Enrollment Fee and No Commitment
Planet Fitness
Ankeny
IA
Join Planet Fitness with a PF BLACK CARD® MEMBERSHIP for No Enrollment Fee, No Commitment, and No Annual Fee
Planet Fitness
West Des Moines
IA
Join Planet Fitness with a PF BLACK CARD® MEMBERSHIP for No Enrollment Fee, No Commitment, and No Annual Fee
Planet Fitness
Marshalltown
IA
Join Planet Fitness with a PF BLACK CARD® MEMBERSHIP for No Enrollment Fee, No Commitment, and No Annual Fee
Planet Fitness
Des Moines
IA
Join Planet Fitness with a PF BLACK CARD® MEMBERSHIP for No Enrollment Fee, No Commitment, and No Annual Fee
Planet Fitness
Urbandale
IA
Join Planet Fitness with a PF BLACK CARD® MEMBERSHIP for No Enrollment Fee, No Commitment, and No Annual Fee
Planet Fitness
Brighton
MI
Join Planet Fitness with a Classic Membership for No Enrollment Fee and No Commitment
Planet Fitness
Belleville
MI
Join Planet Fitness with a Classic Membership for No Enrollment Fee and No Commitment
Planet Fitness
Lake Orion
MI
Join Planet Fitness with a Classic Membership for No Enrollment Fee and No Commitment
Planet Fitness
Howell
MI
Join Planet Fitness with a Classic Membership for No Enrollment Fee and No Commitment
Planet Fitness
Taylor
MI
Join Planet Fitness with a Classic Membership for No Enrollment Fee and No Commitment
Planet Fitness
Oak Park, Mi
MI
Join Planet Fitness with a Classic Membership for No Enrollment Fee and No Commitment
Planet Fitness
Sterling Heights
MI
Join Planet Fitness with a Classic Membership for No Enrollment Fee and No Commitment
Planet Fitness
Southgate
MI
Join Planet Fitness with a Classic Membership for No Enrollment Fee and No Commitment
Planet Fitness
Warren
MI
Join Planet Fitness with a Classic Membership for No Enrollment Fee and No Commitment
Planet Fitness
Detroit
MI
Join Planet Fitness with a Classic Membership for No Enrollment Fee and No Commitment
Planet Fitness
Milford
MI
Join Planet Fitness with a Classic Membership for No Enrollment Fee and No Commitment
Planet Fitness
Dearborn
MI
Join Planet Fitness with a Classic Membership for No Enrollment Fee and No Commitment
Planet Fitness
Woodhaven
MI
Join Planet Fitness with a Classic Membership for No Enrollment Fee and No Commitment
Planet Fitness
Lapeer
MI
Join Planet Fitness with a Classic Membership for No Enrollment Fee and No Commitment
Planet Fitness
Shelby Township
MI
Join Planet Fitness with a Classic Membership for No Enrollment Fee and No Commitment
Planet Fitness
Monroe
MI
Join Planet Fitness with a Classic Membership for No Enrollment Fee and No Commitment
Planet Fitness
Northville
MI
Join Planet Fitness with a Classic Membership for No Enrollment Fee and No Commitment
Planet Fitness
Ann Arbor
MI
Join Planet Fitness with a Classic Membership for No Enrollment Fee and No Commitment
Planet Fitness
Dearborn
MI
Join Planet Fitness with a Classic Membership for No Enrollment Fee and No Commitment
Planet Fitness
Royal Oak
MI
Join Planet Fitness with a Classic Membership for No Enrollment Fee and No Commitment
Planet Fitness
Commerce Township
MI
Join Planet Fitness with a Classic Membership for No Enrollment Fee and No Commitment
Planet Fitness
Redford
MI
Join Planet Fitness with a Classic Membership for No Enrollment Fee and No Commitment
Planet Fitness
Ypsilanti
MI
Join Planet Fitness with a Classic Membership for No Enrollment Fee and No Commitment
Planet Fitness
Farmington Hills
MI
Join Planet Fitness with a Classic Membership for No Enrollment Fee and No Commitment
Planet Fitness
Troy
MI
Join Planet Fitness with a Classic Membership for No Enrollment Fee and No Commitment
Planet Fitness
Troy
MI
Join Planet Fitness with a Classic Membership for No Enrollment Fee and No Commitment
Planet Fitness
Livonia
MI
Join Planet Fitness with a Classic Membership for No Enrollment Fee and No Commitment
Planet Fitness
Southfield
MI
Join Planet Fitness with a Classic Membership for No Enrollment Fee and No Commitment
Planet Fitness
Novi
MI
Join Planet Fitness with a Classic Membership for No Enrollment Fee and No Commitment
Planet Fitness
Clinton Township
MI
Join Planet Fitness with a Classic Membership for No Enrollment Fee and No Commitment
Planet Fitness
Rochester Hills,
MI
Join Planet Fitness with a Classic Membership for No Enrollment Fee and No Commitment
Planet Fitness
Wayne, Mi
MI
Join Planet Fitness with a Classic Membership for No Enrollment Fee and No Commitment
Planet Fitness
Westland, Mi
MI
Join Planet Fitness with a Classic Membership for No Enrollment Fee and No Commitment
Planet Fitness
Livonia
MI
Join Planet Fitness with a Classic Membership for No Enrollment Fee and No Commitment
Planet Fitness
Auburn Hills
MI
Join Planet Fitness with a Classic Membership for No Enrollment Fee and No Commitment
Planet Fitness
Sterling Heights
MI
Join Planet Fitness with a Classic Membership for No Enrollment Fee and No Commitment
Planet Fitness
Port Huron
MI
Join Planet Fitness with a Classic Membership for No Enrollment Fee and No Commitment
Planet Fitness
Utica
MI
Join Planet Fitness with a Classic Membership for No Enrollment Fee and No Commitment
Planet Fitness
Mt. Clemens
MI
Join Planet Fitness with a Classic Membership for No Enrollment Fee and No Commitment
Planet Fitness
Chesterfield Township
MI
Join Planet Fitness with a Classic Membership for No Enrollment Fee and No Commitment
Planet Fitness
Waterford
MI
Join Planet Fitness with a Classic Membership for No Enrollment Fee and No Commitment
Planet Fitness
Garden City
MI
Join Planet Fitness with a Classic Membership for No Enrollment Fee and No Commitment
Planet Fitness
West Bloomfield
MI
Join Planet Fitness with a Classic Membership for No Enrollment Fee and No Commitment
Planet Fitness
Canton
MI
Join Planet Fitness with a Classic Membership for No Enrollment Fee and No Commitment
Planet Fitness
Bloomfield Twp
MI
Join Planet Fitness with a Classic Membership for No Enrollment Fee and No Commitment
Planet Fitness
Shelby Twp
MI
Join Planet Fitness with a Classic Membership for No Enrollment Fee and No Commitment
Planet Fitness
Brighton
MI
Join Planet Fitness with a PF BLACK CARD® MEMBERSHIP for No Enrollment Fee, No Commitment, and No Annual Fee
Planet Fitness
Belleville
MI
Join Planet Fitness with a PF BLACK CARD® MEMBERSHIP for No Enrollment Fee, No Commitment, and No Annual Fee
Planet Fitness
Lake Orion
MI
Join Planet Fitness with a PF BLACK CARD® MEMBERSHIP for No Enrollment Fee, No Commitment, and No Annual Fee
Planet Fitness
Howell
MI
Join Planet Fitness with a PF BLACK CARD® MEMBERSHIP for No Enrollment Fee, No Commitment, and No Annual Fee
Planet Fitness
Taylor
MI
Join Planet Fitness with a PF BLACK CARD® MEMBERSHIP for No Enrollment Fee, No Commitment, and No Annual Fee
Planet Fitness
Oak Park, Mi
MI
Join Planet Fitness with a PF BLACK CARD® MEMBERSHIP for No Enrollment Fee, No Commitment, and No Annual Fee
Planet Fitness
Sterling Heights
MI
Join Planet Fitness with a PF BLACK CARD® MEMBERSHIP for No Enrollment Fee, No Commitment, and No Annual Fee
Planet Fitness
Southgate
MI
Join Planet Fitness with a PF BLACK CARD® MEMBERSHIP for No Enrollment Fee, No Commitment, and No Annual Fee
Planet Fitness
Warren
MI
Join Planet Fitness with a PF BLACK CARD® MEMBERSHIP for No Enrollment Fee, No Commitment, and No Annual Fee
Planet Fitness
Detroit
MI
Join Planet Fitness with a PF BLACK CARD® MEMBERSHIP for No Enrollment Fee, No Commitment, and No Annual Fee
Planet Fitness
Milford
MI
Join Planet Fitness with a PF BLACK CARD® MEMBERSHIP for No Enrollment Fee, No Commitment, and No Annual Fee
Planet Fitness
Dearborn
MI
Join Planet Fitness with a PF BLACK CARD® MEMBERSHIP for No Enrollment Fee, No Commitment, and No Annual Fee
Planet Fitness
Woodhaven
MI
Join Planet Fitness with a PF BLACK CARD® MEMBERSHIP for No Enrollment Fee, No Commitment, and No Annual Fee
Planet Fitness
Lapeer
MI
Join Planet Fitness with a PF BLACK CARD® MEMBERSHIP for No Enrollment Fee, No Commitment, and No Annual Fee
Planet Fitness
Shelby Township
MI
Join Planet Fitness with a PF BLACK CARD® MEMBERSHIP for No Enrollment Fee, No Commitment, and No Annual Fee
Planet Fitness
Monroe
MI
Join Planet Fitness with a PF BLACK CARD® MEMBERSHIP for No Enrollment Fee, No Commitment, and No Annual Fee
Planet Fitness
Northville
MI
Join Planet Fitness with a PF BLACK CARD® MEMBERSHIP for No Enrollment Fee, No Commitment, and No Annual Fee
Planet Fitness
Ann Arbor
MI
Join Planet Fitness with a PF BLACK CARD® MEMBERSHIP for No Enrollment Fee, No Commitment, and No Annual Fee
Planet Fitness
Dearborn
MI
Join Planet Fitness with a PF BLACK CARD® MEMBERSHIP for No Enrollment Fee, No Commitment, and No Annual Fee
Planet Fitness
Royal Oak
MI
Join Planet Fitness with a PF BLACK CARD® MEMBERSHIP for No Enrollment Fee, No Commitment, and No Annual Fee
Planet Fitness
Commerce Township
MI
Join Planet Fitness with a PF BLACK CARD® MEMBERSHIP for No Enrollment Fee, No Commitment, and No Annual Fee
Planet Fitness
Redford
MI
Join Planet Fitness with a PF BLACK CARD® MEMBERSHIP for No Enrollment Fee, No Commitment, and No Annual Fee
Planet Fitness
Ypsilanti
MI
Join Planet Fitness with a PF BLACK CARD® MEMBERSHIP for No Enrollment Fee, No Commitment, and No Annual Fee
Planet Fitness
Farmington Hills
MI
Join Planet Fitness with a PF BLACK CARD® MEMBERSHIP for No Enrollment Fee, No Commitment, and No Annual Fee
Planet Fitness
Troy
MI
Join Planet Fitness with a PF BLACK CARD® MEMBERSHIP for No Enrollment Fee, No Commitment, and No Annual Fee
Planet Fitness
Troy
MI
Join Planet Fitness with a PF BLACK CARD® MEMBERSHIP for No Enrollment Fee, No Commitment, and No Annual Fee
Planet Fitness
Livonia
MI
Join Planet Fitness with a PF BLACK CARD® MEMBERSHIP for No Enrollment Fee, No Commitment, and No Annual Fee
Planet Fitness
Southfield
MI
Join Planet Fitness with a PF BLACK CARD® MEMBERSHIP for No Enrollment Fee, No Commitment, and No Annual Fee
Planet Fitness
Novi
MI
Join Planet Fitness with a PF BLACK CARD® MEMBERSHIP for No Enrollment Fee, No Commitment, and No Annual Fee
Planet Fitness
Clinton Township
MI
Join Planet Fitness with a PF BLACK CARD® MEMBERSHIP for No Enrollment Fee, No Commitment, and No Annual Fee
Planet Fitness
Rochester Hills,
MI
Join Planet Fitness with a PF BLACK CARD® MEMBERSHIP for No Enrollment Fee, No Commitment, and No Annual Fee
Planet Fitness
Wayne, Mi
MI
Join Planet Fitness with a PF BLACK CARD® MEMBERSHIP for No Enrollment Fee, No Commitment, and No Annual Fee
Planet Fitness
Westland, Mi
MI
Join Planet Fitness with a PF BLACK CARD® MEMBERSHIP for No Enrollment Fee, No Commitment, and No Annual Fee
Planet Fitness
Livonia
MI
Join Planet Fitness with a PF BLACK CARD® MEMBERSHIP for No Enrollment Fee, No Commitment, and No Annual Fee
Planet Fitness
Auburn Hills
MI
Join Planet Fitness with a PF BLACK CARD® MEMBERSHIP for No Enrollment Fee, No Commitment, and No Annual Fee
Planet Fitness
Sterling Heights
MI
Join Planet Fitness with a PF BLACK CARD® MEMBERSHIP for No Enrollment Fee, No Commitment, and No Annual Fee
Planet Fitness
Port Huron
MI
Join Planet Fitness with a PF BLACK CARD® MEMBERSHIP for No Enrollment Fee, No Commitment, and No Annual Fee
Planet Fitness
Utica
MI
Join Planet Fitness with a PF BLACK CARD® MEMBERSHIP for No Enrollment Fee, No Commitment, and No Annual Fee
Planet Fitness
Mt. Clemens
MI
Join Planet Fitness with a PF BLACK CARD® MEMBERSHIP for No Enrollment Fee, No Commitment, and No Annual Fee
Planet Fitness
Chesterfield Township
MI
Join Planet Fitness with a PF BLACK CARD® MEMBERSHIP for No Enrollment Fee, No Commitment, and No Annual Fee
Planet Fitness
Waterford
MI
Join Planet Fitness with a PF BLACK CARD® MEMBERSHIP for No Enrollment Fee, No Commitment, and No Annual Fee
Planet Fitness
Garden City
MI
Join Planet Fitness with a PF BLACK CARD® MEMBERSHIP for No Enrollment Fee, No Commitment, and No Annual Fee
Planet Fitness
West Bloomfield
MI
Join Planet Fitness with a PF BLACK CARD® MEMBERSHIP for No Enrollment Fee, No Commitment, and No Annual Fee
Planet Fitness
Canton
MI
Join Planet Fitness with a PF BLACK CARD® MEMBERSHIP for No Enrollment Fee, No Commitment, and No Annual Fee
Planet Fitness
Bloomfield Twp
MI
Join Planet Fitness with a PF BLACK CARD® MEMBERSHIP for No Enrollment Fee, No Commitment, and No Annual Fee
Planet Fitness
Shelby Twp
MI
Join Planet Fitness with a PF BLACK CARD® MEMBERSHIP for No Enrollment Fee, No Commitment, and No Annual Fee
Planet Fitness
Euless
TX
Join Planet Fitness with a Classic Membership for No Enrollment Fee and No Commitment
Planet Fitness
Cleburne
TX
Join Planet Fitness with a Classic Membership for No Enrollment Fee and No Commitment
Planet Fitness
Weatherford
TX
Join Planet Fitness with a Classic Membership for No Enrollment Fee and No Commitment
Planet Fitness
Fort Worth
TX
Join Planet Fitness with a Classic Membership for No Enrollment Fee and No Commitment
Planet Fitness
Stephenville
TX
Join Planet Fitness with a Classic Membership for No Enrollment Fee and No Commitment
Planet Fitness
Haltom City
TX
Join Planet Fitness with a Classic Membership for No Enrollment Fee and No Commitment
Planet Fitness
Hurst
TX
Join Planet Fitness with a Classic Membership for No Enrollment Fee and No Commitment
Planet Fitness
Fort Worth
TX
Join Planet Fitness with a Classic Membership for No Enrollment Fee and No Commitment
Planet Fitness
Crowley
TX
Join Planet Fitness with a Classic Membership for No Enrollment Fee and No Commitment
Planet Fitness
Fort Worth
TX
Join Planet Fitness with a Classic Membership for No Enrollment Fee and No Commitment
Planet Fitness
Forest Hill
TX
Join Planet Fitness with a Classic Membership for No Enrollment Fee and No Commitment
Planet Fitness
North Hurst
TX
Join Planet Fitness with a Classic Membership for No Enrollment Fee and No Commitment
Planet Fitness
Fort Worth
TX
Join Planet Fitness with a Classic Membership for No Enrollment Fee and No Commitment
Planet Fitness
Arlington
TX
Join Planet Fitness with a Classic Membership for No Enrollment Fee and No Commitment
Planet Fitness
Euless
TX
Join Planet Fitness with a PF BLACK CARD® MEMBERSHIP for No Enrollment Fee, No Commitment, and No Annual Fee
Planet Fitness
Cleburne
TX
Join Planet Fitness with a PF BLACK CARD® MEMBERSHIP for No Enrollment Fee, No Commitment, and No Annual Fee
Planet Fitness
Weatherford
TX
Join Planet Fitness with a PF BLACK CARD® MEMBERSHIP for No Enrollment Fee, No Commitment, and No Annual Fee
Planet Fitness
Fort Worth
TX
Join Planet Fitness with a PF BLACK CARD® MEMBERSHIP for No Enrollment Fee, No Commitment, and No Annual Fee
Planet Fitness
Stephenville
TX
Join Planet Fitness with a PF BLACK CARD® MEMBERSHIP for No Enrollment Fee, No Commitment, and No Annual Fee
Planet Fitness
Haltom City
TX
Join Planet Fitness with a PF BLACK CARD® MEMBERSHIP for No Enrollment Fee, No Commitment, and No Annual Fee
Planet Fitness
Hurst
TX
Join Planet Fitness with a PF BLACK CARD® MEMBERSHIP for No Enrollment Fee, No Commitment, and No Annual Fee
Planet Fitness
Fort Worth
TX
Join Planet Fitness with a PF BLACK CARD® MEMBERSHIP for No Enrollment Fee, No Commitment, and No Annual Fee
Planet Fitness
Crowley
TX
Join Planet Fitness with a PF BLACK CARD® MEMBERSHIP for No Enrollment Fee, No Commitment, and No Annual Fee
Planet Fitness
Fort Worth
TX
Join Planet Fitness with a PF BLACK CARD® MEMBERSHIP for No Enrollment Fee, No Commitment, and No Annual Fee
Planet Fitness
Forest Hill
TX
Join Planet Fitness with a PF BLACK CARD® MEMBERSHIP for No Enrollment Fee, No Commitment, and No Annual Fee
Planet Fitness
North Hurst
TX
Join Planet Fitness with a PF BLACK CARD® MEMBERSHIP for No Enrollment Fee, No Commitment, and No Annual Fee
Planet Fitness
Fort Worth
TX
Join Planet Fitness with a PF BLACK CARD® MEMBERSHIP for No Enrollment Fee, No Commitment, and No Annual Fee
Planet Fitness
Arlington
TX
Join Planet Fitness with a PF BLACK CARD® MEMBERSHIP for No Enrollment Fee, No Commitment, and No Annual Fee
Planet Fitness
Porterville
CA
Join Planet Fitness with a Classic Membership for No Enrollment Fee and No Commitment
Planet Fitness
Hanford
CA
Join Planet Fitness with a Classic Membership for No Enrollment Fee and No Commitment
Planet Fitness
Madera
CA
Join Planet Fitness with a Classic Membership for No Enrollment Fee and No Commitment
Planet Fitness
Fresno
CA
Join Planet Fitness with a Classic Membership for No Enrollment Fee and No Commitment
Planet Fitness
Visalia
CA
Join Planet Fitness with a Classic Membership for No Enrollment Fee and No Commitment
Planet Fitness
Fresno
CA
Join Planet Fitness with a Classic Membership for No Enrollment Fee and No Commitment
Planet Fitness
Fresno
CA
Join Planet Fitness with a Classic Membership for No Enrollment Fee and No Commitment
Planet Fitness
Clovis
CA
Join Planet Fitness with a Classic Membership for No Enrollment Fee and No Commitment
Planet Fitness
Fresno
CA
Join Planet Fitness with a Classic Membership for No Enrollment Fee and No Commitment
Planet Fitness
Porterville
CA
Join Planet Fitness with a PF BLACK CARD® MEMBERSHIP for No Enrollment Fee, No Commitment, and No Annual Fee
Planet Fitness
Hanford
CA
Join Planet Fitness with a PF BLACK CARD® MEMBERSHIP for No Enrollment Fee, No Commitment, and No Annual Fee
Planet Fitness
Madera
CA
Join Planet Fitness with a PF BLACK CARD® MEMBERSHIP for No Enrollment Fee, No Commitment, and No Annual Fee
Planet Fitness
Fresno
CA
Join Planet Fitness with a PF BLACK CARD® MEMBERSHIP for No Enrollment Fee, No Commitment, and No Annual Fee
Planet Fitness
Visalia
CA
Join Planet Fitness with a PF BLACK CARD® MEMBERSHIP for No Enrollment Fee, No Commitment, and No Annual Fee
Planet Fitness
Fresno
CA
Join Planet Fitness with a PF BLACK CARD® MEMBERSHIP for No Enrollment Fee, No Commitment, and No Annual Fee
Planet Fitness
Fresno
CA
Join Planet Fitness with a PF BLACK CARD® MEMBERSHIP for No Enrollment Fee, No Commitment, and No Annual Fee
Planet Fitness
Clovis
CA
Join Planet Fitness with a PF BLACK CARD® MEMBERSHIP for No Enrollment Fee, No Commitment, and No Annual Fee
Planet Fitness
Fresno
CA
Join Planet Fitness with a PF BLACK CARD® MEMBERSHIP for No Enrollment Fee, No Commitment, and No Annual Fee
Planet Fitness
Port St. Lucie
FL
Join Planet Fitness with a Classic Membership for No Enrollment Fee and No Commitment
Planet Fitness
Royal Palm Beach
FL
Join Planet Fitness with a Classic Membership for No Enrollment Fee and No Commitment
Planet Fitness
Kendall
FL
Join Planet Fitness with a Classic Membership for No Enrollment Fee and No Commitment
Planet Fitness
Vero Beach
FL
Join Planet Fitness with a Classic Membership for No Enrollment Fee and No Commitment
Planet Fitness
Pompano
FL
Join Planet Fitness with a Classic Membership for No Enrollment Fee and No Commitment
Planet Fitness
Delray Beach
FL
Join Planet Fitness with a Classic Membership for No Enrollment Fee and No Commitment
Planet Fitness
Miami
FL
Join Planet Fitness with a Classic Membership for No Enrollment Fee and No Commitment
Planet Fitness
North Miami Beach
FL
Join Planet Fitness with a Classic Membership for No Enrollment Fee and No Commitment
Planet Fitness
Miami Gardens
FL
Join Planet Fitness with a Classic Membership for No Enrollment Fee and No Commitment
Planet Fitness
Miami
FL
Join Planet Fitness with a Classic Membership for No Enrollment Fee and No Commitment
Planet Fitness
Cutler Bay
FL
Join Planet Fitness with a Classic Membership for No Enrollment Fee and No Commitment
Planet Fitness
Coral Springs
FL
Join Planet Fitness with a Classic Membership for No Enrollment Fee and No Commitment
Planet Fitness
Stuart
FL
Join Planet Fitness with a Classic Membership for No Enrollment Fee and No Commitment
Planet Fitness
Homestead
FL
Join Planet Fitness with a Classic Membership for No Enrollment Fee and No Commitment
Planet Fitness
Fort Lauderdale
FL
Join Planet Fitness with a Classic Membership for No Enrollment Fee and No Commitment
Planet Fitness
Port St. Lucie
FL
Join Planet Fitness with a Classic Membership for No Enrollment Fee and No Commitment
Planet Fitness
Coconut Creek
FL
Join Planet Fitness with a Classic Membership for No Enrollment Fee and No Commitment
Planet Fitness
Coconut Creek
FL
Join Planet Fitness with a Classic Membership for No Enrollment Fee and No Commitment
Planet Fitness
Hialeah
FL
Join Planet Fitness with a Classic Membership for No Enrollment Fee and No Commitment
Planet Fitness
West Palm Beach
FL
Join Planet Fitness with a Classic Membership for No Enrollment Fee and No Commitment
Planet Fitness
Margate
FL
Join Planet Fitness with a Classic Membership for No Enrollment Fee and No Commitment
Planet Fitness
Lantana
FL
Join Planet Fitness with a Classic Membership for No Enrollment Fee and No Commitment
Planet Fitness
Lake Worth
FL
Join Planet Fitness with a Classic Membership for No Enrollment Fee and No Commitment
Planet Fitness
Port St. Lucie
FL
Join Planet Fitness with a Classic Membership for No Enrollment Fee and No Commitment
Planet Fitness
Tamarac
FL
Join Planet Fitness with a Classic Membership for No Enrollment Fee and No Commitment
Planet Fitness
West Palm Beach
FL
Join Planet Fitness with a Classic Membership for No Enrollment Fee and No Commitment
Planet Fitness
Little Havana
FL
Join Planet Fitness with a Classic Membership for No Enrollment Fee and No Commitment
Planet Fitness
Plantation
FL
Join Planet Fitness with a Classic Membership for No Enrollment Fee and No Commitment
Planet Fitness
Hialeah Gardens
FL
Join Planet Fitness with a Classic Membership for No Enrollment Fee and No Commitment
Planet Fitness
Miami
FL
Join Planet Fitness with a Classic Membership for No Enrollment Fee and No Commitment
Planet Fitness
Miami
FL
Join Planet Fitness with a Classic Membership for No Enrollment Fee and No Commitment
Planet Fitness
Boynton Beach
FL
Join Planet Fitness with a Classic Membership for No Enrollment Fee and No Commitment
Planet Fitness
Palm Beach Gardens
FL
Join Planet Fitness with a Classic Membership for No Enrollment Fee and No Commitment
Planet Fitness
Pembroke Pines
FL
Join Planet Fitness with a Classic Membership for No Enrollment Fee and No Commitment
Planet Fitness
Port St. Lucie
FL
Join Planet Fitness with a PF BLACK CARD® MEMBERSHIP for No Enrollment Fee, No Commitment, and No Annual Fee
Planet Fitness
Royal Palm Beach
FL
Join Planet Fitness with a PF BLACK CARD® MEMBERSHIP for No Enrollment Fee, No Commitment, and No Annual Fee
Planet Fitness
Kendall
FL
Join Planet Fitness with a PF BLACK CARD® MEMBERSHIP for No Enrollment Fee, No Commitment, and No Annual Fee
Planet Fitness
Vero Beach
FL
Join Planet Fitness with a PF BLACK CARD® MEMBERSHIP for No Enrollment Fee, No Commitment, and No Annual Fee
Planet Fitness
Pompano
FL
Join Planet Fitness with a PF BLACK CARD® MEMBERSHIP for No Enrollment Fee, No Commitment, and No Annual Fee
Planet Fitness
Delray Beach
FL
Join Planet Fitness with a PF BLACK CARD® MEMBERSHIP for No Enrollment Fee, No Commitment, and No Annual Fee
Planet Fitness
Miami
FL
Join Planet Fitness with a PF BLACK CARD® MEMBERSHIP for No Enrollment Fee, No Commitment, and No Annual Fee
Planet Fitness
North Miami Beach
FL
Join Planet Fitness with a PF BLACK CARD® MEMBERSHIP for No Enrollment Fee, No Commitment, and No Annual Fee
Planet Fitness
Miami Gardens
FL
Join Planet Fitness with a PF BLACK CARD® MEMBERSHIP for No Enrollment Fee, No Commitment, and No Annual Fee
Planet Fitness
Miami
FL
Join Planet Fitness with a PF BLACK CARD® MEMBERSHIP for No Enrollment Fee, No Commitment, and No Annual Fee
Planet Fitness
Cutler Bay
FL
Join Planet Fitness with a PF BLACK CARD® MEMBERSHIP for No Enrollment Fee, No Commitment, and No Annual Fee
Planet Fitness
Coral Springs
FL
Join Planet Fitness with a PF BLACK CARD® MEMBERSHIP for No Enrollment Fee, No Commitment, and No Annual Fee
Planet Fitness
Stuart
FL
Join Planet Fitness with a PF BLACK CARD® MEMBERSHIP for No Enrollment Fee, No Commitment, and No Annual Fee
Planet Fitness
Homestead
FL
Join Planet Fitness with a PF BLACK CARD® MEMBERSHIP for No Enrollment Fee, No Commitment, and No Annual Fee
Planet Fitness
Fort Lauderdale
FL
Join Planet Fitness with a PF BLACK CARD® MEMBERSHIP for No Enrollment Fee, No Commitment, and No Annual Fee
Planet Fitness
Port St. Lucie
FL
Join Planet Fitness with a PF BLACK CARD® MEMBERSHIP for No Enrollment Fee, No Commitment, and No Annual Fee
Planet Fitness
Coconut Creek
FL
Join Planet Fitness with a PF BLACK CARD® MEMBERSHIP for No Enrollment Fee, No Commitment, and No Annual Fee
Planet Fitness
Coconut Creek
FL
Join Planet Fitness with a PF BLACK CARD® MEMBERSHIP for No Enrollment Fee, No Commitment, and No Annual Fee
Planet Fitness
Hialeah
FL
Join Planet Fitness with a PF BLACK CARD® MEMBERSHIP for No Enrollment Fee, No Commitment, and No Annual Fee
Planet Fitness
West Palm Beach
FL
Join Planet Fitness with a PF BLACK CARD® MEMBERSHIP for No Enrollment Fee, No Commitment, and No Annual Fee
Planet Fitness
Margate
FL
Join Planet Fitness with a PF BLACK CARD® MEMBERSHIP for No Enrollment Fee, No Commitment, and No Annual Fee
Planet Fitness
Lantana
FL
Join Planet Fitness with a PF BLACK CARD® MEMBERSHIP for No Enrollment Fee, No Commitment, and No Annual Fee
Planet Fitness
Lake Worth
FL
Join Planet Fitness with a PF BLACK CARD® MEMBERSHIP for No Enrollment Fee, No Commitment, and No Annual Fee
Planet Fitness
Port St. Lucie
FL
Join Planet Fitness with a PF BLACK CARD® MEMBERSHIP for No Enrollment Fee, No Commitment, and No Annual Fee
Planet Fitness
Tamarac
FL
Join Planet Fitness with a PF BLACK CARD® MEMBERSHIP for No Enrollment Fee, No Commitment, and No Annual Fee
Planet Fitness
West Palm Beach
FL
Join Planet Fitness with a PF BLACK CARD® MEMBERSHIP for No Enrollment Fee, No Commitment, and No Annual Fee
Planet Fitness
Little Havana
FL
Join Planet Fitness with a PF BLACK CARD® MEMBERSHIP for No Enrollment Fee, No Commitment, and No Annual Fee
Planet Fitness
Plantation
FL
Join Planet Fitness with a PF BLACK CARD® MEMBERSHIP for No Enrollment Fee, No Commitment, and No Annual Fee
Planet Fitness
Hialeah Gardens
FL
Join Planet Fitness with a PF BLACK CARD® MEMBERSHIP for No Enrollment Fee, No Commitment, and No Annual Fee
Planet Fitness
Miami
FL
Join Planet Fitness with a PF BLACK CARD® MEMBERSHIP for No Enrollment Fee, No Commitment, and No Annual Fee
Planet Fitness
Miami
FL
Join Planet Fitness with a PF BLACK CARD® MEMBERSHIP for No Enrollment Fee, No Commitment, and No Annual Fee
Planet Fitness
Boynton Beach
FL
Join Planet Fitness with a PF BLACK CARD® MEMBERSHIP for No Enrollment Fee, No Commitment, and No Annual Fee
Planet Fitness
Palm Beach Gardens
FL
Join Planet Fitness with a PF BLACK CARD® MEMBERSHIP for No Enrollment Fee, No Commitment, and No Annual Fee
Planet Fitness
Pembroke Pines
FL
Join Planet Fitness with a PF BLACK CARD® MEMBERSHIP for No Enrollment Fee, No Commitment, and No Annual Fee
Planet Fitness
Cape Coral
FL
Join Planet Fitness with a Classic Membership for No Enrollment Fee and No Commitment
Planet Fitness
Fort Myers
FL
Join Planet Fitness with a Classic Membership for No Enrollment Fee and No Commitment
Planet Fitness
Fort Myers
FL
Join Planet Fitness with a Classic Membership for No Enrollment Fee and No Commitment
Planet Fitness
Fort Myers
FL
Join Planet Fitness with a Classic Membership for No Enrollment Fee and No Commitment
Planet Fitness
Port Charlotte
FL
Join Planet Fitness with a Classic Membership for No Enrollment Fee and No Commitment
Planet Fitness
Naples
FL
Join Planet Fitness with a Classic Membership for No Enrollment Fee and No Commitment
Planet Fitness
Fort Myers
FL
Join Planet Fitness with a Classic Membership for No Enrollment Fee and No Commitment
Planet Fitness
Naples
FL
Join Planet Fitness with a Classic Membership for No Enrollment Fee and No Commitment
Planet Fitness
Cape Coral
FL
Join Planet Fitness with a PF BLACK CARD® MEMBERSHIP for No Enrollment Fee, No Commitment, and No Annual Fee
Planet Fitness
Fort Myers
FL
Join Planet Fitness with a PF BLACK CARD® MEMBERSHIP for No Enrollment Fee, No Commitment, and No Annual Fee
Planet Fitness
Fort Myers
FL
Join Planet Fitness with a PF BLACK CARD® MEMBERSHIP for No Enrollment Fee, No Commitment, and No Annual Fee
Planet Fitness
Fort Myers
FL
Join Planet Fitness with a PF BLACK CARD® MEMBERSHIP for No Enrollment Fee, No Commitment, and No Annual Fee
Planet Fitness
Port Charlotte
FL
Join Planet Fitness with a PF BLACK CARD® MEMBERSHIP for No Enrollment Fee, No Commitment, and No Annual Fee
Planet Fitness
Naples
FL
Join Planet Fitness with a PF BLACK CARD® MEMBERSHIP for No Enrollment Fee, No Commitment, and No Annual Fee
Planet Fitness
Fort Myers
FL
Join Planet Fitness with a PF BLACK CARD® MEMBERSHIP for No Enrollment Fee, No Commitment, and No Annual Fee
Planet Fitness
Naples
FL
Join Planet Fitness with a PF BLACK CARD® MEMBERSHIP for No Enrollment Fee, No Commitment, and No Annual Fee
Planet Fitness
Ft. Wayne
IN
Join Planet Fitness with a Classic Membership for No Enrollment Fee and No Commitment
Planet Fitness
Ft. Wayne
IN
Join Planet Fitness with a Classic Membership for No Enrollment Fee and No Commitment
Planet Fitness
Ft. Wayne
IN
Join Planet Fitness with a Classic Membership for No Enrollment Fee and No Commitment
Planet Fitness
Fort Wayne
IN
Join Planet Fitness with a Classic Membership for No Enrollment Fee and No Commitment
Planet Fitness
Ft. Wayne
IN
Join Planet Fitness with a PF BLACK CARD® MEMBERSHIP for No Enrollment Fee, No Commitment, and No Annual Fee
Planet Fitness
Ft. Wayne
IN
Join Planet Fitness with a PF BLACK CARD® MEMBERSHIP for No Enrollment Fee, No Commitment, and No Annual Fee
Planet Fitness
Ft. Wayne
IN
Join Planet Fitness with a PF BLACK CARD® MEMBERSHIP for No Enrollment Fee, No Commitment, and No Annual Fee
Planet Fitness
Fort Wayne
IN
Join Planet Fitness with a PF BLACK CARD® MEMBERSHIP for No Enrollment Fee, No Commitment, and No Annual Fee
Planet Fitness
Grand Haven
MI
Join Planet Fitness with a Classic Membership for No Enrollment Fee and No Commitment
Planet Fitness
Muskegon
MI
Join Planet Fitness with a Classic Membership for No Enrollment Fee and No Commitment
Planet Fitness
Muskegon
MI
Join Planet Fitness with a Classic Membership for No Enrollment Fee and No Commitment
Planet Fitness
Grand Rapids
MI
Join Planet Fitness with a Classic Membership for No Enrollment Fee and No Commitment
Planet Fitness
Grand Rapids
MI
Join Planet Fitness with a Classic Membership for No Enrollment Fee and No Commitment
Planet Fitness
Grandville
MI
Join Planet Fitness with a Classic Membership for No Enrollment Fee and No Commitment
Planet Fitness
Plainfield Township
MI
Join Planet Fitness with a Classic Membership for No Enrollment Fee and No Commitment
Planet Fitness
Alpine Township
MI
Join Planet Fitness with a Classic Membership for No Enrollment Fee and No Commitment
Planet Fitness
Kalamazoo
MI
Join Planet Fitness with a Classic Membership for No Enrollment Fee and No Commitment
Planet Fitness
Kentwood
MI
Join Planet Fitness with a Classic Membership for No Enrollment Fee and No Commitment
Planet Fitness
Portage
MI
Join Planet Fitness with a Classic Membership for No Enrollment Fee and No Commitment
Planet Fitness
Wyoming
MI
Join Planet Fitness with a Classic Membership for No Enrollment Fee and No Commitment
Planet Fitness
Holland
MI
Join Planet Fitness with a Classic Membership for No Enrollment Fee and No Commitment
Planet Fitness
Grand Haven
MI
Join Planet Fitness with a PF BLACK CARD® MEMBERSHIP for No Enrollment Fee, No Commitment, and No Annual Fee
Planet Fitness
Muskegon
MI
Join Planet Fitness with a PF BLACK CARD® MEMBERSHIP for No Enrollment Fee, No Commitment, and No Annual Fee
Planet Fitness
Muskegon
MI
Join Planet Fitness with a PF BLACK CARD® MEMBERSHIP for No Enrollment Fee, No Commitment, and No Annual Fee
Planet Fitness
Grand Rapids
MI
Join Planet Fitness with a PF BLACK CARD® MEMBERSHIP for No Enrollment Fee, No Commitment, and No Annual Fee
Planet Fitness
Grand Rapids
MI
Join Planet Fitness with a PF BLACK CARD® MEMBERSHIP for No Enrollment Fee, No Commitment, and No Annual Fee
Planet Fitness
Grandville
MI
Join Planet Fitness with a PF BLACK CARD® MEMBERSHIP for No Enrollment Fee, No Commitment, and No Annual Fee
Planet Fitness
Plainfield Township
MI
Join Planet Fitness with a PF BLACK CARD® MEMBERSHIP for No Enrollment Fee, No Commitment, and No Annual Fee
Planet Fitness
Alpine Township
MI
Join Planet Fitness with a PF BLACK CARD® MEMBERSHIP for No Enrollment Fee, No Commitment, and No Annual Fee
Planet Fitness
Kalamazoo
MI
Join Planet Fitness with a PF BLACK CARD® MEMBERSHIP for No Enrollment Fee, No Commitment, and No Annual Fee
Planet Fitness
Kentwood
MI
Join Planet Fitness with a PF BLACK CARD® MEMBERSHIP for No Enrollment Fee, No Commitment, and No Annual Fee
Planet Fitness
Portage
MI
Join Planet Fitness with a PF BLACK CARD® MEMBERSHIP for No Enrollment Fee, No Commitment, and No Annual Fee
Planet Fitness
Wyoming
MI
Join Planet Fitness with a PF BLACK CARD® MEMBERSHIP for No Enrollment Fee, No Commitment, and No Annual Fee
Planet Fitness
Holland
MI
Join Planet Fitness with a PF BLACK CARD® MEMBERSHIP for No Enrollment Fee, No Commitment, and No Annual Fee
Planet Fitness
Los Angeles
CA
Join Planet Fitness with a Classic Membership for No Enrollment Fee and No Commitment
Planet Fitness
Fontana
CA
Join Planet Fitness with a Classic Membership for No Enrollment Fee and No Commitment
Planet Fitness
Upland
CA
Join Planet Fitness with a Classic Membership for No Enrollment Fee and No Commitment
Planet Fitness
Burbank
CA
Join Planet Fitness with a Classic Membership for No Enrollment Fee and No Commitment
Planet Fitness
Los Angeles
CA
Join Planet Fitness with a Classic Membership for No Enrollment Fee and No Commitment
Planet Fitness
Duarte
CA
Join Planet Fitness with a Classic Membership for No Enrollment Fee and No Commitment
Planet Fitness
Sylmar
CA
Join Planet Fitness with a Classic Membership for No Enrollment Fee and No Commitment
Planet Fitness
Carson
CA
Join Planet Fitness with a Classic Membership for No Enrollment Fee and No Commitment
Planet Fitness
Cerritos
CA
Join Planet Fitness with a Classic Membership for No Enrollment Fee and No Commitment
Planet Fitness
Norwalk
CA
Join Planet Fitness with a Classic Membership for No Enrollment Fee and No Commitment
Planet Fitness
Santa Fe Springs
CA
Join Planet Fitness with a Classic Membership for No Enrollment Fee and No Commitment
Planet Fitness
Covina
CA
Join Planet Fitness with a Classic Membership for No Enrollment Fee and No Commitment
Planet Fitness
Fontana
CA
Join Planet Fitness with a Classic Membership for No Enrollment Fee and No Commitment
Planet Fitness
La Puente
CA
Join Planet Fitness with a Classic Membership for No Enrollment Fee and No Commitment
Planet Fitness
Long Beach
CA
Join Planet Fitness with a Classic Membership for No Enrollment Fee and No Commitment
Planet Fitness
Torrance
CA
Join Planet Fitness with a Classic Membership for No Enrollment Fee and No Commitment
Planet Fitness
Pomona
CA
Join Planet Fitness with a Classic Membership for No Enrollment Fee and No Commitment
Planet Fitness
Hawaiian Gardens
CA
Join Planet Fitness with a Classic Membership for No Enrollment Fee and No Commitment
Planet Fitness
Ontario
CA
Join Planet Fitness with a Classic Membership for No Enrollment Fee and No Commitment
Planet Fitness
Inglewood
CA
Join Planet Fitness with a Classic Membership for No Enrollment Fee and No Commitment
Planet Fitness
Lynwood
CA
Join Planet Fitness with a Classic Membership for No Enrollment Fee and No Commitment
Planet Fitness
El Monte
CA
Join Planet Fitness with a Classic Membership for No Enrollment Fee and No Commitment
Planet Fitness
Palmdale
CA
Join Planet Fitness with a Classic Membership for No Enrollment Fee and No Commitment
Planet Fitness
Los Angeles
CA
Join Planet Fitness with a Classic Membership for No Enrollment Fee and No Commitment
Planet Fitness
Lancaster
CA
Join Planet Fitness with a Classic Membership for No Enrollment Fee and No Commitment
Planet Fitness
Los Angeles
CA
Join Planet Fitness with a Classic Membership for No Enrollment Fee and No Commitment
Planet Fitness
Inglewood
CA
Join Planet Fitness with a Classic Membership for No Enrollment Fee and No Commitment
Planet Fitness
Carson
CA
Join Planet Fitness with a Classic Membership for No Enrollment Fee and No Commitment
Planet Fitness
Chino
CA
Join Planet Fitness with a Classic Membership for No Enrollment Fee and No Commitment
Planet Fitness
San Dimas
CA
Join Planet Fitness with a Classic Membership for No Enrollment Fee and No Commitment
Planet Fitness
Alhambra
CA
Join Planet Fitness with a Classic Membership for No Enrollment Fee and No Commitment
Planet Fitness
Huntington Park
CA
Join Planet Fitness with a Classic Membership for No Enrollment Fee and No Commitment
Planet Fitness
South Gate
CA
Join Planet Fitness with a Classic Membership for No Enrollment Fee and No Commitment
Planet Fitness
Bellflower
CA
Join Planet Fitness with a Classic Membership for No Enrollment Fee and No Commitment
Planet Fitness
Downey
CA
Join Planet Fitness with a Classic Membership for No Enrollment Fee and No Commitment
Planet Fitness
Los Angeles
CA
Join Planet Fitness with a PF BLACK CARD® MEMBERSHIP for No Enrollment Fee, No Commitment, and No Annual Fee
Planet Fitness
Fontana
CA
Join Planet Fitness with a PF BLACK CARD® MEMBERSHIP for No Enrollment Fee, No Commitment, and No Annual Fee
Planet Fitness
Upland
CA
Join Planet Fitness with a PF BLACK CARD® MEMBERSHIP for No Enrollment Fee, No Commitment, and No Annual Fee
Planet Fitness
Burbank
CA
Join Planet Fitness with a PF BLACK CARD® MEMBERSHIP for No Enrollment Fee, No Commitment, and No Annual Fee
Planet Fitness
Los Angeles
CA
Join Planet Fitness with a PF BLACK CARD® MEMBERSHIP for No Enrollment Fee, No Commitment, and No Annual Fee
Planet Fitness
Duarte
CA
Join Planet Fitness with a PF BLACK CARD® MEMBERSHIP for No Enrollment Fee, No Commitment, and No Annual Fee
Planet Fitness
Sylmar
CA
Join Planet Fitness with a PF BLACK CARD® MEMBERSHIP for No Enrollment Fee, No Commitment, and No Annual Fee
Planet Fitness
Carson
CA
Join Planet Fitness with a PF BLACK CARD® MEMBERSHIP for No Enrollment Fee, No Commitment, and No Annual Fee
Planet Fitness
Cerritos
CA
Join Planet Fitness with a PF BLACK CARD® MEMBERSHIP for No Enrollment Fee, No Commitment, and No Annual Fee
Planet Fitness
Norwalk
CA
Join Planet Fitness with a PF BLACK CARD® MEMBERSHIP for No Enrollment Fee, No Commitment, and No Annual Fee
Planet Fitness
Santa Fe Springs
CA
Join Planet Fitness with a PF BLACK CARD® MEMBERSHIP for No Enrollment Fee, No Commitment, and No Annual Fee
Planet Fitness
Covina
CA
Join Planet Fitness with a PF BLACK CARD® MEMBERSHIP for No Enrollment Fee, No Commitment, and No Annual Fee
Planet Fitness
Fontana
CA
Join Planet Fitness with a PF BLACK CARD® MEMBERSHIP for No Enrollment Fee, No Commitment, and No Annual Fee
Planet Fitness
La Puente
CA
Join Planet Fitness with a PF BLACK CARD® MEMBERSHIP for No Enrollment Fee, No Commitment, and No Annual Fee
Planet Fitness
Long Beach
CA
Join Planet Fitness with a PF BLACK CARD® MEMBERSHIP for No Enrollment Fee, No Commitment, and No Annual Fee
Planet Fitness
Torrance
CA
Join Planet Fitness with a PF BLACK CARD® MEMBERSHIP for No Enrollment Fee, No Commitment, and No Annual Fee
Planet Fitness
Pomona
CA
Join Planet Fitness with a PF BLACK CARD® MEMBERSHIP for No Enrollment Fee, No Commitment, and No Annual Fee
Planet Fitness
Hawaiian Gardens
CA
Join Planet Fitness with a PF BLACK CARD® MEMBERSHIP for No Enrollment Fee, No Commitment, and No Annual Fee
Planet Fitness
Ontario
CA
Join Planet Fitness with a PF BLACK CARD® MEMBERSHIP for No Enrollment Fee, No Commitment, and No Annual Fee
Planet Fitness
Inglewood
CA
Join Planet Fitness with a PF BLACK CARD® MEMBERSHIP for No Enrollment Fee, No Commitment, and No Annual Fee
Planet Fitness
Lynwood
CA
Join Planet Fitness with a PF BLACK CARD® MEMBERSHIP for No Enrollment Fee, No Commitment, and No Annual Fee
Planet Fitness
El Monte
CA
Join Planet Fitness with a PF BLACK CARD® MEMBERSHIP for No Enrollment Fee, No Commitment, and No Annual Fee
Planet Fitness
Palmdale
CA
Join Planet Fitness with a PF BLACK CARD® MEMBERSHIP for No Enrollment Fee, No Commitment, and No Annual Fee
Planet Fitness
Los Angeles
CA
Join Planet Fitness with a PF BLACK CARD® MEMBERSHIP for No Enrollment Fee, No Commitment, and No Annual Fee
Planet Fitness
Lancaster
CA
Join Planet Fitness with a PF BLACK CARD® MEMBERSHIP for No Enrollment Fee, No Commitment, and No Annual Fee
Planet Fitness
Los Angeles
CA
Join Planet Fitness with a PF BLACK CARD® MEMBERSHIP for No Enrollment Fee, No Commitment, and No Annual Fee
Planet Fitness
Inglewood
CA
Join Planet Fitness with a PF BLACK CARD® MEMBERSHIP for No Enrollment Fee, No Commitment, and No Annual Fee
Planet Fitness
Carson
CA
Join Planet Fitness with a PF BLACK CARD® MEMBERSHIP for No Enrollment Fee, No Commitment, and No Annual Fee
Planet Fitness
Chino
CA
Join Planet Fitness with a PF BLACK CARD® MEMBERSHIP for No Enrollment Fee, No Commitment, and No Annual Fee
Planet Fitness
San Dimas
CA
Join Planet Fitness with a PF BLACK CARD® MEMBERSHIP for No Enrollment Fee, No Commitment, and No Annual Fee
Planet Fitness
Alhambra
CA
Join Planet Fitness with a PF BLACK CARD® MEMBERSHIP for No Enrollment Fee, No Commitment, and No Annual Fee
Planet Fitness
Huntington Park
CA
Join Planet Fitness with a PF BLACK CARD® MEMBERSHIP for No Enrollment Fee, No Commitment, and No Annual Fee
Planet Fitness
South Gate
CA
Join Planet Fitness with a PF BLACK CARD® MEMBERSHIP for No Enrollment Fee, No Commitment, and No Annual Fee
Planet Fitness
Bellflower
CA
Join Planet Fitness with a PF BLACK CARD® MEMBERSHIP for No Enrollment Fee, No Commitment, and No Annual Fee
Planet Fitness
Downey
CA
Join Planet Fitness with a PF BLACK CARD® MEMBERSHIP for No Enrollment Fee, No Commitment, and No Annual Fee
Planet Fitness
Hillsboro
OR
Join Planet Fitness with a Classic Membership for No Enrollment Fee and No Commitment
Planet Fitness
McMinnville
OR
Join Planet Fitness with a Classic Membership for No Enrollment Fee and No Commitment
Planet Fitness
Beaverton
OR
Join Planet Fitness with a Classic Membership for No Enrollment Fee and No Commitment
Planet Fitness
Portland
OR
Join Planet Fitness with a Classic Membership for No Enrollment Fee and No Commitment
Planet Fitness
Sherwood
OR
Join Planet Fitness with a Classic Membership for No Enrollment Fee and No Commitment
Planet Fitness
Portland
OR
Join Planet Fitness with a Classic Membership for No Enrollment Fee and No Commitment
Planet Fitness
Eugene
OR
Join Planet Fitness with a Classic Membership for No Enrollment Fee and No Commitment
Planet Fitness
Salem
OR
Join Planet Fitness with a Classic Membership for No Enrollment Fee and No Commitment
Planet Fitness
Kelso
WA
Join Planet Fitness with a Classic Membership for No Enrollment Fee and No Commitment
Planet Fitness
Springfield
OR
Join Planet Fitness with a Classic Membership for No Enrollment Fee and No Commitment
Planet Fitness
South Salem
OR
Join Planet Fitness with a Classic Membership for No Enrollment Fee and No Commitment
Planet Fitness
Bend
OR
Join Planet Fitness with a Classic Membership for No Enrollment Fee and No Commitment
Planet Fitness
Vancouver
WA
Join Planet Fitness with a Classic Membership for No Enrollment Fee and No Commitment
Planet Fitness
Portland
OR
Join Planet Fitness with a Classic Membership for No Enrollment Fee and No Commitment
Planet Fitness
Hazel Dell
WA
Join Planet Fitness with a Classic Membership for No Enrollment Fee and No Commitment
Planet Fitness
Hillsboro
OR
Join Planet Fitness with a PF BLACK CARD® MEMBERSHIP for No Enrollment Fee, No Commitment, and No Annual Fee
Planet Fitness
McMinnville
OR
Join Planet Fitness with a PF BLACK CARD® MEMBERSHIP for No Enrollment Fee, No Commitment, and No Annual Fee
Planet Fitness
Beaverton
OR
Join Planet Fitness with a PF BLACK CARD® MEMBERSHIP for No Enrollment Fee, No Commitment, and No Annual Fee
Planet Fitness
Portland
OR
Join Planet Fitness with a PF BLACK CARD® MEMBERSHIP for No Enrollment Fee, No Commitment, and No Annual Fee
Planet Fitness
Sherwood
OR
Join Planet Fitness with a PF BLACK CARD® MEMBERSHIP for No Enrollment Fee, No Commitment, and No Annual Fee
Planet Fitness
Portland
OR
Join Planet Fitness with a PF BLACK CARD® MEMBERSHIP for No Enrollment Fee, No Commitment, and No Annual Fee
Planet Fitness
Eugene
OR
Join Planet Fitness with a PF BLACK CARD® MEMBERSHIP for No Enrollment Fee, No Commitment, and No Annual Fee
Planet Fitness
Salem
OR
Join Planet Fitness with a PF BLACK CARD® MEMBERSHIP for No Enrollment Fee, No Commitment, and No Annual Fee
Planet Fitness
Kelso
WA
Join Planet Fitness with a PF BLACK CARD® MEMBERSHIP for No Enrollment Fee, No Commitment, and No Annual Fee
Planet Fitness
Springfield
OR
Join Planet Fitness with a PF BLACK CARD® MEMBERSHIP for No Enrollment Fee, No Commitment, and No Annual Fee
Planet Fitness
South Salem
OR
Join Planet Fitness with a PF BLACK CARD® MEMBERSHIP for No Enrollment Fee, No Commitment, and No Annual Fee
Planet Fitness
Bend
OR
Join Planet Fitness with a PF BLACK CARD® MEMBERSHIP for No Enrollment Fee, No Commitment, and No Annual Fee
Planet Fitness
Vancouver
WA
Join Planet Fitness with a PF BLACK CARD® MEMBERSHIP for No Enrollment Fee, No Commitment, and No Annual Fee
Planet Fitness
Portland
OR
Join Planet Fitness with a PF BLACK CARD® MEMBERSHIP for No Enrollment Fee, No Commitment, and No Annual Fee
Planet Fitness
Hazel Dell
WA
Join Planet Fitness with a PF BLACK CARD® MEMBERSHIP for No Enrollment Fee, No Commitment, and No Annual Fee
Planet Fitness
North York
ON
Join Planet Fitness with a Classic Membership for No Enrollment Fee and No Commitment
Planet Fitness
Toronto
ON
Join Planet Fitness with a Classic Membership for No Enrollment Fee and No Commitment
Planet Fitness
Mississauga
ON
Join Planet Fitness with a Classic Membership for No Enrollment Fee and No Commitment
Planet Fitness
Toronto
ON
Join Planet Fitness with a Classic Membership for No Enrollment Fee and No Commitment
Planet Fitness
Mississauga
ON
Join Planet Fitness with a Classic Membership for No Enrollment Fee and No Commitment
Planet Fitness
Etobicoke
ON
Join Planet Fitness with a Classic Membership for No Enrollment Fee and No Commitment
Planet Fitness
Brampton
ON
Join Planet Fitness with a Classic Membership for No Enrollment Fee and No Commitment
Planet Fitness
Burlington
ON
Join Planet Fitness with a Classic Membership for No Enrollment Fee and No Commitment
Planet Fitness
Malvern
ON
Join Planet Fitness with a Classic Membership for No Enrollment Fee and No Commitment
Planet Fitness
Brampton
ON
Join Planet Fitness with a Classic Membership for No Enrollment Fee and No Commitment
Planet Fitness
North Scarborough
ON
Join Planet Fitness with a Classic Membership for No Enrollment Fee and No Commitment
Planet Fitness
Cambridge
ON
Join Planet Fitness with a Classic Membership for No Enrollment Fee and No Commitment
Planet Fitness
Kitchener
ON
Join Planet Fitness with a Classic Membership for No Enrollment Fee and No Commitment
Planet Fitness
Vaughan
ON
Join Planet Fitness with a Classic Membership for No Enrollment Fee and No Commitment
Planet Fitness
North York
ON
Join Planet Fitness with a PF BLACK CARD® MEMBERSHIP for No Enrollment Fee, No Commitment, and No Annual Fee
Planet Fitness
Toronto
ON
Join Planet Fitness with a PF BLACK CARD® MEMBERSHIP for No Enrollment Fee, No Commitment, and No Annual Fee
Planet Fitness
Mississauga
ON
Join Planet Fitness with a PF BLACK CARD® MEMBERSHIP for No Enrollment Fee, No Commitment, and No Annual Fee
Planet Fitness
Toronto
ON
Join Planet Fitness with a PF BLACK CARD® MEMBERSHIP for No Enrollment Fee, No Commitment, and No Annual Fee
Planet Fitness
Mississauga
ON
Join Planet Fitness with a PF BLACK CARD® MEMBERSHIP for No Enrollment Fee, No Commitment, and No Annual Fee
Planet Fitness
Etobicoke
ON
Join Planet Fitness with a PF BLACK CARD® MEMBERSHIP for No Enrollment Fee, No Commitment, and No Annual Fee
Planet Fitness
Brampton
ON
Join Planet Fitness with a PF BLACK CARD® MEMBERSHIP for No Enrollment Fee, No Commitment, and No Annual Fee
Planet Fitness
Burlington
ON
Join Planet Fitness with a PF BLACK CARD® MEMBERSHIP for No Enrollment Fee, No Commitment, and No Annual Fee
Planet Fitness
Malvern
ON
Join Planet Fitness with a PF BLACK CARD® MEMBERSHIP for No Enrollment Fee, No Commitment, and No Annual Fee
Planet Fitness
Brampton
ON
Join Planet Fitness with a PF BLACK CARD® MEMBERSHIP for No Enrollment Fee, No Commitment, and No Annual Fee
Planet Fitness
North Scarborough
ON
Join Planet Fitness with a PF BLACK CARD® MEMBERSHIP for No Enrollment Fee, No Commitment, and No Annual Fee
Planet Fitness
Cambridge
ON
Join Planet Fitness with a PF BLACK CARD® MEMBERSHIP for No Enrollment Fee, No Commitment, and No Annual Fee
Planet Fitness
Kitchener
ON
Join Planet Fitness with a PF BLACK CARD® MEMBERSHIP for No Enrollment Fee, No Commitment, and No Annual Fee
Planet Fitness
Vaughan
ON
Join Planet Fitness with a PF BLACK CARD® MEMBERSHIP for No Enrollment Fee, No Commitment, and No Annual Fee
Planet Fitness
Hampton
VA
Join Planet Fitness with a Classic Membership for No Enrollment Fee and No Commitment
Planet Fitness
Chesapeake
VA
Join Planet Fitness with a Classic Membership for No Enrollment Fee and No Commitment
Planet Fitness
Portsmouth
VA
Join Planet Fitness with a Classic Membership for No Enrollment Fee and No Commitment
Planet Fitness
Virginia Beach
VA
Join Planet Fitness with a Classic Membership for No Enrollment Fee and No Commitment
Planet Fitness
Newport News
VA
Join Planet Fitness with a Classic Membership for No Enrollment Fee and No Commitment
Planet Fitness
Virginia Beach
VA
Join Planet Fitness with a Classic Membership for No Enrollment Fee and No Commitment
Planet Fitness
Norfolk
VA
Join Planet Fitness with a Classic Membership for No Enrollment Fee and No Commitment
Planet Fitness
Norfolk
VA
Join Planet Fitness with a Classic Membership for No Enrollment Fee and No Commitment
Planet Fitness
Suffolk
VA
Join Planet Fitness with a Classic Membership for No Enrollment Fee and No Commitment
Planet Fitness
Portsmouth
VA
Join Planet Fitness with a Classic Membership for No Enrollment Fee and No Commitment
Planet Fitness
Gloucester
VA
Join Planet Fitness with a Classic Membership for No Enrollment Fee and No Commitment
Planet Fitness
Hampton
VA
Join Planet Fitness with a PF BLACK CARD® MEMBERSHIP for No Enrollment Fee, No Commitment, and No Annual Fee
Planet Fitness
Chesapeake
VA
Join Planet Fitness with a PF BLACK CARD® MEMBERSHIP for No Enrollment Fee, No Commitment, and No Annual Fee
Planet Fitness
Portsmouth
VA
Join Planet Fitness with a PF BLACK CARD® MEMBERSHIP for No Enrollment Fee, No Commitment, and No Annual Fee
Planet Fitness
Virginia Beach
VA
Join Planet Fitness with a PF BLACK CARD® MEMBERSHIP for No Enrollment Fee, No Commitment, and No Annual Fee
Planet Fitness
Newport News
VA
Join Planet Fitness with a PF BLACK CARD® MEMBERSHIP for No Enrollment Fee, No Commitment, and No Annual Fee
Planet Fitness
Virginia Beach
VA
Join Planet Fitness with a PF BLACK CARD® MEMBERSHIP for No Enrollment Fee, No Commitment, and No Annual Fee
Planet Fitness
Norfolk
VA
Join Planet Fitness with a PF BLACK CARD® MEMBERSHIP for No Enrollment Fee, No Commitment, and No Annual Fee
Planet Fitness
Norfolk
VA
Join Planet Fitness with a PF BLACK CARD® MEMBERSHIP for No Enrollment Fee, No Commitment, and No Annual Fee
Planet Fitness
Suffolk
VA
Join Planet Fitness with a PF BLACK CARD® MEMBERSHIP for No Enrollment Fee, No Commitment, and No Annual Fee
Planet Fitness
Portsmouth
VA
Join Planet Fitness with a PF BLACK CARD® MEMBERSHIP for No Enrollment Fee, No Commitment, and No Annual Fee
Planet Fitness
Gloucester
VA
Join Planet Fitness with a PF BLACK CARD® MEMBERSHIP for No Enrollment Fee, No Commitment, and No Annual Fee
Planet Fitness
Mechanicsburg
PA
Join Planet Fitness with a Classic Membership for No Enrollment Fee and No Commitment
Planet Fitness
Carlisle
PA
Join Planet Fitness with a Classic Membership for No Enrollment Fee and No Commitment
Planet Fitness
Lebanon
PA
Join Planet Fitness with a Classic Membership for No Enrollment Fee and No Commitment
Planet Fitness
Shippensburg
PA
Join Planet Fitness with a Classic Membership for No Enrollment Fee and No Commitment
Planet Fitness
Enola
PA
Join Planet Fitness with a Classic Membership for No Enrollment Fee and No Commitment
Planet Fitness
Harrisburg
PA
Join Planet Fitness with a Classic Membership for No Enrollment Fee and No Commitment
Planet Fitness
Mechanicsburg
PA
Join Planet Fitness with a Classic Membership for No Enrollment Fee and No Commitment
Planet Fitness
Harrisburg
PA
Join Planet Fitness with a Classic Membership for No Enrollment Fee and No Commitment
Planet Fitness
Mechanicsburg
PA
Join Planet Fitness with a PF BLACK CARD® MEMBERSHIP for No Enrollment Fee, No Commitment, and No Annual Fee
Planet Fitness
Carlisle
PA
Join Planet Fitness with a PF BLACK CARD® MEMBERSHIP for No Enrollment Fee, No Commitment, and No Annual Fee
Planet Fitness
Lebanon
PA
Join Planet Fitness with a PF BLACK CARD® MEMBERSHIP for No Enrollment Fee, No Commitment, and No Annual Fee
Planet Fitness
Shippensburg
PA
Join Planet Fitness with a PF BLACK CARD® MEMBERSHIP for No Enrollment Fee, No Commitment, and No Annual Fee
Planet Fitness
Enola
PA
Join Planet Fitness with a PF BLACK CARD® MEMBERSHIP for No Enrollment Fee, No Commitment, and No Annual Fee
Planet Fitness
Harrisburg
PA
Join Planet Fitness with a PF BLACK CARD® MEMBERSHIP for No Enrollment Fee, No Commitment, and No Annual Fee
Planet Fitness
Mechanicsburg
PA
Join Planet Fitness with a PF BLACK CARD® MEMBERSHIP for No Enrollment Fee, No Commitment, and No Annual Fee
Planet Fitness
Harrisburg
PA
Join Planet Fitness with a PF BLACK CARD® MEMBERSHIP for No Enrollment Fee, No Commitment, and No Annual Fee
Planet Fitness
Kahului
HI
Join Planet Fitness with a Classic Membership for No Enrollment Fee and No Commitment
Planet Fitness
Kailua-Kona
HI
Join Planet Fitness with a Classic Membership for No Enrollment Fee and No Commitment
Planet Fitness
Honolulu
HI
Join Planet Fitness with a Classic Membership for No Enrollment Fee and No Commitment
Planet Fitness
Kahului
HI
Join Planet Fitness with a PF BLACK CARD® MEMBERSHIP for No Enrollment Fee, No Commitment, and No Annual Fee
Planet Fitness
Kailua-Kona
HI
Join Planet Fitness with a PF BLACK CARD® MEMBERSHIP for No Enrollment Fee, No Commitment, and No Annual Fee
Planet Fitness
Honolulu
HI
Join Planet Fitness with a PF BLACK CARD® MEMBERSHIP for No Enrollment Fee, No Commitment, and No Annual Fee
Planet Fitness
Houston
TX
Join Planet Fitness with a Classic Membership for No Enrollment Fee and No Commitment
Planet Fitness
Pearland
TX
Join Planet Fitness with a Classic Membership for No Enrollment Fee and No Commitment
Planet Fitness
Houston
TX
Join Planet Fitness with a Classic Membership for No Enrollment Fee and No Commitment
Planet Fitness
Houston
TX
Join Planet Fitness with a Classic Membership for No Enrollment Fee and No Commitment
Planet Fitness
Houston
TX
Join Planet Fitness with a Classic Membership for No Enrollment Fee and No Commitment
Planet Fitness
Houston
TX
Join Planet Fitness with a Classic Membership for No Enrollment Fee and No Commitment
Planet Fitness
Alvin
TX
Join Planet Fitness with a Classic Membership for No Enrollment Fee and No Commitment
Planet Fitness
Texarkana
TX
Join Planet Fitness with a Classic Membership for No Enrollment Fee and No Commitment
Planet Fitness
Conroe
TX
Join Planet Fitness with a Classic Membership for No Enrollment Fee and No Commitment
Planet Fitness
Lake Jackson
TX
Join Planet Fitness with a Classic Membership for No Enrollment Fee and No Commitment
Planet Fitness
Katy
TX
Join Planet Fitness with a Classic Membership for No Enrollment Fee and No Commitment
Planet Fitness
Humble
TX
Join Planet Fitness with a Classic Membership for No Enrollment Fee and No Commitment
Planet Fitness
Tomball
TX
Join Planet Fitness with a Classic Membership for No Enrollment Fee and No Commitment
Planet Fitness
Houston
TX
Join Planet Fitness with a Classic Membership for No Enrollment Fee and No Commitment
Planet Fitness
Friendswood
TX
Join Planet Fitness with a Classic Membership for No Enrollment Fee and No Commitment
Planet Fitness
Texas City
TX
Join Planet Fitness with a Classic Membership for No Enrollment Fee and No Commitment
Planet Fitness
Deer Park
TX
Join Planet Fitness with a Classic Membership for No Enrollment Fee and No Commitment
Planet Fitness
Pasadena
TX
Join Planet Fitness with a Classic Membership for No Enrollment Fee and No Commitment
Planet Fitness
Rosenberg
TX
Join Planet Fitness with a Classic Membership for No Enrollment Fee and No Commitment
Planet Fitness
Webster
TX
Join Planet Fitness with a Classic Membership for No Enrollment Fee and No Commitment
Planet Fitness
Baytown
TX
Join Planet Fitness with a Classic Membership for No Enrollment Fee and No Commitment
Planet Fitness
Houston
TX
Join Planet Fitness with a Classic Membership for No Enrollment Fee and No Commitment
Planet Fitness
Houston
TX
Join Planet Fitness with a Classic Membership for No Enrollment Fee and No Commitment
Planet Fitness
Houston
TX
Join Planet Fitness with a Classic Membership for No Enrollment Fee and No Commitment
Planet Fitness
Houston
TX
Join Planet Fitness with a Classic Membership for No Enrollment Fee and No Commitment
Planet Fitness
Houston
TX
Join Planet Fitness with a PF BLACK CARD® MEMBERSHIP for No Enrollment Fee, No Commitment, and No Annual Fee
Planet Fitness
Pearland
TX
Join Planet Fitness with a PF BLACK CARD® MEMBERSHIP for No Enrollment Fee, No Commitment, and No Annual Fee
Planet Fitness
Houston
TX
Join Planet Fitness with a PF BLACK CARD® MEMBERSHIP for No Enrollment Fee, No Commitment, and No Annual Fee
Planet Fitness
Houston
TX
Join Planet Fitness with a PF BLACK CARD® MEMBERSHIP for No Enrollment Fee, No Commitment, and No Annual Fee
Planet Fitness
Houston
TX
Join Planet Fitness with a PF BLACK CARD® MEMBERSHIP for No Enrollment Fee, No Commitment, and No Annual Fee
Planet Fitness
Houston
TX
Join Planet Fitness with a PF BLACK CARD® MEMBERSHIP for No Enrollment Fee, No Commitment, and No Annual Fee
Planet Fitness
Alvin
TX
Join Planet Fitness with a PF BLACK CARD® MEMBERSHIP for No Enrollment Fee, No Commitment, and No Annual Fee
Planet Fitness
Texarkana
TX
Join Planet Fitness with a PF BLACK CARD® MEMBERSHIP for No Enrollment Fee, No Commitment, and No Annual Fee
Planet Fitness
Conroe
TX
Join Planet Fitness with a PF BLACK CARD® MEMBERSHIP for No Enrollment Fee, No Commitment, and No Annual Fee
Planet Fitness
Lake Jackson
TX
Join Planet Fitness with a PF BLACK CARD® MEMBERSHIP for No Enrollment Fee, No Commitment, and No Annual Fee
Planet Fitness
Katy
TX
Join Planet Fitness with a PF BLACK CARD® MEMBERSHIP for No Enrollment Fee, No Commitment, and No Annual Fee
Planet Fitness
Humble
TX
Join Planet Fitness with a PF BLACK CARD® MEMBERSHIP for No Enrollment Fee, No Commitment, and No Annual Fee
Planet Fitness
Tomball
TX
Join Planet Fitness with a PF BLACK CARD® MEMBERSHIP for No Enrollment Fee, No Commitment, and No Annual Fee
Planet Fitness
Houston
TX
Join Planet Fitness with a PF BLACK CARD® MEMBERSHIP for No Enrollment Fee, No Commitment, and No Annual Fee
Planet Fitness
Friendswood
TX
Join Planet Fitness with a PF BLACK CARD® MEMBERSHIP for No Enrollment Fee, No Commitment, and No Annual Fee
Planet Fitness
Texas City
TX
Join Planet Fitness with a PF BLACK CARD® MEMBERSHIP for No Enrollment Fee, No Commitment, and No Annual Fee
Planet Fitness
Deer Park
TX
Join Planet Fitness with a PF BLACK CARD® MEMBERSHIP for No Enrollment Fee, No Commitment, and No Annual Fee
Planet Fitness
Pasadena
TX
Join Planet Fitness with a PF BLACK CARD® MEMBERSHIP for No Enrollment Fee, No Commitment, and No Annual Fee
Planet Fitness
Rosenberg
TX
Join Planet Fitness with a PF BLACK CARD® MEMBERSHIP for No Enrollment Fee, No Commitment, and No Annual Fee
Planet Fitness
Webster
TX
Join Planet Fitness with a PF BLACK CARD® MEMBERSHIP for No Enrollment Fee, No Commitment, and No Annual Fee
Planet Fitness
Baytown
TX
Join Planet Fitness with a PF BLACK CARD® MEMBERSHIP for No Enrollment Fee, No Commitment, and No Annual Fee
Planet Fitness
Houston
TX
Join Planet Fitness with a PF BLACK CARD® MEMBERSHIP for No Enrollment Fee, No Commitment, and No Annual Fee
Planet Fitness
Houston
TX
Join Planet Fitness with a PF BLACK CARD® MEMBERSHIP for No Enrollment Fee, No Commitment, and No Annual Fee
Planet Fitness
Houston
TX
Join Planet Fitness with a PF BLACK CARD® MEMBERSHIP for No Enrollment Fee, No Commitment, and No Annual Fee
Planet Fitness
Houston
TX
Join Planet Fitness with a PF BLACK CARD® MEMBERSHIP for No Enrollment Fee, No Commitment, and No Annual Fee
Planet Fitness
New Boston
OH
Join Planet Fitness with a Classic Membership for No Enrollment Fee and No Commitment
Planet Fitness
Ashland
KY
Join Planet Fitness with a Classic Membership for No Enrollment Fee and No Commitment
Planet Fitness
Barboursville
WV
Join Planet Fitness with a Classic Membership for No Enrollment Fee and No Commitment
Planet Fitness
New Boston
OH
Join Planet Fitness with a PF BLACK CARD® MEMBERSHIP for No Enrollment Fee, No Commitment, and No Annual Fee
Planet Fitness
Ashland
KY
Join Planet Fitness with a PF BLACK CARD® MEMBERSHIP for No Enrollment Fee, No Commitment, and No Annual Fee
Planet Fitness
Barboursville
WV
Join Planet Fitness with a PF BLACK CARD® MEMBERSHIP for No Enrollment Fee, No Commitment, and No Annual Fee
Planet Fitness
Indianapolis
IN
Join Planet Fitness with a Classic Membership for No Enrollment Fee and No Commitment
Planet Fitness
Marion
IN
Join Planet Fitness with a Classic Membership for No Enrollment Fee and No Commitment
Planet Fitness
Fishers
IN
Join Planet Fitness with a Classic Membership for No Enrollment Fee and No Commitment
Planet Fitness
Muncie
IN
Join Planet Fitness with a Classic Membership for No Enrollment Fee and No Commitment
Planet Fitness
Crawfordsville
IN
Join Planet Fitness with a Classic Membership for No Enrollment Fee and No Commitment
Planet Fitness
Greenfield
IN
Join Planet Fitness with a Classic Membership for No Enrollment Fee and No Commitment
Planet Fitness
Kokomo
IN
Join Planet Fitness with a Classic Membership for No Enrollment Fee and No Commitment
Planet Fitness
Carmel
IN
Join Planet Fitness with a Classic Membership for No Enrollment Fee and No Commitment
Planet Fitness
Indianapolis
IN
Join Planet Fitness with a Classic Membership for No Enrollment Fee and No Commitment
Planet Fitness
Plainfield
IN
Join Planet Fitness with a Classic Membership for No Enrollment Fee and No Commitment
Planet Fitness
Shelbyville
IN
Join Planet Fitness with a Classic Membership for No Enrollment Fee and No Commitment
Planet Fitness
Indianapolis
IN
Join Planet Fitness with a Classic Membership for No Enrollment Fee and No Commitment
Planet Fitness
Columbus
IN
Join Planet Fitness with a Classic Membership for No Enrollment Fee and No Commitment
Planet Fitness
Westfield
IN
Join Planet Fitness with a Classic Membership for No Enrollment Fee and No Commitment
Planet Fitness
Bloomington
IN
Join Planet Fitness with a Classic Membership for No Enrollment Fee and No Commitment
Planet Fitness
Indianapolis
IN
Join Planet Fitness with a Classic Membership for No Enrollment Fee and No Commitment
Planet Fitness
Richmond
IN
Join Planet Fitness with a Classic Membership for No Enrollment Fee and No Commitment
Planet Fitness
Anderson
IN
Join Planet Fitness with a Classic Membership for No Enrollment Fee and No Commitment
Planet Fitness
Indianapolis
IN
Join Planet Fitness with a Classic Membership for No Enrollment Fee and No Commitment
Planet Fitness
Indianapolis
IN
Join Planet Fitness with a Classic Membership for No Enrollment Fee and No Commitment
Planet Fitness
Indianapolis
IN
Join Planet Fitness with a Classic Membership for No Enrollment Fee and No Commitment
Planet Fitness
Indianapolis
IN
Join Planet Fitness with a Classic Membership for No Enrollment Fee and No Commitment
Planet Fitness
Indianapolis
IN
Join Planet Fitness with a Classic Membership for No Enrollment Fee and No Commitment
Planet Fitness
Indianapolis
IN
Join Planet Fitness with a Classic Membership for No Enrollment Fee and No Commitment
Planet Fitness
Brownsburg
IN
Join Planet Fitness with a Classic Membership for No Enrollment Fee and No Commitment
Planet Fitness
Indianapolis
IN
Join Planet Fitness with a PF BLACK CARD® MEMBERSHIP for No Enrollment Fee, No Commitment, and No Annual Fee
Planet Fitness
Marion
IN
Join Planet Fitness with a PF BLACK CARD® MEMBERSHIP for No Enrollment Fee, No Commitment, and No Annual Fee
Planet Fitness
Fishers
IN
Join Planet Fitness with a PF BLACK CARD® MEMBERSHIP for No Enrollment Fee, No Commitment, and No Annual Fee
Planet Fitness
Muncie
IN
Join Planet Fitness with a PF BLACK CARD® MEMBERSHIP for No Enrollment Fee, No Commitment, and No Annual Fee
Planet Fitness
Crawfordsville
IN
Join Planet Fitness with a PF BLACK CARD® MEMBERSHIP for No Enrollment Fee, No Commitment, and No Annual Fee
Planet Fitness
Greenfield
IN
Join Planet Fitness with a PF BLACK CARD® MEMBERSHIP for No Enrollment Fee, No Commitment, and No Annual Fee
Planet Fitness
Kokomo
IN
Join Planet Fitness with a PF BLACK CARD® MEMBERSHIP for No Enrollment Fee, No Commitment, and No Annual Fee
Planet Fitness
Carmel
IN
Join Planet Fitness with a PF BLACK CARD® MEMBERSHIP for No Enrollment Fee, No Commitment, and No Annual Fee
Planet Fitness
Indianapolis
IN
Join Planet Fitness with a PF BLACK CARD® MEMBERSHIP for No Enrollment Fee, No Commitment, and No Annual Fee
Planet Fitness
Plainfield
IN
Join Planet Fitness with a PF BLACK CARD® MEMBERSHIP for No Enrollment Fee, No Commitment, and No Annual Fee
Planet Fitness
Shelbyville
IN
Join Planet Fitness with a PF BLACK CARD® MEMBERSHIP for No Enrollment Fee, No Commitment, and No Annual Fee
Planet Fitness
Indianapolis
IN
Join Planet Fitness with a PF BLACK CARD® MEMBERSHIP for No Enrollment Fee, No Commitment, and No Annual Fee
Planet Fitness
Columbus
IN
Join Planet Fitness with a PF BLACK CARD® MEMBERSHIP for No Enrollment Fee, No Commitment, and No Annual Fee
Planet Fitness
Westfield
IN
Join Planet Fitness with a PF BLACK CARD® MEMBERSHIP for No Enrollment Fee, No Commitment, and No Annual Fee
Planet Fitness
Bloomington
IN
Join Planet Fitness with a PF BLACK CARD® MEMBERSHIP for No Enrollment Fee, No Commitment, and No Annual Fee
Planet Fitness
Indianapolis
IN
Join Planet Fitness with a PF BLACK CARD® MEMBERSHIP for No Enrollment Fee, No Commitment, and No Annual Fee
Planet Fitness
Richmond
IN
Join Planet Fitness with a PF BLACK CARD® MEMBERSHIP for No Enrollment Fee, No Commitment, and No Annual Fee
Planet Fitness
Anderson
IN
Join Planet Fitness with a PF BLACK CARD® MEMBERSHIP for No Enrollment Fee, No Commitment, and No Annual Fee
Planet Fitness
Indianapolis
IN
Join Planet Fitness with a PF BLACK CARD® MEMBERSHIP for No Enrollment Fee, No Commitment, and No Annual Fee
Planet Fitness
Indianapolis
IN
Join Planet Fitness with a PF BLACK CARD® MEMBERSHIP for No Enrollment Fee, No Commitment, and No Annual Fee
Planet Fitness
Indianapolis
IN
Join Planet Fitness with a PF BLACK CARD® MEMBERSHIP for No Enrollment Fee, No Commitment, and No Annual Fee
Planet Fitness
Indianapolis
IN
Join Planet Fitness with a PF BLACK CARD® MEMBERSHIP for No Enrollment Fee, No Commitment, and No Annual Fee
Planet Fitness
Indianapolis
IN
Join Planet Fitness with a PF BLACK CARD® MEMBERSHIP for No Enrollment Fee, No Commitment, and No Annual Fee
Planet Fitness
Indianapolis
IN
Join Planet Fitness with a PF BLACK CARD® MEMBERSHIP for No Enrollment Fee, No Commitment, and No Annual Fee
Planet Fitness
Brownsburg
IN
Join Planet Fitness with a PF BLACK CARD® MEMBERSHIP for No Enrollment Fee, No Commitment, and No Annual Fee
Planet Fitness
Victorville
CA
Join Planet Fitness with a Classic Membership for No Enrollment Fee and No Commitment
Planet Fitness
Moreno Valley
CA
Join Planet Fitness with a Classic Membership for No Enrollment Fee and No Commitment
Planet Fitness
Hesperia
CA
Join Planet Fitness with a Classic Membership for No Enrollment Fee and No Commitment
Planet Fitness
Hemet
CA
Join Planet Fitness with a Classic Membership for No Enrollment Fee and No Commitment
Planet Fitness
Corona
CA
Join Planet Fitness with a Classic Membership for No Enrollment Fee and No Commitment
Planet Fitness
Rialto
CA
Join Planet Fitness with a Classic Membership for No Enrollment Fee and No Commitment
Planet Fitness
San Bernardino
CA
Join Planet Fitness with a Classic Membership for No Enrollment Fee and No Commitment
Planet Fitness
Murrieta
CA
Join Planet Fitness with a Classic Membership for No Enrollment Fee and No Commitment
Planet Fitness
Lake Elsinore
CA
Join Planet Fitness with a Classic Membership for No Enrollment Fee and No Commitment
Planet Fitness
Cathedral City
CA
Join Planet Fitness with a Classic Membership for No Enrollment Fee and No Commitment
Planet Fitness
Temecula
CA
Join Planet Fitness with a Classic Membership for No Enrollment Fee and No Commitment
Planet Fitness
Riverside
CA
Join Planet Fitness with a Classic Membership for No Enrollment Fee and No Commitment
Planet Fitness
San Bernardino
CA
Join Planet Fitness with a Classic Membership for No Enrollment Fee and No Commitment
Planet Fitness
Coachella
CA
Join Planet Fitness with a Classic Membership for No Enrollment Fee and No Commitment
Planet Fitness
San Bernardino
CA
Join Planet Fitness with a Classic Membership for No Enrollment Fee and No Commitment
Planet Fitness
La Quinta
CA
Join Planet Fitness with a Classic Membership for No Enrollment Fee and No Commitment
Planet Fitness
Victorville
CA
Join Planet Fitness with a PF BLACK CARD® MEMBERSHIP for No Enrollment Fee, No Commitment, and No Annual Fee
Planet Fitness
Moreno Valley
CA
Join Planet Fitness with a PF BLACK CARD® MEMBERSHIP for No Enrollment Fee, No Commitment, and No Annual Fee
Planet Fitness
Hesperia
CA
Join Planet Fitness with a PF BLACK CARD® MEMBERSHIP for No Enrollment Fee, No Commitment, and No Annual Fee
Planet Fitness
Hemet
CA
Join Planet Fitness with a PF BLACK CARD® MEMBERSHIP for No Enrollment Fee, No Commitment, and No Annual Fee
Planet Fitness
Corona
CA
Join Planet Fitness with a PF BLACK CARD® MEMBERSHIP for No Enrollment Fee, No Commitment, and No Annual Fee
Planet Fitness
Rialto
CA
Join Planet Fitness with a PF BLACK CARD® MEMBERSHIP for No Enrollment Fee, No Commitment, and No Annual Fee
Planet Fitness
San Bernardino
CA
Join Planet Fitness with a PF BLACK CARD® MEMBERSHIP for No Enrollment Fee, No Commitment, and No Annual Fee
Planet Fitness
Murrieta
CA
Join Planet Fitness with a PF BLACK CARD® MEMBERSHIP for No Enrollment Fee, No Commitment, and No Annual Fee
Planet Fitness
Lake Elsinore
CA
Join Planet Fitness with a PF BLACK CARD® MEMBERSHIP for No Enrollment Fee, No Commitment, and No Annual Fee
Planet Fitness
Cathedral City
CA
Join Planet Fitness with a PF BLACK CARD® MEMBERSHIP for No Enrollment Fee, No Commitment, and No Annual Fee
Planet Fitness
Temecula
CA
Join Planet Fitness with a PF BLACK CARD® MEMBERSHIP for No Enrollment Fee, No Commitment, and No Annual Fee
Planet Fitness
Riverside
CA
Join Planet Fitness with a PF BLACK CARD® MEMBERSHIP for No Enrollment Fee, No Commitment, and No Annual Fee
Planet Fitness
San Bernardino
CA
Join Planet Fitness with a PF BLACK CARD® MEMBERSHIP for No Enrollment Fee, No Commitment, and No Annual Fee
Planet Fitness
Coachella
CA
Join Planet Fitness with a PF BLACK CARD® MEMBERSHIP for No Enrollment Fee, No Commitment, and No Annual Fee
Planet Fitness
San Bernardino
CA
Join Planet Fitness with a PF BLACK CARD® MEMBERSHIP for No Enrollment Fee, No Commitment, and No Annual Fee
Planet Fitness
La Quinta
CA
Join Planet Fitness with a PF BLACK CARD® MEMBERSHIP for No Enrollment Fee, No Commitment, and No Annual Fee
Planet Fitness
Palatka
FL
Join Planet Fitness with a Classic Membership for No Enrollment Fee and No Commitment
Planet Fitness
Jacksonville
FL
Join Planet Fitness with a Classic Membership for No Enrollment Fee and No Commitment
Planet Fitness
Jacksonville
FL
Join Planet Fitness with a Classic Membership for No Enrollment Fee and No Commitment
Planet Fitness
Fleming Island
FL
Join Planet Fitness with a Classic Membership for No Enrollment Fee and No Commitment
Planet Fitness
Jacksonville
FL
Join Planet Fitness with a Classic Membership for No Enrollment Fee and No Commitment
Planet Fitness
Atlantic Beach
FL
Join Planet Fitness with a Classic Membership for No Enrollment Fee and No Commitment
Planet Fitness
Jacksonville
FL
Join Planet Fitness with a Classic Membership for No Enrollment Fee and No Commitment
Planet Fitness
Lake City
FL
Join Planet Fitness with a Classic Membership for No Enrollment Fee and No Commitment
Planet Fitness
Jacksonville
FL
Join Planet Fitness with a Classic Membership for No Enrollment Fee and No Commitment
Planet Fitness
Jacksonville
FL
Join Planet Fitness with a Classic Membership for No Enrollment Fee and No Commitment
Planet Fitness
Palm Coast
FL
Join Planet Fitness with a Classic Membership for No Enrollment Fee and No Commitment
Planet Fitness
Jacksonville
FL
Join Planet Fitness with a Classic Membership for No Enrollment Fee and No Commitment
Planet Fitness
Jacksonville
FL
Join Planet Fitness with a Classic Membership for No Enrollment Fee and No Commitment
Planet Fitness
Jacksonville
FL
Join Planet Fitness with a Classic Membership for No Enrollment Fee and No Commitment
Planet Fitness
St. Augustine
FL
Join Planet Fitness with a Classic Membership for No Enrollment Fee and No Commitment
Planet Fitness
Palatka
FL
Join Planet Fitness with a PF BLACK CARD® MEMBERSHIP for No Enrollment Fee, No Commitment, and No Annual Fee
Planet Fitness
Jacksonville
FL
Join Planet Fitness with a PF BLACK CARD® MEMBERSHIP for No Enrollment Fee, No Commitment, and No Annual Fee
Planet Fitness
Jacksonville
FL
Join Planet Fitness with a PF BLACK CARD® MEMBERSHIP for No Enrollment Fee, No Commitment, and No Annual Fee
Planet Fitness
Fleming Island
FL
Join Planet Fitness with a PF BLACK CARD® MEMBERSHIP for No Enrollment Fee, No Commitment, and No Annual Fee
Planet Fitness
Jacksonville
FL
Join Planet Fitness with a PF BLACK CARD® MEMBERSHIP for No Enrollment Fee, No Commitment, and No Annual Fee
Planet Fitness
Atlantic Beach
FL
Join Planet Fitness with a PF BLACK CARD® MEMBERSHIP for No Enrollment Fee, No Commitment, and No Annual Fee
Planet Fitness
Jacksonville
FL
Join Planet Fitness with a PF BLACK CARD® MEMBERSHIP for No Enrollment Fee, No Commitment, and No Annual Fee
Planet Fitness
Lake City
FL
Join Planet Fitness with a PF BLACK CARD® MEMBERSHIP for No Enrollment Fee, No Commitment, and No Annual Fee
Planet Fitness
Jacksonville
FL
Join Planet Fitness with a PF BLACK CARD® MEMBERSHIP for No Enrollment Fee, No Commitment, and No Annual Fee
Planet Fitness
Jacksonville
FL
Join Planet Fitness with a PF BLACK CARD® MEMBERSHIP for No Enrollment Fee, No Commitment, and No Annual Fee
Planet Fitness
Palm Coast
FL
Join Planet Fitness with a PF BLACK CARD® MEMBERSHIP for No Enrollment Fee, No Commitment, and No Annual Fee
Planet Fitness
Jacksonville
FL
Join Planet Fitness with a PF BLACK CARD® MEMBERSHIP for No Enrollment Fee, No Commitment, and No Annual Fee
Planet Fitness
Jacksonville
FL
Join Planet Fitness with a PF BLACK CARD® MEMBERSHIP for No Enrollment Fee, No Commitment, and No Annual Fee
Planet Fitness
Jacksonville
FL
Join Planet Fitness with a PF BLACK CARD® MEMBERSHIP for No Enrollment Fee, No Commitment, and No Annual Fee
Planet Fitness
St. Augustine
FL
Join Planet Fitness with a PF BLACK CARD® MEMBERSHIP for No Enrollment Fee, No Commitment, and No Annual Fee
Planet Fitness
Overland Park
KS
Join Planet Fitness with a Classic Membership for No Enrollment Fee and No Commitment
Planet Fitness
Kansas City
MO
Join Planet Fitness with a Classic Membership for No Enrollment Fee and No Commitment
Planet Fitness
Belton
MO
Join Planet Fitness with a Classic Membership for No Enrollment Fee and No Commitment
Planet Fitness
Shawnee
KS
Join Planet Fitness with a Classic Membership for No Enrollment Fee and No Commitment
Planet Fitness
Kansas City
MO
Join Planet Fitness with a Classic Membership for No Enrollment Fee and No Commitment
Planet Fitness
Lawrence
KS
Join Planet Fitness with a Classic Membership for No Enrollment Fee and No Commitment
Planet Fitness
Lee''s Summit
MO
Join Planet Fitness with a Classic Membership for No Enrollment Fee and No Commitment
Planet Fitness
Independence
MO
Join Planet Fitness with a Classic Membership for No Enrollment Fee and No Commitment
Planet Fitness
Kansas City
MO
Join Planet Fitness with a Classic Membership for No Enrollment Fee and No Commitment
Planet Fitness
Blue Springs
MO
Join Planet Fitness with a Classic Membership for No Enrollment Fee and No Commitment
Planet Fitness
Mission
KS
Join Planet Fitness with a Classic Membership for No Enrollment Fee and No Commitment
Planet Fitness
Warrensburg
MO
Join Planet Fitness with a Classic Membership for No Enrollment Fee and No Commitment
Planet Fitness
Kansas City
MO
Join Planet Fitness with a Classic Membership for No Enrollment Fee and No Commitment
Planet Fitness
Overland Park
KS
Join Planet Fitness with a Classic Membership for No Enrollment Fee and No Commitment
Planet Fitness
Overland Park
KS
Join Planet Fitness with a PF BLACK CARD® MEMBERSHIP for No Enrollment Fee, No Commitment, and No Annual Fee
Planet Fitness
Kansas City
MO
Join Planet Fitness with a PF BLACK CARD® MEMBERSHIP for No Enrollment Fee, No Commitment, and No Annual Fee
Planet Fitness
Belton
MO
Join Planet Fitness with a PF BLACK CARD® MEMBERSHIP for No Enrollment Fee, No Commitment, and No Annual Fee
Planet Fitness
Shawnee
KS
Join Planet Fitness with a PF BLACK CARD® MEMBERSHIP for No Enrollment Fee, No Commitment, and No Annual Fee
Planet Fitness
Kansas City
MO
Join Planet Fitness with a PF BLACK CARD® MEMBERSHIP for No Enrollment Fee, No Commitment, and No Annual Fee
Planet Fitness
Lawrence
KS
Join Planet Fitness with a PF BLACK CARD® MEMBERSHIP for No Enrollment Fee, No Commitment, and No Annual Fee
Planet Fitness
Lee''s Summit
MO
Join Planet Fitness with a PF BLACK CARD® MEMBERSHIP for No Enrollment Fee, No Commitment, and No Annual Fee
Planet Fitness
Independence
MO
Join Planet Fitness with a PF BLACK CARD® MEMBERSHIP for No Enrollment Fee, No Commitment, and No Annual Fee
Planet Fitness
Kansas City
MO
Join Planet Fitness with a PF BLACK CARD® MEMBERSHIP for No Enrollment Fee, No Commitment, and No Annual Fee
Planet Fitness
Blue Springs
MO
Join Planet Fitness with a PF BLACK CARD® MEMBERSHIP for No Enrollment Fee, No Commitment, and No Annual Fee
Planet Fitness
Mission
KS
Join Planet Fitness with a PF BLACK CARD® MEMBERSHIP for No Enrollment Fee, No Commitment, and No Annual Fee
Planet Fitness
Warrensburg
MO
Join Planet Fitness with a PF BLACK CARD® MEMBERSHIP for No Enrollment Fee, No Commitment, and No Annual Fee
Planet Fitness
Kansas City
MO
Join Planet Fitness with a PF BLACK CARD® MEMBERSHIP for No Enrollment Fee, No Commitment, and No Annual Fee
Planet Fitness
Overland Park
KS
Join Planet Fitness with a PF BLACK CARD® MEMBERSHIP for No Enrollment Fee, No Commitment, and No Annual Fee
Planet Fitness
Las Vegas
NV
Join Planet Fitness with a Classic Membership for No Enrollment Fee and No Commitment
Planet Fitness
North Las Vegas
NV
Join Planet Fitness with a Classic Membership for No Enrollment Fee and No Commitment
Planet Fitness
Henderson
NV
Join Planet Fitness with a Classic Membership for No Enrollment Fee and No Commitment
Planet Fitness
Las Vegas
NV
Join Planet Fitness with a Classic Membership for No Enrollment Fee and No Commitment
Planet Fitness
Las Vegas
NV
Join Planet Fitness with a Classic Membership for No Enrollment Fee and No Commitment
Planet Fitness
Las Vegas
NV
Join Planet Fitness with a Classic Membership for No Enrollment Fee and No Commitment
Planet Fitness
Henderson
NV
Join Planet Fitness with a Classic Membership for No Enrollment Fee and No Commitment
Planet Fitness
Las Vegas
NV
Join Planet Fitness with a Classic Membership for No Enrollment Fee and No Commitment
Planet Fitness
Las Vegas
NV
Join Planet Fitness with a Classic Membership for No Enrollment Fee and No Commitment
Planet Fitness
Las Vegas
NV
Join Planet Fitness with a Classic Membership for No Enrollment Fee and No Commitment
Planet Fitness
Las Vegas
NV
Join Planet Fitness with a Classic Membership for No Enrollment Fee and No Commitment
Planet Fitness
Las Vegas
NV
Join Planet Fitness with a Classic Membership for No Enrollment Fee and No Commitment
Planet Fitness
Las Vegas
NV
Join Planet Fitness with a Classic Membership for No Enrollment Fee and No Commitment
Planet Fitness
Las Vegas
NV
Join Planet Fitness with a PF BLACK CARD® MEMBERSHIP for No Enrollment Fee, No Commitment, and No Annual Fee
Planet Fitness
North Las Vegas
NV
Join Planet Fitness with a PF BLACK CARD® MEMBERSHIP for No Enrollment Fee, No Commitment, and No Annual Fee
Planet Fitness
Henderson
NV
Join Planet Fitness with a PF BLACK CARD® MEMBERSHIP for No Enrollment Fee, No Commitment, and No Annual Fee
Planet Fitness
Las Vegas
NV
Join Planet Fitness with a PF BLACK CARD® MEMBERSHIP for No Enrollment Fee, No Commitment, and No Annual Fee
Planet Fitness
Las Vegas
NV
Join Planet Fitness with a PF BLACK CARD® MEMBERSHIP for No Enrollment Fee, No Commitment, and No Annual Fee
Planet Fitness
Las Vegas
NV
Join Planet Fitness with a PF BLACK CARD® MEMBERSHIP for No Enrollment Fee, No Commitment, and No Annual Fee
Planet Fitness
Henderson
NV
Join Planet Fitness with a PF BLACK CARD® MEMBERSHIP for No Enrollment Fee, No Commitment, and No Annual Fee
Planet Fitness
Las Vegas
NV
Join Planet Fitness with a PF BLACK CARD® MEMBERSHIP for No Enrollment Fee, No Commitment, and No Annual Fee
Planet Fitness
Las Vegas
NV
Join Planet Fitness with a PF BLACK CARD® MEMBERSHIP for No Enrollment Fee, No Commitment, and No Annual Fee
Planet Fitness
Las Vegas
NV
Join Planet Fitness with a PF BLACK CARD® MEMBERSHIP for No Enrollment Fee, No Commitment, and No Annual Fee
Planet Fitness
Las Vegas
NV
Join Planet Fitness with a PF BLACK CARD® MEMBERSHIP for No Enrollment Fee, No Commitment, and No Annual Fee
Planet Fitness
Las Vegas
NV
Join Planet Fitness with a PF BLACK CARD® MEMBERSHIP for No Enrollment Fee, No Commitment, and No Annual Fee
Planet Fitness
Las Vegas
NV
Join Planet Fitness with a PF BLACK CARD® MEMBERSHIP for No Enrollment Fee, No Commitment, and No Annual Fee
Planet Fitness
Louisville
KY
Join Planet Fitness with a Classic Membership for No Enrollment Fee and No Commitment
Planet Fitness
Louisville
KY
Join Planet Fitness with a Classic Membership for No Enrollment Fee and No Commitment
Planet Fitness
Elizabethtown
KY
Join Planet Fitness with a Classic Membership for No Enrollment Fee and No Commitment
Planet Fitness
Shelbyville
KY
Join Planet Fitness with a Classic Membership for No Enrollment Fee and No Commitment
Planet Fitness
Bardstown
KY
Join Planet Fitness with a Classic Membership for No Enrollment Fee and No Commitment
Planet Fitness
Louisville
KY
Join Planet Fitness with a Classic Membership for No Enrollment Fee and No Commitment
Planet Fitness
Louisville
KY
Join Planet Fitness with a Classic Membership for No Enrollment Fee and No Commitment
Planet Fitness
New Albany
IN
Join Planet Fitness with a Classic Membership for No Enrollment Fee and No Commitment
Planet Fitness
Louisville
KY
Join Planet Fitness with a Classic Membership for No Enrollment Fee and No Commitment
Planet Fitness
La Grange
KY
Join Planet Fitness with a Classic Membership for No Enrollment Fee and No Commitment
Planet Fitness
Madison
IN
Join Planet Fitness with a Classic Membership for No Enrollment Fee and No Commitment
Planet Fitness
Louisville
KY
Join Planet Fitness with a Classic Membership for No Enrollment Fee and No Commitment
Planet Fitness
Clarksville
IN
Join Planet Fitness with a Classic Membership for No Enrollment Fee and No Commitment
Planet Fitness
Shepherdsville
KY
Join Planet Fitness with a Classic Membership for No Enrollment Fee and No Commitment
Planet Fitness
Radcliff
KY
Join Planet Fitness with a Classic Membership for No Enrollment Fee and No Commitment
Planet Fitness
Louisville
KY
Join Planet Fitness with a Classic Membership for No Enrollment Fee and No Commitment
Planet Fitness
Louisville
KY
Join Planet Fitness with a Classic Membership for No Enrollment Fee and No Commitment
Planet Fitness
Louisville
KY
Join Planet Fitness with a PF BLACK CARD® MEMBERSHIP for No Enrollment Fee, No Commitment, and No Annual Fee
Planet Fitness
Louisville
KY
Join Planet Fitness with a PF BLACK CARD® MEMBERSHIP for No Enrollment Fee, No Commitment, and No Annual Fee
Planet Fitness
Elizabethtown
KY
Join Planet Fitness with a PF BLACK CARD® MEMBERSHIP for No Enrollment Fee, No Commitment, and No Annual Fee
Planet Fitness
Shelbyville
KY
Join Planet Fitness with a PF BLACK CARD® MEMBERSHIP for No Enrollment Fee, No Commitment, and No Annual Fee
Planet Fitness
Bardstown
KY
Join Planet Fitness with a PF BLACK CARD® MEMBERSHIP for No Enrollment Fee, No Commitment, and No Annual Fee
Planet Fitness
Louisville
KY
Join Planet Fitness with a PF BLACK CARD® MEMBERSHIP for No Enrollment Fee, No Commitment, and No Annual Fee
Planet Fitness
Louisville
KY
Join Planet Fitness with a PF BLACK CARD® MEMBERSHIP for No Enrollment Fee, No Commitment, and No Annual Fee
Planet Fitness
New Albany
IN
Join Planet Fitness with a PF BLACK CARD® MEMBERSHIP for No Enrollment Fee, No Commitment, and No Annual Fee
Planet Fitness
Louisville
KY
Join Planet Fitness with a PF BLACK CARD® MEMBERSHIP for No Enrollment Fee, No Commitment, and No Annual Fee
Planet Fitness
La Grange
KY
Join Planet Fitness with a PF BLACK CARD® MEMBERSHIP for No Enrollment Fee, No Commitment, and No Annual Fee
Planet Fitness
Madison
IN
Join Planet Fitness with a PF BLACK CARD® MEMBERSHIP for No Enrollment Fee, No Commitment, and No Annual Fee
Planet Fitness
Louisville
KY
Join Planet Fitness with a PF BLACK CARD® MEMBERSHIP for No Enrollment Fee, No Commitment, and No Annual Fee
Planet Fitness
Clarksville
IN
Join Planet Fitness with a PF BLACK CARD® MEMBERSHIP for No Enrollment Fee, No Commitment, and No Annual Fee
Planet Fitness
Shepherdsville
KY
Join Planet Fitness with a PF BLACK CARD® MEMBERSHIP for No Enrollment Fee, No Commitment, and No Annual Fee
Planet Fitness
Radcliff
KY
Join Planet Fitness with a PF BLACK CARD® MEMBERSHIP for No Enrollment Fee, No Commitment, and No Annual Fee
Planet Fitness
Louisville
KY
Join Planet Fitness with a PF BLACK CARD® MEMBERSHIP for No Enrollment Fee, No Commitment, and No Annual Fee
Planet Fitness
Louisville
KY
Join Planet Fitness with a PF BLACK CARD® MEMBERSHIP for No Enrollment Fee, No Commitment, and No Annual Fee
Planet Fitness
Janesville
WI
Join Planet Fitness with a Classic Membership for No Enrollment Fee and No Commitment
Planet Fitness
Beloit
WI
Join Planet Fitness with a Classic Membership for No Enrollment Fee and No Commitment
Planet Fitness
Madison
WI
Join Planet Fitness with a Classic Membership for No Enrollment Fee and No Commitment
Planet Fitness
Madison
WI
Join Planet Fitness with a Classic Membership for No Enrollment Fee and No Commitment
Planet Fitness
Madison
WI
Join Planet Fitness with a Classic Membership for No Enrollment Fee and No Commitment
Planet Fitness
Madison
WI
Join Planet Fitness with a Classic Membership for No Enrollment Fee and No Commitment
Planet Fitness
Janesville
WI
Join Planet Fitness with a PF BLACK CARD® MEMBERSHIP for No Enrollment Fee, No Commitment, and No Annual Fee
Planet Fitness
Beloit
WI
Join Planet Fitness with a PF BLACK CARD® MEMBERSHIP for No Enrollment Fee, No Commitment, and No Annual Fee
Planet Fitness
Madison
WI
Join Planet Fitness with a PF BLACK CARD® MEMBERSHIP for No Enrollment Fee, No Commitment, and No Annual Fee
Planet Fitness
Madison
WI
Join Planet Fitness with a PF BLACK CARD® MEMBERSHIP for No Enrollment Fee, No Commitment, and No Annual Fee
Planet Fitness
Madison
WI
Join Planet Fitness with a PF BLACK CARD® MEMBERSHIP for No Enrollment Fee, No Commitment, and No Annual Fee
Planet Fitness
Madison
WI
Join Planet Fitness with a PF BLACK CARD® MEMBERSHIP for No Enrollment Fee, No Commitment, and No Annual Fee
Planet Fitness
Memphis
TN
Join Planet Fitness with a Classic Membership for No Enrollment Fee and No Commitment
Planet Fitness
Cordova
TN
Join Planet Fitness with a Classic Membership for No Enrollment Fee and No Commitment
Planet Fitness
Memphis
TN
Join Planet Fitness with a Classic Membership for No Enrollment Fee and No Commitment
Planet Fitness
Memphis
TN
Join Planet Fitness with a Classic Membership for No Enrollment Fee and No Commitment
Planet Fitness
Memphis
TN
Join Planet Fitness with a Classic Membership for No Enrollment Fee and No Commitment
Planet Fitness
Olive Branch
MS
Join Planet Fitness with a Classic Membership for No Enrollment Fee and No Commitment
Planet Fitness
Bartlett
TN
Join Planet Fitness with a Classic Membership for No Enrollment Fee and No Commitment
Planet Fitness
Memphis
TN
Join Planet Fitness with a Classic Membership for No Enrollment Fee and No Commitment
Planet Fitness
Millington
TN
Join Planet Fitness with a Classic Membership for No Enrollment Fee and No Commitment
Planet Fitness
Memphis
TN
Join Planet Fitness with a PF BLACK CARD® MEMBERSHIP for No Enrollment Fee, No Commitment, and No Annual Fee
Planet Fitness
Cordova
TN
Join Planet Fitness with a PF BLACK CARD® MEMBERSHIP for No Enrollment Fee, No Commitment, and No Annual Fee
Planet Fitness
Memphis
TN
Join Planet Fitness with a PF BLACK CARD® MEMBERSHIP for No Enrollment Fee, No Commitment, and No Annual Fee
Planet Fitness
Memphis
TN
Join Planet Fitness with a PF BLACK CARD® MEMBERSHIP for No Enrollment Fee, No Commitment, and No Annual Fee
Planet Fitness
Memphis
TN
Join Planet Fitness with a PF BLACK CARD® MEMBERSHIP for No Enrollment Fee, No Commitment, and No Annual Fee
Planet Fitness
Olive Branch
MS
Join Planet Fitness with a PF BLACK CARD® MEMBERSHIP for No Enrollment Fee, No Commitment, and No Annual Fee
Planet Fitness
Bartlett
TN
Join Planet Fitness with a PF BLACK CARD® MEMBERSHIP for No Enrollment Fee, No Commitment, and No Annual Fee
Planet Fitness
Memphis
TN
Join Planet Fitness with a PF BLACK CARD® MEMBERSHIP for No Enrollment Fee, No Commitment, and No Annual Fee
Planet Fitness
Millington
TN
Join Planet Fitness with a PF BLACK CARD® MEMBERSHIP for No Enrollment Fee, No Commitment, and No Annual Fee
Planet Fitness
Wappingers Falls
NY
Join Planet Fitness with a Classic Membership for No Enrollment Fee and No Commitment
Planet Fitness
Mahopac
NY
Join Planet Fitness with a Classic Membership for No Enrollment Fee and No Commitment
Planet Fitness
LaGrange
NY
Join Planet Fitness with a Classic Membership for No Enrollment Fee and No Commitment
Planet Fitness
Port Jervis
NY
Join Planet Fitness with a Classic Membership for No Enrollment Fee and No Commitment
Planet Fitness
Middletown
NY
Join Planet Fitness with a Classic Membership for No Enrollment Fee and No Commitment
Planet Fitness
Poughkeepsie
NY
Join Planet Fitness with a Classic Membership for No Enrollment Fee and No Commitment
Planet Fitness
Newburgh
NY
Join Planet Fitness with a Classic Membership for No Enrollment Fee and No Commitment
Planet Fitness
Kingston
NY
Join Planet Fitness with a Classic Membership for No Enrollment Fee and No Commitment
Planet Fitness
Wappingers Falls
NY
Join Planet Fitness with a PF BLACK CARD® MEMBERSHIP for No Enrollment Fee, No Commitment, and No Annual Fee
Planet Fitness
Mahopac
NY
Join Planet Fitness with a PF BLACK CARD® MEMBERSHIP for No Enrollment Fee, No Commitment, and No Annual Fee
Planet Fitness
LaGrange
NY
Join Planet Fitness with a PF BLACK CARD® MEMBERSHIP for No Enrollment Fee, No Commitment, and No Annual Fee
Planet Fitness
Port Jervis
NY
Join Planet Fitness with a PF BLACK CARD® MEMBERSHIP for No Enrollment Fee, No Commitment, and No Annual Fee
Planet Fitness
Middletown
NY
Join Planet Fitness with a PF BLACK CARD® MEMBERSHIP for No Enrollment Fee, No Commitment, and No Annual Fee
Planet Fitness
Poughkeepsie
NY
Join Planet Fitness with a PF BLACK CARD® MEMBERSHIP for No Enrollment Fee, No Commitment, and No Annual Fee
Planet Fitness
Newburgh
NY
Join Planet Fitness with a PF BLACK CARD® MEMBERSHIP for No Enrollment Fee, No Commitment, and No Annual Fee
Planet Fitness
Kingston
NY
Join Planet Fitness with a PF BLACK CARD® MEMBERSHIP for No Enrollment Fee, No Commitment, and No Annual Fee
Planet Fitness
Milwaukee
WI
Join Planet Fitness with a Classic Membership for No Enrollment Fee and No Commitment
Planet Fitness
Burlington
WI
Join Planet Fitness with a Classic Membership for No Enrollment Fee and No Commitment
Planet Fitness
Oconomowoc
WI
Join Planet Fitness with a Classic Membership for No Enrollment Fee and No Commitment
Planet Fitness
Brookfield
WI
Join Planet Fitness with a Classic Membership for No Enrollment Fee and No Commitment
Planet Fitness
West Bend
WI
Join Planet Fitness with a Classic Membership for No Enrollment Fee and No Commitment
Planet Fitness
South Milwaukee
WI
Join Planet Fitness with a Classic Membership for No Enrollment Fee and No Commitment
Planet Fitness
Milwaukee
WI
Join Planet Fitness with a Classic Membership for No Enrollment Fee and No Commitment
Planet Fitness
Greenfield
WI
Join Planet Fitness with a Classic Membership for No Enrollment Fee and No Commitment
Planet Fitness
Sheboygan
WI
Join Planet Fitness with a Classic Membership for No Enrollment Fee and No Commitment
Planet Fitness
Milwaukee
WI
Join Planet Fitness with a Classic Membership for No Enrollment Fee and No Commitment
Planet Fitness
Racine
WI
Join Planet Fitness with a Classic Membership for No Enrollment Fee and No Commitment
Planet Fitness
Franklin
WI
Join Planet Fitness with a Classic Membership for No Enrollment Fee and No Commitment
Planet Fitness
Milwaukee
WI
Join Planet Fitness with a Classic Membership for No Enrollment Fee and No Commitment
Planet Fitness
Kenosha
WI
Join Planet Fitness with a Classic Membership for No Enrollment Fee and No Commitment
Planet Fitness
Menomonee Falls
WI
Join Planet Fitness with a Classic Membership for No Enrollment Fee and No Commitment
Planet Fitness
Milwaukee
WI
Join Planet Fitness with a PF BLACK CARD® MEMBERSHIP for No Enrollment Fee, No Commitment, and No Annual Fee
Planet Fitness
Burlington
WI
Join Planet Fitness with a PF BLACK CARD® MEMBERSHIP for No Enrollment Fee, No Commitment, and No Annual Fee
Planet Fitness
Oconomowoc
WI
Join Planet Fitness with a PF BLACK CARD® MEMBERSHIP for No Enrollment Fee, No Commitment, and No Annual Fee
Planet Fitness
Brookfield
WI
Join Planet Fitness with a PF BLACK CARD® MEMBERSHIP for No Enrollment Fee, No Commitment, and No Annual Fee
Planet Fitness
West Bend
WI
Join Planet Fitness with a PF BLACK CARD® MEMBERSHIP for No Enrollment Fee, No Commitment, and No Annual Fee
Planet Fitness
South Milwaukee
WI
Join Planet Fitness with a PF BLACK CARD® MEMBERSHIP for No Enrollment Fee, No Commitment, and No Annual Fee
Planet Fitness
Milwaukee
WI
Join Planet Fitness with a PF BLACK CARD® MEMBERSHIP for No Enrollment Fee, No Commitment, and No Annual Fee
Planet Fitness
Greenfield
WI
Join Planet Fitness with a PF BLACK CARD® MEMBERSHIP for No Enrollment Fee, No Commitment, and No Annual Fee
Planet Fitness
Sheboygan
WI
Join Planet Fitness with a PF BLACK CARD® MEMBERSHIP for No Enrollment Fee, No Commitment, and No Annual Fee
Planet Fitness
Milwaukee
WI
Join Planet Fitness with a PF BLACK CARD® MEMBERSHIP for No Enrollment Fee, No Commitment, and No Annual Fee
Planet Fitness
Racine
WI
Join Planet Fitness with a PF BLACK CARD® MEMBERSHIP for No Enrollment Fee, No Commitment, and No Annual Fee
Planet Fitness
Franklin
WI
Join Planet Fitness with a PF BLACK CARD® MEMBERSHIP for No Enrollment Fee, No Commitment, and No Annual Fee
Planet Fitness
Milwaukee
WI
Join Planet Fitness with a PF BLACK CARD® MEMBERSHIP for No Enrollment Fee, No Commitment, and No Annual Fee
Planet Fitness
Kenosha
WI
Join Planet Fitness with a PF BLACK CARD® MEMBERSHIP for No Enrollment Fee, No Commitment, and No Annual Fee
Planet Fitness
Menomonee Falls
WI
Join Planet Fitness with a PF BLACK CARD® MEMBERSHIP for No Enrollment Fee, No Commitment, and No Annual Fee
Planet Fitness
Lebanon
TN
Join Planet Fitness with a Classic Membership for No Enrollment Fee and No Commitment
Planet Fitness
Franklin
TN
Join Planet Fitness with a Classic Membership for No Enrollment Fee and No Commitment
Planet Fitness
Madison
TN
Join Planet Fitness with a Classic Membership for No Enrollment Fee and No Commitment
Planet Fitness
Mt. Juliet
TN
Join Planet Fitness with a Classic Membership for No Enrollment Fee and No Commitment
Planet Fitness
Clarksville
TN
Join Planet Fitness with a Classic Membership for No Enrollment Fee and No Commitment
Planet Fitness
Tullahoma
TN
Join Planet Fitness with a Classic Membership for No Enrollment Fee and No Commitment
Planet Fitness
Columbia
TN
Join Planet Fitness with a Classic Membership for No Enrollment Fee and No Commitment
Planet Fitness
Murfreesboro
TN
Join Planet Fitness with a Classic Membership for No Enrollment Fee and No Commitment
Planet Fitness
Nashville
TN
Join Planet Fitness with a Classic Membership for No Enrollment Fee and No Commitment
Planet Fitness
Murfreesboro
TN
Join Planet Fitness with a Classic Membership for No Enrollment Fee and No Commitment
Planet Fitness
Hermitage
TN
Join Planet Fitness with a Classic Membership for No Enrollment Fee and No Commitment
Planet Fitness
Hendersonville
TN
Join Planet Fitness with a Classic Membership for No Enrollment Fee and No Commitment
Planet Fitness
Nashville
TN
Join Planet Fitness with a Classic Membership for No Enrollment Fee and No Commitment
Planet Fitness
La Vergne
TN
Join Planet Fitness with a Classic Membership for No Enrollment Fee and No Commitment
Planet Fitness
Smyrna
TN
Join Planet Fitness with a Classic Membership for No Enrollment Fee and No Commitment
Planet Fitness
Nashville
TN
Join Planet Fitness with a Classic Membership for No Enrollment Fee and No Commitment
Planet Fitness
Nashville
TN
Join Planet Fitness with a Classic Membership for No Enrollment Fee and No Commitment
Planet Fitness
Goodlettsville
TN
Join Planet Fitness with a Classic Membership for No Enrollment Fee and No Commitment
Planet Fitness
Lebanon
TN
Join Planet Fitness with a PF BLACK CARD® MEMBERSHIP for No Enrollment Fee, No Commitment, and No Annual Fee
Planet Fitness
Franklin
TN
Join Planet Fitness with a PF BLACK CARD® MEMBERSHIP for No Enrollment Fee, No Commitment, and No Annual Fee
Planet Fitness
Madison
TN
Join Planet Fitness with a PF BLACK CARD® MEMBERSHIP for No Enrollment Fee, No Commitment, and No Annual Fee
Planet Fitness
Mt. Juliet
TN
Join Planet Fitness with a PF BLACK CARD® MEMBERSHIP for No Enrollment Fee, No Commitment, and No Annual Fee
Planet Fitness
Clarksville
TN
Join Planet Fitness with a PF BLACK CARD® MEMBERSHIP for No Enrollment Fee, No Commitment, and No Annual Fee
Planet Fitness
Tullahoma
TN
Join Planet Fitness with a PF BLACK CARD® MEMBERSHIP for No Enrollment Fee, No Commitment, and No Annual Fee
Planet Fitness
Columbia
TN
Join Planet Fitness with a PF BLACK CARD® MEMBERSHIP for No Enrollment Fee, No Commitment, and No Annual Fee
Planet Fitness
Murfreesboro
TN
Join Planet Fitness with a PF BLACK CARD® MEMBERSHIP for No Enrollment Fee, No Commitment, and No Annual Fee
Planet Fitness
Nashville
TN
Join Planet Fitness with a PF BLACK CARD® MEMBERSHIP for No Enrollment Fee, No Commitment, and No Annual Fee
Planet Fitness
Murfreesboro
TN
Join Planet Fitness with a PF BLACK CARD® MEMBERSHIP for No Enrollment Fee, No Commitment, and No Annual Fee
Planet Fitness
Hermitage
TN
Join Planet Fitness with a PF BLACK CARD® MEMBERSHIP for No Enrollment Fee, No Commitment, and No Annual Fee
Planet Fitness
Hendersonville
TN
Join Planet Fitness with a PF BLACK CARD® MEMBERSHIP for No Enrollment Fee, No Commitment, and No Annual Fee
Planet Fitness
Nashville
TN
Join Planet Fitness with a PF BLACK CARD® MEMBERSHIP for No Enrollment Fee, No Commitment, and No Annual Fee
Planet Fitness
La Vergne
TN
Join Planet Fitness with a PF BLACK CARD® MEMBERSHIP for No Enrollment Fee, No Commitment, and No Annual Fee
Planet Fitness
Smyrna
TN
Join Planet Fitness with a PF BLACK CARD® MEMBERSHIP for No Enrollment Fee, No Commitment, and No Annual Fee
Planet Fitness
Nashville
TN
Join Planet Fitness with a PF BLACK CARD® MEMBERSHIP for No Enrollment Fee, No Commitment, and No Annual Fee
Planet Fitness
Nashville
TN
Join Planet Fitness with a PF BLACK CARD® MEMBERSHIP for No Enrollment Fee, No Commitment, and No Annual Fee
Planet Fitness
Goodlettsville
TN
Join Planet Fitness with a PF BLACK CARD® MEMBERSHIP for No Enrollment Fee, No Commitment, and No Annual Fee
Planet Fitness
Metairie
LA
Join Planet Fitness with a Classic Membership for No Enrollment Fee and No Commitment
Planet Fitness
RIVER RIDGE
LA
Join Planet Fitness with a Classic Membership for No Enrollment Fee and No Commitment
Planet Fitness
Slidell
LA
Join Planet Fitness with a Classic Membership for No Enrollment Fee and No Commitment
Planet Fitness
Houma
LA
Join Planet Fitness with a Classic Membership for No Enrollment Fee and No Commitment
Planet Fitness
Hammond
LA
Join Planet Fitness with a Classic Membership for No Enrollment Fee and No Commitment
Planet Fitness
New Orleans
LA
Join Planet Fitness with a Classic Membership for No Enrollment Fee and No Commitment
Planet Fitness
Covington
LA
Join Planet Fitness with a Classic Membership for No Enrollment Fee and No Commitment
Planet Fitness
Kenner
LA
Join Planet Fitness with a Classic Membership for No Enrollment Fee and No Commitment
Planet Fitness
New Orleans (Algiers), La
LA
Join Planet Fitness with a Classic Membership for No Enrollment Fee and No Commitment
Planet Fitness
Gretna
LA
Join Planet Fitness with a Classic Membership for No Enrollment Fee and No Commitment
Planet Fitness
Metairie
LA
Join Planet Fitness with a PF BLACK CARD® MEMBERSHIP for No Enrollment Fee, No Commitment, and No Annual Fee
Planet Fitness
RIVER RIDGE
LA
Join Planet Fitness with a PF BLACK CARD® MEMBERSHIP for No Enrollment Fee, No Commitment, and No Annual Fee
Planet Fitness
Slidell
LA
Join Planet Fitness with a PF BLACK CARD® MEMBERSHIP for No Enrollment Fee, No Commitment, and No Annual Fee
Planet Fitness
Houma
LA
Join Planet Fitness with a PF BLACK CARD® MEMBERSHIP for No Enrollment Fee, No Commitment, and No Annual Fee
Planet Fitness
Hammond
LA
Join Planet Fitness with a PF BLACK CARD® MEMBERSHIP for No Enrollment Fee, No Commitment, and No Annual Fee
Planet Fitness
New Orleans
LA
Join Planet Fitness with a PF BLACK CARD® MEMBERSHIP for No Enrollment Fee, No Commitment, and No Annual Fee
Planet Fitness
Covington
LA
Join Planet Fitness with a PF BLACK CARD® MEMBERSHIP for No Enrollment Fee, No Commitment, and No Annual Fee
Planet Fitness
Kenner
LA
Join Planet Fitness with a PF BLACK CARD® MEMBERSHIP for No Enrollment Fee, No Commitment, and No Annual Fee
Planet Fitness
New Orleans (Algiers), La
LA
Join Planet Fitness with a PF BLACK CARD® MEMBERSHIP for No Enrollment Fee, No Commitment, and No Annual Fee
Planet Fitness
Gretna
LA
Join Planet Fitness with a PF BLACK CARD® MEMBERSHIP for No Enrollment Fee, No Commitment, and No Annual Fee
Planet Fitness
Plainsboro
NJ
Join Planet Fitness with a Classic Membership for No Enrollment Fee and No Commitment
Planet Fitness
Paterson
NJ
Join Planet Fitness with a Classic Membership for No Enrollment Fee and No Commitment
Planet Fitness
Hamilton
NJ
Join Planet Fitness with a Classic Membership for No Enrollment Fee and No Commitment
Planet Fitness
Somerset
NJ
Join Planet Fitness with a Classic Membership for No Enrollment Fee and No Commitment
Planet Fitness
Linden
NJ
Join Planet Fitness with a Classic Membership for No Enrollment Fee and No Commitment
Planet Fitness
East Orange
NJ
Join Planet Fitness with a Classic Membership for No Enrollment Fee and No Commitment
Planet Fitness
Clinton
NJ
Join Planet Fitness with a Classic Membership for No Enrollment Fee and No Commitment
Planet Fitness
Woodland Park
NJ
Join Planet Fitness with a Classic Membership for No Enrollment Fee and No Commitment
Planet Fitness
Bayonne
NJ
Join Planet Fitness with a Classic Membership for No Enrollment Fee and No Commitment
Planet Fitness
Rockaway
NJ
Join Planet Fitness with a Classic Membership for No Enrollment Fee and No Commitment
Planet Fitness
Union
NJ
Join Planet Fitness with a Classic Membership for No Enrollment Fee and No Commitment
Planet Fitness
Fairview
NJ
Join Planet Fitness with a Classic Membership for No Enrollment Fee and No Commitment
Planet Fitness
Hillsborough
NJ
Join Planet Fitness with a Classic Membership for No Enrollment Fee and No Commitment
Planet Fitness
Succasunna
NJ
Join Planet Fitness with a Classic Membership for No Enrollment Fee and No Commitment
Planet Fitness
Morris Plains
NJ
Join Planet Fitness with a Classic Membership for No Enrollment Fee and No Commitment
Planet Fitness
Belleville
NJ
Join Planet Fitness with a Classic Membership for No Enrollment Fee and No Commitment
Planet Fitness
Flemington
NJ
Join Planet Fitness with a Classic Membership for No Enrollment Fee and No Commitment
Planet Fitness
East Hanover
NJ
Join Planet Fitness with a Classic Membership for No Enrollment Fee and No Commitment
Planet Fitness
North Brunswick
NJ
Join Planet Fitness with a Classic Membership for No Enrollment Fee and No Commitment
Planet Fitness
Fairfield
NJ
Join Planet Fitness with a Classic Membership for No Enrollment Fee and No Commitment
Planet Fitness
Woodbridge Twp
NJ
Join Planet Fitness with a Classic Membership for No Enrollment Fee and No Commitment
Planet Fitness
Irvington
NJ
Join Planet Fitness with a Classic Membership for No Enrollment Fee and No Commitment
Planet Fitness
Newark
NJ
Join Planet Fitness with a Classic Membership for No Enrollment Fee and No Commitment
Planet Fitness
Edison
NJ
Join Planet Fitness with a Classic Membership for No Enrollment Fee and No Commitment
Planet Fitness
Pompton Lakes
NJ
Join Planet Fitness with a Classic Membership for No Enrollment Fee and No Commitment
Planet Fitness
Clifton
NJ
Join Planet Fitness with a Classic Membership for No Enrollment Fee and No Commitment
Planet Fitness
Hoboken
NJ
Join Planet Fitness with a Classic Membership for No Enrollment Fee and No Commitment
Planet Fitness
Elizabeth
NJ
Join Planet Fitness with a Classic Membership for No Enrollment Fee and No Commitment
Planet Fitness
S. Plainfield
NJ
Join Planet Fitness with a Classic Membership for No Enrollment Fee and No Commitment
Planet Fitness
Wayne
NJ
Join Planet Fitness with a Classic Membership for No Enrollment Fee and No Commitment
Planet Fitness
North Bergen
NJ
Join Planet Fitness with a Classic Membership for No Enrollment Fee and No Commitment
Planet Fitness
Ewing
NJ
Join Planet Fitness with a Classic Membership for No Enrollment Fee and No Commitment
Planet Fitness
Plainsboro
NJ
Join Planet Fitness with a PF BLACK CARD® MEMBERSHIP for No Enrollment Fee, No Commitment, and No Annual Fee
Planet Fitness
Paterson
NJ
Join Planet Fitness with a PF BLACK CARD® MEMBERSHIP for No Enrollment Fee, No Commitment, and No Annual Fee
Planet Fitness
Hamilton
NJ
Join Planet Fitness with a PF BLACK CARD® MEMBERSHIP for No Enrollment Fee, No Commitment, and No Annual Fee
Planet Fitness
Somerset
NJ
Join Planet Fitness with a PF BLACK CARD® MEMBERSHIP for No Enrollment Fee, No Commitment, and No Annual Fee
Planet Fitness
Linden
NJ
Join Planet Fitness with a PF BLACK CARD® MEMBERSHIP for No Enrollment Fee, No Commitment, and No Annual Fee
Planet Fitness
East Orange
NJ
Join Planet Fitness with a PF BLACK CARD® MEMBERSHIP for No Enrollment Fee, No Commitment, and No Annual Fee
Planet Fitness
Clinton
NJ
Join Planet Fitness with a PF BLACK CARD® MEMBERSHIP for No Enrollment Fee, No Commitment, and No Annual Fee
Planet Fitness
Woodland Park
NJ
Join Planet Fitness with a PF BLACK CARD® MEMBERSHIP for No Enrollment Fee, No Commitment, and No Annual Fee
Planet Fitness
Bayonne
NJ
Join Planet Fitness with a PF BLACK CARD® MEMBERSHIP for No Enrollment Fee, No Commitment, and No Annual Fee
Planet Fitness
Rockaway
NJ
Join Planet Fitness with a PF BLACK CARD® MEMBERSHIP for No Enrollment Fee, No Commitment, and No Annual Fee
Planet Fitness
Union
NJ
Join Planet Fitness with a PF BLACK CARD® MEMBERSHIP for No Enrollment Fee, No Commitment, and No Annual Fee
Planet Fitness
Fairview
NJ
Join Planet Fitness with a PF BLACK CARD® MEMBERSHIP for No Enrollment Fee, No Commitment, and No Annual Fee
Planet Fitness
Hillsborough
NJ
Join Planet Fitness with a PF BLACK CARD® MEMBERSHIP for No Enrollment Fee, No Commitment, and No Annual Fee
Planet Fitness
Succasunna
NJ
Join Planet Fitness with a PF BLACK CARD® MEMBERSHIP for No Enrollment Fee, No Commitment, and No Annual Fee
Planet Fitness
Morris Plains
NJ
Join Planet Fitness with a PF BLACK CARD® MEMBERSHIP for No Enrollment Fee, No Commitment, and No Annual Fee
Planet Fitness
Belleville
NJ
Join Planet Fitness with a PF BLACK CARD® MEMBERSHIP for No Enrollment Fee, No Commitment, and No Annual Fee
Planet Fitness
Flemington
NJ
Join Planet Fitness with a PF BLACK CARD® MEMBERSHIP for No Enrollment Fee, No Commitment, and No Annual Fee
Planet Fitness
East Hanover
NJ
Join Planet Fitness with a PF BLACK CARD® MEMBERSHIP for No Enrollment Fee, No Commitment, and No Annual Fee
Planet Fitness
North Brunswick
NJ
Join Planet Fitness with a PF BLACK CARD® MEMBERSHIP for No Enrollment Fee, No Commitment, and No Annual Fee
Planet Fitness
Fairfield
NJ
Join Planet Fitness with a PF BLACK CARD® MEMBERSHIP for No Enrollment Fee, No Commitment, and No Annual Fee
Planet Fitness
Woodbridge Twp
NJ
Join Planet Fitness with a PF BLACK CARD® MEMBERSHIP for No Enrollment Fee, No Commitment, and No Annual Fee
Planet Fitness
Irvington
NJ
Join Planet Fitness with a PF BLACK CARD® MEMBERSHIP for No Enrollment Fee, No Commitment, and No Annual Fee
Planet Fitness
Newark
NJ
Join Planet Fitness with a PF BLACK CARD® MEMBERSHIP for No Enrollment Fee, No Commitment, and No Annual Fee
Planet Fitness
Edison
NJ
Join Planet Fitness with a PF BLACK CARD® MEMBERSHIP for No Enrollment Fee, No Commitment, and No Annual Fee
Planet Fitness
Pompton Lakes
NJ
Join Planet Fitness with a PF BLACK CARD® MEMBERSHIP for No Enrollment Fee, No Commitment, and No Annual Fee
Planet Fitness
Clifton
NJ
Join Planet Fitness with a PF BLACK CARD® MEMBERSHIP for No Enrollment Fee, No Commitment, and No Annual Fee
Planet Fitness
Hoboken
NJ
Join Planet Fitness with a PF BLACK CARD® MEMBERSHIP for No Enrollment Fee, No Commitment, and No Annual Fee
Planet Fitness
Elizabeth
NJ
Join Planet Fitness with a PF BLACK CARD® MEMBERSHIP for No Enrollment Fee, No Commitment, and No Annual Fee
Planet Fitness
S. Plainfield
NJ
Join Planet Fitness with a PF BLACK CARD® MEMBERSHIP for No Enrollment Fee, No Commitment, and No Annual Fee
Planet Fitness
Wayne
NJ
Join Planet Fitness with a PF BLACK CARD® MEMBERSHIP for No Enrollment Fee, No Commitment, and No Annual Fee
Planet Fitness
North Bergen
NJ
Join Planet Fitness with a PF BLACK CARD® MEMBERSHIP for No Enrollment Fee, No Commitment, and No Annual Fee
Planet Fitness
Ewing
NJ
Join Planet Fitness with a PF BLACK CARD® MEMBERSHIP for No Enrollment Fee, No Commitment, and No Annual Fee
Planet Fitness
South Toms River
NJ
Join Planet Fitness with a Classic Membership for No Enrollment Fee and No Commitment
Planet Fitness
Millville
NJ
Join Planet Fitness with a Classic Membership for No Enrollment Fee and No Commitment
Planet Fitness
Delran,
NJ
Join Planet Fitness with a Classic Membership for No Enrollment Fee and No Commitment
Planet Fitness
Cinnaminson
NJ
Join Planet Fitness with a Classic Membership for No Enrollment Fee and No Commitment
Planet Fitness
Clementon
NJ
Join Planet Fitness with a Classic Membership for No Enrollment Fee and No Commitment
Planet Fitness
Rio Grande
NJ
Join Planet Fitness with a Classic Membership for No Enrollment Fee and No Commitment
Planet Fitness
Eatontown
NJ
Join Planet Fitness with a Classic Membership for No Enrollment Fee and No Commitment
Planet Fitness
Wall Township
NJ
Join Planet Fitness with a Classic Membership for No Enrollment Fee and No Commitment
Planet Fitness
Brick
NJ
Join Planet Fitness with a Classic Membership for No Enrollment Fee and No Commitment
Planet Fitness
Cherry Hill
NJ
Join Planet Fitness with a Classic Membership for No Enrollment Fee and No Commitment
Planet Fitness
Mantua
NJ
Join Planet Fitness with a Classic Membership for No Enrollment Fee and No Commitment
Planet Fitness
Berlin,
NJ
Join Planet Fitness with a Classic Membership for No Enrollment Fee and No Commitment
Planet Fitness
Hazlet
NJ
Join Planet Fitness with a Classic Membership for No Enrollment Fee and No Commitment
Planet Fitness
Mt. Laurel
NJ
Join Planet Fitness with a Classic Membership for No Enrollment Fee and No Commitment
Planet Fitness
Marlboro
NJ
Join Planet Fitness with a Classic Membership for No Enrollment Fee and No Commitment
Planet Fitness
Brick
NJ
Join Planet Fitness with a Classic Membership for No Enrollment Fee and No Commitment
Planet Fitness
Freehold,
NJ
Join Planet Fitness with a Classic Membership for No Enrollment Fee and No Commitment
Planet Fitness
Jackson
NJ
Join Planet Fitness with a Classic Membership for No Enrollment Fee and No Commitment
Planet Fitness
Sewell
NJ
Join Planet Fitness with a Classic Membership for No Enrollment Fee and No Commitment
Planet Fitness
Mays Landing
NJ
Join Planet Fitness with a Classic Membership for No Enrollment Fee and No Commitment
Planet Fitness
Sicklerville
NJ
Join Planet Fitness with a Classic Membership for No Enrollment Fee and No Commitment
Planet Fitness
Westmont
NJ
Join Planet Fitness with a Classic Membership for No Enrollment Fee and No Commitment
Planet Fitness
Middletown
NJ
Join Planet Fitness with a Classic Membership for No Enrollment Fee and No Commitment
Planet Fitness
Egg Harbor Township
NJ
Join Planet Fitness with a Classic Membership for No Enrollment Fee and No Commitment
Planet Fitness
Brooklawn
NJ
Join Planet Fitness with a Classic Membership for No Enrollment Fee and No Commitment
Planet Fitness
Pennsville
NJ
Join Planet Fitness with a Classic Membership for No Enrollment Fee and No Commitment
Planet Fitness
Hammonton
NJ
Join Planet Fitness with a Classic Membership for No Enrollment Fee and No Commitment
Planet Fitness
Barnegat
NJ
Join Planet Fitness with a Classic Membership for No Enrollment Fee and No Commitment
Planet Fitness
Toms River
NJ
Join Planet Fitness with a Classic Membership for No Enrollment Fee and No Commitment
Planet Fitness
South Toms River
NJ
Join Planet Fitness with a PF BLACK CARD® MEMBERSHIP for No Enrollment Fee, No Commitment, and No Annual Fee
Planet Fitness
Millville
NJ
Join Planet Fitness with a PF BLACK CARD® MEMBERSHIP for No Enrollment Fee, No Commitment, and No Annual Fee
Planet Fitness
Delran,
NJ
Join Planet Fitness with a PF BLACK CARD® MEMBERSHIP for No Enrollment Fee, No Commitment, and No Annual Fee
Planet Fitness
Cinnaminson
NJ
Join Planet Fitness with a PF BLACK CARD® MEMBERSHIP for No Enrollment Fee, No Commitment, and No Annual Fee
Planet Fitness
Clementon
NJ
Join Planet Fitness with a PF BLACK CARD® MEMBERSHIP for No Enrollment Fee, No Commitment, and No Annual Fee
Planet Fitness
Rio Grande
NJ
Join Planet Fitness with a PF BLACK CARD® MEMBERSHIP for No Enrollment Fee, No Commitment, and No Annual Fee
Planet Fitness
Eatontown
NJ
Join Planet Fitness with a PF BLACK CARD® MEMBERSHIP for No Enrollment Fee, No Commitment, and No Annual Fee
Planet Fitness
Wall Township
NJ
Join Planet Fitness with a PF BLACK CARD® MEMBERSHIP for No Enrollment Fee, No Commitment, and No Annual Fee
Planet Fitness
Brick
NJ
Join Planet Fitness with a PF BLACK CARD® MEMBERSHIP for No Enrollment Fee, No Commitment, and No Annual Fee
Planet Fitness
Cherry Hill
NJ
Join Planet Fitness with a PF BLACK CARD® MEMBERSHIP for No Enrollment Fee, No Commitment, and No Annual Fee
Planet Fitness
Mantua
NJ
Join Planet Fitness with a PF BLACK CARD® MEMBERSHIP for No Enrollment Fee, No Commitment, and No Annual Fee
Planet Fitness
Berlin,
NJ
Join Planet Fitness with a PF BLACK CARD® MEMBERSHIP for No Enrollment Fee, No Commitment, and No Annual Fee
Planet Fitness
Hazlet
NJ
Join Planet Fitness with a PF BLACK CARD® MEMBERSHIP for No Enrollment Fee, No Commitment, and No Annual Fee
Planet Fitness
Mt. Laurel
NJ
Join Planet Fitness with a PF BLACK CARD® MEMBERSHIP for No Enrollment Fee, No Commitment, and No Annual Fee
Planet Fitness
Marlboro
NJ
Join Planet Fitness with a PF BLACK CARD® MEMBERSHIP for No Enrollment Fee, No Commitment, and No Annual Fee
Planet Fitness
Brick
NJ
Join Planet Fitness with a PF BLACK CARD® MEMBERSHIP for No Enrollment Fee, No Commitment, and No Annual Fee
Planet Fitness
Freehold,
NJ
Join Planet Fitness with a PF BLACK CARD® MEMBERSHIP for No Enrollment Fee, No Commitment, and No Annual Fee
Planet Fitness
Jackson
NJ
Join Planet Fitness with a PF BLACK CARD® MEMBERSHIP for No Enrollment Fee, No Commitment, and No Annual Fee
Planet Fitness
Sewell
NJ
Join Planet Fitness with a PF BLACK CARD® MEMBERSHIP for No Enrollment Fee, No Commitment, and No Annual Fee
Planet Fitness
Mays Landing
NJ
Join Planet Fitness with a PF BLACK CARD® MEMBERSHIP for No Enrollment Fee, No Commitment, and No Annual Fee
Planet Fitness
Sicklerville
NJ
Join Planet Fitness with a PF BLACK CARD® MEMBERSHIP for No Enrollment Fee, No Commitment, and No Annual Fee
Planet Fitness
Westmont
NJ
Join Planet Fitness with a PF BLACK CARD® MEMBERSHIP for No Enrollment Fee, No Commitment, and No Annual Fee
Planet Fitness
Middletown
NJ
Join Planet Fitness with a PF BLACK CARD® MEMBERSHIP for No Enrollment Fee, No Commitment, and No Annual Fee
Planet Fitness
Egg Harbor Township
NJ
Join Planet Fitness with a PF BLACK CARD® MEMBERSHIP for No Enrollment Fee, No Commitment, and No Annual Fee
Planet Fitness
Brooklawn
NJ
Join Planet Fitness with a PF BLACK CARD® MEMBERSHIP for No Enrollment Fee, No Commitment, and No Annual Fee
Planet Fitness
Pennsville
NJ
Join Planet Fitness with a PF BLACK CARD® MEMBERSHIP for No Enrollment Fee, No Commitment, and No Annual Fee
Planet Fitness
Hammonton
NJ
Join Planet Fitness with a PF BLACK CARD® MEMBERSHIP for No Enrollment Fee, No Commitment, and No Annual Fee
Planet Fitness
Barnegat
NJ
Join Planet Fitness with a PF BLACK CARD® MEMBERSHIP for No Enrollment Fee, No Commitment, and No Annual Fee
Planet Fitness
Toms River
NJ
Join Planet Fitness with a PF BLACK CARD® MEMBERSHIP for No Enrollment Fee, No Commitment, and No Annual Fee
Planet Fitness
Wadsworth
OH
Join Planet Fitness with a Classic Membership for No Enrollment Fee and No Commitment
Planet Fitness
Copley
OH
Join Planet Fitness with a Classic Membership for No Enrollment Fee and No Commitment
Planet Fitness
Alliance
OH
Join Planet Fitness with a Classic Membership for No Enrollment Fee and No Commitment
Planet Fitness
Kent
OH
Join Planet Fitness with a Classic Membership for No Enrollment Fee and No Commitment
Planet Fitness
Streetsboro
OH
Join Planet Fitness with a Classic Membership for No Enrollment Fee and No Commitment
Planet Fitness
Akron
OH
Join Planet Fitness with a Classic Membership for No Enrollment Fee and No Commitment
Planet Fitness
Brunswick
OH
Join Planet Fitness with a Classic Membership for No Enrollment Fee and No Commitment
Planet Fitness
Wooster
OH
Join Planet Fitness with a Classic Membership for No Enrollment Fee and No Commitment
Planet Fitness
New Philadelphia
OH
Join Planet Fitness with a Classic Membership for No Enrollment Fee and No Commitment
Planet Fitness
Hermitage
PA
Join Planet Fitness with a Classic Membership for No Enrollment Fee and No Commitment
Planet Fitness
Canton
OH
Join Planet Fitness with a Classic Membership for No Enrollment Fee and No Commitment
Planet Fitness
Youngstown
OH
Join Planet Fitness with a Classic Membership for No Enrollment Fee and No Commitment
Planet Fitness
Tallmadge
OH
Join Planet Fitness with a Classic Membership for No Enrollment Fee and No Commitment
Planet Fitness
Austintown
OH
Join Planet Fitness with a Classic Membership for No Enrollment Fee and No Commitment
Planet Fitness
Niles
OH
Join Planet Fitness with a Classic Membership for No Enrollment Fee and No Commitment
Planet Fitness
Stow
OH
Join Planet Fitness with a Classic Membership for No Enrollment Fee and No Commitment
Planet Fitness
Macedonia
OH
Join Planet Fitness with a Classic Membership for No Enrollment Fee and No Commitment
Planet Fitness
Wadsworth
OH
Join Planet Fitness with a PF BLACK CARD® MEMBERSHIP for No Enrollment Fee, No Commitment, and No Annual Fee
Planet Fitness
Copley
OH
Join Planet Fitness with a PF BLACK CARD® MEMBERSHIP for No Enrollment Fee, No Commitment, and No Annual Fee
Planet Fitness
Alliance
OH
Join Planet Fitness with a PF BLACK CARD® MEMBERSHIP for No Enrollment Fee, No Commitment, and No Annual Fee
Planet Fitness
Kent
OH
Join Planet Fitness with a PF BLACK CARD® MEMBERSHIP for No Enrollment Fee, No Commitment, and No Annual Fee
Planet Fitness
Streetsboro
OH
Join Planet Fitness with a PF BLACK CARD® MEMBERSHIP for No Enrollment Fee, No Commitment, and No Annual Fee
Planet Fitness
Akron
OH
Join Planet Fitness with a PF BLACK CARD® MEMBERSHIP for No Enrollment Fee, No Commitment, and No Annual Fee
Planet Fitness
Brunswick
OH
Join Planet Fitness with a PF BLACK CARD® MEMBERSHIP for No Enrollment Fee, No Commitment, and No Annual Fee
Planet Fitness
Wooster
OH
Join Planet Fitness with a PF BLACK CARD® MEMBERSHIP for No Enrollment Fee, No Commitment, and No Annual Fee
Planet Fitness
New Philadelphia
OH
Join Planet Fitness with a PF BLACK CARD® MEMBERSHIP for No Enrollment Fee, No Commitment, and No Annual Fee
Planet Fitness
Hermitage
PA
Join Planet Fitness with a PF BLACK CARD® MEMBERSHIP for No Enrollment Fee, No Commitment, and No Annual Fee
Planet Fitness
Canton
OH
Join Planet Fitness with a PF BLACK CARD® MEMBERSHIP for No Enrollment Fee, No Commitment, and No Annual Fee
Planet Fitness
Youngstown
OH
Join Planet Fitness with a PF BLACK CARD® MEMBERSHIP for No Enrollment Fee, No Commitment, and No Annual Fee
Planet Fitness
Tallmadge
OH
Join Planet Fitness with a PF BLACK CARD® MEMBERSHIP for No Enrollment Fee, No Commitment, and No Annual Fee
Planet Fitness
Austintown
OH
Join Planet Fitness with a PF BLACK CARD® MEMBERSHIP for No Enrollment Fee, No Commitment, and No Annual Fee
Planet Fitness
Niles
OH
Join Planet Fitness with a PF BLACK CARD® MEMBERSHIP for No Enrollment Fee, No Commitment, and No Annual Fee
Planet Fitness
Stow
OH
Join Planet Fitness with a PF BLACK CARD® MEMBERSHIP for No Enrollment Fee, No Commitment, and No Annual Fee
Planet Fitness
Macedonia
OH
Join Planet Fitness with a PF BLACK CARD® MEMBERSHIP for No Enrollment Fee, No Commitment, and No Annual Fee
Planet Fitness
Schererville
IN
Join Planet Fitness with a Classic Membership for No Enrollment Fee and No Commitment
Planet Fitness
Valparaiso
IN
Join Planet Fitness with a Classic Membership for No Enrollment Fee and No Commitment
Planet Fitness
Crown Point
IN
Join Planet Fitness with a Classic Membership for No Enrollment Fee and No Commitment
Planet Fitness
Hobart
IN
Join Planet Fitness with a Classic Membership for No Enrollment Fee and No Commitment
Planet Fitness
Michigan City
IN
Join Planet Fitness with a Classic Membership for No Enrollment Fee and No Commitment
Planet Fitness
Merrillville
IN
Join Planet Fitness with a Classic Membership for No Enrollment Fee and No Commitment
Planet Fitness
Hammond
IN
Join Planet Fitness with a Classic Membership for No Enrollment Fee and No Commitment
Planet Fitness
Schererville
IN
Join Planet Fitness with a PF BLACK CARD® MEMBERSHIP for No Enrollment Fee, No Commitment, and No Annual Fee
Planet Fitness
Valparaiso
IN
Join Planet Fitness with a PF BLACK CARD® MEMBERSHIP for No Enrollment Fee, No Commitment, and No Annual Fee
Planet Fitness
Crown Point
IN
Join Planet Fitness with a PF BLACK CARD® MEMBERSHIP for No Enrollment Fee, No Commitment, and No Annual Fee
Planet Fitness
Hobart
IN
Join Planet Fitness with a PF BLACK CARD® MEMBERSHIP for No Enrollment Fee, No Commitment, and No Annual Fee
Planet Fitness
Michigan City
IN
Join Planet Fitness with a PF BLACK CARD® MEMBERSHIP for No Enrollment Fee, No Commitment, and No Annual Fee
Planet Fitness
Merrillville
IN
Join Planet Fitness with a PF BLACK CARD® MEMBERSHIP for No Enrollment Fee, No Commitment, and No Annual Fee
Planet Fitness
Hammond
IN
Join Planet Fitness with a PF BLACK CARD® MEMBERSHIP for No Enrollment Fee, No Commitment, and No Annual Fee
Planet Fitness
Bronx
NY
Join Planet Fitness with a Classic Membership for No Enrollment Fee and No Commitment
Planet Fitness
Hicksville
NY
Join Planet Fitness with a Classic Membership for No Enrollment Fee and No Commitment
Planet Fitness
Riverhead
NY
Join Planet Fitness with a Classic Membership for No Enrollment Fee and No Commitment
Planet Fitness
Brooklyn
NY
Join Planet Fitness with a Classic Membership for No Enrollment Fee and No Commitment
Planet Fitness
Queens
NY
Join Planet Fitness with a Classic Membership for No Enrollment Fee and No Commitment
Planet Fitness
Bronx
NY
Join Planet Fitness with a Classic Membership for No Enrollment Fee and No Commitment
Planet Fitness
Manhattan
NY
Join Planet Fitness with a Classic Membership for No Enrollment Fee and No Commitment
Planet Fitness
Brooklyn
NY
Join Planet Fitness with a Classic Membership for No Enrollment Fee and No Commitment
Planet Fitness
Howard Beach
NY
Join Planet Fitness with a Classic Membership for No Enrollment Fee and No Commitment
Planet Fitness
Jamaica
NY
Join Planet Fitness with a Classic Membership for No Enrollment Fee and No Commitment
Planet Fitness
Manhattan
NY
Join Planet Fitness with a Classic Membership for No Enrollment Fee and No Commitment
Planet Fitness
Staten Island
NY
Join Planet Fitness with a Classic Membership for No Enrollment Fee and No Commitment
Planet Fitness
Bronx
NY
Join Planet Fitness with a Classic Membership for No Enrollment Fee and No Commitment
Planet Fitness
Carle Place
NY
Join Planet Fitness with a Classic Membership for No Enrollment Fee and No Commitment
Planet Fitness
Brooklyn
NY
Join Planet Fitness with a Classic Membership for No Enrollment Fee and No Commitment
Planet Fitness
Staten Island Forest
NY
Join Planet Fitness with a Classic Membership for No Enrollment Fee and No Commitment
Planet Fitness
Manhattan
NY
Join Planet Fitness with a Classic Membership for No Enrollment Fee and No Commitment
Planet Fitness
Bronx
NY
Join Planet Fitness with a Classic Membership for No Enrollment Fee and No Commitment
Planet Fitness
Manhattan
NY
Join Planet Fitness with a Classic Membership for No Enrollment Fee and No Commitment
Planet Fitness
Manhattan
NY
Join Planet Fitness with a Classic Membership for No Enrollment Fee and No Commitment
Planet Fitness
Brooklyn
NY
Join Planet Fitness with a Classic Membership for No Enrollment Fee and No Commitment
Planet Fitness
Bronx
NY
Join Planet Fitness with a Classic Membership for No Enrollment Fee and No Commitment
Planet Fitness
Hauppauge
NY
Join Planet Fitness with a Classic Membership for No Enrollment Fee and No Commitment
Planet Fitness
Brooklyn
NY
Join Planet Fitness with a Classic Membership for No Enrollment Fee and No Commitment
Planet Fitness
Manhattan
NY
Join Planet Fitness with a Classic Membership for No Enrollment Fee and No Commitment
Planet Fitness
Melville
NY
Join Planet Fitness with a Classic Membership for No Enrollment Fee and No Commitment
Planet Fitness
Hampton Bays
NY
Join Planet Fitness with a Classic Membership for No Enrollment Fee and No Commitment
Planet Fitness
Bronx
NY
Join Planet Fitness with a Classic Membership for No Enrollment Fee and No Commitment
Planet Fitness
Rocky Point
NY
Join Planet Fitness with a Classic Membership for No Enrollment Fee and No Commitment
Planet Fitness
Levittown
NY
Join Planet Fitness with a Classic Membership for No Enrollment Fee and No Commitment
Planet Fitness
Queens
NY
Join Planet Fitness with a Classic Membership for No Enrollment Fee and No Commitment
Planet Fitness
Bronx
NY
Join Planet Fitness with a Classic Membership for No Enrollment Fee and No Commitment
Planet Fitness
Bronx
NY
Join Planet Fitness with a Classic Membership for No Enrollment Fee and No Commitment
Planet Fitness
Selden
NY
Join Planet Fitness with a Classic Membership for No Enrollment Fee and No Commitment
Planet Fitness
Queens
NY
Join Planet Fitness with a Classic Membership for No Enrollment Fee and No Commitment
Planet Fitness
Manhattan
NY
Join Planet Fitness with a Classic Membership for No Enrollment Fee and No Commitment
Planet Fitness
Manhattan
NY
Join Planet Fitness with a Classic Membership for No Enrollment Fee and No Commitment
Planet Fitness
Great Neck
NY
Join Planet Fitness with a Classic Membership for No Enrollment Fee and No Commitment
Planet Fitness
Manhattan
NY
Join Planet Fitness with a Classic Membership for No Enrollment Fee and No Commitment
Planet Fitness
Manhattan
NY
Join Planet Fitness with a Classic Membership for No Enrollment Fee and No Commitment
Planet Fitness
Brooklyn
NY
Join Planet Fitness with a Classic Membership for No Enrollment Fee and No Commitment
Planet Fitness
Brooklyn
NY
Join Planet Fitness with a Classic Membership for No Enrollment Fee and No Commitment
Planet Fitness
Manhattan
NY
Join Planet Fitness with a Classic Membership for No Enrollment Fee and No Commitment
Planet Fitness
Port Jefferson Station
NY
Join Planet Fitness with a Classic Membership for No Enrollment Fee and No Commitment
Planet Fitness
Brooklyn
NY
Join Planet Fitness with a Classic Membership for No Enrollment Fee and No Commitment
Planet Fitness
Medford
NY
Join Planet Fitness with a Classic Membership for No Enrollment Fee and No Commitment
Planet Fitness
Brooklyn
NY
Join Planet Fitness with a Classic Membership for No Enrollment Fee and No Commitment
Planet Fitness
Greenlawn
NY
Join Planet Fitness with a Classic Membership for No Enrollment Fee and No Commitment
Planet Fitness
Centereach
NY
Join Planet Fitness with a Classic Membership for No Enrollment Fee and No Commitment
Planet Fitness
Bronx
NY
Join Planet Fitness with a Classic Membership for No Enrollment Fee and No Commitment
Planet Fitness
Brooklyn
NY
Join Planet Fitness with a Classic Membership for No Enrollment Fee and No Commitment
Planet Fitness
Queens
NY
Join Planet Fitness with a Classic Membership for No Enrollment Fee and No Commitment
Planet Fitness
Bay Shore
NY
Join Planet Fitness with a Classic Membership for No Enrollment Fee and No Commitment
Planet Fitness
Brooklyn
NY
Join Planet Fitness with a Classic Membership for No Enrollment Fee and No Commitment
Planet Fitness
Bronx
NY
Join Planet Fitness with a PF BLACK CARD® MEMBERSHIP for No Enrollment Fee, No Commitment, and No Annual Fee
Planet Fitness
Hicksville
NY
Join Planet Fitness with a PF BLACK CARD® MEMBERSHIP for No Enrollment Fee, No Commitment, and No Annual Fee
Planet Fitness
Riverhead
NY
Join Planet Fitness with a PF BLACK CARD® MEMBERSHIP for No Enrollment Fee, No Commitment, and No Annual Fee
Planet Fitness
Brooklyn
NY
Join Planet Fitness with a PF BLACK CARD® MEMBERSHIP for No Enrollment Fee, No Commitment, and No Annual Fee
Planet Fitness
Queens
NY
Join Planet Fitness with a PF BLACK CARD® MEMBERSHIP for No Enrollment Fee, No Commitment, and No Annual Fee
Planet Fitness
Bronx
NY
Join Planet Fitness with a PF BLACK CARD® MEMBERSHIP for No Enrollment Fee, No Commitment, and No Annual Fee
Planet Fitness
Manhattan
NY
Join Planet Fitness with a PF BLACK CARD® MEMBERSHIP for No Enrollment Fee, No Commitment, and No Annual Fee
Planet Fitness
Brooklyn
NY
Join Planet Fitness with a PF BLACK CARD® MEMBERSHIP for No Enrollment Fee, No Commitment, and No Annual Fee
Planet Fitness
Howard Beach
NY
Join Planet Fitness with a PF BLACK CARD® MEMBERSHIP for No Enrollment Fee, No Commitment, and No Annual Fee
Planet Fitness
Jamaica
NY
Join Planet Fitness with a PF BLACK CARD® MEMBERSHIP for No Enrollment Fee, No Commitment, and No Annual Fee
Planet Fitness
Manhattan
NY
Join Planet Fitness with a PF BLACK CARD® MEMBERSHIP for No Enrollment Fee, No Commitment, and No Annual Fee
Planet Fitness
Staten Island
NY
Join Planet Fitness with a PF BLACK CARD® MEMBERSHIP for No Enrollment Fee, No Commitment, and No Annual Fee
Planet Fitness
Bronx
NY
Join Planet Fitness with a PF BLACK CARD® MEMBERSHIP for No Enrollment Fee, No Commitment, and No Annual Fee
Planet Fitness
Carle Place
NY
Join Planet Fitness with a PF BLACK CARD® MEMBERSHIP for No Enrollment Fee, No Commitment, and No Annual Fee
Planet Fitness
Brooklyn
NY
Join Planet Fitness with a PF BLACK CARD® MEMBERSHIP for No Enrollment Fee, No Commitment, and No Annual Fee
Planet Fitness
Staten Island Forest
NY
Join Planet Fitness with a PF BLACK CARD® MEMBERSHIP for No Enrollment Fee, No Commitment, and No Annual Fee
Planet Fitness
Manhattan
NY
Join Planet Fitness with a PF BLACK CARD® MEMBERSHIP for No Enrollment Fee, No Commitment, and No Annual Fee
Planet Fitness
Bronx
NY
Join Planet Fitness with a PF BLACK CARD® MEMBERSHIP for No Enrollment Fee, No Commitment, and No Annual Fee
Planet Fitness
Manhattan
NY
Join Planet Fitness with a PF BLACK CARD® MEMBERSHIP for No Enrollment Fee, No Commitment, and No Annual Fee
Planet Fitness
Manhattan
NY
Join Planet Fitness with a PF BLACK CARD® MEMBERSHIP for No Enrollment Fee, No Commitment, and No Annual Fee
Planet Fitness
Brooklyn
NY
Join Planet Fitness with a PF BLACK CARD® MEMBERSHIP for No Enrollment Fee, No Commitment, and No Annual Fee
Planet Fitness
Bronx
NY
Join Planet Fitness with a PF BLACK CARD® MEMBERSHIP for No Enrollment Fee, No Commitment, and No Annual Fee
Planet Fitness
Hauppauge
NY
Join Planet Fitness with a PF BLACK CARD® MEMBERSHIP for No Enrollment Fee, No Commitment, and No Annual Fee
Planet Fitness
Brooklyn
NY
Join Planet Fitness with a PF BLACK CARD® MEMBERSHIP for No Enrollment Fee, No Commitment, and No Annual Fee
Planet Fitness
Manhattan
NY
Join Planet Fitness with a PF BLACK CARD® MEMBERSHIP for No Enrollment Fee, No Commitment, and No Annual Fee
Planet Fitness
Melville
NY
Join Planet Fitness with a PF BLACK CARD® MEMBERSHIP for No Enrollment Fee, No Commitment, and No Annual Fee
Planet Fitness
Hampton Bays
NY
Join Planet Fitness with a PF BLACK CARD® MEMBERSHIP for No Enrollment Fee, No Commitment, and No Annual Fee
Planet Fitness
Bronx
NY
Join Planet Fitness with a PF BLACK CARD® MEMBERSHIP for No Enrollment Fee, No Commitment, and No Annual Fee
Planet Fitness
Rocky Point
NY
Join Planet Fitness with a PF BLACK CARD® MEMBERSHIP for No Enrollment Fee, No Commitment, and No Annual Fee
Planet Fitness
Levittown
NY
Join Planet Fitness with a PF BLACK CARD® MEMBERSHIP for No Enrollment Fee, No Commitment, and No Annual Fee
Planet Fitness
Queens
NY
Join Planet Fitness with a PF BLACK CARD® MEMBERSHIP for No Enrollment Fee, No Commitment, and No Annual Fee
Planet Fitness
Bronx
NY
Join Planet Fitness with a PF BLACK CARD® MEMBERSHIP for No Enrollment Fee, No Commitment, and No Annual Fee
Planet Fitness
Bronx
NY
Join Planet Fitness with a PF BLACK CARD® MEMBERSHIP for No Enrollment Fee, No Commitment, and No Annual Fee
Planet Fitness
Selden
NY
Join Planet Fitness with a PF BLACK CARD® MEMBERSHIP for No Enrollment Fee, No Commitment, and No Annual Fee
Planet Fitness
Queens
NY
Join Planet Fitness with a PF BLACK CARD® MEMBERSHIP for No Enrollment Fee, No Commitment, and No Annual Fee
Planet Fitness
Manhattan
NY
Join Planet Fitness with a PF BLACK CARD® MEMBERSHIP for No Enrollment Fee, No Commitment, and No Annual Fee
Planet Fitness
Manhattan
NY
Join Planet Fitness with a PF BLACK CARD® MEMBERSHIP for No Enrollment Fee, No Commitment, and No Annual Fee
Planet Fitness
Great Neck
NY
Join Planet Fitness with a PF BLACK CARD® MEMBERSHIP for No Enrollment Fee, No Commitment, and No Annual Fee
Planet Fitness
Manhattan
NY
Join Planet Fitness with a PF BLACK CARD® MEMBERSHIP for No Enrollment Fee, No Commitment, and No Annual Fee
Planet Fitness
Manhattan
NY
Join Planet Fitness with a PF BLACK CARD® MEMBERSHIP for No Enrollment Fee, No Commitment, and No Annual Fee
Planet Fitness
Brooklyn
NY
Join Planet Fitness with a PF BLACK CARD® MEMBERSHIP for No Enrollment Fee, No Commitment, and No Annual Fee
Planet Fitness
Brooklyn
NY
Join Planet Fitness with a PF BLACK CARD® MEMBERSHIP for No Enrollment Fee, No Commitment, and No Annual Fee
Planet Fitness
Manhattan
NY
Join Planet Fitness with a PF BLACK CARD® MEMBERSHIP for No Enrollment Fee, No Commitment, and No Annual Fee
Planet Fitness
Port Jefferson Station
NY
Join Planet Fitness with a PF BLACK CARD® MEMBERSHIP for No Enrollment Fee, No Commitment, and No Annual Fee
Planet Fitness
Brooklyn
NY
Join Planet Fitness with a PF BLACK CARD® MEMBERSHIP for No Enrollment Fee, No Commitment, and No Annual Fee
Planet Fitness
Medford
NY
Join Planet Fitness with a PF BLACK CARD® MEMBERSHIP for No Enrollment Fee, No Commitment, and No Annual Fee
Planet Fitness
Brooklyn
NY
Join Planet Fitness with a PF BLACK CARD® MEMBERSHIP for No Enrollment Fee, No Commitment, and No Annual Fee
Planet Fitness
Greenlawn
NY
Join Planet Fitness with a PF BLACK CARD® MEMBERSHIP for No Enrollment Fee, No Commitment, and No Annual Fee
Planet Fitness
Centereach
NY
Join Planet Fitness with a PF BLACK CARD® MEMBERSHIP for No Enrollment Fee, No Commitment, and No Annual Fee
Planet Fitness
Bronx
NY
Join Planet Fitness with a PF BLACK CARD® MEMBERSHIP for No Enrollment Fee, No Commitment, and No Annual Fee
Planet Fitness
Brooklyn
NY
Join Planet Fitness with a PF BLACK CARD® MEMBERSHIP for No Enrollment Fee, No Commitment, and No Annual Fee
Planet Fitness
Queens
NY
Join Planet Fitness with a PF BLACK CARD® MEMBERSHIP for No Enrollment Fee, No Commitment, and No Annual Fee
Planet Fitness
Bay Shore
NY
Join Planet Fitness with a PF BLACK CARD® MEMBERSHIP for No Enrollment Fee, No Commitment, and No Annual Fee
Planet Fitness
Brooklyn
NY
Join Planet Fitness with a PF BLACK CARD® MEMBERSHIP for No Enrollment Fee, No Commitment, and No Annual Fee
Planet Fitness
Kamloops
BC
Join Planet Fitness with a Classic Membership for No Enrollment Fee and No Commitment
Planet Fitness
Kamloops
BC
Join Planet Fitness with a PF BLACK CARD® MEMBERSHIP for No Enrollment Fee, No Commitment, and No Annual Fee
Planet Fitness
Oklahoma City
OK
Join Planet Fitness with a Classic Membership for No Enrollment Fee and No Commitment
Planet Fitness
Yukon
OK
Join Planet Fitness with a Classic Membership for No Enrollment Fee and No Commitment
Planet Fitness
Edmond
OK
Join Planet Fitness with a Classic Membership for No Enrollment Fee and No Commitment
Planet Fitness
Oklahoma City
OK
Join Planet Fitness with a Classic Membership for No Enrollment Fee and No Commitment
Planet Fitness
Oklahoma City
OK
Join Planet Fitness with a Classic Membership for No Enrollment Fee and No Commitment
Planet Fitness
Midwest City
OK
Join Planet Fitness with a Classic Membership for No Enrollment Fee and No Commitment
Planet Fitness
Shawnee
OK
Join Planet Fitness with a Classic Membership for No Enrollment Fee and No Commitment
Planet Fitness
Stillwater
OK
Join Planet Fitness with a Classic Membership for No Enrollment Fee and No Commitment
Planet Fitness
Enid
OK
Join Planet Fitness with a Classic Membership for No Enrollment Fee and No Commitment
Planet Fitness
Oklahoma City
OK
Join Planet Fitness with a Classic Membership for No Enrollment Fee and No Commitment
Planet Fitness
Oklahoma City
OK
Join Planet Fitness with a PF BLACK CARD® MEMBERSHIP for No Enrollment Fee, No Commitment, and No Annual Fee
Planet Fitness
Yukon
OK
Join Planet Fitness with a PF BLACK CARD® MEMBERSHIP for No Enrollment Fee, No Commitment, and No Annual Fee
Planet Fitness
Edmond
OK
Join Planet Fitness with a PF BLACK CARD® MEMBERSHIP for No Enrollment Fee, No Commitment, and No Annual Fee
Planet Fitness
Oklahoma City
OK
Join Planet Fitness with a PF BLACK CARD® MEMBERSHIP for No Enrollment Fee, No Commitment, and No Annual Fee
Planet Fitness
Oklahoma City
OK
Join Planet Fitness with a PF BLACK CARD® MEMBERSHIP for No Enrollment Fee, No Commitment, and No Annual Fee
Planet Fitness
Midwest City
OK
Join Planet Fitness with a PF BLACK CARD® MEMBERSHIP for No Enrollment Fee, No Commitment, and No Annual Fee
Planet Fitness
Shawnee
OK
Join Planet Fitness with a PF BLACK CARD® MEMBERSHIP for No Enrollment Fee, No Commitment, and No Annual Fee
Planet Fitness
Stillwater
OK
Join Planet Fitness with a PF BLACK CARD® MEMBERSHIP for No Enrollment Fee, No Commitment, and No Annual Fee
Planet Fitness
Enid
OK
Join Planet Fitness with a PF BLACK CARD® MEMBERSHIP for No Enrollment Fee, No Commitment, and No Annual Fee
Planet Fitness
Oklahoma City
OK
Join Planet Fitness with a PF BLACK CARD® MEMBERSHIP for No Enrollment Fee, No Commitment, and No Annual Fee
Planet Fitness
Fremont
NE
Join Planet Fitness with a Classic Membership for No Enrollment Fee and No Commitment
Planet Fitness
Omaha
NE
Join Planet Fitness with a Classic Membership for No Enrollment Fee and No Commitment
Planet Fitness
Council Bluffs
IA
Join Planet Fitness with a Classic Membership for No Enrollment Fee and No Commitment
Planet Fitness
Omaha
NE
Join Planet Fitness with a Classic Membership for No Enrollment Fee and No Commitment
Planet Fitness
Omaha
NE
Join Planet Fitness with a Classic Membership for No Enrollment Fee and No Commitment
Planet Fitness
Omaha
NE
Join Planet Fitness with a Classic Membership for No Enrollment Fee and No Commitment
Planet Fitness
Omaha
NE
Join Planet Fitness with a Classic Membership for No Enrollment Fee and No Commitment
Planet Fitness
Omaha
NE
Join Planet Fitness with a Classic Membership for No Enrollment Fee and No Commitment
Planet Fitness
Fremont
NE
Join Planet Fitness with a PF BLACK CARD® MEMBERSHIP for No Enrollment Fee, No Commitment, and No Annual Fee
Planet Fitness
Omaha
NE
Join Planet Fitness with a PF BLACK CARD® MEMBERSHIP for No Enrollment Fee, No Commitment, and No Annual Fee
Planet Fitness
Council Bluffs
IA
Join Planet Fitness with a PF BLACK CARD® MEMBERSHIP for No Enrollment Fee, No Commitment, and No Annual Fee
Planet Fitness
Omaha
NE
Join Planet Fitness with a PF BLACK CARD® MEMBERSHIP for No Enrollment Fee, No Commitment, and No Annual Fee
Planet Fitness
Omaha
NE
Join Planet Fitness with a PF BLACK CARD® MEMBERSHIP for No Enrollment Fee, No Commitment, and No Annual Fee
Planet Fitness
Omaha
NE
Join Planet Fitness with a PF BLACK CARD® MEMBERSHIP for No Enrollment Fee, No Commitment, and No Annual Fee
Planet Fitness
Omaha
NE
Join Planet Fitness with a PF BLACK CARD® MEMBERSHIP for No Enrollment Fee, No Commitment, and No Annual Fee
Planet Fitness
Omaha
NE
Join Planet Fitness with a PF BLACK CARD® MEMBERSHIP for No Enrollment Fee, No Commitment, and No Annual Fee
Planet Fitness
Fullerton
CA
Join Planet Fitness with a Classic Membership for No Enrollment Fee and No Commitment
Planet Fitness
Anaheim
CA
Join Planet Fitness with a Classic Membership for No Enrollment Fee and No Commitment
Planet Fitness
Fountain Valley
CA
Join Planet Fitness with a Classic Membership for No Enrollment Fee and No Commitment
Planet Fitness
Santa Ana
CA
Join Planet Fitness with a Classic Membership for No Enrollment Fee and No Commitment
Planet Fitness
Huntington Beach
CA
Join Planet Fitness with a Classic Membership for No Enrollment Fee and No Commitment
Planet Fitness
Costa Mesa
CA
Join Planet Fitness with a Classic Membership for No Enrollment Fee and No Commitment
Planet Fitness
Tustin
CA
Join Planet Fitness with a Classic Membership for No Enrollment Fee and No Commitment
Planet Fitness
Foothill Ranch
CA
Join Planet Fitness with a Classic Membership for No Enrollment Fee and No Commitment
Planet Fitness
Santa Ana
CA
Join Planet Fitness with a Classic Membership for No Enrollment Fee and No Commitment
Planet Fitness
Laguna Niguel
CA
Join Planet Fitness with a Classic Membership for No Enrollment Fee and No Commitment
Planet Fitness
Orange
CA
Join Planet Fitness with a Classic Membership for No Enrollment Fee and No Commitment
Planet Fitness
Buena Park
CA
Join Planet Fitness with a Classic Membership for No Enrollment Fee and No Commitment
Planet Fitness
Buena Park
CA
Join Planet Fitness with a Classic Membership for No Enrollment Fee and No Commitment
Planet Fitness
Fullerton
CA
Join Planet Fitness with a PF BLACK CARD® MEMBERSHIP for No Enrollment Fee, No Commitment, and No Annual Fee
Planet Fitness
Anaheim
CA
Join Planet Fitness with a PF BLACK CARD® MEMBERSHIP for No Enrollment Fee, No Commitment, and No Annual Fee
Planet Fitness
Fountain Valley
CA
Join Planet Fitness with a PF BLACK CARD® MEMBERSHIP for No Enrollment Fee, No Commitment, and No Annual Fee
Planet Fitness
Santa Ana
CA
Join Planet Fitness with a PF BLACK CARD® MEMBERSHIP for No Enrollment Fee, No Commitment, and No Annual Fee
Planet Fitness
Huntington Beach
CA
Join Planet Fitness with a PF BLACK CARD® MEMBERSHIP for No Enrollment Fee, No Commitment, and No Annual Fee
Planet Fitness
Costa Mesa
CA
Join Planet Fitness with a PF BLACK CARD® MEMBERSHIP for No Enrollment Fee, No Commitment, and No Annual Fee
Planet Fitness
Tustin
CA
Join Planet Fitness with a PF BLACK CARD® MEMBERSHIP for No Enrollment Fee, No Commitment, and No Annual Fee
Planet Fitness
Foothill Ranch
CA
Join Planet Fitness with a PF BLACK CARD® MEMBERSHIP for No Enrollment Fee, No Commitment, and No Annual Fee
Planet Fitness
Santa Ana
CA
Join Planet Fitness with a PF BLACK CARD® MEMBERSHIP for No Enrollment Fee, No Commitment, and No Annual Fee
Planet Fitness
Laguna Niguel
CA
Join Planet Fitness with a PF BLACK CARD® MEMBERSHIP for No Enrollment Fee, No Commitment, and No Annual Fee
Planet Fitness
Orange
CA
Join Planet Fitness with a PF BLACK CARD® MEMBERSHIP for No Enrollment Fee, No Commitment, and No Annual Fee
Planet Fitness
Buena Park
CA
Join Planet Fitness with a PF BLACK CARD® MEMBERSHIP for No Enrollment Fee, No Commitment, and No Annual Fee
Planet Fitness
Buena Park
CA
Join Planet Fitness with a PF BLACK CARD® MEMBERSHIP for No Enrollment Fee, No Commitment, and No Annual Fee
Planet Fitness
Ocoee
FL
Join Planet Fitness with a Classic Membership for No Enrollment Fee and No Commitment
Planet Fitness
Deland
FL
Join Planet Fitness with a Classic Membership for No Enrollment Fee and No Commitment
Planet Fitness
Orlando
FL
Join Planet Fitness with a Classic Membership for No Enrollment Fee and No Commitment
Planet Fitness
Daytona Beach
FL
Join Planet Fitness with a Classic Membership for No Enrollment Fee and No Commitment
Planet Fitness
Apopka
FL
Join Planet Fitness with a Classic Membership for No Enrollment Fee and No Commitment
Planet Fitness
Oviedo
FL
Join Planet Fitness with a Classic Membership for No Enrollment Fee and No Commitment
Planet Fitness
Casselberry
FL
Join Planet Fitness with a Classic Membership for No Enrollment Fee and No Commitment
Planet Fitness
Altamonte Springs
FL
Join Planet Fitness with a Classic Membership for No Enrollment Fee and No Commitment
Planet Fitness
Ocala
FL
Join Planet Fitness with a Classic Membership for No Enrollment Fee and No Commitment
Planet Fitness
Eustis
FL
Join Planet Fitness with a Classic Membership for No Enrollment Fee and No Commitment
Planet Fitness
Lake Mary
FL
Join Planet Fitness with a Classic Membership for No Enrollment Fee and No Commitment
Planet Fitness
Orlando
FL
Join Planet Fitness with a Classic Membership for No Enrollment Fee and No Commitment
Planet Fitness
Ocala
FL
Join Planet Fitness with a Classic Membership for No Enrollment Fee and No Commitment
Planet Fitness
Kissimmee
FL
Join Planet Fitness with a Classic Membership for No Enrollment Fee and No Commitment
Planet Fitness
St. Cloud
FL
Join Planet Fitness with a Classic Membership for No Enrollment Fee and No Commitment
Planet Fitness
Orlando
FL
Join Planet Fitness with a Classic Membership for No Enrollment Fee and No Commitment
Planet Fitness
Orlando
FL
Join Planet Fitness with a Classic Membership for No Enrollment Fee and No Commitment
Planet Fitness
Orland
FL
Join Planet Fitness with a Classic Membership for No Enrollment Fee and No Commitment
Planet Fitness
Orlando
FL
Join Planet Fitness with a Classic Membership for No Enrollment Fee and No Commitment
Planet Fitness
Leesburg
FL
Join Planet Fitness with a Classic Membership for No Enrollment Fee and No Commitment
Planet Fitness
Orange City
FL
Join Planet Fitness with a Classic Membership for No Enrollment Fee and No Commitment
Planet Fitness
Orlando
FL
Join Planet Fitness with a Classic Membership for No Enrollment Fee and No Commitment
Planet Fitness
Orlando
FL
Join Planet Fitness with a Classic Membership for No Enrollment Fee and No Commitment
Planet Fitness
Ormond Beach
FL
Join Planet Fitness with a Classic Membership for No Enrollment Fee and No Commitment
Planet Fitness
Ocoee
FL
Join Planet Fitness with a PF BLACK CARD® MEMBERSHIP for No Enrollment Fee, No Commitment, and No Annual Fee
Planet Fitness
Deland
FL
Join Planet Fitness with a PF BLACK CARD® MEMBERSHIP for No Enrollment Fee, No Commitment, and No Annual Fee
Planet Fitness
Orlando
FL
Join Planet Fitness with a PF BLACK CARD® MEMBERSHIP for No Enrollment Fee, No Commitment, and No Annual Fee
Planet Fitness
Daytona Beach
FL
Join Planet Fitness with a PF BLACK CARD® MEMBERSHIP for No Enrollment Fee, No Commitment, and No Annual Fee
Planet Fitness
Apopka
FL
Join Planet Fitness with a PF BLACK CARD® MEMBERSHIP for No Enrollment Fee, No Commitment, and No Annual Fee
Planet Fitness
Oviedo
FL
Join Planet Fitness with a PF BLACK CARD® MEMBERSHIP for No Enrollment Fee, No Commitment, and No Annual Fee
Planet Fitness
Casselberry
FL
Join Planet Fitness with a PF BLACK CARD® MEMBERSHIP for No Enrollment Fee, No Commitment, and No Annual Fee
Planet Fitness
Altamonte Springs
FL
Join Planet Fitness with a PF BLACK CARD® MEMBERSHIP for No Enrollment Fee, No Commitment, and No Annual Fee
Planet Fitness
Ocala
FL
Join Planet Fitness with a PF BLACK CARD® MEMBERSHIP for No Enrollment Fee, No Commitment, and No Annual Fee
Planet Fitness
Eustis
FL
Join Planet Fitness with a PF BLACK CARD® MEMBERSHIP for No Enrollment Fee, No Commitment, and No Annual Fee
Planet Fitness
Lake Mary
FL
Join Planet Fitness with a PF BLACK CARD® MEMBERSHIP for No Enrollment Fee, No Commitment, and No Annual Fee
Planet Fitness
Orlando
FL
Join Planet Fitness with a PF BLACK CARD® MEMBERSHIP for No Enrollment Fee, No Commitment, and No Annual Fee
Planet Fitness
Ocala
FL
Join Planet Fitness with a PF BLACK CARD® MEMBERSHIP for No Enrollment Fee, No Commitment, and No Annual Fee
Planet Fitness
Kissimmee
FL
Join Planet Fitness with a PF BLACK CARD® MEMBERSHIP for No Enrollment Fee, No Commitment, and No Annual Fee
Planet Fitness
St. Cloud
FL
Join Planet Fitness with a PF BLACK CARD® MEMBERSHIP for No Enrollment Fee, No Commitment, and No Annual Fee
Planet Fitness
Orlando
FL
Join Planet Fitness with a PF BLACK CARD® MEMBERSHIP for No Enrollment Fee, No Commitment, and No Annual Fee
Planet Fitness
Orlando
FL
Join Planet Fitness with a PF BLACK CARD® MEMBERSHIP for No Enrollment Fee, No Commitment, and No Annual Fee
Planet Fitness
Orland
FL
Join Planet Fitness with a PF BLACK CARD® MEMBERSHIP for No Enrollment Fee, No Commitment, and No Annual Fee
Planet Fitness
Orlando
FL
Join Planet Fitness with a PF BLACK CARD® MEMBERSHIP for No Enrollment Fee, No Commitment, and No Annual Fee
Planet Fitness
Leesburg
FL
Join Planet Fitness with a PF BLACK CARD® MEMBERSHIP for No Enrollment Fee, No Commitment, and No Annual Fee
Planet Fitness
Orange City
FL
Join Planet Fitness with a PF BLACK CARD® MEMBERSHIP for No Enrollment Fee, No Commitment, and No Annual Fee
Planet Fitness
Orlando
FL
Join Planet Fitness with a PF BLACK CARD® MEMBERSHIP for No Enrollment Fee, No Commitment, and No Annual Fee
Planet Fitness
Orlando
FL
Join Planet Fitness with a PF BLACK CARD® MEMBERSHIP for No Enrollment Fee, No Commitment, and No Annual Fee
Planet Fitness
Ormond Beach
FL
Join Planet Fitness with a PF BLACK CARD® MEMBERSHIP for No Enrollment Fee, No Commitment, and No Annual Fee
Planet Fitness
Ottawa
ON
Join Planet Fitness with a Classic Membership for No Enrollment Fee and No Commitment
Planet Fitness
Nepean
ON
Join Planet Fitness with a Classic Membership for No Enrollment Fee and No Commitment
Planet Fitness
Ottawa
ON
Join Planet Fitness with a PF BLACK CARD® MEMBERSHIP for No Enrollment Fee, No Commitment, and No Annual Fee
Planet Fitness
Nepean
ON
Join Planet Fitness with a PF BLACK CARD® MEMBERSHIP for No Enrollment Fee, No Commitment, and No Annual Fee
Planet Fitness
Peckville
PA
Join Planet Fitness with a Classic Membership for No Enrollment Fee and No Commitment
Planet Fitness
Pottsville
PA
Join Planet Fitness with a Classic Membership for No Enrollment Fee and No Commitment
Planet Fitness
Scranto
PA
Join Planet Fitness with a Classic Membership for No Enrollment Fee and No Commitment
Planet Fitness
Pittston
PA
Join Planet Fitness with a Classic Membership for No Enrollment Fee and No Commitment
Planet Fitness
Kingston
PA
Join Planet Fitness with a Classic Membership for No Enrollment Fee and No Commitment
Planet Fitness
Mt. Pocono
PA
Join Planet Fitness with a Classic Membership for No Enrollment Fee and No Commitment
Planet Fitness
Peckville
PA
Join Planet Fitness with a PF BLACK CARD® MEMBERSHIP for No Enrollment Fee, No Commitment, and No Annual Fee
Planet Fitness
Pottsville
PA
Join Planet Fitness with a PF BLACK CARD® MEMBERSHIP for No Enrollment Fee, No Commitment, and No Annual Fee
Planet Fitness
Scranto
PA
Join Planet Fitness with a PF BLACK CARD® MEMBERSHIP for No Enrollment Fee, No Commitment, and No Annual Fee
Planet Fitness
Pittston
PA
Join Planet Fitness with a PF BLACK CARD® MEMBERSHIP for No Enrollment Fee, No Commitment, and No Annual Fee
Planet Fitness
Kingston
PA
Join Planet Fitness with a PF BLACK CARD® MEMBERSHIP for No Enrollment Fee, No Commitment, and No Annual Fee
Planet Fitness
Mt. Pocono
PA
Join Planet Fitness with a PF BLACK CARD® MEMBERSHIP for No Enrollment Fee, No Commitment, and No Annual Fee
Planet Fitness
Parkesburg
PA
Join Planet Fitness with a Classic Membership for No Enrollment Fee and No Commitment
Planet Fitness
West Chester
PA
Join Planet Fitness with a Classic Membership for No Enrollment Fee and No Commitment
Planet Fitness
Pottstown
PA
Join Planet Fitness with a Classic Membership for No Enrollment Fee and No Commitment
Planet Fitness
Langhorne
PA
Join Planet Fitness with a Classic Membership for No Enrollment Fee and No Commitment
Planet Fitness
Downingtown
PA
Join Planet Fitness with a Classic Membership for No Enrollment Fee and No Commitment
Planet Fitness
Philadelphia
PA
Join Planet Fitness with a Classic Membership for No Enrollment Fee and No Commitment
Planet Fitness
Jenkintown
PA
Join Planet Fitness with a Classic Membership for No Enrollment Fee and No Commitment
Planet Fitness
Philadelphia
PA
Join Planet Fitness with a Classic Membership for No Enrollment Fee and No Commitment
Planet Fitness
Bensalem
PA
Join Planet Fitness with a Classic Membership for No Enrollment Fee and No Commitment
Planet Fitness
Trevose
PA
Join Planet Fitness with a Classic Membership for No Enrollment Fee and No Commitment
Planet Fitness
Ridley Park
PA
Join Planet Fitness with a Classic Membership for No Enrollment Fee and No Commitment
Planet Fitness
Morrisville
PA
Join Planet Fitness with a Classic Membership for No Enrollment Fee and No Commitment
Planet Fitness
Philadelphia
PA
Join Planet Fitness with a Classic Membership for No Enrollment Fee and No Commitment
Planet Fitness
Philadelphia
PA
Join Planet Fitness with a Classic Membership for No Enrollment Fee and No Commitment
Planet Fitness
Malvern
PA
Join Planet Fitness with a Classic Membership for No Enrollment Fee and No Commitment
Planet Fitness
Philadelphia
PA
Join Planet Fitness with a Classic Membership for No Enrollment Fee and No Commitment
Planet Fitness
Broomall
PA
Join Planet Fitness with a Classic Membership for No Enrollment Fee and No Commitment
Planet Fitness
Philadelphia
PA
Join Planet Fitness with a Classic Membership for No Enrollment Fee and No Commitment
Planet Fitness
Limerick
PA
Join Planet Fitness with a Classic Membership for No Enrollment Fee and No Commitment
Planet Fitness
Doylestown
PA
Join Planet Fitness with a Classic Membership for No Enrollment Fee and No Commitment
Planet Fitness
Aston
PA
Join Planet Fitness with a Classic Membership for No Enrollment Fee and No Commitment
Planet Fitness
Ardmore
PA
Join Planet Fitness with a Classic Membership for No Enrollment Fee and No Commitment
Planet Fitness
Philadelphia
PA
Join Planet Fitness with a Classic Membership for No Enrollment Fee and No Commitment
Planet Fitness
Clifton Heights
PA
Join Planet Fitness with a Classic Membership for No Enrollment Fee and No Commitment
Planet Fitness
Phoenixville
PA
Join Planet Fitness with a Classic Membership for No Enrollment Fee and No Commitment
Planet Fitness
Valley Forge
PA
Join Planet Fitness with a Classic Membership for No Enrollment Fee and No Commitment
Planet Fitness
Philadelphia
PA
Join Planet Fitness with a Classic Membership for No Enrollment Fee and No Commitment
Planet Fitness
Philadelphia
PA
Join Planet Fitness with a Classic Membership for No Enrollment Fee and No Commitment
Planet Fitness
Philadelphia
PA
Join Planet Fitness with a Classic Membership for No Enrollment Fee and No Commitment
Planet Fitness
Souderton
PA
Join Planet Fitness with a Classic Membership for No Enrollment Fee and No Commitment
Planet Fitness
Montgomeryville
PA
Join Planet Fitness with a Classic Membership for No Enrollment Fee and No Commitment
Planet Fitness
Flourtown
PA
Join Planet Fitness with a Classic Membership for No Enrollment Fee and No Commitment
Planet Fitness
Drexel Hill
PA
Join Planet Fitness with a Classic Membership for No Enrollment Fee and No Commitment
Planet Fitness
Warminster
PA
Join Planet Fitness with a Classic Membership for No Enrollment Fee and No Commitment
Planet Fitness
Philadelphia
PA
Join Planet Fitness with a Classic Membership for No Enrollment Fee and No Commitment
Planet Fitness
Philadelphia
PA
Join Planet Fitness with a Classic Membership for No Enrollment Fee and No Commitment
Planet Fitness
Parkesburg
PA
Join Planet Fitness with a PF BLACK CARD® MEMBERSHIP for No Enrollment Fee, No Commitment, and No Annual Fee
Planet Fitness
West Chester
PA
Join Planet Fitness with a PF BLACK CARD® MEMBERSHIP for No Enrollment Fee, No Commitment, and No Annual Fee
Planet Fitness
Pottstown
PA
Join Planet Fitness with a PF BLACK CARD® MEMBERSHIP for No Enrollment Fee, No Commitment, and No Annual Fee
Planet Fitness
Langhorne
PA
Join Planet Fitness with a PF BLACK CARD® MEMBERSHIP for No Enrollment Fee, No Commitment, and No Annual Fee
Planet Fitness
Downingtown
PA
Join Planet Fitness with a PF BLACK CARD® MEMBERSHIP for No Enrollment Fee, No Commitment, and No Annual Fee
Planet Fitness
Philadelphia
PA
Join Planet Fitness with a PF BLACK CARD® MEMBERSHIP for No Enrollment Fee, No Commitment, and No Annual Fee
Planet Fitness
Jenkintown
PA
Join Planet Fitness with a PF BLACK CARD® MEMBERSHIP for No Enrollment Fee, No Commitment, and No Annual Fee
Planet Fitness
Philadelphia
PA
Join Planet Fitness with a PF BLACK CARD® MEMBERSHIP for No Enrollment Fee, No Commitment, and No Annual Fee
Planet Fitness
Bensalem
PA
Join Planet Fitness with a PF BLACK CARD® MEMBERSHIP for No Enrollment Fee, No Commitment, and No Annual Fee
Planet Fitness
Trevose
PA
Join Planet Fitness with a PF BLACK CARD® MEMBERSHIP for No Enrollment Fee, No Commitment, and No Annual Fee
Planet Fitness
Ridley Park
PA
Join Planet Fitness with a PF BLACK CARD® MEMBERSHIP for No Enrollment Fee, No Commitment, and No Annual Fee
Planet Fitness
Morrisville
PA
Join Planet Fitness with a PF BLACK CARD® MEMBERSHIP for No Enrollment Fee, No Commitment, and No Annual Fee
Planet Fitness
Philadelphia
PA
Join Planet Fitness with a PF BLACK CARD® MEMBERSHIP for No Enrollment Fee, No Commitment, and No Annual Fee
Planet Fitness
Philadelphia
PA
Join Planet Fitness with a PF BLACK CARD® MEMBERSHIP for No Enrollment Fee, No Commitment, and No Annual Fee
Planet Fitness
Malvern
PA
Join Planet Fitness with a PF BLACK CARD® MEMBERSHIP for No Enrollment Fee, No Commitment, and No Annual Fee
Planet Fitness
Philadelphia
PA
Join Planet Fitness with a PF BLACK CARD® MEMBERSHIP for No Enrollment Fee, No Commitment, and No Annual Fee
Planet Fitness
Broomall
PA
Join Planet Fitness with a PF BLACK CARD® MEMBERSHIP for No Enrollment Fee, No Commitment, and No Annual Fee
Planet Fitness
Philadelphia
PA
Join Planet Fitness with a PF BLACK CARD® MEMBERSHIP for No Enrollment Fee, No Commitment, and No Annual Fee
Planet Fitness
Limerick
PA
Join Planet Fitness with a PF BLACK CARD® MEMBERSHIP for No Enrollment Fee, No Commitment, and No Annual Fee
Planet Fitness
Doylestown
PA
Join Planet Fitness with a PF BLACK CARD® MEMBERSHIP for No Enrollment Fee, No Commitment, and No Annual Fee
Planet Fitness
Aston
PA
Join Planet Fitness with a PF BLACK CARD® MEMBERSHIP for No Enrollment Fee, No Commitment, and No Annual Fee
Planet Fitness
Ardmore
PA
Join Planet Fitness with a PF BLACK CARD® MEMBERSHIP for No Enrollment Fee, No Commitment, and No Annual Fee
Planet Fitness
Philadelphia
PA
Join Planet Fitness with a PF BLACK CARD® MEMBERSHIP for No Enrollment Fee, No Commitment, and No Annual Fee
Planet Fitness
Clifton Heights
PA
Join Planet Fitness with a PF BLACK CARD® MEMBERSHIP for No Enrollment Fee, No Commitment, and No Annual Fee
Planet Fitness
Phoenixville
PA
Join Planet Fitness with a PF BLACK CARD® MEMBERSHIP for No Enrollment Fee, No Commitment, and No Annual Fee
Planet Fitness
Valley Forge
PA
Join Planet Fitness with a PF BLACK CARD® MEMBERSHIP for No Enrollment Fee, No Commitment, and No Annual Fee
Planet Fitness
Philadelphia
PA
Join Planet Fitness with a PF BLACK CARD® MEMBERSHIP for No Enrollment Fee, No Commitment, and No Annual Fee
Planet Fitness
Philadelphia
PA
Join Planet Fitness with a PF BLACK CARD® MEMBERSHIP for No Enrollment Fee, No Commitment, and No Annual Fee
Planet Fitness
Philadelphia
PA
Join Planet Fitness with a PF BLACK CARD® MEMBERSHIP for No Enrollment Fee, No Commitment, and No Annual Fee
Planet Fitness
Souderton
PA
Join Planet Fitness with a PF BLACK CARD® MEMBERSHIP for No Enrollment Fee, No Commitment, and No Annual Fee
Planet Fitness
Montgomeryville
PA
Join Planet Fitness with a PF BLACK CARD® MEMBERSHIP for No Enrollment Fee, No Commitment, and No Annual Fee
Planet Fitness
Flourtown
PA
Join Planet Fitness with a PF BLACK CARD® MEMBERSHIP for No Enrollment Fee, No Commitment, and No Annual Fee
Planet Fitness
Drexel Hill
PA
Join Planet Fitness with a PF BLACK CARD® MEMBERSHIP for No Enrollment Fee, No Commitment, and No Annual Fee
Planet Fitness
Warminster
PA
Join Planet Fitness with a PF BLACK CARD® MEMBERSHIP for No Enrollment Fee, No Commitment, and No Annual Fee
Planet Fitness
Philadelphia
PA
Join Planet Fitness with a PF BLACK CARD® MEMBERSHIP for No Enrollment Fee, No Commitment, and No Annual Fee
Planet Fitness
Philadelphia
PA
Join Planet Fitness with a PF BLACK CARD® MEMBERSHIP for No Enrollment Fee, No Commitment, and No Annual Fee
Planet Fitness
Scottsdale
AZ
Join Planet Fitness with a Classic Membership for No Enrollment Fee and No Commitment
Planet Fitness
Chandler
AZ
Join Planet Fitness with a Classic Membership for No Enrollment Fee and No Commitment
Planet Fitness
Buckeye
AZ
Join Planet Fitness with a Classic Membership for No Enrollment Fee and No Commitment
Planet Fitness
Tempe
AZ
Join Planet Fitness with a Classic Membership for No Enrollment Fee and No Commitment
Planet Fitness
Chandler
AZ
Join Planet Fitness with a Classic Membership for No Enrollment Fee and No Commitment
Planet Fitness
Surprise
AZ
Join Planet Fitness with a Classic Membership for No Enrollment Fee and No Commitment
Planet Fitness
Phoenix
AZ
Join Planet Fitness with a Classic Membership for No Enrollment Fee and No Commitment
Planet Fitness
Cottonwood
AZ
Join Planet Fitness with a Classic Membership for No Enrollment Fee and No Commitment
Planet Fitness
Prescott
AZ
Join Planet Fitness with a Classic Membership for No Enrollment Fee and No Commitment
Planet Fitness
Avondale
AZ
Join Planet Fitness with a Classic Membership for No Enrollment Fee and No Commitment
Planet Fitness
Maricopa
AZ
Join Planet Fitness with a Classic Membership for No Enrollment Fee and No Commitment
Planet Fitness
Peoria
AZ
Join Planet Fitness with a Classic Membership for No Enrollment Fee and No Commitment
Planet Fitness
Queen Creek
AZ
Join Planet Fitness with a Classic Membership for No Enrollment Fee and No Commitment
Planet Fitness
Mesa
AZ
Join Planet Fitness with a Classic Membership for No Enrollment Fee and No Commitment
Planet Fitness
Chandler
AZ
Join Planet Fitness with a Classic Membership for No Enrollment Fee and No Commitment
Planet Fitness
Apache Junction
AZ
Join Planet Fitness with a Classic Membership for No Enrollment Fee and No Commitment
Planet Fitness
Tempe
AZ
Join Planet Fitness with a Classic Membership for No Enrollment Fee and No Commitment
Planet Fitness
Phoenix
AZ
Join Planet Fitness with a Classic Membership for No Enrollment Fee and No Commitment
Planet Fitness
Phoenix
AZ
Join Planet Fitness with a Classic Membership for No Enrollment Fee and No Commitment
Planet Fitness
Phoenix
AZ
Join Planet Fitness with a Classic Membership for No Enrollment Fee and No Commitment
Planet Fitness
Phoenix
AZ
Join Planet Fitness with a Classic Membership for No Enrollment Fee and No Commitment
Planet Fitness
Phoenix
AZ
Join Planet Fitness with a Classic Membership for No Enrollment Fee and No Commitment
Planet Fitness
Phoenix
AZ
Join Planet Fitness with a Classic Membership for No Enrollment Fee and No Commitment
Planet Fitness
Glendale
AZ
Join Planet Fitness with a Classic Membership for No Enrollment Fee and No Commitment
Planet Fitness
Goodyear
AZ
Join Planet Fitness with a Classic Membership for No Enrollment Fee and No Commitment
Planet Fitness
Phoenix
AZ
Join Planet Fitness with a Classic Membership for No Enrollment Fee and No Commitment
Planet Fitness
Peoria
AZ
Join Planet Fitness with a Classic Membership for No Enrollment Fee and No Commitment
Planet Fitness
Phoenix
AZ
Join Planet Fitness with a Classic Membership for No Enrollment Fee and No Commitment
Planet Fitness
Mesa
AZ
Join Planet Fitness with a Classic Membership for No Enrollment Fee and No Commitment
Planet Fitness
Gilbert
AZ
Join Planet Fitness with a Classic Membership for No Enrollment Fee and No Commitment
Planet Fitness
Phoenix
AZ
Join Planet Fitness with a Classic Membership for No Enrollment Fee and No Commitment
Planet Fitness
Casa Grande
AZ
Join Planet Fitness with a Classic Membership for No Enrollment Fee and No Commitment
Planet Fitness
Scottsdale
AZ
Join Planet Fitness with a PF BLACK CARD® MEMBERSHIP for No Enrollment Fee, No Commitment, and No Annual Fee
Planet Fitness
Chandler
AZ
Join Planet Fitness with a PF BLACK CARD® MEMBERSHIP for No Enrollment Fee, No Commitment, and No Annual Fee
Planet Fitness
Buckeye
AZ
Join Planet Fitness with a PF BLACK CARD® MEMBERSHIP for No Enrollment Fee, No Commitment, and No Annual Fee
Planet Fitness
Tempe
AZ
Join Planet Fitness with a PF BLACK CARD® MEMBERSHIP for No Enrollment Fee, No Commitment, and No Annual Fee
Planet Fitness
Chandler
AZ
Join Planet Fitness with a PF BLACK CARD® MEMBERSHIP for No Enrollment Fee, No Commitment, and No Annual Fee
Planet Fitness
Surprise
AZ
Join Planet Fitness with a PF BLACK CARD® MEMBERSHIP for No Enrollment Fee, No Commitment, and No Annual Fee
Planet Fitness
Phoenix
AZ
Join Planet Fitness with a PF BLACK CARD® MEMBERSHIP for No Enrollment Fee, No Commitment, and No Annual Fee
Planet Fitness
Cottonwood
AZ
Join Planet Fitness with a PF BLACK CARD® MEMBERSHIP for No Enrollment Fee, No Commitment, and No Annual Fee
Planet Fitness
Prescott
AZ
Join Planet Fitness with a PF BLACK CARD® MEMBERSHIP for No Enrollment Fee, No Commitment, and No Annual Fee
Planet Fitness
Avondale
AZ
Join Planet Fitness with a PF BLACK CARD® MEMBERSHIP for No Enrollment Fee, No Commitment, and No Annual Fee
Planet Fitness
Maricopa
AZ
Join Planet Fitness with a PF BLACK CARD® MEMBERSHIP for No Enrollment Fee, No Commitment, and No Annual Fee
Planet Fitness
Peoria
AZ
Join Planet Fitness with a PF BLACK CARD® MEMBERSHIP for No Enrollment Fee, No Commitment, and No Annual Fee
Planet Fitness
Queen Creek
AZ
Join Planet Fitness with a PF BLACK CARD® MEMBERSHIP for No Enrollment Fee, No Commitment, and No Annual Fee
Planet Fitness
Mesa
AZ
Join Planet Fitness with a PF BLACK CARD® MEMBERSHIP for No Enrollment Fee, No Commitment, and No Annual Fee
Planet Fitness
Chandler
AZ
Join Planet Fitness with a PF BLACK CARD® MEMBERSHIP for No Enrollment Fee, No Commitment, and No Annual Fee
Planet Fitness
Apache Junction
AZ
Join Planet Fitness with a PF BLACK CARD® MEMBERSHIP for No Enrollment Fee, No Commitment, and No Annual Fee
Planet Fitness
Tempe
AZ
Join Planet Fitness with a PF BLACK CARD® MEMBERSHIP for No Enrollment Fee, No Commitment, and No Annual Fee
Planet Fitness
Phoenix
AZ
Join Planet Fitness with a PF BLACK CARD® MEMBERSHIP for No Enrollment Fee, No Commitment, and No Annual Fee
Planet Fitness
Phoenix
AZ
Join Planet Fitness with a PF BLACK CARD® MEMBERSHIP for No Enrollment Fee, No Commitment, and No Annual Fee
Planet Fitness
Phoenix
AZ
Join Planet Fitness with a PF BLACK CARD® MEMBERSHIP for No Enrollment Fee, No Commitment, and No Annual Fee
Planet Fitness
Phoenix
AZ
Join Planet Fitness with a PF BLACK CARD® MEMBERSHIP for No Enrollment Fee, No Commitment, and No Annual Fee
Planet Fitness
Phoenix
AZ
Join Planet Fitness with a PF BLACK CARD® MEMBERSHIP for No Enrollment Fee, No Commitment, and No Annual Fee
Planet Fitness
Phoenix
AZ
Join Planet Fitness with a PF BLACK CARD® MEMBERSHIP for No Enrollment Fee, No Commitment, and No Annual Fee
Planet Fitness
Glendale
AZ
Join Planet Fitness with a PF BLACK CARD® MEMBERSHIP for No Enrollment Fee, No Commitment, and No Annual Fee
Planet Fitness
Goodyear
AZ
Join Planet Fitness with a PF BLACK CARD® MEMBERSHIP for No Enrollment Fee, No Commitment, and No Annual Fee
Planet Fitness
Phoenix
AZ
Join Planet Fitness with a PF BLACK CARD® MEMBERSHIP for No Enrollment Fee, No Commitment, and No Annual Fee
Planet Fitness
Peoria
AZ
Join Planet Fitness with a PF BLACK CARD® MEMBERSHIP for No Enrollment Fee, No Commitment, and No Annual Fee
Planet Fitness
Phoenix
AZ
Join Planet Fitness with a PF BLACK CARD® MEMBERSHIP for No Enrollment Fee, No Commitment, and No Annual Fee
Planet Fitness
Mesa
AZ
Join Planet Fitness with a PF BLACK CARD® MEMBERSHIP for No Enrollment Fee, No Commitment, and No Annual Fee
Planet Fitness
Gilbert
AZ
Join Planet Fitness with a PF BLACK CARD® MEMBERSHIP for No Enrollment Fee, No Commitment, and No Annual Fee
Planet Fitness
Phoenix
AZ
Join Planet Fitness with a PF BLACK CARD® MEMBERSHIP for No Enrollment Fee, No Commitment, and No Annual Fee
Planet Fitness
Casa Grande
AZ
Join Planet Fitness with a PF BLACK CARD® MEMBERSHIP for No Enrollment Fee, No Commitment, and No Annual Fee
Planet Fitness
Latrobe
PA
Join Planet Fitness with a Classic Membership for No Enrollment Fee and No Commitment
Planet Fitness
Bridgeville
PA
Join Planet Fitness with a Classic Membership for No Enrollment Fee and No Commitment
Planet Fitness
Penn Hills
PA
Join Planet Fitness with a Classic Membership for No Enrollment Fee and No Commitment
Planet Fitness
North Huntingdon
PA
Join Planet Fitness with a Classic Membership for No Enrollment Fee and No Commitment
Planet Fitness
Butler
PA
Join Planet Fitness with a Classic Membership for No Enrollment Fee and No Commitment
Planet Fitness
Natrona Heights
PA
Join Planet Fitness with a Classic Membership for No Enrollment Fee and No Commitment
Planet Fitness
Monaca
PA
Join Planet Fitness with a Classic Membership for No Enrollment Fee and No Commitment
Planet Fitness
Mt. Pleasant
PA
Join Planet Fitness with a Classic Membership for No Enrollment Fee and No Commitment
Planet Fitness
Castle Shannon
PA
Join Planet Fitness with a Classic Membership for No Enrollment Fee and No Commitment
Planet Fitness
North Versailles
PA
Join Planet Fitness with a Classic Membership for No Enrollment Fee and No Commitment
Planet Fitness
Cranberry Township
PA
Join Planet Fitness with a Classic Membership for No Enrollment Fee and No Commitment
Planet Fitness
Hampton
PA
Join Planet Fitness with a Classic Membership for No Enrollment Fee and No Commitment
Planet Fitness
Greensburg
PA
Join Planet Fitness with a Classic Membership for No Enrollment Fee and No Commitment
Planet Fitness
Bethel Park
PA
Join Planet Fitness with a Classic Membership for No Enrollment Fee and No Commitment
Planet Fitness
Uniontown
PA
Join Planet Fitness with a Classic Membership for No Enrollment Fee and No Commitment
Planet Fitness
Rostraver
PA
Join Planet Fitness with a Classic Membership for No Enrollment Fee and No Commitment
Planet Fitness
Washington, Pa
PA
Join Planet Fitness with a Classic Membership for No Enrollment Fee and No Commitment
Planet Fitness
West Mifflin
PA
Join Planet Fitness with a Classic Membership for No Enrollment Fee and No Commitment
Planet Fitness
Pittsburgh
PA
Join Planet Fitness with a Classic Membership for No Enrollment Fee and No Commitment
Planet Fitness
Latrobe
PA
Join Planet Fitness with a PF BLACK CARD® MEMBERSHIP for No Enrollment Fee, No Commitment, and No Annual Fee
Planet Fitness
Bridgeville
PA
Join Planet Fitness with a PF BLACK CARD® MEMBERSHIP for No Enrollment Fee, No Commitment, and No Annual Fee
Planet Fitness
Penn Hills
PA
Join Planet Fitness with a PF BLACK CARD® MEMBERSHIP for No Enrollment Fee, No Commitment, and No Annual Fee
Planet Fitness
North Huntingdon
PA
Join Planet Fitness with a PF BLACK CARD® MEMBERSHIP for No Enrollment Fee, No Commitment, and No Annual Fee
Planet Fitness
Butler
PA
Join Planet Fitness with a PF BLACK CARD® MEMBERSHIP for No Enrollment Fee, No Commitment, and No Annual Fee
Planet Fitness
Natrona Heights
PA
Join Planet Fitness with a PF BLACK CARD® MEMBERSHIP for No Enrollment Fee, No Commitment, and No Annual Fee
Planet Fitness
Monaca
PA
Join Planet Fitness with a PF BLACK CARD® MEMBERSHIP for No Enrollment Fee, No Commitment, and No Annual Fee
Planet Fitness
Mt. Pleasant
PA
Join Planet Fitness with a PF BLACK CARD® MEMBERSHIP for No Enrollment Fee, No Commitment, and No Annual Fee
Planet Fitness
Castle Shannon
PA
Join Planet Fitness with a PF BLACK CARD® MEMBERSHIP for No Enrollment Fee, No Commitment, and No Annual Fee
Planet Fitness
North Versailles
PA
Join Planet Fitness with a PF BLACK CARD® MEMBERSHIP for No Enrollment Fee, No Commitment, and No Annual Fee
Planet Fitness
Cranberry Township
PA
Join Planet Fitness with a PF BLACK CARD® MEMBERSHIP for No Enrollment Fee, No Commitment, and No Annual Fee
Planet Fitness
Hampton
PA
Join Planet Fitness with a PF BLACK CARD® MEMBERSHIP for No Enrollment Fee, No Commitment, and No Annual Fee
Planet Fitness
Greensburg
PA
Join Planet Fitness with a PF BLACK CARD® MEMBERSHIP for No Enrollment Fee, No Commitment, and No Annual Fee
Planet Fitness
Bethel Park
PA
Join Planet Fitness with a PF BLACK CARD® MEMBERSHIP for No Enrollment Fee, No Commitment, and No Annual Fee
Planet Fitness
Uniontown
PA
Join Planet Fitness with a PF BLACK CARD® MEMBERSHIP for No Enrollment Fee, No Commitment, and No Annual Fee
Planet Fitness
Rostraver
PA
Join Planet Fitness with a PF BLACK CARD® MEMBERSHIP for No Enrollment Fee, No Commitment, and No Annual Fee
Planet Fitness
Washington, Pa
PA
Join Planet Fitness with a PF BLACK CARD® MEMBERSHIP for No Enrollment Fee, No Commitment, and No Annual Fee
Planet Fitness
West Mifflin
PA
Join Planet Fitness with a PF BLACK CARD® MEMBERSHIP for No Enrollment Fee, No Commitment, and No Annual Fee
Planet Fitness
Pittsburgh
PA
Join Planet Fitness with a PF BLACK CARD® MEMBERSHIP for No Enrollment Fee, No Commitment, and No Annual Fee
Planet Fitness
Warwick
RI
Join Planet Fitness with a Classic Membership for No Enrollment Fee and No Commitment
Planet Fitness
Johnston
RI
Join Planet Fitness with a Classic Membership for No Enrollment Fee and No Commitment
Planet Fitness
Woonsocket, Ri
RI
Join Planet Fitness with a Classic Membership for No Enrollment Fee and No Commitment
Planet Fitness
North Smithfield
RI
Join Planet Fitness with a Classic Membership for No Enrollment Fee and No Commitment
Planet Fitness
Cumberland
RI
Join Planet Fitness with a Classic Membership for No Enrollment Fee and No Commitment
Planet Fitness
Cranston
RI
Join Planet Fitness with a Classic Membership for No Enrollment Fee and No Commitment
Planet Fitness
North Providence
RI
Join Planet Fitness with a Classic Membership for No Enrollment Fee and No Commitment
Planet Fitness
Middletown
RI
Join Planet Fitness with a Classic Membership for No Enrollment Fee and No Commitment
Planet Fitness
Pawtucket
RI
Join Planet Fitness with a Classic Membership for No Enrollment Fee and No Commitment
Planet Fitness
Providence
RI
Join Planet Fitness with a Classic Membership for No Enrollment Fee and No Commitment
Planet Fitness
North Kingstown
RI
Join Planet Fitness with a Classic Membership for No Enrollment Fee and No Commitment
Planet Fitness
Smithfield
RI
Join Planet Fitness with a Classic Membership for No Enrollment Fee and No Commitment
Planet Fitness
Pawtucket
RI
Join Planet Fitness with a Classic Membership for No Enrollment Fee and No Commitment
Planet Fitness
Warwick
RI
Join Planet Fitness with a Classic Membership for No Enrollment Fee and No Commitment
Planet Fitness
Coventry
RI
Join Planet Fitness with a Classic Membership for No Enrollment Fee and No Commitment
Planet Fitness
Warwick
RI
Join Planet Fitness with a PF BLACK CARD® MEMBERSHIP for No Enrollment Fee, No Commitment, and No Annual Fee
Planet Fitness
Johnston
RI
Join Planet Fitness with a PF BLACK CARD® MEMBERSHIP for No Enrollment Fee, No Commitment, and No Annual Fee
Planet Fitness
Woonsocket, Ri
RI
Join Planet Fitness with a PF BLACK CARD® MEMBERSHIP for No Enrollment Fee, No Commitment, and No Annual Fee
Planet Fitness
North Smithfield
RI
Join Planet Fitness with a PF BLACK CARD® MEMBERSHIP for No Enrollment Fee, No Commitment, and No Annual Fee
Planet Fitness
Cumberland
RI
Join Planet Fitness with a PF BLACK CARD® MEMBERSHIP for No Enrollment Fee, No Commitment, and No Annual Fee
Planet Fitness
Cranston
RI
Join Planet Fitness with a PF BLACK CARD® MEMBERSHIP for No Enrollment Fee, No Commitment, and No Annual Fee
Planet Fitness
North Providence
RI
Join Planet Fitness with a PF BLACK CARD® MEMBERSHIP for No Enrollment Fee, No Commitment, and No Annual Fee
Planet Fitness
Middletown
RI
Join Planet Fitness with a PF BLACK CARD® MEMBERSHIP for No Enrollment Fee, No Commitment, and No Annual Fee
Planet Fitness
Pawtucket
RI
Join Planet Fitness with a PF BLACK CARD® MEMBERSHIP for No Enrollment Fee, No Commitment, and No Annual Fee
Planet Fitness
Providence
RI
Join Planet Fitness with a PF BLACK CARD® MEMBERSHIP for No Enrollment Fee, No Commitment, and No Annual Fee
Planet Fitness
North Kingstown
RI
Join Planet Fitness with a PF BLACK CARD® MEMBERSHIP for No Enrollment Fee, No Commitment, and No Annual Fee
Planet Fitness
Smithfield
RI
Join Planet Fitness with a PF BLACK CARD® MEMBERSHIP for No Enrollment Fee, No Commitment, and No Annual Fee
Planet Fitness
Pawtucket
RI
Join Planet Fitness with a PF BLACK CARD® MEMBERSHIP for No Enrollment Fee, No Commitment, and No Annual Fee
Planet Fitness
Warwick
RI
Join Planet Fitness with a PF BLACK CARD® MEMBERSHIP for No Enrollment Fee, No Commitment, and No Annual Fee
Planet Fitness
Coventry
RI
Join Planet Fitness with a PF BLACK CARD® MEMBERSHIP for No Enrollment Fee, No Commitment, and No Annual Fee
Planet Fitness
San Juan
PR
Join Planet Fitness with a Classic Membership for No Enrollment Fee and No Commitment
Planet Fitness
Caguas
PR
Join Planet Fitness with a Classic Membership for No Enrollment Fee and No Commitment
Planet Fitness
Carolina
PR
Join Planet Fitness with a Classic Membership for No Enrollment Fee and No Commitment
Planet Fitness
Ponce
PR
Join Planet Fitness with a Classic Membership for No Enrollment Fee and No Commitment
Planet Fitness
Manati
PR
Join Planet Fitness with a Classic Membership for No Enrollment Fee and No Commitment
Planet Fitness
Las Piedras
PR
Join Planet Fitness with a Classic Membership for No Enrollment Fee and No Commitment
Planet Fitness
San Juan
PR
Join Planet Fitness with a Classic Membership for No Enrollment Fee and No Commitment
Planet Fitness
Hatillo
PR
Join Planet Fitness with a Classic Membership for No Enrollment Fee and No Commitment
Planet Fitness
Carolina
PR
Join Planet Fitness with a Classic Membership for No Enrollment Fee and No Commitment
Planet Fitness
Guaynabo
PR
Join Planet Fitness with a Classic Membership for No Enrollment Fee and No Commitment
Planet Fitness
Rexville
PR
Join Planet Fitness with a Classic Membership for No Enrollment Fee and No Commitment
Planet Fitness
Bayamon Oeste
PR
Join Planet Fitness with a Classic Membership for No Enrollment Fee and No Commitment
Planet Fitness
San Juan
PR
Join Planet Fitness with a PF BLACK CARD® MEMBERSHIP for No Enrollment Fee, No Commitment, and No Annual Fee
Planet Fitness
Caguas
PR
Join Planet Fitness with a PF BLACK CARD® MEMBERSHIP for No Enrollment Fee, No Commitment, and No Annual Fee
Planet Fitness
Carolina
PR
Join Planet Fitness with a PF BLACK CARD® MEMBERSHIP for No Enrollment Fee, No Commitment, and No Annual Fee
Planet Fitness
Ponce
PR
Join Planet Fitness with a PF BLACK CARD® MEMBERSHIP for No Enrollment Fee, No Commitment, and No Annual Fee
Planet Fitness
Manati
PR
Join Planet Fitness with a PF BLACK CARD® MEMBERSHIP for No Enrollment Fee, No Commitment, and No Annual Fee
Planet Fitness
Las Piedras
PR
Join Planet Fitness with a PF BLACK CARD® MEMBERSHIP for No Enrollment Fee, No Commitment, and No Annual Fee
Planet Fitness
San Juan
PR
Join Planet Fitness with a PF BLACK CARD® MEMBERSHIP for No Enrollment Fee, No Commitment, and No Annual Fee
Planet Fitness
Hatillo
PR
Join Planet Fitness with a PF BLACK CARD® MEMBERSHIP for No Enrollment Fee, No Commitment, and No Annual Fee
Planet Fitness
Carolina
PR
Join Planet Fitness with a PF BLACK CARD® MEMBERSHIP for No Enrollment Fee, No Commitment, and No Annual Fee
Planet Fitness
Guaynabo
PR
Join Planet Fitness with a PF BLACK CARD® MEMBERSHIP for No Enrollment Fee, No Commitment, and No Annual Fee
Planet Fitness
Rexville
PR
Join Planet Fitness with a PF BLACK CARD® MEMBERSHIP for No Enrollment Fee, No Commitment, and No Annual Fee
Planet Fitness
Bayamon Oeste
PR
Join Planet Fitness with a PF BLACK CARD® MEMBERSHIP for No Enrollment Fee, No Commitment, and No Annual Fee
Planet Fitness
Bonney Lake
WA
Join Planet Fitness with a Classic Membership for No Enrollment Fee and No Commitment
Planet Fitness
Tacoma
WA
Join Planet Fitness with a Classic Membership for No Enrollment Fee and No Commitment
Planet Fitness
Puyallup
WA
Join Planet Fitness with a Classic Membership for No Enrollment Fee and No Commitment
Planet Fitness
University Place
WA
Join Planet Fitness with a Classic Membership for No Enrollment Fee and No Commitment
Planet Fitness
Lacey
WA
Join Planet Fitness with a Classic Membership for No Enrollment Fee and No Commitment
Planet Fitness
Tacoma
WA
Join Planet Fitness with a Classic Membership for No Enrollment Fee and No Commitment
Planet Fitness
Tacoma
WA
Join Planet Fitness with a Classic Membership for No Enrollment Fee and No Commitment
Planet Fitness
Bonney Lake
WA
Join Planet Fitness with a PF BLACK CARD® MEMBERSHIP for No Enrollment Fee, No Commitment, and No Annual Fee
Planet Fitness
Tacoma
WA
Join Planet Fitness with a PF BLACK CARD® MEMBERSHIP for No Enrollment Fee, No Commitment, and No Annual Fee
Planet Fitness
Puyallup
WA
Join Planet Fitness with a PF BLACK CARD® MEMBERSHIP for No Enrollment Fee, No Commitment, and No Annual Fee
Planet Fitness
University Place
WA
Join Planet Fitness with a PF BLACK CARD® MEMBERSHIP for No Enrollment Fee, No Commitment, and No Annual Fee
Planet Fitness
Lacey
WA
Join Planet Fitness with a PF BLACK CARD® MEMBERSHIP for No Enrollment Fee, No Commitment, and No Annual Fee
Planet Fitness
Tacoma
WA
Join Planet Fitness with a PF BLACK CARD® MEMBERSHIP for No Enrollment Fee, No Commitment, and No Annual Fee
Planet Fitness
Tacoma
WA
Join Planet Fitness with a PF BLACK CARD® MEMBERSHIP for No Enrollment Fee, No Commitment, and No Annual Fee
Planet Fitness
Durham
NC
Join Planet Fitness with a Classic Membership for No Enrollment Fee and No Commitment
Planet Fitness
Rocky Mount
NC
Join Planet Fitness with a Classic Membership for No Enrollment Fee and No Commitment
Planet Fitness
Fuquay Varina
NC
Join Planet Fitness with a Classic Membership for No Enrollment Fee and No Commitment
Planet Fitness
Hillsborough
NC
Join Planet Fitness with a Classic Membership for No Enrollment Fee and No Commitment
Planet Fitness
Durham
NC
Join Planet Fitness with a Classic Membership for No Enrollment Fee and No Commitment
Planet Fitness
Garner
NC
Join Planet Fitness with a Classic Membership for No Enrollment Fee and No Commitment
Planet Fitness
Knightdale
NC
Join Planet Fitness with a Classic Membership for No Enrollment Fee and No Commitment
Planet Fitness
Goldsboro
NC
Join Planet Fitness with a Classic Membership for No Enrollment Fee and No Commitment
Planet Fitness
Chapel Hill
NC
Join Planet Fitness with a Classic Membership for No Enrollment Fee and No Commitment
Planet Fitness
Wilson
NC
Join Planet Fitness with a Classic Membership for No Enrollment Fee and No Commitment
Planet Fitness
Holly Springs
NC
Join Planet Fitness with a Classic Membership for No Enrollment Fee and No Commitment
Planet Fitness
Raleigh
NC
Join Planet Fitness with a Classic Membership for No Enrollment Fee and No Commitment
Planet Fitness
Raleigh
NC
Join Planet Fitness with a Classic Membership for No Enrollment Fee and No Commitment
Planet Fitness
Cary
NC
Join Planet Fitness with a Classic Membership for No Enrollment Fee and No Commitment
Planet Fitness
Raleigh
NC
Join Planet Fitness with a Classic Membership for No Enrollment Fee and No Commitment
Planet Fitness
Raleigh
NC
Join Planet Fitness with a Classic Membership for No Enrollment Fee and No Commitment
Planet Fitness
Durham
NC
Join Planet Fitness with a PF BLACK CARD® MEMBERSHIP for No Enrollment Fee, No Commitment, and No Annual Fee
Planet Fitness
Rocky Mount
NC
Join Planet Fitness with a PF BLACK CARD® MEMBERSHIP for No Enrollment Fee, No Commitment, and No Annual Fee
Planet Fitness
Fuquay Varina
NC
Join Planet Fitness with a PF BLACK CARD® MEMBERSHIP for No Enrollment Fee, No Commitment, and No Annual Fee
Planet Fitness
Hillsborough
NC
Join Planet Fitness with a PF BLACK CARD® MEMBERSHIP for No Enrollment Fee, No Commitment, and No Annual Fee
Planet Fitness
Durham
NC
Join Planet Fitness with a PF BLACK CARD® MEMBERSHIP for No Enrollment Fee, No Commitment, and No Annual Fee
Planet Fitness
Garner
NC
Join Planet Fitness with a PF BLACK CARD® MEMBERSHIP for No Enrollment Fee, No Commitment, and No Annual Fee
Planet Fitness
Knightdale
NC
Join Planet Fitness with a PF BLACK CARD® MEMBERSHIP for No Enrollment Fee, No Commitment, and No Annual Fee
Planet Fitness
Goldsboro
NC
Join Planet Fitness with a PF BLACK CARD® MEMBERSHIP for No Enrollment Fee, No Commitment, and No Annual Fee
Planet Fitness
Chapel Hill
NC
Join Planet Fitness with a PF BLACK CARD® MEMBERSHIP for No Enrollment Fee, No Commitment, and No Annual Fee
Planet Fitness
Wilson
NC
Join Planet Fitness with a PF BLACK CARD® MEMBERSHIP for No Enrollment Fee, No Commitment, and No Annual Fee
Planet Fitness
Holly Springs
NC
Join Planet Fitness with a PF BLACK CARD® MEMBERSHIP for No Enrollment Fee, No Commitment, and No Annual Fee
Planet Fitness
Raleigh
NC
Join Planet Fitness with a PF BLACK CARD® MEMBERSHIP for No Enrollment Fee, No Commitment, and No Annual Fee
Planet Fitness
Raleigh
NC
Join Planet Fitness with a PF BLACK CARD® MEMBERSHIP for No Enrollment Fee, No Commitment, and No Annual Fee
Planet Fitness
Cary
NC
Join Planet Fitness with a PF BLACK CARD® MEMBERSHIP for No Enrollment Fee, No Commitment, and No Annual Fee
Planet Fitness
Raleigh
NC
Join Planet Fitness with a PF BLACK CARD® MEMBERSHIP for No Enrollment Fee, No Commitment, and No Annual Fee
Planet Fitness
Raleigh
NC
Join Planet Fitness with a PF BLACK CARD® MEMBERSHIP for No Enrollment Fee, No Commitment, and No Annual Fee
Planet Fitness
Reno
NV
Join Planet Fitness with a Classic Membership for No Enrollment Fee and No Commitment
Planet Fitness
Sparks
NV
Join Planet Fitness with a Classic Membership for No Enrollment Fee and No Commitment
Planet Fitness
Reno
NV
Join Planet Fitness with a PF BLACK CARD® MEMBERSHIP for No Enrollment Fee, No Commitment, and No Annual Fee
Planet Fitness
Sparks
NV
Join Planet Fitness with a PF BLACK CARD® MEMBERSHIP for No Enrollment Fee, No Commitment, and No Annual Fee
Planet Fitness
Richmond
VA
Join Planet Fitness with a Classic Membership for No Enrollment Fee and No Commitment
Planet Fitness
Midlothian
VA
Join Planet Fitness with a Classic Membership for No Enrollment Fee and No Commitment
Planet Fitness
Colonial Heights
VA
Join Planet Fitness with a Classic Membership for No Enrollment Fee and No Commitment
Planet Fitness
Richmond
VA
Join Planet Fitness with a Classic Membership for No Enrollment Fee and No Commitment
Planet Fitness
Richmond
VA
Join Planet Fitness with a Classic Membership for No Enrollment Fee and No Commitment
Planet Fitness
Richmond
VA
Join Planet Fitness with a PF BLACK CARD® MEMBERSHIP for No Enrollment Fee, No Commitment, and No Annual Fee
Planet Fitness
Midlothian
VA
Join Planet Fitness with a PF BLACK CARD® MEMBERSHIP for No Enrollment Fee, No Commitment, and No Annual Fee
Planet Fitness
Colonial Heights
VA
Join Planet Fitness with a PF BLACK CARD® MEMBERSHIP for No Enrollment Fee, No Commitment, and No Annual Fee
Planet Fitness
Richmond
VA
Join Planet Fitness with a PF BLACK CARD® MEMBERSHIP for No Enrollment Fee, No Commitment, and No Annual Fee
Planet Fitness
Richmond
VA
Join Planet Fitness with a PF BLACK CARD® MEMBERSHIP for No Enrollment Fee, No Commitment, and No Annual Fee
Planet Fitness
Penfield
NY
Join Planet Fitness with a Classic Membership for No Enrollment Fee and No Commitment
Planet Fitness
Irondequoit
NY
Join Planet Fitness with a Classic Membership for No Enrollment Fee and No Commitment
Planet Fitness
Webster
NY
Join Planet Fitness with a Classic Membership for No Enrollment Fee and No Commitment
Planet Fitness
Henrietta
NY
Join Planet Fitness with a Classic Membership for No Enrollment Fee and No Commitment
Planet Fitness
Greece
NY
Join Planet Fitness with a Classic Membership for No Enrollment Fee and No Commitment
Planet Fitness
Victor
NY
Join Planet Fitness with a Classic Membership for No Enrollment Fee and No Commitment
Planet Fitness
Gates
NY
Join Planet Fitness with a Classic Membership for No Enrollment Fee and No Commitment
Planet Fitness
Penfield
NY
Join Planet Fitness with a PF BLACK CARD® MEMBERSHIP for No Enrollment Fee, No Commitment, and No Annual Fee
Planet Fitness
Irondequoit
NY
Join Planet Fitness with a PF BLACK CARD® MEMBERSHIP for No Enrollment Fee, No Commitment, and No Annual Fee
Planet Fitness
Webster
NY
Join Planet Fitness with a PF BLACK CARD® MEMBERSHIP for No Enrollment Fee, No Commitment, and No Annual Fee
Planet Fitness
Henrietta
NY
Join Planet Fitness with a PF BLACK CARD® MEMBERSHIP for No Enrollment Fee, No Commitment, and No Annual Fee
Planet Fitness
Greece
NY
Join Planet Fitness with a PF BLACK CARD® MEMBERSHIP for No Enrollment Fee, No Commitment, and No Annual Fee
Planet Fitness
Victor
NY
Join Planet Fitness with a PF BLACK CARD® MEMBERSHIP for No Enrollment Fee, No Commitment, and No Annual Fee
Planet Fitness
Gates
NY
Join Planet Fitness with a PF BLACK CARD® MEMBERSHIP for No Enrollment Fee, No Commitment, and No Annual Fee
Planet Fitness
Stockton
CA
Join Planet Fitness with a Classic Membership for No Enrollment Fee and No Commitment
Planet Fitness
Rancho Cordova
CA
Join Planet Fitness with a Classic Membership for No Enrollment Fee and No Commitment
Planet Fitness
Stockton
CA
Join Planet Fitness with a Classic Membership for No Enrollment Fee and No Commitment
Planet Fitness
Turlock
CA
Join Planet Fitness with a Classic Membership for No Enrollment Fee and No Commitment
Planet Fitness
Vacaville
CA
Join Planet Fitness with a Classic Membership for No Enrollment Fee and No Commitment
Planet Fitness
Modesto West
CA
Join Planet Fitness with a Classic Membership for No Enrollment Fee and No Commitment
Planet Fitness
Sacramento
CA
Join Planet Fitness with a Classic Membership for No Enrollment Fee and No Commitment
Planet Fitness
Modesto East
CA
Join Planet Fitness with a Classic Membership for No Enrollment Fee and No Commitment
Planet Fitness
Fairfield
CA
Join Planet Fitness with a Classic Membership for No Enrollment Fee and No Commitment
Planet Fitness
Ceres
CA
Join Planet Fitness with a Classic Membership for No Enrollment Fee and No Commitment
Planet Fitness
Vallejo
CA
Join Planet Fitness with a Classic Membership for No Enrollment Fee and No Commitment
Planet Fitness
Fair Oaks
CA
Join Planet Fitness with a Classic Membership for No Enrollment Fee and No Commitment
Planet Fitness
Sacramento
CA
Join Planet Fitness with a Classic Membership for No Enrollment Fee and No Commitment
Planet Fitness
Lodi
CA
Join Planet Fitness with a Classic Membership for No Enrollment Fee and No Commitment
Planet Fitness
North Highlands
CA
Join Planet Fitness with a Classic Membership for No Enrollment Fee and No Commitment
Planet Fitness
Sacramento
CA
Join Planet Fitness with a Classic Membership for No Enrollment Fee and No Commitment
Planet Fitness
Rocklin
CA
Join Planet Fitness with a Classic Membership for No Enrollment Fee and No Commitment
Planet Fitness
Citrus Heights
CA
Join Planet Fitness with a Classic Membership for No Enrollment Fee and No Commitment
Planet Fitness
Yuba City
CA
Join Planet Fitness with a Classic Membership for No Enrollment Fee and No Commitment
Planet Fitness
Stockton
CA
Join Planet Fitness with a PF BLACK CARD® MEMBERSHIP for No Enrollment Fee, No Commitment, and No Annual Fee
Planet Fitness
Rancho Cordova
CA
Join Planet Fitness with a PF BLACK CARD® MEMBERSHIP for No Enrollment Fee, No Commitment, and No Annual Fee
Planet Fitness
Stockton
CA
Join Planet Fitness with a PF BLACK CARD® MEMBERSHIP for No Enrollment Fee, No Commitment, and No Annual Fee
Planet Fitness
Turlock
CA
Join Planet Fitness with a PF BLACK CARD® MEMBERSHIP for No Enrollment Fee, No Commitment, and No Annual Fee
Planet Fitness
Vacaville
CA
Join Planet Fitness with a PF BLACK CARD® MEMBERSHIP for No Enrollment Fee, No Commitment, and No Annual Fee
Planet Fitness
Modesto West
CA
Join Planet Fitness with a PF BLACK CARD® MEMBERSHIP for No Enrollment Fee, No Commitment, and No Annual Fee
Planet Fitness
Sacramento
CA
Join Planet Fitness with a PF BLACK CARD® MEMBERSHIP for No Enrollment Fee, No Commitment, and No Annual Fee
Planet Fitness
Modesto East
CA
Join Planet Fitness with a PF BLACK CARD® MEMBERSHIP for No Enrollment Fee, No Commitment, and No Annual Fee
Planet Fitness
Fairfield
CA
Join Planet Fitness with a PF BLACK CARD® MEMBERSHIP for No Enrollment Fee, No Commitment, and No Annual Fee
Planet Fitness
Ceres
CA
Join Planet Fitness with a PF BLACK CARD® MEMBERSHIP for No Enrollment Fee, No Commitment, and No Annual Fee
Planet Fitness
Vallejo
CA
Join Planet Fitness with a PF BLACK CARD® MEMBERSHIP for No Enrollment Fee, No Commitment, and No Annual Fee
Planet Fitness
Fair Oaks
CA
Join Planet Fitness with a PF BLACK CARD® MEMBERSHIP for No Enrollment Fee, No Commitment, and No Annual Fee
Planet Fitness
Sacramento
CA
Join Planet Fitness with a PF BLACK CARD® MEMBERSHIP for No Enrollment Fee, No Commitment, and No Annual Fee
Planet Fitness
Lodi
CA
Join Planet Fitness with a PF BLACK CARD® MEMBERSHIP for No Enrollment Fee, No Commitment, and No Annual Fee
Planet Fitness
North Highlands
CA
Join Planet Fitness with a PF BLACK CARD® MEMBERSHIP for No Enrollment Fee, No Commitment, and No Annual Fee
Planet Fitness
Sacramento
CA
Join Planet Fitness with a PF BLACK CARD® MEMBERSHIP for No Enrollment Fee, No Commitment, and No Annual Fee
Planet Fitness
Rocklin
CA
Join Planet Fitness with a PF BLACK CARD® MEMBERSHIP for No Enrollment Fee, No Commitment, and No Annual Fee
Planet Fitness
Citrus Heights
CA
Join Planet Fitness with a PF BLACK CARD® MEMBERSHIP for No Enrollment Fee, No Commitment, and No Annual Fee
Planet Fitness
Yuba City
CA
Join Planet Fitness with a PF BLACK CARD® MEMBERSHIP for No Enrollment Fee, No Commitment, and No Annual Fee
Planet Fitness
Grand Blanc
MI
Join Planet Fitness with a Classic Membership for No Enrollment Fee and No Commitment
Planet Fitness
Owosso
MI
Join Planet Fitness with a Classic Membership for No Enrollment Fee and No Commitment
Planet Fitness
Mt. Pleasant
MI
Join Planet Fitness with a Classic Membership for No Enrollment Fee and No Commitment
Planet Fitness
Fenton
MI
Join Planet Fitness with a Classic Membership for No Enrollment Fee and No Commitment
Planet Fitness
Flint Township
MI
Join Planet Fitness with a Classic Membership for No Enrollment Fee and No Commitment
Planet Fitness
Bay City
MI
Join Planet Fitness with a Classic Membership for No Enrollment Fee and No Commitment
Planet Fitness
Burton
MI
Join Planet Fitness with a Classic Membership for No Enrollment Fee and No Commitment
Planet Fitness
Saginaw
MI
Join Planet Fitness with a Classic Membership for No Enrollment Fee and No Commitment
Planet Fitness
Midland
MI
Join Planet Fitness with a Classic Membership for No Enrollment Fee and No Commitment
Planet Fitness
Grand Blanc
MI
Join Planet Fitness with a PF BLACK CARD® MEMBERSHIP for No Enrollment Fee, No Commitment, and No Annual Fee
Planet Fitness
Owosso
MI
Join Planet Fitness with a PF BLACK CARD® MEMBERSHIP for No Enrollment Fee, No Commitment, and No Annual Fee
Planet Fitness
Mt. Pleasant
MI
Join Planet Fitness with a PF BLACK CARD® MEMBERSHIP for No Enrollment Fee, No Commitment, and No Annual Fee
Planet Fitness
Fenton
MI
Join Planet Fitness with a PF BLACK CARD® MEMBERSHIP for No Enrollment Fee, No Commitment, and No Annual Fee
Planet Fitness
Flint Township
MI
Join Planet Fitness with a PF BLACK CARD® MEMBERSHIP for No Enrollment Fee, No Commitment, and No Annual Fee
Planet Fitness
Bay City
MI
Join Planet Fitness with a PF BLACK CARD® MEMBERSHIP for No Enrollment Fee, No Commitment, and No Annual Fee
Planet Fitness
Burton
MI
Join Planet Fitness with a PF BLACK CARD® MEMBERSHIP for No Enrollment Fee, No Commitment, and No Annual Fee
Planet Fitness
Saginaw
MI
Join Planet Fitness with a PF BLACK CARD® MEMBERSHIP for No Enrollment Fee, No Commitment, and No Annual Fee
Planet Fitness
Midland
MI
Join Planet Fitness with a PF BLACK CARD® MEMBERSHIP for No Enrollment Fee, No Commitment, and No Annual Fee
Planet Fitness
San Antonio
TX
Join Planet Fitness with a Classic Membership for No Enrollment Fee and No Commitment
Planet Fitness
San Antonio
TX
Join Planet Fitness with a Classic Membership for No Enrollment Fee and No Commitment
Planet Fitness
Boerne
TX
Join Planet Fitness with a Classic Membership for No Enrollment Fee and No Commitment
Planet Fitness
San Antonio
TX
Join Planet Fitness with a Classic Membership for No Enrollment Fee and No Commitment
Planet Fitness
San Antonio
TX
Join Planet Fitness with a Classic Membership for No Enrollment Fee and No Commitment
Planet Fitness
Seguin
TX
Join Planet Fitness with a Classic Membership for No Enrollment Fee and No Commitment
Planet Fitness
New Braunfels
TX
Join Planet Fitness with a Classic Membership for No Enrollment Fee and No Commitment
Planet Fitness
Universal City
TX
Join Planet Fitness with a Classic Membership for No Enrollment Fee and No Commitment
Planet Fitness
San Antonio
TX
Join Planet Fitness with a Classic Membership for No Enrollment Fee and No Commitment
Planet Fitness
San Antonio
TX
Join Planet Fitness with a Classic Membership for No Enrollment Fee and No Commitment
Planet Fitness
Bulverde
TX
Join Planet Fitness with a Classic Membership for No Enrollment Fee and No Commitment
Planet Fitness
San Antonio
TX
Join Planet Fitness with a Classic Membership for No Enrollment Fee and No Commitment
Planet Fitness
San Antonio
TX
Join Planet Fitness with a Classic Membership for No Enrollment Fee and No Commitment
Planet Fitness
San Antonio
TX
Join Planet Fitness with a Classic Membership for No Enrollment Fee and No Commitment
Planet Fitness
San Antonio
TX
Join Planet Fitness with a Classic Membership for No Enrollment Fee and No Commitment
Planet Fitness
San Antonio
TX
Join Planet Fitness with a Classic Membership for No Enrollment Fee and No Commitment
Planet Fitness
San Antonio
TX
Join Planet Fitness with a PF BLACK CARD® MEMBERSHIP for No Enrollment Fee, No Commitment, and No Annual Fee
Planet Fitness
San Antonio
TX
Join Planet Fitness with a PF BLACK CARD® MEMBERSHIP for No Enrollment Fee, No Commitment, and No Annual Fee
Planet Fitness
Boerne
TX
Join Planet Fitness with a PF BLACK CARD® MEMBERSHIP for No Enrollment Fee, No Commitment, and No Annual Fee
Planet Fitness
San Antonio
TX
Join Planet Fitness with a PF BLACK CARD® MEMBERSHIP for No Enrollment Fee, No Commitment, and No Annual Fee
Planet Fitness
San Antonio
TX
Join Planet Fitness with a PF BLACK CARD® MEMBERSHIP for No Enrollment Fee, No Commitment, and No Annual Fee
Planet Fitness
Seguin
TX
Join Planet Fitness with a PF BLACK CARD® MEMBERSHIP for No Enrollment Fee, No Commitment, and No Annual Fee
Planet Fitness
New Braunfels
TX
Join Planet Fitness with a PF BLACK CARD® MEMBERSHIP for No Enrollment Fee, No Commitment, and No Annual Fee
Planet Fitness
Universal City
TX
Join Planet Fitness with a PF BLACK CARD® MEMBERSHIP for No Enrollment Fee, No Commitment, and No Annual Fee
Planet Fitness
San Antonio
TX
Join Planet Fitness with a PF BLACK CARD® MEMBERSHIP for No Enrollment Fee, No Commitment, and No Annual Fee
Planet Fitness
San Antonio
TX
Join Planet Fitness with a PF BLACK CARD® MEMBERSHIP for No Enrollment Fee, No Commitment, and No Annual Fee
Planet Fitness
Bulverde
TX
Join Planet Fitness with a PF BLACK CARD® MEMBERSHIP for No Enrollment Fee, No Commitment, and No Annual Fee
Planet Fitness
San Antonio
TX
Join Planet Fitness with a PF BLACK CARD® MEMBERSHIP for No Enrollment Fee, No Commitment, and No Annual Fee
Planet Fitness
San Antonio
TX
Join Planet Fitness with a PF BLACK CARD® MEMBERSHIP for No Enrollment Fee, No Commitment, and No Annual Fee
Planet Fitness
San Antonio
TX
Join Planet Fitness with a PF BLACK CARD® MEMBERSHIP for No Enrollment Fee, No Commitment, and No Annual Fee
Planet Fitness
San Antonio
TX
Join Planet Fitness with a PF BLACK CARD® MEMBERSHIP for No Enrollment Fee, No Commitment, and No Annual Fee
Planet Fitness
San Antonio
TX
Join Planet Fitness with a PF BLACK CARD® MEMBERSHIP for No Enrollment Fee, No Commitment, and No Annual Fee
Planet Fitness
Chula Vista
CA
Join Planet Fitness with a Classic Membership for No Enrollment Fee and No Commitment
Planet Fitness
Lakeside
CA
Join Planet Fitness with a Classic Membership for No Enrollment Fee and No Commitment
Planet Fitness
Escondido
CA
Join Planet Fitness with a Classic Membership for No Enrollment Fee and No Commitment
Planet Fitness
San Diego
CA
Join Planet Fitness with a Classic Membership for No Enrollment Fee and No Commitment
Planet Fitness
Vista
CA
Join Planet Fitness with a Classic Membership for No Enrollment Fee and No Commitment
Planet Fitness
Chula Vista
CA
Join Planet Fitness with a Classic Membership for No Enrollment Fee and No Commitment
Planet Fitness
National City
CA
Join Planet Fitness with a Classic Membership for No Enrollment Fee and No Commitment
Planet Fitness
Oceanside
CA
Join Planet Fitness with a Classic Membership for No Enrollment Fee and No Commitment
Planet Fitness
San Diego
CA
Join Planet Fitness with a Classic Membership for No Enrollment Fee and No Commitment
Planet Fitness
Chula Vista
CA
Join Planet Fitness with a PF BLACK CARD® MEMBERSHIP for No Enrollment Fee, No Commitment, and No Annual Fee
Planet Fitness
Lakeside
CA
Join Planet Fitness with a PF BLACK CARD® MEMBERSHIP for No Enrollment Fee, No Commitment, and No Annual Fee
Planet Fitness
Escondido
CA
Join Planet Fitness with a PF BLACK CARD® MEMBERSHIP for No Enrollment Fee, No Commitment, and No Annual Fee
Planet Fitness
San Diego
CA
Join Planet Fitness with a PF BLACK CARD® MEMBERSHIP for No Enrollment Fee, No Commitment, and No Annual Fee
Planet Fitness
Vista
CA
Join Planet Fitness with a PF BLACK CARD® MEMBERSHIP for No Enrollment Fee, No Commitment, and No Annual Fee
Planet Fitness
Chula Vista
CA
Join Planet Fitness with a PF BLACK CARD® MEMBERSHIP for No Enrollment Fee, No Commitment, and No Annual Fee
Planet Fitness
National City
CA
Join Planet Fitness with a PF BLACK CARD® MEMBERSHIP for No Enrollment Fee, No Commitment, and No Annual Fee
Planet Fitness
Oceanside
CA
Join Planet Fitness with a PF BLACK CARD® MEMBERSHIP for No Enrollment Fee, No Commitment, and No Annual Fee
Planet Fitness
San Diego
CA
Join Planet Fitness with a PF BLACK CARD® MEMBERSHIP for No Enrollment Fee, No Commitment, and No Annual Fee
Planet Fitness
San Jose
CA
Join Planet Fitness with a Classic Membership for No Enrollment Fee and No Commitment
Planet Fitness
San Jose
CA
Join Planet Fitness with a Classic Membership for No Enrollment Fee and No Commitment
Planet Fitness
Napa
CA
Join Planet Fitness with a Classic Membership for No Enrollment Fee and No Commitment
Planet Fitness
Pinole
CA
Join Planet Fitness with a Classic Membership for No Enrollment Fee and No Commitment
Planet Fitness
Hayward
CA
Join Planet Fitness with a Classic Membership for No Enrollment Fee and No Commitment
Planet Fitness
Pittsburg
CA
Join Planet Fitness with a Classic Membership for No Enrollment Fee and No Commitment
Planet Fitness
Daly City
CA
Join Planet Fitness with a Classic Membership for No Enrollment Fee and No Commitment
Planet Fitness
San Jose
CA
Join Planet Fitness with a Classic Membership for No Enrollment Fee and No Commitment
Planet Fitness
Concord
CA
Join Planet Fitness with a Classic Membership for No Enrollment Fee and No Commitment
Planet Fitness
San Francisco
CA
Join Planet Fitness with a Classic Membership for No Enrollment Fee and No Commitment
Planet Fitness
Petaluma
CA
Join Planet Fitness with a Classic Membership for No Enrollment Fee and No Commitment
Planet Fitness
Fremont
CA
Join Planet Fitness with a Classic Membership for No Enrollment Fee and No Commitment
Planet Fitness
Oakland
CA
Join Planet Fitness with a Classic Membership for No Enrollment Fee and No Commitment
Planet Fitness
Richmond
CA
Join Planet Fitness with a Classic Membership for No Enrollment Fee and No Commitment
Planet Fitness
Rohnert Park
CA
Join Planet Fitness with a Classic Membership for No Enrollment Fee and No Commitment
Planet Fitness
San Jose
CA
Join Planet Fitness with a PF BLACK CARD® MEMBERSHIP for No Enrollment Fee, No Commitment, and No Annual Fee
Planet Fitness
San Jose
CA
Join Planet Fitness with a PF BLACK CARD® MEMBERSHIP for No Enrollment Fee, No Commitment, and No Annual Fee
Planet Fitness
Napa
CA
Join Planet Fitness with a PF BLACK CARD® MEMBERSHIP for No Enrollment Fee, No Commitment, and No Annual Fee
Planet Fitness
Pinole
CA
Join Planet Fitness with a PF BLACK CARD® MEMBERSHIP for No Enrollment Fee, No Commitment, and No Annual Fee
Planet Fitness
Hayward
CA
Join Planet Fitness with a PF BLACK CARD® MEMBERSHIP for No Enrollment Fee, No Commitment, and No Annual Fee
Planet Fitness
Pittsburg
CA
Join Planet Fitness with a PF BLACK CARD® MEMBERSHIP for No Enrollment Fee, No Commitment, and No Annual Fee
Planet Fitness
Daly City
CA
Join Planet Fitness with a PF BLACK CARD® MEMBERSHIP for No Enrollment Fee, No Commitment, and No Annual Fee
Planet Fitness
San Jose
CA
Join Planet Fitness with a PF BLACK CARD® MEMBERSHIP for No Enrollment Fee, No Commitment, and No Annual Fee
Planet Fitness
Concord
CA
Join Planet Fitness with a PF BLACK CARD® MEMBERSHIP for No Enrollment Fee, No Commitment, and No Annual Fee
Planet Fitness
San Francisco
CA
Join Planet Fitness with a PF BLACK CARD® MEMBERSHIP for No Enrollment Fee, No Commitment, and No Annual Fee
Planet Fitness
Petaluma
CA
Join Planet Fitness with a PF BLACK CARD® MEMBERSHIP for No Enrollment Fee, No Commitment, and No Annual Fee
Planet Fitness
Fremont
CA
Join Planet Fitness with a PF BLACK CARD® MEMBERSHIP for No Enrollment Fee, No Commitment, and No Annual Fee
Planet Fitness
Oakland
CA
Join Planet Fitness with a PF BLACK CARD® MEMBERSHIP for No Enrollment Fee, No Commitment, and No Annual Fee
Planet Fitness
Richmond
CA
Join Planet Fitness with a PF BLACK CARD® MEMBERSHIP for No Enrollment Fee, No Commitment, and No Annual Fee
Planet Fitness
Rohnert Park
CA
Join Planet Fitness with a PF BLACK CARD® MEMBERSHIP for No Enrollment Fee, No Commitment, and No Annual Fee
Planet Fitness
Lompoc
CA
Join Planet Fitness with a Classic Membership for No Enrollment Fee and No Commitment
Planet Fitness
Paso Robles
CA
Join Planet Fitness with a Classic Membership for No Enrollment Fee and No Commitment
Planet Fitness
Oxnard
CA
Join Planet Fitness with a Classic Membership for No Enrollment Fee and No Commitment
Planet Fitness
Camarillo
CA
Join Planet Fitness with a Classic Membership for No Enrollment Fee and No Commitment
Planet Fitness
Lompoc
CA
Join Planet Fitness with a PF BLACK CARD® MEMBERSHIP for No Enrollment Fee, No Commitment, and No Annual Fee
Planet Fitness
Paso Robles
CA
Join Planet Fitness with a PF BLACK CARD® MEMBERSHIP for No Enrollment Fee, No Commitment, and No Annual Fee
Planet Fitness
Oxnard
CA
Join Planet Fitness with a PF BLACK CARD® MEMBERSHIP for No Enrollment Fee, No Commitment, and No Annual Fee
Planet Fitness
Camarillo
CA
Join Planet Fitness with a PF BLACK CARD® MEMBERSHIP for No Enrollment Fee, No Commitment, and No Annual Fee
Planet Fitness
Saskatoon
SK
Join Planet Fitness with a Classic Membership for No Enrollment Fee and No Commitment
Planet Fitness
Regina, Sk
SK
Join Planet Fitness with a Classic Membership for No Enrollment Fee and No Commitment
Planet Fitness
Saskatoon
SK
Join Planet Fitness with a PF BLACK CARD® MEMBERSHIP for No Enrollment Fee, No Commitment, and No Annual Fee
Planet Fitness
Regina, Sk
SK
Join Planet Fitness with a PF BLACK CARD® MEMBERSHIP for No Enrollment Fee, No Commitment, and No Annual Fee
Planet Fitness
Federal Way
WA
Join Planet Fitness with a Classic Membership for No Enrollment Fee and No Commitment
Planet Fitness
Burlington
WA
Join Planet Fitness with a Classic Membership for No Enrollment Fee and No Commitment
Planet Fitness
Seattle
WA
Join Planet Fitness with a Classic Membership for No Enrollment Fee and No Commitment
Planet Fitness
Mill Creek
WA
Join Planet Fitness with a Classic Membership for No Enrollment Fee and No Commitment
Planet Fitness
Marysville
WA
Join Planet Fitness with a Classic Membership for No Enrollment Fee and No Commitment
Planet Fitness
Lake Forest Park
WA
Join Planet Fitness with a Classic Membership for No Enrollment Fee and No Commitment
Planet Fitness
Kent
WA
Join Planet Fitness with a Classic Membership for No Enrollment Fee and No Commitment
Planet Fitness
Kent
WA
Join Planet Fitness with a Classic Membership for No Enrollment Fee and No Commitment
Planet Fitness
Des Moines
WA
Join Planet Fitness with a Classic Membership for No Enrollment Fee and No Commitment
Planet Fitness
Oak Harbor
WA
Join Planet Fitness with a Classic Membership for No Enrollment Fee and No Commitment
Planet Fitness
Bremerton
WA
Join Planet Fitness with a Classic Membership for No Enrollment Fee and No Commitment
Planet Fitness
Renton
WA
Join Planet Fitness with a Classic Membership for No Enrollment Fee and No Commitment
Planet Fitness
Everett
WA
Join Planet Fitness with a Classic Membership for No Enrollment Fee and No Commitment
Planet Fitness
Seattle
WA
Join Planet Fitness with a Classic Membership for No Enrollment Fee and No Commitment
Planet Fitness
Federal Way
WA
Join Planet Fitness with a PF BLACK CARD® MEMBERSHIP for No Enrollment Fee, No Commitment, and No Annual Fee
Planet Fitness
Burlington
WA
Join Planet Fitness with a PF BLACK CARD® MEMBERSHIP for No Enrollment Fee, No Commitment, and No Annual Fee
Planet Fitness
Seattle
WA
Join Planet Fitness with a PF BLACK CARD® MEMBERSHIP for No Enrollment Fee, No Commitment, and No Annual Fee
Planet Fitness
Mill Creek
WA
Join Planet Fitness with a PF BLACK CARD® MEMBERSHIP for No Enrollment Fee, No Commitment, and No Annual Fee
Planet Fitness
Marysville
WA
Join Planet Fitness with a PF BLACK CARD® MEMBERSHIP for No Enrollment Fee, No Commitment, and No Annual Fee
Planet Fitness
Lake Forest Park
WA
Join Planet Fitness with a PF BLACK CARD® MEMBERSHIP for No Enrollment Fee, No Commitment, and No Annual Fee
Planet Fitness
Kent
WA
Join Planet Fitness with a PF BLACK CARD® MEMBERSHIP for No Enrollment Fee, No Commitment, and No Annual Fee
Planet Fitness
Kent
WA
Join Planet Fitness with a PF BLACK CARD® MEMBERSHIP for No Enrollment Fee, No Commitment, and No Annual Fee
Planet Fitness
Des Moines
WA
Join Planet Fitness with a PF BLACK CARD® MEMBERSHIP for No Enrollment Fee, No Commitment, and No Annual Fee
Planet Fitness
Oak Harbor
WA
Join Planet Fitness with a PF BLACK CARD® MEMBERSHIP for No Enrollment Fee, No Commitment, and No Annual Fee
Planet Fitness
Bremerton
WA
Join Planet Fitness with a PF BLACK CARD® MEMBERSHIP for No Enrollment Fee, No Commitment, and No Annual Fee
Planet Fitness
Renton
WA
Join Planet Fitness with a PF BLACK CARD® MEMBERSHIP for No Enrollment Fee, No Commitment, and No Annual Fee
Planet Fitness
Everett
WA
Join Planet Fitness with a PF BLACK CARD® MEMBERSHIP for No Enrollment Fee, No Commitment, and No Annual Fee
Planet Fitness
Seattle
WA
Join Planet Fitness with a PF BLACK CARD® MEMBERSHIP for No Enrollment Fee, No Commitment, and No Annual Fee
Planet Fitness
Greenville
SC
Join Planet Fitness with a Classic Membership for No Enrollment Fee and No Commitment
Planet Fitness
Seneca
SC
Join Planet Fitness with a Classic Membership for No Enrollment Fee and No Commitment
Planet Fitness
Spartanburg
SC
Join Planet Fitness with a Classic Membership for No Enrollment Fee and No Commitment
Planet Fitness
Spartanburg West
SC
Join Planet Fitness with a Classic Membership for No Enrollment Fee and No Commitment
Planet Fitness
Orangeburg
SC
Join Planet Fitness with a Classic Membership for No Enrollment Fee and No Commitment
Planet Fitness
Charleston
SC
Join Planet Fitness with a Classic Membership for No Enrollment Fee and No Commitment
Planet Fitness
Greenville
SC
Join Planet Fitness with a Classic Membership for No Enrollment Fee and No Commitment
Planet Fitness
Columbia
SC
Join Planet Fitness with a Classic Membership for No Enrollment Fee and No Commitment
Planet Fitness
North Charleston
SC
Join Planet Fitness with a Classic Membership for No Enrollment Fee and No Commitment
Planet Fitness
Easley
SC
Join Planet Fitness with a Classic Membership for No Enrollment Fee and No Commitment
Planet Fitness
Simpsonville
SC
Join Planet Fitness with a Classic Membership for No Enrollment Fee and No Commitment
Planet Fitness
Anderson
SC
Join Planet Fitness with a Classic Membership for No Enrollment Fee and No Commitment
Planet Fitness
Summerville
SC
Join Planet Fitness with a Classic Membership for No Enrollment Fee and No Commitment
Planet Fitness
Columbia
SC
Join Planet Fitness with a Classic Membership for No Enrollment Fee and No Commitment
Planet Fitness
North Charleston
SC
Join Planet Fitness with a Classic Membership for No Enrollment Fee and No Commitment
Planet Fitness
Greenwood
SC
Join Planet Fitness with a Classic Membership for No Enrollment Fee and No Commitment
Planet Fitness
Lexington, Sc
SC
Join Planet Fitness with a Classic Membership for No Enrollment Fee and No Commitment
Planet Fitness
Berea
SC
Join Planet Fitness with a Classic Membership for No Enrollment Fee and No Commitment
Planet Fitness
Mount Pleasant
SC
Join Planet Fitness with a Classic Membership for No Enrollment Fee and No Commitment
Planet Fitness
Columbia
SC
Join Planet Fitness with a Classic Membership for No Enrollment Fee and No Commitment
Planet Fitness
Columbia
SC
Join Planet Fitness with a Classic Membership for No Enrollment Fee and No Commitment
Planet Fitness
Columbia
SC
Join Planet Fitness with a Classic Membership for No Enrollment Fee and No Commitment
Planet Fitness
Greenville
SC
Join Planet Fitness with a PF BLACK CARD® MEMBERSHIP for No Enrollment Fee, No Commitment, and No Annual Fee
Planet Fitness
Seneca
SC
Join Planet Fitness with a PF BLACK CARD® MEMBERSHIP for No Enrollment Fee, No Commitment, and No Annual Fee
Planet Fitness
Spartanburg
SC
Join Planet Fitness with a PF BLACK CARD® MEMBERSHIP for No Enrollment Fee, No Commitment, and No Annual Fee
Planet Fitness
Spartanburg West
SC
Join Planet Fitness with a PF BLACK CARD® MEMBERSHIP for No Enrollment Fee, No Commitment, and No Annual Fee
Planet Fitness
Orangeburg
SC
Join Planet Fitness with a PF BLACK CARD® MEMBERSHIP for No Enrollment Fee, No Commitment, and No Annual Fee
Planet Fitness
Charleston
SC
Join Planet Fitness with a PF BLACK CARD® MEMBERSHIP for No Enrollment Fee, No Commitment, and No Annual Fee
Planet Fitness
Greenville
SC
Join Planet Fitness with a PF BLACK CARD® MEMBERSHIP for No Enrollment Fee, No Commitment, and No Annual Fee
Planet Fitness
Columbia
SC
Join Planet Fitness with a PF BLACK CARD® MEMBERSHIP for No Enrollment Fee, No Commitment, and No Annual Fee
Planet Fitness
North Charleston
SC
Join Planet Fitness with a PF BLACK CARD® MEMBERSHIP for No Enrollment Fee, No Commitment, and No Annual Fee
Planet Fitness
Easley
SC
Join Planet Fitness with a PF BLACK CARD® MEMBERSHIP for No Enrollment Fee, No Commitment, and No Annual Fee
Planet Fitness
Simpsonville
SC
Join Planet Fitness with a PF BLACK CARD® MEMBERSHIP for No Enrollment Fee, No Commitment, and No Annual Fee
Planet Fitness
Anderson
SC
Join Planet Fitness with a PF BLACK CARD® MEMBERSHIP for No Enrollment Fee, No Commitment, and No Annual Fee
Planet Fitness
Summerville
SC
Join Planet Fitness with a PF BLACK CARD® MEMBERSHIP for No Enrollment Fee, No Commitment, and No Annual Fee
Planet Fitness
Columbia
SC
Join Planet Fitness with a PF BLACK CARD® MEMBERSHIP for No Enrollment Fee, No Commitment, and No Annual Fee
Planet Fitness
North Charleston
SC
Join Planet Fitness with a PF BLACK CARD® MEMBERSHIP for No Enrollment Fee, No Commitment, and No Annual Fee
Planet Fitness
Greenwood
SC
Join Planet Fitness with a PF BLACK CARD® MEMBERSHIP for No Enrollment Fee, No Commitment, and No Annual Fee
Planet Fitness
Lexington, Sc
SC
Join Planet Fitness with a PF BLACK CARD® MEMBERSHIP for No Enrollment Fee, No Commitment, and No Annual Fee
Planet Fitness
Berea
SC
Join Planet Fitness with a PF BLACK CARD® MEMBERSHIP for No Enrollment Fee, No Commitment, and No Annual Fee
Planet Fitness
Mount Pleasant
SC
Join Planet Fitness with a PF BLACK CARD® MEMBERSHIP for No Enrollment Fee, No Commitment, and No Annual Fee
Planet Fitness
Columbia
SC
Join Planet Fitness with a PF BLACK CARD® MEMBERSHIP for No Enrollment Fee, No Commitment, and No Annual Fee
Planet Fitness
Columbia
SC
Join Planet Fitness with a PF BLACK CARD® MEMBERSHIP for No Enrollment Fee, No Commitment, and No Annual Fee
Planet Fitness
Columbia
SC
Join Planet Fitness with a PF BLACK CARD® MEMBERSHIP for No Enrollment Fee, No Commitment, and No Annual Fee
Planet Fitness
York
PA
Join Planet Fitness with a Classic Membership for No Enrollment Fee and No Commitment
Planet Fitness
Lancaster
PA
Join Planet Fitness with a Classic Membership for No Enrollment Fee and No Commitment
Planet Fitness
Allentown
PA
Join Planet Fitness with a Classic Membership for No Enrollment Fee and No Commitment
Planet Fitness
Kutztown
PA
Join Planet Fitness with a Classic Membership for No Enrollment Fee and No Commitment
Planet Fitness
Bethlehem
PA
Join Planet Fitness with a Classic Membership for No Enrollment Fee and No Commitment
Planet Fitness
Lancaster
PA
Join Planet Fitness with a Classic Membership for No Enrollment Fee and No Commitment
Planet Fitness
York
PA
Join Planet Fitness with a Classic Membership for No Enrollment Fee and No Commitment
Planet Fitness
Lancaster
PA
Join Planet Fitness with a Classic Membership for No Enrollment Fee and No Commitment
Planet Fitness
Whitehall
PA
Join Planet Fitness with a Classic Membership for No Enrollment Fee and No Commitment
Planet Fitness
Reading
PA
Join Planet Fitness with a Classic Membership for No Enrollment Fee and No Commitment
Planet Fitness
Easton
PA
Join Planet Fitness with a Classic Membership for No Enrollment Fee and No Commitment
Planet Fitness
Lancaster
PA
Join Planet Fitness with a Classic Membership for No Enrollment Fee and No Commitment
Planet Fitness
Lancaster
PA
Join Planet Fitness with a Classic Membership for No Enrollment Fee and No Commitment
Planet Fitness
Allentown
PA
Join Planet Fitness with a Classic Membership for No Enrollment Fee and No Commitment
Planet Fitness
Shillington
PA
Join Planet Fitness with a Classic Membership for No Enrollment Fee and No Commitment
Planet Fitness
Reading
PA
Join Planet Fitness with a Classic Membership for No Enrollment Fee and No Commitment
Planet Fitness
Hanover
PA
Join Planet Fitness with a Classic Membership for No Enrollment Fee and No Commitment
Planet Fitness
Nazareth
PA
Join Planet Fitness with a Classic Membership for No Enrollment Fee and No Commitment
Planet Fitness
York
PA
Join Planet Fitness with a PF BLACK CARD® MEMBERSHIP for No Enrollment Fee, No Commitment, and No Annual Fee
Planet Fitness
Lancaster
PA
Join Planet Fitness with a PF BLACK CARD® MEMBERSHIP for No Enrollment Fee, No Commitment, and No Annual Fee
Planet Fitness
Allentown
PA
Join Planet Fitness with a PF BLACK CARD® MEMBERSHIP for No Enrollment Fee, No Commitment, and No Annual Fee
Planet Fitness
Kutztown
PA
Join Planet Fitness with a PF BLACK CARD® MEMBERSHIP for No Enrollment Fee, No Commitment, and No Annual Fee
Planet Fitness
Bethlehem
PA
Join Planet Fitness with a PF BLACK CARD® MEMBERSHIP for No Enrollment Fee, No Commitment, and No Annual Fee
Planet Fitness
Lancaster
PA
Join Planet Fitness with a PF BLACK CARD® MEMBERSHIP for No Enrollment Fee, No Commitment, and No Annual Fee
Planet Fitness
York
PA
Join Planet Fitness with a PF BLACK CARD® MEMBERSHIP for No Enrollment Fee, No Commitment, and No Annual Fee
Planet Fitness
Lancaster
PA
Join Planet Fitness with a PF BLACK CARD® MEMBERSHIP for No Enrollment Fee, No Commitment, and No Annual Fee
Planet Fitness
Whitehall
PA
Join Planet Fitness with a PF BLACK CARD® MEMBERSHIP for No Enrollment Fee, No Commitment, and No Annual Fee
Planet Fitness
Reading
PA
Join Planet Fitness with a PF BLACK CARD® MEMBERSHIP for No Enrollment Fee, No Commitment, and No Annual Fee
Planet Fitness
Easton
PA
Join Planet Fitness with a PF BLACK CARD® MEMBERSHIP for No Enrollment Fee, No Commitment, and No Annual Fee
Planet Fitness
Lancaster
PA
Join Planet Fitness with a PF BLACK CARD® MEMBERSHIP for No Enrollment Fee, No Commitment, and No Annual Fee
Planet Fitness
Lancaster
PA
Join Planet Fitness with a PF BLACK CARD® MEMBERSHIP for No Enrollment Fee, No Commitment, and No Annual Fee
Planet Fitness
Allentown
PA
Join Planet Fitness with a PF BLACK CARD® MEMBERSHIP for No Enrollment Fee, No Commitment, and No Annual Fee
Planet Fitness
Shillington
PA
Join Planet Fitness with a PF BLACK CARD® MEMBERSHIP for No Enrollment Fee, No Commitment, and No Annual Fee
Planet Fitness
Reading
PA
Join Planet Fitness with a PF BLACK CARD® MEMBERSHIP for No Enrollment Fee, No Commitment, and No Annual Fee
Planet Fitness
Hanover
PA
Join Planet Fitness with a PF BLACK CARD® MEMBERSHIP for No Enrollment Fee, No Commitment, and No Annual Fee
Planet Fitness
Nazareth
PA
Join Planet Fitness with a PF BLACK CARD® MEMBERSHIP for No Enrollment Fee, No Commitment, and No Annual Fee
Planet Fitness
Sanford
ME
Join Planet Fitness with a Classic Membership for No Enrollment Fee and No Commitment
Planet Fitness
Portland
ME
Join Planet Fitness with a Classic Membership for No Enrollment Fee and No Commitment
Planet Fitness
Raymond
NH
Join Planet Fitness with a Classic Membership for No Enrollment Fee and No Commitment
Planet Fitness
Nashua
NH
Join Planet Fitness with a Classic Membership for No Enrollment Fee and No Commitment
Planet Fitness
Nashua
NH
Join Planet Fitness with a Classic Membership for No Enrollment Fee and No Commitment
Planet Fitness
Stratham
NH
Join Planet Fitness with a Classic Membership for No Enrollment Fee and No Commitment
Planet Fitness
Falmouth
ME
Join Planet Fitness with a Classic Membership for No Enrollment Fee and No Commitment
Planet Fitness
Rochester
NH
Join Planet Fitness with a Classic Membership for No Enrollment Fee and No Commitment
Planet Fitness
Merrimack
NH
Join Planet Fitness with a Classic Membership for No Enrollment Fee and No Commitment
Planet Fitness
Keene
NH
Join Planet Fitness with a Classic Membership for No Enrollment Fee and No Commitment
Planet Fitness
Biddeford
ME
Join Planet Fitness with a Classic Membership for No Enrollment Fee and No Commitment
Planet Fitness
Lee
NH
Join Planet Fitness with a Classic Membership for No Enrollment Fee and No Commitment
Planet Fitness
Derry
NH
Join Planet Fitness with a Classic Membership for No Enrollment Fee and No Commitment
Planet Fitness
Goffstown
NH
Join Planet Fitness with a Classic Membership for No Enrollment Fee and No Commitment
Planet Fitness
Manchester
NH
Join Planet Fitness with a Classic Membership for No Enrollment Fee and No Commitment
Planet Fitness
Auburn
ME
Join Planet Fitness with a Classic Membership for No Enrollment Fee and No Commitment
Planet Fitness
Windham
ME
Join Planet Fitness with a Classic Membership for No Enrollment Fee and No Commitment
Planet Fitness
Portsmouth
NH
Join Planet Fitness with a Classic Membership for No Enrollment Fee and No Commitment
Planet Fitness
Westbrook
ME
Join Planet Fitness with a Classic Membership for No Enrollment Fee and No Commitment
Planet Fitness
Concord
NH
Join Planet Fitness with a Classic Membership for No Enrollment Fee and No Commitment
Planet Fitness
Dover
NH
Join Planet Fitness with a Classic Membership for No Enrollment Fee and No Commitment
Planet Fitness
Salem
NH
Join Planet Fitness with a Classic Membership for No Enrollment Fee and No Commitment
Planet Fitness
Belmont
NH
Join Planet Fitness with a Classic Membership for No Enrollment Fee and No Commitment
Planet Fitness
Manchester West
NH
Join Planet Fitness with a Classic Membership for No Enrollment Fee and No Commitment
Planet Fitness
Plaistow
NH
Join Planet Fitness with a Classic Membership for No Enrollment Fee and No Commitment
Planet Fitness
Sanford
ME
Join Planet Fitness with a PF BLACK CARD® MEMBERSHIP for No Enrollment Fee, No Commitment, and No Annual Fee
Planet Fitness
Portland
ME
Join Planet Fitness with a PF BLACK CARD® MEMBERSHIP for No Enrollment Fee, No Commitment, and No Annual Fee
Planet Fitness
Raymond
NH
Join Planet Fitness with a PF BLACK CARD® MEMBERSHIP for No Enrollment Fee, No Commitment, and No Annual Fee
Planet Fitness
Nashua
NH
Join Planet Fitness with a PF BLACK CARD® MEMBERSHIP for No Enrollment Fee, No Commitment, and No Annual Fee
Planet Fitness
Nashua
NH
Join Planet Fitness with a PF BLACK CARD® MEMBERSHIP for No Enrollment Fee, No Commitment, and No Annual Fee
Planet Fitness
Stratham
NH
Join Planet Fitness with a PF BLACK CARD® MEMBERSHIP for No Enrollment Fee, No Commitment, and No Annual Fee
Planet Fitness
Falmouth
ME
Join Planet Fitness with a PF BLACK CARD® MEMBERSHIP for No Enrollment Fee, No Commitment, and No Annual Fee
Planet Fitness
Rochester
NH
Join Planet Fitness with a PF BLACK CARD® MEMBERSHIP for No Enrollment Fee, No Commitment, and No Annual Fee
Planet Fitness
Merrimack
NH
Join Planet Fitness with a PF BLACK CARD® MEMBERSHIP for No Enrollment Fee, No Commitment, and No Annual Fee
Planet Fitness
Keene
NH
Join Planet Fitness with a PF BLACK CARD® MEMBERSHIP for No Enrollment Fee, No Commitment, and No Annual Fee
Planet Fitness
Biddeford
ME
Join Planet Fitness with a PF BLACK CARD® MEMBERSHIP for No Enrollment Fee, No Commitment, and No Annual Fee
Planet Fitness
Lee
NH
Join Planet Fitness with a PF BLACK CARD® MEMBERSHIP for No Enrollment Fee, No Commitment, and No Annual Fee
Planet Fitness
Derry
NH
Join Planet Fitness with a PF BLACK CARD® MEMBERSHIP for No Enrollment Fee, No Commitment, and No Annual Fee
Planet Fitness
Goffstown
NH
Join Planet Fitness with a PF BLACK CARD® MEMBERSHIP for No Enrollment Fee, No Commitment, and No Annual Fee
Planet Fitness
Manchester
NH
Join Planet Fitness with a PF BLACK CARD® MEMBERSHIP for No Enrollment Fee, No Commitment, and No Annual Fee
Planet Fitness
Auburn
ME
Join Planet Fitness with a PF BLACK CARD® MEMBERSHIP for No Enrollment Fee, No Commitment, and No Annual Fee
Planet Fitness
Windham
ME
Join Planet Fitness with a PF BLACK CARD® MEMBERSHIP for No Enrollment Fee, No Commitment, and No Annual Fee
Planet Fitness
Portsmouth
NH
Join Planet Fitness with a PF BLACK CARD® MEMBERSHIP for No Enrollment Fee, No Commitment, and No Annual Fee
Planet Fitness
Westbrook
ME
Join Planet Fitness with a PF BLACK CARD® MEMBERSHIP for No Enrollment Fee, No Commitment, and No Annual Fee
Planet Fitness
Concord
NH
Join Planet Fitness with a PF BLACK CARD® MEMBERSHIP for No Enrollment Fee, No Commitment, and No Annual Fee
Planet Fitness
Dover
NH
Join Planet Fitness with a PF BLACK CARD® MEMBERSHIP for No Enrollment Fee, No Commitment, and No Annual Fee
Planet Fitness
Salem
NH
Join Planet Fitness with a PF BLACK CARD® MEMBERSHIP for No Enrollment Fee, No Commitment, and No Annual Fee
Planet Fitness
Belmont
NH
Join Planet Fitness with a PF BLACK CARD® MEMBERSHIP for No Enrollment Fee, No Commitment, and No Annual Fee
Planet Fitness
Manchester West
NH
Join Planet Fitness with a PF BLACK CARD® MEMBERSHIP for No Enrollment Fee, No Commitment, and No Annual Fee
Planet Fitness
Plaistow
NH
Join Planet Fitness with a PF BLACK CARD® MEMBERSHIP for No Enrollment Fee, No Commitment, and No Annual Fee
Planet Fitness
Spokane Valley
WA
Join Planet Fitness with a Classic Membership for No Enrollment Fee and No Commitment
Planet Fitness
Spokane
WA
Join Planet Fitness with a Classic Membership for No Enrollment Fee and No Commitment
Planet Fitness
Spokane Valley
WA
Join Planet Fitness with a PF BLACK CARD® MEMBERSHIP for No Enrollment Fee, No Commitment, and No Annual Fee
Planet Fitness
Spokane
WA
Join Planet Fitness with a PF BLACK CARD® MEMBERSHIP for No Enrollment Fee, No Commitment, and No Annual Fee
Planet Fitness
Ferguson
MO
Join Planet Fitness with a Classic Membership for No Enrollment Fee and No Commitment
Planet Fitness
Ballwin
MO
Join Planet Fitness with a Classic Membership for No Enrollment Fee and No Commitment
Planet Fitness
St. Peters
MO
Join Planet Fitness with a Classic Membership for No Enrollment Fee and No Commitment
Planet Fitness
St. Louis
MO
Join Planet Fitness with a Classic Membership for No Enrollment Fee and No Commitment
Planet Fitness
Edwardsville
IL
Join Planet Fitness with a Classic Membership for No Enrollment Fee and No Commitment
Planet Fitness
Shrewsbury
MO
Join Planet Fitness with a Classic Membership for No Enrollment Fee and No Commitment
Planet Fitness
Overland
MO
Join Planet Fitness with a Classic Membership for No Enrollment Fee and No Commitment
Planet Fitness
Crestwood
MO
Join Planet Fitness with a Classic Membership for No Enrollment Fee and No Commitment
Planet Fitness
Wentzville
MO
Join Planet Fitness with a Classic Membership for No Enrollment Fee and No Commitment
Planet Fitness
Ferguson
MO
Join Planet Fitness with a PF BLACK CARD® MEMBERSHIP for No Enrollment Fee, No Commitment, and No Annual Fee
Planet Fitness
Ballwin
MO
Join Planet Fitness with a PF BLACK CARD® MEMBERSHIP for No Enrollment Fee, No Commitment, and No Annual Fee
Planet Fitness
St. Peters
MO
Join Planet Fitness with a PF BLACK CARD® MEMBERSHIP for No Enrollment Fee, No Commitment, and No Annual Fee
Planet Fitness
St. Louis
MO
Join Planet Fitness with a PF BLACK CARD® MEMBERSHIP for No Enrollment Fee, No Commitment, and No Annual Fee
Planet Fitness
Edwardsville
IL
Join Planet Fitness with a PF BLACK CARD® MEMBERSHIP for No Enrollment Fee, No Commitment, and No Annual Fee
Planet Fitness
Shrewsbury
MO
Join Planet Fitness with a PF BLACK CARD® MEMBERSHIP for No Enrollment Fee, No Commitment, and No Annual Fee
Planet Fitness
Overland
MO
Join Planet Fitness with a PF BLACK CARD® MEMBERSHIP for No Enrollment Fee, No Commitment, and No Annual Fee
Planet Fitness
Crestwood
MO
Join Planet Fitness with a PF BLACK CARD® MEMBERSHIP for No Enrollment Fee, No Commitment, and No Annual Fee
Planet Fitness
Wentzville
MO
Join Planet Fitness with a PF BLACK CARD® MEMBERSHIP for No Enrollment Fee, No Commitment, and No Annual Fee
Planet Fitness
Rome
NY
Join Planet Fitness with a Classic Membership for No Enrollment Fee and No Commitment
Planet Fitness
Oneida
NY
Join Planet Fitness with a Classic Membership for No Enrollment Fee and No Commitment
Planet Fitness
Auburn
NY
Join Planet Fitness with a Classic Membership for No Enrollment Fee and No Commitment
Planet Fitness
Camillus, Ny
NY
Join Planet Fitness with a Classic Membership for No Enrollment Fee and No Commitment
Planet Fitness
Oswego
NY
Join Planet Fitness with a Classic Membership for No Enrollment Fee and No Commitment
Planet Fitness
Dewitt
NY
Join Planet Fitness with a Classic Membership for No Enrollment Fee and No Commitment
Planet Fitness
South Syracuse
NY
Join Planet Fitness with a Classic Membership for No Enrollment Fee and No Commitment
Planet Fitness
N. Syracuse
NY
Join Planet Fitness with a Classic Membership for No Enrollment Fee and No Commitment
Planet Fitness
Rome
NY
Join Planet Fitness with a PF BLACK CARD® MEMBERSHIP for No Enrollment Fee, No Commitment, and No Annual Fee
Planet Fitness
Oneida
NY
Join Planet Fitness with a PF BLACK CARD® MEMBERSHIP for No Enrollment Fee, No Commitment, and No Annual Fee
Planet Fitness
Auburn
NY
Join Planet Fitness with a PF BLACK CARD® MEMBERSHIP for No Enrollment Fee, No Commitment, and No Annual Fee
Planet Fitness
Camillus, Ny
NY
Join Planet Fitness with a PF BLACK CARD® MEMBERSHIP for No Enrollment Fee, No Commitment, and No Annual Fee
Planet Fitness
Oswego
NY
Join Planet Fitness with a PF BLACK CARD® MEMBERSHIP for No Enrollment Fee, No Commitment, and No Annual Fee
Planet Fitness
Dewitt
NY
Join Planet Fitness with a PF BLACK CARD® MEMBERSHIP for No Enrollment Fee, No Commitment, and No Annual Fee
Planet Fitness
South Syracuse
NY
Join Planet Fitness with a PF BLACK CARD® MEMBERSHIP for No Enrollment Fee, No Commitment, and No Annual Fee
Planet Fitness
N. Syracuse
NY
Join Planet Fitness with a PF BLACK CARD® MEMBERSHIP for No Enrollment Fee, No Commitment, and No Annual Fee
Planet Fitness
Clearwater
FL
Join Planet Fitness with a Classic Membership for No Enrollment Fee and No Commitment
Planet Fitness
Spring Hill
FL
Join Planet Fitness with a Classic Membership for No Enrollment Fee and No Commitment
Planet Fitness
Brooksville
FL
Join Planet Fitness with a Classic Membership for No Enrollment Fee and No Commitment
Planet Fitness
Plant City
FL
Join Planet Fitness with a Classic Membership for No Enrollment Fee and No Commitment
Planet Fitness
Clearwater
FL
Join Planet Fitness with a Classic Membership for No Enrollment Fee and No Commitment
Planet Fitness
Tampa
FL
Join Planet Fitness with a Classic Membership for No Enrollment Fee and No Commitment
Planet Fitness
North Tampa
FL
Join Planet Fitness with a Classic Membership for No Enrollment Fee and No Commitment
Planet Fitness
Palm Harbor
FL
Join Planet Fitness with a Classic Membership for No Enrollment Fee and No Commitment
Planet Fitness
Auburndale
FL
Join Planet Fitness with a Classic Membership for No Enrollment Fee and No Commitment
Planet Fitness
Venice
FL
Join Planet Fitness with a Classic Membership for No Enrollment Fee and No Commitment
Planet Fitness
Bradenton
FL
Join Planet Fitness with a Classic Membership for No Enrollment Fee and No Commitment
Planet Fitness
Lakeland
FL
Join Planet Fitness with a Classic Membership for No Enrollment Fee and No Commitment
Planet Fitness
Holiday
FL
Join Planet Fitness with a Classic Membership for No Enrollment Fee and No Commitment
Planet Fitness
Sarasota
FL
Join Planet Fitness with a Classic Membership for No Enrollment Fee and No Commitment
Planet Fitness
St. Petersburg
FL
Join Planet Fitness with a Classic Membership for No Enrollment Fee and No Commitment
Planet Fitness
Tampa
FL
Join Planet Fitness with a Classic Membership for No Enrollment Fee and No Commitment
Planet Fitness
Lakeland
FL
Join Planet Fitness with a Classic Membership for No Enrollment Fee and No Commitment
Planet Fitness
Bradenton
FL
Join Planet Fitness with a Classic Membership for No Enrollment Fee and No Commitment
Planet Fitness
Seffner
FL
Join Planet Fitness with a Classic Membership for No Enrollment Fee and No Commitment
Planet Fitness
Tampa
FL
Join Planet Fitness with a Classic Membership for No Enrollment Fee and No Commitment
Planet Fitness
New Port Richey
FL
Join Planet Fitness with a Classic Membership for No Enrollment Fee and No Commitment
Planet Fitness
Clearwater
FL
Join Planet Fitness with a PF BLACK CARD® MEMBERSHIP for No Enrollment Fee, No Commitment, and No Annual Fee
Planet Fitness
Spring Hill
FL
Join Planet Fitness with a PF BLACK CARD® MEMBERSHIP for No Enrollment Fee, No Commitment, and No Annual Fee
Planet Fitness
Brooksville
FL
Join Planet Fitness with a PF BLACK CARD® MEMBERSHIP for No Enrollment Fee, No Commitment, and No Annual Fee
Planet Fitness
Plant City
FL
Join Planet Fitness with a PF BLACK CARD® MEMBERSHIP for No Enrollment Fee, No Commitment, and No Annual Fee
Planet Fitness
Clearwater
FL
Join Planet Fitness with a PF BLACK CARD® MEMBERSHIP for No Enrollment Fee, No Commitment, and No Annual Fee
Planet Fitness
Tampa
FL
Join Planet Fitness with a PF BLACK CARD® MEMBERSHIP for No Enrollment Fee, No Commitment, and No Annual Fee
Planet Fitness
North Tampa
FL
Join Planet Fitness with a PF BLACK CARD® MEMBERSHIP for No Enrollment Fee, No Commitment, and No Annual Fee
Planet Fitness
Palm Harbor
FL
Join Planet Fitness with a PF BLACK CARD® MEMBERSHIP for No Enrollment Fee, No Commitment, and No Annual Fee
Planet Fitness
Auburndale
FL
Join Planet Fitness with a PF BLACK CARD® MEMBERSHIP for No Enrollment Fee, No Commitment, and No Annual Fee
Planet Fitness
Venice
FL
Join Planet Fitness with a PF BLACK CARD® MEMBERSHIP for No Enrollment Fee, No Commitment, and No Annual Fee
Planet Fitness
Bradenton
FL
Join Planet Fitness with a PF BLACK CARD® MEMBERSHIP for No Enrollment Fee, No Commitment, and No Annual Fee
Planet Fitness
Lakeland
FL
Join Planet Fitness with a PF BLACK CARD® MEMBERSHIP for No Enrollment Fee, No Commitment, and No Annual Fee
Planet Fitness
Holiday
FL
Join Planet Fitness with a PF BLACK CARD® MEMBERSHIP for No Enrollment Fee, No Commitment, and No Annual Fee
Planet Fitness
Sarasota
FL
Join Planet Fitness with a PF BLACK CARD® MEMBERSHIP for No Enrollment Fee, No Commitment, and No Annual Fee
Planet Fitness
St. Petersburg
FL
Join Planet Fitness with a PF BLACK CARD® MEMBERSHIP for No Enrollment Fee, No Commitment, and No Annual Fee
Planet Fitness
Tampa
FL
Join Planet Fitness with a PF BLACK CARD® MEMBERSHIP for No Enrollment Fee, No Commitment, and No Annual Fee
Planet Fitness
Lakeland
FL
Join Planet Fitness with a PF BLACK CARD® MEMBERSHIP for No Enrollment Fee, No Commitment, and No Annual Fee
Planet Fitness
Bradenton
FL
Join Planet Fitness with a PF BLACK CARD® MEMBERSHIP for No Enrollment Fee, No Commitment, and No Annual Fee
Planet Fitness
Seffner
FL
Join Planet Fitness with a PF BLACK CARD® MEMBERSHIP for No Enrollment Fee, No Commitment, and No Annual Fee
Planet Fitness
Tampa
FL
Join Planet Fitness with a PF BLACK CARD® MEMBERSHIP for No Enrollment Fee, No Commitment, and No Annual Fee
Planet Fitness
New Port Richey
FL
Join Planet Fitness with a PF BLACK CARD® MEMBERSHIP for No Enrollment Fee, No Commitment, and No Annual Fee
Planet Fitness
Bowling Green
OH
Join Planet Fitness with a Classic Membership for No Enrollment Fee and No Commitment
Planet Fitness
Holland
OH
Join Planet Fitness with a Classic Membership for No Enrollment Fee and No Commitment
Planet Fitness
Adrian, Mi
MI
Join Planet Fitness with a Classic Membership for No Enrollment Fee and No Commitment
Planet Fitness
Perrysburg
OH
Join Planet Fitness with a Classic Membership for No Enrollment Fee and No Commitment
Planet Fitness
Defiance
OH
Join Planet Fitness with a Classic Membership for No Enrollment Fee and No Commitment
Planet Fitness
Findlay
OH
Join Planet Fitness with a Classic Membership for No Enrollment Fee and No Commitment
Planet Fitness
Toledo
OH
Join Planet Fitness with a Classic Membership for No Enrollment Fee and No Commitment
Planet Fitness
Sylvania
OH
Join Planet Fitness with a Classic Membership for No Enrollment Fee and No Commitment
Planet Fitness
Toledo
OH
Join Planet Fitness with a Classic Membership for No Enrollment Fee and No Commitment
Planet Fitness
Bowling Green
OH
Join Planet Fitness with a PF BLACK CARD® MEMBERSHIP for No Enrollment Fee, No Commitment, and No Annual Fee
Planet Fitness
Holland
OH
Join Planet Fitness with a PF BLACK CARD® MEMBERSHIP for No Enrollment Fee, No Commitment, and No Annual Fee
Planet Fitness
Adrian, Mi
MI
Join Planet Fitness with a PF BLACK CARD® MEMBERSHIP for No Enrollment Fee, No Commitment, and No Annual Fee
Planet Fitness
Perrysburg
OH
Join Planet Fitness with a PF BLACK CARD® MEMBERSHIP for No Enrollment Fee, No Commitment, and No Annual Fee
Planet Fitness
Defiance
OH
Join Planet Fitness with a PF BLACK CARD® MEMBERSHIP for No Enrollment Fee, No Commitment, and No Annual Fee
Planet Fitness
Findlay
OH
Join Planet Fitness with a PF BLACK CARD® MEMBERSHIP for No Enrollment Fee, No Commitment, and No Annual Fee
Planet Fitness
Toledo
OH
Join Planet Fitness with a PF BLACK CARD® MEMBERSHIP for No Enrollment Fee, No Commitment, and No Annual Fee
Planet Fitness
Sylvania
OH
Join Planet Fitness with a PF BLACK CARD® MEMBERSHIP for No Enrollment Fee, No Commitment, and No Annual Fee
Planet Fitness
Toledo
OH
Join Planet Fitness with a PF BLACK CARD® MEMBERSHIP for No Enrollment Fee, No Commitment, and No Annual Fee
Planet Fitness
Oro Valley
AZ
Join Planet Fitness with a Classic Membership for No Enrollment Fee and No Commitment
Planet Fitness
Tucson
AZ
Join Planet Fitness with a Classic Membership for No Enrollment Fee and No Commitment
Planet Fitness
Tucson
AZ
Join Planet Fitness with a Classic Membership for No Enrollment Fee and No Commitment
Planet Fitness
Tucson
AZ
Join Planet Fitness with a Classic Membership for No Enrollment Fee and No Commitment
Planet Fitness
Tucson
AZ
Join Planet Fitness with a Classic Membership for No Enrollment Fee and No Commitment
Planet Fitness
Sierra Vista
AZ
Join Planet Fitness with a Classic Membership for No Enrollment Fee and No Commitment
Planet Fitness
Oro Valley
AZ
Join Planet Fitness with a PF BLACK CARD® MEMBERSHIP for No Enrollment Fee, No Commitment, and No Annual Fee
Planet Fitness
Tucson
AZ
Join Planet Fitness with a PF BLACK CARD® MEMBERSHIP for No Enrollment Fee, No Commitment, and No Annual Fee
Planet Fitness
Tucson
AZ
Join Planet Fitness with a PF BLACK CARD® MEMBERSHIP for No Enrollment Fee, No Commitment, and No Annual Fee
Planet Fitness
Tucson
AZ
Join Planet Fitness with a PF BLACK CARD® MEMBERSHIP for No Enrollment Fee, No Commitment, and No Annual Fee
Planet Fitness
Tucson
AZ
Join Planet Fitness with a PF BLACK CARD® MEMBERSHIP for No Enrollment Fee, No Commitment, and No Annual Fee
Planet Fitness
Sierra Vista
AZ
Join Planet Fitness with a PF BLACK CARD® MEMBERSHIP for No Enrollment Fee, No Commitment, and No Annual Fee
Planet Fitness
Tulsa
OK
Join Planet Fitness with a Classic Membership for No Enrollment Fee and No Commitment
Planet Fitness
Broken Arrow
OK
Join Planet Fitness with a Classic Membership for No Enrollment Fee and No Commitment
Planet Fitness
Claremore
OK
Join Planet Fitness with a Classic Membership for No Enrollment Fee and No Commitment
Planet Fitness
Tulsa
OK
Join Planet Fitness with a Classic Membership for No Enrollment Fee and No Commitment
Planet Fitness
Bartlesville
OK
Join Planet Fitness with a Classic Membership for No Enrollment Fee and No Commitment
Planet Fitness
Tulsa
OK
Join Planet Fitness with a Classic Membership for No Enrollment Fee and No Commitment
Planet Fitness
South Tulsa
OK
Join Planet Fitness with a Classic Membership for No Enrollment Fee and No Commitment
Planet Fitness
Tulsa
OK
Join Planet Fitness with a PF BLACK CARD® MEMBERSHIP for No Enrollment Fee, No Commitment, and No Annual Fee
Planet Fitness
Broken Arrow
OK
Join Planet Fitness with a PF BLACK CARD® MEMBERSHIP for No Enrollment Fee, No Commitment, and No Annual Fee
Planet Fitness
Claremore
OK
Join Planet Fitness with a PF BLACK CARD® MEMBERSHIP for No Enrollment Fee, No Commitment, and No Annual Fee
Planet Fitness
Tulsa
OK
Join Planet Fitness with a PF BLACK CARD® MEMBERSHIP for No Enrollment Fee, No Commitment, and No Annual Fee
Planet Fitness
Bartlesville
OK
Join Planet Fitness with a PF BLACK CARD® MEMBERSHIP for No Enrollment Fee, No Commitment, and No Annual Fee
Planet Fitness
Tulsa
OK
Join Planet Fitness with a PF BLACK CARD® MEMBERSHIP for No Enrollment Fee, No Commitment, and No Annual Fee
Planet Fitness
South Tulsa
OK
Join Planet Fitness with a PF BLACK CARD® MEMBERSHIP for No Enrollment Fee, No Commitment, and No Annual Fee
Planet Fitness
Bloomington
MN
Join Planet Fitness with a Classic Membership for No Enrollment Fee and No Commitment
Planet Fitness
Minnetonka
MN
Join Planet Fitness with a Classic Membership for No Enrollment Fee and No Commitment
Planet Fitness
Burnsville
MN
Join Planet Fitness with a Classic Membership for No Enrollment Fee and No Commitment
Planet Fitness
West St. Paul
MN
Join Planet Fitness with a Classic Membership for No Enrollment Fee and No Commitment
Planet Fitness
Roseville
MN
Join Planet Fitness with a Classic Membership for No Enrollment Fee and No Commitment
Planet Fitness
White Bear Lake
MN
Join Planet Fitness with a Classic Membership for No Enrollment Fee and No Commitment
Planet Fitness
Crystal
MN
Join Planet Fitness with a Classic Membership for No Enrollment Fee and No Commitment
Planet Fitness
St. Paul
MN
Join Planet Fitness with a Classic Membership for No Enrollment Fee and No Commitment
Planet Fitness
St. Cloud
MN
Join Planet Fitness with a Classic Membership for No Enrollment Fee and No Commitment
Planet Fitness
COLUMBIA HEIGHTS
MN
Join Planet Fitness with a Classic Membership for No Enrollment Fee and No Commitment
Planet Fitness
Coon Rapids
MN
Join Planet Fitness with a Classic Membership for No Enrollment Fee and No Commitment
Planet Fitness
Cottage Grove
MN
Join Planet Fitness with a Classic Membership for No Enrollment Fee and No Commitment
Planet Fitness
Apple Valley
MN
Join Planet Fitness with a Classic Membership for No Enrollment Fee and No Commitment
Planet Fitness
Brooklyn Park
MN
Join Planet Fitness with a Classic Membership for No Enrollment Fee and No Commitment
Planet Fitness
Bloomington
MN
Join Planet Fitness with a PF BLACK CARD® MEMBERSHIP for No Enrollment Fee, No Commitment, and No Annual Fee
Planet Fitness
Minnetonka
MN
Join Planet Fitness with a PF BLACK CARD® MEMBERSHIP for No Enrollment Fee, No Commitment, and No Annual Fee
Planet Fitness
Burnsville
MN
Join Planet Fitness with a PF BLACK CARD® MEMBERSHIP for No Enrollment Fee, No Commitment, and No Annual Fee
Planet Fitness
West St. Paul
MN
Join Planet Fitness with a PF BLACK CARD® MEMBERSHIP for No Enrollment Fee, No Commitment, and No Annual Fee
Planet Fitness
Roseville
MN
Join Planet Fitness with a PF BLACK CARD® MEMBERSHIP for No Enrollment Fee, No Commitment, and No Annual Fee
Planet Fitness
White Bear Lake
MN
Join Planet Fitness with a PF BLACK CARD® MEMBERSHIP for No Enrollment Fee, No Commitment, and No Annual Fee
Planet Fitness
Crystal
MN
Join Planet Fitness with a PF BLACK CARD® MEMBERSHIP for No Enrollment Fee, No Commitment, and No Annual Fee
Planet Fitness
St. Paul
MN
Join Planet Fitness with a PF BLACK CARD® MEMBERSHIP for No Enrollment Fee, No Commitment, and No Annual Fee
Planet Fitness
St. Cloud
MN
Join Planet Fitness with a PF BLACK CARD® MEMBERSHIP for No Enrollment Fee, No Commitment, and No Annual Fee
Planet Fitness
COLUMBIA HEIGHTS
MN
Join Planet Fitness with a PF BLACK CARD® MEMBERSHIP for No Enrollment Fee, No Commitment, and No Annual Fee
Planet Fitness
Coon Rapids
MN
Join Planet Fitness with a PF BLACK CARD® MEMBERSHIP for No Enrollment Fee, No Commitment, and No Annual Fee
Planet Fitness
Cottage Grove
MN
Join Planet Fitness with a PF BLACK CARD® MEMBERSHIP for No Enrollment Fee, No Commitment, and No Annual Fee
Planet Fitness
Apple Valley
MN
Join Planet Fitness with a PF BLACK CARD® MEMBERSHIP for No Enrollment Fee, No Commitment, and No Annual Fee
Planet Fitness
Brooklyn Park
MN
Join Planet Fitness with a PF BLACK CARD® MEMBERSHIP for No Enrollment Fee, No Commitment, and No Annual Fee
Planet Fitness
Ogden
UT
Join Planet Fitness with a Classic Membership for No Enrollment Fee and No Commitment
Planet Fitness
Bountiful
UT
Join Planet Fitness with a Classic Membership for No Enrollment Fee and No Commitment
Planet Fitness
Orem
UT
Join Planet Fitness with a Classic Membership for No Enrollment Fee and No Commitment
Planet Fitness
Salt Lake City
UT
Join Planet Fitness with a Classic Membership for No Enrollment Fee and No Commitment
Planet Fitness
Salt Lake City
UT
Join Planet Fitness with a Classic Membership for No Enrollment Fee and No Commitment
Planet Fitness
Millcreek
UT
Join Planet Fitness with a Classic Membership for No Enrollment Fee and No Commitment
Planet Fitness
West Valley City
UT
Join Planet Fitness with a Classic Membership for No Enrollment Fee and No Commitment
Planet Fitness
South Ogden
UT
Join Planet Fitness with a Classic Membership for No Enrollment Fee and No Commitment
Planet Fitness
Murray
UT
Join Planet Fitness with a Classic Membership for No Enrollment Fee and No Commitment
Planet Fitness
Logan
UT
Join Planet Fitness with a Classic Membership for No Enrollment Fee and No Commitment
Planet Fitness
Ogden
UT
Join Planet Fitness with a PF BLACK CARD® MEMBERSHIP for No Enrollment Fee, No Commitment, and No Annual Fee
Planet Fitness
Bountiful
UT
Join Planet Fitness with a PF BLACK CARD® MEMBERSHIP for No Enrollment Fee, No Commitment, and No Annual Fee
Planet Fitness
Orem
UT
Join Planet Fitness with a PF BLACK CARD® MEMBERSHIP for No Enrollment Fee, No Commitment, and No Annual Fee
Planet Fitness
Salt Lake City
UT
Join Planet Fitness with a PF BLACK CARD® MEMBERSHIP for No Enrollment Fee, No Commitment, and No Annual Fee
Planet Fitness
Salt Lake City
UT
Join Planet Fitness with a PF BLACK CARD® MEMBERSHIP for No Enrollment Fee, No Commitment, and No Annual Fee
Planet Fitness
Millcreek
UT
Join Planet Fitness with a PF BLACK CARD® MEMBERSHIP for No Enrollment Fee, No Commitment, and No Annual Fee
Planet Fitness
West Valley City
UT
Join Planet Fitness with a PF BLACK CARD® MEMBERSHIP for No Enrollment Fee, No Commitment, and No Annual Fee
Planet Fitness
South Ogden
UT
Join Planet Fitness with a PF BLACK CARD® MEMBERSHIP for No Enrollment Fee, No Commitment, and No Annual Fee
Planet Fitness
Murray
UT
Join Planet Fitness with a PF BLACK CARD® MEMBERSHIP for No Enrollment Fee, No Commitment, and No Annual Fee
Planet Fitness
Logan
UT
Join Planet Fitness with a PF BLACK CARD® MEMBERSHIP for No Enrollment Fee, No Commitment, and No Annual Fee
Planet Fitness
North Vancouver
BC
Join Planet Fitness with a Classic Membership for No Enrollment Fee and No Commitment
Planet Fitness
Surrey
BC
Join Planet Fitness with a Classic Membership for No Enrollment Fee and No Commitment
Planet Fitness
Abbotsford
BC
Join Planet Fitness with a Classic Membership for No Enrollment Fee and No Commitment
Planet Fitness
Nanaimo
BC
Join Planet Fitness with a Classic Membership for No Enrollment Fee and No Commitment
Planet Fitness
Surrey
BC
Join Planet Fitness with a Classic Membership for No Enrollment Fee and No Commitment
Planet Fitness
North Vancouver
BC
Join Planet Fitness with a PF BLACK CARD® MEMBERSHIP for No Enrollment Fee, No Commitment, and No Annual Fee
Planet Fitness
Surrey
BC
Join Planet Fitness with a PF BLACK CARD® MEMBERSHIP for No Enrollment Fee, No Commitment, and No Annual Fee
Planet Fitness
Abbotsford
BC
Join Planet Fitness with a PF BLACK CARD® MEMBERSHIP for No Enrollment Fee, No Commitment, and No Annual Fee
Planet Fitness
Nanaimo
BC
Join Planet Fitness with a PF BLACK CARD® MEMBERSHIP for No Enrollment Fee, No Commitment, and No Annual Fee
Planet Fitness
Surrey
BC
Join Planet Fitness with a PF BLACK CARD® MEMBERSHIP for No Enrollment Fee, No Commitment, and No Annual Fee
Planet Fitness
Frederick
MD
Join Planet Fitness with a Classic Membership for No Enrollment Fee and No Commitment
Planet Fitness
Silver Spring
MD
Join Planet Fitness with a Classic Membership for No Enrollment Fee and No Commitment
Planet Fitness
Fairfax
VA
Join Planet Fitness with a Classic Membership for No Enrollment Fee and No Commitment
Planet Fitness
Silver Spring
MD
Join Planet Fitness with a Classic Membership for No Enrollment Fee and No Commitment
Planet Fitness
Hagerstown
MD
Join Planet Fitness with a Classic Membership for No Enrollment Fee and No Commitment
Planet Fitness
Fredericksburg
VA
Join Planet Fitness with a Classic Membership for No Enrollment Fee and No Commitment
Planet Fitness
Fort Washington
MD
Join Planet Fitness with a Classic Membership for No Enrollment Fee and No Commitment
Planet Fitness
Germantown
MD
Join Planet Fitness with a Classic Membership for No Enrollment Fee and No Commitment
Planet Fitness
Washington
DC
Join Planet Fitness with a Classic Membership for No Enrollment Fee and No Commitment
Planet Fitness
Woodbridge
VA
Join Planet Fitness with a Classic Membership for No Enrollment Fee and No Commitment
Planet Fitness
Winchester
VA
Join Planet Fitness with a Classic Membership for No Enrollment Fee and No Commitment
Planet Fitness
Rockville
MD
Join Planet Fitness with a Classic Membership for No Enrollment Fee and No Commitment
Planet Fitness
Sterling
VA
Join Planet Fitness with a Classic Membership for No Enrollment Fee and No Commitment
Planet Fitness
Sterling
VA
Join Planet Fitness with a Classic Membership for No Enrollment Fee and No Commitment
Planet Fitness
California, Md
MD
Join Planet Fitness with a Classic Membership for No Enrollment Fee and No Commitment
Planet Fitness
Gaithersburg
MD
Join Planet Fitness with a Classic Membership for No Enrollment Fee and No Commitment
Planet Fitness
Washington
DC
Join Planet Fitness with a Classic Membership for No Enrollment Fee and No Commitment
Planet Fitness
Waldorf
MD
Join Planet Fitness with a Classic Membership for No Enrollment Fee and No Commitment
Planet Fitness
Hyattsville
MD
Join Planet Fitness with a Classic Membership for No Enrollment Fee and No Commitment
Planet Fitness
Fredericksburg
VA
Join Planet Fitness with a Classic Membership for No Enrollment Fee and No Commitment
Planet Fitness
Alexandria
VA
Join Planet Fitness with a Classic Membership for No Enrollment Fee and No Commitment
Planet Fitness
Oxon Hill
MD
Join Planet Fitness with a Classic Membership for No Enrollment Fee and No Commitment
Planet Fitness
Centreville
VA
Join Planet Fitness with a Classic Membership for No Enrollment Fee and No Commitment
Planet Fitness
District Heights
MD
Join Planet Fitness with a Classic Membership for No Enrollment Fee and No Commitment
Planet Fitness
Alexandria
VA
Join Planet Fitness with a Classic Membership for No Enrollment Fee and No Commitment
Planet Fitness
Greenbelt
MD
Join Planet Fitness with a Classic Membership for No Enrollment Fee and No Commitment
Planet Fitness
Seat Pleasan
MD
Join Planet Fitness with a Classic Membership for No Enrollment Fee and No Commitment
Planet Fitness
Centreville
VA
Join Planet Fitness with a Classic Membership for No Enrollment Fee and No Commitment
Planet Fitness
Falls Church
VA
Join Planet Fitness with a Classic Membership for No Enrollment Fee and No Commitment
Planet Fitness
Bowie
MD
Join Planet Fitness with a Classic Membership for No Enrollment Fee and No Commitment
Planet Fitness
Clinton
MD
Join Planet Fitness with a Classic Membership for No Enrollment Fee and No Commitment
Planet Fitness
Manassas
VA
Join Planet Fitness with a Classic Membership for No Enrollment Fee and No Commitment
Planet Fitness
Springfield
VA
Join Planet Fitness with a Classic Membership for No Enrollment Fee and No Commitment
Planet Fitness
Landove
MD
Join Planet Fitness with a Classic Membership for No Enrollment Fee and No Commitment
Planet Fitness
Alexandria
VA
Join Planet Fitness with a Classic Membership for No Enrollment Fee and No Commitment
Planet Fitness
Laurel
MD
Join Planet Fitness with a Classic Membership for No Enrollment Fee and No Commitment
Planet Fitness
Fredericksburg
VA
Join Planet Fitness with a Classic Membership for No Enrollment Fee and No Commitment
Planet Fitness
Frederick
MD
Join Planet Fitness with a PF BLACK CARD® MEMBERSHIP for No Enrollment Fee, No Commitment, and No Annual Fee
Planet Fitness
Silver Spring
MD
Join Planet Fitness with a PF BLACK CARD® MEMBERSHIP for No Enrollment Fee, No Commitment, and No Annual Fee
Planet Fitness
Fairfax
VA
Join Planet Fitness with a PF BLACK CARD® MEMBERSHIP for No Enrollment Fee, No Commitment, and No Annual Fee
Planet Fitness
Silver Spring
MD
Join Planet Fitness with a PF BLACK CARD® MEMBERSHIP for No Enrollment Fee, No Commitment, and No Annual Fee
Planet Fitness
Hagerstown
MD
Join Planet Fitness with a PF BLACK CARD® MEMBERSHIP for No Enrollment Fee, No Commitment, and No Annual Fee
Planet Fitness
Fredericksburg
VA
Join Planet Fitness with a PF BLACK CARD® MEMBERSHIP for No Enrollment Fee, No Commitment, and No Annual Fee
Planet Fitness
Fort Washington
MD
Join Planet Fitness with a PF BLACK CARD® MEMBERSHIP for No Enrollment Fee, No Commitment, and No Annual Fee
Planet Fitness
Germantown
MD
Join Planet Fitness with a PF BLACK CARD® MEMBERSHIP for No Enrollment Fee, No Commitment, and No Annual Fee
Planet Fitness
Washington
DC
Join Planet Fitness with a PF BLACK CARD® MEMBERSHIP for No Enrollment Fee, No Commitment, and No Annual Fee
Planet Fitness
Woodbridge
VA
Join Planet Fitness with a PF BLACK CARD® MEMBERSHIP for No Enrollment Fee, No Commitment, and No Annual Fee
Planet Fitness
Winchester
VA
Join Planet Fitness with a PF BLACK CARD® MEMBERSHIP for No Enrollment Fee, No Commitment, and No Annual Fee
Planet Fitness
Rockville
MD
Join Planet Fitness with a PF BLACK CARD® MEMBERSHIP for No Enrollment Fee, No Commitment, and No Annual Fee
Planet Fitness
Sterling
VA
Join Planet Fitness with a PF BLACK CARD® MEMBERSHIP for No Enrollment Fee, No Commitment, and No Annual Fee
Planet Fitness
Sterling
VA
Join Planet Fitness with a PF BLACK CARD® MEMBERSHIP for No Enrollment Fee, No Commitment, and No Annual Fee
Planet Fitness
California, Md
MD
Join Planet Fitness with a PF BLACK CARD® MEMBERSHIP for No Enrollment Fee, No Commitment, and No Annual Fee
Planet Fitness
Gaithersburg
MD
Join Planet Fitness with a PF BLACK CARD® MEMBERSHIP for No Enrollment Fee, No Commitment, and No Annual Fee
Planet Fitness
Washington
DC
Join Planet Fitness with a PF BLACK CARD® MEMBERSHIP for No Enrollment Fee, No Commitment, and No Annual Fee
Planet Fitness
Waldorf
MD
Join Planet Fitness with a PF BLACK CARD® MEMBERSHIP for No Enrollment Fee, No Commitment, and No Annual Fee
Planet Fitness
Hyattsville
MD
Join Planet Fitness with a PF BLACK CARD® MEMBERSHIP for No Enrollment Fee, No Commitment, and No Annual Fee
Planet Fitness
Fredericksburg
VA
Join Planet Fitness with a PF BLACK CARD® MEMBERSHIP for No Enrollment Fee, No Commitment, and No Annual Fee
Planet Fitness
Alexandria
VA
Join Planet Fitness with a PF BLACK CARD® MEMBERSHIP for No Enrollment Fee, No Commitment, and No Annual Fee
Planet Fitness
Oxon Hill
MD
Join Planet Fitness with a PF BLACK CARD® MEMBERSHIP for No Enrollment Fee, No Commitment, and No Annual Fee
Planet Fitness
Centreville
VA
Join Planet Fitness with a PF BLACK CARD® MEMBERSHIP for No Enrollment Fee, No Commitment, and No Annual Fee
Planet Fitness
District Heights
MD
Join Planet Fitness with a PF BLACK CARD® MEMBERSHIP for No Enrollment Fee, No Commitment, and No Annual Fee
Planet Fitness
Alexandria
VA
Join Planet Fitness with a PF BLACK CARD® MEMBERSHIP for No Enrollment Fee, No Commitment, and No Annual Fee
Planet Fitness
Greenbelt
MD
Join Planet Fitness with a PF BLACK CARD® MEMBERSHIP for No Enrollment Fee, No Commitment, and No Annual Fee
Planet Fitness
Seat Pleasan
MD
Join Planet Fitness with a PF BLACK CARD® MEMBERSHIP for No Enrollment Fee, No Commitment, and No Annual Fee
Planet Fitness
Centreville
VA
Join Planet Fitness with a PF BLACK CARD® MEMBERSHIP for No Enrollment Fee, No Commitment, and No Annual Fee
Planet Fitness
Falls Church
VA
Join Planet Fitness with a PF BLACK CARD® MEMBERSHIP for No Enrollment Fee, No Commitment, and No Annual Fee
Planet Fitness
Bowie
MD
Join Planet Fitness with a PF BLACK CARD® MEMBERSHIP for No Enrollment Fee, No Commitment, and No Annual Fee
Planet Fitness
Clinton
MD
Join Planet Fitness with a PF BLACK CARD® MEMBERSHIP for No Enrollment Fee, No Commitment, and No Annual Fee
Planet Fitness
Manassas
VA
Join Planet Fitness with a PF BLACK CARD® MEMBERSHIP for No Enrollment Fee, No Commitment, and No Annual Fee
Planet Fitness
Springfield
VA
Join Planet Fitness with a PF BLACK CARD® MEMBERSHIP for No Enrollment Fee, No Commitment, and No Annual Fee
Planet Fitness
Landove
MD
Join Planet Fitness with a PF BLACK CARD® MEMBERSHIP for No Enrollment Fee, No Commitment, and No Annual Fee
Planet Fitness
Alexandria
VA
Join Planet Fitness with a PF BLACK CARD® MEMBERSHIP for No Enrollment Fee, No Commitment, and No Annual Fee
Planet Fitness
Laurel
MD
Join Planet Fitness with a PF BLACK CARD® MEMBERSHIP for No Enrollment Fee, No Commitment, and No Annual Fee
Planet Fitness
Fredericksburg
VA
Join Planet Fitness with a PF BLACK CARD® MEMBERSHIP for No Enrollment Fee, No Commitment, and No Annual Fee
Planet Fitness
Scarsdale
NY
Join Planet Fitness with a Classic Membership for No Enrollment Fee and No Commitment
Planet Fitness
Spring Valley
NY
Join Planet Fitness with a Classic Membership for No Enrollment Fee and No Commitment
Planet Fitness
Peekskill
NY
Join Planet Fitness with a Classic Membership for No Enrollment Fee and No Commitment
Planet Fitness
White Plains
NY
Join Planet Fitness with a Classic Membership for No Enrollment Fee and No Commitment
Planet Fitness
Yonkers
NY
Join Planet Fitness with a Classic Membership for No Enrollment Fee and No Commitment
Planet Fitness
Airmont
NY
Join Planet Fitness with a Classic Membership for No Enrollment Fee and No Commitment
Planet Fitness
New Rochelle
NY
Join Planet Fitness with a Classic Membership for No Enrollment Fee and No Commitment
Planet Fitness
Scarsdale
NY
Join Planet Fitness with a PF BLACK CARD® MEMBERSHIP for No Enrollment Fee, No Commitment, and No Annual Fee
Planet Fitness
Spring Valley
NY
Join Planet Fitness with a PF BLACK CARD® MEMBERSHIP for No Enrollment Fee, No Commitment, and No Annual Fee
Planet Fitness
Peekskill
NY
Join Planet Fitness with a PF BLACK CARD® MEMBERSHIP for No Enrollment Fee, No Commitment, and No Annual Fee
Planet Fitness
White Plains
NY
Join Planet Fitness with a PF BLACK CARD® MEMBERSHIP for No Enrollment Fee, No Commitment, and No Annual Fee
Planet Fitness
Yonkers
NY
Join Planet Fitness with a PF BLACK CARD® MEMBERSHIP for No Enrollment Fee, No Commitment, and No Annual Fee
Planet Fitness
Airmont
NY
Join Planet Fitness with a PF BLACK CARD® MEMBERSHIP for No Enrollment Fee, No Commitment, and No Annual Fee
Planet Fitness
New Rochelle
NY
Join Planet Fitness with a PF BLACK CARD® MEMBERSHIP for No Enrollment Fee, No Commitment, and No Annual Fee
Planet Fitness
Wichita
KS
Join Planet Fitness with a Classic Membership for No Enrollment Fee and No Commitment
Planet Fitness
Wichita
KS
Join Planet Fitness with a Classic Membership for No Enrollment Fee and No Commitment
Planet Fitness
Wichita
KS
Join Planet Fitness with a Classic Membership for No Enrollment Fee and No Commitment
Planet Fitness
Wichita
KS
Join Planet Fitness with a Classic Membership for No Enrollment Fee and No Commitment
Planet Fitness
Hutchinson
KS
Join Planet Fitness with a Classic Membership for No Enrollment Fee and No Commitment
Planet Fitness
Wichita
KS
Join Planet Fitness with a Classic Membership for No Enrollment Fee and No Commitment
Planet Fitness
Wichita
KS
Join Planet Fitness with a PF BLACK CARD® MEMBERSHIP for No Enrollment Fee, No Commitment, and No Annual Fee
Planet Fitness
Wichita
KS
Join Planet Fitness with a PF BLACK CARD® MEMBERSHIP for No Enrollment Fee, No Commitment, and No Annual Fee
Planet Fitness
Wichita
KS
Join Planet Fitness with a PF BLACK CARD® MEMBERSHIP for No Enrollment Fee, No Commitment, and No Annual Fee
Planet Fitness
Wichita
KS
Join Planet Fitness with a PF BLACK CARD® MEMBERSHIP for No Enrollment Fee, No Commitment, and No Annual Fee
Planet Fitness
Hutchinson
KS
Join Planet Fitness with a PF BLACK CARD® MEMBERSHIP for No Enrollment Fee, No Commitment, and No Annual Fee
Planet Fitness
Wichita
KS
Join Planet Fitness with a PF BLACK CARD® MEMBERSHIP for No Enrollment Fee, No Commitment, and No Annual Fee
Planet Fitness
Winnipeg
MB
Join Planet Fitness with a Classic Membership for No Enrollment Fee and No Commitment
Planet Fitness
Winnipeg
MB
Join Planet Fitness with a Classic Membership for No Enrollment Fee and No Commitment
Planet Fitness
Winnipeg
MB
Join Planet Fitness with a PF BLACK CARD® MEMBERSHIP for No Enrollment Fee, No Commitment, and No Annual Fee
Planet Fitness
Winnipeg
MB
Join Planet Fitness with a PF BLACK CARD® MEMBERSHIP for No Enrollment Fee, No Commitment, and No Annual Fee
Planet Sub
Clarkston
MI
Enjoy 20% off the total bill
Planet Sub
Clarkston
MI
Enjoy one free menu item with purchase of same
Playhouse 4 Kids
La Crescenta-Montrose
CA
Enjoy one free open play admission with purchase of same
Playtrium
Kingston
ON
Enjoy one free admission with purchase of same
Plaza Azteca
Sicklerville
NJ
Enjoy one free entrée with purchase of same
Plenty
Oakland
CA
Enjoy 25% off the total bill
Pluto's
Davis
CA
Enjoy 10% off the total bill
Pluto's
Davis
CA
Enjoy 25% off the total bill
Poké Bar
Raleigh
NC
Enjoy 10% off the total bill
Poké Bar
Raleigh
NC
Enjoy 25% off the total bill
Pokeworks
Troy
MI
Enjoy 10% off the total bill
Pokeworks
Troy
MI
Enjoy one free menu item with purchase of same
Poppin Pita Grill
Atlanta
GA
Enjoy 25% off the total bill
Pop's Italian Deli
Newfoundland
NJ
Enjoy 10% off the total bill
Pop's Italian Deli
Newfoundland
NJ
Enjoy one free menu item with purchase of same
Porkopolis
Carmel
IN
Enjoy 10% off the total bill
Porkopolis
Carmel
IN
Enjoy 25% off the total bill
Prego Mediterranean
Tustin
CA
Enjoy 25% off the total bill
Pressley Park Restaurant
Charlotte
NC
Enjoy one free entrée with purchase of same
Primo Pizza - 844 Pizza NJ
South River
NJ
Enjoy 10% off the total bill
Primo Pizza - 844 Pizza NJ
South River
NJ
Enjoy 25% off the total bill
Princess Confections Bakery
Indianapolis
IN
Enjoy one free menu item with purchase of same
Pronto Restaurant
Ridgewood
NY
Enjoy one free entrée with purchase of same
Pueblo Viejo
Memphis
TN
Enjoy one free entrée with purchase of same
Puerto Vallarta
Lake Park
NC
Enjoy 25% off the total bill
Punch Burger
Carmel
IN
Enjoy one free menu item with purchase of same
Quates Mexican Restaurant
Oakland Park
FL
Enjoy 25% off the total bill
Quebec Parcel
Rouses Point
NY
Enjoy 20% off any parcel fee
Quickly
Van Nuys
CA
Enjoy one free menu item with purchase of same
Quik Wok
San Antonio
TX
Enjoy one free menu item with purchase of same
R Wireless
Glen Falls
NY
Enjoy 25% off in stock accessories
R Wireless
Glen Falls
NY
Enjoy one FREE HUM PLUS. Requires activation on a 2 year agreement.
R Wireless
Glen Falls
NY
Free professional installation and activation with the purchase of any Vivint Smart Home
R Wireless
Greenwich
NY
Enjoy 25% off in stock accessories
R Wireless
Schenectady
NY
Enjoy 25% off in stock accessories
R Wireless
Delmar
NY
Enjoy 25% off in stock accessories
R Wireless
Guilderland
NY
Enjoy 25% off in stock accessories
R Wireless
Hudson Falls
NY
Enjoy 25% off in stock accessories
R Wireless
Greenwich
NY
Enjoy one FREE HUM PLUS. Requires activation on a 2 year agreement.
R Wireless
Schenectady
NY
Enjoy one FREE HUM PLUS. Requires activation on a 2 year agreement.
R Wireless
Delmar
NY
Enjoy one FREE HUM PLUS. Requires activation on a 2 year agreement.
R Wireless
Guilderland
NY
Enjoy one FREE HUM PLUS. Requires activation on a 2 year agreement.
R Wireless
Hudson Falls
NY
Enjoy one FREE HUM PLUS. Requires activation on a 2 year agreement.
R Wireless
Greenwich
NY
Free professional installation and activation with the purchase of any Vivint Smart Home
R Wireless
Schenectady
NY
Free professional installation and activation with the purchase of any Vivint Smart Home
R Wireless
Delmar
NY
Free professional installation and activation with the purchase of any Vivint Smart Home
R Wireless
Guilderland
NY
Free professional installation and activation with the purchase of any Vivint Smart Home
R Wireless
Hudson Falls
NY
Free professional installation and activation with the purchase of any Vivint Smart Home
R Wireless
Little Elm
TX
Enjoy 25% off in stock accessories
R Wireless
Flower Mound
TX
Enjoy 25% off in stock accessories
R Wireless
Garland
TX
Enjoy 25% off in stock accessories
R Wireless
Little Elm
TX
Enjoy one FREE HUM PLUS. Requires activation on a 2 year agreement.
R Wireless
Flower Mound
TX
Enjoy one FREE HUM PLUS. Requires activation on a 2 year agreement.
R Wireless
Garland
TX
Enjoy one FREE HUM PLUS. Requires activation on a 2 year agreement.
R Wireless
Little Elm
TX
Free professional installation and activation with the purchase of any Vivint Smart Home
R Wireless
Flower Mound
TX
Free professional installation and activation with the purchase of any Vivint Smart Home
R Wireless
Garland
TX
Free professional installation and activation with the purchase of any Vivint Smart Home
R Wireless
Euless
TX
Enjoy 25% off in stock accessories
R Wireless
Fort Worth
TX
Enjoy 25% off in stock accessories
R Wireless
Arlington
TX
Enjoy 25% off in stock accessories
R Wireless
Euless
TX
Enjoy one FREE HUM PLUS. Requires activation on a 2 year agreement.
R Wireless
Fort Worth
TX
Enjoy one FREE HUM PLUS. Requires activation on a 2 year agreement.
R Wireless
Arlington
TX
Enjoy one FREE HUM PLUS. Requires activation on a 2 year agreement.
R Wireless
Euless
TX
Free professional installation and activation with the purchase of any Vivint Smart Home
R Wireless
Fort Worth
TX
Free professional installation and activation with the purchase of any Vivint Smart Home
R Wireless
Arlington
TX
Free professional installation and activation with the purchase of any Vivint Smart Home
R Wireless
Waltham
MA
Enjoy 25% off in stock accessories
R Wireless
Needham
MA
Enjoy 25% off in stock accessories
R Wireless
Kingston
MA
Enjoy 25% off in stock accessories
R Wireless
Brockton
MA
Enjoy 25% off in stock accessories
R Wireless
Foxborough
MA
Enjoy 25% off in stock accessories
R Wireless
Middleton
MA
Enjoy 25% off in stock accessories
R Wireless
Millis
MA
Enjoy 25% off in stock accessories
R Wireless
Plymouth
MA
Enjoy 25% off in stock accessories
R Wireless
Waltham
MA
Enjoy one FREE HUM PLUS. Requires activation on a 2 year agreement.
R Wireless
Needham
MA
Enjoy one FREE HUM PLUS. Requires activation on a 2 year agreement.
R Wireless
Kingston
MA
Enjoy one FREE HUM PLUS. Requires activation on a 2 year agreement.
R Wireless
Brockton
MA
Enjoy one FREE HUM PLUS. Requires activation on a 2 year agreement.
R Wireless
Foxborough
MA
Enjoy one FREE HUM PLUS. Requires activation on a 2 year agreement.
R Wireless
Middleton
MA
Enjoy one FREE HUM PLUS. Requires activation on a 2 year agreement.
R Wireless
Millis
MA
Enjoy one FREE HUM PLUS. Requires activation on a 2 year agreement.
R Wireless
Plymouth
MA
Enjoy one FREE HUM PLUS. Requires activation on a 2 year agreement.
R Wireless
Waltham
MA
Free professional installation and activation with the purchase of any Vivint Smart Home
R Wireless
Needham
MA
Free professional installation and activation with the purchase of any Vivint Smart Home
R Wireless
Kingston
MA
Free professional installation and activation with the purchase of any Vivint Smart Home
R Wireless
Brockton
MA
Free professional installation and activation with the purchase of any Vivint Smart Home
R Wireless
Foxborough
MA
Free professional installation and activation with the purchase of any Vivint Smart Home
R Wireless
Middleton
MA
Free professional installation and activation with the purchase of any Vivint Smart Home
R Wireless
Millis
MA
Free professional installation and activation with the purchase of any Vivint Smart Home
R Wireless
Plymouth
MA
Free professional installation and activation with the purchase of any Vivint Smart Home
R Wireless
Guilford
CT
Enjoy 25% off in stock accessories
R Wireless
Oxford
CT
Enjoy 25% off in stock accessories
R Wireless
Norwich
CT
Enjoy 25% off in stock accessories
R Wireless
Guilford
CT
Enjoy one FREE HUM PLUS. Requires activation on a 2 year agreement.
R Wireless
Oxford
CT
Enjoy one FREE HUM PLUS. Requires activation on a 2 year agreement.
R Wireless
Norwich
CT
Enjoy one FREE HUM PLUS. Requires activation on a 2 year agreement.
R Wireless
Guilford
CT
Free professional installation and activation with the purchase of any Vivint Smart Home
R Wireless
Oxford
CT
Free professional installation and activation with the purchase of any Vivint Smart Home
R Wireless
Norwich
CT
Free professional installation and activation with the purchase of any Vivint Smart Home
R Wireless
South Franklin
NJ
Enjoy 25% off in stock accessories
R Wireless
Ewing
NJ
Enjoy 25% off in stock accessories
R Wireless
Ramsey
NJ
Enjoy 25% off in stock accessories
R Wireless
South Franklin
NJ
Enjoy one FREE HUM PLUS. Requires activation on a 2 year agreement.
R Wireless
Ewing
NJ
Enjoy one FREE HUM PLUS. Requires activation on a 2 year agreement.
R Wireless
Ramsey
NJ
Enjoy one FREE HUM PLUS. Requires activation on a 2 year agreement.
R Wireless
South Franklin
NJ
Free professional installation and activation with the purchase of any Vivint Smart Home
R Wireless
Ewing
NJ
Free professional installation and activation with the purchase of any Vivint Smart Home
R Wireless
Ramsey
NJ
Free professional installation and activation with the purchase of any Vivint Smart Home
R Wireless
Glassboro
NJ
Enjoy 25% off in stock accessories
R Wireless
Jackson
NJ
Enjoy 25% off in stock accessories
R Wireless
Cape May
NJ
Enjoy 25% off in stock accessories
R Wireless
Delran
NJ
Enjoy 25% off in stock accessories
R Wireless
Tuckerton
NJ
Enjoy 25% off in stock accessories
R Wireless
Glassboro
NJ
Enjoy one FREE HUM PLUS. Requires activation on a 2 year agreement.
R Wireless
Jackson
NJ
Enjoy one FREE HUM PLUS. Requires activation on a 2 year agreement.
R Wireless
Cape May
NJ
Enjoy one FREE HUM PLUS. Requires activation on a 2 year agreement.
R Wireless
Delran
NJ
Enjoy one FREE HUM PLUS. Requires activation on a 2 year agreement.
R Wireless
Tuckerton
NJ
Enjoy one FREE HUM PLUS. Requires activation on a 2 year agreement.
R Wireless
Glassboro
NJ
Free professional installation and activation with the purchase of any Vivint Smart Home
R Wireless
Jackson
NJ
Free professional installation and activation with the purchase of any Vivint Smart Home
R Wireless
Cape May
NJ
Free professional installation and activation with the purchase of any Vivint Smart Home
R Wireless
Delran
NJ
Free professional installation and activation with the purchase of any Vivint Smart Home
R Wireless
Tuckerton
NJ
Free professional installation and activation with the purchase of any Vivint Smart Home
R Wireless
Wantagh
NY
Enjoy 25% off in stock accessories
R Wireless
Garden City
NY
Enjoy 25% off in stock accessories
R Wireless
Wantagh
NY
Enjoy one FREE HUM PLUS. Requires activation on a 2 year agreement.
R Wireless
Garden City
NY
Enjoy one FREE HUM PLUS. Requires activation on a 2 year agreement.
R Wireless
Wantagh
NY
Free professional installation and activation with the purchase of any Vivint Smart Home
R Wireless
Garden City
NY
Free professional installation and activation with the purchase of any Vivint Smart Home
R Wireless
East Stroudsburg
PA
Enjoy 25% off in stock accessories
R Wireless
East Stroudsburg
PA
Enjoy one FREE HUM PLUS. Requires activation on a 2 year agreement.
R Wireless
East Stroudsburg
PA
Free professional installation and activation with the purchase of any Vivint Smart Home
R Wireless
Downingtown
PA
Enjoy 25% off in stock accessories
R Wireless
Downingtown
PA
Enjoy one FREE HUM PLUS. Requires activation on a 2 year agreement.
R Wireless
Downingtown
PA
Free professional installation and activation with the purchase of any Vivint Smart Home
R Wireless
Easton
PA
Enjoy 25% off in stock accessories
R Wireless
Sinking Spring
PA
Enjoy 25% off in stock accessories
R Wireless
Boyertown
PA
Enjoy 25% off in stock accessories
R Wireless
Easton
PA
Enjoy one FREE HUM PLUS. Requires activation on a 2 year agreement.
R Wireless
Sinking Spring
PA
Enjoy one FREE HUM PLUS. Requires activation on a 2 year agreement.
R Wireless
Boyertown
PA
Enjoy one FREE HUM PLUS. Requires activation on a 2 year agreement.
R Wireless
Easton
PA
Free professional installation and activation with the purchase of any Vivint Smart Home
R Wireless
Sinking Spring
PA
Free professional installation and activation with the purchase of any Vivint Smart Home
R Wireless
Boyertown
PA
Free professional installation and activation with the purchase of any Vivint Smart Home
R Wireless
Longmeadow
MA
Enjoy 25% off in stock accessories
R Wireless
Longmeadow
MA
Enjoy one FREE HUM PLUS. Requires activation on a 2 year agreement.
R Wireless
Longmeadow
MA
Free professional installation and activation with the purchase of any Vivint Smart Home
R Wireless
North Syracuse
NY
Enjoy 25% off in stock accessories
R Wireless
North Syracuse
NY
Enjoy one FREE HUM PLUS. Requires activation on a 2 year agreement.
R Wireless
North Syracuse
NY
Free professional installation and activation with the purchase of any Vivint Smart Home
Rai Rai Ramen & Hawaiian BBQ
West Chester
PA
Enjoy one free menu item with purchase of same
Ram Restaurant & Brewery
Rosemont
IL
Enjoy 10% off the total bill
Ram Restaurant & Brewery
Rosemont
IL
Enjoy 25% off the total bill
Randazzo's Pizzeria
Collingswood
NJ
Enjoy 25% off the total bill
Rasa
Orlando
FL
Enjoy one free entrée with purchase of same
Rasta Kitchen
Merchantville
NJ
Enjoy one free menu item with purchase of same
Real Urban Barbecue
Oak Brook
IL
Enjoy 25% off the total bill
Recovery Zone
Van Nuys
CA
Enjoy 10% off the total bill
Recovery Zone
Woodland Hills
CA
Enjoy 10% off the total bill
Recovery Zone
Van Nuys
CA
Enjoy one free menu item with purchase of same
Recovery Zone
Woodland Hills
CA
Enjoy one free menu item with purchase of same
Red Boy Pizza
Oakland
CA
Enjoy 25% off the total bill
Red Bridges Barbecue Lodge
Shelby
NC
Enjoy 10% off the total bill
Red Bridges Barbecue Lodge
Shelby
NC
Enjoy 25% off the total bill
Red Rooster Cafe
Mineral Point
WI
Enjoy 10% off the total bill