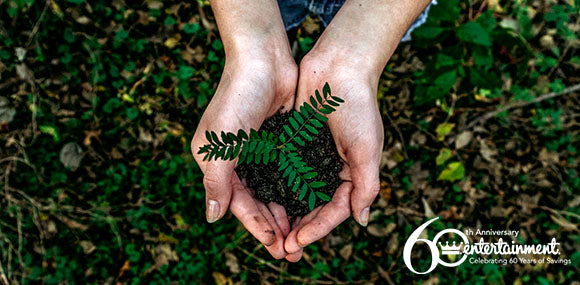 Earth Day is coming up next week on April, 22nd and with it a more conscious effort to curb carbon footprints. Though there's extra emphasis on helping the environment on Earth Day, there are things you can do all year to help the planet. This includes planting trees, recycling, and going paperless.
The majority of our 2021 Entertainment® Coupon Book is actually printed on recycled paper and can be easily recycled at the end of the year. Using recycled paper is a small step we've taken over the past few years to diminish our carbon footprint, but now we're planning to take a much bigger step towards this goal.
Entertainment® is going all digital next year and discontinuing the printing of the Entertainment® Coupon Books. Starting in 2022 we will only have our Entertainment® Coupon App and the Entertainment® Member website—we'll be doing our part to be a little greener. And by buying a digital membership and using our coupon app instead of printed coupons, so will you.
Using a coupon app is a zero-waste alternative to get discounts and save money. Plus, with our app you can help others go green by sharing offers with friends and family. You can also save offers for later use, find participating merchants near you anywhere in the U.S. and Canada, and search through the app to find different kinds of discounts.
We're looking forward to having a more sustainable product. The Entertainment® Digital Membership and Coupon App is a great tool to cut costs and have less paper waste in your everyday life. If you already love saving money with the Entertainment® Coupon Book, download the app for an even more comprehensive saving experience. Don't have a membership yet? Buy one today and start going paperless with your savings just in time for Earth Day!