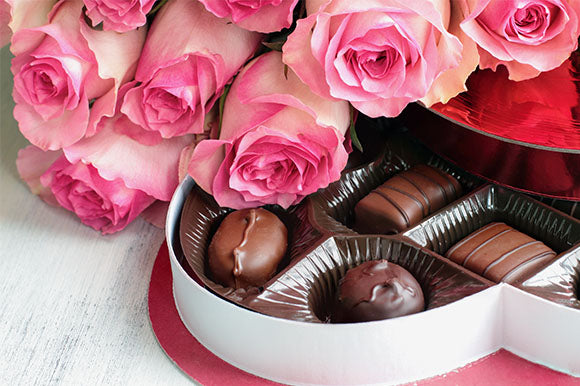 With Valentine's Day coming up you've probably already started thinking about how to celebrate that special someone in your life. Maybe you've even begun to make some plans, but there's no doubt that Valentine's Day will look a little different this year. So, how exactly can you go about celebrating love during a pandemic?
Surprisingly, it's not as hard as you think. You can still abide by the age-old tradition of giving flowers, though you may have to opt for delivery. It shouldn't be too hard to locate some nice chocolates or other equally delicious Valentine's treats. And you can live up to all the excitement and tradition of the day with the help of your Entertainment® membership. Just sit back and smell the (affordable) roses while taking care of all your Valentine's Day needs with Entertainment® offers.
If you're looking to go the traditional flowers and chocolates route this year, check out some of our deals. In addition to the local flower shops that we partner with throughout the country, we also have discounts through 1-800Flowers.com®. As for chocolate, you can choose from a variety of offers. For those of us who love chocolate-covered treats, check out Shari's Berries® for just about any kind of dipped strawberry you can imagine. Or you can look through some options for boxed chocolates on Simply Chocolate®.
Aside from gifts, there's also the usual Valentine's dinner. Going out to a restaurant may be less feasible this year, but that doesn't mean you have to miss out on a great meal. Many upscale restaurants are offering dinner-for-two dining experiences that can be enjoyed at home. These options allow you to have a special night without having to leave the house. Plus, several offers within the Entertainment® restaurant network can be used for carryout.
To those Valentine adventurers who want some less traditional options, don't worry. You won't be disappointed with the discounts Entertainment® offers on activities and admissions. Perhaps you can have a romantic evening roller skating with your special someone?
Explore the many discounts offered by Entertainment® to plan an unforgettable Valentine's Day. Don't have a membership? Buy one now! Save on every holiday with an Entertainment® membership.
Disclaimer: Major holidays are excluded when using coupons