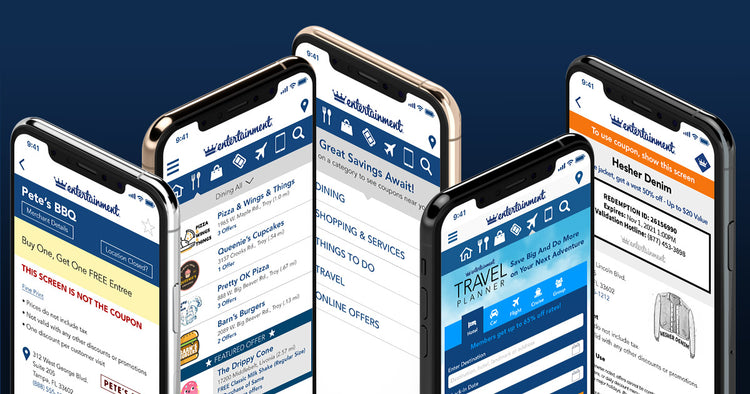 Hey, we've been doing this for almost 60 years. After all, we wrote the Book on savings! Our Members want one convenient go-to for lots of high value and diverse coupons. We applied modern technology to what was already a tried and true product, and our app was born. With 100s of five-star ratings from our Members, we're sure we got it right!
There are so many reasons why people love using the Entertainment® Coupon App. We decided to share five of them with you!
#1 - Convenient Savings on the Go
If you're looking for an app that's user friendly and includes 1,000s of 2-for-1 and up to 50% off coupons, the Entertainment® App is for you.  Whether you're out and about in your neighborhood or traveling, there are over 300,000 ways to save in 10,000+ cities across the U.S. and Canada.
Since your phone is always with you, savings are just a click away. When you open our app, offers relevant to your current location are the first ones you'll see in each category. We also have an easy to use search feature when you're looking for a specific merchant.
With Entertainment® coupons conveniently available on the app, just show your phone to save!
#2 - A Great Way to Try Something New
Do you get bored eating at the same restaurants, or want to experience some new activities? Sometimes we all need a little motivation to try something new. That's what makes our app so much fun!
When people search for coupons for restaurants or things to do, they often find merchants they have never heard of and/or checked out before.  All the good deals available on the Entertainment® App are incentives to get out of the rut we all get into – frequenting the same establishments. Members are pleased with how much money they save by trying new restaurants and activities. Some of these places also become new favorites.
What a great way to inspire you to try something different than your norm. Plus, it's always a bonus when you keep a little extra money in your wallet while doing it!
#3 - Travel Made Affordable and Easy
Planning your next vacation? We can help. When you download the Entertainment® Coupon App, you'll have access to the Entertainment® Travel Planner – it's located right on the app. There are so many deals – over 650,000 hotels, car rentals, airfare, cruises, and popular attractions. Entertainment® makes booking travel easier and more affordable than ever.
But wait…it doesn't stop with planning your getaway. Since the Entertainment® App is on your phone, it travels with you wherever you go in the U.S. and Canada.
If you're the ultimate planner, it's easy to switch to your travel destination on the app and check out local restaurants, attractions, and more. That way you won't miss any great deals and new experiences that await you. If you prefer to wing it, use the location feature on the app when you get to your vacation spot and start exploring. Either way, the app is sure to generate great ideas and potential savings for places to dine and play while traveling.
One more thing…the app is a great tool to have with you for those impromptu road trips!
#4 - So Many Deals…Always Something New
Last year alone, we added thousands of new savings across the U.S. and Canada, with more added all the time. With so many merchants now accepting digital offers, the app is the most convenient way to save, while also being conscience about striving to go green.
Because we are adding so many offers, we encourage our Members to check the app often so that you're aware of new deals near you. Plus, you can opt in to receive push notifications for the best savings when you're out and about!
#5 - Something for Everyone
As you know, Entertainment® has a long-standing reputation of providing high quality coupons that provide savings for everyone. We're all about variety.
While restaurant coupons continue to be the favorite amongst our Members, there is so much more to enjoy.  From services like oil changes to home cleaning; things to do that range from movies to museums; shopping – both online and retail locations; travel which includes everything needed to plan a great trip…we're here to help you save on the everyday things and your special events.
Quite simply put. The Entertainment® Coupon App has it all!
OK, so are you ready to start saving?
You're just a click away from access to all our valuable deals.
First time Entertainment® Member? Simply click here to get started.
Have the Entertainment® Book, but never activated the Digital Membership? What are you waiting for – you're missing out on additional savings! Go to your Google Play or Apple App Store and download the Entertainment® App – Search for "Entertainment Coupons". After you download the app, tap the "Don't have an account", and find your Access Code on the inside front cover of your Entertainment® Book to complete registration.