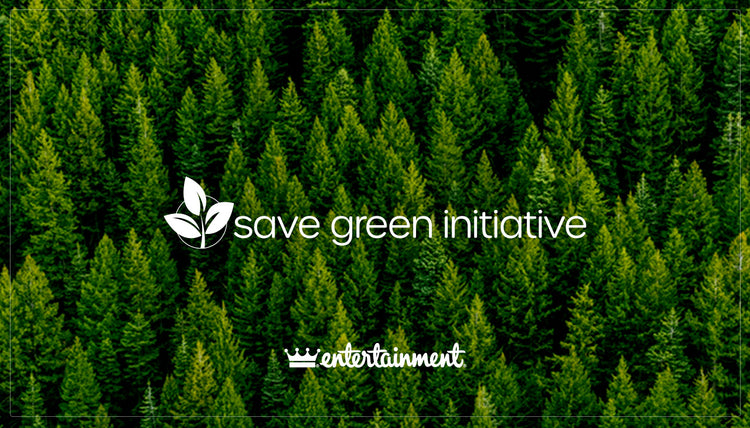 To show our commitment to diminishing our carbon footprint, we are taking big steps.
You may have noticed our books getting smaller over the past several years. This was our first step in our effort to decrease our paper usage, while motivating our Members to turn to our app to find even more offers and a convenient way to redeem them. 
To move forward along this path, we are proud to announce our new Save Green Initiative. We are now planting a tree for every person who purchases a 2021 Entertainment® Book, downloads the Entertainment® Coupon App and activates a membership!
One tree per person might seem like a small step, but many trees become a forest! These steps propel us further in our journey toward doing our part to save our planet while we continue to save you money.
The majority of the book you are holding right now is printed on recycled paper. That's one more step we've taken to reduce our impact on the environment.
As more people discover the convenience and benefits of saving right on their phone with our app, we will continue to decrease our use of natural resources.
But we want to go a step further.
A big step.
To show our commitment to saving trees and helping our environment, we are rolling out our Save Green Initiative with our 2021 Entertainment® Book membership!
Here's how it works:
Purchase Our Book: Purchase a 2021 Entertainment® Coupon Book. Search "Entertainment Coupons" in the Google Play Store or App Store, then download the Entertainment® Coupon App.
Activate Our App: Activate your membership in our app with the Membership Access Code found inside the front cover of your Entertainment® Book.
Plant Your Tree: Upon completion, you will have the option to have us plant a tree in your name at no charge to you—just tap

"Yes, Plant My Tree"

and we will send you details on when and where your tree will be planted.
Keep an eye on our blog for future updates on how our forest is growing!