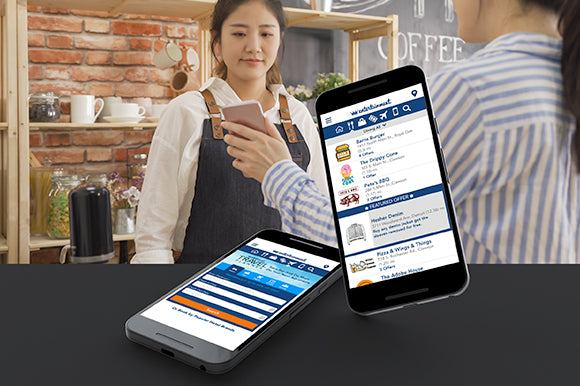 Have you ever used the Entertainment® Coupon App? If you have our Entertainment® Coupon Book membership you can get access to our digital membership with the Entertainment® Coupon App. Simply download it in the app store, plug in the digital access code in the front cover of your book, and start saving with our digital offers.
Though Entertainment® started as a coupon book company, our app offers more comprehensive savings. Some of the benefits of our Entertainment® Coupon App include:
1) Access to Discounts Anywhere
One of the great things about the mobile app is that it gives you access to all the coupons in your book as well as access to offers all throughout the United States and Canada. When you're traveling in different states or cities you can pull up the Entertainment® Coupon App and check out which restaurants near you have coupons available.
It's more than just dining, though. The app has all of our coupons, meaning you have access to every coupon category in the book right there in your pocket. You can save throughout your vacation by using the Entertainment® Coupon App.
2) Easy on-the-go Savings
People forget coupons all the time. Either you forget them at home, or you forget that you even have a coupon for a certain place. And as an Entertainment® member, it can be hard to remember every single coupon that's offered in the book. This is where the app comes in.
Say you decide to go to a restaurant specifically because there's an Entertainment® discount, but then you leave the coupon at home. With the app you can simply search for the business or restaurant, pull up the coupon, and voila! No more chastising yourself for left behind coupons.
This on-the-go benefit is also great for when you're out and about and decide to grab food or complete that errand you really should have done by now. Just pull up the app and see what discounts there are near you. Plus, it's a great way to narrow down restaurant choices.
3) Quick Access to Discounts
Ever feel like you just need to get out of the house, but you're not sure what to do or where to go? Well, never fear when the Entertainment® Coupon App is here. Whether you need some alone time or want to find a family activity, you've got plenty of options with our app. You can easily find and plan an activity in five minutes with some good old-fashioned scrolling. Go bowling with your friends, take the family to a museum, or relax at a nearby spa. The Entertainment® Coupon App gives you quick and easy access to coupons for dozens of activities.
Become an Entertainment® Member Today!
This post covers just a few of the benefits you get when using the Entertainment® Coupon App. Download the app now to experience everything Entertainment® has to offer. Not a member? Visit our website to purchase a membership and start saving every day!