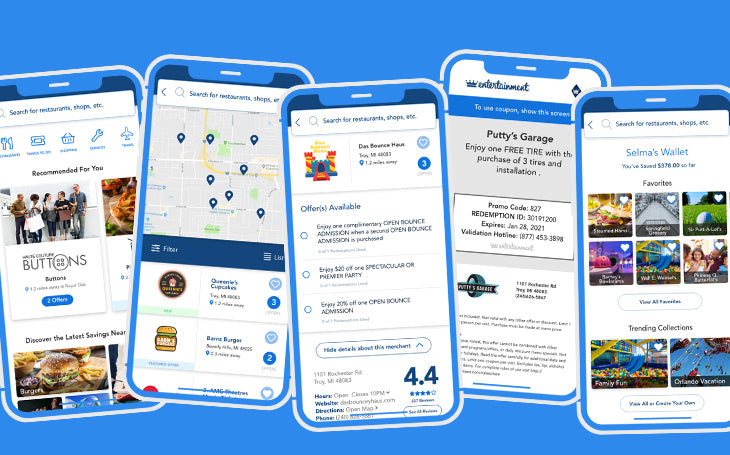 New look and new features make saving easier than ever!
You're going to love it! We've listened to your feedback and we're unveiling a fresh new look and exciting features that will enhance your experience.
Welcome New Members
First Timer?
If you've never experienced the convenience of the Entertainment® App, you're in for a treat! We make it easy to start saving immediately. Let's walk through it together.
Have the Entertainment® Book, but Never Activated the Digital Membership?
What are you waiting for – you're missing out on additional savings! Go to your Google Play or Apple App Store and download the Entertainment® App – Search for "Entertainment Coupons". After you download the app, tap the "Don't have an account", and find your Access Code on the inside front cover of your Entertainment® Book to complete registration.
Here's a quick tour of the onboarding experience with our new app.
Welcome Back Valued Members
Experienced Member?
Not your first rodeo, and you already have the Entertainment® App? If your device is set for auto-update, then you're good to go. No action is needed.
If you need to do an update, it will only take a few minutes. Go to your Google Play or App Store, and search for "Entertainment® Coupons". Tap "Update", and you're all set.
Let's Talk About Exciting New Features in the Entertainment® App
Our app was already a great tool for locating valuable deals, but we've kicked it up a notch! Now it's even easier to find merchants and discounts you love.
Favorites
See merchants you love? Save your favorite and frequently visited merchants by tapping the heart (insert heart icon from app and remove "heart" from message) at the top right corner of the merchant listing. We'll save your Favorites to your wallet for easy access later.
Collections
After you select your favorite merchants, the fun begins! Group your Favorites to existing or new Collections for easy access on the go. Collections can be public or private – you choose. If your Collection is public, someone going to Chicago can search for "Chicago" and view your Collection for travel ideas. If private, it's only visible to you.
View trending Collections which are the ones most popular amongst our Members. Search for those that may interest you and follow them.
You can save a merchant to multiple Collections and share them with friends and family by email, text message, and social media.
Wow – this feature is so much fun to explore!
Recommended Offers for You
View popular offers we know you'll love right on the home screen.
In-App Auto Registration
If you're a new Member, it's takes just a few steps to register your Membership.
You may already have an Access Code from a previous purchase. If you do, tap the "Don't Have an Account?" button on the app home screen. From there, follow the instructions.
Don't have an Access Code? Select the membership you prefer and complete your purchase. You're ready to start saving!
Still not sure, and just want to check out our app? Tap the "Preview Before You Buy" button, enter your email address and you're ready to view all the saving opportunities.
Discover Latest Savings
When setting up the app on your device, pick the things you love – like types of restaurants and things you enjoy doing. Now, you'll see offers based on your interests front and center on the home screen. You can always tap the "Edit Categories" button to change your preferences.
Star Rating and Additional Info
Turn location settings on and find great savings while you're out and about. Tap on the map pins and see offer details for all merchant listings near you. Planning a night out on the town later? You can easily change your location to search for great offers in that area.
Browse - Your Way
Search by merchant, Collection, or by category. The search bar is now at the top of every page, so it makes finding your favorite offers easier throughout the app.
Travel Page
Cleaner, more intuitive travel booking experience. Makes planning and booking travel on your device easier than ever!